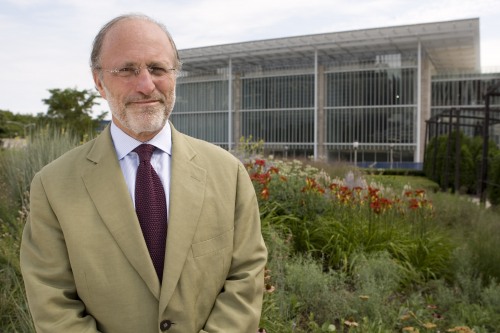 James Cuno has been named President and CEO of the J. Paul Getty Trust, it was announced today. He will leave his post as Eloise W. Martin Director of the Art Institute of Chicago at the end of June and assume his new position on August 1st.
An excerpt from the press released issued by the J. Paul Getty Trust this morning follows:
LOS ANGELES—The Board of Trustees of the J. Paul Getty Trust announced today that James Cuno, recognized both nationally and internationally as a noted museum leader and scholar and an accomplished leader in the field of the visual arts, has been named president and CEO of the J. Paul Getty Trust. Dr. Cuno, who comes to the Getty after serving as president and Eloise W. Martin Director of the Art Institute of Chicago since 2004, will assume his position August 1.
Prior to directing the Art Institute of Chicago, one of the world's leading encyclopedic art museums, where in 2009 he presided over the opening of the museum's Modern Wing, Dr. Cuno was the director and professor of the Courtauld Institute of Art, University of London, from 2003-2004; the Elizabeth and John Moors Cabot Director of the Harvard University Art Museums and professor of the history of art and architecture at Harvard from 1991 to 2003; director of the Hood Museum of Art, Dartmouth College, from 1989-1991; director of the Grunwald Center for the Graphic Arts, UCLA, from 1986-1989; and assistant professor of art, Vassar College, from 1983-1986.
Dr. Cuno, 60, received his A.M. and Ph.D. in the History of Art from Harvard in 1980 and 1985, respectively; an M.A. in the History of Art from the University of Oregon in 1978; and a B.A. in History from Willamette University in 1973.
A Fellow of the American Academy of Arts and Sciences, Dr. Cuno is a prolific author and lecturer on museums and cultural policy. His most recent book, Museums Matter: In Praise of the Encyclopedic Museum, will be published by the University of Chicago Press later this fall.
Mark S. Siegel, chair of the Getty's Board of Trustees said, "Jim's background as a scholar and arts leader, and as a proven executive at major arts institutions in the United States and Great Britain, made him an ideal candidate to lead the J. Paul Getty Trust."
"The Getty operates locally through its highly regarded Museums at the Getty Center and at the Getty Villa, and globally through the work of its four programs.  The Getty needs a leader with an understanding of all aspects of the visual arts, who is known and respected around the world for intellectual curiosity and achievement.  But the Getty also needs an experienced executive who has the managerial and strategic skills needed to lead a complex organization.  Jim's proven record gives our Board confidence that he, working with our outstanding management team, will be able to lead the Getty to ever greater accomplishments," said Siegel.
The Board of Trustees selected Dr. Cuno after an extensive international search that began in July 2010, shortly after the untimely death of James M. Wood, who also had come to the Getty after a distinguished career that included serving as the president and director of the Art Institute of Chicago.  Dr. Deborah Marrow, who has been serving as interim president and CEO, will resume her position as director of the Getty Foundation following Dr. Cuno's arrival in August.
Dr. Cuno said, "I am honored to have been invited to serve the Getty Trust as its next president and CEO.  I have the highest regard for the many contributions the Trust has made to the presentation, preservation, and study of works of art and architecture in Los Angeles and around the world.  There is no other institution like it.  Its staff, facilities, and collections are justly renowned and I look forward to working with the Board and senior staff to advance the Trust's important, groundbreaking work."
Mark S. Siegel said, "The Board thanks Dr. Deborah Marrow for her commitment and her outstanding management and leadership during this interim period.  Deborah, who has a well-deserved international reputation as a leader in the arts, also served with distinction as interim president and CEO during the search for Jim Wood.  Her knowledge of all aspects of the Getty and its programs and her devotion to the institution as a whole make her an invaluable asset."
"Jim Cuno is a longtime friend and a former Getty Foundation advisor.  I look forward to welcoming him back to Los Angeles and to the Getty," said Dr. Marrow.  "I also want to thank Dr. Joan Weinstein, who while simultaneously leading the Pacific Standard Time initiative, did a superb job as interim director of the Getty Foundation during this period."
Dr. Cuno plans to conclude his work at the Art Institute at the end of June, and following a brief vacation, move to Los Angeles where he will begin the process of integrating himself into the work of the Getty Trust and its four programs.
Last weekend, as I wandered around 2011's iteration of Art Chicago–now value-added with crunchy nuggets of NEXT!!–I came to the odd realization that I now feel more "of" Chicago's visual art scene than outside of it, and as a result I am starting to lose what's always been precious to me: my ability to call shit as I see it, regardless of who I might offend. I really want Art Chicago and NEXT to succeed because I want the galleries and artists who live in Chicago and who partake of the commercial system to thrive and to prosper. So let's think of the forthcoming assessment of this year's combined Art Chicago/NEXT fairs as the 'If You Don't Have Anything Nice To Say…' report, because I feel like I have to emphasize the positive, in the face of what I personally experienced as mostly negative. I will say this: I sincerely hope that Karen Archey's info on ArtInfo is accurate, and that Art Chicago/NEXT's 2011's participating exhibitors did indeed sell the shit out of their wares, because I saw not much other purpose to it all other than successfully doing just that. To be sure, commerce is what art fairs are all about, but it doesn't hurt if you throw a little 'shock of the new' at people while you are selling the aforementioned crap out of it. In the two previous years of this fair that I have attended I saw a fair amount of interesting experimental projects and a slew of lively–and just as important, timely–public conversations thrown into the mix, along with some stupid stuff like Jell-o wrestling and teeny tiny DIY-comedy clubs–projects that felt amateurish and ad hoc and yet whose purpose, I realize now in retrospect, was to remind people, in a kind of 'have another beer and you'll see what I mean' kind of way, that it was the art fair context itself that was truly ridiculous. That kind of silliness was mostly absent from NEXT this year, and I, for one, missed it.
This year's fair merged NEXT's presentations of galleries focused on emerging artists with the more established Art Chicago vendors, now shown side-by-side on the same floor. This was no doubt an economic decision, but it had a deadening effect overall, with NEXT's galleries not surprisingly suffering the worst from it. Whereas in previous years NEXT (and its high-energy GOFFO sub-section) provided a breath of fresh air along with some genuinely good art, this year the NEXT booths were slotted into a section on Floor 12 and thus became pretty much indistinguishable from their coiffed and business-suited elder brethren. I barely felt the presence of GOFFO this year. Proximity to Art Chicago seemed to implicitly encourage all the NEXT booths to play it safe and be on their best behavior, and while this somewhat more formal atmosphere may have benefited larger commercial galleries like Kavi Gupta or Western Exhibitions it made the work in booths from smaller alternative spaces/projects like LVL3 or ACRE feel less adventurous than they might have otherwise. On the other hand, some of the best paintings I saw at NEXT were by a Canadian artist named Beth Stuart at the aforementioned LVL3 booth, and my ability to hone in on said paintings in relative quietude no doubt benefited from the fact that there wasn't some crazy-ass parade marching up and down the aisles to distract me. So I guess that legitimacy thing works both ways.

Overall I thought Art Chicago suffered even moreso from what it usually suffers from: 'over the couch' syndrome, i.e. too many mediocre paintings and photographs, all of reasonable size and 'striking' visual impact to hang as an appropriate 'statement piece' over the living room couch. Archey characterized a lot of the Art Chicago work as having a "sci-fi transhumanist" feel to it, and I'd have to agree. As I wandered about I started playing a little game with myself: what if someone took a digital image of every painting and photograph in both Art Chicago and NEXT and then layered them, Jason Salavon-style — what would this quintessential work of fair art look like? Pretty much like any number of the paintings that were already hanging on the walls, I concluded. There was also an odd, images-encased-in-glass, plexiglas, and/or resin trend running through the fair which greatly disturbed me. Two examples follow–the first is blood encased in glass, the second is drinking straws sculpted in the forms of lips and eyes and then encased in glass–although there were countless additional works of this type that I didn't photograph:

I think I'll just sum up the rest of the fair–my personal take on it, anyway–Best/Worst style, as follows:
Best non-Chicago booth at NEXT: I'd give this to Charlie James Gallery, a commercial space located on Chung King Road in L.A. James seems to have brought his A-Game with this booth, and also showed a variety of artists–I especially liked Ala Ebtekar's collage drawings and Libby Black's built-to-charm, paper and hot-glue versions of roller skates and opera glasses. Nothing terribly deep here, but all the work looked sharp, sellable, and smart–everything that a good art fair showcase should be.


A for Effort Award: to Robert Berman Gallery, for making a good-looking, focused booth that (presumably) sold the shit out of Shepard Fairey's album cover art. Obey, indeed.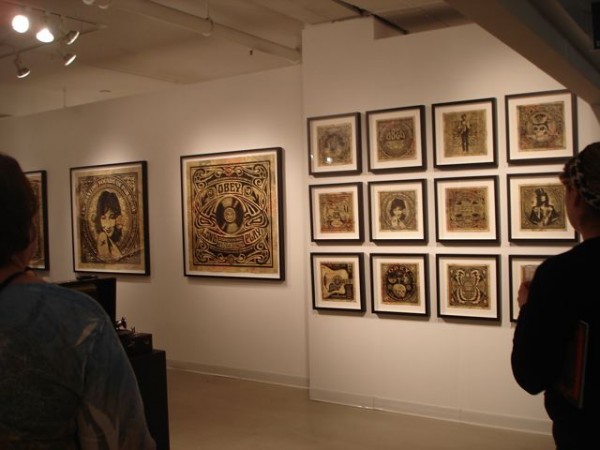 Shepard Fairey album cover art at Robert Berman Booth, Art Chicago 2011.
Best Chicago booth at NEXT: I thought they all did a great job, but I'd say a tie between LVL3 and Post Family. LVL3 for its super-"on it" presentation of works–all were strong, and they all looked great together, and Post Family for showcasing the collective's usual sense of flair in a visually engaging yet uncompromised manner. (Bad photo, sorry!).

Work most likely to be impulse-purchased at NEXT: Sandow Birk and Elyse Pignolet's print duo, "A Conservative Map of the World," 2011, and "A Liberal Map of the World," 2011, both archival pigment prints that could be had for the set at $3900, courtesy of the above-mentioned Charlie James Gallery. A huge crowd-pleaser, and genuinely amusing.
Best Chicago booth at Art Chicago: this is a tough one, but I'll go with Carl Hammer Gallery. They gave a lovely presentation with terrific examples of works by gallery artists such as Joseph Yoakum and Roger Brown. The full package, elegantly presented.
The 'Where the Heck Were They??' Award: Shared by Rhona Hoffman and Tony Wight.
Worst Art-Making Trend: the above-mentioned bodies, body parts, and viscera-encased-in-glass works seen throughout the fair.
Best Attempt to Do Something Different: Team Art!'s ongoing auction/destruction performance, in which any work of art that didn't sell during its auction slot was immediately hacked to bits. Maybe not the freshest idea in the world, but the participating artists felt genuine pain at the destruction of their works (which included a preponderance of sad-eyed kitty cats and doggies, natch), while my own refusal to save the life of a threatened work filled me with a real, albeit fleeting, sense of guilt. Like I said before, it was the kind of silliness that effectively pointed to the larger sense of silliness that surrounded us all.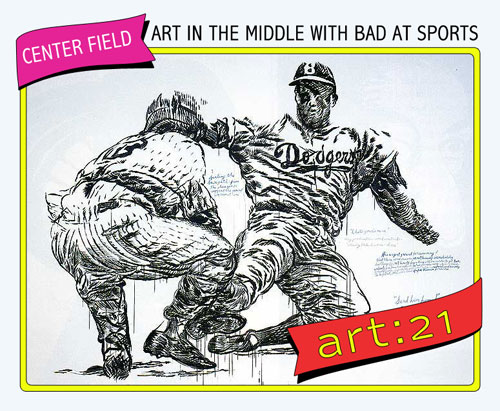 Our latest Centerfield column is up on Art:21 blog. This week, Abigail Satinsky talks to Chicago artist and organizer Daniel Tucker about his platforming project "Visions for Chicago." A brief excerpt follows; click on through to read the full post on Art:21.
I've known Daniel Tucker for about five years now and I've always thought of him as a true Chicago artist, somewhere in between artist, organizer, writer, and administrator and always interested in collaboration and bringing in multiple perspectives to any given situation. For anyone that's worked with him, they know that Daniel's candor can be both disarming and challenging. When one gets involved in Daniel's projects, like I have in the past, he's straightforward and conscientious in his process. Is that a Chicago thing? I've come to think of it that way, probably because of him.

He's done a lot of amazing work, like founding AREA Chicago six years ago and then, when he wanted to move on, gracefully stepping back from the project to be taken on by new energetic group of organizers. What I love about AREA (which stands for Art Research Education Activism and is a publication about culture and politics in Chicago) is that it gives voice to what people are actually doing to transform their city, not a theoretical discourse about what might be possible. And there's big changes happening on the ground here, with Rahm Emanuel handily winning the mayoral election after Daley decided he was done. I'm new to Chicago but I know that this is a really, really big deal.

And so Daniel is using this opportunity to create a platforming project called "Visions for Chicago" for Chicagoans to articulate what they want to happen next. Starting in November 2010 and lasting through the beginning of the mayoral term in May 2011, Daniel is giving out hundreds of handmade election-style yard signs to politically-engaged Chicagoans throughout the city to tell their own vision for the future. Photographs of the signs and their makers will be published in a book by Green Lantern Press to be released May 16, 2011 at 6pm at the Jane Addams Hull House Museum. We talked about how the project started for him and where it's going.

Abigail Satinsky: Let's start out with a bit of a background question. You have a lot of experience making work in public space and an interest in graffiti. How does this all fit together for you?

Daniel Tucker: Since I was a teenager, I've been interested in the political conflicts surrounding people's access to and definition of public space. That drew me to be a graffiti writer, which was really my introduction to art making and all of the considerations of concept, audience, context, and formal design that come along with art making. And that stuff is really particular and important when you think about graffiti, street art, or more antagonistic forms of public art. Pretty soon after my initial interest in graffiti and its sub-cultural (think hip-hop and punk rock youth culture) as well as aesthetic traditions (bubble letters, characters, and "wild styles" as well as the more recent "artschool" graffiti that involves putting lots of objects and forms not traditionally associated with hip-hop graffiti into public space), I began to get bored with the general questions associated with making work in public and wanted to deal more with content. (Read more).
Just read that Poly Styrene, born Marianne Joan Elliott-Said, died yesterday of breast cancer. She was 53. Such a huge influence on so many "girl singers" that came after her….she was awesome. She wore braces onstage–because she still needed them.  "Little girls should be seen and not heard….Oh Bondage! Up Yours!" Yes. Spend some time today revisiting X-Ray Spex in honor of Ms. Styrene….below, a couple of videos to get you going.
The MDW Fair has come and gone, and unlike most art fairs I actually had a pretty good time at this one, despite the frakkin' chilliness of Bad at Sports' area (note to self: next time bring space heater) and the general lack of hot liquid nourishment available. Thank god for Eric May's hot dog stand and that Tiki bar (which I think had drinks??) at The Hills Esthetic Center area downstairs – the hot dogs rocked, but regrettably I did not have time to partake in any drinks. We were on the 3rd floor, where the panel discussions were held, and which gave me great access to the public conversations but felt a little, I don't know, cold? in comparison to what was happening on the 2nd floor, which in general felt livelier and brighter and — for God's sakes!! — so much warmer!! — than upstairs. We got some really nice recordings during MDW's run; as long as we didn't eff up the sound, look out for excerpts on Episode 300 of the Podcast. Thank you to everyone who stopped by Bad at Sports' booth to hang out and/or record an interview! You were all awesome.
My personal take on MDW was skewed by the fact that I was sitting at a booth and took only periodic spins around the other floors, often in search of food and/or coffee. For what it's worth, Floor 2 seemed like the most convivial and fun place to be; Floor 1, which housed the indoor Sculpture Garden, was expansive and lofty and a tad empty-ish in feel but showcased a number of terrific sculptures and installations that really needed all that elbow room; and Floor 3 was a tad quiet, which was necessary given that the public talks were taking place there.  Floor 3 did have Steve Ruiz's Chicago Art Review booth showcasing a really nice project by Philip Von Zweck. Von Zweck asked a number of artists to produce drawings that could be photocopied on demand and distributed for free – the result was a lovely little exhibition of the original drawings, each of which could also be "taken away" gratis, albeit in editioned, xeroxed form. Reminiscent of Stephanie Syjuco's Copy Stand: An Autonomous Manufacturing Zone at 2009's Freize Art Fair, Von Zweck's project reversed many of the terms laid out by Syjuco's endeavor (appropriately so, as the fair contexts in which each project was shown are polar opposite in nature). The results of Von Zweck's collaboration were more homespun and less cynical in feel than Syjuco's (though I love her concept equally, for different reasons).  I especially liked the anticipatory aspects of translating an original artwork to xerox multiple — the speculation of how well the drawing you chose would come out in pure black and white tones, seeing the results slide out of the machine….plus I am a sucker for this kind of freebie art giveaway. I like stuff, and since I could not afford a piece by Melissa Oresky otherwise, this'll have to do me.
I only had time to attend the full duration of one panel discussion: the conversation on New Chicago Visual Arts Advocacy moderated by independent curator Britton Bertran. Panelists included Abraham Ritchie, Chicago editor of ArtSlant and Chicago Art Blog blogger; Elizabeth Chodos, Associate Director of Ox-Bow; Laura Fox, a marketing specialist and board member of Intuit; Steve Ruiz of the aforementioned Chicago Art Review; and Barbara Koenen, an artist and the Director of Chicago Artists Resource. The panel explored the types of visual arts advocacy that will be necessary — and feasible — under Rahm's reign. Their discussion was certainly more raw than cooked, which is appropriate, given the advocacy group they are planning to build is still in its early stages. As all of the panelists stressed, any advocacy group's ability to move forward depends upon obtaining a larger community consensus about the critical issues to push, and the panelists laid out a basic framework for a discussion of issues that would be ongoing. Some key issues on the table–but certainly not yet finalized– include advocating for more live/work and exhibition spaces in Chicago's industrial areas through changes or adaptations to the city's current zoning ordinances; the need to articulate the importance of street artists and street art to the creative revitalization of communities (and to distinguish their activities from those of taggers); and the overall need for visual artists to better articulate how their activities benefit the city/neighborhood communities as a whole–true dat on the last point, though shouldn't it be obvious? The rest is still on the table and ripe for hashing-out; this is a group to watch, and to ally yourselves with now if you want to change the landscape of creative production in Chicago for the better.
Enough with the half-baked notes; the following are a few snapshots taken by a decidedly un-professional photographer over the course of the two-day event.