April Childers is a young Brooklyn-based artist whose work is currently on view at New Capital in Chicago, as part of an intriguing two person show with artist Max Warsh. Childers' works were both strange and enticing to me because I couldn't quite make sense of them – they evoked certain qualities that I don't often think of in terms of one another, like sadness and silliness, melancholia and glee. I wanted to try and make sense of those conflicting emotions within the context of the artist's practice, so I asked Childers a series of questions about her work and where her imagery is coming from. I'm grateful to her for taking the time to answer my questions.
Claudine Ise: Can you tell me a bit about how your different pieces in the New Capital show are meant to work together? There seemed to be a kind of a melancholic outer space theme going on, with the wall of pencil drawings filled with eyes (alien eyes??) staring out at you, but it also also looked like a constellation of stars, and there was that very sad little extra-terrestrial-looking figure in the blonde wig hunched over, the first object you see when you walk up the stairs to the gallery space. There seems to be a strong emotional undercurrent to the works here – one that, for me anyway, feels melancholic and goofy at the same time – a really bizarre combination but somehow it works.
April Childers: There is a melancholic tone to these works. The idea of  existing in such a melancholic emotional state has always been in question for me and visually inescapable for years. I love believing  that such a state can be overcome and I am interested in the process of doing so, however emotionally exhausting it may be. I'm rolling around ideas of absence, loss, existence and non existence. Navigating a space between the concepts of the visible and invisible, experimenting with relationships that revolve around human expectancy and animal intuition.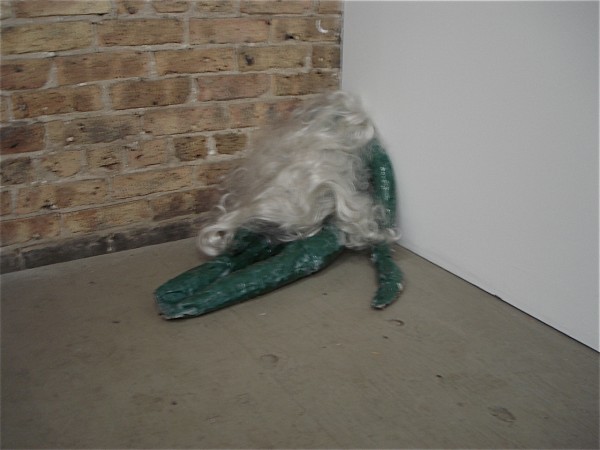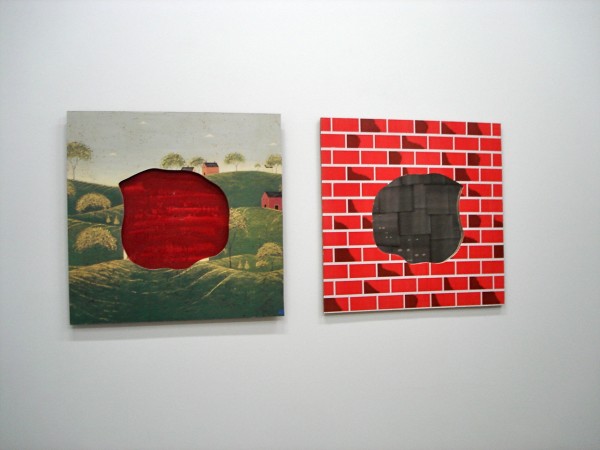 CI: Can you tell me what you were thinking about when you decided to put these particular objects in the show?
AC: My past work involved a lot of self-taught taxidermy.  Up until about 8 months ago, I was living in Tampa, Florida, driving around picking up roadkill  to take back to the studio, skinning and treating the skins various ways.  I wasn't interested in recreating the animals' previous living appearance (as perhaps a traditional taxidermist would).  I was stuffing the animals' bodies with old socks, plastic bags– anything I had on hand to swell the animal's form.  It was great for me because I saw the process as something to contend with emotionally. I found it very easy to "flip the switch" regarding any emotional reaction to the bodies  I was working with.  It's a very freeing experience.  I would reanimate the bodies by having them drag around a platform, shake and twitch from crystal chandeliers and float with balloons. The month  before I moved to New York I began replacing the taxidermied animals eyes with mirrors. I  became more interested in the underlying ideas and elements of the previous work. Shapes of the eyes, mirrors, absence, re-habitation. My current work at New Capital is a progression of these ideas.

CI: Tell me about the painting, which I was very moved by in that same weird, inexplicably melancholic yet goofy way. It is a very roughly executed picture of what appears, to me, to be a school yard with a basketball hoop out front. There's something very institutional about the blocky architecture of the building that makes me think "school" as opposed to "home," but I could be wrong. The paint is thin and drippy, as if it got left out in the rain. Also, the sheet of paper is cut at the bottom as if part of the picture were cut away, almost like a piece of poster paper hanging in a school hallway that got partially ripped away, or someone purposefully cut it. It is amateurish-looking but weirdly, for me, it was the most powerful piece in the show. The effect is of a story that's there, yet that can't be understood because something important has been taken away, lost, or intentionally cut out. That blood-red line of spray-paint also has this emotional signification of danger or distress for me. Am I reading too much crazy shit into this piece?
AC: No way!
CI: What does it mean for you? Why did you excise the bottom right section of the paper? It makes it look so awkward and wonky and yet again, for me, there's something about that part being cut out that "makes" the piece, makes it successful I mean.
AC: This is actually a painting of the house that I spent the first five years of my life in. It's drawn from memory. When my family and I moved out of the house, furniture, closets of clothing, dishes, food and other things were left.  In many ways it's very much like we just never returned home. The house has since become a time capsule of sorts.  Still owned by the family, the house's lawn gets mowed and its pipes replaced when busted.  There are lights on timers and other, more  heavy, security measures have been taken. For me  the house functions for the invisible people that live there, ghosts in a way.  Other times I think of it sitting and waiting to be filled, this thought usually brings on a feeling of guilt and anxiety.  The house has become the skin of a hollow body.  The memory and 'want' of the house has become a weight to bear and has created a bit of an unrequited relationship that I haven't been able to console myself about. The house exists like an island.  It is its own type of living being.
CI: How did you divvy up the exhibition space at New Capital – did you know from the start you wanted the "white cube" room? To me, your work seems to require that and wouldn't work as well in the raw space, but I can't say exactly why I think that.
AC: Ben and Chelsea curated Max and me into those spaces and we were in agreement.  It would  make too much sense to have my work on the ground level raw space.  Where this work lives inside my practice and thought pattern is already like a  basement.  The pieces would have been too comfortable in the raw space.  My work needed that escape to function successfully.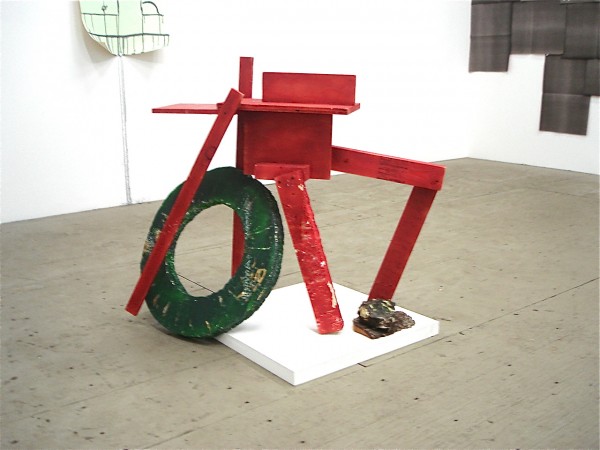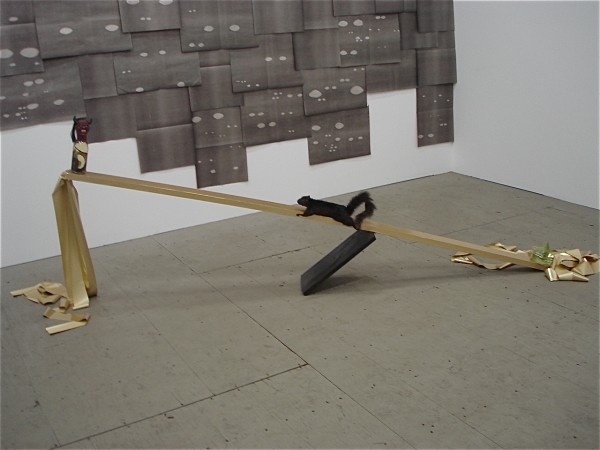 CI: Where did you grow up?
AC: Strawberry Plains, Tennessee. It's about 30 or so minutes outside of Knoxville in a valley at the bottom of the Smoky Mountains.  I usually say that I grew up close to Dollywood. Funny how people seem to know where that is.
CI: Tell me about your project and website Destineez Child, which you run with artist Carmen Tiffany. I'm not even going to venture an interpretation – I'm honestly too WTF?? about it to try (I watched the promotional video though). I like the site however, and personally were I to purchase something from the shop, the designer dime baggies and the panties that have "Proud" written on them would be at the top of my list. Do you set up shop at real places in real space (like markets or art fairs or festivals?). Or is this project mainly virtual?
AC: Carmen Tiffany and I began working on Destineez Child in Tampa, Fl,  while hanging out in a local strip mall bar.  There was a man and lady trolling the bar advertising that they were outside selling knock-off designer purses  in the parking lot.  We started thinking how, why and when that type of entrepreneurship starts and how it works.  We had the idea of purchasing a knock-off designer purse, then chopping it in half (one for side for yourself, the other side for a friend) then rebuilding the missing side with duct tape to make the two purse halves whole again.  We began to produce further products of the same sort. Producing our own cute bread, energy drinks, drug baggies, pickles, previously owned underwear, food for old people and food for babies, pimped-out baby strollers, oscillating ashtrays, home wall decor, the list goes on!….just playing with the concepts of trickle up/trickle down marketing to another strange level all together. We've been involved in several performance projects in New York and Florida.  We set up our 'shop', produce product, and serve the public convenient items.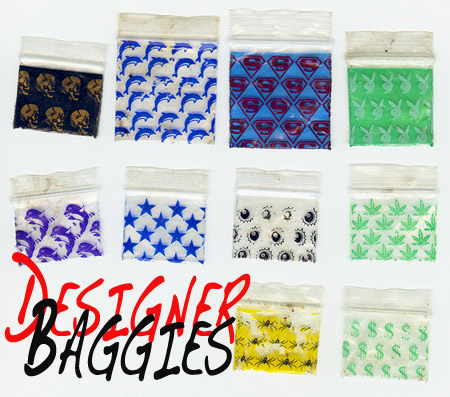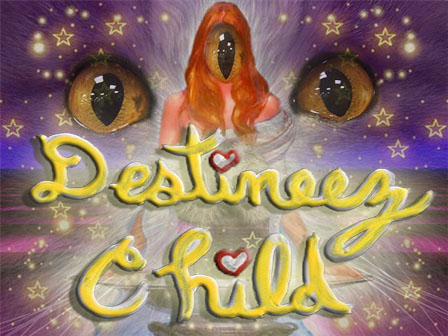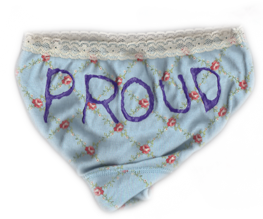 ****
Childers/Warsh is currently on view at New Capital and runs through July 8th.
Eric May is a founder of Roots & Culture, a nonprofit gallery space in Chicago that features stellar group and two-person shows throughout the year. May is also the longtime chef at Ox-Bow, a 95 year old summer school/retreat for artists located in Saugatuck, MI. (You can read more about Ox-Bow on Art21 blog here). It's not completely uncommon to see houseplants in a contemporary art gallery, but the front-window "garden" at Roots & Culture is truly special – the first time I visited R&C several years ago, it was the foyer that really captured my fancy. It's earthy, beautiful, completely unpretentious, and somehow those plants seem to encapsulate everything that Roots & Culture and its approach to exhibiting art (and creating community around art exhibition) is all about. Heidi Norton and I talked to Eric about how he came to found R&C, his passion for sustainable living, his life at Ox-Bow, and a range of other topics. We're truly grateful to him for taking the time to talk with us.
*****
Claudine Ise: Tell us about how you found the space that Roots & Culture is in. I've always been struck by the fact that although it's a storefront space, the setup inside is really homey – and in fact, there's a full kitchen in back, and you have a "garden" in the front, not unlike a home. You transplanted the kitchen from Ox-Bow – why? And what kind of plants are in the front window? They all seem to be thriving there.
Eric May: Initially, I had been shopping around for a space without a clear idea of what I had in mind. Really, I had been growing bored with the Logan Square area where I had lived for seven years and it was time to move. The Noble Square/ East Village area was appealing. It was affordable and seemed much more central. So I started looking in that area for a few months. My dad actually first came across the space at 1034 Milwaukee and let me know that it was a potentially interesting space to house many activities. I was looking for a place that would be multi- functional, a live/work type of environment but not exclusively an exhibition space. I was for sure captivated by the idea of art cohabitating with daily life which I had come to experience through apartment galleries and the like in the Chicago scene in the early to mid 2000's. I was also working as a curator at another nonprofit gallery, so when we found the storefront it seemed like a natural choice to open as a gallery. And it had ample studio space in the basement and a modest loft that we built out as an apartment.
I really lucked out I think, because I had enough space to build out a clean, professional gallery. I remember consulting John Corbett about my initial plans to open an apartment gallery and he said, "just make sure that there aren't stacks of pizza boxes everywhere".
Also I was really impressed by spaces like duchess and 65GRAND, which I felt were very successfully exhibiting work in crisp, clean spaces while still feeling welcoming and homey. So a certain level of professionalism was always in mind as we designed the space. That said, I deeply believed in the idea that by creating an exhibition space which had a domestic, holistic feel, it could slow down the viewing process- a space in which an audience can linger and exchange. Offering food at our events seemed like a great way to encourage this type of viewing experience, since I have a background in cooking. As for the stove- Ox-Bow had begun renovating and rebuilding certain buildings on campus in late 2005, which included the kitchen. I asked them if I could keep the old stove (which I had learned to cook on), at the time having no idea what to do with it. My friends were kind enough to let me store it in their barn on the farm in northwest Indiana and fortunately a year later I had a space to move it into. The party is always in the kitchen, so we designed an ample kitchen as a reception area with the old stove as the focal point.
The hearth, a source of warmth and nourishment, is an essential nucleus of a happy, healthy home and I thought this would be a wonderful attribute of the space. I like to see Roots & Culture as a bigger project, an experiment in ecology both social, domestic, and also biological, more on the latter to follow.
Heidi Norton: My parents spent their 20's living off the land- building cabins, raising animals, crops and subsequently it has influenced my art and life extensively in a variety of ways. You have been committed to Ox-Bow for many years, can you talk about how a space like Ox-Bow and it's relationship to nature and land has influence your philosophies around art and food? What is Ox-Bow to you?
EM: Ox-Bow is my favorite place, my second home, and a place that has taught me a lot in my adult life. I grew up in places with access to nature and was super interested in plants and animals as a child. In fact I spent most of my summers in the Western Michigan area, so the Saugatuck area was very familiar and a landscape that felt native to me. Ox-Bow's land is a treasure of untouched natural beauty in the Midwest and has a rich and diverse ecosystem. I have encountered many a breathtaking natural experience in my years- the mating dance of the ichneumon wasp, finding giant moths on my cabin, stumbling across a family of barred owl chicks, spotting a red fox darting across the meadow, foraging from a dead tree in full bloom with chicken-of-the-woods mushrooms. A few of my early co-workers in the kitchen grew up in rural areas, so they proved to be a wealth of knowledge in the old ways and taught me many old timey skills such as canning, pickling, homebrewing, slaughtering chickens, and gardening. We have an ethos of wasting as little as possible, composting everything, using scraps for stocks, etc. The area is a fecund and robust agricultural region and we have access to an amazing bounty of naturally raised produce. Its funny because the mantra of seasonal, local, farm-to-table eating has become so fashionable in the city and it's the kind of philosophy that has existed in the Ox-Bow kitchen for decades. And our producers, until recently, did not have to advertise the virtues of their products because they have all along just adhered to the old ways, generations of sustainable farm practices. So clearly living and working in the heart of the country has had a huge influence on my approach to cuisine. There is a more meta influence that Ox-Bow has had upon my broader practice and I think its pretty simple- in this experience which is closer to the land, I have learned a sensitivity toward relationships between ourselves, our environment, and the other beings that populate it. Equally central to this is the closeness of the community and shared experience, which is focused 24/7 on the pursuit of creative endeavors. The proximity in which we work and live requires a sensitivity to others and a sense of collectivity. These are core values to what I do.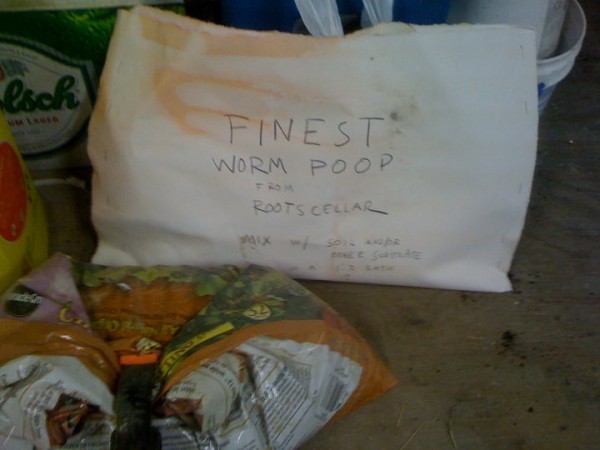 CI: Do you have a garden at home? If so, what's in it?
EM: You might call our horticultural dabblings at R & C "gardens". I like to keep a diversity of plants and animals around me, so I have always kept pets and house plants. The foyer garden at the gallery began as a collection of my houseplants. It's probably the efforts of Mike Wolf, who has been a resident of the space for four years, that nudged the houseplant zone into what you might call a garden. Over the years, he's started fruit trees up there. Green onions grow pretty successfully. I was really impressed when he pulled up some voluptuous bulbs of ginger out of one of the pots recently. He has also ran a compost program in the basement and always has seeds germinating down there. Last year I built out an unused room in the basement into a garden and contemplative space that I call the "Grow Room." I successfully grew lettuces, radishes, and herbs, but ultimately felt like the produce was lacking in a robust flavor that I reckon is developed from natural sunlight. The electric bills also did not exactly make the endeavor a sustainable practice in terms of energy produced versus energy consumed. I also have grown mushrooms down there, which require far less light, and now I primarily grow exotic mushrooms down there these days- shitakes, blue and pearl oysters, and lion's mane mushrooms.
HN: Claudine and I recently stumbled upon this restaurant at the Crocker Museum for Art in downtown Sacramento, opened by a "philosopher", chef and artist, Jonathon Keats. Keats says,  "this is not a restaurant for humans to eat plants; rather, it is an exercise in creating a dining experience for the plants themselves, with a menu of enhanced sunlight that is designed to appeal to their sophisticated sensory apparatus, providing them with not only energy, but also a satisfying, piquant, and delightful experience." In your opinion, what does this "solar gastronomy" offer to human mankind and to plant/botanical mankind? What are your views on this dining by the electromagnetic spectrum philosophy? Gimmick or cool?
EM: This "plant restaurant" project looks pretty silly to me. I like the idea of revering plants and drawing focus to their life cycle. But to call it a restaurant and to frame the serving of light to organisms that do not perceive pleasure to cuisine seems a bit of a stretch. And this is coming from someone who has hosted dinner parties for wild animals. In my work, though, I am highlighting the differences in consumptive habits of people to animals and unpacking the anthropomorphizing of animals. I'm having a hard time locating intention for Keats' framing this work as cuisine. In my grow room project I have been interested in the co-presence of consumption and production of horticulture. That said, an aspect of this work, the idea of granting plants their own time and space to consume is kind of cool. Maybe it would be more complicated for an audience if they were invited to dine upon plants as the plants "dine" upon light. I like his cookbook format though, recipes are a great discursive tool for work like this, a strategy I've used in some of my own writing. It kind of harkens back to the old school conceptualists and their lists of directives for recreating their work.
CI: To me, the name 'Roots and Culture' has a kind of retro-hippy vibe that doesn't scream out "Contemporary Art shown here!" What does the name of your space mean to you?
EM: The name, I get this question every once in awhile. Retro- hippy vibe works for me! The name comes from my love of reggae music, Roots & Culture was a movement in Jamaican music during the early to late seventies, which is aligned with the Rastafarian movement and Garveyism. Of course it's more than a little clumsy to reference such a specific historical moment that my only real connection to is through cultural fandom. More generally though, the music represented a shift from more base, popular subject matter to socially conscious meaning. I like that as a metaphor for our activities. I like the slipperiness of signifiers too, and I like the openness of the name. It is very clear in a way, but also layered with other referents, like to botanical and fungal ideas. This kind of broad way to talk about ecology is at the core of my practices and I couldn't really articulate that when I first opened the space, but have now come to as my practice has expanded.
Artist Heidi Norton and I share an abiding interest in all things plants. During several conversations we had while I was profiling her for Art Ltd., we often talked about the relationship between art and gardening. Heidi incorporates living plant matter directly into her sculptures and has used various types of house plants in her New Age Still Life photographs, along with the more recent series of images shown in her show Not To See the Sun at ebersmoore last month. Heidi and I have continued to talk about the relationship of art, plants, and gardening, and as the next iteration of what has become an ongoing exchange, we've decided to conduct a series of interviews with other artists to further explore those connections. Voila: Mantras for Plants, a new, irregularly appearing series of posts.
First up, Heidi talks with Chicago photographer John Opera about his practice and his use of the Anthotype printing process. Opera recently exhibited his photographs at Andrew Rafacz in Chicago and at the Contemporary Art Museum in St. Louis, MO. He'll be exhibiting his work in a group show titled "To Tell The Truth" at Monya Rowe Gallery in New York from June 17th-July 29, as well as in another group show at Statler Waldorf Gallery in Los Angeles that opens June 17th.
Heidi Norton: What is an Anthotype? Can you explain the process? How did you come to find it and how do you feel it fits into your practice?
John Opera: The Anthotype is a printing process that was invented by Sir John Herschel around 1832, five years after the first known photograph. It represents a moment right at the beginning of photography as a medium.  The discovery of the process was very much a part of the initial experiments that led up to photography, as it was eventually known in the 19th century, both in technical terms and in metaphoric terms as well.
In addition to his photographic research, Herschel was also an accomplished botanist and researched the chemical properties of light.  His experiments often crossed disciplines.  That's how the Anthotype came about—it was an attempt to connect fixing a photographic image to photosynthesis.  Herschel discovered that he could make a rudimentary print emulsion using pigments extracted from plant material.  He made his prints by treating paper with the plant-based emulsion and pressing a negative tightly against the paper under a sheet of glass.  The prints are then exposed during the height of summer when the sun is very intense.  The printing process can require anywhere from a week to three weeks in direct sunlight.
For my Anthotypes, I used beets, blueberries, pokeberries, chokeberries and several varieties of lilies.  It's pre-photography. I was really interested in that notion. There is a strange connectivity that the process has to the natural world.  It feels alchemical to me.  I collected some of the plants at sites where I made landscape photos in the past, specifically the pokeberries, so I guess you could say that some of the images have a connection to my past work, or at least they are part of a continuum.
The images in the prints are of drawings that I made in a glass bottom tray device that I designed which allows me to expose directly onto large format film without a camera.  There was no lens used in making the images.  They are essentially contact prints of ink in water.  For me, the prints point toward the fundamental principles of image formation in photography.  They are also still-images about liquid and its connection to the medium.
HN: One of things that fascinate me is the relevance of light in this work. All photography is reliant on light, but the way light is utilized in these pieces is extreme. The "ink drawings" must be created in complete darkness. I imagine you sitting in a dark closet, dropping ink into a tray of liquid, flashing light to expose the latent image. The second process is actually making the contact print. Like you mentioned, at times the exposures can be up to three weeks in direct sun. Can you comment on this duality?
JO: Honestly, I've never consciously thought about that connection, but it is a really interesting one for sure.  A duality in the process like that is probably a good thing.  The pictures are about a balance in a lot of respects I guess—formally, conceptually.  The negatives are made in a traditional darkroom setting, while the printing process takes place under very different circumstances.  It can take up to 120 hours in direct sunlight to break the emulsion down enough to make a photograph. The image of the drawing is captured on film in less than a second.  I see what you mean by "extremes."
During the printing process, I have to pay attention to the weather and monitor the prints daily. They can only be made during the summer months when the sun is a its highest point in the sky.  I suppose there is an interesting parallel between how the prints come into the world and witnessing plants in a garden do the same.  I'm reminded of Jeff Wall's image Poppies in a Garden, which is in the Art Institute's collection.  For me, that image is about the potential universe contained within the poppy.  It's also an image that draws connection to the latency you are talking about in photography.  There is a delay between the time a photograph is made and when you see the negative or print. This is what happens to the gardener in the garden as well.  I suppose my Anthotypes are somewhere around there in that they are about something provisional.  I like to think that their point is also that they break from the observed world, like a hallucination.
HN: Speaking of "hallucination."  This break from the "observed" world, we can call a "secondary" experience or even a transcendence from the lived experience. Maholy Nagy uses of abstraction of light coupled with technology, exemplifies the idealistic and utopian thinking of a specific era. He coined the term "the New Vision" for his belief that photography could create a whole new way of seeing the outside world that the human eye could not. Is this a relevant conversation today?
JO: I think that every image is a secondary experience to an extent.  I feel like photography has reached such a point of self-consciousness that we can agree that any kind of photograph, whether it's a documentary image or a photogram, occupies a secondary, or abstract position.
At the same time though, I think what you're getting at is a transcendence of observed experience.  There is only so much that a lens-based image can describe, right?  I guess that it's the reason I have periodically revisited abstraction over the past 5 years or so.  Despite their straightforward manner, I have always thought of my landscape pictures as being about a topography of interiority.  I couldn't quite get there though.  I think I have always used abstraction to express what I couldn't do with a straight photograph.
HN: The colors and images of the anthotypes have a "West Coast"/LA appeal to me. Perhaps it's because I know they were made in the summer and we hung out a lot during the time of their creation so in some ways they resonant a certain level of nostalgia. But there is a history of west coast makers that use "west coast" light to influence their practices and works. I definitely make different types of work in the summer–perhaps due to the changes in color palette, a different energy, geographic location, longer days… Besides the fact that the sun is the strongest in the summer, I want to know: Does the sun and warmth solicit certain types of making practices or "types" of art for you? Is there such thing as summer art? If these were made in the winter, would they look aesthetically different?
JO: I'm not sure if there is such a thing as "summer art." I thought about the Anthotypes all winter long!  Although, making the work has definitely made me more aware of the changing of the seasons and of the Sun's position and path across the sky.  I feel like the process of producing the Anthotypes has really been a process of aligning myself with the seasonal cycle, probably a lot like a gardener or farmer would have to do.
HN: So I will ask you the same question I asked Barbara Kasten because it is relevant with your work (and I'd like to compare your answers). I feel we are experiencing a similar scientific/technological revolution in relation to how we capture and perceive light and color. How do you feel digital manipulation has changed the production, consumption and criticism of abstract photography? Do you feel that the abstractions inherent in the medium, particularly evident in your work, are enhanced or obscured by the further abstraction embodied in the act of digital capture/rendering and/or manipulation? Do you feel it's important to explain this to people or ensure they know the works are not "manipulated"?
JO: Things are definitely changing, but I won't say if it's good or bad.  For me it's just happening.  Digital is definitely erasing certain glitches and characteristics of analog photography, but it's also creating its own set of peculiarities too.  Digital is actually very close to surpassing film in most respects.  What will eventually remain is the nostalgia for certain arbitrary properties—film grain, solarization, fogging, etc.
Actually, it's not really important to me that people know how the images were fixed to the prints, although that is usually the first question people ask me.  So how are these made? I could have captured the images on a digital device—actually that would have been a lot easier.  There would have been fewer steps.  The important thing is that they recorded fleeting compositions—whether that was achieved digitally or traditionally is not important. The fact is that I had to scan the film in order to produce larger printing negatives, so there actually was a digital step to this process.  See, now we're getting too hung up on process.
I'm not sure how abstraction is affected by the digital shift.  Abstraction in photography is like abstraction in painting—its meaning shifts according to context—always.  The way I use abstraction is different than how it functions in Barbara's work and vice versa.
****
Heidi Norton received her MFA from the School of the Art Institute of Chicago in 2002. Her work has been exhibited all over Chicago in venues such as Monique Meloche Gallery, Dominican University, Northern Illinois University Gallery, and Andrew Rafacz Gallery. Nationally and internationally, Norton's has been exhibited at the Contemporary Art Museum in Baltimore, the Knitting Factory in New York, as well as in Los Angeles, London, and Valenica, Spain. Norton was published in My Green City by Gestalten in 2011. This past year she had solo shows in San Francisco at Hungry Man Gallery and ebersmoore in Chicago. Her work will be included in the group show The World as Text at Columbia College Chicago, opening June 16th.

If you're a avid (albeit amateur) gardener like me, this might be up your alley: G.E.E.E. (aka General Economy Exquisite Exchange 2011) is currently in operation at the Hyde Park Art Center (thru October 1st, 2011). Billed as "a post-retail museum shop and rooftop tomato garden where neighborly value has become the operative currency and creative bartering has become the dominant mode of exchange," G.E.E.E. is in essence a trading post, where you can bring your own plants, seedlings, or gardening materials to exchange for the ones that are available there.  What you exchange doesn't necessarily have to take the form of physical goods — also welcome are what the folks behind G.E.E.E. (the Cream-Co. Collective) describe as "immaterial support (dialogue, advice, recipes)" — this could take the form of information exchange or even just a good story.
I stopped by G.E.E.E. several weeks ago, and was completely charmed by every aspect of its homespun display — the handmade, hand-lettered signs, the multi-colored array of seedlings, the little ceramic pig where you can leave money for things you want to purchase at cost. I traded a number of gardening books for a chocolate mint plant, which now sits in a pot in my back yard and which I compulsively sniff every time I go outside. All of the offerings are seasonal, so expect the plants, seedlings, and other good stuff to be changed up on a roughly weekly basis.

The thing about G.E.E.E. is that, if you garden, and if you're even remotely friendly, you already get what G.E.E.E. is all about. I have plants growing in my garden that were given to me by at least three different neighbors on my block, and it's common for us to swap stories and advice and the occasional embittered gripes about our gardens having too much shade. But what I find most valuable about G.E.E.E. is the way in which it highlights extant social relations, particularly those that occur neighbor-to-neighbor, whether you live next door or call across to each other from your balconies.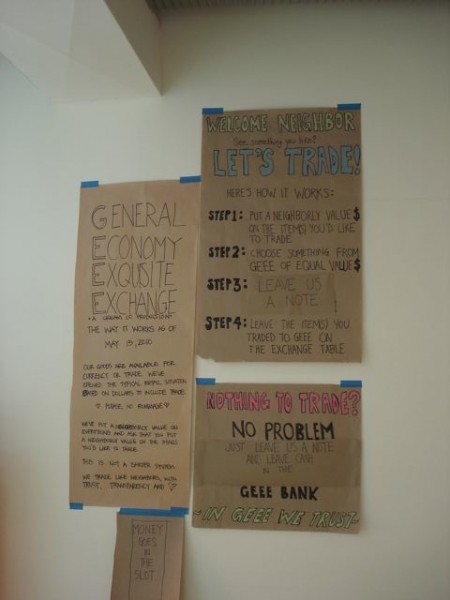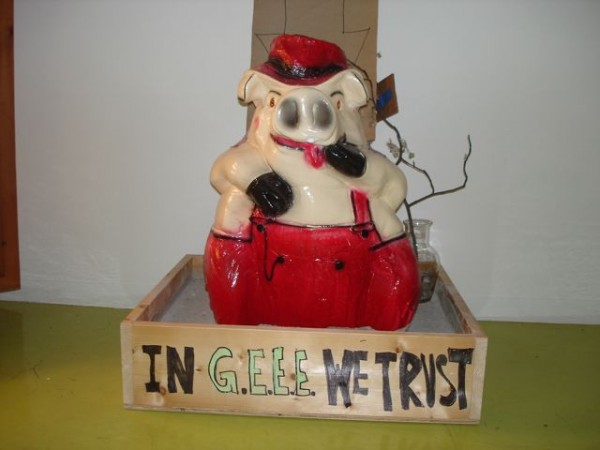 Despite the shitty, depressing, grey, cold, seemingly neverending, and did I say shitty? winters in Chicago, I think there is something so truly lovely, and deeply hopeful, about the act of gardening here. I've written about my love for the different kinds of gardens you see in this city before. For some reason it's always the tiniest efforts that seem to make the biggest impact  – you know damn well that if Spring and Fall are short-seasoned, you're not going to get to enjoy the fruits of your labor for all that long, but still you pull the weeds and breathe in the dirt and try and make a happy home for the worms, and you do it because most of all it's fun, but also because you're bringing color and scent and texture and order and chaos to life, after so many months of grey, frozen dormancy.
Can you tell that winter hit me kind of hard this year?
At any rate, give G.E.E.E. a visit. I promise it will lift your spirits if you're feeling low – it made me think of how grateful I am to have nice neighbors, and most of all a garden that's more than willing to work with me.
This Friday, May 20th, from 3pm – 7pm at HPAC G.E.E.E. will host the grand planting of the Center's rooftop garden – and you can pick up a trowel and pitch in. The planting also double's as the exhibition's official opening. On Friday, your efforts will be rewarded via barbecue, and on the next day, from 10 am – 2pm, there'll be a garden party to celebrate. Bring stuff to swap or donate – if you have questions or plants to swap,  contact geee@creamco.net.  For more info, check out the GEEE blog.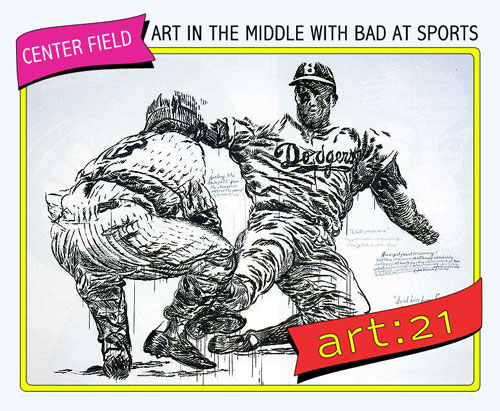 It's time once again for Fielding Practice with Bad at Sports, a special podcast produced for the Art21 blog. On this month's episode, Duncan MacKenzie, Dan Gunn, and I are joined by Abraham Ritchie, Chicago editor of ArtSlant, to delve into the wild world of art in Chicago and beyond. April was art fair month in our fair city, with the Merchandise Mart's Art Chicago and NEXT fairs taking place over the April 29-May 1 weekend and the upstart MDW Fair organized by threewalls, Roots & Culture, and Public Media Institute rolling out the weekend prior to that. We debate the pros and cons of both fairs, which–although polar opposites to one another–seem somehow to embody the strengths and weaknesses of Chicago's own art scene at this particular moment. Next, we move on to a more theoretical, and certainly more speculative, discussion of an early Modernist revival among some of the artists we've been looking at recently: from Ruby Sky Stiler, Mark Grotjahn, and Ryan Fenchel (artists who are featured in exhibitions this month at The Suburban, Shane Campbell Gallery, and Dan Devening Projects + Editions, respectively), to L.A.-based artists Amy Bessone, Aaron Curry, Thomas Houseago, and others. Click here to be taken to Art21 blog, where you can listen to the podcast and check out examples of the artists we discuss during the episode. Thanks for listening!