I caught this on the Red Eye —
SAIC student from Iran nominated for Cannes award SAIC student's short film nominated for Cannes award It's only been two years since Anahita Ghazvinizadeh moved from Iran to the U.S. to pursue a film-focused master's in studio art at the School of the Art Institute Chicago, but the 23-year-old filmmaker already has racked up a nomination for the Cannes Film Festival's prestigious Cinéfondation Prize.

"I was really surprised and very happy," Ghazvinizadeh said. "We worked really hard on this film, but I wasn't expecting that it would get into a great festival like Cannes."

Ghazvinizadeh's 21-minute short film, "Needle," the story of a preteen girl getting her ears pierced, was one of 1,550 entries from 277 schools all over the world.

She said the nomination has been doubly rewarding because it recognizes the first film project that she completed in the U.S. after moving from Iran. Before "Needle," Ghazvinizadeh had already completed a short film called "When the Kid was a Kid" and co-written a feature film, "Mourning," in Iran, but "Needle" was the first project she made in the U.S. (read more)
Needle – Trailer from Anahita Ghazvinizadeh on Vimeo.
It's a beautiful sunny day here in Chicago and I imagine any number of you are day dreaming about playing hooky from work, or million dollar ideas that might give you license to live the rest of your days on a beach in paradise. I can't give you that, alas, but I did come across The Highlights: an online arts journal who's latest issue presents blog works/art/articles that touch on labor, Marx and Foundation biographies while presenting images of honey glazed turkey, black rectangles and to do lists. The following excerpt and accompanying image come from Colleen Asper's piece, "Labor with Rectangle."
I am an impatient audience to the conversations of strangers in museums. Like many artists, I have a terrible sense of entitlement in such spaces and move through them with the conviction that the work is there for me, not for those offering reports on their audio guides or reading wall labels to each other. Yet, attention is not something one can always aim. The works I have come to pay close attention to often become inseparable from their commentators, however impatiently I may wish them away. I have no memory of seeing Julie Mehretu's show at the Guggenheim that is not also a memory of listening to a couple on their first date.

It is easy to overhear the conversations of people on first dates. The pitch of their voices is often of a public rather than private sort, as if they are speaking to each other over separate microphones at a radio station. This couple was young, probably in their early twenties; the man wore khaki pants and the woman a tight t-shirt. I wondered who had tried to impress whom with the suggestion of going to see art, as neither gave the impression of ever having sought it out before. They quickly got down to business.

"How much do you think these cost?"
"I don't know. Does it mean someone bought them if they're in a museum?"
"Probably, the paintings aren't old, so that's not why they're here."
"But how do you think they sell them? It must be hard to be an artist. How do you know what paintings people will buy?"
They were both quiet for a moment. The man examined the sides of a painting. The silence crackled between them and I grew worried, then the man looked reassured.
"You know where I bet the real money is? Making the frames. As long as people are making paintings, they need those. Think how many they needed just for this show! The guys that makes those will never run out of people to sell them to." (continued)
I love love love Triple Canopy and always have. Today, I thought I'd share one of their latest contributions. You'll have to link over to their website, but it'll be worth it, I promise.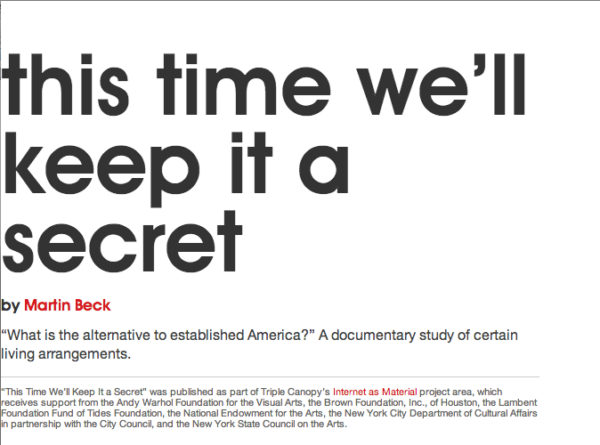 A friend posted this interview between Steven Cox and Scott Wolniak on the ol' FB. I thought I'd repost an excerpt here.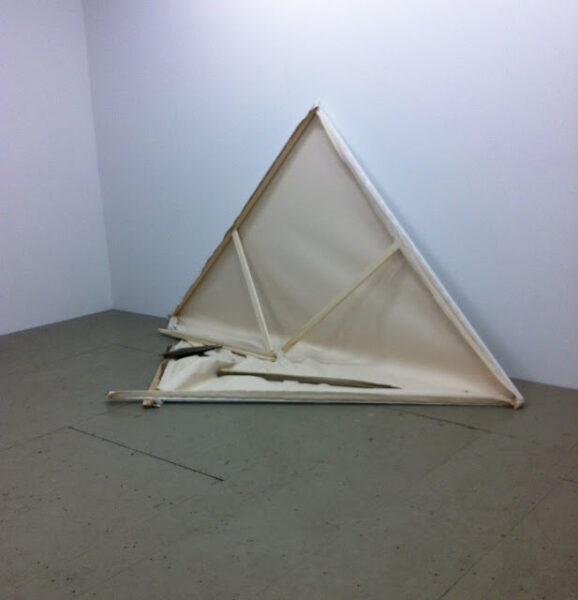 HUNTED PROJECTS presents Chicago based artist Scott Wolniak.
Scott is currently a tutor within the Visual Arts department of the University of Chicago, where his multi disciplinary practice expands upon the realms of installation, painting, sculpture and video.  With references to both destruction and humor, his past experience of being an art handler shines through with sculptural and painterly works that suggest the purposeful mishandling of materials.  This being made particularly clear through his video work The Ratio of Effort to Effect (2010), which in a tongue in cheek manner, explores the ever so common mishandling of art work, done in a manner that hints at Wolniak's appreciation of the absurdist comedy of Steve Martin.  In all, Wolniak's rounded practice explores the cockamamie, poking fun through the purposeful use of humble materials, whilst simultaneously rationalising conscious bad craftsmanship as a by product of expressionism.
Can you tell HUNTED PROJECTS about yourself and your creative background?
SW: I am a multidisciplinary artist based in Chicago.  I studied Painting and Drawing at the School of the Art Institute of Chicago, and did my MFA in Studio Art at the University of Illinois at Chicago.  After finishing my BFA in 1995 I spent five years working as a truck driving art handler, which introduced me to important social and logistical aspects of the art world.  I opened an alternative exhibition space in my garage called Suitable Gallery in '99, which was in operation for 5 years.  It was a positive experience; we did many great shows with great artists.  My studio is now in this same finished and heated garage that used to be Suitable.  After completing my MFA in 2002, I began part time teaching at SAIC and, in 2007, began my current full time teaching appointment in the Department of Visual Art at the University of Chicago.  Teaching is a really important part of my practice and helps me to constantly reconsider my relationship to visual art.
When did your interest within the arts begin?
SW: As a kid, art was a natural form of entertainment and escape.  It was always frustrating but endlessly engaging… same as now.  I shield away from formal instruction and traditional techniques in favor of cartoons, material experiments and made-up imagery.   I used to steal techniques and styles from classmates in elementary school.  Some of my early influences were Shel Silverstein, B. Kliban and LeRoy Nieman.  As a teenager I was nourished by music and record cover art.  I also loved comedy, especially ridiculous, physical stuff like early Steve Martin.  I decided to go to art school because nothing else really made sense… and I liked the idea of making a life doing what I was already doing anyway.  I knew nothing of art history before I began school at SAIC.  My 1st life-changing encounter with Art was the work of the Abstract Expressionists.  I spent hours looking at DeKooning's Excavation at the Art Institute.
                                                                                    
Can you discuss your day-to-day creative process?
SW:  My studio is in my backyard.  Convenience is really important to me because I like being able go to my studio any time, for any length of time, even if just to glance at something.  I am in my studio every day, so the work is a constant.  I have a hectic daily routine, which has required me to compartmentalize in order to sustain my practice.  Nights have always been a haven of undisturbed studio time for me.  Ideas come from everywhere.  My work typically involves combinations of everyday life and abstract systems, explored through labor-intensive processes with humble materials.  I tend to work on several things at once, shifting between conceptual projects that are primarily about planning and process-based pieces that are heavy on labor.  My labor-intensive projects are probably the most enjoyable.  I like to see things accumulate and transform over time.  I can drop into the studio for 15 minutes or 5 hours; either is productive since it is always moving toward the same end point.  As with meditation or exercise, small efforts conducted with great regularity do add up.
I listen to tons of music while working, as inspiration and background noise.  I often smoke marijuana in order to trick myself perceptually.
(read more)
Harmony Korine's Spring Breakers has been quite the buzz of late. To quote SF filmaker/friend/artist, T. Siddle:
Did a double feature of Stoker and Spring Breakers yesterday. Stoker is very very good, I'm not convinced by Spring Breakers (though I liked all the neon and the hideous beach font it used for titles). My experience of the latter was somewhat hampered by the elderly man sitting behind me who made pornographic grunts whenever a semi-naked woman was on screen.
There are lots and lots and lots of half-naked women in this movie, so a grunt per visible breast would be distracting indeed. I also saw Spring Breakers recently, also during a double feature. We went Spring Breakers first, then Olympus Has Fallen. Surprisingly, I liked the first. I thought I would hate it, because I tend to dislike excuses to show naked girls for the sake of showing naked girls. I read about how anti-feminist it was, how exploitative. How the female leads were shallow and hard to differentiate. And yet I was surprised. Korine's movie is all of those things — however I would argue everyone in this movie is exploited and exploiting, everything is shallow and everything is a product of a corrupt, late capitalist culture. The leading ladies are not liberated in a positive way, necessarily, but they have learned to be so hard and material, so soulless in a way, that they fulfill the very requirements of their image and then go beyond that image to exploit and manipulate and murder. Korine uses so much nudity it becomes boring — yes! — blending a vaccuous (and I'd say also American) desire to "find oneself" in pleasure and abundance, that offers this compelling, albeit gross, portrait of class (perhaps more than anything else) and gender.
It probably could have been shorter, and I think it's a little too pretty for its own good — as a portrait of corruption, maybe there shouldn't have been so many breathtaking moments (the Tiqqun-ish Young-Girls dancing in pink unicorn ski masks, pink bathings suits, dayglo sneakers and carrying artillery rifles as drug dealer James Franco plays a former-Mousekateer Brittany Spear's song on a white piano) but. At least it exploits the rotten-ness of Vice Spring Break — drawing the narrative to an ethical nightmare that is almost lost in the mood of the moment. Blood is spilled in Tarantino proportions, feeling far more hopeless, more pathetic — if only because these main female protagonists (two of them as child stars, the third being Korine's wife) seem to be on an unconcious gender-revenge mission: as though they are simply products (or surfaces) of a culture, not self-reflecting members. These girls have developed a steel-hearted strategy of care-less-ness. And maybe that's a zeitgeist at the moment — consider Sofia Coppolo's new movie about teenage girl robbers:

Spring Breakers felt like a kind of indictment against the American Dream that gave itself so that it's youth could have any and all possibilities at its beer-guzzling feet, Olympus Has Fallen became such a freak show of propaganda (the White House is under siege and the President's son is hiding in its halls as his father is held hostage by evil captors below ground). We walked out after 30 minutes of blood soaked not-ironic-enough patriotism. What I'd like to do is splice those two films together, to show the one myth on one side, (of priviledged youth in a commerically marketed Rumspringa excercising its American-ness), and on the other the myth of America's need to defend itself from an evil Non-American.
Jeffrey Sconce wrote a great review about the film on his blog, Ludicdespair:
In a fair world, or at least one less crippled by stupidity and mediocrity, James Franco's "Look at my shit" speech from Spring Breakers (2013) would be one of the scenes featured in the Academy's "Best Picture" clip-reel at next year's Oscars. Just imagine how amazing it would be to see Ron Howard, Ryan Gosling, or some other safely bankable Hollywood functionary forced to take the stage and read an Academy staff writer's impression of what Spring Breakers is about:

"In a chilling performance, James Franco captures the essence of evil as he seduces four young girls into a life of crime…"
"James Franco is terrifying as the local crime kingpin who turns an innocent rite of passage into a nightmarish ordeal."

All of this would be bullshit, of course, but probably as close as Hollywood could come to getting a moralistic bead on this movie's unapologetic nihilism. But it would all be worth it to see the lights in the Kodak theater go dark so that TV America could witness the corn-rowed, grill-bedazzled "Alien" (James Franco) inventorying the contents of his sick St. Pete bedroom:

This is the fuckin' American dream. This is my fuckin' dream, y'all!

All this sheeyit! Look at my sheeyit!

I got … I got SHORTS! Every fuckin' color.

I got designer T-shirts!

I got gold bullets. Motherfuckin' VAM-pires.

I got Scarface. On repeat. SCARFACE ON REPEAT. Constant, y'all!
…This will never happen, of course, because Hollywood will be too busy auto-fellating itself with the historical import, social relevance, and quality competence of another

Lincoln

or

Argo.

Meanwhile, Harmony Korine's sublimely ugly and mean-spirited takedown of American awesomeness will likely go unnoticed, a film that in its own way says, "yeah, Lincoln was a great guy for passing the 13th Amendment and

Argo

is the story of some very heroic patriots, but in the end, nothing could stop America's manifestly obscene destiny to become a nightmare of beer funnels, breast implants, blow, and Skrillex.

(read more)