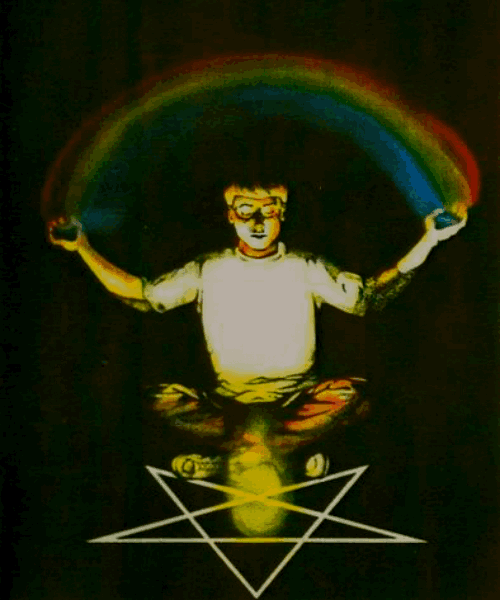 On the podcast this week, Bad at Sports celebrates 8 years, wrapping up the latest season with the Artist as Arbiter panel from CAA 2013. Featuring moderators: Duncan Mackenzie and Shannon R. Stratton, along with panelists: Anthea Black, Laurie Beth Clark & Michael Peterson, E. G. Crichton, Reni Gower, and Philip Von Zweck. That's all right here.
The week began with a great essay by Robert Burnier on the subject of bodies in space, beginning with minimalism, reflecting on Hesse, Samantha Bittman and more as a way to reflect on Burnier's own artistic practice:
As I was walking through the Modern Wing at the Art Institute of Chicago not long ago, I noticed a late Donald Judd, Untitled, 1989, on view. A wall-mounted, boxy, red and black sculpture, vacillating between image and object, I found myself walking around it, going from side to side, taking it apart in my mind. Despite its seeming simplicity, the work drew me deeper into the implications of its facture. From a slight distance, it looks virtually immaculate – by the standard of most artistic mark making, it is. Of course this was typical of minimalist work from this artist and others of the 1960s. The shapes have a certain predictability verging on total blandness, like a Steelcase office desk. One reads about the importance of the gestalt of this experience from artists like Robert Morris, which he believed lead to a more holistic, unified apprehension of the object. "Unitary forms do not reduce relationships," he says. "Rather, they are bound more cohesively and indivisibly together."[1] On the one hand, the rectangles empty out the object, being everything and nothing, though they might lead to some kind of mathematical spiritual reverie. Yet on the other, in this particular work by Judd, we can perceive a distance from aspirations toward a unified experience in a few ways. Looking closer at the surface – the fasteners, the corners, the paint – I feel a certain fascination for its proximity to, and utter failure to join, that virtual phantom world of forms. The "resemblance" to an imagined perfection makes the distance from this realm seem all the greater. 
Paul Germanos posted a collection of his photos, capturing Chicago Art this summer.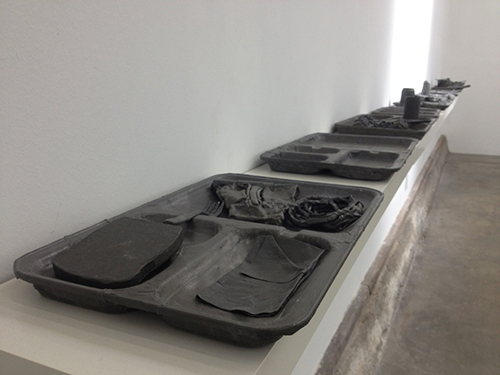 I always think of San Francisco as a place built on idealistic fancy. With its identity still fixed to the 60s, combined with the more recent influence of dotcom entrepreneurs make it a specific site with a specific history. But also, it is simply as far west as one can get before crossing a sea. News from San Francisco via Jeffrey Songco who walks and talks the Mission neighborhood, covering a variety of exhibits currently on view:
Sprinkled throughout this urban grid are several art venues.  From private galleries to non-profit spaces, the Mission is an eclectic mix as diverse as its inhabitants.  The tech folk have yet to share and indulge their economic prosperity with the artistic community of the Mission, but eventually some kind of connection will be made.  Until then, these art venues continue to produce and shape an active voice in the shape of San Francisco's cultural identity albeit in the shadow of technology's spotlight.
Meredith Kooi continues to post on performative movement from her Atlanta roost, thinking this time about Utopia:
This July, I participated in the gloATL Summer Intensive. gloATL is an Atlanta-based dance company that creates physical installations for the public. During the Intensive, there were six of these installations that focused on the concept of utopia for a series of "utopia stations" that was part of its series Liquid Culture: a collection of gestures and sensations from an asphalt perspective that had occurred during the summer for the past few years; this summer was the last of these installations. Lauri Stallings, the choreographer and founder of gloATL, considers these performances installations – physical and public installations; the series is described as "physical installations [that] are unveiled as public utopia stations for arriving, leaving, and staying for awhile." [1]
Thomas Friel writes about his experience at ACRE this week, also in reference to Utopia:
Utopia as a reality is impossible to sustain, as human drama will eventually overcome and surmount a perfect existence. Some asshole always finds a way to get his agenda to the top of our concerns. Instead, what may be proposed here is a part time utopia: a form that allows a brief exposure to a utopian system in a format that seems possible. Likewise, the temporal nature of the system actually allows it to thrive, as human nature never gets the chance to ruin it. Able to geographically remove ourselves from city life we could fit within a more fulfilling life in this part time utopia; a utopian model which recognizes the inevitable failure of utopias. In the span of a two week residency, utopia can exist. We started to get it. Hammering it home was Ukiah, a six person artist collective from the Bay Area, who leave their day jobs once a week to build a cabin out of fallen timbers and mud on a ranch property. What does it mean to have a part time or temporary utopia in the context of art? Does this mimic how art is often made, in spurts of spare time, extracted from the pressures of the real world? Could a model of a part time utopia be sustained on a personal level? Is the idea of utopia important to the creation of art? Is its manifestation proof that art can create social change, or merely a distraction from art making? Do you really want to live forever? Alphaville lyrics reprinted without permission?
Once again, closing out the week with a slew of opportunities waiting to be bestowed upon you.
I didn't get a chance to post this yesterday, as I was sitting in the Music Box at their Noir Festival which I'd highly recommend if you feel like checking out some hard crime adventure during the last gasp of summer…More to the point, however — here are some opportunities that I came across, with special thanks to The Chicago Artist Resource where I found many of the following calls: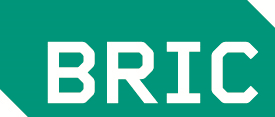 1. Media fellowships available for Brooklyn Based media artists:
Each year, the BRIC Media Education and Contemporary Art programs sponsor the BRIC Media Arts Fellowship. The Fellowship makes BRIC Media Education courses and facilities available to professional Brooklyn-affiliated visual artists (born, live, or work in Brooklyn) at no charge. We provide training programs and technical assistance in video and digital production and in post-production technologies. Our classes include both BRIC Media Arts Fellows as well as members of the general public interested in television production, creating a unique mix of interests in the classroom. Learn more here.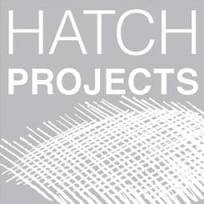 2. The annual HATCH artist residency deadline is coming up on October 6th.
HATCH Projects is a yearlong, juried incubator for contemporary Chicago artists and curators that strives to support an ecology of curatorial and artistic practice. A pioneering initiative of Chicago Artists' Coalition (CAC), HATCH Projects fosters shared experimentation, exchange and creativity to produce ground-breaking exhibitions and programs. Twenty-four Artist Residents are accepted into HATCH Projects based on an application evaluated by the program's four selected Curator Residents. Artist Residents are divided into groups of six to work with one Curator Resident throughout the year. Selected artists will participate in two exhibitions curated by the group's assigned Curator Resident. Each Artist Resident receives professional development through dynamic exhibitions, one-on-one studio visits, public programs, and community building to develop a sustainable creative practice. More here.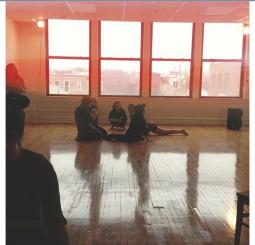 3. Seeking Submissions for "Research Project #2" – The Space Movement Project Deadline: Monday, September 30, 2013 
Research Project is a low-tech works-in-progress performance series which brings performing artists together amidst their creative processes to show work, share process, give and receive feedback, start conversations and chew the fat. This opportunity provides a community forum for experimentation, emerging ideas and artist-to-peer support. Check out details here.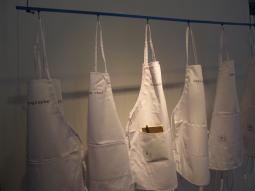 4. For artists interested in public/participatory performance for exhibition at MCA Chicago:
A House Unbuilt (HUB)

 is seeking artists who have experience with participatory performance and/or performance in public spaces for a one-day exhibition at the MCA Chicago.  The exhibition will take place on October 1, 2013, and will feature a site-specific adaptation of HUB's program DINNER DANCE, the choreographed meal.  DINNER DANCE is a improvisational performance structured around the social choreography of mealtime. Toward a goal of public engagement for the MCA adaptation, HUB has devised a number of participatory "stations" to be facilitated by volunteer performers throughout the museum.  These facilitators should have a sense of customer service, an ability for keen observation, and a performance presence in their own right. There will be 1-2 meetings/workshops in the weeks prior to the performances.  Artists must be available for the day of October 1st. For more information, send resume, work sample/portfolio, recent photograph, and a letter of interest (containing brief description of similar past experience) to 

ahouseunbuilt@gmail.com

.

9. There is a job opening for a Professional Development Associate at Mid-America Arts Alliance in Kansas City. Apply by  Sept. 21, 2013.
This position is responsible for completing the administrative and support functions for the Professional Development (PD) division of Mid-America Arts Alliance (M-AAA). This includes, but is not limited to research, development, implementation, and evaluation of all professional development programs. This is accomplished by setting up/maintaining files, records and reports; processing paperwork and invoices; managing all details related to scheduling  and the fulfillment of all program events. This individual may travel to coordinate event management and/or to represent MAAA as needed. On a day-to-day basis, this person answers questions and assists program participants to fully utilize program services. In addition, this person will be responsible for collecting, analyzing and preparing/presenting summaries of project evaluations and  activities for publication and/or presentation as required. More here.
5. Want to make work in Hungary? Residency applications for HMC International Artist Residency Program due September 15, 2013.
HMC International Artist Residency Program, a not-for-profit arts organization based in Dallas, TX / Budapest, Hungary – provides national and international artists with the opportunity to produce new work while engaging with the arts community in Budapest, Hungary.  "Artist residencies allow the time for dialogue and create connections that contribute to the future.." More info on their website here.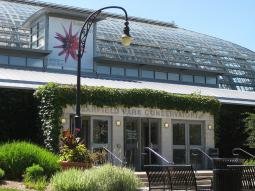 6. Garfield Park Conservatory seeks proposals from Chicago-based artists for creative interpretations of wind chimes for an exhibition in the exterior Conservatory gardens during October 2013. The deadline is August 30th. Read more about that here.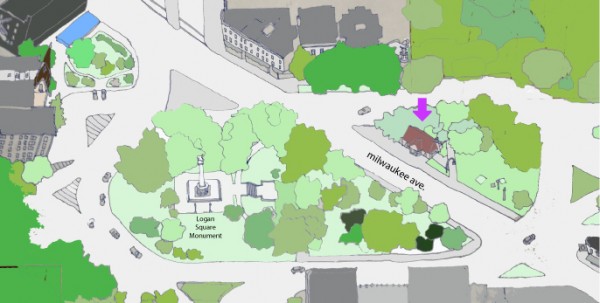 7. Submit exhibition proposals to The Comfort Station, a turn of the century structure turned multidisciplinary art space, by Saturday, August 31st, midnight:
We are currently accepting proposals from artists, emerging curators and organizations for our 2014-2015 calendar. It is our goal to connect artists and arts advocates through Comfort Station. Final 2014 schedule will be announced September 15th.  To apply, please email art@comfortstationlogansquare.org with the following information:

• An artist statement or curatorial concept supporting your proposed exhibition
• A link where we can view examples of artwork
• If no site is available, then please attach images to email (just please be conscious of file size)
• Bio, resume and/or CV
• Any special display considerations Comfort Station is open to proposals of artwork of all media; performance, sound art, installations are all highly encouraged.
8. The Sub-Mission deadline for artist proposals is August 30th. Read more about that here.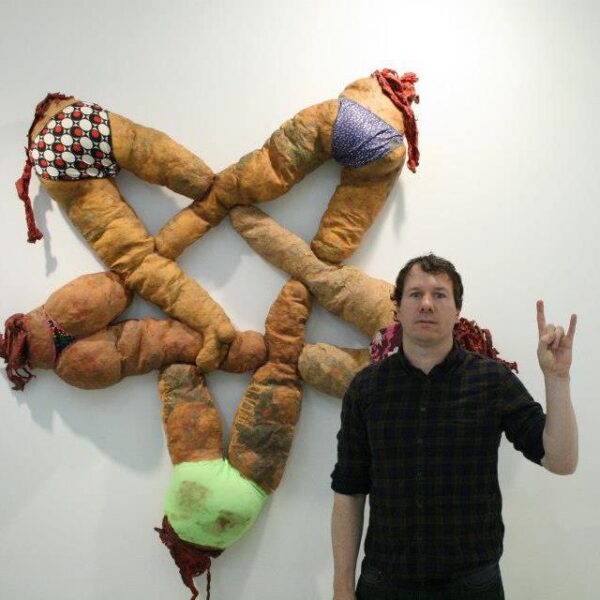 The podcast this week features Amanda Browder (of the Amanda Browder show) chattings with artist/ curators Keri Oldham and Jacob Rhodes, founders of the artist run space Field Projects in Chelsea, NYC. They talk about artists as curators, the current gallery system and different ways these two have worked to make Field Projects a space for innovation. Next, Max and Hank do the shortest interview in the history of the show at Chicago Comic Con. Lastly, Bad at Sports remembers Eydie Gorme.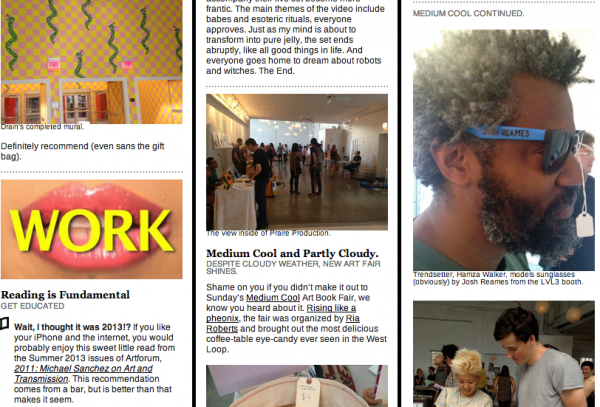 What's the T? Edition #15 courtesy of Dana Bassett talks Medium Cool, Rosemont Outlet Mall art opening, and print plans for EXPO. All that and much, much more here.

I reposted an essay by Dylan Trigg about ghosts:
Today, there is a danger that the theoretical treatment of hauntology has become academically and culturally canonised, and therefore rendered sterile. Indeed, increasingly the term is marked less by a critical interrogation of the past and more with an uncritical if not sentimental affirmation of a certain type of obsolete culture and sensibility that has its roots in 1970s British and to a lesser extent North American media. Into this framework, the category of the ghost has assumed a significant role. But only now, the presence of the ghost plays a metaphorical role, not as an actual spectre of the undead, but as a device that enables the voice of the overlooked past to finally be heard. It is an aesthetic of liberation, therefore, aligned with an admirable political orientation, but which is less at the service of the ghost itself and more the voice the ghost speaks through.
Tyler Green initiated A Day for Detroit on Wednesday where we teamed up with over twenty other blogs across the country and posted a series of works from the DIA's permanent collection, including Joyce Scott, Max Kaus, David Barr, Brenda Goodman, Eduard Duval-Carrié, A Man's Shirt, Mary Bendolph, Charles McGee, Heather McGill, and Martin Lewis. The project (including a list of participating blogs) was covered by the LA Times here.
Shane McAdams went to the Poor Farm this week and ruminates on his experience there while reflecting on upcoming shows in Wisconsin:
I finally found the time to drive two-and-a-half hours north to the tiny town of Little Wolf to see, indeed, experience, The Poor Farm, the experimental exhibition project imagined by Michelle Grabner and Brad Killam…It's difficult to appraise the individual exhibitions at the Poor Farm independently from the raw charm of the space itself. Though there is a clear demarcation between exhibitions, theFarm's ambient personality unifies the experience. One of my favorite pieces on view is a painting by John Riepenhoff in gallery 5 on the second floor; another is a nearby wall in gallery 3 whose stratified paint layers happen to be artfully flaking away.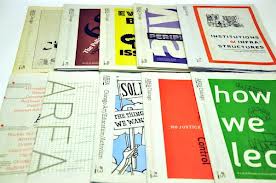 Finally, we closed out the week with a list of opportunities, including Newcity's "Hijack a newspaper" call for proposals, a call for AREA proposals and CAA's travel grant extension.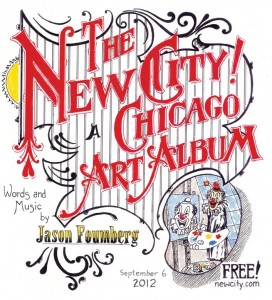 1. Hello. First of all, New City is just going to hand you, fellow artist a ton of real estate. Are you ready? In other words, do you want to hijack a newspaper? The one catch — the deadline is tomorrow, so get busy:
We are seeking proposals from Chicago-based artists who want to take advantage of our distribution stream—30,000 copies circulated across 900+ locations throughout Chicago—and who will make the most of our magazine format. This is for the September 5 issue, the big gallery opening weekend, so all eyes will be on your art! – See more here.
2. Bad at Sports' retweeted this from @collegeart: Deadline for applying to the CAA International Travel Grant Program extended to Friday, August 23!
The CAA International Travel Grant Program, generously supported by the Getty Foundation, provides funding to twenty art historians, museum curators, and artists who teach art history to attend the 102nd Annual Conference, taking place February 12–15, 2014, in Chicago. The grant covers travel expenses, hotel accommodations, per diems, conference registrations, and one-year CAA memberships. For 2014, CAA will offer a one-day preconference meeting on February 11 for grant recipients to present and discuss their common professional interests and issues. Details on that here.

3. Program Director position opens up in NYC at Resource Generations. Applications due by or before August 22nd.
The Program Director reports to the Executive Director of Resource Generation. The key role of the Program Director is to ensure that the programs of RG are furthering the general mission and specific initiatives (ie, racial justice, campaign for tax justice) of the organization. They are also responsible for supporting and supervising other members of the program team, as individuals and as a cohesive group, and ensuring that member-leaders are being developed to lead in and out of RG. Seeking someone based in, or willing to relocate to, New York City. More info here.

4. Fringe Arts Bath has opportunities for aspiring curators. Deadline 18th October 2013
Fringe Arts Bath has opportunities for aspiring curators to devise and organise a show as part of the FaB festival 2014. We are looking for challenging and fresh concepts; FaB is a good test-bed for the new, wonderful and sometimes odd. We are open to suggestions and encourage you to think outside the box! FaB curators' shows can include: performance, intervention, installation, multi-media and video work, photography, drawing, painting, sculpture and all disciplines in between. Submit a 500 word proposal detailing the underpinning themes with supporting images (optional) and CV, all formatted as PDF or Word Doc. Check it out: www.fringeartsbath.co.uk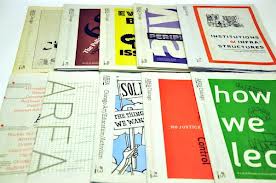 5. AREA Chicago proposal due September 1st:
2012 Propeller Awardee AREA Chicago is a community publication that supports Chicago-based social justice practices and struggles. AREA is a space that brings together Art, Research, Education and Activism to create relationships across the boundaries that segregate our city and our minds. Our next issue will be called Kids! In this issue, we want to explore how our society defines what it means to be a child, how kids participate in the world, and what it means to be growing up in Chicago. We want to see how children and adults come together to challenge "mainstream" understandings to build more just communities and relationships. We welcome proposals from all age groups for our web and print publications. Our emphasis is on local practices that engage with the social, political and cultural dimensions of the topics we are exploring.