Polyvinyl Records and Joyful Noise Records recently announced the release of Testimonium Songs, a studio album composed by the iconic Chicago band, Joan of Arc, and performed live in Every house has a door's latest performative work — debuting this week in Chicago — Testimonium. Every house is iconic in its own right, tied directly as it is to Lin Hixson and Matthew Goulish's prior collaborative project, Goat Island. While I was grateful for the opportunity to interview Hixson a little over a month ago, I wanted to dig a little deeper into the composition and collaboration present in the musical component of this project. What happens then when two organizations, drawing on two respective aesthetic discourses — rock and roll, and performance art in this case — meet to create something new? In this case, objectivist poet, Charles Reznikov stands at the center for both, creating a platform on which both musical composition and embodied choreography rely. In the following interview I asked Tim Kinsella — a member of Joan of Arc and author in his own right — to talk about his experience creating this record.
Caroline Picard:Â How did you start working with Every house has a door? Were you expecting to make a new album with them?
Tim Kinsella: Bobby and I used to play in another band together called Make Believe and that band toured non-stop for a few years. We acquired a pretty good collection in our van library – a cardboard box under the backseat. Matthew's book, 39 Microlectures, somehow ended up in there and the nature of that book invites rereading. So by the time I went back to school for my MFA at SAIC he was the person in the program whose work I felt the greatest familiarity and kinship with. And we're neighbors. So we ended up bumping into each other all the time and pretty quickly realized that not only did our sensibilities have some commonalities, but some practical eccentricities (is that a good way of saying 'constant travel?') also seemed compatible. The starting point for our collaboration was "falling between two chairs" and it's the only way it could've been. Our band has always failed to be what anyone wants it to be and Every House, though maybe in a more sophisticated way, seemed invested in frustrating and confounding expectations. And the album is essentially a byproduct of the collaboration. I don't know if I'm saying that exactly right, but what I mean is  — and this is true of the entire Joan of Arc discography — the process is determined and the limitations and indulgences agreed upon, etc.  The subsequent record just happens. At the risk of somehow sounding both overly analytical and hokey with earnestness, as far as I can tell, records exist only because the people making them somehow enjoy the process of making them together after agreeing on how to make them.
CP:Â What was your experience like composing new music for this particular project? Was it different from how Joan of Arc usually composes albums?
TK: It was the exact challenge that we were prepared for but didn't know exactly how we would focus. We had been writing longer pieces — an 80-something minute score to Dreyer's Joan of Arc that we had to pull of live; a series of records in which each piece was determined by how long one side of vinyl can be. One record was toured live before it was recorded and then recorded live in the studio with no overdubs and the one before that was made entirely in the studio, showing up the first day with no songs written and no instruments in hand, using only what we found at the studio. So writing in response to particular constraints was already our thing. A few years ago we had a giant and liberating break-through as a band — the realization that our own tastes had very little to do with what might be potentially expressive. Becoming comfortable writing against our own tastes simplified everything. I really just like Bad Brains and Lungfish. I guess I sometimes listen to Bauhaus and Can and Slayer. But I'm not interested in trying to sound like them. I guess people often write songs about their feelings or whatever, but I'm a grown man so I don't really have a sense of what my feelings would be like and even if I could somehow locate them, they hardly seem like a relevant standard of value to me. So it's good for us to have a standard by which we can determine success or
failure.
CP: On the one hand, the album feels like an autonomous project — something that one can sit down and listen to in a living room — however, in the live performance of Testimonium, the Joan of Arc portion is one piece of a longer performative event with Every house. How did that structure come together?
TK: Lin and Matthew are superlatively inspiring in many ways. The structural and formal balance that defines and sustains the tension of Testimonium is a demonstration that daringness and sensitivity are not contradictory impulses. It's been such a privilege and joy to see how they operate and compose. They contradicted my every intuition and in doing so created this thing with some weird Life in it.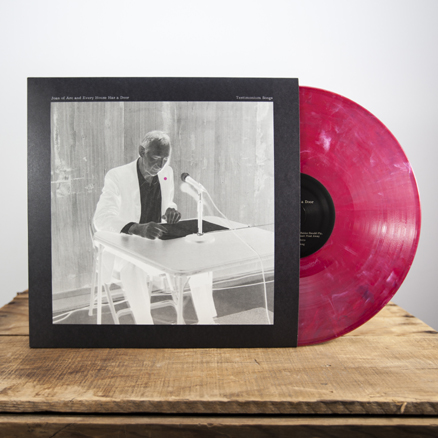 CP: What are you aware of when you're on stage with Testimonium? Does playing live music in a performance context feel different from playing at a music show?
TK: Oh yeah. All the rituals of live music performance are undermined and we love it. The whole catharsis-spectacle is frustrated and maybe we're grizzled old cynics to find that liberating, but I promise that Testimonium will equally frustrate those expecting a rock show as it will irritate those expecting a performance piece. We've done 5 weeks of Joan of Arc regular rock club shows this fall. I just got home yesterday. And I am aware that I internalize certain shortcuts or tricks to keep count. Muscle memory is subconscious and essential — my weight is on my left foot for the 2 and 4 of this song and my hip knocks out on this accent. But the potential promise of a rock show is that everything can blow apart to smithereens at any second. It remains almost constantly on the verge of falling into chaos. Testimonium on the other hand is so controlled. The quiets so drawn out. The blocking so precise. It removes that essential sense of tension and by simply reframing how a band is set up on stage, the entire experience gets broken down to its core components. It's thrilling and perverse while also so simple. And its greatest threat, it might bore you. Nothing in the fucking universe is more boring than watching the rituals of mediocre rock clichés constantly begging to be paid attention to. It's embarrassing for the performers and the audience. But people not interested in seeing their live music stripped of those kind of cliches will find this difficult and maybe even painful. So of course we're taking on a certain kind of associative baggage. But if that's what it takes to draw attention to the usual baggage a rock band brings to performing, we're fine with it. Thrilled in fact!
Every house has a door will premiere Testimonium in Chicago with seven shows as part of SpinOff beginning October 18. Seating is limited for this free event, so please RSVP to guarantee your place.
You can also visit this site to pick up your copy of the Every house/Joan of Arc record, Testimonium Songs, Magenta vinyl limited to 550 hand-numbered copies. "In a departure for the band, these highly structured compositions, developed over a two-year rehearsal period, emulate Reznikoff's poetics by shaping themselves according to a mosaic method – rotating a fixed set of musical units in warping permutations. The lyrics re-invent the strategies of Objectivist poetry, by turns surreal, ordinary, testimonial, and explosive, releasing the undercurrent of emotion in the poems while (almost) never quoting them directly. Beyond collecting the Testimonium Songs, the record has a life of its own, with the contributions of stellar musicians David Grubbs, Fred Lonberg-Holm, Michael Zerang, and Jim Baker, additional vocals by Melina Ausikaitis, and musical material not included in the performance. The cover art was made by renowned Chicago artist Jason Lazurus."

.
This summer I visited slow gallerys' group show, Rehearsal Attire. It was an exhibit about painting and something about what slow's Director Paul Hopkin said has stuck to my ribs. Hopkin talked about how many Chicago painters created flat canvases, with a picture plane that stands parallel to the viewer, suggesting this predisposition might have something to do with our immediate landscape — the way we live in a flatland, on urban streets crowded with buildings. By comparison  Southwestern painters are prone to pictures with expansive skies and topographical landscapes  stretching indefinitely out. Hopkin admitted that conversations like that — about horizon lines and abstraction — led Fischer and Hopkin to organize Rehearsal Attire together. In this case, however, landscapes were not expressly present, nor limitless topographies. Rather, Fisher's abstract paintings hung alongside Meg Duguid, Mindy Rose Schwartz and Charles Fogarty. Duguid disassembled a wall in the gallery and packed it in a suitcase. Fogarty removed a wall from his studio, on which he had painted a gingham cloth and re-situated it inside slow, beside a pile of campaign-like baseball hats that read "LUNCH". Mindy Rose Schwartz sculpted a figure out of plaster cast with an unprimed, and partially stitched canvas face; in another work a delicate series of hoops reach off the wall at variant angles. Between the hoops' bounds, flowers and thread weave in abstract, figurative compositions. I was drawn into these works with many questions — questions about limits, deconstruction, assembly and abstraction, questions that brought me to Andreas Fischer's studio, where we discussed his approach to painting, and how Rehearsal Attire came about.
Caroline Picard:Â How do you think about horizon lines in paintings? Can you have multiple limits operating at once in the same piece?
Andreas Fischer: Things like horizon lines and spatial boundaries come from  conventions embedded in the images I have been using.  The starting points for all of my recent work are what I would call conventional everyday image types -the kinds of images that are so present that they often get taken for granted or ignored.  At the same time, though, they have a problematic status because they are completely  contested territory even though they might look stable.
On  one hand I am using various aspects of the conventional states of these images, which are socially determined. On the other hand I am  materializing a reaction by trying to reconstruct these images, which I see as an example of how any individual might react. So, yes there are definitely multiple limits and they are directed by moving changing negotiations that I see as a kind of intersection of one idea of what is social and another idea of what is individual. Painting in this sense is a kind of materialization of reception or reaction — action painting in a sense, but not as a statement — maybe more like the way an electronic instrument might monitor a changing environment.
CP: Wait — that's exciting. How is a painting like an electronic instrument? Is it responding to you or the viewer?
AF: Well, I think of painting as decidedly not static and that is a big reason I am interested in it.  I do think that so called fixed images are different from what we more clearly accept to be in motion.  Paintings are moving perhaps more slowly and can be understood as attempts to visualize actions in a heightened way.  Literally and chemically paint is  moving and changing over time from the moment pigment is ground, through the gesture of applying paint, to the drying; shrinking; aging and cracking that paint undergoes over time.
More importantly, though, a painting is an  action or gesture that begins to happen under certain circumstances and changes as the context around it changes. Our perceptions and interpretations of paintings change as the changing chemical compounds intersect with worlds that are always trying to figure themselves out. In this sense painting is like an electronic instrument in that it is a kind of sensor and feedback system that outputs interpretable data as the world moves — the meaning of the painting (or its output) changes as the stuff around it changes.
I am interested in the act of painting as a way of thinking, sorting or  diagnosing.  Both painting and electronic instruments come into being in a sense because of what they need to be able to do with their environments.  Electronic instruments are programmed to track, calculate, and relay data based on socially developed criteria or perceived need.  Maybe we do a version of this too as individuals  and if so I think painting is likely a materialization of this kind of reflection of a larger social environment.
CP:  How do you think about the logic of a single composition? 
AF: The operating functions for composition and formal relationships for me are negotiation and process. In a sense each work is compositionally and formally its own activity. The kinds of reactions and procedures that an image seems to provoke on a given day especially as these bounce off of different patterns of thought and expectation floating around in the world vary quite a bit. This part of the operation  is not a logical progression — it is more preformative, maybe a bit like the way a player responds to the action in many kinds of sports.
CP: But in that case are you playing against yourself? Like a soccer player bouncing a ball against a concrete wall with static, physical and predictable qualities? Or do you feel like the canvas/paint/medium brush are less predictable and somehow capable of responding to you, like — say — another player on the field?
AF: I definitely experience it as the latter.  What I was thinking about was the way a body navigates and responds to various barriers and desired outcomes in real time — the spontaneous interaction of it all is so much like the act of painting for me.  Maybe the ingredients of painting are not quite like another player, but more like the entire context of the game.  So yes, the medium is not predictable for me.  If I could control it I wouldn't paint.  Furthermore,  I suspect that I am deciding or acting and reacting coextensively with social interactions I have had or might anticipate having in the future.  I think this is where the distinction between  what is social and what is individual falls  apart in an interesting way because each of these determine the other and maybe there is not really even a distinction in the end.  Maybe we are really post-individual.
CP:Â How did your recent show "Rehearsal Attire" come together?
AF: Paul Hopkin and I have been talking about doing something for a while and when we started to think seriously about what a project might look like we started trying think of way to  acknowledge conversation as a generative tool. I was making work that was in many was the product of specific conversations I was having with a few people and was very interested in a group show as a way to extend that dialogue.  I think Paul had been on that page for a while before we started working on the project.
Much of art history is really the act of watching very particular materialized conversations between a surprisingly small group of people. One could argue that the real content of much art is the function of conversation or relatively intimate social interaction. I wanted to start acknowledging my work as a set of  indexes of  lines of conversation.  I wanted to take that system  into a gallery and mix it with a different group of people  having different conversations so that one conversational context would bounce off of a few others to see how they would co-mingle and resisted each other.  There are so many amazing ways that groups or specific conversations out in the world intersect with other groups.  There is something fundamentally fascinating about a semi closed circle bumping into another semi closed circle.   That vibration, that negotiation is incredibly exciting to me and has been a huge motivator for my work over the last several years.
CP:Â How do you see that fitting into the more general dialogue of painting at the moment?
AF: I see a great deal of coolness of one kind or another in painting right now. I might be interacting with that characterization in the sense that, even though I kind of love much of the work I would characterize this way, I am much more interested in a state of being thoroughly tangled in the messiness of thought, struggle, material, and process.  I am probably not anything like cool in my interaction with painting.  I think I embrace a kind of sloppy affirmational complexity that has more of a diving-into-the-muck quality to it.
CP:Â How do you think about deconstructing frames? Is that something of interest to you in painting?
AF: I love deconstruction and the expectation that it will yield different layers of meaning. But I don't think of my work in those terms right now. I think the negotiations that I see the work enacting are more like a struggle to bring things together. There is the familiar idea about early modernism that at a certain point painting became more opaque, more interested in its own materialism as a way of enacting skepticism toward unified illusion and its ability to function as a vehicle for certain idealisms, perhaps dangerously so. This is a way of seeing materially oriented painting as engaged in negation, criticism or the act of taking apart to an extent. Now that the idea of a unified illusionistic painting is historical and the more usual way for painting to function is through assertions of materialism over illusion, I think materially active painting has executed one critical task that maybe does not need to be rehearsed as insistently anymore meaning that materialism is a kind of free floating signifier that can attach itself to a much wider range of potential functions.  The range of possibilities for material activity has opened  up.
One of the possibilities can be a link between opacity and the act or struggle to form an image or to produce rather than take apart. Painting can be expected to  create a narrative construction relative to images we know to exist or not. For me the act that is most important is the act of framing in a sense, or getting an image to grow and take shape inside a frame, on a surface, or within a field.  In that case when we watch a painting we are watching something grow.
CP: One of the things I often struggle with in abstract painting is how to understand the meaning, or what is at stake in a given work. Taking what you said into account, I wonder if this idea of emergent order (is that an accurate paraphrase for "getting an image to grow and take shape inside a frame") is at the heart of the matter. Namely, whether or not a painting succeeds and/or fails at that — whether it makes the pursuit of that order interesting, and — if you'll allow a sentimental tone — heartbreaking (again, because it succeeds, or almost succeeds)?
AF:Â I totally agree with what you are suggesting at least in terms of how I would like my work to live or die. Â Heartbreak could very well be a part of it all.
I like that you use the term emergent order as well.  I understand that to be a bottom up kind of growth based on a kind of exchange and growth where no one entity is in charge, is designing or directing the process or even knows what is going on, but great innovation or development takes place anyway.  I think social interaction that flows beyond individual intent or understanding (or maybe just determines it in the end), but operates none the less is totally fascinating and it might be that many kinds of paintings are symptomatic of this kind of function somehow because they happen through a group of impulses, gestures, thoughts, urges, curiosities that just move around an individual  kind of unknowingly.  There is an argument about Cezanne, for example that his supposedly individualistic innovations in paint handling are really just marks that anyone could make, which means that Cezanne is not an old fashioned modernist genius, but a kind of repository of commonality and his brilliance is really in his assertion of a shared, common, everyday kind of simple mark that anyone could make.
In the end if all of these interactions somehow reflect something valuable  then they work.  And as you suggest, maybe if this kind of thing is true then it establishes a different way for painting to function than relying on what we might have called meaning in the past.  Maybe it is not really about the question of where or even if it ends up, but a kind of empathetic struggle to move toward something.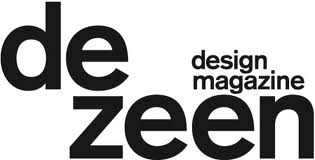 In the first of his monthly columns for Dezeen, V&A senior curator Kieran Long argues that today's obsession with authorship and celebrity "leads to serious imbalances in the way we see design in the world" and calls for an overhaul of the way design is curated in the twenty-first century.
Long, who was an architecture journalist before being appointed to curate design, architecture and digital at the V&A last year, points out that museums like the V&A focus on handmade, one-off objects at the expense of the mass-produced, anonymous objects that predominate in the real world. "The museum is more or less silent on the era of extraordinary Chinese manufacturing we are living through," he says.
Below he sets out "95 Theses" for contemporary curation, including provocative statements such as "Ugly and sinister objects demand the museum's attention just as much as beautiful and beneficial ones do" and "Museum curators have as much in common with investigative journalists as they do with university academics".
---
Every morning, on the way to my office, I pass a sign that reads: "Whatever thy hand findeth to do, do it with thy might." At the Victoria & Albert Museum, the building is always telling you to do something. The didactic, Victorian and Edwardian decoration asks you to pay attention to nature, to design and manufacture, to the provenance of objects, even where your food comes from. But this particular sign is deeply serious in its upper-case, gilded typeface. It can be seen only by V&A staff, and most often by the people who empty the bins in the service road at the back of the museum.
As a motivational slogan, it's espresso-strength, but it also betrays an emphasis at the V&A on the handmade, the artisanal and the one-off that design institutions, the media and designers themselves share. An object that an artist's or craftsperson's hand has touched has far more chance of making it into the V&A's collection than something mass-produced or anonymous.
In our China gallery, for very good institutional reasons, there are no contemporary, mass-produced objects. The twenty-first century is represented by artisanal glass and works of conceptual furniture design: the museum is more or less silent on the era of extraordinary Chinese manufacturing we are living through. Dezeen has a similar emphasis: while the site is catholic in its tastes, the anonymous, the mass-produced and the semi-designed are suppressed in favour of the work of a fairly coherent group of designers.
There are all sorts of pretty reasonable explanations for this. The most banal is, of course, that star designers are click bait: celebrity matters, especially in the media. On the other hand, some might argue that designers' work is simply better than the anonymous manufactured stuff that surrounds us. It's easier to love the milled aluminium monocoque of Jonathan Ive's Macbook than the awkward black plastic housing of a traffic light.
The emphasis on the authored leads to serious imbalances in the way we see design in the world. In future months, I will use this column to try to broaden the conversation about what design is, to try to move beyond a myopic interest in what designers and architects do, toward understanding what their work tells us about the world we live in. The others writing here (Sam, Alexandra, Justin and Dan) are all much better at this than me: I'm looking forward to reading their work. read more
In case you thought we maybe glossed over the epic amount of blood sweat and tears that went into last week's art fair extravaganza, I thought I'd repost a few articles that came out in the last few days including this one from Art in America: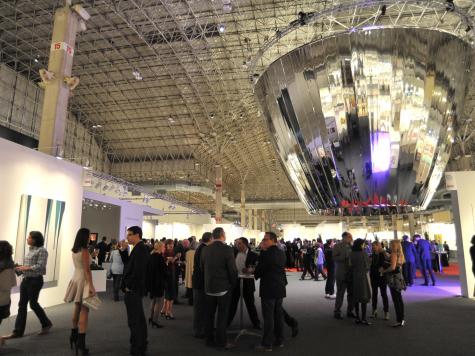 Strong Sophomore Outing for Expo Chicago
by Brian Boucher
"I'll tell you what distinguishes this year from last year," Expo Chicago director Tony Karman told A.i.A. at the fair's sophomore outing on Saturday, "and I'll tell you in one word—sales. It was very important that big dealers like David Zwirner and Marianne Boesky do well, and they have."
Featuring over 120 international galleries at the capacious Navy Piers (up from 100 last year), with views of Lake Michigan, Expo Chicago (Sept. 19-22) represented dealers from 17 countries and 36 cities. Some were returning, like Zwirner (New York and London), Matthew Marks (New York and Los Angeles), and Kavi Gupta (Chicago and Berlin). There were also many first-timers, including Marianne Boesky (New York), Cabinet (London), Massimo de Carlo (Milan and London) and Susanne Vielmetter Los Angeles Projects.
While almost every exhibitor acknowledged that sales were little to none in 2012, nearly all said that business was better this year. Dealers reported a range of sales, starting as low as $4,000 for works on paper by Chicago's own William J. O'Brien at Boesky. Works in a modest price range found the most ready buyers, but there were outliers. Boesky told A.i.A. of serious interest in an assemblage by Salvatore Scarpitta, Drummer Seargeant (1963), which was tagged at $750,000, and one dealer who declined to be named told A.i.A. that he had sold a million-dollar artwork—and to a walk-in customer, no less. read more
A handful of additional EXPO 2013 accounts can be found here: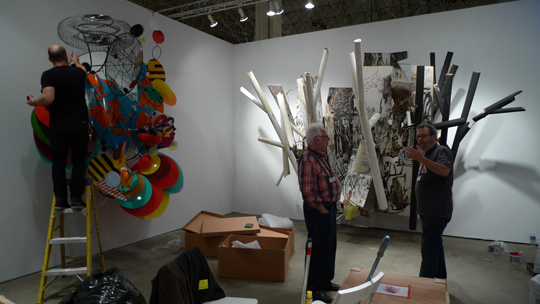 Paul Klein on The Huffington Post, with some lovely installations shots to boot:
This is the second year of this wonderful mid-sized art fair, with substantial galleries bringing some A quality art and almost enough cutting edge galleries showing off exciting artists to watch.There are some gorgeous treasures to be seen. 
More photos of favorite works via The Chicagoist.
Many reports via Art Fag City over the course of the week/end, beginning with from Paddy Johnson's mixed reaction:
Importantly, the fair seems an enormous step up from anything Merchandise Mart offered, a mega-fair corporation that's been largely unsuccessful at handling art. Much as the company does for Volta in New York, Merchandise Mart used their own real estate to house Next Art Chicago, even though its low ceilings were unsuited to showcasing art. Last year, when they closed, the organization claimed that collectors were only purchasing art on the coast lines.
A photo collection courtesy of Paddy Johnson, with "the good, the bad and the ugly:"
It's impossible to describe EXPO Chicago without offering a few images to tell the story. This slideshow with commentary do just that. Highlights, lowlights, and everything in between below.
And AFC'a closing word from Robin Dluzen:
A main concern for EXPO and the exhibiting galleries was last year's absence of collectors and museums from the wider midwest region and beyond, and this year, EXPO managed to draw them in. William Lieberman of Zolla/Lieberman Gallery (a veteran Chicago dealer, first time EXPO exhibitor) saw his clients from St. Louis and San Francisco; Monique Meloche, also exhibiting for the first time at EXPO and the founder of Gallery Weekend Chicago running concurrently with the fair, had museum groups from Kentucky and Denver buying for themselves and buying for the museums. "MoMA is not going to buy here," she explains, "But this can be a strong regional place." It's not just the out-of-towners making themselves known, but also the more reclusive local collectors. "I had Sanford Biggers in my windows for months," said Meloche of the artist's recent exhibition at her eponymous gallery, "I brought him here to the fair and there are Chicago collectors discovering the work for the first time."
Dmitry Samarov writes in Art on its Own Terms:
My strategy at these fairs has always been to run through the entire thing quickly, then return to anything that made my eye stop. Most years that amounts to four or five paintings or drawings and this year was no different. There was a good corner where a David Park portrait was next to an Elmer Bischoff figure painting, with a Richard Diebenkorn drawing round the corner. I was also happy to see a Leon Kossoff painting along with a couple of drawings. There was an Alice Neal children's portrait too, that made all the work around it look like newspaper clippings. The thing I liked best though were a couple small Harold Haydon cityscapes.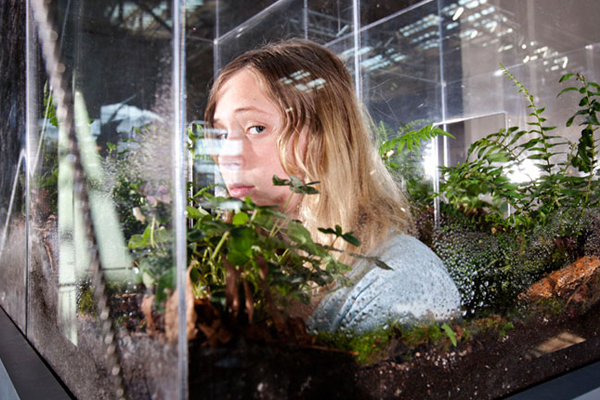 Chicago Magazine got a kick out of Seattle-based artist Vaughn Bell, mini earth-and-moss terrariums that were "available for adoption this weekend at the Expo Chicago art fair on Navy Pier." 


And finally — Artslant Thomas Connors interviewed Tony Karman:

TC: A fair of modern and contemporary work must be something of a balancing act. You've got the de Kooning collector on one hand and the Simon Starling fan on the other. And I'm guessing the blue chip collector isn't looking to acquire an emerging artist.

TK: Let me disagree with you. To some extent, there are certain collectors who will only want to buy that de Kooning. But other lifelong collectors want to be in the vanguard; they are going to look to the younger work because that is equally exciting to them. That's probably more the norm. A great collector likes to have a balance of contemporary work and historical material.
What follows is an essay by John Preus, soon to be released in the next issue of Proximity :
ON LOVE AND LABOR-THOUGHTS THAT ACCOMPANIED THE MAKING OF AÂ TABLE
By John Preus
I recently joined a Jungian men's group…(pause for my academic colleagues to peel off).
On some occasions in the group, we go around the room and everyone says something they don't want anyone else to know about them. It's called the withholding exercise.
One man was sexually and repeatedly abused by his older siblings, one had an affair with his brother's wife and his brother has never forgiven him, one hates his job and is embarrassed that he can't leave it, a married man loves his wife but is also attracted to young boys and suffers from intense longing, one is embarrassed that his stomach is growling, one spends more time than he would like to admit looking at pornography and was discovered masturbating by his 9-year-old daughter, one loves his wife so much that he feels emasculated and jealous and is afraid he will disappear, and one is in the depths of financial ruin.
I find this all riveting. Despite trying to maintain my cherished neutrality, I divulge to a room full of strangers something I've never told anyone before because it feels disingenuous under the circumstances. The confession, and the resulting (asexual) intimacy I felt with a room full of men was like an electric charge that glowed in me for a couple of days, temporarily erasing my general social anxieties. Under certain circumstances, shared vulnerability invites trust.
Tables support activity. And when they are not supporting activity, they are ready-to-hand, expectant, loitering around waiting for something to happen.  The now traditional binary, form and function, addresses this dual role of objects in their identity as placeholders and actors.   They are supposed to look graceful in waiting, to redeem the embarrassing position of being un-engaged.  I am inclined to think that craft, like Glenn Adamson points out, is a way of thinking about what happens in the world, how to have some influence over it, your place in it, culpability and accountability.  But the history of craft is also a reflection of collective longing and anxiety, loitering on the banks of the Styx, barking at the thing moving in the bushes.
Patching, as an additive variant of repair, is a long-standing strategy for lengthening the lifespan of a well-worn object, taking a piece of something to cover a worn piece of something else. Pant knees are patched with denim, roofs are patched with tarpaper and shingles, streets with bituminous, yards with pieces of sod, tarps with duct tape, cars with Bondo, boats with fiberglass resin. A patch is used when the object still functions, but is not stable unto itself. A patch does not generally change what a thing is, but prolongs a thing's ability to be what it is, however temporary. A pair of pants could be patched with shirt material to the point of being more shirt than pant. While this may be problematic for an ontologist—assuming that the pants continue to be worn on the lower half of the body—most of us would be able to accommodate them without philosophical strain. At the same time, the identifying function, "pants" occupies a relatively short span of time on their material morphology.
Quilting, a designation generally reserved for things made of fabric, is the result of surplus parts. It is not quite an assemblage or collage, although that history certainly relates to what is interesting to me about the table. An assemblage has to incorporate disparate parts, disruptions, things that were not meant to be together, a forced marriage, so to speak. Being that all of the table parts are wood, it isn't suitable to describe it as an assemblage or a collage. And it is not marquetry, which is an image or pattern-making technique using veneers of different colors to develop a picture. Quilting takes parts of other things to make a new thing. I would venture to guess that it comes out of a utilitarian folk tradition in which materials were limited and people had to make do with what was around. That may have been true long ago, but I am sure that quilting happens now more among folks with time to kill, than among low income folks trying to save material, textiles being as inexpensive as they are.
The most apt description might be bricolage, or using what is on-hand. Levi-Strauss damned bricolage as mythological and irrational thought, in contrast to the engineer. Deleuze and Guattari described it as the general mode of thought for a schizophrenic. I prefer Jacques Derrida's statement: "If one calls bricolage the necessity of borrowing one's concept from the text of a heritage which is more or less coherent or ruined, it must be said that every discourse is bricoleur." Borrowing parts of other things to make a table strikes me as the most adequate expression of what a thing is in the broadest sense.    Within the table is another table, a futon frame, pieces of virgin plywood, parts from other projects, bits of a chair, and a panel from a stereo cabinet. Those identities have all been subsumed to become the "table" but they have not entirely given up their former character.