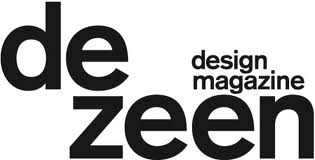 In the first of his monthly columns for Dezeen, V&A senior curator Kieran Long argues that today's obsession with authorship and celebrity "leads to serious imbalances in the way we see design in the world" and calls for an overhaul of the way design is curated in the twenty-first century.
Long, who was an architecture journalist before being appointed to curate design, architecture and digital at the V&A last year, points out that museums like the V&A focus on handmade, one-off objects at the expense of the mass-produced, anonymous objects that predominate in the real world. "The museum is more or less silent on the era of extraordinary Chinese manufacturing we are living through," he says.
Below he sets out "95 Theses" for contemporary curation, including provocative statements such as "Ugly and sinister objects demand the museum's attention just as much as beautiful and beneficial ones do" and "Museum curators have as much in common with investigative journalists as they do with university academics".
---
Every morning, on the way to my office, I pass a sign that reads: "Whatever thy hand findeth to do, do it with thy might." At the Victoria & Albert Museum, the building is always telling you to do something. The didactic, Victorian and Edwardian decoration asks you to pay attention to nature, to design and manufacture, to the provenance of objects, even where your food comes from. But this particular sign is deeply serious in its upper-case, gilded typeface. It can be seen only by V&A staff, and most often by the people who empty the bins in the service road at the back of the museum.
As a motivational slogan, it's espresso-strength, but it also betrays an emphasis at the V&A on the handmade, the artisanal and the one-off that design institutions, the media and designers themselves share. An object that an artist's or craftsperson's hand has touched has far more chance of making it into the V&A's collection than something mass-produced or anonymous.
In our China gallery, for very good institutional reasons, there are no contemporary, mass-produced objects. The twenty-first century is represented by artisanal glass and works of conceptual furniture design: the museum is more or less silent on the era of extraordinary Chinese manufacturing we are living through. Dezeen has a similar emphasis: while the site is catholic in its tastes, the anonymous, the mass-produced and the semi-designed are suppressed in favour of the work of a fairly coherent group of designers.
There are all sorts of pretty reasonable explanations for this. The most banal is, of course, that star designers are click bait: celebrity matters, especially in the media. On the other hand, some might argue that designers' work is simply better than the anonymous manufactured stuff that surrounds us. It's easier to love the milled aluminium monocoque of Jonathan Ive's Macbook than the awkward black plastic housing of a traffic light.
The emphasis on the authored leads to serious imbalances in the way we see design in the world. In future months, I will use this column to try to broaden the conversation about what design is, to try to move beyond a myopic interest in what designers and architects do, toward understanding what their work tells us about the world we live in. The others writing here (Sam, Alexandra, Justin and Dan) are all much better at this than me: I'm looking forward to reading their work. read more
In case you thought we maybe glossed over the epic amount of blood sweat and tears that went into last week's art fair extravaganza, I thought I'd repost a few articles that came out in the last few days including this one from Art in America: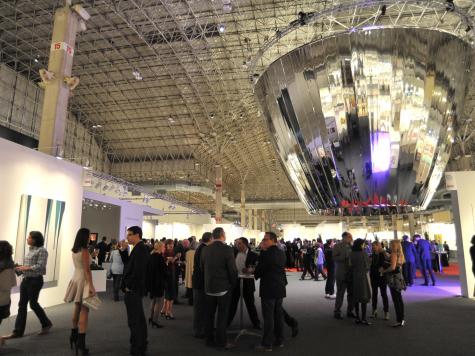 Strong Sophomore Outing for Expo Chicago
by Brian Boucher
"I'll tell you what distinguishes this year from last year," Expo Chicago director Tony Karman told A.i.A. at the fair's sophomore outing on Saturday, "and I'll tell you in one word—sales. It was very important that big dealers like David Zwirner and Marianne Boesky do well, and they have."
Featuring over 120 international galleries at the capacious Navy Piers (up from 100 last year), with views of Lake Michigan, Expo Chicago (Sept. 19-22) represented dealers from 17 countries and 36 cities. Some were returning, like Zwirner (New York and London), Matthew Marks (New York and Los Angeles), and Kavi Gupta (Chicago and Berlin). There were also many first-timers, including Marianne Boesky (New York), Cabinet (London), Massimo de Carlo (Milan and London) and Susanne Vielmetter Los Angeles Projects.
While almost every exhibitor acknowledged that sales were little to none in 2012, nearly all said that business was better this year. Dealers reported a range of sales, starting as low as $4,000 for works on paper by Chicago's own William J. O'Brien at Boesky. Works in a modest price range found the most ready buyers, but there were outliers. Boesky told A.i.A. of serious interest in an assemblage by Salvatore Scarpitta, Drummer Seargeant (1963), which was tagged at $750,000, and one dealer who declined to be named told A.i.A. that he had sold a million-dollar artwork—and to a walk-in customer, no less. read more
A handful of additional EXPO 2013 accounts can be found here: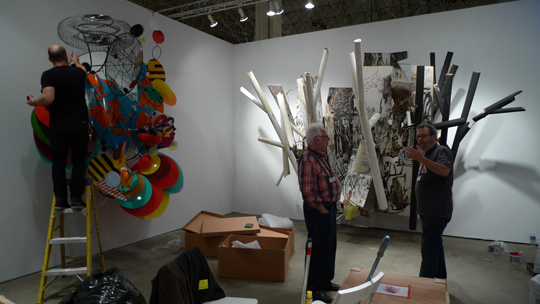 Paul Klein on The Huffington Post, with some lovely installations shots to boot:
This is the second year of this wonderful mid-sized art fair, with substantial galleries bringing some A quality art and almost enough cutting edge galleries showing off exciting artists to watch.There are some gorgeous treasures to be seen. 
More photos of favorite works via The Chicagoist.
Many reports via Art Fag City over the course of the week/end, beginning with from Paddy Johnson's mixed reaction:
Importantly, the fair seems an enormous step up from anything Merchandise Mart offered, a mega-fair corporation that's been largely unsuccessful at handling art. Much as the company does for Volta in New York, Merchandise Mart used their own real estate to house Next Art Chicago, even though its low ceilings were unsuited to showcasing art. Last year, when they closed, the organization claimed that collectors were only purchasing art on the coast lines.
A photo collection courtesy of Paddy Johnson, with "the good, the bad and the ugly:"
It's impossible to describe EXPO Chicago without offering a few images to tell the story. This slideshow with commentary do just that. Highlights, lowlights, and everything in between below.
And AFC'a closing word from Robin Dluzen:
A main concern for EXPO and the exhibiting galleries was last year's absence of collectors and museums from the wider midwest region and beyond, and this year, EXPO managed to draw them in. William Lieberman of Zolla/Lieberman Gallery (a veteran Chicago dealer, first time EXPO exhibitor) saw his clients from St. Louis and San Francisco; Monique Meloche, also exhibiting for the first time at EXPO and the founder of Gallery Weekend Chicago running concurrently with the fair, had museum groups from Kentucky and Denver buying for themselves and buying for the museums. "MoMA is not going to buy here," she explains, "But this can be a strong regional place." It's not just the out-of-towners making themselves known, but also the more reclusive local collectors. "I had Sanford Biggers in my windows for months," said Meloche of the artist's recent exhibition at her eponymous gallery, "I brought him here to the fair and there are Chicago collectors discovering the work for the first time."
Dmitry Samarov writes in Art on its Own Terms:
My strategy at these fairs has always been to run through the entire thing quickly, then return to anything that made my eye stop. Most years that amounts to four or five paintings or drawings and this year was no different. There was a good corner where a David Park portrait was next to an Elmer Bischoff figure painting, with a Richard Diebenkorn drawing round the corner. I was also happy to see a Leon Kossoff painting along with a couple of drawings. There was an Alice Neal children's portrait too, that made all the work around it look like newspaper clippings. The thing I liked best though were a couple small Harold Haydon cityscapes.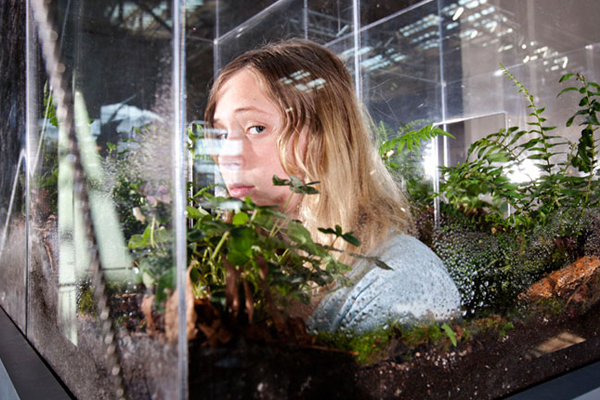 Chicago Magazine got a kick out of Seattle-based artist Vaughn Bell, mini earth-and-moss terrariums that were "available for adoption this weekend at the Expo Chicago art fair on Navy Pier." 


And finally — Artslant Thomas Connors interviewed Tony Karman:

TC: A fair of modern and contemporary work must be something of a balancing act. You've got the de Kooning collector on one hand and the Simon Starling fan on the other. And I'm guessing the blue chip collector isn't looking to acquire an emerging artist.

TK: Let me disagree with you. To some extent, there are certain collectors who will only want to buy that de Kooning. But other lifelong collectors want to be in the vanguard; they are going to look to the younger work because that is equally exciting to them. That's probably more the norm. A great collector likes to have a balance of contemporary work and historical material.
What follows is an essay by John Preus, soon to be released in the next issue of Proximity :
ON LOVE AND LABOR-THOUGHTS THAT ACCOMPANIED THE MAKING OF AÂ TABLE
By John Preus
I recently joined a Jungian men's group…(pause for my academic colleagues to peel off).
On some occasions in the group, we go around the room and everyone says something they don't want anyone else to know about them. It's called the withholding exercise.
One man was sexually and repeatedly abused by his older siblings, one had an affair with his brother's wife and his brother has never forgiven him, one hates his job and is embarrassed that he can't leave it, a married man loves his wife but is also attracted to young boys and suffers from intense longing, one is embarrassed that his stomach is growling, one spends more time than he would like to admit looking at pornography and was discovered masturbating by his 9-year-old daughter, one loves his wife so much that he feels emasculated and jealous and is afraid he will disappear, and one is in the depths of financial ruin.
I find this all riveting. Despite trying to maintain my cherished neutrality, I divulge to a room full of strangers something I've never told anyone before because it feels disingenuous under the circumstances. The confession, and the resulting (asexual) intimacy I felt with a room full of men was like an electric charge that glowed in me for a couple of days, temporarily erasing my general social anxieties. Under certain circumstances, shared vulnerability invites trust.
Tables support activity. And when they are not supporting activity, they are ready-to-hand, expectant, loitering around waiting for something to happen.  The now traditional binary, form and function, addresses this dual role of objects in their identity as placeholders and actors.   They are supposed to look graceful in waiting, to redeem the embarrassing position of being un-engaged.  I am inclined to think that craft, like Glenn Adamson points out, is a way of thinking about what happens in the world, how to have some influence over it, your place in it, culpability and accountability.  But the history of craft is also a reflection of collective longing and anxiety, loitering on the banks of the Styx, barking at the thing moving in the bushes.
Patching, as an additive variant of repair, is a long-standing strategy for lengthening the lifespan of a well-worn object, taking a piece of something to cover a worn piece of something else. Pant knees are patched with denim, roofs are patched with tarpaper and shingles, streets with bituminous, yards with pieces of sod, tarps with duct tape, cars with Bondo, boats with fiberglass resin. A patch is used when the object still functions, but is not stable unto itself. A patch does not generally change what a thing is, but prolongs a thing's ability to be what it is, however temporary. A pair of pants could be patched with shirt material to the point of being more shirt than pant. While this may be problematic for an ontologist—assuming that the pants continue to be worn on the lower half of the body—most of us would be able to accommodate them without philosophical strain. At the same time, the identifying function, "pants" occupies a relatively short span of time on their material morphology.
Quilting, a designation generally reserved for things made of fabric, is the result of surplus parts. It is not quite an assemblage or collage, although that history certainly relates to what is interesting to me about the table. An assemblage has to incorporate disparate parts, disruptions, things that were not meant to be together, a forced marriage, so to speak. Being that all of the table parts are wood, it isn't suitable to describe it as an assemblage or a collage. And it is not marquetry, which is an image or pattern-making technique using veneers of different colors to develop a picture. Quilting takes parts of other things to make a new thing. I would venture to guess that it comes out of a utilitarian folk tradition in which materials were limited and people had to make do with what was around. That may have been true long ago, but I am sure that quilting happens now more among folks with time to kill, than among low income folks trying to save material, textiles being as inexpensive as they are.
The most apt description might be bricolage, or using what is on-hand. Levi-Strauss damned bricolage as mythological and irrational thought, in contrast to the engineer. Deleuze and Guattari described it as the general mode of thought for a schizophrenic. I prefer Jacques Derrida's statement: "If one calls bricolage the necessity of borrowing one's concept from the text of a heritage which is more or less coherent or ruined, it must be said that every discourse is bricoleur." Borrowing parts of other things to make a table strikes me as the most adequate expression of what a thing is in the broadest sense.    Within the table is another table, a futon frame, pieces of virgin plywood, parts from other projects, bits of a chair, and a panel from a stereo cabinet. Those identities have all been subsumed to become the "table" but they have not entirely given up their former character.

The following interview was published originally in The Expo Register, a print daily created by What's the T? Dana Bassett with ACRE and Bad at Sports. "The vibrant, hand printed Register, designed by Chicago artist Clay Hickson of Tan & Loose Press, will highlight special events during the fair including reviews of special exhibitions and trends at the exposition."  The paper is available for free in assorted newspaper boxes at EXPO, and can be downloaded here, on the Bad at Sports blog, by clicking on our front page banner. You can also read Saturday's edition here.
Under the eaves of Navy Pier, four artists install four iterations of domestic space. These spaces — a bedroom, kitchen, living room, and studio — are envisioned expressly as artist domiciles, fittingly embedded in the commercial throng and hype of a contemporary art fair. Fitting, I suggest, because they are interdependent while nevertheless at odds. The aroma, mess and casual experimentation of a kitchen is a far cry from the professional white sea of gallery cubicles. Yet of course they are interconnected; the artist must sleep somewhere, just as he or she must also engage a commercial market. This juxtaposition manifests like a dream; it is hard to know if the domestic space is dreaming that it is in an exposition hall, or if the exposition hall is dreaming that it harbors domesticity. Emphasizing this surreal tension HOME reminds fair-goers of the quotidian world behind the otherwise sharp and prestigious kingdom of commerce. In the following interview I was able to discuss the project with curator Tricia van Eck and its participating artists, Lise Haller Baggesen, Sabina Ott, John Preus and Jane Jerardi.
Caroline Picard: I wanted to ask you about your definition of "home" first — I feel like it's a theme that you have been working with for some time with your project at 6018North.
Tricia van Eck: Home, for me, is simply where I am for any length of time. I have a loose definition of home and often call the place where I work, home. This is fortuitous since 6018North is a home — a dilapidated mansion in Chicago's Edgewater neighborhood — turned into an experimental art space.
Since art is often made in one's home — thought about in the tub, worked on in the studio, written about in the office, discussed at the dinner table, and then shipped off to be shown elsewhere — what if art was presented in the home where it was made? What if everyone's home became an art space?
I believe people are yearning for unique, inclusive experiences and 6018North provides this experiential space and platform to connect with others through art. We encourage artists to take risks and to develop projects (often communally) that challenge what art is, who it is for, how and where it is made, and where it is shown. We encourage artists to think about audiences as if they were guests in the space (their home for the time being). My favorite experiences at 6018North are when the space is buzzing like a good party, where people are talking, meeting, laughing.
CP: Has your understanding of domestic places in your own day-to-day, non-art life changed as a result of these recent curatorial practices? 
TVE: 6018North's events almost always involve food and conversation to provide time to connect, talk, and discuss the art on view, as you might if in someone's home. 6018North also hosts conversational dinners for more in depth conversations related to its exhibitions or various concerns facing artists. In college, I lived in a cooperative vegetarian house and some of our conversations over dinner with friends and strangers alike, radically altered my thinking and worldview. This is the power of art and ideas shared in comfortable settings. If change begins within, it often occurs in homes, where we feel safe and secure enough to challenge ourselves.
CP: What made you want to do a series of "homes" at a place like EXPO?
TVE: I love the expressions: "make yourself at home" and "mi casa es su casa". At the recent Venice Biennale, I loved the feeling within the Pelham Project, and HOME draws from Michalene Thomas's popular apartment/bar space at Art Basel. I also like democratizing the experience of VIP rooms at Art Fairs where collectors can relax their eyes and get free coffee, champagne, or ice cream. For HOME I invited four artists whom together have created an amazing artists' home with generous and experiential rooms — an artists' studio, kitchen, living room, and bedroom to offer "an artists' home." Lise Haller Baggesen has recreated her artists' studio replete with disco balls, glitter, and glam, while John Preus and Dilettante Studios' kitchen, built from reclaimed cabinetry, hosts performances, talks, and discussions curated by Laura Shaeffer from SHOP. Sabina Ott's chill-out living room offers Expo attendees a captivating space to relax while Jane Jerardi's performative bedroom presents a dreamy moment of longing. As a home within an Art Fair, whose intent is to sell artwork, the artists and I are experimenting with how to challenge and commingle ideas of capitalism and mercantilism with generosity and hospitality through art, food, drink, performances and conversations. We want HOME to offer a unique but comfortable way to experience art within the Fair but yet not pretend to remove ourselves from its contradictions of exclusion and inclusion, since these ideas are also intrinsic to our homes, which both separate and unite, as does the art world.
CP: What is your definition of home? Or how do you think about domestic space?
Lise Haller Baggesen: The Studio is the home where the buffalo roam, where the deer and the antelope play and where Iggy Pop just wanna be your dog. The highway to hell runs through it as does the stairway to heaven. What I mean to say is that the studio is a "home" in a larger sense that the strictly domestic, or that it is a home to the undomesticated self. Since I am a very domesticated person, I am a wife and mother of two, it has always been very important for me to have a studio space that is separated (by at least a mile) from my actual home. I have to go to that place to get to that place.
Sabina Ott: Home, to me,  is a site of rest but mostly a place to build connections with family, friends, neighbors.  I am interested in spaces that are many spaces all at once — a home that becomes a community hall, that becomes an artwork, that becomes a nest.
John Preus: It is more an idea than a place.  A destination, a return, a longing, a loss, the place to which we are reconciled and always in the process of losing.  My interest in it is tied to my life with a family, and how that life clashes with, or bumps up against, or augments my life as an artist.  Much of the work on the theme of home started in graduate school when I had young children and was not home very much to see them, and the tension I felt around that condition.  Having children made me much more acutely aware of temporality because children grow and change so fast, and each moment is so tremendously beautiful (and mind-numbingly banal) in its own way.  Emotional extremes are exaggerated, and your sense of self is eviscerated and forced through the matrix of this other being that needs you but doesn't care at all about you as a subject.  The reality that I am at once creating the idea of home for someone else starts to overlap with my own conception of it.  The title, Homemaker is really interesting because it is so literal and narrative at the same time.
I think of domestic life as the private arena within which we confront our thrownness.  We did not choose our life in most ways, but we can choose how we live at home, at least until we live with others, and then we are in a mini- political petri dish.
Jane Jerardi: A lot of my recent work has been dealing with displacement and longing, so the issue of home gets right at the heart of these ideas.  I think of home as not having to do  necessarily with a specific place, but with a certain familiarity and sense of comfort built up over time through everyday ritual as well as a community of people and relationships cultivated over time, and perhaps, even, a state of being.  In some ways, I think the body is the ultimate home and a way to be 'at home with ourselves' and as a deep, resonate place for connection and groundedness.
CP: What does it mean to you to fabricate and embed such a place (or installation) in a commercial art fair?
LHB: The artfair is the epitome of artwork as Product, whereas the studio represents the artwork as Process, or put differently the glamour of the artwork as a luxury commodity vs. the makeshift glam attitude of actual art making. I am more interested in the latter, so I am hoping that our installation can work as a respite from the commercial rush of the fair and be a reminder that art comes from somewhere and is going somewhere, outside of the ever-present "contemporary" that seems to be the event-horizon of the current art market.
CP: How does your installation at EXPO respond to your idea of domestic space?
JJ: The installation at the EXPO of 'Nocturne' deals with the idea of the body as an archive of memory and as a home or container for somatic experience.  In the work, the virtual body moves and responds to a real body — either the body of the viewer or of a performer (during the two scheduled performances).  It gets at the idea of everyday choreographies and rituals that create a sense of intimacy and connection — and a sense of home.  While of course alluding to the bedroom and sleep — which  we spend a lot of time doing in domestic space — the work also relates to dreams and virtual spaces.  I also think sometimes of home as a place where I can slow down, and this particular work shifts a sense of time to a slower one, inviting the viewer to also slow down, in a hopefully meditative, relaxing way.
LHB: My installation at EXPO plays with the idea of the studio as "the space where your voices can live". Â Or in other words, the space where your different influences can confluence and mingle and interfere with each other in a new set of relations. In that way it operates as a sourdough, rather than an archive. Of course, this being an artwork, it doesn't pretend to work as an actual studio, but as a model of a studio, a mise-en-scene.
SO: Tricia has been calling my room "The Chill Room." I have taken a kind of chant and tweaked it and used it as the sound accompanied by almost psychedelic imagery designed to transport the participant to an unfamilar place outside of measured time. It is a relaxing place that, through the repetition of the video, almost hypnotizes those resting on the faux fur covered bean bag chairs. There are three fish bowls on mirrors — the fish simply swim in circles and reflect the liminality I hope the visitors feel. It serves as the living room in this quartet of rooms, where there are many people relaxing and the conversation can be  especially unguarded, especially intimate, because of the dream – like atmosphere. I am fascinated by the affect of objects and spaces- especially those that combine multiple functions and references. I am not interested in reflecting how we already experience domestic space, but making a site of different associations and experiences outside of  what we already know. I hope the room is a respite and a counterpoint to the art fair experience, and I am hoping that the dreamy quality of the space will almost suspend of time. Perhaps people will find that they have been dreaming and chatting in this room for hours, perhaps just a few minutes.
JP: EXPO is in a way the polar opposite of a domestic space, and any attempt to make it domestic becomes sort of absurd.  The idea of creating a pseudo-domestic space within an exhibition hall strikes me as a longing to somehow conflate the private and the public.  It's something like wanting to have sex in public, that the intensely personal and subjective act requires an audience to consummate it, so to speak.  I'm interested in the phenomenon that homes look increasingly like stage sets that nobody lives in, and become glorified storage space for furniture that is never used, combined with an opposing interest in main street, in making public life feel more homey.  The point of contact is the liminal zone, the place where the public and private lives of a community intersect through socioeconomic interdependencies. Our interest in the home is maybe something like our interest in nature-it becomes active on the occasion of loss.  We are homeless.
JJ: While an art fair may be the ultimate place for securing artworks that might decorate or become the accouterment for a domestic space, and our expression of home might indeed be the 'things' we consume, I also believe 'home' to be something completely intangible. Â In this way, this installation emphasizes everyday ritual and embodiment as a part of our experience. Â While all art operates on an experiential level, I hope this work emphasizes a resonance between the experience of the installation and the viewer.
SO: I hope the room is a respite and a counterpoint to the art fair experience, and I am hoping that the dreamy quality of the space will almost suspend of time. Perhaps people will find that they have been dreaming and chatting in this room for hours, perhaps just a few minutes.
JP: The frenetic beating heart of EXPO is the spectacle, consumerism, the ambitious energy to outdo each other, to be noticed, to be visible and relevant, all of the opposite qualities from being at home. Maybe EXPO HOME is a way to interject some small degree of homeliness into that environment, and a small gesture of resistance to the market aspect of the whole affair.  It is also a way to think about the varied art economies.
My piece in the show directly references Mike Kelley's piece, More Love Hours Than Can Ever Be Repaid.  It is partially a tribute to what is for me a really affective piece, but I like it for all of the wrong reasons.  He sees the gift economy as manipulative, leading eventually to an incremental and collective sense of shame and indebtedness.  The fact that the love hours can't be repaid for him is because we don't know what we owe in return for a hand-made doll.  Money creates at least the potential for a clean slate, a perfect exchange, but does not generally account for all of the forms of cost offsets that we all engage in, to avoid taking full account.  The thing about a gift is that it is often something that you would not have paid good money for.  You receive it with gratitude as a gesture of friendship, or obligation, but you might rather have the money if you were to look at it pragmatically.  The market determines value through supply/demand…as the theory goes, while love-hours are a social economy.
For my project, over 30 artists, builders and friends have agreed to collaborate with me.  I designed a kitchen, and suggested conflating cabinets and vitrines-kitchen as exhibition-and they are all building the cabinets, whatever that means to them.  So it will be a hodgepodge, collective kitchen that we will try to unify in some way on site.  Maybe they all agreed to work for no money because they like me and enjoy working with me, or being involved with my projects? Maybe it's because EXPO is sort of a big deal to put on your resume?  Maybe they hope their piece will sell and they might make a little money?  Some are young artists and happy to have so many eyes on their work. Or, maybe they like the idea that the project forms a temporary community, and considers the social and political possibilities of temporary action communities? So, in terms of exchange, they are getting something-cultural capital, money, associative capital… and I am getting something-labor.  But whether or not the exchange is even is yet to be seen.  The surplus of the exchange is the emotional remainder, somewhere along the spectrum from gratitude to resentment.  Every single one of the people involved has some spoken/unspoken expectations, or wishes for the show, (myself included) and how their work might be received in it.  They are all contributing Love Hours, in exchange for exposure, fun, associative capital, communitarian good will … As artist David Wolf put it, the makers of the cabinets are all like one of the stuffed animals, and the kitchen becomes the afghan.  But the major difference is that I don't intend it as a critique as much as a kind of revelation.  I intend it as a big happy love fest in a place where that will probably be considered uncool.  The 2nd, and not yet articulated part of this project is to consider whether the debts have been discharged, and how, and why, which will hopefully include the added complication of money.
In about a week the city of Chicago will be upturned with contemporary art fervor. The art fair, EXPO Chicago, returns for its second year, along with a satellite, Fountain Art Fair. Already the city is buzzing with preparations. In the midst of all this I had a chance to email with Elizabeth Tully, Fountain Art Fair's official Producer, about the history and aesthetic of the organization along with what we might expect at Fountain.
Caroline Picard: Can you talk a little bit about the history of Fountain Art Fair? What is Fountain's ideology?
Elizabeth Tully: Fountain was started in 2006 as a platform for three galleries (Capla Kesting Fine Art, McCaig Welles Gallery and Front Room Gallery) to access collectors, curators and critics during the New York Armory weekend.  We have grown to represent over 100 international galleries, artists and collectives.  Our model is "alternative" because we give free-reign to our exhibitors, and are not exclusive to just galleries, or just independent artists.  Our mission is for people to come to Fountain and connect with whats happening inside through installations and performances that engage visitors and push boundaries.  Of course, people want to sell art, and they do.  But the overall vibe is one of community and goodwill as opposed to commercial frenzy.
CP: How do you facilitate a community vibe? 
ET: There is something special that happens when the Fountain Team gets together, and all the exhibitors show up. Â I'm sure part of it is the type of art we showcase tends to bring in exhibitors that are open-minded and down for adventure (and the Fountain Team certainly personifies that as well) People start installing their art, checking out their neighbors, borrowing ladders, lending drills, etc. Â The energy is palpable and really starts to build, by opening day its reached a fever pitch. Â That sense of "we're all in this together" is really what Fountain is all about. Â For Chicago especially, we are working with Johalla Projects as our partner out there. Â They have been incredible, making connections and fostering relationships to help get this show off the ground and build a new Fountain community in Chicago. I think visitors can feel that goodwill when they come, and its something we take a lot of pride in.
CP: What was it like shifting the fair from something created as a satellite to the Armory, in NY, to a fair that travelled? 
ET: Fountain has always operated as a satellite to these larger fairs (Armory, Art Basel Miami Beach, Art Platform Los Angeles).  Our purpose is to provide a platform for these alternative spaces to showcase their work during these major weekends, but as an affordable art fair, our budget is always tight. The challenge is to keep the show affordable while still creating an environment that is going to be conducive to our clients selling art. Working as a satellite allows us to take advantage of opportunities created by the large shows and the audience they attract.  It also gives us the freedom to explore new markets in new cities, and bring Fountain's particular brand of art + vibes around the world. CP: This is related, I think, to the last question — but your name, Fountain and logo, point back to the infamous Duchampian urinal. Is that a moment in art history that the fair is particularly inspired by? And what bearing does it have on the contemporary art fair model? ET: Just as people were shocked by Duchamp's Fountain, we aim to bring that refreshing spirit into everything we do.  We want visitors to engage with art they wouldn't normally be open to, and break from the things they have seen at all the other fairs.  This spirit of "art for art's sake" is at the heart of the Duchamp/DADA paradigm.
CP: Do you have an example of a work or a couple of works from Fountain that managed to turn your audience's heads? 
ET: Where do I even start??!  Over the years there have been some amazing moments that have happened at Fountain.  Many of them center around the performance programming, which has been curated by Bushwick-based Grace Exhibition Space for the past few years. They invited a world-renowned group of artists from Estonia called Non Grata to Miami in 2010 that resulted in a car almost being blown up!  Non Grata returned to Miami this past December with incredible programming involving live branding. (See photos attached). During my first Miami show in 2009, I remember Russell Young pulling silkscreens live using viles of his own blood.  I remember watching him, disturbed but so intrigued.  It was a defining Fountain moment for me. New York 2012 exhibitors Creamhotel also brought in an amazing performance involving aerialist Seanna Sharpe and her team suspended from the ceiling of the Armory, 130′ above the crowd.  Watching that with a couple of thousand people on the floor was breathtaking, we were all just looking up with our mouths hanging open. Performance art for this show will be curated by chicago-based performance space and I'm really excited to see what they bring! We will be announcing the lineup next week.
CP: How do you encourage your galleries to be experimental? Is it simply the result of the ecology you have developed over the years — for instance do you all try and work exclusively with galleries prized for their experimentation — or do galleries apply with specific projects in mind, projects that you vet from your end? 
ET: I think its a little bit of both. Â Fountain has a reputation for showcasing progressive, sometimes challenging work, so we do attract exhibitors who like to think outside the box. Â I love when potential exhibitors reach out to us with a wild idea(examples above), bringing all the elements together to help them realize that vision is, for me, one of the best parts of producing a show like this.
CP: What brings Fountain to Chicago? 
ET: Fountain staged an exhibition in Chicago back in 2007, and we have been waiting for the right time to return. Â We were very excited to see EXPO Chicago launch in 2012, signaling a renaissance in the Chicago market. Â Then this spring, our now-partners at Johalla Projects reached out to us about organizing an alternative fair during EXPO week. Â There were so many amazing, progressive spaces in Chicago who were interested in participating in a fair, but there was no fair to represent them. Â The timing was finally right and everything has been clicking into place. We are excited to showcase our unique take on whats happening in Chicago, Brooklyn and beyond!
CP: Often I feel like fairs inadvertently reflect a trending icon or strategy — like a deer's head cropped up repeatedly at the last Chicago Merchandise Mart fair, for instance, last year several galleries at EXPO featured paintings with holes or tears in the canvas — are there any trends you anticipate this year at Fountain?
ET:Â  I suppose there may be a trend towards accessibility in art. Â If that's the case, I'm glad we're on the front lines! I think more and more people are realizing that it is possible to have fun with art, and that they can bring amazing, original work into their home or office without breaking the bank. Â That's a beautiful thing, for both the artists and art-lovers.
CP: You all are planning a benefit for the DIA, I believe. Can you talk about how that decision came about? 
ET: We were alarmed by reports of Christie's valuing the DIA's collection and the possibility of these works being hawked to pay off the city's debt.  Fountain co-Founder David Kesting has a long-time affinity towards the City of Detroit and the DIA.  We believe that these works have been given in trust to the people of the Detroit and that legacy must be upheld.  By pledging to funds from our VIP Preview day, we hope to ensure that this conversation continues, and that support builds momentum.