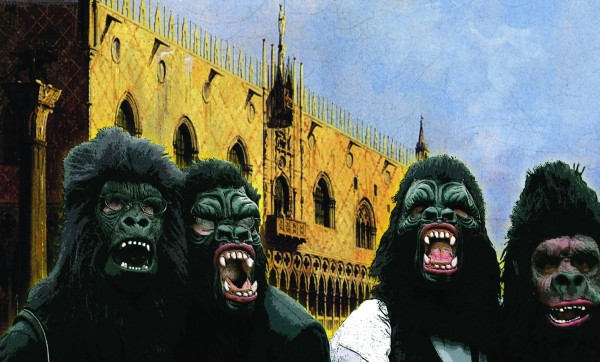 1. San Francisco Museum of Modern Art: Call for Proposals: Visual Activism Symposium in San Francisco, March 14–16, 2014 www.sfmoma.org (Deadline for proposals: October 1st)
The International Association of Visual Culture (IAVC) invites proposals for its third biennial symposium in San Francisco on March 14 to 16, 2014.The symposium will be an international gathering centered on the concept of visual activism. It will explore the relationships between visual culture and activist practices across a wide range of contexts. Through varied and diverse modes of image-making, artists and designers may create and manipulate tools of social change.  Likewise, political activists may utilize visual strategies and objects in order to confront and address social and political issues. Art can take the form of political and social activism, and activism often takes on specific, and sometimes surprising, visual forms that are not always aligned with or recognizable by art-world frameworks. During the convening, artists, cultural producers, scholars, students, critics, organizers, activists, and citizens will engage with and offer perspectives on the many questions that arise: to what degree do forms of visual activism travel? In what ways are they necessarily grounded in geographically specific spaces and locally specific knowledge? How can theorists, scholars, and practitioners engage in conversations about abstract or oblique visual activism, such as those produced in conditions of extreme censorship? How can the complexity of governmental or commercial visual activism be approached to better address hegemonies of visual culture? How does the past become a form of visual activism in the present?Proposals should respond to these questions or related topics and may take the form of papers (20 minutes), artist talks (20 minutes), short performances (five to 30 minutes), or lighting-round interventions (five minutes). Limited funds are available to support travel. Proposals should include a 400-word abstract, links to websites with additional publications or relevant images and information, and a CV. Please send proposals to edu@sfmoma.org (with" Visual Activism" as the subject line) no later than October 1, 2013. For further information about the International Association of Visual Culture, or to join the IAVC, please follow this link.

2. Open invitation for Art Shanty Projects 2014:  Deadline for applications October 14th 2013
Seeking visual artists, musicians, composers, media artists, architects, poets, scientists, dancer/choreographers, writers, builders, fisher-people, outdoors-people, naturalists, puppeteers, set designers, vocalists, spoken word artists, craftspeople, storytellers, actors, playwrights, etc.interested in participating in the design and construction of ice fishing shanty-like structures, producing participatory projects, art, events and shows on frozen White Bear Lake, MN during February 2014. For 2014 we are offering: 20 Art Shanty Residencies, $1200 stipend each, on-ice support, publicity and building support. ASP residency stipends for the 2014 Art Shanty Project are intended for artists to build a shanty and spend a significant portion of time on the ice. More information, including specific proposal requirements and eligibility detailed here.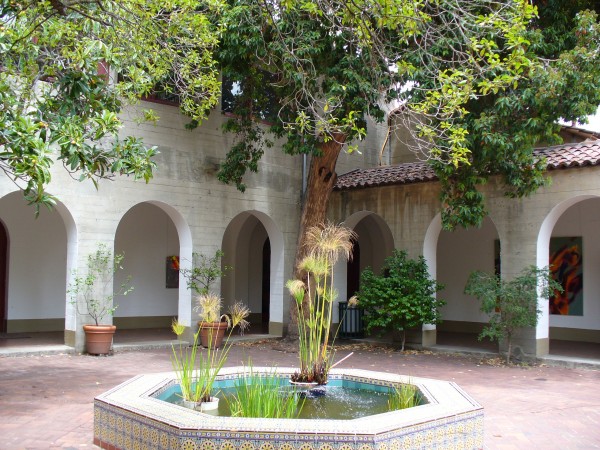 3.San Francisco Art Institute (SFAI) Richard Diebenkorn Teaching Fellowship: Call for applications Application deadline:Friday, November 1, 2013
SFAI is currently seeking applications for the Fall 2014 Richard Diebenkorn Teaching Fellowship. Established in 1998 by the generosity of the family of painter Richard Diebenkorn—both an alumnus and longtime faculty member of SFAI—the Fellowship provides an opportunity for artists to teach at SFAI and have sufficient time and financial support to work in the studio.

Through its semester-long structure that includes a residency with studio at Headlands Center for the Arts, the Fellowship not only offers each participating artist an invaluable opportunity to further their own studio work, it also leaves a deep, lasting impression on SFAI's students. This year's Fellowship is open only to artists who reside in the United States and outside of the Bay Area. Artists must apply by the deadline of Friday, November 1, 2013. Please see details below about important dates, application fees, eligibility, and process. Electronic submissions only: sfaicalls.slideroom.com Fellowship dates: August 25–December 5, 2014 SanFrancisco Art Institute located at 800 Chestnut Street, San Francisco, CA 94133. For more information follow this link.

4. MELLON SAWYER SEMINAR POST-DOCTORAL FELLOWSHIPS 2014-2015
John E. Sawyer Seminar on the topic of "Political Will" : Deadline for applications is December 16, 2013. 

The notion of "political will" is at the heart of debates about the meaning and character of political life. It informs definitions of sovereignty, whether the popular consent of the "people" or other forms of authority. It is an idea that works to legitimize the juridical order and systems of law, in particular the legal form of the constitution. And it is implicit to definitions of democracy and cosmopolitanism alike. Yet despite its centrality, the concept of political will has remained relatively unanalyzed within political theory.

This Sawyer Seminar aims to study the topic of political will from a range of disciplinary angles, theoretical approaches, and cultural perspectives. In so doing, we hope to pose a series of questions about political will. First, how is political will genealogically related to correlative constructs, such as jurisdiction, liberalism, and governmentality, and how might a focus on political will shed new light on those terms? Second, how might one historicize and lend contextual specificity to conceptions of political will? What insights into the nature of political will can be gained from a comparative, cross-cultural analysis? Third, what role do culture, aesthetics, and desire play in forging and sustaining political will? Is it generated in the imagination and/or affective, materially grounded practices; or it is better explained as an abstract concept governed by the operations of reason? Fourth, what particular contributions do varying theoretical frameworks (deconstruction, psychoanalysis, Marxism, biopolitics, affect theory, postcolonial studies) offer to an account of political will?

While political will is a category that informs nearly all aspects of political existence, this Seminar will devote particular attention to analyzing four sub-topics related to political will: sovereignty and biopolitics, cosmopolitanism, democracy, and constitutionalism. In addition, we expect that many of our conversations will be oriented around questions of aesthetics and the imagination, thus investigating both the cultural and affective attributes of political will?

………………………………………………….

The Mellon Foundation will sponsor one postdoctoral teaching-research fellowship in the humanities, awarded for the one-year period beginning July 2014. The fellowship offers a stipend of $45,000/year. While in residence at Cornell, the Mellon Fellow will hold a department affiliation in one of the humanities departments, participate in all activities associated with the Sawyer Seminar on "Political Will," have limited teaching duties, and have the opportunity for scholarly work. More information here.

Eligibility Requirements

Applicants for the Mellon Postdoctoral Fellowship on "Political Will" for the 2014/15 academic year must have received the Ph.D. degree after September 2008, and must be working on topics related to the theme of "Political Will."  Mellon Fellowships are open to international applicants. Applicants who will have received the Ph.D. degree by June 30, 2014 are eligible.  Applicants who do not have the Ph.D. in hand at the time of application must include a letter from the committee chair or department stating that the Ph.D. degree will be conferred before the term of the fellowship begins.
 
Over the last year Guerin has dedicated herself to a single shape. Every painting begins with the same premise — the same subject: an abstract shape originally derived from a chair, it has, over the course of its repetition developed other affinities as well. Sometimes it looks like a hat, or a four leaf clover, or a corporeal organ. Certainly it stands in for a figure. It is at once empty and pregnant with meaning.  By working exclusively with this shape, Guerin explores the medium of paint, focusing on its expansive possibilities, while remaining formally constricted. A collection of these works are presently on view at Columbia College's Glass Curtain Galley, in a group show called "Slow Read."  Painters Emiliano Cerna-Rios, Magalie Guerin, Brian Kapernekas, Nazafarin Lotfi and Tim Nickodemus  hang their work with accompanying, personally curated libraries. Guerin, for her part, includes a  journal with notes from studio visits, reflections on the history of paintings, the work of her peers and her romantic life.
Caroline Picard: You use a repeating shape or motif throughout this series of works. Can you talk about how you discovered this shape?
Magalie Guerin: Well, it's an invented shape loosely based on a chair design. As I worked with it, it ended up looking more like a hat, so I call it the Hat shape although now it seems to have morphed into an organ of some sorts… But really, it's a structural form onto which I apply the paint.
CP: When we met in your studio, I feel like there was a point where you started talking about the shape in terms of a relationship, as though each iteration of the shape is another portrait that offers new insight. Suddenly the shape seems less abstract and more personal — is that fair? Has your relationship to the shape changed over time? Do you ever fight with the shape?
MG: Yes, that's fair (perhaps a little strange too). The shape has become a kind of companion to me, a pet form. There's a strong association in my mind now between my studio practice and that particular shape. I'm not sure how I can let it go at this point; it's been a year. My relationship to it is very similar to any relationship—sometimes I'm bored stiff with it or I love it or I'm angry at it.
CP: I like thinking about how the shape somehow lives in your studio. Almost as though when you are in the studio you inhabit its space.
MG: Or it mine… it's all very symbiotic. 
CP: Does it feel like the shape exists as a thing that is separate and autonomous from you? Or do you feel like it is a projection of your own inner space?
MG: Hmmm, that's a hard question and it creeps me out a little! A Cronenberg-esque scenario… So let's think of the work— the paintings, not the shape itself. They wouldn't exist without me so it does start with a projection of some sorts. But once they leave the studio, they develop a relationship with others so I could say a life of their own.
CP: I'm also interested in the idea of repetition and practice — it seems at the core of this project somehow and very meditative also (if that's the right word). In other words, you return to paint the same shape again and again in different frames, with different colors and surfacing approaches — the shape remains the same, and yet I imagine your experience of the process changes dramatically depending on the day, the week, the month, depending on the peculiar challenges one composition demands, and depending on your own emotional landscape…what is that process like?
MG: I wish the process was meditative! It's way too hard to be. I did reduce the possibilities in the studio in terms of size and shape but everything else is wide open so there's a lot to attend to. Basically, I'm trying to create a focused practice and repetition has been helpful for that. I'm thinking a lot about what Morandi did with his 'bottles' and how, through sheer repetition, he was able to get to the essence of things—not the essence of the bottles but of life. It's so very moving.
CP: Which then makes me want to ask about painting also — you mention Morandi, and the way he was able to distill his subject to earth tone bottles. I've heard people talk about how that makes his work emphasize the medium of paint. Do you think that's accurate? Would you say The Shape does the same thing for you? By limiting your subject, you can focus on the materiality of your medium?
MG: Yes, I think that's true. When I was working with multiple shapes, each painting was a new one and I was getting caught up on how the form looked and its design within the picture plane. There was a kind of anxiety about getting it 'right' because I had one shot at it. By repeating it, it's more of an exploration of possibilities and subtleties—there's no right or wrong. I can't tell which painting is a better representation of it; they all blend in at this point. They are all the same.
CP: You often sand down your paintings between layers.  I'm interested in the labor and erasure this process employs. Can you talk about how you came to that technique? And what goes through your mind when you begin to sand a particular layer of your work?
MG: It comes from doubt—I'm never sure that the color I add is right so I sand it down each time. And what that does is uncover the previous layers. The process is about revealing the past, building a richness of surface by allowing time to be seen. I often finish the painting by veiling it all with a coat of transparent Zinc white, which I love.
CP: For some reason this strikes me as a kind of violent act — maybe both sanding and covering with white.
MG: Really? That's interesting, I've never thought of it being violent. Perhaps it is. Perhaps I hate them a little…
CP: It seems significant that you show these works with a journal, and like the paintings they are an amalgam of reflections on your studio practice, comments studio visitors have made, remarks you make about various aspects of the art historical cannon, your peers and then too your personal, romantic life. How did you decide to include this journal? And you've re-written it several times, by hand, for different exhibits — what was that re-writing process like?
MG: I write in the studio to help me understand what I'm doing (it's a mystery most of the time!). When I started the 'Hat project' last September, I was interested in rules and limitations so I made a rule that I had to write something every single time I came to the studio no matter what it was. I really wanted to find out specifically what I was asking of my work. But obviously, there are days when my head is elsewhere even when I'm in the studio, that's why the writing sometimes veers towards the weather of my romantic life. It was also a way to document how many times a week I was able to paint and how long the paintings take me to complete. Then what happened is that I was asked to make an 'artist book' for a show Sean Ward organized at Julius Caesar in Chicago. This opportunity came just after I heard the poet Kenneth Goldsmith talk about copying and organizing writing as his art form and I found that an interesting/conflicting activity for a writer to engage in. I thought—what if one copies oneself? If one also creates the original, does it change the nature of the copy?
So I took all the notebooks I've written in since moving to Chicago for grad school in 2009 and again, made a list of rules like 'don't add punctuation', 'delete dates' 'no chronology' 'repeat is ok' etc. I merged and copied everything by hand in a Moleskine book. As I was transcribing the entries, I was also writing in my current journal about what I thought, critically, of the Notes project, complaining about the look of my handwriting and such while simultaneously copying these thoughts as a copy. That process became very interesting to me. I wrote about what I would do differently if I was to make a second version of the book, an edited/revised copy of the first one. A few months later, this latest opportunity—the Slow Read show—presented itself.  We were asked to curate a selection of books to accompany our paintings. Nazafarin Lotfi contacted a few artists about making books for her space—that's when I did the second version. So my book is included with Nazy's work in the exhibition, not mine. I'm showing Anaïs Nin's Diaries.
CP: Would ever think about these journals — with each subsequent generation — as a practice that parallels your shape paintings? For instance, could we think of each shape as its own, non-semantic journal? Could each journal be a kind of non-painted Shape painting?
MG: Technically I'd say yes but I'm still confused about the place of writing in my art production. It's the first time I'm sharing it publicly. I mean, the questions are— how much writing of interest can I generate? How can I present writing as a visual artist? Should the books remain one-of-a-kind like a painting? How do I think of writing as a medium? Can I allow grammar mistakes and such? Is my writing too personal? So you see, it's all very complicated…
CP: It's interesting to think that an object in book form would demand a different aesthetic criteria than an object fashioned from paint and canvas.
MG: Maybe it's not different, or at least shouldn't be so, but it's all very new to me so I have a lot of questions about it.
CP: How did you end up selecting work to hang in your show, by the way? I remember you were having a hard time deciding which paintings to exhibit in Slow Read.
MG: Ha! That was hard because as I said, they all blend in now as one project. To have to select a few (I think there's 11 in the show) out of the 30 or so I've made seems irrational. Justin Witte, the curator, had some favorites so that helped. But most of it was trying to find a variety that would best represent the whole spectrum of the project as of yet––because, well, it's still going…
Joel Sternfeld | McLean, Virginia, December 1978 | 1978. via participating gallery Luhring Augustine
Expo Chicago launches next week and I'm already preparing. So far that means reading the website schedule and mentally preparing myself for reporting on the fair. I'll be heading out to Chicago next Thursday to check out Expo and participate in "Dialogues", a series of panel discussions on contemporary art launched in partnership with The School of The Art Institute of Chicago. Contemporary Art Daily's Forrest Nash, The Baer Faxt's Josh Baer, and myself will speak on a panel about digital publication moderated by Bad at Sports Founders Richard Holland and Duncan MacKenzie.
Perhaps thanks to the fair's partnership with the institute, the panel discussions look a lot more interesting than the normal gamut of collector centric talks fairs normally launch. As such, I've put together a list of the discussions I'd most like to see. Check out Johnson's list here.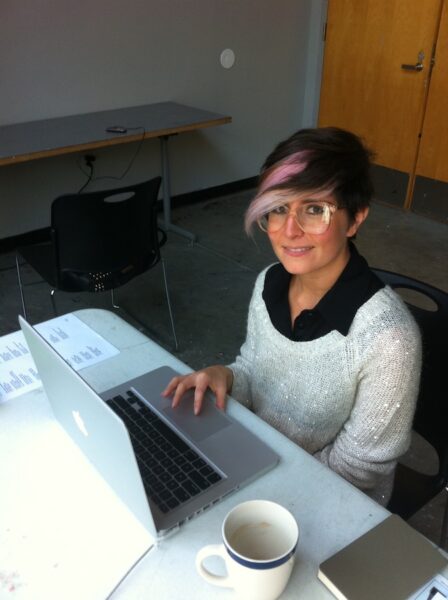 This week on the Podcast! BAS goes west coast! We talk to Adriana Salazar and John Spiak, director and chief curator of the Grand Central Art Center, which has an exhibition of Adriana's work up currently. Also, we talk to Sabina Ott about The Terrain Exhibitions Biennial which just happened. Plan your life around seeing us at EXPO!!! You know you want to.
Edition no. 17 kicked everything off last week with a reminder a) that fall is here and b) an account of fall's gallery opening festivities:
It's official, Chicago artists are back from their residencies and vision quests and it is time for the fall gallery season. Inaugurated this weekend with about a million openings from River North to the 'burbs and back again, we're still reeling.
On the subject of filmic experience, Jesse Malmed discusses durational works, specifically that of James Benning, with a later dash of Empire:
James Benning's Nightfall is a curious piece. His works are often challenging structurally, but saying the logic of this one is simple is like saying the simple logic of this is one. We watch the trees and they are still. We watch the light and it changes slowly. It would change more slowly, but the camera is doing what it can to keep up. Fauna haunts the aural space and I thought I even heard what sounded like human sounds. Mostly I floated in and out of the cinematic space (the seats, the people around me, my thirst, someone else quenching theirs, the size of the rectangle, the quality of this light) the represented space (the trees are so beautiful, there are fourteen main trees, there are an additional dozen supporting trees, the light coming through the branches looks like someone I know, the light through these branches looks like a stranger) and the space between (could I sit on the stump I'm imagining for this long?, when was the last time I spent this long seated with my head facing one direction?, when was the last time I spent this long seated with my head facing one direction outside?, how much better must this be to be there instead of here?, how has the concept of nature become so abstracted from [my own, at least] daily life?, what is that phrase about seeing forests and trees?, is this based on that?).
I posted an interview with Elizabeth Tully about the upcoming Fountain Art Fair, coming o so soon to a Chicago near you. In describing its origins, she says:
"Fountain was started in 2006 as a platform for three galleries (Capla Kesting Fine Art, McCaig Welles Gallery and Front Room Gallery) to access collectors, curators and critics during the New York Armory weekend. We have grown to represent over 100 international galleries, artists and collectives. Our model is "alternative" because we give free-reign to our exhibitors, and are not exclusive to just galleries, or just independent artists. Our mission is for people to come to Fountain and connect with whats happening inside through installations and performances that engage visitors and push boundaries. Of course, people want to sell art, and they do. But the overall vibe is one of community and goodwill as opposed to commercial frenzy."
Duncan MacKenzie gave a shout out to one of our own this week, as Tom Sanford's show just opened in NYC:
Something we don't do enough of here at Bad at Sports is trumpet the successes of our various contributors. It sort of happens piece meal, sometimes, but considering that the project is and always will be an artist run type thing – our collaborators are more then just the deep thinkers, aesthetes, and vulgarians you know them to be! Such is the case with our Tom Sanford and his new show at Kravets|Wehby in NYC.
Adventures in Union Square courtesy of SF resident, Jeffrey Songco:
Regardless of the weather, which is never a topic of conversation in SF until this very month, it was a delight to see paintings by Pamela Wilson-Ryckman in an exhibition titled GPS. From the exhibition statement: "Precise knowledge of location gives one the illusion of control but knowing exactly where you are doesn't necessarily mean you are in a good place. Rather than location it is often the experience of place that matters. How much information does one need to reconstruct a memory or sense of place? The answer is – not that much, imagination fills the gap". I was most interested in Geppetto's Jacket (2013) and it's glaring painterly techniques, creating so much dimension of space for that "imagination".
The third Minnesota Biennial opened at The Soap Factory this last weekend and Eric Asboe writes about it, and each work is a butterfly:
The flashiest, brightest butterflies do not need to fly past us to catch our attention. They overwhelm all of our senses. The Basketball Team's Sgt. Moore wafts the smell of whiskey throughout the gallery. The looping, Reichian patterns of Nate Young'sUntitled (Soul Clap no. 1) echo in the silence of the distant companion video Untitled (Soul Clap no. 2). The shuttering of the 16mm projector pulls us into Stefanie Motta'sSeeing. The drone of the prepared keyboard inside 7-Sided Room with Painted Floorby Andrew Mazorol and Tynan Kerr permeates the galleries and intensifies the rarefied air inside the room.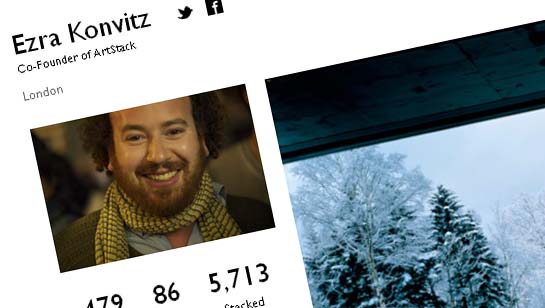 Dispatch from Brighton, UK this week, where Mark Sheerin talks (social) networks, contemporary art, and Artstack.com:
Art needs networks, and the 20th century testifies to that. There could never have been a lone fauvist, a solitary cubist, an isolated futurist, etc, etc. The avant garde loves company, and, without it, could never have made the great strides which came along with modernity. Now we live in a different landscape. Cafes have become corporate part-time creches and third place venues for business meetings. Cigarettes and pipes, both intellectual props, are banned. And just try paying for your triple shot latte with a sketch, it can't be done. The avant garde have been in retreat everywhere for decades now. So it is good news to have some networking technology which might serve as a focal point for new visual ideas.
Shane McAdams boldly begins with a nod to Kevin Costner's performance in Field of Dreams as he goes on to describe the Thelma Sadoff Center for the Arts and the "two moving and exceedingly complementary exhibitions" it contains by Novie Tremp and Hap Tivey:
In Fond du Lac last week the Thelma Sadoff Center for the Arts opened to the public. A hybrid of contemporary architecture and a Masonic temple that had previously housed the Windhover Art Center, the Sadoff Center is an impressive specimen: granite topped bars; a spacious terrace for live music; two large and gloriously lit art galleries, classrooms, workshops and a hall for lectures and performances. It's a cultural diamond in the heart of a pragmatic industrial town – an only slightly less quixotic enterprise than trying to lure the ghost of shoeless Joe Jackson out of a cornfield.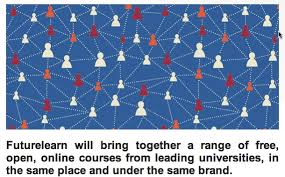 Terri Griffith talks MOOCS! (and how they affect the world of contemporary art):
Massive open online courses (MOOCs) are the future of education. I feel as certain of this as I am certain that one day cars will fly and that ironing will become obsolete. There's a Ted Talk with the co-founder of Coursera Daphne Koller and an episode of Charlie Rose with the CEO of EdEx Anant Agarwal that addresses this new way of teaching and learning. To summarize Agarwal on Charlie Rose, the thing that is fundamentally different about MOOCs versus the way traditional college works is that with traditional college all of the gatekeeping is at the front end. You have to apply. You have to be accepted. You have to have tuition. Sometimes you need to have prerequisites or test into the courses you want. With MOOCs it is different, at least for now. The gatekeeping occurs at the backend. Anyone can register for a course, but not everyone will finish. And for those who do, there is often the option of a certificate. With some courses there is even the option of credit…for a fee. This allows all kinds of learners to participate in a course. For example, some might only be interested in part of the course's curriculum. That student can participate in just that portion of the lectures, readings, and discussion, and ignore the rest. Of course, they will not receive a certificate, but then again, So what? Others might successfully complete all of the assignments for the entire sequence and receive a certificate. Both students got what they wanted from the course, but they dictated their level of involvement, not the instructor or the institution.
Speaking of the future:

In about a week the city of Chicago will be upturned with contemporary art fervor. The art fair, EXPO Chicago, returns for its second year, along with a satellite, Fountain Art Fair. Already the city is buzzing with preparations. In the midst of all this I had a chance to email with Elizabeth Tully, Fountain Art Fair's official Producer, about the history and aesthetic of the organization along with what we might expect at Fountain.
Caroline Picard: Can you talk a little bit about the history of Fountain Art Fair? What is Fountain's ideology?
Elizabeth Tully: Fountain was started in 2006 as a platform for three galleries (Capla Kesting Fine Art, McCaig Welles Gallery and Front Room Gallery) to access collectors, curators and critics during the New York Armory weekend.  We have grown to represent over 100 international galleries, artists and collectives.  Our model is "alternative" because we give free-reign to our exhibitors, and are not exclusive to just galleries, or just independent artists.  Our mission is for people to come to Fountain and connect with whats happening inside through installations and performances that engage visitors and push boundaries.  Of course, people want to sell art, and they do.  But the overall vibe is one of community and goodwill as opposed to commercial frenzy.
CP: How do you facilitate a community vibe? 
ET: There is something special that happens when the Fountain Team gets together, and all the exhibitors show up. Â I'm sure part of it is the type of art we showcase tends to bring in exhibitors that are open-minded and down for adventure (and the Fountain Team certainly personifies that as well) People start installing their art, checking out their neighbors, borrowing ladders, lending drills, etc. Â The energy is palpable and really starts to build, by opening day its reached a fever pitch. Â That sense of "we're all in this together" is really what Fountain is all about. Â For Chicago especially, we are working with Johalla Projects as our partner out there. Â They have been incredible, making connections and fostering relationships to help get this show off the ground and build a new Fountain community in Chicago. I think visitors can feel that goodwill when they come, and its something we take a lot of pride in.
CP: What was it like shifting the fair from something created as a satellite to the Armory, in NY, to a fair that travelled? 
ET: Fountain has always operated as a satellite to these larger fairs (Armory, Art Basel Miami Beach, Art Platform Los Angeles).  Our purpose is to provide a platform for these alternative spaces to showcase their work during these major weekends, but as an affordable art fair, our budget is always tight. The challenge is to keep the show affordable while still creating an environment that is going to be conducive to our clients selling art. Working as a satellite allows us to take advantage of opportunities created by the large shows and the audience they attract.  It also gives us the freedom to explore new markets in new cities, and bring Fountain's particular brand of art + vibes around the world. CP: This is related, I think, to the last question — but your name, Fountain and logo, point back to the infamous Duchampian urinal. Is that a moment in art history that the fair is particularly inspired by? And what bearing does it have on the contemporary art fair model? ET: Just as people were shocked by Duchamp's Fountain, we aim to bring that refreshing spirit into everything we do.  We want visitors to engage with art they wouldn't normally be open to, and break from the things they have seen at all the other fairs.  This spirit of "art for art's sake" is at the heart of the Duchamp/DADA paradigm.
CP: Do you have an example of a work or a couple of works from Fountain that managed to turn your audience's heads? 
ET: Where do I even start??!  Over the years there have been some amazing moments that have happened at Fountain.  Many of them center around the performance programming, which has been curated by Bushwick-based Grace Exhibition Space for the past few years. They invited a world-renowned group of artists from Estonia called Non Grata to Miami in 2010 that resulted in a car almost being blown up!  Non Grata returned to Miami this past December with incredible programming involving live branding. (See photos attached). During my first Miami show in 2009, I remember Russell Young pulling silkscreens live using viles of his own blood.  I remember watching him, disturbed but so intrigued.  It was a defining Fountain moment for me. New York 2012 exhibitors Creamhotel also brought in an amazing performance involving aerialist Seanna Sharpe and her team suspended from the ceiling of the Armory, 130′ above the crowd.  Watching that with a couple of thousand people on the floor was breathtaking, we were all just looking up with our mouths hanging open. Performance art for this show will be curated by chicago-based performance space and I'm really excited to see what they bring! We will be announcing the lineup next week.
CP: How do you encourage your galleries to be experimental? Is it simply the result of the ecology you have developed over the years — for instance do you all try and work exclusively with galleries prized for their experimentation — or do galleries apply with specific projects in mind, projects that you vet from your end? 
ET: I think its a little bit of both. Â Fountain has a reputation for showcasing progressive, sometimes challenging work, so we do attract exhibitors who like to think outside the box. Â I love when potential exhibitors reach out to us with a wild idea(examples above), bringing all the elements together to help them realize that vision is, for me, one of the best parts of producing a show like this.
CP: What brings Fountain to Chicago? 
ET: Fountain staged an exhibition in Chicago back in 2007, and we have been waiting for the right time to return. Â We were very excited to see EXPO Chicago launch in 2012, signaling a renaissance in the Chicago market. Â Then this spring, our now-partners at Johalla Projects reached out to us about organizing an alternative fair during EXPO week. Â There were so many amazing, progressive spaces in Chicago who were interested in participating in a fair, but there was no fair to represent them. Â The timing was finally right and everything has been clicking into place. We are excited to showcase our unique take on whats happening in Chicago, Brooklyn and beyond!
CP: Often I feel like fairs inadvertently reflect a trending icon or strategy — like a deer's head cropped up repeatedly at the last Chicago Merchandise Mart fair, for instance, last year several galleries at EXPO featured paintings with holes or tears in the canvas — are there any trends you anticipate this year at Fountain?
ET:Â  I suppose there may be a trend towards accessibility in art. Â If that's the case, I'm glad we're on the front lines! I think more and more people are realizing that it is possible to have fun with art, and that they can bring amazing, original work into their home or office without breaking the bank. Â That's a beautiful thing, for both the artists and art-lovers.
CP: You all are planning a benefit for the DIA, I believe. Can you talk about how that decision came about? 
ET: We were alarmed by reports of Christie's valuing the DIA's collection and the possibility of these works being hawked to pay off the city's debt.  Fountain co-Founder David Kesting has a long-time affinity towards the City of Detroit and the DIA.  We believe that these works have been given in trust to the people of the Detroit and that legacy must be upheld.  By pledging to funds from our VIP Preview day, we hope to ensure that this conversation continues, and that support builds momentum.