Last April I had the opportunity to go to Anthropocene Curriculum: The Technosphere Issue, a ten-day conference at the Haus der Kulturen der Welt (HKW) in Berlin; I attended as a journalist working jointly for Bad at Sports and the HKW. My intentions were twofold: 1. To conduct a series of interviews with participants. 2. To make a comic about my experience and some of the seminar conversations. The comic will take some time, but the interviews will appear on Bad at Sports this August, along with additional interviews I have since conducted after the conference ended. The topic at hand is The Anthropocene: a contested term, according to which humanity has a direct, geologic impact on planetary systems and cycles. Is it a fad? What does art have to do with it? And how might we conceive of a sense of agency?
Those questions came to mind with great urgency last spring. It's uncanny, after all, to sit in a room with 30-100+ academics—all with impressive and various credentials ranging from evolutionary biology, philosophy, physics, law, economics, art, colonialism, activism, etc.—as they discussed our dismal prospects for the future through interactive presentations about agriculture, land grabbing practices, data mining, and oil pipelines. To paint a crude picture: we live in the Sixth Great Extinction (for a list of the preceding five mass extinction events go here), a very small group of individuals hold the majority of the human wealth, stock markets operate at a furious rate without any ethical sensibility, and—often in the name of progress—a methodology of subjugation, extraction, and consumption has dominated humanity's interaction with itself, its environment, and all forms of life and materiality between for last century at least. It's no secret that our reliance on fossil fuel is detrimental to long term survival, yet it seems beyond any current collective ability to extricate ourselves from relying upon the sludge of dinosaur bones to power skyscrapers, cars, or grow corn. Plastic, similarly, ends up in the Pacific Ocean, swirling around like a tiny ethereal cloud-island, filling the bellies of fish, birds, whales, et al. with tiny microscopic particles…but to stop using plastic would upturn the order of an entire global economy. Think also of the alternative energy sources: nuclear power plants that store nuclear waste indefinitely and not very well because no one can agree on where to put it. As such, it remains in short-term storage facilities of company lots—like bizarre packages of sleeping trauma, vulnerable and waiting for some rupture to burst out, actualize, and what then?
The extent to which our world is about to change is phenomenal and it's easy to feel helpless upon the disintegrating stage of co-existence. As some have suggested, the end of the world has already happened and the present moment we share is that delay between the sound of the explosion and the consequence of its blast. But, let's resist resigning to fantasies of the apocalypse. They are too seductive and simplistic. And perhaps the worst form of privilege is that one that abdicates responsibility in the face of suffering. How instead to walk the line between awareness and humility? To study post-heroics and remember that many worlds have ended already. During a CSTMS panel discussion with Eduardo Kohn and Colin Hayan, Donna Haraway asked,"What is it to write in a time of great extinction?…The questions that often come under the label of the Anthropocene—that is to say, the accelerated rates of extinction, the accelerated writing into the waters, into the earth itself, into the fossil record, into the gases, into the species assemblages, into the molecules, the accelerated writing of the earth in accelerated extinctions and accelerated threats of serious system collapse of all sorts—truly is the situation in which human beings and other critters must figure out how to ask each other, how or if to go on. These are not sentimental questions, though I am not against sentiment…but the question that joins us today is posed by Thom van Dooren and [Deborah Bird Rose], What is it to write in a time of extinctions and exterminations and iterative conquests,  permanent war, and genocides at all sorts of scales, that include other critters..as well as human beings?"
With that in mind, I appealed to the generosity of others: friends, strangers, artists, educators, philosophers, and scientists through a series of interviews with the hope that we might talk about these questions and, at the very least, concentrate on the uncertainty of our times as soberly as possible. Perhaps in that meditation we can, together, amplify our awareness, attending to the many acts of disappearance and the energy it takes to bear witness. Every day for the month of August, I'll be sharing a new conversation with you, plus comics on Sunday. Stay tuned. Email me if you want to discuss and thank you for reading.
Posts include:
08.30: Saya Woolfalk on her ongoing sci-fi/anthropology installation
08.29: Essi Kausalainen discusses performance strategies and plants
08.28: Robert Burnier on virtual and material terrains (repost from 2014).
08.27: Heidi Norton looks at houseplants as a medium (repost from 2014).
08.26: A. Laurie Palmer on her recent book, In the Aura of a Hole (repost from 2016 ).
08.25: Linda Tegg talks about her approach to photography, more than human subjects, and grass installations.
08.24: Cymene Howe & Anand Pandian discuss their collaborative project, Lexicon for an Anthropocene Yet Unseen.
08.23: Zoe Todd on fish, multiplicity, and indigenous studies in the Anthropocene.
08.22: Art Orienté objet discusses their horse plasma transfusion performance, May the Horse Live in Me (repost from 2014).
08.21: Golden Spike: Rock Shop of the Anthropocene (Sunday Comic).
08.20: Rebecca Mir Grady talks about her artist book series about ecological events (and disasters) SHE IS RESTLESS.
08.19: Jenni Nurmenniemi describes curating Frontier, an artist residency fostering multispecies concerns (an audio version of this conversation is available here).
08.18: Katherine Behar & Eben Kirksey explore ethics and robot labor through Behar's Roomba-Rubber Tree performance, High Hopes (Deux).
08.17: Giovanni Aloi describes his interest in animal studies, art, and what new insight plant studies might offer.
08.16: Eiko Honda considers how terms like "Anthropocene" refract through different cultures by way of translation.
08.15: Mark Payne uses his background as a classicist to propose what a "shared life" might mean today.
08.14: Animal Bones as Artistic Medium (Sunday Comic, repost) Rebecca Beachy's Feb 2016 exhibition at New Capital, Chicago.
08.13: Samuel Hertz on the Aerocene and his work composing multidimensional soundscapes.
08.12: Robert Zhao Renhui talks about his 2014 photo show and the unnaturalness of goldfish (repost from 2013).
08.11: Chuck Cannon on tree science, tree sex, and why trees need to be kinky if they are going to survive global warming.
08.10: Lindsey French, Gulsah Mursaloglu, Sarah Ross, & A. Laurie Palmer, discuss their collaborative exhibition along the Calumet River.
08.09: Ravi Agarwal on the link between activism, ecology, and artistic production.
08.08: Rohini Devasher talks about her interest in amateur astronomy, the principle of wonder, and video feedback.
08.07: Tracing a Path from Hard-Edge Abstraction to the Science of Flight (Sunday comic, repost) Jacob Hashimoto's Dec 2015 show at Rhona Hoffman, Chicago.
08.06: Heather Davis & Etienne Turpin talk about their recent editorial collaboration, Art in the Anthropocene (Open Humanities Press, 2015),
08.05: Nettrice Gaskins describes virtual art installations, Afrofuturism 3.0, and fostering imagination.
08.04: João Florêncio on performance, the Anthropocene, and the complicated ethics that embracing strangers requires.
08.03: Elaine Gan & Bettina Stoetzer talk about their work on Feral Technologies and Ruderal Ecologies with Anna Tsing.
08.02: Graham Harman talks about his latest book Immaterialism: Objects and Social Theory, (Polity, 2016), using the Dutch East India Company as a primary example.
08.01: Jeremy Bolen, Emily Eliza Scott, & Andrew Yang talk about how the Anthropocene narrative has political implications (an audio version of this conversation is available here).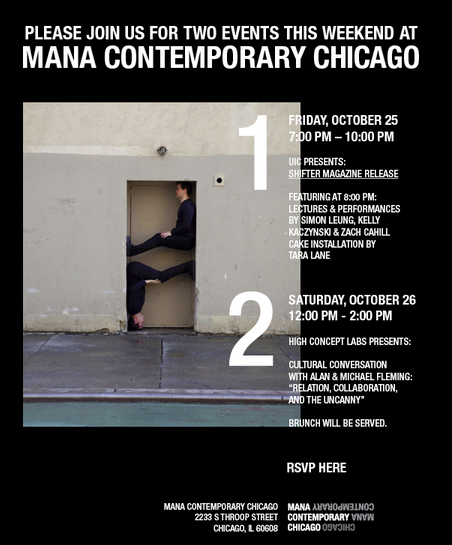 The latest issue of SHIFTER comes out this Friday with a launch at MANA Contemporary from 7-10pm, featuring lectures and performances by Simon Leung, Kelly Kaczynski and Zach Cahill, with a Cake Installation by Tara Lane. A Cultural Conversation with Alan and Michael Fleming on Saturday in case you want to sleep over. RSVP here.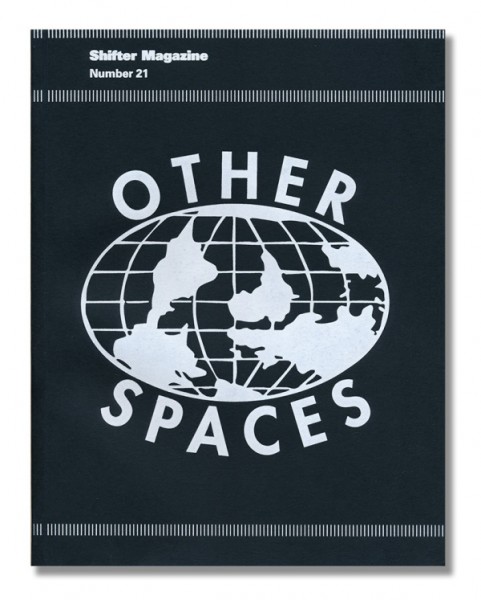 Shifter's 21st issue, Other Spaces, considers the body as a site where architecture's traditional polarities of private and public collapse. This polarity, mirrored in the distinctions we draw between individual and social freedoms and domestic and political action are challenged every day by spontaneous, collaborative re-imaginings of space.
In this issue artists, writers and critical thinkers reflect upon and imagine those other spaces that are coming to be and that are yet to be imagined in the social transformations of our present. While Other Spaces may appear to be an Atlas, it may just as well be read as a diary.
Number 21 features contributions from Jeremy Bolen, Luis Camnitzer, Tyler Coburn, Julia Fish, Beate Geissler & Oliver Sann, Sheela Gowda, Joanne Greenbaum, Tehching Hsieh, Kitty Kraus, Dan Levenson, Blank Noise, Alison O'Daniel, Sean Raspet, Blithe Riley, Jacolby Satterwhite, Greg Sholette & Agata Craftlove, Lise Soskolne, Mariam Suhail, and Josh Tonsfeldt.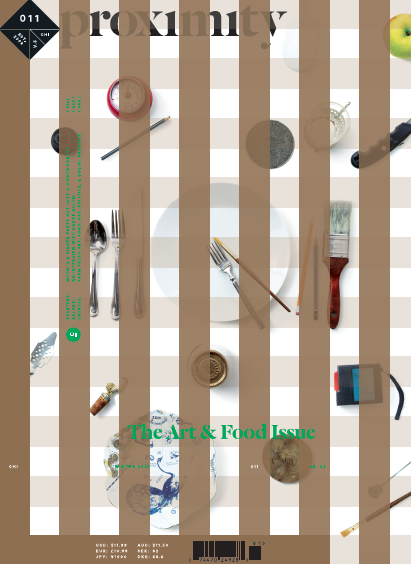 /////// details below:////////
LET'S DRINK, LET'S EAT, LET'S PLAY
A Proximity Art, Food and Radical Hospitality Mini Fest
October 18-20, 2013
@ Co-Prosperity Sphere, 3219 S Morgan Street, Chicago, IL
We are hosting three special events to celebrate the release of the
Food and Art Issue of Proximity. Our three course event takes place at
the Co-Prosperity Sphere which is being turned into a series of
installations and environments each day.
Join us for the potluck edition of Proximity Magazine, wherein we
investigate the intersections of art, food, politics and socially
engaged practices. In this issue we followed our noses and inhaled the
simmering pot of radical hospitality as a strategy for making art. Our
investigation into how the boundaries of art and food have been
blurred, smoothed out and ingested is revealed through the practices
of many local artists, activists and chefs. Our menu offers a survey
of projects that are presented as profiles and discussions about the
role of food in our lives. A veritable feast was found within
Chicago's art ecology, now lets sit down and eat.
LETS' DRINK
Friday, October 18, 2013, 8-11pm
Co-Prosperity Sphere, 3219-21 S Morgan St, Chicago, IL
Admission: $10
Come to our magazine release party and get a hot-off-the-press copy of
Proximity, meet some of the featured artists in the magazine and enjoy
some bread, and alchemical craft beer creations of your own choosing.
Features installations by PREP,Edra Soto, Â Hardcore Craft Beer
presents Alechemy, Bread & Beer and the return of the Hornswagglers!
Complementary beverages by Stone Brewing Company. Other beverages
provided by Founder's Brewing Company & special guest brewers. The
Hornswagglers bar will be coming out of retirement for the evening
serving their signature cocktails.
LETS EAT
Saturday, October 19, 2013, 7-10pm
Co-Prosperity Sphere, 3219-21 S Morgan St, Chicago, IL
Admission: $45 by RSVP Only ( Limited Seating)
Join us at our pop up eatery in the Co-Prosperity Sphere for a special
Prix fixe dinner with Chef Chris Reed from The Rice Table.
When the Dutch expanded their empire to Indonesia, they were enchanted
by the native cuisine it discovered. Excited by this new world of
creative cooking, their appetites increased, and so to the number of
dishes at the elaborate table. Thus began the birth of the Rijsttafel,
which highlights the various delicacies. The Rijsttafel was brought to
The Netherlands, and now this fascinating  culinary event in all it's
glory, can be enjoyed by you — right here in Chicago.
The Rijsttafel consists of a treasure trove of Old World delicacies,
brought to life and executed to perfection. For this special occasion
we have compiled a 12 dish dinner comprised of classical offerings
from the West Java province of Indonesia. This evening is a ticketed
event at $45.00 a seat and includes 2 complimentary drinks provided by
Maria's Community Bar, additional drinks
RSVP and purchase tickets here:Â http://proximity-ricetable.eventbrite.com/
Photography  by Ben Syverson
Beverages curated by Maria's Packaged Goods & Community Bar
Audio selections from: Dj Joe Bryl
Presented by The Rice Table & Maria's Packaged Goods & Community Bar
LET'S PLAY
Sunday October 20, 10:30am – 2pm
Co-Prosperity Sphere, 3219-21 S Morgan St, Chicago, IL
Admission: (Suggested admission $10 per family)
Our LET'S PLAY program is for kids and adults.
At this family-savvy happening, you will find the Kite Collective's
Shadow Forest installation, make visual poetry windchimes with the
Kite Collective to take home, boogie to the beats of a Future Hits
electric set, cross paths with SHoP's portatable Froebelian learning
center, learn more about Be the Change Charter School and play with
Cultural ReProducers. Eric May, a featured artist from Proximity's new
issue, will be serving his signature E-Dogz to attendees. This event
is part of Co-Prosperity Sphere's "Urban Operating System."
///
The acclaimed mixed-media creator on colonialism, women warriors, and the consumerism that pays her bills.
By Benjy Hansen-Bundy on Sat. October 12, 2013 3:00 AM PDT
Wangechi Mutu Photo: Kathryn Parker Almanas
"The power for me is to keep the story of the female in the center, to keep discussing and talking about women as protagonists," Wangechi Mutu said in a video introduction to A Fantastic Journey, her recent exhibition at Duke University's Nasher Museum of Art. For the casual art fancier who happens upon it, as I did this summer, the exhibition was like embedding in Mutu's mind: Black globes of crumpled plastic hang on strings suspended from the ceiling, a looping video of the artist devouring cake flickers on the floor, and triumphant warrior women occupy magnificent collage landscapes on the walls.
Mutu, a Brooklyn transplant via Nairobi, deploys mixed media to grapple with themes of consumerism and colonization, of gender and race—and war. Her large, lush collages draw from images familiar to us, such as magazine photos of bare flesh and car engines, which she transforms into works that are mysterious, beautiful, and somewhat terrifying. Her animated short, The End of eating Everything, done in collaboration with the singer Santigold, depicts a colossal machine/beast/planet feeding on black birds while floating in a vast industrial dead space. In an interview discussing the piece, Santigold praised Mutu for her "explosive renewal" of artistic expression at a time when vapid materialism dominates the popular culture.
A Shady Promise The Speyer Family Collection, New York. © Wangechi Mutu.\
Polyvinyl Records and Joyful Noise Records recently announced the release of Testimonium Songs, a studio album composed by the iconic Chicago band, Joan of Arc, and performed live in Every house has a door's latest performative work — debuting this week in Chicago — Testimonium. Every house is iconic in its own right, tied directly as it is to Lin Hixson and Matthew Goulish's prior collaborative project, Goat Island. While I was grateful for the opportunity to interview Hixson a little over a month ago, I wanted to dig a little deeper into the composition and collaboration present in the musical component of this project. What happens then when two organizations, drawing on two respective aesthetic discourses — rock and roll, and performance art in this case — meet to create something new? In this case, objectivist poet, Charles Reznikov stands at the center for both, creating a platform on which both musical composition and embodied choreography rely. In the following interview I asked Tim Kinsella — a member of Joan of Arc and author in his own right — to talk about his experience creating this record.
Caroline Picard:Â How did you start working with Every house has a door? Were you expecting to make a new album with them?
Tim Kinsella: Bobby and I used to play in another band together called Make Believe and that band toured non-stop for a few years. We acquired a pretty good collection in our van library – a cardboard box under the backseat. Matthew's book, 39 Microlectures, somehow ended up in there and the nature of that book invites rereading. So by the time I went back to school for my MFA at SAIC he was the person in the program whose work I felt the greatest familiarity and kinship with. And we're neighbors. So we ended up bumping into each other all the time and pretty quickly realized that not only did our sensibilities have some commonalities, but some practical eccentricities (is that a good way of saying 'constant travel?') also seemed compatible. The starting point for our collaboration was "falling between two chairs" and it's the only way it could've been. Our band has always failed to be what anyone wants it to be and Every House, though maybe in a more sophisticated way, seemed invested in frustrating and confounding expectations. And the album is essentially a byproduct of the collaboration. I don't know if I'm saying that exactly right, but what I mean is  — and this is true of the entire Joan of Arc discography — the process is determined and the limitations and indulgences agreed upon, etc.  The subsequent record just happens. At the risk of somehow sounding both overly analytical and hokey with earnestness, as far as I can tell, records exist only because the people making them somehow enjoy the process of making them together after agreeing on how to make them.
CP:Â What was your experience like composing new music for this particular project? Was it different from how Joan of Arc usually composes albums?
TK: It was the exact challenge that we were prepared for but didn't know exactly how we would focus. We had been writing longer pieces — an 80-something minute score to Dreyer's Joan of Arc that we had to pull of live; a series of records in which each piece was determined by how long one side of vinyl can be. One record was toured live before it was recorded and then recorded live in the studio with no overdubs and the one before that was made entirely in the studio, showing up the first day with no songs written and no instruments in hand, using only what we found at the studio. So writing in response to particular constraints was already our thing. A few years ago we had a giant and liberating break-through as a band — the realization that our own tastes had very little to do with what might be potentially expressive. Becoming comfortable writing against our own tastes simplified everything. I really just like Bad Brains and Lungfish. I guess I sometimes listen to Bauhaus and Can and Slayer. But I'm not interested in trying to sound like them. I guess people often write songs about their feelings or whatever, but I'm a grown man so I don't really have a sense of what my feelings would be like and even if I could somehow locate them, they hardly seem like a relevant standard of value to me. So it's good for us to have a standard by which we can determine success or
failure.
CP: On the one hand, the album feels like an autonomous project — something that one can sit down and listen to in a living room — however, in the live performance of Testimonium, the Joan of Arc portion is one piece of a longer performative event with Every house. How did that structure come together?
TK: Lin and Matthew are superlatively inspiring in many ways. The structural and formal balance that defines and sustains the tension of Testimonium is a demonstration that daringness and sensitivity are not contradictory impulses. It's been such a privilege and joy to see how they operate and compose. They contradicted my every intuition and in doing so created this thing with some weird Life in it.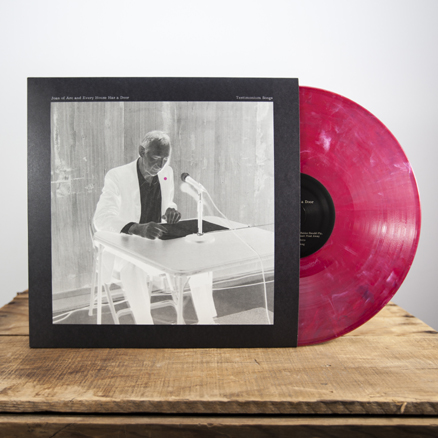 CP: What are you aware of when you're on stage with Testimonium? Does playing live music in a performance context feel different from playing at a music show?
TK: Oh yeah. All the rituals of live music performance are undermined and we love it. The whole catharsis-spectacle is frustrated and maybe we're grizzled old cynics to find that liberating, but I promise that Testimonium will equally frustrate those expecting a rock show as it will irritate those expecting a performance piece. We've done 5 weeks of Joan of Arc regular rock club shows this fall. I just got home yesterday. And I am aware that I internalize certain shortcuts or tricks to keep count. Muscle memory is subconscious and essential — my weight is on my left foot for the 2 and 4 of this song and my hip knocks out on this accent. But the potential promise of a rock show is that everything can blow apart to smithereens at any second. It remains almost constantly on the verge of falling into chaos. Testimonium on the other hand is so controlled. The quiets so drawn out. The blocking so precise. It removes that essential sense of tension and by simply reframing how a band is set up on stage, the entire experience gets broken down to its core components. It's thrilling and perverse while also so simple. And its greatest threat, it might bore you. Nothing in the fucking universe is more boring than watching the rituals of mediocre rock clichés constantly begging to be paid attention to. It's embarrassing for the performers and the audience. But people not interested in seeing their live music stripped of those kind of cliches will find this difficult and maybe even painful. So of course we're taking on a certain kind of associative baggage. But if that's what it takes to draw attention to the usual baggage a rock band brings to performing, we're fine with it. Thrilled in fact!
Every house has a door will premiere Testimonium in Chicago with seven shows as part of SpinOff beginning October 18. Seating is limited for this free event, so please RSVP to guarantee your place.
You can also visit this site to pick up your copy of the Every house/Joan of Arc record, Testimonium Songs, Magenta vinyl limited to 550 hand-numbered copies. "In a departure for the band, these highly structured compositions, developed over a two-year rehearsal period, emulate Reznikoff's poetics by shaping themselves according to a mosaic method – rotating a fixed set of musical units in warping permutations. The lyrics re-invent the strategies of Objectivist poetry, by turns surreal, ordinary, testimonial, and explosive, releasing the undercurrent of emotion in the poems while (almost) never quoting them directly. Beyond collecting the Testimonium Songs, the record has a life of its own, with the contributions of stellar musicians David Grubbs, Fred Lonberg-Holm, Michael Zerang, and Jim Baker, additional vocals by Melina Ausikaitis, and musical material not included in the performance. The cover art was made by renowned Chicago artist Jason Lazurus."

.