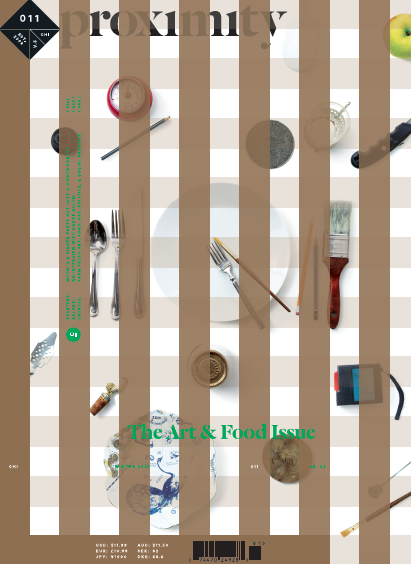 /////// details below:////////
LET'S DRINK, LET'S EAT, LET'S PLAY
A Proximity Art, Food and Radical Hospitality Mini Fest
October 18-20, 2013
@ Co-Prosperity Sphere, 3219 S Morgan Street, Chicago, IL
We are hosting three special events to celebrate the release of the
Food and Art Issue of Proximity. Our three course event takes place at
the Co-Prosperity Sphere which is being turned into a series of
installations and environments each day.
Join us for the potluck edition of Proximity Magazine, wherein we
investigate the intersections of art, food, politics and socially
engaged practices. In this issue we followed our noses and inhaled the
simmering pot of radical hospitality as a strategy for making art. Our
investigation into how the boundaries of art and food have been
blurred, smoothed out and ingested is revealed through the practices
of many local artists, activists and chefs. Our menu offers a survey
of projects that are presented as profiles and discussions about the
role of food in our lives. A veritable feast was found within
Chicago's art ecology, now lets sit down and eat.
LETS' DRINK
Friday, October 18, 2013, 8-11pm
Co-Prosperity Sphere, 3219-21 S Morgan St, Chicago, IL
Admission: $10
Come to our magazine release party and get a hot-off-the-press copy of
Proximity, meet some of the featured artists in the magazine and enjoy
some bread, and alchemical craft beer creations of your own choosing.
Features installations by PREP,Edra Soto, Â Hardcore Craft Beer
presents Alechemy, Bread & Beer and the return of the Hornswagglers!
Complementary beverages by Stone Brewing Company. Other beverages
provided by Founder's Brewing Company & special guest brewers. The
Hornswagglers bar will be coming out of retirement for the evening
serving their signature cocktails.
LETS EAT
Saturday, October 19, 2013, 7-10pm
Co-Prosperity Sphere, 3219-21 S Morgan St, Chicago, IL
Admission: $45 by RSVP Only ( Limited Seating)
Join us at our pop up eatery in the Co-Prosperity Sphere for a special
Prix fixe dinner with Chef Chris Reed from The Rice Table.
When the Dutch expanded their empire to Indonesia, they were enchanted
by the native cuisine it discovered. Excited by this new world of
creative cooking, their appetites increased, and so to the number of
dishes at the elaborate table. Thus began the birth of the Rijsttafel,
which highlights the various delicacies. The Rijsttafel was brought to
The Netherlands, and now this fascinating  culinary event in all it's
glory, can be enjoyed by you — right here in Chicago.
The Rijsttafel consists of a treasure trove of Old World delicacies,
brought to life and executed to perfection. For this special occasion
we have compiled a 12 dish dinner comprised of classical offerings
from the West Java province of Indonesia. This evening is a ticketed
event at $45.00 a seat and includes 2 complimentary drinks provided by
Maria's Community Bar, additional drinks
RSVP and purchase tickets here:Â http://proximity-ricetable.eventbrite.com/
Photography  by Ben Syverson
Beverages curated by Maria's Packaged Goods & Community Bar
Audio selections from: Dj Joe Bryl
Presented by The Rice Table & Maria's Packaged Goods & Community Bar
LET'S PLAY
Sunday October 20, 10:30am – 2pm
Co-Prosperity Sphere, 3219-21 S Morgan St, Chicago, IL
Admission: (Suggested admission $10 per family)
Our LET'S PLAY program is for kids and adults.
At this family-savvy happening, you will find the Kite Collective's
Shadow Forest installation, make visual poetry windchimes with the
Kite Collective to take home, boogie to the beats of a Future Hits
electric set, cross paths with SHoP's portatable Froebelian learning
center, learn more about Be the Change Charter School and play with
Cultural ReProducers. Eric May, a featured artist from Proximity's new
issue, will be serving his signature E-Dogz to attendees. This event
is part of Co-Prosperity Sphere's "Urban Operating System."
///
The acclaimed mixed-media creator on colonialism, women warriors, and the consumerism that pays her bills.
By Benjy Hansen-Bundy on Sat. October 12, 2013 3:00 AM PDT
Wangechi Mutu Photo: Kathryn Parker Almanas
"The power for me is to keep the story of the female in the center, to keep discussing and talking about women as protagonists," Wangechi Mutu said in a video introduction to A Fantastic Journey, her recent exhibition at Duke University's Nasher Museum of Art. For the casual art fancier who happens upon it, as I did this summer, the exhibition was like embedding in Mutu's mind: Black globes of crumpled plastic hang on strings suspended from the ceiling, a looping video of the artist devouring cake flickers on the floor, and triumphant warrior women occupy magnificent collage landscapes on the walls.
Mutu, a Brooklyn transplant via Nairobi, deploys mixed media to grapple with themes of consumerism and colonization, of gender and race—and war. Her large, lush collages draw from images familiar to us, such as magazine photos of bare flesh and car engines, which she transforms into works that are mysterious, beautiful, and somewhat terrifying. Her animated short, The End of eating Everything, done in collaboration with the singer Santigold, depicts a colossal machine/beast/planet feeding on black birds while floating in a vast industrial dead space. In an interview discussing the piece, Santigold praised Mutu for her "explosive renewal" of artistic expression at a time when vapid materialism dominates the popular culture.
A Shady Promise The Speyer Family Collection, New York. © Wangechi Mutu.\
Polyvinyl Records and Joyful Noise Records recently announced the release of Testimonium Songs, a studio album composed by the iconic Chicago band, Joan of Arc, and performed live in Every house has a door's latest performative work — debuting this week in Chicago — Testimonium. Every house is iconic in its own right, tied directly as it is to Lin Hixson and Matthew Goulish's prior collaborative project, Goat Island. While I was grateful for the opportunity to interview Hixson a little over a month ago, I wanted to dig a little deeper into the composition and collaboration present in the musical component of this project. What happens then when two organizations, drawing on two respective aesthetic discourses — rock and roll, and performance art in this case — meet to create something new? In this case, objectivist poet, Charles Reznikov stands at the center for both, creating a platform on which both musical composition and embodied choreography rely. In the following interview I asked Tim Kinsella — a member of Joan of Arc and author in his own right — to talk about his experience creating this record.
Caroline Picard:Â How did you start working with Every house has a door? Were you expecting to make a new album with them?
Tim Kinsella: Bobby and I used to play in another band together called Make Believe and that band toured non-stop for a few years. We acquired a pretty good collection in our van library – a cardboard box under the backseat. Matthew's book, 39 Microlectures, somehow ended up in there and the nature of that book invites rereading. So by the time I went back to school for my MFA at SAIC he was the person in the program whose work I felt the greatest familiarity and kinship with. And we're neighbors. So we ended up bumping into each other all the time and pretty quickly realized that not only did our sensibilities have some commonalities, but some practical eccentricities (is that a good way of saying 'constant travel?') also seemed compatible. The starting point for our collaboration was "falling between two chairs" and it's the only way it could've been. Our band has always failed to be what anyone wants it to be and Every House, though maybe in a more sophisticated way, seemed invested in frustrating and confounding expectations. And the album is essentially a byproduct of the collaboration. I don't know if I'm saying that exactly right, but what I mean is  — and this is true of the entire Joan of Arc discography — the process is determined and the limitations and indulgences agreed upon, etc.  The subsequent record just happens. At the risk of somehow sounding both overly analytical and hokey with earnestness, as far as I can tell, records exist only because the people making them somehow enjoy the process of making them together after agreeing on how to make them.
CP:Â What was your experience like composing new music for this particular project? Was it different from how Joan of Arc usually composes albums?
TK: It was the exact challenge that we were prepared for but didn't know exactly how we would focus. We had been writing longer pieces — an 80-something minute score to Dreyer's Joan of Arc that we had to pull of live; a series of records in which each piece was determined by how long one side of vinyl can be. One record was toured live before it was recorded and then recorded live in the studio with no overdubs and the one before that was made entirely in the studio, showing up the first day with no songs written and no instruments in hand, using only what we found at the studio. So writing in response to particular constraints was already our thing. A few years ago we had a giant and liberating break-through as a band — the realization that our own tastes had very little to do with what might be potentially expressive. Becoming comfortable writing against our own tastes simplified everything. I really just like Bad Brains and Lungfish. I guess I sometimes listen to Bauhaus and Can and Slayer. But I'm not interested in trying to sound like them. I guess people often write songs about their feelings or whatever, but I'm a grown man so I don't really have a sense of what my feelings would be like and even if I could somehow locate them, they hardly seem like a relevant standard of value to me. So it's good for us to have a standard by which we can determine success or
failure.
CP: On the one hand, the album feels like an autonomous project — something that one can sit down and listen to in a living room — however, in the live performance of Testimonium, the Joan of Arc portion is one piece of a longer performative event with Every house. How did that structure come together?
TK: Lin and Matthew are superlatively inspiring in many ways. The structural and formal balance that defines and sustains the tension of Testimonium is a demonstration that daringness and sensitivity are not contradictory impulses. It's been such a privilege and joy to see how they operate and compose. They contradicted my every intuition and in doing so created this thing with some weird Life in it.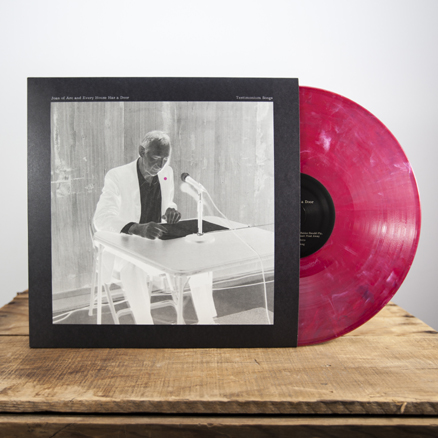 CP: What are you aware of when you're on stage with Testimonium? Does playing live music in a performance context feel different from playing at a music show?
TK: Oh yeah. All the rituals of live music performance are undermined and we love it. The whole catharsis-spectacle is frustrated and maybe we're grizzled old cynics to find that liberating, but I promise that Testimonium will equally frustrate those expecting a rock show as it will irritate those expecting a performance piece. We've done 5 weeks of Joan of Arc regular rock club shows this fall. I just got home yesterday. And I am aware that I internalize certain shortcuts or tricks to keep count. Muscle memory is subconscious and essential — my weight is on my left foot for the 2 and 4 of this song and my hip knocks out on this accent. But the potential promise of a rock show is that everything can blow apart to smithereens at any second. It remains almost constantly on the verge of falling into chaos. Testimonium on the other hand is so controlled. The quiets so drawn out. The blocking so precise. It removes that essential sense of tension and by simply reframing how a band is set up on stage, the entire experience gets broken down to its core components. It's thrilling and perverse while also so simple. And its greatest threat, it might bore you. Nothing in the fucking universe is more boring than watching the rituals of mediocre rock clichés constantly begging to be paid attention to. It's embarrassing for the performers and the audience. But people not interested in seeing their live music stripped of those kind of cliches will find this difficult and maybe even painful. So of course we're taking on a certain kind of associative baggage. But if that's what it takes to draw attention to the usual baggage a rock band brings to performing, we're fine with it. Thrilled in fact!
Every house has a door will premiere Testimonium in Chicago with seven shows as part of SpinOff beginning October 18. Seating is limited for this free event, so please RSVP to guarantee your place.
You can also visit this site to pick up your copy of the Every house/Joan of Arc record, Testimonium Songs, Magenta vinyl limited to 550 hand-numbered copies. "In a departure for the band, these highly structured compositions, developed over a two-year rehearsal period, emulate Reznikoff's poetics by shaping themselves according to a mosaic method – rotating a fixed set of musical units in warping permutations. The lyrics re-invent the strategies of Objectivist poetry, by turns surreal, ordinary, testimonial, and explosive, releasing the undercurrent of emotion in the poems while (almost) never quoting them directly. Beyond collecting the Testimonium Songs, the record has a life of its own, with the contributions of stellar musicians David Grubbs, Fred Lonberg-Holm, Michael Zerang, and Jim Baker, additional vocals by Melina Ausikaitis, and musical material not included in the performance. The cover art was made by renowned Chicago artist Jason Lazurus."

.
"Art world badass, gallerist, curator, writer, swell mofo" Mat Gleason brings in Episode 423 of the Bad at Sports podcast; during the show, people are called Ninny! Art school is shit-talked! TMZ! Lawsuits! Artists traded like sports players. All that and so much more here.
The week began with Edition #18 of What's the T? from our very own gossip columnist, Dana Bassett. Bassett begins with good advice about "How to stay relevant through the weekend", the weather report, the failure of Aiken's Station to Station, and Feminism in digital art. As Bassett says, "Just some light reading to distract you from the shutdown and Miley Cyrus."
For the first time in history, says Nicholas O'Brien, Phillips organized an art auction for Digital Art."The auction, entitled Paddles On!,  is of particular significance because it is not only the first auction for Phillips, but also the first primary market auction to occur at any major international auction house to only feature digital art works" :
All coincidence of overlapping interests and timing aside, what Paddles On! presents to audiences – both familiar and new – is that artwork made and distributed through digital networks must now become more vocalized and represented within a contemporary art market. Many recent signposts have been pointing to this moment – the heated conversation around Rhizome's booth at the Armory in 2011, the outrage of artists and academics railing against Claire Bishop's misinformed "Digital Divide" essay in Artforum, the development of the Art Micro Patronage project by The Present Group, the selling of digital art by AFC at NADA this past year, just to name a few. But now it is happening, and already over half of the works have been bid on through Paddle8 – a sign in and of itself that now seems to be the time.
Kevin Blake interviewed Carl Baratta in anticipation of Baratta's upcoming show at Sidecar Gallery. When asked about his relationship to abstraction, Baratta replies:
I was trained initially as an abstract artist. It's kind of weird because traditionally an art student gets trained in figurative stuff and then they are allowed to meander into other modes of painting. In undergrad, I had a bunch of former students of NYC AbEx painters as my professors (students of Al Held for example). The figurative painters I did end up taking taught me how to find and extrapolate forms from what was around me. So basically literal abstraction.The work I'm doing now is me backing out of pure abstraction and color field painting into something more figurative. Navigating between these two things is a major theme in my studio. Paint is always first to me even when I'm trying to figure out the shape of a nose or a chicken, so it naturally is always first and foremost in my mind. I can't help it, I was brought up that way.
This week Jeffrey Songco interviewed Lacey Haslam of Oakland-based BLOCK Gallery and artist Kari Marboe "regarding their newest project titled Latham Memorial Fountain Unveiled." When asked what "site specific text based work" was, Marboe replied:
Artworks designed conceptually and physically for a particular space, and in my case made with text. For example, during our thesis exhibition I worked with Dena Beard to find a public and easily accessible spot outside of the Berkeley Art Museum to place a piece. She suggested taking over one of the panels outside of the museum on Bancroft which is normally used for internal advertising on upcoming exhibitions or events and found a 4'x4' panel that was available during the time we needed. So I wrote a piece that talked about being exactly in that space, the motions of coming in and out of the museum, in poem form so people could sit down on one of the benches across from the work and enjoy it for a while. The label for the work was displayed right as you were walking out of the museum, so people were stopping and asking, "where is this piece of art, it's not the Calder, where is it".  Another piece I worked for that show was with the East Bay Express— 
Dispatch from Twin Cities via Eric Asboe who covered the Jerome Foundation Fellowships, discussing the work of  Michael Hoyt, Amanda Hankerson, Melissa Loop, Susannah Bielak, and Lauren Roche:
The Jerome Foundation Fellowships have supported emerging artists since 1981. The fellowship comes with $10,000, studio visits from professional critics, technical assistance, and a culminating exhibition. It is one of the premier individual artist awards in Minnesota. The opening was full of people wanting to see that work, to support that legacy of emerging artists, to see who the Jerome Foundation had selected as the artists to continue watching, but I wanted to say, "Come out from the gallery. Come out to experience the real world around us. The work in the exhibition is good and interesting within the gallery, but it has truly come to life as I have lived with it outside, in the real world."
TOP 5 shows to see courtesy of Stephanie Burke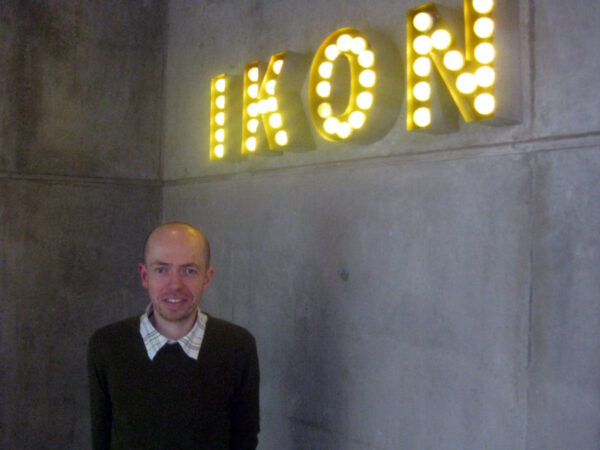 Curious about Birmingham? Mark Sheerin interviewed Ikon Gallery curator Stuart Tulloch:
"If you're in London, you're still thinking about people who are in London, and in a sense the angle's still provincial," he says. "London will think about what's relevant to be shown or to be seen within London, and in some ways Birmingham removes you from that…This is an amazing place, with an enviable reputation and an international reputation," he says with no hint of spin, "It can say 'This is interesting. Here's something you've never seen before. Let's bring this person from the other side of the world to share something with Birmingham'."




Terri Griffith waxes on life works via a $1.99 copy of Jonathan Biss' long essay about playing through the Beethoven catalogue:

If we are lucky, our work becomes larger than we are and takes on a life of its own. Sometimes we know this at the outset and sometimes we come to know as the work moves forward. I'm thinking here of Walt Whitman and his Leaves of Grass, which started as a slim and youthful volume of poems. Whitman revised this modest book until, on his deathbed, book had grown weighty, to over 400 poems. Over his lifetime, as Whitman had hoped, the work had grown with him. Pianist Jonathan Biss might similarly be embarking on this sort of life's work. At 33 he is undertaking to record all of Beethoven's Piano Sonatas, a project scheduled to take nearly a decade.

Sara Drake interviews the oh so lovely Anya Davidson who just released her first full length comic:

Chicago-based artist and musician, Anya Davidson, has recently debuted her first full-length comic book, School Spirits. Up until now, her modest print editions make her work difficult to come by outside of the defiantly small world of alternative comics. Davidson is probably one of the few artists for which it is appropriate to combine words like brush pen and bad-ass in the same gust. Her stories are often eclectic mash-ups of metal fantasies, female overlords, science fiction, collected vernacular and whatever else gets whirlpooled away into her consciousness. Her newest creation, a high school story that follows the friendship of two teen girls and their fanatical love of a metal band, is a keen understanding of comics as an art form synthesized with Davidson's own radical tendencies.

Opportunities y'all — with such delectables as a Full Time Tenure Track position at the University of Iowa's Film Department, APEX art's open season for curatorial projects, Emergency Grants (offering emergency funds to artists for art projects) and open calls for the Journal for Artistic Research and gomes. Blammo.

1. University of Iowa Full Time Position Description: The Department of Cinema and Comparative Literature at The University of Iowa invites applications for a tenure-track position that will be filled at the Assistant or Associate Professor level, depending on qualifications and experience. The position will begin in August 2014. We are looking for a Film/Video maker with significant experience in digital documentary filmmaking. The successful candidate might also work in non-fiction and experimental modes of film and video production. This new faculty position is part of Iowa's Public Digital Arts Cluster initiative. (for more information see: http://now.uiowa.edu/2013/06/new-faculty-cluster-public-digital-arts ). New faculty with expertise in public digital arts will complement the University's considerable existing expertise in these areas to form the core of this innovative multidisciplinary initiative. Participation in the PDA Cluster will be an important component in performance evaluations. Candidates will be expected to teach courses in digital video production and post-production at all levels of the undergraduate and graduate curriculum. Possible courses may range from documentary filmmaking, digital cinematography, and new media to digital animation, 16mm, directing, and screenwriting. Screening begins November 15, 2013. More info here.

2. Unsolicited Proposal Program at APEX Art: Applications accepted Oct 11 – Nov 8, 2013 — online only Submit your idea for a curated exhibition.

Now in its 17th year, apexart's Unsolicited Proposal Program open call is accepting submissions for exhibition ideas starting October 11, 2013. Three winning proposals will receive funding and administrative support from apexart to present their show in its Tribeca space.  The Unsolicited Proposal Program asks for idea-based, 500-word proposals for curated shows of three or more artists that examine a compelling idea. Exhibitions can be about any topic that the organizer finds compelling—successful shows have been selected about everything from television to mapping to literature. No prior curatorial experience is required and we invite submissions from people of all backgrounds. Proposals are anonymously evaluated by an international jury of 150 people from all disciplines. Votes are processed through a unique apexart-developed crowd-sourcing computer script to determine which three proposals received the highest scores with no direction or interference from apexart or its staff.  The three winning exhibitions will be presented in apexart's 2014-15 season. Proposals are accepted online at apexart.org/unsolicited.php from October 11 – November 8, 2013. You may also visit this page for FAQs and other guideline details.

3. The Journal for Artistic Research (JAR) invites original submissions for future issues from artists worldwide, with or without academic affiliation. The journal is open to submission from all artists who wish to reflect on and expose artistic practice as research, who are interested in exchanging ideas and processes with a group of engaged peers and, thus willing to contribute to the ongoing debate about research in the arts. Submissions that should be considered for JAR5 need to be made before November 15, 2013.

JAR is a peer-reviewed journal, publishing original research from artists of all disciplines. Published twice a year, with currently four issues accessible online, the journal is unique in its field, marrying the rich-media and social networking capabilities of online publishing to peer-review and scholarly rigour.With the aim of displaying and documenting practice in a manner that respects artistic modes of presentation, the journal uses the Research Catalogue, a free-to-use online tool that allows the weaving together of text, image, audio and video material.JAR is open to all possible approaches to the publication of research including those that use little or no text. The Research Catalogue also enables collaboration, allowing multiple authors to work on the same document simultaneously and submit to the journal as a team. Articles that are not accepted for publication in JAR can be self-published, free of charge in the Research Catalogue.

JAR is a free open-access resource, with an international readership and a growing pool of renowned artistic and academic reviewers. The journal's issues are non-thematic and submissions are considered by an experienced editorial board, in a rolling fashion, as they are submitted. To submit an article, contributors are required to register for an account on the Research Catalogue, and use the writing space to layout and expose their research. JAR provides editorial guidance and technical help with these processes.

Interested contributors should first acquaint themselves with previous issues at www.jar-online.net (the inaugural issue JAR0is a good place to start) and then contact the journal to discuss the suitability of their material and receive advice on progressing towards submission.

The next issue, JAR4, will be published in November.

Send your correspondence to Barnaby Drabble, Managing Editor, Journal for Artistic Research:Â barnaby.drabble@jar-online.net

4. Call for Critical Writing Proposals:JARÂ is published by the Society for Artistic Research.

gorse's website will publish shorter pieces of criticism [1], narrative essays and interviews. We are not currently considering fiction or poetry. Please send a query, or the first 500 words of your proposed essay, to info [at] gorse [dot] ie. Work should be previously unpublished. Simultaneous submissions are acceptable as long as you tell us straightaway if your work is accepted for publication elsewhere. We will do our best to reply to all queries, but if you don't hear back from us within six weeks please feel free to submit to another venue. Please note that as our resources are limited, we are only in a position to offer contributors a token fee. Finished pieces for the website would ideally be between 500 to 3000 words.

We are interested in the potential of literature, in literature where lines between fiction, memoir and history blur (Sebald, Cendrars, Bolaño, Joyce), in experimental [2] writing, in fiction in translation, in the unconventional and the under recognised, in the personal essay (Sontag, Dyer). We are a literary journal equally interested in the arts (fine art, photography, architecture, film, music), in culture, in politics. We're looking for smart writing, not academic.

---

1. "I. The critic is the strategist in the literary battle. II He who cannot take sides should keep silent. III. The critic has nothing in common with the interpreter of past cultural epochs. IV. Criticism must talk the language of artists. For the terms of the cenacle are slogans. And only in slogans is the battle-cry heard…" Walter Benjamin ↩

2. We acknowledge the word 'experimental' is not without its problems. (See John O'Brien on this point: "If Sternewere writing today, he would be labeled a postmodernist, but what sense would that make, given when he was actually writing? As far as I am concerned, the history of fiction is one of invention, oftentimes playful and conscious of itself, but always pushing limits in terms of what it is and what else it can be. But I absolutely do not think of a Sterne or a Joyce as "experimenters": they didn't experiment, they made these remarkable books whose ingenuity and art are rarely seen in other writers or matched. Their works are finished and complete achievements, not experiments.") 'Experimental' is not weird for the sake of weird, it is innovation. ↩

5. Emergency Grants

Created in 1993, Emergency Grants provides speedy funding for visual and performing artists who have unanticipated, sudden opportunities to present their work to the public, or who incur unexpected or unbudgeted expenses for projects close to completion with committed exhibition or performance dates. The grants are intended to support the creation of innovative and experimental work, and are meant to assist individuals and groups when there is insufficient time to seek other sources of funding.

Requests are primarily granted to artists who are "emerging" and have few sources of financial support. Emergency Grants is the only active, multi-disciplinary program that offers immediate assistance of this kind to artists working anywhere in the United States.

Emergency Grants applications are accepted year round; there is no deadline. Applications are accepted online only; please refer to the application requirements below. Grants are determined on a monthly basis by the Emergency Grants Panel, a volunteer committee of established artists. In 2012, grants ranged in amount from $350 to $2,440; the average grant was $1,165. Go here for more information