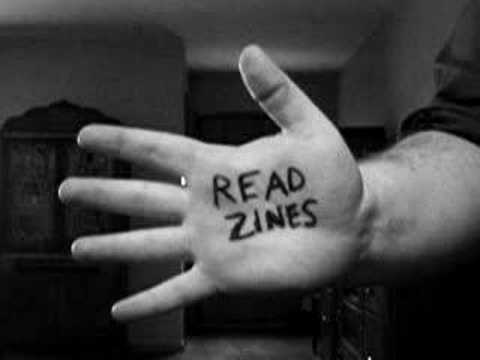 I recently interviewed Anne Elizabeth Moore for the Art21 blog. Our interview ran over the prescribed length but I was still pretty fascinated in what AEM had to say. Thus, I've posted the extension of the interview here. First, we talk about copyright issues–what seems of real interest, given that making visual/creative work (especially outside of a stream-lined commercial business context) begs such questions. For instance, I've worked with authors who have insisted on using Creative Commons (not a problem with the GLPress since the author/artist always keeps the rights to whatever we print), and Creative Commons is awesome, maybe even preferable, but how to think about it? What does it mean? Well, Anne Elizabeth Moore to the rescue, because she has thought about it. ALOT. Maybe in part because her namesake created the first copyright way back when. Aside from copyrights, we also talk about her Fulbright and what she's doing in Cambodia. Which is also well worth the read. So.
CP: How do you deal with copyright issues?
AEM: Depends on the project. I'm not a big fan of current copyright law and it's ease for corporate abuse, but I've also seen how the copyright activists tend to be these loud, masculine players who are just as aggressive as, say, those corporations that virulently defend their copyright despite fair-use defenses. So let me say this once: demanding I give up my copyright as a matter of politics is just as shitty as suing me for using yours. I've been involved in some fairly big-deal copyfights, and I've just seen the same thing, over and over and over: the loud white obnoxious psuedoradical dudes, usually also the best educated and with the most money, consistently have the most say. It's weird, right? That in this supposedly deliberate anti-corporate field of criminal activity, we've got the same problem as in boardrooms across America: rich white dudes grabbing all the power. So I started to look into it more, and it's a pretty complex matter. Because copyright doesn't actually cover all matters of intellectual property rights: there are a ton of things that we do, make, use, and create that we don't bother to assign copyright to. Cooking, for example, and quilting and knitting and sewing. Traditionally known as women's work. Most of this isn't eligible for copyright because, in the theory that went into creating the law, they worked from the accrued common knowledge of a group of people and result in products that are intended for private consumption. So: the law is publicly acknowledging that some work traditionally identified as feminine doesn't matter in terms of this law, which after all is about the right to have ownership over, but also profit from, your own work. This is therefore a law that is fundamentally flawed, in several different arenas. Fighting it on its own terms isn't going to change the basis of our understanding about the kinds of work that matters and the kinds of work that don't. And so also, Creative Commons isn't going to challenge this law to the degree I feel it needs to be challenged. And look at the basis of the law: that the accrued common knowledge of a group of people working together on something? I'm all about that kind of work. You cannot tell me that it does not have value. Although I will hear arguments that its primary value is in creating corporate-resistant structures unacknowledged by our current legal system. But we get confused in the States. When the legal and corporate world tells us something has value, we don't have much space to rethink that. Even the copyright pirates, right? The copylefters, a thing that I first heard about in zine culture: this is a proposal to freely re-use work, to open it up to any and all users, for any purposes whatsoever. This is helpful, but it doesn't say, here are all the ways this law is wrongly established.
What I'm for is the first copyright. Some 1790-ish thing called the Statute of Anne, this first copyright law in the UK gave creators rights to their own work for a very reasonable period of 14 years. The end. It would be great if this applied to all created works–quilts, family recipes, etc.–and if the profit-making edge copyright has taken on especially in recent years were eradicated from the whole deal, so that creators would feel empowered to defend this work for this short time on the basis of its own merits and not for its money-making potential. But until copyright law is challenged fully and on all the bases that I feel it needs to be challenged, I will continue to respond to each individual project with a unique take on copyright that challenges it on the grounds I think it needs to be challenged on.
Like, a 2004 zine about Starbucks marketing and branding strategy in underground culture. Because they had recently tried to take Kieron Dwyer to court, an associate from my comic-book days, I assigned copyright of this very critical piece to Starbucks, and then distributed it inside Starbucks around the US. Actually it's still in circulation, and I just got an email from someone who found it a few months ago. [ONLINE SOMEWHERE AT ANNEELIZABETHMOORE.COM] Or I will pirate things when I need to—the American Girl Doll cards, for example. I have yet to do a project where I needlessly copyright something created by a large number of people just to prove a point, but I do assign full credit within works I complete on their behalf, and don't register them for separate copyright. And then here in Cambodia, there is no copyright law. So every single thing I do here is purely contributory, or could be, or hopes to be.
CP: I was wondering if you could talk a little bit about your Fulbright….
AEM: So I was invited to teach media and communications in Phnom Penh for the winter term, and I actually just gave a little intro lecture to my students yesterday. There, because the country's been so poor in the past–it's developing now, and rapidly–the way globalization takes hold is really, really evident. And because there is a visible middle class there now, whereas there was not three years ago (when I started working there, on the self-publishing project I mention above), there are also the markers of the middle class: namely, advertising. What I'll be studying here with my students is the rise of advertising in a country where most of the nation earns less than $60 per month, often supported by young women in the garment factories, who of course unknowingly supply the world with clothes sold under brands like H&M, Gap, Adidas, Bennetton, and Nike. What happens in an insane context like this is, those same brands are being pushed on the makers of them, but no connection to the process of creation, or between their wages and the price point, is ever acknowledged. Yesterday I met a kid who proudly whipped out an iPhone he doesn't know how to use. You may know I first came here right after my book Unmarketable came out, about the cooptation of the cultural underground by marketing forces. It was very well received, and this was all very exciting, but there I was in Cambodia where, like the town was getting excited about the very first KFC (called here Khmer Fried Chicken, of course) opening up. Unmarketable made no sense. I was asked to come give a lecture on it at a university here, and it was like, OK: but first I have to explain what a cultural underground is, and then I have to explain about what marketing is. And then I have to explain what resistance movements are. Now, in three years, Cambodia has caught up the our most globalized cultures in terms of advertising if not in terms of actual economic development. What's up with that?
CP: I guess this series started for me because I kept hearing the word hybridity; like in multiple conversations about different art works or practices people used hybridity as a kind of description. While on the one hand, I know what the word means of course, it also feels like a term that carries a certain amount of association and latent meaning. You deal with hybridity often in your work–in your performances you sometimes embody animals, in other instances you are both one and two people at the same time. Can you talk a little bit about how you think of hybridity?
 
TS: I feel like a lot of people in the arts are talking about hybridity using very different (and I think more or less equally valid) definitions which occasionally leads to a little bit of confusion. I have often heard the term "hybrid forms" applied equally to visual depictions of chimeras and other hybridized figures and to the use of organic forms, mixed-media, and composite materials.
My personal interests in hybridity comes out of the convergence of my life-long fascination with combined human/animal/machine forms (most notably the chimeras of ancient myth, anthropomorphized animals in children's literature, and human/machine/extraterrestrial hybrids of
science fiction and ufo mythos) with my exposure to critics like Donna Haraway who use the figure of the cyborg and other hybrids to critique dualist social constructions and the idea of personhood and individual agency being bound within a unified and independent bodies. This
exposure roughly coincided with the beginning of my desire to confront my long-time (and continuing) discomfort with binary gender and I was constantly on the look out for alternative theories of the body and I found the concept of cyborg bodies whose slippery existence is held
together by constantly shifting relationships between humans, machines, animals, and institutions to be extremely exciting. It is largely in this spirit that I go about creating work in which I split
myself into various animal and plant versions of myself.
CP: It seems like there's a way that hybridity offers a means to question assumptions latent in, say, gender binaries or species distinction. Even in terms of what you're addressing with robotic/mechanicle vs. organic/self-determined structures. It's like you're decentralizing ideas of self-hood and self-determination, while undermining traditional power structures. Having said that, I'm not really sure I know what I mean when I say "traditional power structures" except that I feel it manifests itself visually in my mind as a kind of monolith. A giant cultural pillar with neat and tidy assigned parts. Do you feel like your efforts are anarchistic? Or are you looking for a new kind of order? In other words, should the hybridity remain unfixed and unfixable? Or would do you aim to create a new kind of identity that is, say, part cheetah with human hindquarters and a transformer arm?
TS: I feel that when talking about power structures it is important to distinguish between models of power (the ways of looking at power) and the organization of power into social institutions. I think that the traditional way of looking at power is the monolithic model of which you speak, in which power descends from a (often divine) pinnacle of authority on to the people beneath. There is also the bottom-up view of power, which is a democratic inversion of the monolithic model, in which the legitimacy of the authority on the top comes from the power of the people below. I subscribe to a model of power in which power is radiating from everyone, everywhere, in all directions – without a top, bottom, or center. I think that this is the structure of power regardless of the institutions and social constructions into which it is molded.
What the monolithic model and the bottom-up model share is that they are both preoccupied with the legitimacy of existing institutions and constructions. Things are the way they are, they say, because of divine (or scientific or natural) order or popular consensus. Under these models, binaries are presented as part of a natural or innate cultural order, part of the way things are.
I think that what hybrid figures do to binaries is to show that they are actually the way things are not (or that binaries, if they exist, are extremely rare). I think, for example, that the human/non-human binary falls apart as soon as we look really closely at the human body. A classical (humanist) reading of the body considers it to be a unified, holistic, 100% human form – the most human form – however if we take out our microscopes, look onto and beneath our skin, look deep into our guts (take a literally very close look) what we see is that the body is host to colony after colony of (mostly benign) bacteria, protozoa, viruses, very small animals, and fungi. From my limited understanding (I am not a biologist) the health of these colonies is essential for the health of the overall body to the point that we can look at the human body as already (and always) being inhuman.
I feel that in my own efforts, I am not trying to prescribe an anarchistic role to hybrids or to suggest a new world order, but rather I am attempting create semi-fictional realities in which the already slippery relationships between humans, animals, and plants are amplified in their slipperiness.
CP: It seems like, with the way you'r'e talking about, there's a way that hybridity offers a way to question assumptions latent in, say, gender or species binaries. Even in terms of what you're addressing with robotic/mechanicle vs. organic/self-determined structures. It's like you're decentralizing ideas of self-hood and self-determination, while also destablizing traditional power structures. Having said that, I'm not really sure I know what I mean when I say "traditional power structures" except that I feel it manifests itself visually in my mind as a kind of monolith. A giant cultural pillar with neat and tidy assigned parts. Do you feel like your efforts are anarchistic? Or are you looking for a new kind of order? In otherwords, should the hybridity remain unfixed and unfixable? Or would do you aim to create a new kind of identity that is, say, part cheetah with human hindquarters and a transformer arm?
 
 
TS: Â I think in a lot of my work I'm attempting to create situations/environments/performances that play with the boundaries between things that are frequently placed in opposition with each other. When I perform as a community of fox/people, a family of rabbits, a bouquet of flowers, or a forest ecosystem I try to borrow equally from scientific, mythological, historical, pop cultural, autobiographical, and autofictional sources to create the text, structure, and logic of my characters and the worlds they interact with. My hope, is that by fusing these elements together I can create alternate realities that feel natural, magical, confessional, and opaque at more or less the same time. I also try my best to give these worlds a logic that seems coherent but also transparently artificial and frayed around the edges.
 
 
It snowed the night before. The morning was bright and sunny and I missed the idea of mountains.
We went to the Lincoln Park Conservatory, pausing just inside to take off coats. The green interior made me blink. Some plants looked familiar, others unusual, still others boughed under the weight of themselves, with signs reading, Please don't touch the fruit.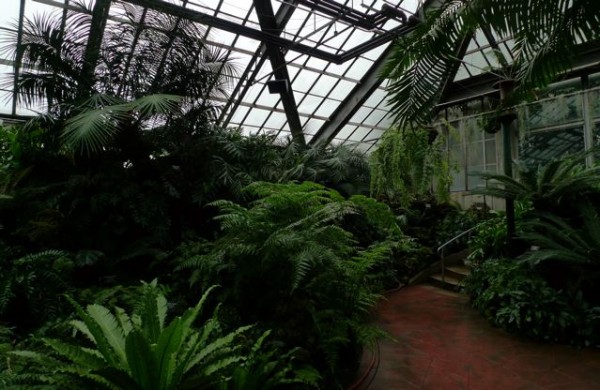 This 20th Century building houses ancient plants; plants older than dinosaurs. One fern, I read recently, was planted in 1891. Imagine all those root systems, dug deep in the ground, older than any of us, housed in what they once called "Paradise under glass." The steel/iron vestible, rife with foliage evokes  nostalgia.  I couldn't help reconstructing some phantom of an American past. Add to this the Florasonic wall card, explaining the conservatory was named after the late president shortly after his assassination; or that once there was a cemetery on the park grounds–because of health concerns the city  tried to relocate it when the Chicago fire burned the city. Records of those unmoved corpses were lost.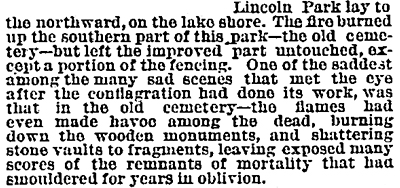 http://hiddentruths.northwestern.edu/fire_accounts.html
Annie Feldmeier Adams uses this site to create "Requiem (for Lincoln Park Conservatory)" with Steven Hess–a four-channel installation that loops about every 20 minutes.
We sat on a bench to absorb the sound. My coat felt bulky in my lap. I drank tea, relieved to be warm and imagining old ghosts snoring beneath our feet.
A heart beat kept the pulse of the room, in addition to a regular, though light, mechanical clacking–it sounded like a whirring fan but could have been a clock. Underneath those time-keepers lay  ambient, changing waves of synthesized tones. Sometimes it sounded like there was a voice in the room, though I couldn't place it. The bench was small, but we nevertheless fell into silence, trying to discern that voice, to parse its ethereal location. Visitors came and went, adding to our sonic landscape. While watching a large group of tourists gather and peer at some leaves, I felt very still by comparison. I smiled and my friend laughed. Sometimes we heard the crunch of gravel. We looked at each other. "Is that the recording?" she asked. "I can't tell," I answered. "I think so?" The more we concentrated the more difficult it became to distinguish the sound of the installation from the sounds of our environment. "Maybe this is what it's like to be psychic," I thought. There would be an inevitable flattening of experience, where the common reality was somehow crowded by a psychic one–difficult to discern ghost-sounds with living ones. The plants seemed complacent–happy even. Perhaps because they grow vertically, distinctions of past, present and future are irrelevant.  A passing helicopter broke the spell. "That's a helicopter," my friend said. "Yes," I agreed. "I wasn't sure at first, but now that you say so, I think it's above us."
We left soon after, walking back through the plants and out to the shock of a city in snow.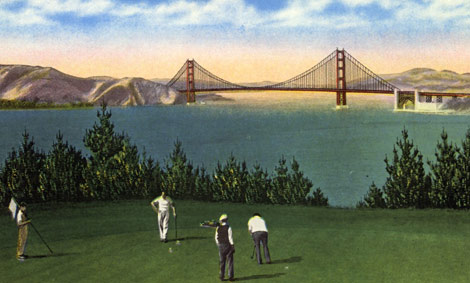 At home, I thought of the Legion of Honor in Lincoln Park, San Francisco–a smaller replica of the Paris Legion of Honor, the San Francisco version houses a private art collection that opened in 1924. In 1867 the city purchased the property from what used to be a cemetary. The bodies were moved to another location–or at least, the markers were moved. They converted the property into a golf course, and then The Legion of Honor. It all seemed pretty straight forward. Nevertheless, "in the summer of 1993, during renovation and expansion of the California Palace of the Legion of Honor, about 300 corpses from the Gold Rush era—two of them still clutching rosaries, others were wearing dentures and Levis—were unearthed from what appears to be an old pauper's graveyard. Some experts say another 11,000 bodies might lie underneath the museum grounds' according to a Los Angeles Times article (12 November 1993, A-23)." In both instances, at the Lincoln Park Conservatory and at the Legion of Honor, a direct alchemy seems to occur; the bodies of predessors remain below ground, while above public houses exhibit creative expression like tents against the uselessness of mortality. I'm not even sure what it means exactly; I'm not sure where to position myself in history's continuum, or  how exactly it is continuous. But the effort of production, its fruit: I can comprehend that. I can comprehend my position between the ground and the sky. I know what it is to sit with a friend on a bench. And while listening to Requiem, I had an experience of history, one nevertheless difficult to put into words.
The Experimental Sound Studio has been working with the Chicago Park District since 2001, using the Fern Room as a site for exhibition. It's an amazing curatorial project about partnership and symbiosis. The experience of Requiem uses that foundation, and particularly during these dark days of winter, getting a dose of greenery is good. If you're in town for the holidays and need to escape or entertain get a hot drink and walk into the conservatory, take a bench in the Fern room and listen.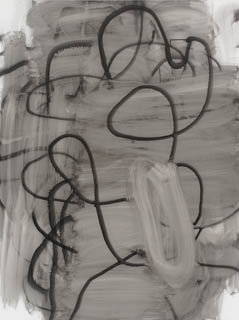 There is nothing I enjoy more than the intersection of musical performance and visual work. At Sound on Sound, a Christopher Wool exhibit at Corbett vs. Dempsey, I watched Joe McPhee activate that intersection. As stated in the CvD press release, "the title of [Wool's] show comes from a 1968 recording of [McPhee's] that has never been issued," a gesture that echoes in Wool's wall-length abstractions which play with what is, is not and what was there. With those paintings as a backdrop, McPhee 's performance created a touchstone of literal, temporal experience–a positive reminder that history is not simply a spectral projection.
Wool's larger abstracts pay homage to modernist painting just as they undermine that homage. The focus is on surface rather than paint. The paintings are flat and slick. The action of the paint appears to have taken place behind the surface–an implied, impossible-to-reach space. A space the viewer can never touch. These paintings ask you grasp for an idea–to strain through the mark-making, and parse their accumulated gestures. While the more obvious marks are high contrast–blocks of white paint that seem applied with a paint roller, or finer snaking black lines that seem straight from a can of spray paint–the meat of the work is behind those singular pronouncements. The meat of the work is the background wash, variant erasure-marks where singular phrases might have existed before. It is about what Wool erased–a project of deduction for any viewer bordering on a Rorschach print: while some of those deductions are accurate, any number of personal associations come into play, disguising the process. Looking at Wool's work is like shadow boxing–what becomes a metaphor for his project of painting abstracts at all.
The contemporary abstract painter must account for The History of Painting. Wool seems to suggest, via these spectral works, that history is impossible to grasp, elusive in it's Truth, unstable, even, as it is reliant on a present's interpretation. History becomes more an image of one's self than any real vision of what was. The viewer parses Wool's process, (or the history of each specific painting) just as Wool is reflecting and parsing the history of painting. In either case the result is subjective and, even, maudlin. It will never be requited. There is no true history.
Images of Wool: The giant bare room with countless paintings lined up along the walls. The boxing bag hanging on the periphery of a studio shot. Photographs of broken-down cars. Artist in a El Paso tank top with a breathing mask and paint gun. Wool is a painter's painter; in a frieze article his nose is discussed at length as an ideal, "A seriously tremendous nose, something a rock climber would gaze at in awe, especially if it were on the scale of Mount Rushmore. How would one begin to climb it?" All of these images, both self-created and perpetuated by others amount to a decidedly male tradition; it echoes of Pollack and yet, as one of many in a patriarchal succession: how to fill the shoes of a predecessor? How to achieve some recognition? Especially when the death of said predessor boasted a simultaneous "death of painting." A death no one really believes in, but nevertheless enjoys to bat around. (An article I read years ago, I wish I could remember suggested that every ten years we exume the body of painting to see if, indeed it is dead, before reburying it). Wool is not asking if painting is dead or alive, instead he presents ghost-paintings: after-images created out of smoke. He admits the smoke-and-mirrors archetype, while nevertheless being married to its tradition.
Last Saturday, McPhee served as a kind of in-between orator, one who played directly with the Wool's themes while creating a connection between Wools contemporary-image-of-the-past and the present moment. There was something grounding about McPhee's presence–a positive gesture on this side of the paintings. McPhee is real. He is not a ghost. His relationship to history, while profound (he came on the scene in the 60s and 70s and boasts a significant reputation as one who integrated emotional content with experimental improvisation), is nevertheless active, contemporary, literal. At the same, his work with recording equipment–particularly this devise of "sound on sound"–speaks directly to Wool's process, wherein an improvised (and emotional) recording of gesture is layered on top of other temporal gestures to create unpredictable layers.
McPhee stood between the work and the audience–a man of medium height. He wore a baseball cap and carried a soprano saxophone. The beak of his saxophone was dressed in a little furry hat–a fake animal head with two plastic yellow eyes. I liked imagining the saxophone, animated with this "hat" and McPhee in his basement, staring at the yellow eyes: no doubt they have a deep relationship. He carried the audience through a range of sounds, using the saxophone's percussive potential with windy toots and bellows; sometimes it sounded like he was blowing through a large metal pipe.
At the beginning of the performance, he called the thought of Houdini into the room, mentioning his name and encouraging the audience to close their eyes: he promised to make sounds about illusion and suggested a literal connection between himself and Wool. "We are both interested in illusions," he said. He played the saxophone and, with my eyes closed, the notes seemed to come from various directions at once despite his standing in one place the whole time. In other instances, McPhee played two songs at once, blowing through the reed just as he hummed simultaneously; eliciting a crying underbelly-sound that followed the upper sax-melody. These discordant melodies struggled to overcome one another other;Â neither one strong enough to do so. Like Siamese twins sharing a heart, the melodies shared one finite breath. Then this too would break off into a new song with sometimes sharp and shrill passages of music, like a fast forward bird–McPhee activated my inner ear, so that I heard the notes occurring outside of me, while experiencing an interior wiping sensation/sound inside of your head. And suddenly I recognized a passage–he played God Bless The Child, with some trembling, discordant defiance, pleasing in it's surprise. He took us on abstract tangents only to return in time to rescue any listener from doubt with the refrain. He then read a poem.
Joe McPhee at Corbett vs Dempsey video by Angeline Evans
I think it's important to remember any abstract improvisation can illicit a insecurity–the viewer/audience can't know where it is going. It's a little like going on a hike as a kid and not knowing where you'll end up, only that you're supposed to follow and trust the adult ahead of you. Here again there is an image of the Elder, the person showing you the steps, the person you must trust. Whether it's the history or experimental jazz, or the history of painting, we are walking down a familiar path, trying to contextualize ourselves to that history, to understand where the contemporary "I" fits in it and figure out what the next step is. Part of learning that history is falling in love with that history, just as one must recognize a life in the present, where that history is only a shade. Like Christopher Reeve's character in Somewhere in Time (1980), one must, in the end, let go old ghosts.
I know it was a long time ago. We're nearing the end of October, already, and for my tardiness I apologize. It's just that this show has stuck with me for a couple months now, I've been doing some writing about it here and there, on scraps of paper or loose napkins–sites for thinking that get lost, wilt, tear or bleed. I wanted to take this opportunity to compile what I remember of those thoughts. I hope you'll bear with me. I've always been the sort of person to write at a distance. It takes me a while to process things and put them in perspective. Perhaps for that reason, I have been unable to let On The Make go.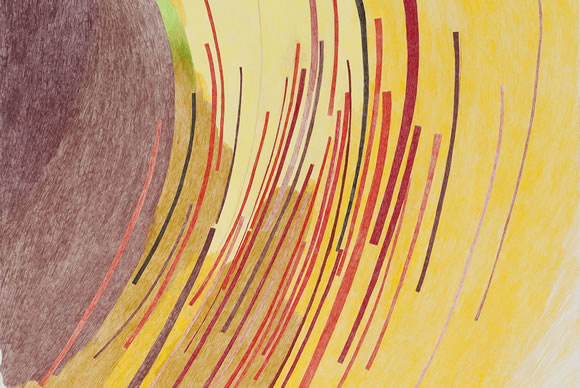 Studio as Portal:Â  Musing Carrie Gundersdorf
a summer 12×12 at the MCA

by Caroline Picard
We have not only traversed the region of pure understanding and carefully surveyed every part of it, but we have also measured it, and assigned to everything therein its proper place. But this land is an island, and enclosed by nature herself within unchangeable limits. It is the land of truth (an attractive word), surrounded by a wide and stormy ocean, the region of illusion, where many a fog-bank, many an iceberg, seems to the mariner, on his voyage of discovery, a new country, and, while constantly deluding him with vain hopes, engages him in dangerous adventures, from which he never can desist, and which yet he never can bring to termination. – Kant, Critique of Pure Reason
Gundersdorf's show at the MCA this last summer included abstract drawings of planetary bodies. These works simultaneously point to the limits of human perception while embracing the uncertainty those limits provide. Such a philosophical position is difficult to occupy, for it confounds one's preferred sense of security. Likely for that reason I was totally smitten with the show. While investigating a conceptual perception, Gundersdorf aligns herself with the history of painting, stepping off from Modernism's abstract platform while incorporating contemporary tools for research and celebrating the very literal limitations of human understanding.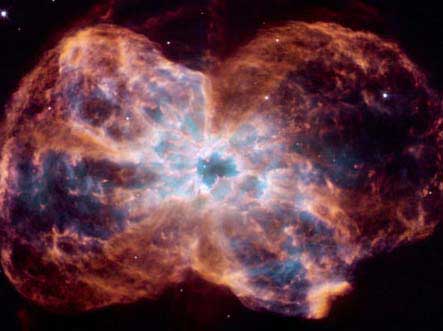 Months ago I heard a program on the radio about stars and galaxies. In that program a woman called up in order to ask if the images she'd seen of planets and stars were accurate. She wanted to know in order to anticipate what her world would look like when she died (and went to heaven). The ensuing conversation was remarkable as the host tried to answer her question. "Will it look like those pictures when I die, that's what I want to know," she said. "What will I see?" Although unruffled, he nevertheless paused. "It could look that way?" he said. "At the same time all of the images you see in books have been manipulated to highlight different data. It wouldn't be as colorful, although I really don't know what your eyes would be like and how you would see, so you might actually see a whole host of other colors. Or perhaps you wouldn't see anything. It might be completely dark.  You might only
feel the universe." I believe the caller hung up unsatisfied.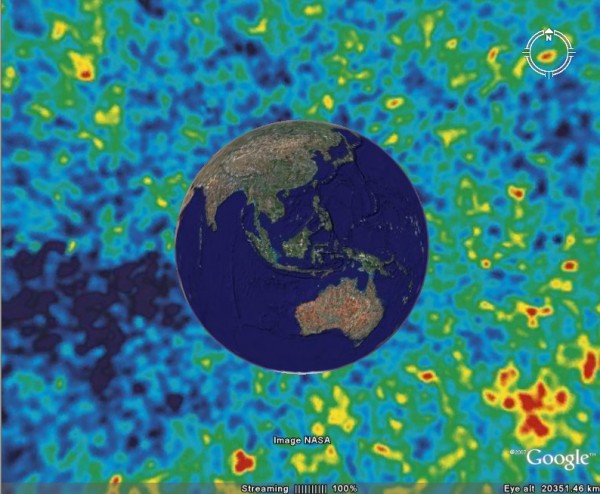 The Cosmic Microwave Background is another illustration of the literal bounds of human knowledge. With a radio-wave telescope, scientists measure the microwave region of that wavelength. In doing so, it is possible to measure the Big Bang's residual radiation. Because no one can explain this radiation without using the Big Bang as a model, it has become the preferred explanation of where "we" come from. Even with that theory, however, there is a 'beyond' to that microwave background. It is a conceptual beyond, however; we cannot "see/feel/measure"  it. We only posit its existence because the alternative would suggest a kind of Shel Silverstein drop off, where the universe ends as his infamous sidewalk. Just as Kant described the limits of understanding so the human being is incapable of going beyond certain perceptual bounds. Nevertheless there is a deep-seated impulse is to press past and conquer.
Not so with Gundersdorf.
She celebrates those boundaries in her work, using a combination of abstraction and lo-fi production (paper, color pencil) that seem so far removed from traditional celestial explications as to be unrelated. Her images, while based on scientific astral data, deconstruct that high-resolution imagery, breaking it down and simplifying it's celestial character into blocks of color and thick radiating, parallel lines. Via that transcription, Gundersdorf destabilizes the assumptions of knowledge, pointing to an obvious post-modern subjectivity and pairing it with a limited ability. It is not simply that each individual is the center of his or her own universe (and thus create discrepancies in experience because of perception). It is also that our eyes are not astute enough to see  unequivocally. The customary images of outer space suggest an apprehension of that space, a mapping that conveys an impossible physical/visual experience. Consequently Gundersdorf's work offers a more accurate depiction of my understanding of the environment outside the earth.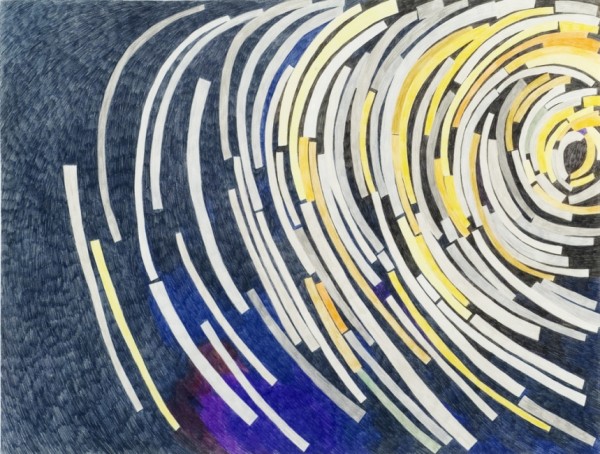 While referencing the language of modernism, she also undermines its self-assurance. As I see it, Modernism was an attempt to simultaneously dispute the previously accepted coherent universe (wherein the creator is a watchmaker and the world a watch, for instance) while celebrating the ability of a single individual to create monuments within an otherwise chaotic world. While Gundersdorf embraces and incorporates the impulse of abstraction, just as she is fully aware of the cannon she participates in, she nevertheless undermines the idea of a apprehension. While she interprets light, that light is artificial or illustrative. Even through the process of a single painting, during which time she no doubt studies a single image, she comes no closer to an objective "truth" of that image. Instead she develops a subjective relationship to her already interpretive source material. The light she works from is conceptual, intended to highlight certain scientific truths. The resulting work has a personal touch, creating a signifier of a faraway place.
In each piece her hand is ever present—this is not a slick photorealist surface, rather it is a surface that questions itself, borrowing naive materials to illustrate the naivete of our assumptions. It admits some deep insecurity, one perhaps endemic to present times, where the footing of an individual and his or her beliefs is unstable, shifting, subjective and flat. Nevertheless the character of her line, the painstaking way in which she colors the entire surface, is endearing to the subject and evidence of care. While it may examine unapprehendable distances and imperceivable phenomena, this work is not about alienation; perhaps it's most important feature. It demonstrates, by of example, a way to deal with subjectivity, a way to deal with historical precedents and dialogues, without feeling overwhelmed. Because this work is  unapologetic–large scale drawings, with large, unaffected blocks of color– Gundersdorf shows a way to embrace the unknowing, to celebrate forays into intuitive and immeasurable spaces—to consider the space beyond one's ken as a place for inspiration rather than fear.
Astral systems have always been fascinating places—almost inconceivable landscapes through which the earth sails. Rife with different phsyical properties and laws, outer space is bold and full of myth. It is a place we go to examine philosophical questions: Who am I? Where did I come from? It is also a space of hypothesis and conjecture, for outer space does not speak our language directly. It does not afford concrete answers. That's why On The Make was so compelling to me, even relieving–because it began to talk about translating that space and gently soothing the out-of-focus-ness of existential answers. The answer, after all, is in divining those answers and putting them to paper. Perhaps those modernists were right about monuments after all?