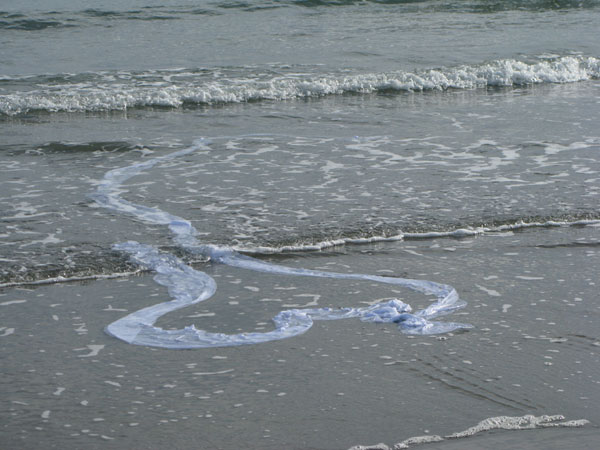 I first met Rebecca on Milwaukee Ave. I think we were at a gallery opening. I had been talking to a friend about The North Georgia Gazette, an Arctic newspaper originally published in 1821; I wanted to reprint it somehow. At the time the project was a pipe dream and when my friend saw Rebecca, she ushered her over and said, "You should talk to Rebecca. She's all about Arctic exploration." At the time, I think I stuttered through the introduction. Like many encounters, the virtue of our handshake was not in what was said but a recognition of friendliness. Since then I've followed Rebecca's work pretty closely. We put the Gazette together and even travelled to Philly at one point to put up an art show. We share a number of interests in book making and comics; her work has inspired my own in different ways. I've always appreciated its tactile honesty. There is something defiant about the unslick-ness of her tone, the efficiency of her energy. If she wants to illustrate a relationship with the ocean, she literally draws with it, or swims in it, or writes it a letter. She makes illustrated chapbooks connecting geographical exploration with a romantic biography. Or, upon recognizing weakness creates a ritual of exercise-as-performance. In everything there is a direct connection between the gut of her impulse and the resulting aesthetic experience. The distilled object–a photograph, a sculpture or video–is the result. Given her interest in exploration, it makes sense she would approach her practice so efficiently–it is as though she must employ economy in order to anticipate unknown distances ahead, in order to conserve energy and resources. Each piece is evidence of  a new discovery within an interior landscape–a place that could be a country or a poem.
Caroline Picard: What does it mean to explore something? What is your relationship to the iceberg?
Rebecca Mir: When I was a kid, I spent a lot of time scrambling over seaweed covered rocks and investigating tide pools by the beach, or building fairy houses in the roots of spruce trees on Monhegan Island. I channel some of that excitement when I'm walking through a new place, or building something in my studio. Exploration is partly about the physical space of exploring, and then it's all the pieces of the story surrounding the exploration. Some of my projects rely more heavily on the actual journey, to the water, or mountain, or the preparations for this journey. Getting directions from a deck of tarot cards for instance. Or the journey takes place entirely on paper. In a comic about exploring the sea floor and bumping into perished explorers.
Icebergs are explorers too. They break off of a glacier and set out a trip through the ocean. Sometimes they stop in shallow water and become an island. They are beautiful, but sometimes dangerous, to us. I am attracted to cold places and large bodies of water. It's only fitting really that I think icebergs are sexy and fun to draw.
CP: How do you relate to the mediums you employ? How do you chose, for instance, whether something is made out of paper, or bound in a book, or constructed with plywood?
RM: When I first decided to be an artist, (somewhere around fourteen?)  I was very old fashioned. I wanted to carve women in stone. I think this might be directly related to watching a film on Camille Claudel. I had a very romantic sense of the artist studio. Romantic and dramatic and devastating. I quickly gave up on figure drawing and sculpture for less figurative sculpture projects in fiber and ceramics. But I've returned to working with the figure and stone. I started drawing again, about five years ago, with comics. And I've been working with rocks again, in sculptures and drawings. It's sort of tying up the loose ends of my roots.  Choosing materials is sometimes a game. Figuring out how to build/draw/capture this idea with what is directly around me. Similar to the fairy house building in the woods. And sometimes this is just where it starts, and then I realize that I have to go seek the right paper, or wood, or rock. Or that I need to go make a photograph. Or find a video camera.
Plywood is great for making rigid things like ice floes and mountains. Paper is great for making water. I like the way crinkled paper makes me think of water stopped in motion; the light hits the crinkles in a similar way to it reflecting on the wavy surface of water. Paper is also great for writing on. When I want to tell a more linear story, I always go back to pen on paper. I turn them into books when there seems to be a group of stories, or a longer one. Books are easier travel companions. I can send them easily in the mail. They take up less space, but require more time.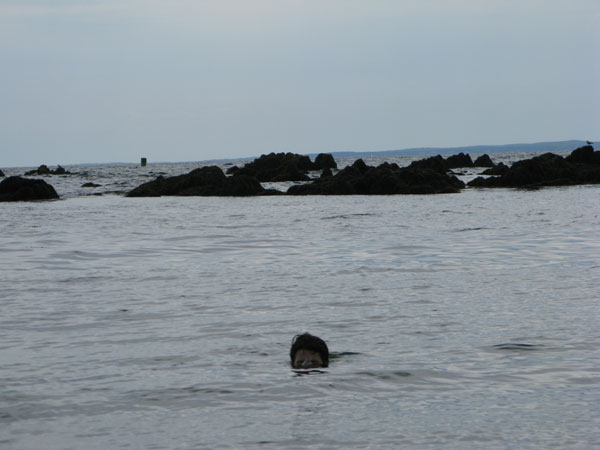 CP: Do you feel your work is contingent on others? I suppose I am thinking of the photograph you took, where you are swimming in the ocean in the winter. It looks like you are utterly alone, but of course the photograph was taken by someone. I ask because I feel like there is an idea about exploration that it demands a kind of alone-ness—i.e. you are going into unknown territories without being positive that you can return—yet in the action of performing that exploration, or making an art object, or taking a photograph, it seems to me there is an implied 'you' or witness…?
RM: Explorations aren't always alone. Often there are expedition teams. People who help you get to the cave entrance, or carry supplies up the mountain.
I have always been interested in solo adventures. I've read a lot of books of solo sailing trips around the world, solo flights etc. I am always curious about some of the worst moments. They seem small on the page, and in the past, but I'm sure they were huge in the moment.
My particular brand of exploration is about being alone. The photograph that you mention, was taken during a walk that I took with my sister, mother and aunt in Maine. We passed a rocky point with a stone church, that I've driven by a thousand times. It's a popular spot to get married. There was a small rocky beach nearby, that I'd never been on before. We walked down and I decided to get in the water. I passed the camera to my sister with some instructions. I was most definitely alone in the water. But I was there to be with the water. So I was alone with the water. And now I'm sharing a racy photograph with you.
CP: All this talk of exploration and solo journeys, and of course, the devastating romanticism of the artist–are you into Bas Jan Ader at all? What do you think of his final boat trip, In Search of the Miraculous?
RM: Yes, totally have a soft spot for Bas Jan Ader. A friend told me to look at his work when I was an undergrad. There weren't as many books in print of his work then, but I found a description of his boat trip and thought it was the coolest and most poetically self destructive art project I'd ever heard of. Still, I didn't really think about the size of his boat much til last year. It was only 12 or 13 feet long. That is like paddling a canoe across the Atlantic. I just finished reading Susan Casey's book about rogue waves (100+ foot waves, more common than you think…..and an awesome read), so I'd prefer a much bigger boat if I sail across the Atlantic.
I also really like his piece I'm too sad to tell you.
CP: What about Buffy? She seems like another hero in your work. I was thinking of the project you did where you did pilates while watching all the episodes. How did you come up with that as a project? How do you feel (if you do) like she fits into your artistic mythology?
RM: Yes Buffy is a hero. Super strong girl kicking lots of supernatural ass with total lesbo best friend – what is not to love? During the last episode of the show, Willow (Buffy's best friend, conveniently a witch) casts a spell that gives all the potential slayers the super strength that Buffy has. And then they head into battle. There are lots of portals in the Buffyverse (as it's sometimes refered to). So I started thinking about the TV as a portal to the Buffyverse. And if I had a ritual to do while watching the show on TV, then I might be able to access it/enter the portal via this repetition. So I had a pilates routine that I would every day in front of an episode of Buffy. The fight scenes were usually at the end of each episode, so I would also fight along with my punching bag at the end. For five months I had slayer training with Buffy every day, in my apartment/the Buffyverse. At the end I was indeed stronger. I also immediately noticed that my dreams were less insanely violent. And I stopped getting a cold every other week. The spell/ritual worked.
CP: How would you characterize your relationship to Chicago?
RM: Well, if the ocean is my lover, then Chicago is a great housemate. We get along really well.
I really like the city, and the people here. I've been here for almost ten years though, and I still get homesick for a rocky coast. But I realized a while back that if I left town every couple of months, and visited the ocean at least twice a year, that I could really be happy living in the Midwest.
CP: What is the handmade book for?
RM: Handmade books are friends. If you take care of them, and they stick with you and make you feel better.
CP: Will you talk a bit about the project/video where you walked around the lake with a homemade telephone?
RM: I have this thing for long distances. I think about them often.
In part because a lot of good friends live far away. And I had been in a series of relationships with people who lived elsewhere. (The romantic relationships didn't survive the distance.)
I wanted to put a ridiculous amount of effort into talking to someone. I wanted to physically cover a fraction of the distance that we frequently communicate across. A tin can telephone seemed to be the right tool for this exercise. I needed a length that was both daunting (for this specific task) and nearly insignificant these days. I picked a mile. And began making the phone.
My friend Dan lives near the beach in Indiana, and I always remembered from visits that the beach was rather empty in the off season. The beach didn't curve too much either, so it seemed like it would be ideal for unwinding a mile long tin can telephone. I drove out to Miller Beach with two friends, two video cameras, and some audio recording equipment. Andrea, Aay and I set everything up right in front of the path from Dan's house. Andrea stayed with the two cameras at the starting point. Aay and I began walking away from her, and each other, unwinding the telephone as we walked.
The goal was to have a conversation with a mile of beach in between us. And if it worked, record it. It was a lovely walk for a while. A warm and windy and sunny April day. And then there were lots and lots of knots and tangles in the string. At first just a few. And then I got stuck and I couldn't go any further. Apparently Aay had lots of knots in the beginning but then it was smooth unraveling. So Aay and I never got to talk on the tin can telephone. Which was okay. I was mostly interested in the experiment, and the walk. And the videos of Aay and I walking away from the camera (there were two cameras, one on Aay and one on me) and disappearing into the distance captured these sort of quiet adventurers off seeking a conversation.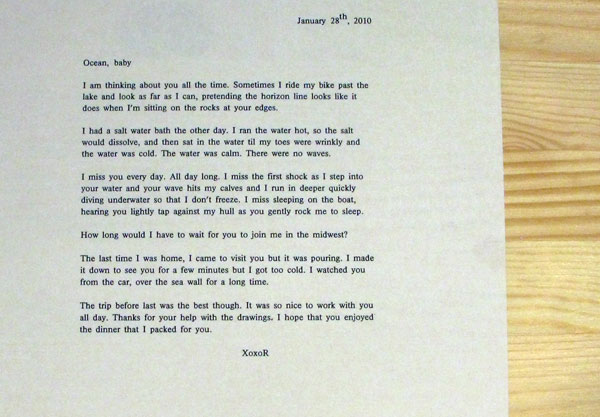 CP: Another thing I notice is how you characterize dynamic and personal relationships with traditionally inanimate things (like books, for instance, or Chicago, or the Ocean)–I'm particularly struck by how that characterizations relates to your description of the failed conversation with Aay–the contraption of the phone seems as alive and integral as Aay, or Dan, or the beach. In other words, you seem to describe a deep feeling connection to your environment and the things that occupy that environment. I'm curious about what role you see your work playing in that equation?
I absolutely have a deep connection to environments. Partly because when I was growing up in Maine, the ocean was such a calming force for me. Environments have a strong effects on their inhabitants. And we effect our environments. (This is where I tell you that global warming is real. And I admit that I am a nerd.) I meant it before when I said icebergs are sexy. A lot of my work is about romantic relationships with the environment. The romantic sense of adventure and conquest, and also heartache (a.k.a. natural disasters, glaciers melting)
One of my ongoing projects is about my long distance relationship with the ocean (which is why I was in the ocean by myself for that photo, I was visiting her). I joked once in a love letter (sent by bottle via the Mississippi river) that if I waited long enough in the Midwest the ocean would make it to me. Seriously, global warming is real.
CP: Rubaccaquon! I can't believe I forgot to ask about that–I just thought about it, because it also, as a project, seems to relate to the personal dynamism I mentioned before–in so far as you are defining a personal country, right? And then also how that reflect on the power and idea of naming something. Could you talk a little bit about that?
RM: I have a lot of nicknames. Rubaccaquon is one. (I believe Aay Preston-Myint is responsible) I started using it as a website name, an alter ego/placeholder name, since I had been toying with the idea of changing my last name. And when I decided to swap Grady for Mir, I started to think that maybe Rubaccaquon was really a place after all. I was thinking a little bit about Yvette Poorter's backyard Canadian soil residency project. If she could bring Canada with her to the Netherlands, then I could certainly date the ocean and have my own country. So Rubaccaquon became a nation/notion.
Discovering things and places is fun. Naming them helps with the storytelling that comes after the discovery.
CP: What have you been working on lately?
RM: I've been thinking a lot about space recently. Thinking and reading and doodling about space. Both outer space and the space in my apartment. I am making some directional and time devices/sculptures out of wood, metal, paper and stones. I've also been looking at a lot of Victorian acrostic jewelry. I want my next love letter to the ocean to be in stones.  A large scale series of stones set in sand instead of gold.
I'm making a mountain range for my apartment, out of plywood. And I've been making a lot of books. Some have been edits of things I've worked on in the past. I have an unpublished comic kicking around, that I'm finally going to print. And I made a new zine called SHE IS RESTLESS for the Chicago Zine Fest last month.
See more of Rebecca's work by going here.
I don't remember the first time I met Noé, but I do remember the first time I saw his work. He and Joseph Clayton Mills performed in a dark room while standing opposite one another. Noé had an accordian strapped to his back and he played, very softly, while Joseph moved closer and farther away. Depending on their distance from one another, something concealed in Joseph's hand (perhaps a hearing aid?) changed pitch. That performance epitomizes what I've seen of Noé's work. He is dedicated to creating an awareness around silence within a performative space. The manifestation of the body, as a tool for the range of sound is integral, as are the relationships between performative bodies. His ability to instill the necessary parameters for such an awarenes–particularly in collaborative settings–is, to me, remarkable. I wanted to ask him more about that, but felt like direct questions would somehow do away with the very thing I was trying to ask. Consequently I tried to ask around the idea of silence, in order to better understand the way Noé uses sound. Because sound requires space, that seemed a good place to start.
Caroline Picard: How do you think of space?
Noé Cuéllar: Space evokes potential, but also communicates very directly to my sense of placement.  I think a sense of placement paves the way for the rest of the senses… it's like a background sense made up by all the senses. I enjoy compound forms even when the individual pieces can still be recognized, in this case, space is the glue.
CP: It sounds like you think of space as something both sculptural (3-d figures) and linguistic (i.e. compound verbs). I appreciate the idea that space would be some experiential amalgam of those fields, even though I'm not quite sure how that would work. Is that what you mean? What do you mean by compound forms?
NC: Yeah, it's like our sense of space is happening before we find out how we actually feel.  I'm in a room now, but a second ago I was just fine without actively thinking how comfortable it is.  I think of artistic expression as a compound form that always involves more than one thing.
CP: How do you use space as a medium for performance?
NC: The outcomes are quite unexpected when the sense of physical space is combined with the spatial sense of the actual sound.  I think my work most often expresses rigidity and confines, but space is what can allow [the work] to be experienced with more spread – perhaps more than I would choose to imply in the work itself.  I would say I focus primarily on sound, but with a sense of belonging in a space.
CP: I'd love to hear about some examples of how this has occurred in different pieces…
NC: Last year I composed Kilter, a piece for Jeb Bishop (trombone) with accordion, and two speakers inside boxes with hinges that would rattle. Â I had in mind pressure and magnetic repulsion, yet the site-specific performance gave it a more wide-ranging effect, even in a dark, gritty basement with a short ceiling.
I've also been working with Joseph Kramer as Coppice, making site-specific installations and site-variable compositions, recently at the Museum of Contemporary Art, where the space was so large we were able to prevent any of our sounds from becoming part of a whole "surround experience," but remain dislocated and in motion, scattering the perception of their source.
CP: What, to you, is the relationship between the space inside of an instrument and the space around an instrument?
NC: The outside speaks for the inside.
CP: Can you talk a little bit about your collaboration with Joseph Clayton Mills? I was just thinking of the piece where you stood opposite one another and he kept opening and closing his hand, to change the frequency of buzz that magically manifested and grew stronger the closer you moved to one another. Then too, I think of more "traditional" pieces, where you sit down and perform for a definite period of time…
NC: Working with him is very factual, much in natural state.  We share a fascination with the attributes of objects and mechanisms, their hidden sound character and emotional effect.  It makes me think a lot about photography, which we also practice on our own.  A lot of what we do together is often a simple gesture, "subtlemost" more than "minimalist."  I think we both find that simplicity very lasting.
CP: Will you talk a little bit about the way you use silence in your work?
NC: Silence is space but also glue. Â It's an encouragement that is easy to miss. Â I like using silence as a way of pronouncing presence, or as a bearer of tension, or as a moment to coast on something that just happened. Â Silences can be essentially the same in different moments, but it is how it is accessed that makes it feel different. Â It carries the weight of the three tenses, it can be very prominent in itself, while also reflecting personal inner processes. Â It can even be felt even when sounds are present.
CP: Do you feel like you are interrupting silence? Or are silence and sound variations within the same medium?
NC: My listening is constantly active, therefore I wouldn't say I interrupt silence with my sound work, but rather bring the sound more forward to emphasize the moment.  Silence can be framed between those sounds, but in the end I feel like sound and silence are only evocations of a deeper level of silence – and of sound potential – more than what they simply sound like.  The repercussions of focused listening tap on that depth, beyond the temporal.
CP: I know that you regularly collaborate with other performers as well; sometimes you do so in a more traditional improvisation venue (like The Green Mill, for instance) and at other times you seem to locate yourself more definitively within a contemporary art/performance oeuvre. How do you negotiate those different contexts? Does a venue change the work you do?
NC: Venues shape the work more than they change it.  What feels right about performances in site-specific and gallery settings is that the audience-performer space is diffused, with more listening nodes available, and open to variation.  The stage setting has the advantage of centering a performance as a clear message.
CP: Can you talk a little bit about transcription? Or, how you translate and document your temporal, acoustic sound on a static piece of paper?
NC: I'm interested in some precise musical qualities, but also variable, interpersonal, implicit qualities that happen in the process of working one-on-one with a performer.  Transcription varies from one work to another; sometimes I don't put anything on paper, or very little just for my own reminder.  When working with performers I let them write their own parts over a skeleton score I make for them. We talk, try, sharpen, and write.
CP: Do you use that score as a kind of document? I'm thinking about John Cage's "score's'" for instance; do they look like that? Or are they more traditional pages of notes?
NC: It's a document of an idea but it's interesting to use that word, especially when thinking of it as a document for a future event. Â Sometimes they take a more traditional shape but with custom symbols, sometimes they're just scribbles, and sometimes they're graphic.
CP: Can you give me an example?
With Harrow/Dormant I wanted to figure out what my interpretation of a graphic score would be, and what it would be like to suggest sound from a more abstract visual departure.  I combined drawings with directions to set a structure on which the performers can stay afloat their own decisions. Julia Miller has been interpreting it with incredible tact several times now, as part of a study for a larger project of hers… which is great because multiple iterations reveal how sensitive interpretation is to one's standpoint.
(See this video)
CP: How do you think about sound when it is happening?
NC: Sound is a constant vibration that stimulates our impulse to imagine, stir remembrance of events that perhaps haven't quite happened to us directly.  It's kind of way of keeping check of our experiential ability and our location.  It's a way to be present and also to be somewhere else, beyond our windows.
CP: You enact such precision in your work; I'm trying to understand how you think about that precision, and how you locate the "action" of your work in time and space…so somehow, sound becomes the vehicle for that action, right?
NC: I regard presence and intention very highly as a basis. Â In my mind those two things almost make sound all by themselves.
CP: But then what does that mean? For sound to be a vehicle? A vehicle for what?
NC: A vehicle for transportation…
CP: It's also really interesting to think about intention—I'm not sure I understand what you mean by that…it sounds like you're thinking of your mind as an auxiliary component—and extension of the instrument?

NC: My sister is a graphic designer, and browsed many art and design magazines when I was growing up.  I have many vivid memories of her explaining contemporary artworks to me and she would talk a lot about intention.  I remember there was an advertisement all white with only one small logo in the middle, and I asked her why they would waste so much space, and she pointed out that the blank space lead our eyes to the logo, that was the focus.  That got me thinking about doing only what felt like enough.  Insights like that built up very solidly, and I'm reminded of that particular one quite often.  The intentional framework for a message.
Mr Hirst spent the evening playing snooker, but on being told the sale figures, he pronounced: "I think the market is bigger than anyone knows. I love art and this proves I'm not alone. And the future looks great for everyone." (Economist, 2008).
1. FOR THE LOVE OF GOD
We arrived in Florence last February and stayed for about five days. It was cold and damp in the mid-50 degrees, reminding me of San Francisco. A friend we were visiting said the city was built on a swamp and we climbed up a hill to a Franciscan chapel where the original alabaster windows were still in place. Through the translucent stone, the light shone dark and brown and because it was colder inside than out, we didn't stay long but climbed back down the hill to wander through the city once more. During those five days I felt a little like a pinball bouncing around a Renaissance amusement park. A classy Medieval Times with boar instead of mutton. Regardless of our haphazard path we inevitably ran into something famous: Dante's church, for instance, or a squatting boar fountain—even those churches that hadn't made it on the map still contained gravestones embedded in their walls or floor—some of these dating as far back as the first or second century. History was everywhere and it was bigger than us.
On the third day a bus passed with an advertisement for Damien Hirst's bedazzled reminder of death. I burst out laughing.
The last thing I  expected to see was Hirst's glimmering, gaudy skull in a city that seems in constant worship of its past.  Nevertheless, the city seemed to love it. There were banners and posters all over the place. Everywhere it said, "For the Love of God," and why not?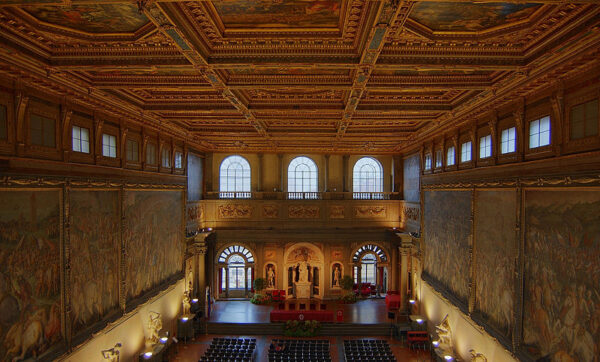 The skull was on view in the Palazzo Vecchio—an old city hall, adjacent to a square full of fountains and sculptures and ice cream shops. Walking past the David replica, we bought tickets and wandered upstairs to the second floor. There, we entered a giant ballroom. The dimensions of the room itself were astounding—170×75 ft—not to mention the similarly massive tapestries on the walls, or the several larger-than-life sculptures that lined the room. While the tapestries themselves are phenomenal, they are nevertheless replacements for work never made by Michelangelo and Leonardo DaVinci; both had been commissioned to make work for the room and both, for various reasons (Da Vinci's fresco allegedly melted when he tried to heat up the drying process with hot coals) were unfinished. In their stead, Giorgio Vasari's war paintings hang with astonishing authority, depicting a series of Florentine victories in battle. They are massive, complete with impeccable detail. Horses so plump they are cherubic, with lords in armor on their backs, holding spears as shorter personalities–midgets and boys–hustle at their feet replenishing arrows and running swords or torches every which way. In these tapestries everything is in focus, each curious figure serving its own distinct purpose that nevertheless reinforces a greater compositional whole. There is no focal point, rather the harmony stems from the a series of active constellations.
But of course, the room boasts even more cultural capital. The ceiling is indescribable. It's full of different panels of paintings and due to their detail it feels a little closer than it actually is. Additionally, larger-than life sculptures pepper the room.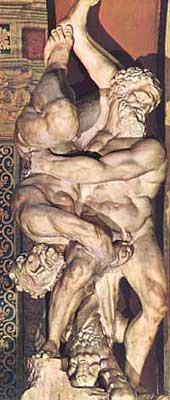 Among those sculptures, six statues by Vincenzo de'Rossi depict the Labors of Hercules. As the story goes, Hercules was enraged (by Hera) to kill all of his children. After waking from his madness and discovering what he'd done, he went to the Oracle of Delphi to seek atonement. There he was set to 12 impossible tasks. These he accomplished. He is also attributed with making the world a safer place, in that he killed all of its monsters.
All of these works and figures depicted in the ball room were larger than life for the feats they captured, the size of their depiction and their (to me extreme) historical vantage.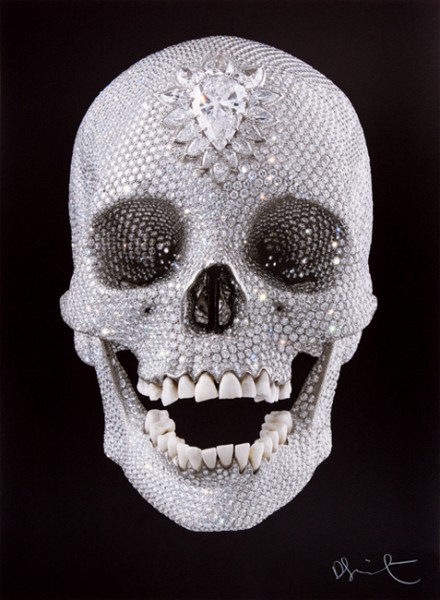 Two ticket attendants stood in the far corner of this room. They clacked our tickets and pulled back a velvet rope so we could step behind them and passing through a very narrow, subsequent room I had the impression  we were walking through an old fashioned toilet, or cloak room. Built-in benches lined the walls. Each surface of this wooden vestibule was also painted and close, so that I could have reached up to touch the ceiling with my hands. After no more than four strides, someone pulled back a velvet curtain. I could not make out this person's face, only their white gloves. Beyond the curtain lay another small, light fast room no more than 8ft squared. In the center of this room Damien Hirst's skull sat on a plinth encased in glass. Aside from the very small flashlight of the skull's attendant, the diamonds were the only thing illuminated in (and illuminating) the small cloak-and-daggers space. We were permitted to walk once around the glittering mask—enough that I could enjoy the diamonds in the roof of the skull's mouth, the curious third eye and the gritty unglittered teeth—before the same faceless attendant pulled back a second curtain and emphatically (as seen with the rigorous flash light motion) ejected us back into the grand ballroom.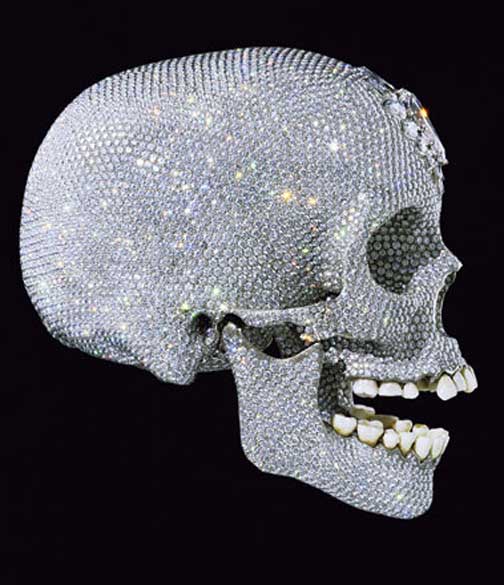 2. Hercules
A few weeks ago I found myself at the Lyric Opera House, on the third floor balcony watching Hercules; it was a pretty psychedelic experience. Tiny figures with massive voices paraded around a massive stage. Whereas in Italy I'd been small with respect to the work, here I could cover anyone's head with my thumb.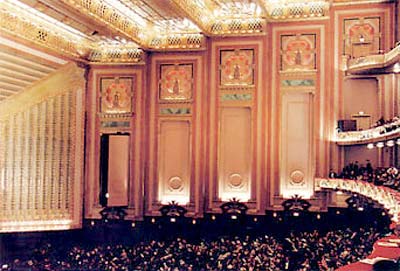 The opera is not personal, it's archetypal. The characters don't have personalities so much as they have roles and musical motifs to enact. Except for their voices, they might as well be cardboard cut-outs. In this instance Hercules has returned from war. Peter Sellars took Handel's four-hour opera and reduced it to 2 with one intermission. The libretto is full of repetitive phrases and the performers trilled through those like song birds. The set did not change shape; most of the stage contained a landscape of rock that no one walked upon with pillars and a pathway around it. Depending on the emotional tempo of the performers, the rocks gleamed in different colors. Sellars' interpretation pulls out a story of Post Traumatic Stress Disorder; the repeating phrases underscore that intent, as each character is constantly reliving their experience. Hercules has returned from battle with the spoils of war–including a young woman who just watched him kill her father. Hercules may or may not be interested in her and his wife, Dejanira, cannot connect with her husband; she remains perplexed and frustrated that, after so much waiting, she would remain alienated in her husband's presence. She is jealous of the young woman he brought back. They argue. She tries to win him back by dosing his coat with the blood of a centaur. The centaur told Dejanira that his blood was an aphrodisiac where it turns out to be an acidic poison. When Hercules puts the coat on, he burns alive.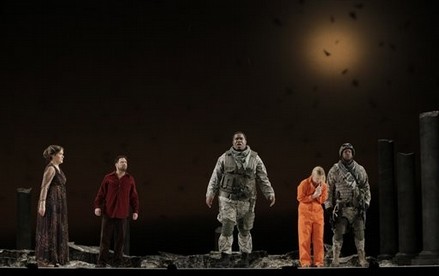 While I don't think about Hercules often, I think even less about his death. It seems that his death is the greatest problem, in a way. No one knew what to do with him once he had been admitted in Olympus. There is an awkward encounter between Hercules and Odysseus, for instance, when Odyseuss has to differentiate between Hercules the God and Hercules' ghost.
"And next I caught a glimpse of powerful Heracles—
His ghost I mean: the man himself delights
in the grand feasts of the deathless gods on high…
Around him cries of the dead rang out like cries of birds
scattering left and right in horror as on he came like night…"
Somehow these thoughts coalesced then. I started thinking about how one must be large when facing the death of heroes; how the import of these legacies is both essential and arbitrary. Hercules is part of a scaffold that makes meaning. Florence is an early pillar in that scaffold; its Renaissance established a criteria that is still resonating today–whether under Sellars' directorial agenda (during which one can experience over and over and over again the death of Hercules), or in Hirsts' work, where, it seems, the hero is dead and the market remains.
"The speech of an elder in the twilight of his life is not his history but his legacy; he speaks not to describe matter but to demonstrate meaning. He talks of his past for purposes of his future. This purpose is the prejudice of his memory. He remembers that which has been according to what could and should be, and by this measure sifts the accumulation of his memory: he rejects the irrelevant event, elaborates the significant detail, combines separate incidents of similar principle. Out of physical processes he creates a metaphysical processional. He transposes the chronology of his knowledge into a hierarchy of meanings. From the material circumstances of his experience he plots the adventure for the mind which is the myth," (Divine Horsemen, Maya Deren).
3. History
The diamond: something that has been marketed to represent eternity, who's value is based almost exclusively on market control. Until 1870, diamonds were rarely found in South American riverbeds. Thereafter they discovered huge diamond mines in South America. In order to protect the value of the diamond, these jewel harvesters had to band together to "perpetuate the illusion of scarcity" (Atlantic Magazine, Edward Jay Epstein,February 1982). This is where the value of Hirst's skull comes from, which is interesting given his consistently unconventional use of auction houses as primary exhibit halls.
The focus of Hirst remains fast on the potentials of an immediate future. He has utilized the auction house as a kind of performance filled with its own intrigue. In one article, there was a mysterious Russian who participated by phone. Everyone is complicit in the staging of this wealth. "Sotheby's was keen to build its own brand around a celebrity artist rather than the usual assortment of inanimate objects. The sale was marketed on YouTube and through the media around the world, part of a conscious effort to broaden international demand for the work. Sotheby's filled its exhibition rooms with Hirsts. Never had so much of his art been seen in one place. Many art-world insiders saw the sale as an artistic event," (Economist, 2010). And of course, like diamonds, the value of the work lies in the demand.
In some way, I want to posit the idea the emphasis is on the market because, contextualized by such predecessors, it is impossible to participate on their terms. If Hercules can die, what is there? I have heard that Hirst has a storeroom of corpses with which he can replace deteriorating sculptures. I have also heard, in response to the suffering market, he has considered opening his own museum, to house his own work. Those are unfounded rumors, but I like them. In the context of that great hall, Hirst's skull struck me like a peep show at a carnival; it was gaudy and feeble and small. Titillating because of its impeccable surface of expense. A trashy sex kitten with black teeth: perhaps the perfect face for death. Yet here too, we've seen the market is not "bigger than anyone knows." If anything the last couple of years have demonstrated real limits to capital.
I just wanted to call attention to this awesome web symposium inspired by Wassily Kandinsky's book, On the Spiritual in Art. It looks amazing and people have already started posting their remarks. The announcement is as follows:
The year 2011 marks the centennial of the publication of Wassily Kandinsky's classic text, On the Spiritual in Art. Inspired by this anniversary, this project seeks to explore the place of the spiritual in contemporary art and to propose a challenge to the current devaluation of the inner life that prevails within the art world in our market-driven era.

Beginning today – Wednesday, March 30th – a ten-day virtual symposium moderated by Taney Roniger and Eric Zechman will be held in this forum.

Our symposium participants are: Suzanne Anker, Laura Battle, Connie Beckley, Anney Bonney, Deirdre Boyle, Nathaniel Dorsky, Jeff Edwards, James Elkins, Max Gimblett, Tom Huhn, Atta Kim, Roger Lipsey, Enrique Martinez Celaya, Joseph Nechvatal, Daniel Siedell, Charlene Spretnak, David Levi Strauss, Alan Wanzenberg, and Pawel Wojtasik. For participant biographies and other project details, please visit our site: www.beyondkandinsky.net.
SYMPOSIUM SCHEDULE

March 30th–April 1st: Session I: The Spiritual Then and Now

April 2nd–April 3rd: Session II: The Changing Shape of Art

April 4th-5th: Session III: Art and Its Audience

April 6th–April 7th: Session IV: The Artist in Society

April 8th: Conclusions
(And then I just thought I'd quote the very first post, since it seemed particularly interesting to me…)
Wednesday, March 30, 2011

A response to Session I questions

Posted by Max Gimblett at Wednesday, March 30, 2011

(1) How have our ideas about the spiritual changed with the dissolution of the Modernist dream, in which Kandinsky's vision was so deeply embedded?

What dissolution?! The Modernist dream has deepened and magnified.

(2) How has the notion of transcendence changed? Is transcendence still viable in a largely secular, postmodern culture?

Yes. We know much more about the world's cultures. For instance: the phenomenal growth of American Buddhism; our understanding and study of Indian Gurus; and the emergence of current Indian Art.

(3) What might account for the deep suspicion — or indeed denial — of the spiritual shared by many artists and intellectuals in our culture?

Postmodernism, cynicism, parody, materialism, suicide. These nihilistic tendencies choose academic study and ritual in an effort subvert our collective spiritual connectivity. Spirituality is perception and clear perception delivers the truth. Krishnamurti delivers the truth. My primary school model was "seek after truth."

(4) How have attitudes toward nature, the material world, and the body changed since Kandinsky?

As art history moves forward artists have branched off into ever more specialized investigations into all things. New and old ideas are explored and enriched. Beauty is found and lost.
Jason Dunda's work is impeccable. Each mark he lays down is precise, predetermined and, really, perfect. He paints wood grains, anthropomorphic hummocks, death chairs and wheelbarrows. Over the course of our friendship, I have remained intensely interested in his process, both as curator, as artist and publisher. In part my fascination stems from a sense that his work is a testament to the impossible. He paints towers that could not stand up, even if they appear to have structural integrity. Or, in another instance a fabricated tree made of smaller pieces of wood, appears to be trying to hang out with "real" trees; the fake tree obviously fails, yet it is also more interesting as a tree and diminishes the others which fade into the background. All of these pieces are made in gouache and a couple of years ago Jason told me he was going to start making giant, wall-length works. He was making them for a show in Dubai. He would ship them in giant, construction-site-sized tubes. It was all planned out. He was excited, I couldn't wait to see how it worked and I realized as I went home there were so many impossible things in that equation: first off, you can hardly breathe on gouache without leaving a mark. Secondly, Dubai is a massive massive distance. Thirdly, the city itself sounds like a cartoon, a monument to human enterprise in impossible conditions: I've heard, for instance, it boasts a building with a ski hill. It's all impossible and, for that reason, amazing. But all this strikes me as a perfect metaphor for what it means to create work in the first place. There is an idea that making work supplies a certain posterity. It is a vehicle to outlast one's own lifespan. Despite the ageless popularity of this idea, the life of a painting is full of hazard. Historic works get lost on boats, burned in fires—you name it. It's remarkable that anything stands the test of time. Dunda's work faces off with that issue. His paintings are materialistically vulnerable, capable of reflecting our own existential fears. Thankfully, each one has a sense of humor about itself—what's even more remarkable give the precision and time the work demands.
Caroline Picard: Can you talk a little bit about gouache? When and why did you start working with it as a primary medium? What is most difficult about it and how do those challenges complement your own artistic goals?
Jason Dunda: Gouache is a very opaque type of watercolour.  It's been used in the past in design and animation—any backgrounds in pre-digital age cartoons are probably painted with gouache.  I began using it about five years ago to make some quick works on paper to help me compose my oil paintings.  I ended up enjoying my experiments in gouache a little too much and my work on paper became the central focus of my studio practice.  Gouache isn't the most spontaneous medium—just like watercolour, once it's down on the paper there's no changing it so you have to be very confident and sure of what you're doing when you're working with it.  The paint is also very matte and chalky—a quality I love—so if you lay it down too thick it cracks and/or dries very inconsistently and looks horrible.  Basically, it's a very delicate and precise material to work with.  I often approach my work with a cautious delicacy and I really like to master a medium so I like the challenge.
CP: How do you choose your color palate? Do you mix colors before starting a piece?
JD: I mostly paint images of wooden objects, so I have a lot of yellows and earths but I mix it up with the occasional dull turquoise or cool grey here and there.  Because my subject matter is pretty consistent, I've been able to develop a central colour palette over the last few years.  There's a couple dozen colours I work with regularly and I'm constantly adding to it and changing it.  I choose and modify the colours in order to have a wide range of contrasts in temperature and value but maintain a limited, harmonious intensity.  The colours are pretty dull and work well with the colour of paper I choose a ground for most of my paintings.
CP: That leads me to another question about the way you make a piece. As I understand it, and partly because gouache so fussy, you plan out a painting before sitting down to paint it. Will you talk about what that process is like and how your foreseen vision matches its end result? How do you translate an idea into a visual structure? Does the idea occur visually in your mind's eye? Or do you execute a kind of transcription, translating the idea into a visual language?
JD: That's a great and huge question and I'll try to answer it as best I can.  I do a lot of research—both visual and academic—and do a lot of really quick messy image-making when I plan out a piece.  So yes, there's definitely a translation that occurs.  The initial image in my head almost never turns out to be the end result and I think that's a good thing.  Filtering thought through imagery and materials is a tricky thing and needs a lot of fine tuning if it's going to work.
CP: Do you ever run into limitations within your visual language?
JD: Some days I feel there's nothing but limitations.  You can interchange 'limitations' with 'structure,' though, and in that sense it creates possibilities and propels my thinking and making.  When I'm feeling particularly limited, though, I'll declare to myself that my day in the studio is going to be different from the usual—I'll spend the day with the expectation that I'll have no usable material results and all I'll do is experiment.  I've recently gone back to oil painting partly for this reason.  I can mess around and translate my ideas into a different set of materials.  My new oil paintings are really terrible.
CP: How do you anticipate scale?
JD: I never go bigger than my apartment door.  I learned that the hard way, seriously.  Scale occurs to me most profoundly as the relationship between the viewer and the piece.  There's a sense of intimacy and humbleness in small works and a more aggressive, public presence in large scale works.  I tend to go to the extremes of this spectrum.  Gouache is a really difficult material to work with in large scale— the surface can be really inconsistent over larger areas—so there's a particular challenge I like about large-scale gouache paintings.  I love antagonizing the intended use of a material.
CP: Sometimes you create sculptures as well—what I feel is like an almost traumatic transition, to move from a single-dimension surface to a three-dimensional physicality. When do you chose to work in three-dimensions? What is it about a given idea that moves you to break (if you'll grant me this) a kind of third-wall of the art object?
JD: I'll certainly grant you that and I think you've got it absolutely right.  The tangibility of an object is really different from the illusion of form and space in painting and that's what led me to make the first and so far only object I've ever made for exhibition.  It's that trauma as you call it—that fight between the illusory and the tangible that I wanted to conjure up when I used a large-scale painting as a sort of backdrop for an object.  I paired a painting of a dilapidated pulpit with a fancy wheelbarrow I custom built and had upholstered.  I used the opposition of image and object to highlight certain elements of my ideas—the conflation of the utilitarian and the ceremonial and a parody of cultural structures.
CP: What is your experience of surface?
JD: Surface and I get along very well. Â No matter the medium or imagery of the project, my work over the past several years relies upon a thorough consideration of surface. Â Because I'm a painting dork, I have to learn everything possible about the materials I'm working with. Â I have a tremendous amount of patience when experimenting with materials and it's really important to me to show a certain amount of that mastery in the work I make. Â I also think that it's really important to me use the materials in the wrong way but still make it look good. Â Most of my oil paintings look like they're painted on some kind of plastic but it's a concoction of walnut oil and wax. Â Similarly, my big gouache paintings involve a process of staining nine-foot tall pieces of paper in order to transform its colour and surface. Â I know when a surface is working when another painter can't figure out how I've done it.
CP: Recently we've had conversations about how you feel somewhat restricted by the predetermined nature of your current approach. Do you feel like that sense has to do with gouache? Or perhaps a shift in what you want to get from of an act of painting?
JD: Both, definitely. Â I think the busy work of planning, testing, and preparing when using gouache forces me to slow down and think a lot more while making. Â This can be a great thing or a very bad thing – I've felt stuck many times recently because the next move I need to make presents such a risk, but then again there's something very satisfying about meticulously constructing an idea while I meticulously construct a piece. Â So yes, I want to get something different out of the process of painting but I'm not ready to quit gouache. Â Ideally, I'd like to get reacquainted with oil paint while continuing the trajectory of my gouache paintings. Â There's something very interesting to me about working across media and showing the results together. Â Incidentally, I've done a couple of oil paintings recently and they're really awful. Â It's like I've never picked up a brush before and I really haven't got a clue.
CP: Although this wasn't my first thought in relating to your work, there was a certain point that I suddenly made a connection between your paintings and cartoons/comic books. Could you talk a little bit about that relationship?
JD: Oh man.  Well, it's no secret that I'm a comic book and cartoon dork and have been since I bought a copy of The Incredible Hulk #238 after a swimming lesson in 1978.  About ten years ago I began incorporating a linear, graphic approach into my work and I thought it was really successful.  I've gone back and forth between painterly and graphic over the years and I find the most satisfying paintings to me are the ones that balance those two qualities.  The thing that's most interesting to me about the aesthetics of comics is colour related to surface.  Today, comics are printed on super glossy paper and computer coloured and it's spectacular but it's not what I was immersed in visually as I was growing up.  Comics used to be printed on a pretty low-grade paper and the ink would just sink in to that surface.  The quality of colour in my work is directly related to this effect.   I mix colours that are relatively dull and I often make the contrast between the paint and the colour of the paper pretty low.  It's a nostalgia thing for me that's turned into a subtle narrative choice.  Right now I'd define my work as being less cartoony and more graphic—I'm looking at Disney all the time but it's in concert with Ukiyo-e prints, illuminated manuscripts, and early Renaissance painting.
CP: I suppose in some way, I think it's really interesting because cartoons tend to undo a certain gravitas that is pervasive in the rest of the world. Wylie Coyote falls off ten thousand cliffs with comedic survival. Superheroes are constantly being resurrected and, by virtue of that resurrection, become even greater. What I find interesting is that painting affords its own gravitas. The weight of its canon, for instance, or the way that (at least when I was in art school,) people always ask why something is painted rather than being photographed or manifested more directly. I just wonder what happens for you, when you start to incorporate that cartoon language as a stylistic tool? Particularly when, as in the gallows for instance, you're painting "serious" objects, while also employing very technical strategies —there is still a palpable sense of humor…
JD: Wow, that's a mouthful but you've hit the nail on the head.  There's a sense of detachment both in my work and in comics and cartoons.  In comics it's a result of these adolescent power fantasies (among other things) and in my work it's an impulse to not be so heavy-handed in my politics.  I'm not nearly  informed enough to make specific social or political statements, so I'm not interested in resolving anything.  Instead, I want to imply a narrative that embodies a particular and often fucked up set of social values.  Hence the gallows that can double as a vaudeville stage set or a sentry tower with a quaint aluminum awning.  I've always thought the images that I make in gouache are the evidence of some other civilization that exists parallel to our own—parallel universe narratives in sci-fi are also a current love of mine.  In my world, though, instead of granting wild canines the ability to mail-order anvils I simply gussy up the instruments of control.  Either way, it's a happy place in which you don't quite notice how desperate the situation is.
Jason Dunda has a show coming up with Laura Davis called "Lock the Doors."
Slow
Opening reception, Saturday, April 2, 6-9pm
2153 W 21st Street
Chicago, IL