In 1969, John and I were so naïve to think that doing the Bed-In would help change the world.
Well, it might have. But at the time, we didn't know.
It was good that we filmed it, though.
The film is powerful now.
What we said then could have been said now.
In fact, there are things that we said then in the film, which may give some encouragement and inspiration to the activists of today. Good luck to us all.
Let's remember WAR IS OVER if we want it.
It's up to us, and nobody else.
John would have wanted to say that.
Love, yoko
Yoko Ono Lennon
London, UK
August 2011
Of course nostalgia isn't a progressive place. When looking back to the past, it's possible to know the outcome of every action. Progressive actions happen when consequences are yet to be determined. They are insecure, idealistic and defiant. Their success is compounded by, and most likely contingent on, other idealists.
I often take the 60s for granted as a kind of failed parent to our present — I remember for instance, my disdain when America declared The War on Terror. There were protests on Market Street in San Francisco where I lived; since I worked at a gallery downtown, a number of the dissidents came through our doors. Most of them old timers, they seemed enthused and exhilarated, wearing old ponchos with old buttons — costumes from a former life. It brought back the old days, they said, enjoying a renewal of purpose to which I was highly critical. The protests that year felt more like block parties, sequestered as they were to specific streets with police lining the borders between outcry and everyday life; there was no real disruption.
Neither was an alternative supplied: while half of the country (at least) cried out for war, the other dug its heels in, adamantly opposed. The protest parties celebrated opposition without solutions. I wanted someone to come up with another way, a non-violent action — that would mark a good leader, I thought. Even in my financially challenged state, I still had a roof and a car and two jobs. I had a sister who fed me when I couldn't buy groceries. I had access to a world our supposed enemies did not. My parents' hippy friends gave me a bumper sticker that said, "Bomb them with butter." At least that seemed like one new idea. I know I had none.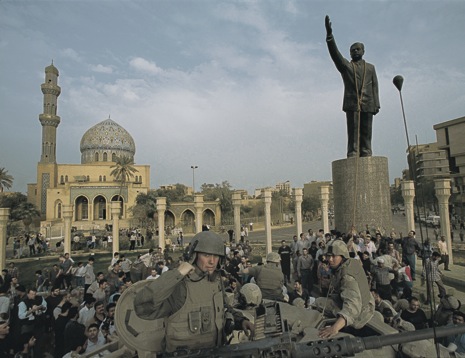 When soldiers brought the statue of Saddam Hussein down with a crane, we'd been in Iraq for 20 days. There was a sudden euphoria of success and achievement. It became its own short-lived propaganda. "A few minutes after the toppling, Secretary of Defense Donald Rumsfeld told reporters,'The scenes of free Iraqis celebrating in the streets, riding American tanks, tearing down the statues of Saddam Hussein in the center of Baghdad are breathtaking. Watching them, one cannot help but think of the fall of the Berlin Wall and the collapse of the Iron Curtain' (The New Yorker). Â We watched it on the news. I remember feeling both impotent and relieved.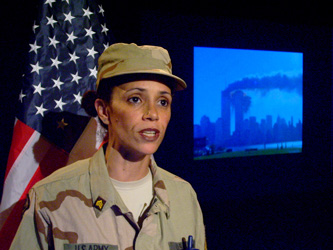 "War became the evil pimp and illegitimate master, while society became a terrorized subaltern. War was not just about political domination through physical violence leading to death, but about the exploitation of bodies and minds for financial gain, sexual power, and the censure of our unique capacity  as human beings to engage in abstract thought. As a performer, I understand you to be saying that what makes war terrible is not just that it can kill us, but that it forces us to perform against ourselves — against our will, against our interests, against our values" ( A Field Guide for Female Interrogators, Coco Fusco, Seven Stories Press, 2008). Years later, I pulled into a Pier One parking lot to listen to Cheney's trial being broadcast on the radio. There had been headlines all week about what a creep he was. The rapid cries of infamy as we the people denounced his behavior. He admitted his sanction of torture. All the photos came out with dark men, naked, faces in black hoods, sometimes in piles. The bright burn of a camera flash in a corner as soldiers–men and women both–smiled. We know those pictures. They come from a time when popular ideas about Muslim taboos were bandied around public space like beach balls; every room I was in discussed the terror of war, the stress of soldiers. "How could this thing have happened?" The day was bright and sunny outside. The highway banal and complacent. But  I'd thought everyone knew, like it was in the collective unconscious–I'd known and I didn't even read that much back then. Guantanamo and Abu Ghraib were dark places, beyond citizenship, as though human rights were contingent on state. Of course that torture still exists now — because we are not innocent — and Cheney's presently on a book tour as an advocate of his practice. "If we give up  all efforts to identify and set limits to uses of force and violence, unwarranted, and unmerited," Fusco writes, "we essentially relinquish any agency with regard to politics, and aquiesce to authoritarian control of our lives or those of others" (p. 25).
Yes. It's good Bin Laden is no longer a threat, but I don't think anyone — especially a leader — should ever be proud of murder. It's a terrible thing to have to take someone's life, regardless of the circumstances. Circumstances that lead to such a necessity are all the more heartbreaking, stemming from a desperate responsibility. And here again, I think leaders give us examples of behavior, demonstrating through their address the weight of such a choice, thereby acknowledging the unequivocal meaning of life. Ten years later we are still at war, still shadow boxing. September 11th is still impossible to comprehend. Its tragedies will always remain irrevocable regardless of all subsequent acts, many of which have perpetuated violence: the shadows cast by our way of life. Embedded in my disappointment in the 60s is a tremendous disappointment in the present. The notion of peace seems all the more impossible, just as the emotive potency of war becomes more remote. There is so much to think about and learn from in those old performative gestures of peace–the way in which the media, still naive itself, could not get enough of those crazy kids.
..my favorite images of the aforementioned film take place at breakfast.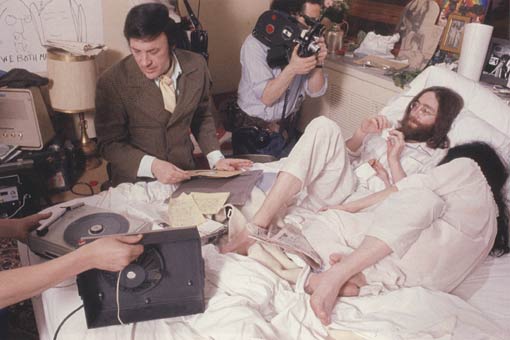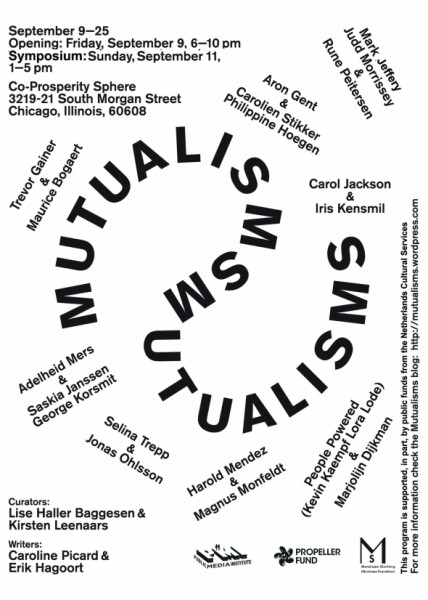 Several months ago, I was invited to share a blog with a stranger. On that blog, I was asked to write about art & reciprocity. I met Erik Hagoort that way. I read his posts and he read mine. Sometimes we responded to one another. The blog itself came from a larger project artists Kirsten Leenaars and Lise Haller Baggesen were curating. That show, Mutualisms, (opens this Friday September 9th at the CoProsperity Sphere) features work made by artists paired together–half of the pair comes from the Netherlands, the other half is local to Chicago. Over the last six+ months, these pairs have been working together, building a dialogue more or less from scratch, in order to install work here. It's a show about networks and relationships. It's a show about community, and how that can arise with an ocean between us. In addition to the exhibit, CoPro is also hosting a symposium on Sunday (September 11th, from 1-5) to address the issue of art and reciprocity: an interesting question, given that so much of what we think about in terms of community building and art relies on expectations of return, or taking turns, or sharing. How do those themes also manifest themselves in a discrete work of art born from collaboration? In the following interview, Erik and I asked Lise and Kirsten some questions about the origin of the show, how to think about it critically, and even how its global perspective addresses arts funding strategies.
Caroline Picard: So often an exhibition is the culmination of work; while of course, Mutualisms is a culmination,there has been an on-going dialogue taking place on-line via blogs (both the one that you all keep as the Mutualisms site, and of course the blog you invited me to participate on with Erik). How did you think to frame the project via blogs and exhibitions? And what was it like pairing artists in different parts of the world?
Kirsten Leenaars &Â Lise Haller Baggesen: We had just met in Chicago last year, right before the Propeller Fund application was due. One of the things we had been talking about is that we at times had missed an international influx of artists in Chicago. The other thing that struck us is that while having both lived in Amsterdam and now in Chicago we had been part of quite different artistic and friend networks that only partially overlapped. Adding these elements up thought we could combine our networks to create an extended grid from which to organize a show. So, you could say that the show also came about as a mutual exchange between us [Kirsten and Lise], due to a need of expanding our own artistic and social horizons, the main idea being that the art world functions more or less through connections and relationships. We wanted to create a platform through which we could facilitate these relationships and form new connections amongst our combined networks.
Because we both are primarily artists, makers, and curators and thinkers secondarily, we curated the show very much from the point of view of the individual artist's practice, rather than as an illustration of an intellectual or theoretical idea (not that we are anti-intellectuals, far from it!). So, we tried to combine artists that we felt had a similar approach or a similar sensibility, hoping that the connections we observed were something they could see too, or that they might discover their own links through a dialogue with each other about their own practices. When we invited the artists to participate in the show we made very clear that the dialogue between each pair was an essential part of the concept and that they needed to be willing to engage in this what undoubtedly was at times-especially at first – potentially an awkward exchange. Kind of like any first date can be. Some of the pairs readily jumped to the occasion and hit it off immediately, others definitively needed a little bit more time and coercing. Both and even the potential for a mismatch are part of concept of the show and we guess in some ways a risk we as the curators or organizers took. Our main objective really was to plant some seeds for potential mutual relationships that would grow and develop and extend beyond the scope of the Mutualisms project.
The blogs seemed to just be a very logic consequence of the fact that the artists were residing on different continents and the blog became a space where they could meet. Not just as a pair but also as the group on a whole. The blog allowed them to also see how the other pairs were connecting and what ideas were being exchanged. In addition we thought it would be make this process visible and public — often this kind of exchange often remains quite private – because the dialogue can get quite personal – but it gives great insight to the artist's practice and creates almost organically a context for the work and the show on the whole.
CP: Â There are some really incredible (and devastating, I think) movements in Europe (I guess I'm thinking largely about the UK) to cut funding for philosophy departments, art departments and even departments of literature. I understand from talking to you all the first day we met that a similar situation is taking place in Holland–and then too, I feel like some of the fears have twinged American consciousness as well (for instance, I'm thinking of what compelled Martha Nassbaum to write Not-for-Profit, which struck me as a defense of the arts). How do you feel this show might speak to that? In some ways, I'm asking because you're relating two vastly different arts-funding strategies (the mostly private American version vs. the largely government subsidized (is that even the right way to think about it?)) and suddenly the work of those systems is materializing here in Chicago which is so interesting, I think. Maybe especially because you both have had such extensive experience in both worlds…
KL & LHB: To begin with, the show was curated 'organically', from a practice kind of view; it's not really meant to illustrate a point about the pro's and con's of arts funding, or anything like that. That kind of got thrown in the mix, because of the rapidly deteriorating situation in the Netherlands, which came about simultaneously to us curating the show and, ironically, receiving a considerate amount of financial support from the Netherlands, for the show. So it kind of both reinforced the cliche about the 'spoiled' European artists, while at the same time highlighting the possibilities and the fragility that kind of position affords. Through that government support, Dutch artists were able to all come to Chicago, allowing for the artist pairs to actually meet. We have noticed that these physical encounters fortified the connections and dialogue and are raising the show to the next level. Bearing in mind too that the show in Chicago is only part one. Next summer we hope to host a show in the Netherlands, and we are asking the current participating artists to continue their dialogue with each other. How we will fund this show will be our next challenge…
Funnily enough, both sides of the arts funding argument like to pull the 'quality' card, as an argument for their stance. I.e. a private art market leads to 'better art' because the artists have to fend for themselves vs. art funding leads to 'better quality' art because you have a 'peer support system' that is free of commercial interests. But, when you look around in the show, it's not lack of quality that characterizes either group, to the contrary! There are different sensibilities of course, that are typical of American vs. European works, that has to do with a sense of place and belonging to a certain cultural heritage, but just as often it's hard to tell off hand which is which, and quality wise they are certainly level pecking!
Erik Hogaart:Â Â Since the mid nineties of the last century the so-called relational tendency in the art world seems to prevail. This is not only referring to Nicolas Bourriaud's famous statement of art being a state of encounter. The 'relational' has had a much wider impact, even extending into a feeling that networks of artists, curators, and audience not only surround the art work but become even artworks in themselves. This doesn't exclude the appreciation of artworks of course, artists and curators involve other artists and curators on the basis of what they make and do. Yet, relations, even friendship seems to take a bigger part of the "art's cake". Russian curator Viktor Misiano has called it the tendency of confidentiality. And a project such as Mutualisms could, thinking along, also be called a confidential project. What do you, Lise and Kirsten, think of this? What is the balance for you between creating an opportunity for artists to make works, and creating an opportunity for artists to relate to one another. These two aspects of Mutualisms are of course connected, but in what way?
KL & LHB:Â Two things were very clear from the beginning. One, we wanted to be transparent about
the way we had curated the show and where these artists were coming from. Yes, these artists were selected from our pool of friends and acquaintances. This is perhaps often an unspoken given — something acknowledged behind closed doors — but being transparent about that is really at the base of our concept for the show. And in that sense never confidential. In addition these relationships are documented and visible for the public on our blogs. Secondly, yes, the primary reason for choosing each of the artists was based on their own strong practices, not on how much we liked the individual. One does not exclude the other, and what could be potentially more productive than fostering a relationship between a pair of driven practitioners? The dialogue ultimately has the objective to allow new ways of looking at each other's practice, to inspire a dialogue about ways of thinking and making that ultimately find their ways back to an artist's practice. Of course if the match truly was a productive one, perhaps this can lead to other opportunities, further productions and collaborations etc. We do hope for these relationships – as mentioned before – to extend beyond Mutualisms. And if friendships are formed through this dialogue as well, than that is an added bonus.
EH: A question, which is philosophically triggered by Jacques Derrida's statement: "the artwork is vertical, and slightly leaning." This idea of the verticality of the artwork stresses confrontation, awe, being struck. Quite opposite is the idea of relationships and networks, which stresses horizontality, encounter between entities in the same/ equal position. Especially when artists connect to each other, and form mutual networks, how does these two models fit in? Mutualism, or reciprocity: how does it relate to these two concepts. Is there still space for the vertical within the horizontal?
KL & LHB: What you are implying here, is that inherent to an open 'democratic' curatorial process is the risk that the resulting product will also be 'democratic: i.e. not 'sublime', a risk you are also touching on with your questions for the symposium when you state: 'in the arts a strong tradition has opposed reciprocity. Art's autonomy should prevail above exchange.'
Yes, that is a risk, and a risk we embraced as we were preparing for the show, because the encounter or the exchange that this structure entails, also invites the possibility of the whole being greater than the sum of the parts. Just like the idea of democracy: 'together we are strong' this show was an open invitation to the artists to participate in a dialogue, in which they could make new art works that lay outside the boundaries of their own practice, or by pairing individual (existing) works that would allow the work to be contextualized in a new way. Some of the artists involved really stepped up to this challenge and engaged in a creative process, with an outcome that was surprising both to us, and to themselves. Others, you could say, 'played it safe' and are showing more in parallel.
Every art work implies an encounter, social relationship. Namely between the art work and the viewer. Approaching art in this way implies an investigation of the social situation in which art takes place and encounters society. It focuses on the encounter in the moment of perception and communication, it underlines the role of projection in the exchange with a spectator, a public which is constantly being reconstituted. What does that ephemeral, individual or collective imagination bring forth? In what way does imagination not only produce the artwork, but also a social relationship? This question is the primary one. Each of the artists that participate, create work. They have different ways of engaging in this process. But for none of the artists is the encounter in itself the artwork. Neither do we as the curators of the show, see the encounter, or the relationship as the work. The show is a model for exchange, this exchange happens between the artists, the curators and ultimately between the viewer and the work that is on display – a result of prior conversations. So with this show we also ask who participates in this process, and what does participation mean in this context? So the horizontal and vertical in our Mutualisms project are two axes in a grid where each of the artists individually and as pairs can be located on different positions within this grid.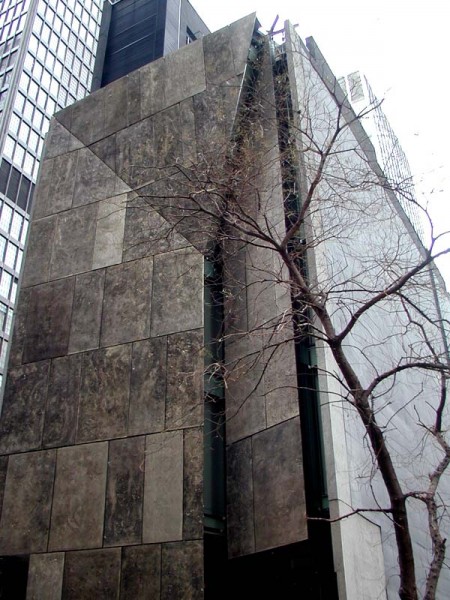 The American Folk Art Museum in New York has been in the news a lot lately–and sadly too; it looks like they're closing. Faced with the pressure of massive debt, the AFM sold its flagship building on West 53rd Street to MOMA and shrank to its smaller, auxiliary 5,000 sq ft location  in Lincoln Square–what they allegedly rent for $1/year. The building on 53rd was built from scratch by Tod Williams Billie Tsien Architects specifically for the collection and opened in December, 2001. At the time "it was widely hailed as a sign of hope, both for the museum and New York. Here was evidence the city could recover from the terrorist attack of a few months earlier: a shiny bronze structure smack in the heart of Midtown that would be the first major art museum to open in Manhattan since the Whitney Museum in 1966," (NYT, August 24, 2011). Since then the AFAM seems to be a lightening rod for particularly relevant trouble. "For example, its former chairman, Ralph O. Esmerian, promised to donate his collection of folk art, including a version of Edward Hicks's 'Peaceable Kingdom,' but Mr. Esmerian also put the painting up as collateral against money he owed, and in 2008 it was put up for auction. In July Mr. Esmerian, who is no longer on the board, was sentenced to six years in prison for fraud," (NYT, August 19, 2011). Perhaps again, as an indicator of our socioeconomic environment, the AFAM was forced to default on its construction loans in 2009. Their projected income from ticket sales and donations alike exceeded the reality of their position. The museum defaulted on its debt and this past May, its board decided to sell the building to its neighboring institution, the MOMA. While the sale got the museum out of its immediate hole, they were unable to raise additional funds for operating costs. Now the question seems to be, how to dissolve the institution? Where will these objects go?
What happens when a museum with such a carefully and specifically curated collection sells/donates its collection? The work itself seems as much defined by its relationship to the institution as the institution is defined by its work. If, for instance, Henry Darger is repositioned within the Brooklyn Art Musuem's repertoire, and should they exhibit his work in conjunction with contemporary works does that change the way we view Darger? Does he start to emerge from the margins of "Outsider Art" into a space with different categorical potential (and therefore influence)? Obviously and for various reasons, Darger would never (nor should he) hold the status of a Pollack, for instance, but would his position and relation in our history-of-art-timeline change depending on his status within a specific collection? Would the same apply for the quilts in AFAM's collection–how would these objects be integrated in other exhibits? Were everything to end up in a National History Museum, would we forget to think of these objects as art objects, considering them first and foremost practical artifacts endemic to a new country developing a cultural vocabulary? The historical implications/academic associations created by an institution's curatorial hand suddenly becomes apparent to me.
As AFAM collected and exhibited this particular body of work it sought to define the significance of its collection, simultaneously reinforcing the significance of its own institutional contribution. Suddenly the work of curators shows its essential contribution to discussions around art. (While an obvious point, well curated experiences are often so seamless, that I take their curatorial authority for granted. I hardly notice it, focusing instead on the narrative it propagates.)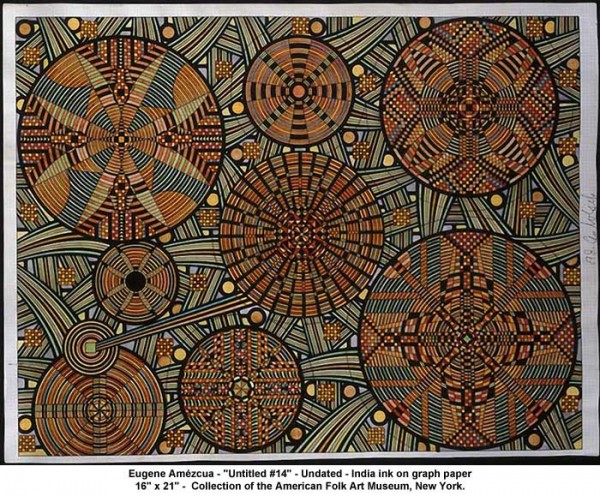 That said, and appealing to the internet ether (sometimes I feel I'm sending messages to outerspace) I don't want the AFAM to close. Obviously I'm not in a position to fully comprehend the circumstances or needs of this institution as it goes through what must be a devastating time, but here are two postcards to metaspace:
Dear American Folk Art Museum, While we never shared the same state, your presence has helped me develop over the years, pressed me to follow paths of my own work and insight that I might have otherwise diminished and dismissed. Â Thank you so much. Yours truly.
&
Dear MOMA,
Please don't tear down the AFAM building. It would be such a waste! Perhaps instead you could incorporate its structure into your own and bring a new life to the building's history. We must all protect one another, somehow. Yours truly.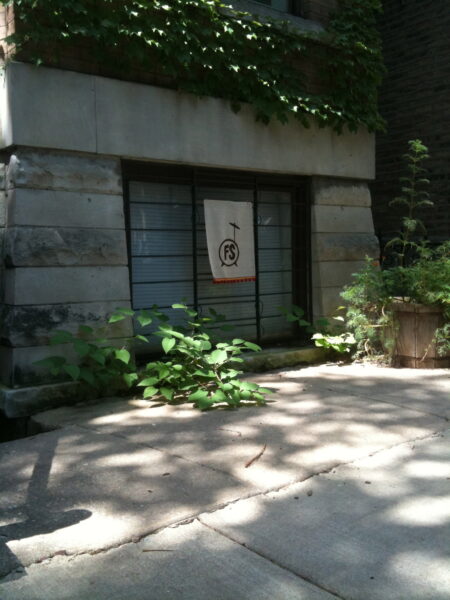 On Saturday, August 13th Penny Duff and Michael Slaboch put together a series of "intimate music and audio art" events throughout Chicago's Ukranian Village. Various musicians and artists performed between 1 and 6 pm, peppered through the neighborhood on a kind of walking tour.
It began on the front porch of 1042 N Winchester St. A Cheshire Cat made out of stained opalescent glass sat in the window of the front door, just over Plastic Crimewave's shoulder. Sitting in colored pants and socks, (shoes placed neatly beside him on the edge of the stairs) he played a morning raga on his banjo.
From there, we traveled a few blocks to the backyard of 1032 N Wood and watched a honky tonk band, The Lawrence Peters Outfit. Overhead the sky grew dark. There were rumors of a storm and the telephone lines blew back and forth vigorously as LPO played their set ending with a song about a storm.
At 2:00 we walked over to Corbett vs. Dempsey–a mainstay of neighborhood, experimental music performance–to see Mark Booth's live collage of "reconditioned and recontextualized aural fragments." Outside it began to hail and the sky was exceptionally dark. The sound of ice pellets punctuated Booth's gramaphone samples.
By the time we made it outside the weather had more or less passed. Although it had deterred the in-transit, shopping cart performance by Heartichoke–we still went on to see Andy Slater at 2047 W Walton St. Slater played a homemade monochord slide bass who sometimes mimicked heavy metal riffs on his twangy slab of wood. Dogs wandered around the backyard while he played and people stood around him on all but one side, some (like me) by the back gate, others on the stairs at his back.
Following this were several performances I didn't get the chance to see: the meme on 2337 W Thomas, Matthew Hale Clark at 2237 W Rice, Piss Piss Moan Moan Moan and Shearing Pinx at Permanent Records and, finally at the Rainbo Club: Judson Claiborne and the Found Sound After Party.
That's more or less the wrap up. What I wanted to say, though, what it made me think about, was how important interrupting regular experience is. Seeing an organized music event that takes place along a neighborhood walk amplifies your experience of the neighborhood and the music. Like an art show in an apartment, there is something domestic and, even, banal about the setting. With the exception of a block party, these spaces, streets and alleys are not generally intended for a shared, public experience. One's expectations of the performance consequently and curiously suspended, insecure; anything could happen within this ill-defined and intimate structure. Furthermore, the freedom the audience has to stumble upon the event, or depart nonchalantly: there is no cost, no obvious gain for those organizing the experience. There are free scones on a front porch, new faces come at certain events as others depart, each porch/backyard is organized differently, inadvertently acknowledging the lifestyles of its flanking domeciles. Such moments deeply interest me because their naturalness does not appear, at first, contingent on any audience. Plastic Crimewave might just sit on a porch and play for his own pleasure. We might be just happening upon it. There happens to be a honky tonk band in that backyard. The people in attendance appear to know what they are doing, even though they say very little to one another and stand, for the most part, as strangers do–not touching. This is one of Chicago's greatest strengths: that people administrate such events and, more so, that a public rallies behind them, activating the potential for aesthetic experiences in banal, everyday settings.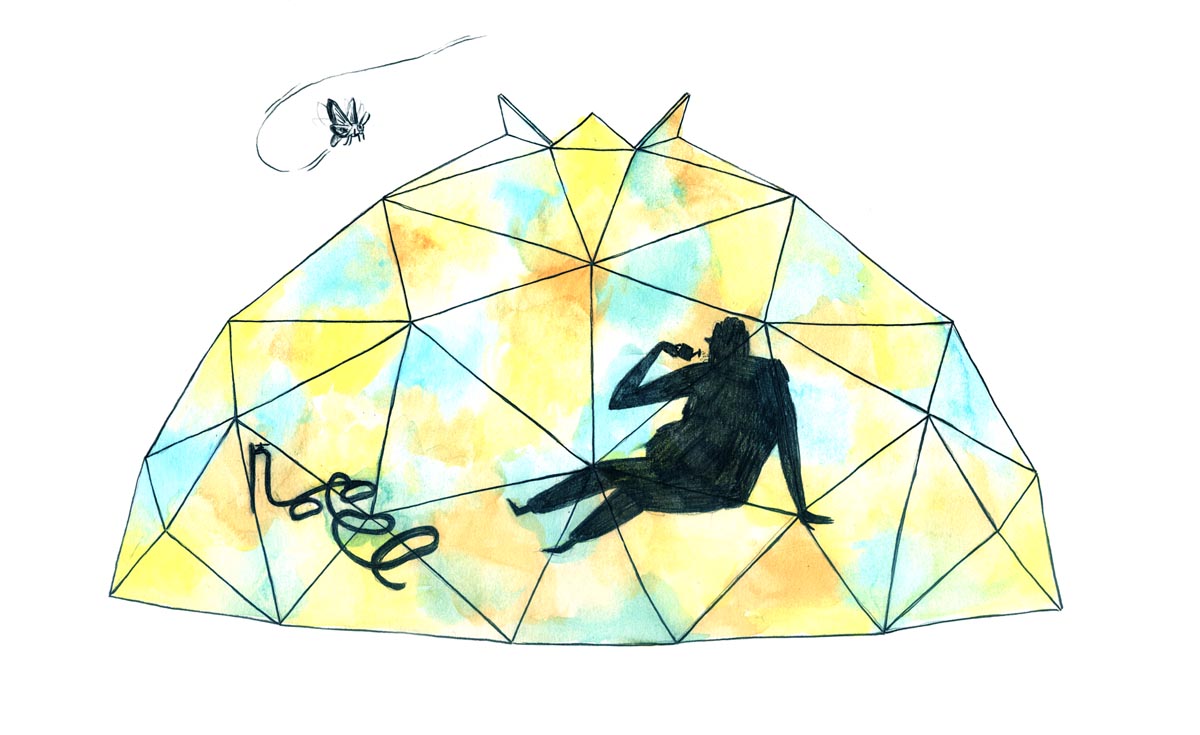 I am an unabashed and biased fan of comics–the integration of text and imagery connects the whimsy of fantastic worlds, flip reflections and twee confessions to the more  transcendental preoccupations available in illuminated manuscripts or, even, Jung's famous Red Book. Given the deep pockets of Hollywood super hero blockbusters, it's easy to forget that comics mean much more than our tight-clad, cape and mask "Here I come to save the day." In the following interview, I had the chance to talk to Chicago-comic artist/writer Sara Drake. We discuss the form of comics, the flexibility their formal structure affords, its relationship to gender and (!)  her forthcoming trip to Cambodia. Come November, Drake is going to Phnom Pehn with the help of Arts Network Asia and Anne Elizabeth Moore to teach a 2-month class on  self-publishing and comics to young women.  Together they will explore and suss out the medium alongside the ethos of self-publishing and dissemination. What does it mean to share one's own reflections? How or why would this be significant?  As the center of this discourse, comics become a cross cultural stimulant, exhibiting once more their hybrid form.
Caroline Picard: In addition to your own work as a visual artist and writer, I  know you do a lot of work in the city; you run Ear Eater, a collaborative reading series and have also curated visual exhibits. I was wondering if you could talk a little bit about your various creative endeavors and how you feel them working together in the routine of your life.
Sara Drake:Â I come from a specific mid-western DIY mentality, rooted in communal and local sharing of how culture gets produced. Most of what I do is about supporting or interacting within a community of other people which then becomes a lens I use to view most everything that gets created. There's this great Joan Didion quote that I keep coming back to, "I write to find out what I'm thinking." I tend to engage in different things all the time and consider a lot of what I do, whether I'm curating an experimental poetry reading in my apartment, making comics, or just hanging out and doodling with friends, as a process of becoming. I don't particularly want to separate or categorize things, the hybridity, for me, is what's important. I think the hybridity is what attracted me to comics. No one really knows how to think or agree upon what they are culturally. I find that when people talk about comics, they describe them in terms of other mediums (literature, film, poetry). Comics can do all sorts of weird, crazy things, and they exist on this personal, experiential scale. It allows me to engage with an idea or experience in an array of ways, depending on what I'm interested in investigating.
CP: It's interesting that you point to comics' cultural position (i.e. the way, as a genre, they  resist a definite label like poetry, literature, or art) because they are so prevalent in so many cultures. I was wondering if you could try to define what you mean when you say comics. It sounds like there is a real spectrum of work you are thinking about.
SD: Well, I would be hesitant to define "comics" as a genre. Comics are a medium, like poetry or literature or painting, a way to express or convey oneself. I'm actually having a hard time answering your question, I'm not exactly sure what "kind" or "genre" of comic it is that I make. I've never liked the labels like "graphic novel" or "experimental comic" because the titles don't really make sense to me. Comics have always been lowbrow, underground, or something that the mainstream world didn't deem valuable. Right now, so much in comics is changing, and changing very quickly. I am a direct product of that change too, which is both unsettling and curious. Being able to graduate at an art school and say that you've made comics is a pretty recent development, and one worth paying attention too. I have to hope that the self-taught-ness that has been so much apart of comics history doesn't  get lost or forgotten in younger generations of cartoonists who encounter the medium for the first time at art school.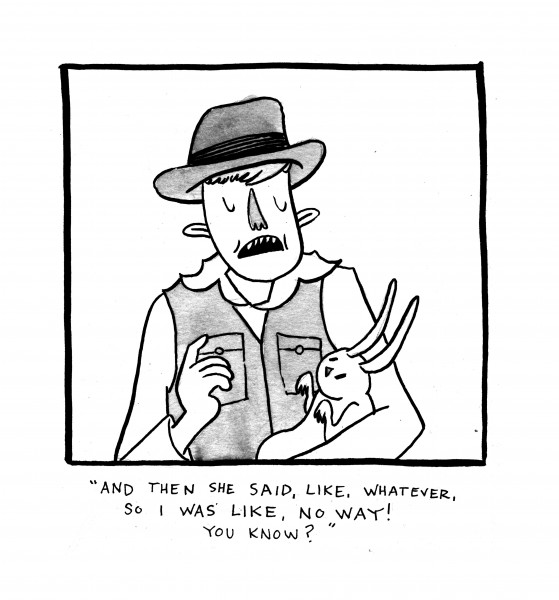 CP: What kind of mechanics take place within comics that make hybridity possible? 
SD:Â Holy moly! There are so many different ways to talk about hybrids when we talk about comics. Perhaps the one that I see as most important is that a comic is time-based. Time can exist logically: from one panel to the next. Time can exist simultaneously and also sequentially: you could depict a single setting that has many actions that happen within that setting, each at different times. Time can hop around at random and sometimes gets lost between panels. As a reader, you can go forwards and backwards. Comics just work on perplexing levels depending on how you want to interact with them. Even the lenses that I use to read comics are always shifting, one day I may pay a lot of attention to the writing of a comic, then the next to the drawing style and how it relates to the mood or tone, and this list could go on and on.
CP: Recently you've been part of a project spearheaded by Anne Elizabeth Moore examining the way lady drawers (comics) are under-represented in the comic world. How did you get involved with this project and what has your role been? How does the project shape your expectations/visions for your own work as a lady drawer? 
I've always been involved a community that has had a vocal sensitivity to issues pertaining to gender and identity. More specifically though, my partner at the time was Anne's research assistant. Through proximity to Anne's project, gender discrimination and disparity became a part of my daily conversation and head space. Once you start looking at the rate of women in practically all comics anthologies you can't really help but keep seeing a problem most everywhere you look. I was then asked to do the cover of the Women's Comics Anthology, and later helped with Anne's new Ladydrawers column on Truthout. My involvement thus far has been helping to create media to make the issues more visible. Although the people who should get credit for inspiring my awareness are all of the intelligent and inventive students who have participated in Anne's class at SAIC or who have collaborated on gathering statics. My involvement with Ladydrawers has definitely opened some uncharted dark waters for me. On a weird personal level, I have a lot of close friends in the comics industry who feel attacked by the argument. This often becomes a heated debate or a bedraggled attempt at discussing the issue. Which, for me, becomes a daily issue of having to think seriously and critically about what is at stake when we ask questions about participation within a given medium. On a different level, the project has enabled me to work with a lot of amazing people, including Anne. I see Anne's interest in working with young people uncommonly admirable. Her presentation of herself and her ideas are really infectious within the SAIC community and pretty soon, EVERYONE wanted to chat it up about gender and comics during downtime. So the project creates and allows participation within a community, and one that is centered around questioning cultural production at an art school and on a broader scale. Also worth noting, I probably wouldn't be going to Cambodia to teach comics to ladies if I hadn't become involved. So, you could say Ladydrawers really stimulates global media creation – I don't want to think that that is so far off from the truth.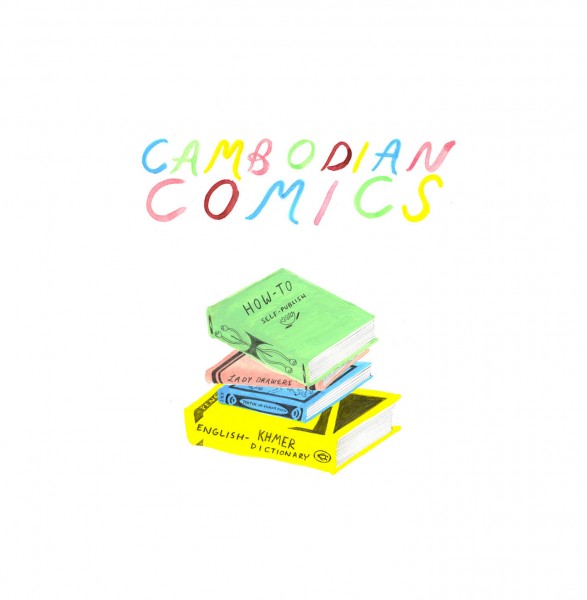 CP: You're also in the middle of a kickstarter campaign to raise money to go to Cambodia as part of fellowship. Can you talk about what you would do there and how the project came together? What is the Arts Network Asia? 
SD: The project, Independent Youth-Driven Cultural Production in Cambodia (IYDCPC), is based on and was founded by Anne's collaborative independent publishing work in Cambodia. (read all about it in her really amazing and generous book, Cambodian Grrrl: Self-publishing in Phnom Penh, CANTANKTEROUS TITLES.) I first heard about the project through Anne herself. I happened to be at the right place at the right time, and the right place was an art exhibition with her work in it. We bumped into each other, and after chatting for a while she pulled an unassuming business-like card out of her pocket with a website on it. Anne said she could give me a thousand bucks to go to Cambodia. Who in their right mind would pass up an offer like that? Everything about that moment was weird and doesn't sound like real life. I remember that evening I decided to apply not really thinking that a proposal to teach and make comics would get accepted. Skip ahead five months later and I've got a plane ticket and a bunch of bristol board rearing to go teach comics in Southeast Asia.
We are still in the planning phase of what I will actually be able to accomplish while I am there. As of now, I am traveling into Phnom Phen, Cambodia for two months beginning in November. I intend to teach a comics and self-publishing course to young women in conjunction with local collaborators. The goal of the course will be to offer a space in which young women can share their own ideas, and to promote real media creation in a cultural space that has historically denied women the ability to do so. We will also be working towards creating an archive of student work using local resources and available networks. The project will be documented via a comics blog and hopefully a digital archive for future students or just interested Cambodians to have access too. I have aspirations to self-publish or to create some sort of document of the comics I make while I am there to exist in the US.
Arts Network Asia was established by an independent group of artists, cultural workers and arts activists from Asia—I think, originally, Singapore, and come from the theater world. They are a grant-making body that encourages and supports regional artistic collaboration. They're deeply invested in fostering an engaged cultural community across Asia, and I'm so honored to work with them, since they see local value in what i'm doing in Phnom Penh—which is so much more important than "international" value. Or "cool points." Anyway, they're great to work with, very supportive. They just want to make sure Cambodians have access to interesting ideas.
CP: What is it about Cambodia that has inspired this project? Are your interests specific to Phnom Penh?
SD: Phnom Penh is where I have a network of support already in place, due to Anne having already done work and reporting there. To answer the question, I do need to be aware that all of my current knowledge of Phnom Penh (and an entire nation) has been acquired through media and not through direct experience. I will try my best to be honest. And actually, seeking out media and information about Cambodia in the US is really frustrating at times. In one way, it's important for me to see the disparities between how the US tends to represent Cambodia and my actual experiences of being there.
From my understanding, there is little to no educational structure in Cambodia, so providing a potential structure or a place to view structure becomes, potentially, important. Historically, Cambodia has accidentally forgotten about women's education. After the Khmer Rouge destroyed Cambodia's intellectual and cultural life the country has been in the process of rebuilding after it's tragic past. School's being rebuilt in the 1990s didn't necessarily discriminate students on the basis of gender but strict traditional gender roles, lack of female housing options, and economic imperatives made young women's participation within an educational system really difficult. Comics currently being produced in Cambodia are mostly made and distributed by NGO's and promote comics as a way to help combat low literacy rates.  I'm hoping teaching will encourage real media creation that can exist outside of this system.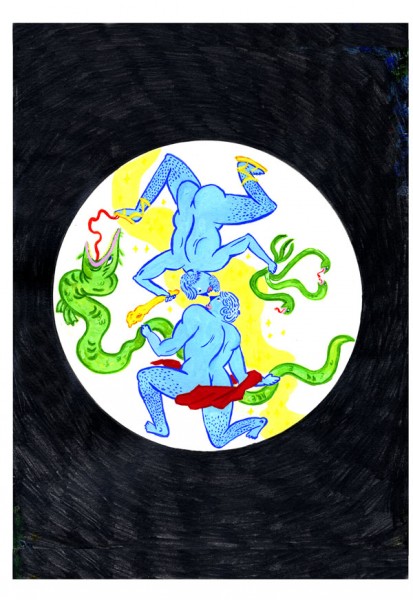 CP:Â How is comic-making a vehicle for dialogue with different cultures, particularly Cambodia? And is that a strange space to occupy? I feel like if it was me, I would be both thrilled and nervous about how to facilitate a potentially political project in a foreign country; part of what seems thrilling is trying to understand how to conceptualize myself and my role. What is that like for you? How do comics factor into those ideas?
SD: The project doesn't really have a political agenda in scope. My main objective is to help stimulate independent media creation among young women Comics are a vehicle for dialogue only so much as someone can decide that they want to use the medium as a way of communicating and sharing information with others. The medium is only powerful as a tool if someone sees the medium and decides that they want to interact with it and say something with and through it. For the women I will be working with, it's important to me that they see comics as a tool for speaking, locally, on a scale that relates to them first within a community. For myself, I'm used to comics being a readily available means to express myself. In this way, I can use them to hopefully talk about another culture with my own culture in the US. My goal is to present myself as a model or example of a comics maker and hopefully others will be able to see themselves as potential creators, wanting to tell their own narratives and their own histories. The project is less about me and really about convincing other people that the medium is there for them. That it could potentially be a place of self-empowerment.
I feel really responsible, although I'm not entirely sure I can define what it is that I am responsible for. It's a really bizarre space to occupy, and I learn to deal with it by being open to being wrong and naive often. The more I seek information about the history of Cambodia, I notice how whack a lot of the media that the Western world has to offer is, and how little I actually know or understand how globalization or a nation in poverty works (or in reality doesn't). I also, have a difficult time locating myself and my own thoughts on women's rights within a culture I've yet to experience, where the rules are completely different than how I would normally perceive them. I'm really excited and anxious about trying to encourage a bunch of young women to wield a medium of expression, in my case comics, with very little working knowledge about how comics or even self-expression exists for them.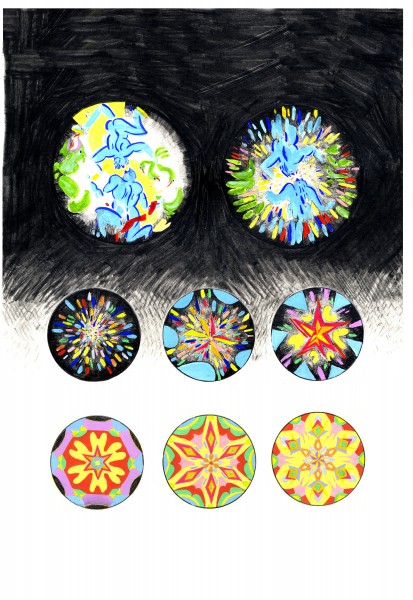 CP:Â From an artistic perspective, do you feel like your anticipation for this trip has inspired/influenced your creative process?
SD:Â Oh gosh! Probably in ways that I've yet to unpack or even recognize for or in myself. I'm not used to creating comics about my personal experiences and part the trip is about sharing my own observations and awareness. I'm having to work and think and convey myself in a way I'm uncomfortable with but I'm also finding to be invigorating.