Caroline Picard: This series started for me because I kept hearing the word hybridity — in multiple conversations about different art works or practices, hybridity started to sound like a buzzword. While on the one hand, I know what the word means of course, it also feels like a term that carries a certain amount of baggage. I was hoping to try and identify what that baggage was and, even, pin down (if possible) what hybridity means. Perhaps part of its intent is to remain fluid and unpinnable — as a kind of strategy resistant to traditional power structures — at least that seems to be an element that motivates your own work. Can you talk a little bit about more why hybridity is important to you? [As an aside, I'd add that this interview took place several months ago, at the inception of the Occupy Movement)
Gwenn-Aël Lynn: Hybrid is a word originating from the biological sciences. It indicates the cross breeding of different species or plants, often through human manipulation. However I am using it in the manner that Homi Bhabha defined in the 1990s. So, in my case, it is really a cultural term. I'm actually pushing this definition a little further, because what I'm really after is creolization, a term used, in particular, by Edouard Glissant, a Creole speaking Martinican poet, who, sadly, passed away recently. Where Hybridity is the offspring of two entities (in other words it hinges on a binary system), creolization allows for multplicity, a mixture where the different parts remain autonomous, a place of endless permutation. It speaks of a process, of something in constant flux, instead of just two parts synthesized into one. I'm actually looking for an appropriate translation of the French word métissage, and I think it is really interesting that there is no literal equivalent in English. There are many expressions like "mixed-race," "bi-racial," etc. but they all result from colonial racial ideologies, and I simply don't believe that these terms are relevant to today's society. Not that we should stop acknowledging "race" in America, but rather if our language is still predicated on colonial racial terms, we'll never move forward. The mere concept of race is very confining. Meanwhile. the global world is mutating. Therefore I settled on creolisation as the closest meaning to métissage, an intercultural process (and cross breeding by the same token), that granted is a by-product of colonialism, but also gave birth to new languages: Creole(s); new religions: Vodoo, Candomble, Santeria; new ways of cooking: Caribean, Reunionese, Mauritian, Brazilian, Mexican, etc. And indeed these cultural phenomena, over a long history, often occurred under complex power structures (whether under the European Colonial expansion, or the various invasions that have shaped modern day India, or even the succession of empires around the Mediterranean basin.)
CP:Â How does this subject resonate with you?
GAL: I guess I should also specify that I am a hybrid, but not in a racial term, because I have a french mother and an American father (from California) and I grew up between two households, over two continents, speaking two languages. So, I've always had, at least, a dual understanding of the world. In fact, one of the key moments I became aware that I was not simply "French" or "American" occurred while visiting my former in-laws on Reunion Island (A French "Over-Seas department"(1) in the Indian Ocean) where a local journalist asked me if I considered myself a métis [mixed race] because of my dual origins. I hesitated for a little while before answering "yes." This answer would not be acceptable in a racially structured society like the United States (because I'm actually not the result of miscegenation, however I am culturally mixed), but on this island, where race relations are differently problematic, it was a possible answer, precisely because the Reunionese revel in creolisation. So when confronted with the North American way of dealing with race, creolization gives me a place that I can navigate, and more importantly where I can meet and share with other people, who are not like me, but who also possess this sense of belonging to a multiplicity rather than a single group or community. This creolized place is not only racially or visually motivated; it is linguistic (for people who command more than just English) transgender, and last but not least, political.
CP: It sounds like your understanding of creolization opens up at that point to include other kinds of mixes — like you say, mixes of sexual orientation, or gender etc.
GAL: Yes, I am naturally attracted towards other hybrids, and discourses, and practices, that embody such identity(ies). And, one of the things that have always disturbed me about the United States is that race theory, discourse, and emancipation has become very inward looking; we have all these very different hyphenated Americans (African-Americans, Asian-Americans, Italian-Americans, Irish-Americans, Mexican-Americans, and the list is quasi infinite) but this hyphen does not provide any room for those who belong to more than just one ethnic community. And there are many historical reasons to account for these racial divides (like, for instance, the "One-drop rule")(2), it is a bit like, indeed we are a melting pot, but the content of the pot never melted. However, we tend to forget that the civil rights movement, for example, even though it started in the segregated South by those very people whose liberties had been restricted for so long. The civil rights movement had only been possible, and became successful by uniting across racial divides as "people." If you look at pictures from those days you see people from all walks of life — there is a majority of Black folks of course, but you also see Jews, Whites, and in parallel you have Cesar Chavez uniting farm workers in California, and the formation of the American Indian Movement. As a matter of fact my father recalls participating in a protest against a segregated Woolworths in Santa Monica, CA, in the late fifties. Angry racist Whites were throwing stones at the protesters. Yet it's through efforts and sacrifices of this kind that change was enacted. And so, today, I feel that "We Americans," unlike other cultures that have also felt the yoke of colonialism, like India, Brazil, or Mexico, we do not embrace our creolized nature. And we certainly don't give space to those who refuse to identify as belonging to a single racial, or cultural, and gender category.
 CP: Do you feel like we should try to shed identity altogether?
GAL: Of course not. It is not about: "let's all mingle and become so homogenous that there is no difference left." Rather, it is about the possibility of having multiplicity within each of us, and to relate to each other while embracing our differences. I think, but I'm not sure, that this is one possible interpretation of what Antonio Negri calls the "multitude." So it becomes a multitude of multiplicities, the ferment for new democracy. On a simpler level there is a gastronomic metaphor that, I find, illustrates multiplicity very well:
Our preference, for miscegenation as thought, will go to the soup, for it is respectful of its components leaving them intact in a sober and tolerant broth.3
[From the Dictionnaire du Métissage
by Francois Laplantine and Alexis Nouss,
Paris, Pauvert Editions 2001]
CP:Â Where does that leave us now? And why do you think people are so interested in hybridity?
GAL: You know, there are moments when, I feel we are where we are, in the middle of the Great Recession, with a Black president, who is actually a "hybrid," but who campaigned as a "black" candidate (instead of a mixed-race candidate, because of the "One-drop rule" I was speaking of earlier) and decided to show his birth certificate to answer pressure from the Republicans, because it is in the interest of Capitalism to have us divided like this. Divide and Conquer is an old colonial strategy to gain the upper hand. So if the American people is divided along ethnic classes that makes more cheap labour for Capitalism, because we are not going to get together to fight back. It's easier to blame the Mexican immigrant worker because he is supposedly taking our jobs, or vice-versa to blame the Black worker, or the Unemployed because, as a citizen, he has access to what's left of the welfare system, medicaid, etc. It's easier to blame each other for the situation we are in than to reach out, and try to organize each other across divides, to actually take control and decide for our own fate. It's a lot easier to let a bunch of flunkies on Capitol Hill haggle over the debt ceiling for weeks on end, while it's getting harder for all of us to put food on our plates. And this goes for artists too, we are workers, we are manual and intellectual workers, but we are divided along medium, schools, hell we are divided along race too! And many of us accept to work very hard practically for free. Some of us even put themselves in debt in the hope of finishing a project because we are at a point where there no longer is any viable support for making art. But who reaps the fruit of this hard labour? The art market. Has it ever invested into an ambitious artistic project? Does Sotheby's give back to the community when it scores a big sale? Nope! It lets the local art council support as best as can the making of art, and comes afterward to harvest the product without even leaving a dime behind. And yet we all put up with this system, or rather we just witness its passing. There are some in the community who are trying to raise some awareness about this labor division within the art world.
CP:Â Do you have an example?
GAL: I am thinking of Temporary Services, for example, who released a newspaper last year. There is American for the Arts but they are really more of an Art in Education advocacy group in DC. How about a group who advocates for better "art making conditions," for the possibility of being a full time artist, rather than an artist with three or four different odd jobs and no time for art making for example? Recently, as part of the Occupy Wall Street movement, there has also been Occupy Museum and Occupy Art.In France, some artists are trying to self organize under various headings to fight for more support and better policies, but it is one high steep hill. So, anyways, these are some of the reasons why I make work that addresses questions related to hybridity.
CP:Â How has this stuff influenced your own practice?
GAL:Â In terms of art projects, well there is this interactive Audiolfactory (4) installation I started working on in 2009, and for which I was awarded a CAAP grant dy the DCA of Chicago, but it's unfortunately still in progress (I say unfortunate because I had originally planned on wrapping it in one year!).
CP:Â Doesn't your work incorporate smell?
GAL: I started by engaging in conversation with other hybrids about their understanding of creolization and I asked them to relate their experience to smells, in order to garner scents that could be described as "Hybrid" (again not in a chemical or biological sense, but rather as associated to a hybrid experience). In order to meet my interviewees I relied on ads placed on the CAR website, on Facebook, on fliers placed in key coffee houses, and on cultural centers such as the American Indian Center on Wilson avenue, the Center on Halsted, the Korean American Center, The Tibetan Cultural Center in Evanston, the Asian American Museum in Chinatown, the Japanese American Historical Society, as well as word to mouth communication. Methodologically I did not rely only on conversation (in other words on language) to determine what these smells could be, I also conducted a performative scent workshop to see if the "performative body" would suggest other scents, in which Sebastian Alvarez participated. This workshop actually led to other scents, but the unforeseen issue is that it has now grown into a performance workshop that I have been asked to conduct in several places (including Lithuania) with no particular connection to hybridity. Anyways, after all these smells were suggested, I then collaborated with two perfumers : Michel Roudnitska (based in the South of France), and Christophe Laudamiel (based in New York) to reproduce these scents. I am not disclosing what they are yet, because I want the experience to be fresh and unmediated when this installation opens to the public (no set dates yet), but some of them are really surprising and interesting.
CP:Â Does the piece focus solely on smell?
GAL:Â Sounds will be associated to each scent station, and for this section of the project I am collaborating with an experimental DJ: Christophe Gilmore aka FluiD, who is originally from Los Angeles, but is now based in Chicago, and is actually Creole. Some of the comments and observations that were made by the various hybrids I engaged with will also find their ways into these sound samples, but I have to work that out with them, making sure they agree with the edits, get their permission etc. But these abstracts will greatly complexify the definition of creolization I gave earlier.
CP:Â It sounds like your understanding of this terminology, and your investigation of that terminology, changes depending on who you work with.
GAL: One of the great things about working with people (rather than alone or "in the name of") is that it really gives you a plurality of meanings, and forces definitions to be very fluid and transient, but it is also hard because you have to make sure nobody is left behind or frustrated by the process. All of the participants to the project get credited in the end, but that's a few months away. Each sound/smell station will be in the form of rice paper maché sculptures (mostly because I need material that at the same time contains but let smells and sounds ooze through) in the shape of noses and ears, so as you can see the hybrid nature of this installation really resides in its scents and sounds and not so much in its visual aspect. And that's a deliberate choice, because it is the eyesight that makes us see race (skin surface level). Whereas it is not so present (but not completely absent either) in our aural and olfactory phenomenology. As Stuart Hall once said: "race enters the visual field." There is actually a number of texts on visual hegemony and how this differs when it comes down to olfaction, but that discussion would take many more pages. But in a few words I can say that I'm addressing the question of creolization through smells to open up a new territory, not to be charted visually, but to practice rhizomatic studies to sense how identities, formed out of multiplicity, can get together and generate new sensibilities, new relations and hopefully new knowledge in how we can form inter-related and diverse groups of human beings.
(see note 5 for video details)
CP:Â Has your relationship with your various participants changed over the course of this project?
GAL: While working on the above mentioned project, my former roommate moved out, so I placed an ad on Craigslist to find a new one, and one of the respondents happened to be someone I had initially interviewed for the project. So he moved in, and we are getting along well. As the project has been taking so long to complete I have been hosting "hybrid dinners" at my house once a year to keep in touch with my fellow hybrids but also to let them know I am still working on the installation, and to continue our conversations. For one of these dinners, Hermes (that's my roommate) decided to make a Black-Xican Pozole (as you may have guessed he is Black and Mexican, and a fantabulous professional chef). It's a pozole made the Mexican way, but it also incorporates elements of soul food like collard greens, and ham hock. Shortly thereafter I was invited, by Alberto Aguilar and Jorge Lucero, to contribute to a show they were curating: Hecho en Casa, a program of events that verged on acts of domesticity. So Hermes and I decided to turn the dinner into a public performance.
Finally as a last example, I could mention a previous interactive odour and sound installation (2006) which, when I made it I did not think of in terms of hybridity, but looking back I think it would qualify, even though, at that time, I did not have the theoretical baggage, let alone the drive, to conceive of it as a hybrid project. It's an installation that I made while being an artist in residence in the Netherlands, in Enschede, close to the German border, via the European Pepinieres for Young Artists network, Transartists and the media department of the AKI. I wanted to address the fact that in current European discourse, and in particular in the Netherlands, despite years of immigrant labor and influx from the former colonies, identity is still defined from the center, the White Dutch majority. For instance, the Dutch government passed a law, a few years ago, that forces new immigrants to be fluent in Dutch. Yet there are plenty of Dutch citizens who are from the former colonies, and speak other languages. From my perspective this definition is very problematic, so in order to come up with a postcolonial definition of the contemporary Netherlands I met and engaged with Dutch nationals who had some kind of affiliation with the former colonies. As expected I met many different kinds of people, some with very traumatic histories, because independence was not a peaceful process, others because when they came to the mainland they had to deal with blatant racism. Some of these questions and stories were integrated, along with music composed by Antony Maubert, into the sound part of this installation, and others (I had a lot of data) were indexed on an audio CD that was released with the opening of the show in Enschede. And as an answer to the push for monolinguism by the authorities, the soundtracks of this project total 8 languages (Afrikaan, Bahassa, Balinese, Dutch, English, Papiamento, Taki-Taki, and Zulu). Indeed, Dutch is not the only language spoken today in the Netherlands. So it is by no means exhaustive, but instead reflect the people I met, while in residence. This project was my initial collaboration with Michel Roudnistka for the smells. Looking back at that project, I tried to manifest ideas of creolization by using a non-dialectical structure. A sensory experience organized by associations in order to foster connections and expand ideas of communities, language, identities, etc.
But regarding hybridity specifically in regard to this installation from 2006, I think my most interesting find was that when Indonesia was occupied by the Dutch there were Indos who used the following expressions to describe their ancestry: the Motherland was Indonesia, and Fatherland described the Netherlands, because often, Indos were the children of a Dutch male civil servant who had married an Indonesian woman. This example was narrated by Johan Ghysels (an Indo photographer from Enschede) on the soundtrack associated to the odor of Kretek (clove cigarettes). In his words "we were the in-between layer" of Dutch colonial society, between the white elite and the Indonesian natives, rejected by the latter because more privileged, and despised by the former for not being "completely" Dutch. As a matter of fact, many of the people I talked to, in the course of this project, described themselves as "in-between". When independence struck, many of the Indos had to leave for fear of being exterminated by Indonesian Nationalists who identified them with the oppressors. So they sought refuge in the Netherlands where they had some relatives but once there, as Gill Bollegraf, another Indo photographer from Enschede, told me, they were confronted by really strange behavior. An incident happened to her mother (Gil was born in the Netherlands): one day at the market, after her arrival in the Netherlands in the sixties, a little White Dutch kid lifted her skirt to see if she had a tail, because he thought she was a monkey. So a few Indos went to California to start a new life but the majority of them, nevertheless, stayed in the Netherlands. Today they have organized themselves into different associations (http://www.nasi-idjo.nl/), they have their own music, food, etc. It is a striving culture, but always remains at their core, this sense of having been forcibly displaced.
____________________________________
(1) Read: former colony, whose inhabitants decided to remain within the French République when the colonial empire broke down in the 60's and 70's. It boasts one of the most creolized population in the world.
(2) Meaning any person with "one drop of black blood" was considered as black under the Racial Integrity Act, despite the fact that many were mixed-race people.
(3) This quote is my rough translation of the following text, and operates a distinction between two kinds of soups: the potage -which is a soup where all the ingredients have been grinded and blended and a soupe where all the ingredients are left as they are, floating in their broth: "Notre préférence, nonobstant nos penchants gastronomiques et leurs goûts respectifs, ira, pour une pensée du métissage, à  la soupe. Car elle est respectueuse de ses composantes qu'elle laisse intactes dans un bouillon sobre et tolérant. Le potage, lui, broie, mélange, passe, bref il fusionne, visant à  l'homogène."
(4)Sound and smell
IMAGE NOTES
(5) Roots… (a speaking garden) 2010. Installation made while in residence at the Pépinières Européennes pour Jeunes Artistes in St. Cloud, France. A sound enhanced winter garden. Foreigners, and nationals with experience abroad, recommended the plants constituting this installation. While in residence, I met with them and conducted interviews discussing the metaphor of roots, as pertaining to one's origins. During the exhibition, abstracts from these interviews were triggered by the visitors, whose displacements were monitored by discrete c-mos cameras and a computer where these displacements were analyzed by two open source software: Processing and Pure Data. Pure Data patch built by Ben Carney.
(6) This dinner took place at Cobalt Studios, located in Pilsen, and was sonified with a "Pilsen" soundscape. It was part of a series of event: Hecho en Case/Home made curated by Alberto Aguilar and Jorge Lucero. A program of events that verged on acts of domesticity.
(7) interactive odour and sound installation (2006). Detail of kretek diffuser (clove and tobacco). Scents, sounds, electronics, infra-red motion detector, MIDI box (an open source interface), software, computer. This project was realized while in residence in Enschede, the Netherlands, via the European exchange program for young artists: "European pépinières [nursery] for young artists". Collaborators: Paul Jansen Klomp (new media artist), Antony Maubert (composer), and Michel Roudnitska. (perfumer).
This installation has been shown in Enschede at Villa deBank in April 2006, in Eindhoven at De Overslag in March 2007, and at Casino Luxembourg, Forum for Contemporary Art, Luxembourg in September 2007.
We are fast approaching the longest day of the year. On the other side of the 22nd of this month, the days will again stretch, grow long. As one day expands past the last, our definition for its bounds nevertheless remains the same. There is something about categorical tidiness that seems especially important to the theoretical order of our species. I want to ask, then, what happens when those borders start to bleed into one another? What happens when languages mix up and churn into hybrid concoctions? And what about something as sticky as race  or sex — where do we locate identity when bounding frameworks are under duress? Muddled with unknown elements. Under this light, the scaffold of our taxonomies become brittle, even arbitrary, for even the border plotted between species are suspect. In the forthcoming series I will talk to a number of artists about their ways in which they investigate hybrid forms of performance, language, science and art. At the moment the series is on-going, but as a kind of initiation I have asked a friend of mine (and Green Lantern author) Erica Adams to write a series of spells for hybridity. It seemed appropriate to use her words as an introduction to interviews I'll be posting over the following weeks.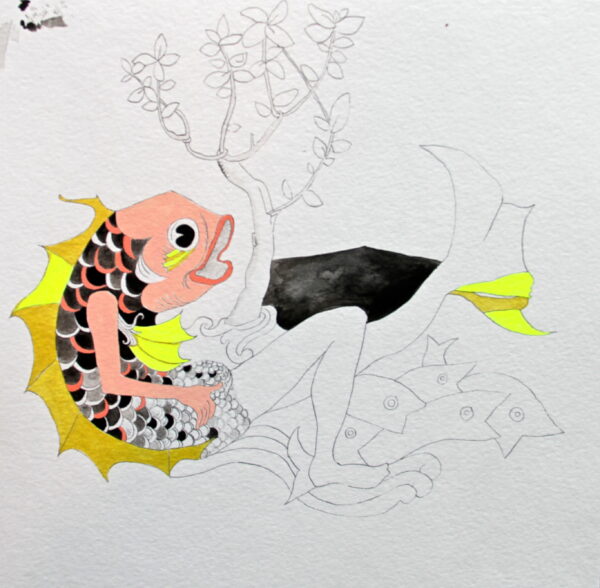 Spell to Swim a Great Distance
In the sign of Pisces, in the month of March, acquire a fish with scales the same color as the hair on your body. Place the fish next to your bed, so you may look at it upon waking, and it may look upon you as you sleep.
For one year, you must care for this fish, and for one year you must not shave or cut any hair upon your body.
Additionally, every night before sleep, you must tell the fish something you have told no living soul. The fish will become greatly sympathetic to you.
After one year, take the fish to the body of water you wish to cross, and let it free.
If the fish swims to the right, you must begin the operation again with another fish. But if it swims to the left, you may get into the water as well, while saying:
My mother's water brought me to land
Your water brought me to sea
            May I be unto you, and you unto me
 
The fish will swim beside you, and you will see that its scales have turned to hair, and that your hair has turned to scales. And you will move through the sea as a finned creature, until you reach shore.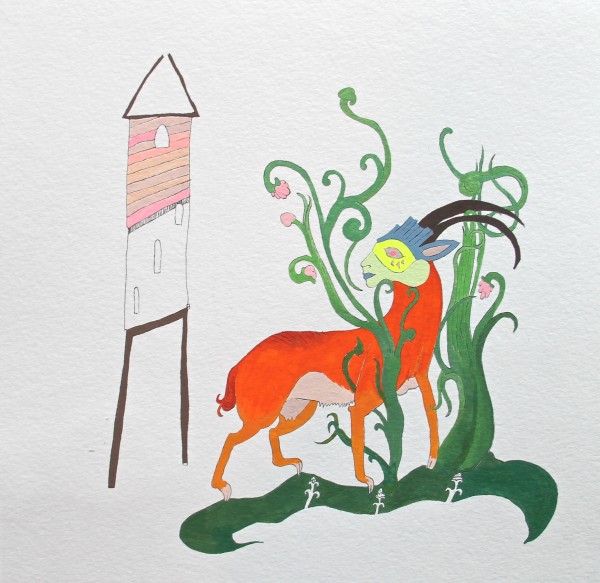 Spell to Change One's Face
 
In the sign of Capricorn, on a Saturday, go to a field where three goats graze: one white, one grey, and one black. Pull from them three hairs and tie these three hairs to three hairs of your own, saying:
When I join one, I become one.
When I join two, I become two.
When I join three, I become as thee.
 
Bake these hairs into a cake which you divide equally among the goats and yourself. When the goats defecate, collect this in a jug and leave it nine days to dry to powder. Mix this powder with water and apply it your face at sunrise, saying:
When I join one, I become one.
            When I join two, I become two.
When I join three, I become as thee.
 
Do not wash your face or speak to any living person for three days. The mixture will dry on your face, and on the fourth day, you will wake with the face of a goat. This transformation will last for nine days time and cannot be repeated with the same goats.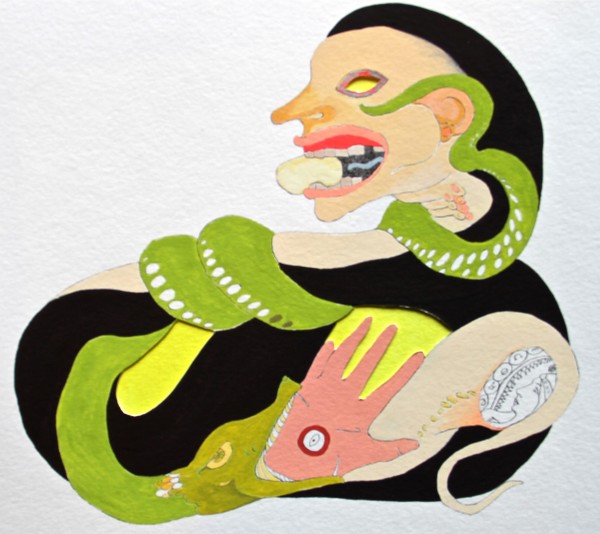 Spell to Move about in Secrecy
This operation must be performed on a Thursday in spring-time, after fasting for three days. Find the burrow of a snake that has just lain eggs. Take seven of these eggs, and boil them.  Remove the shells, so that the insides remain undamaged. Upon each egg write the words:
What was becoming, I will become
                        So I may move, perceived by none.
 
Each egg must be inserted whole into the mouth. The following evening you will feel the top of your mouth itching, and there you will find a seam. Pull on the edges of this seam, and your body will split, revealing itself as smooth and pink, with red eyes and no arms or legs.
In this way you will be able to move about undetected for one night's time. In the morning you will wake, restored to your original form. You must return to the snake's burrow and leave seven gold pieces to replace the eggs you stole, as the snake will find you and kill you otherwise.
**all drawings were made in response to Erica's texts by yours truly.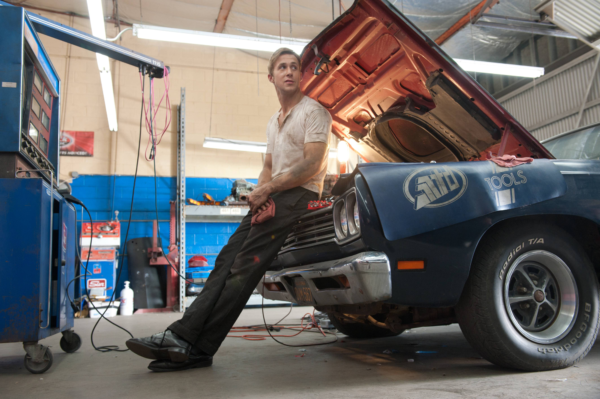 "How do norms move on cat's paws, silent and unthought?" Ken Corbett
I've been trying to articulate what I want from aesthetic experiences; usually I don't think about it, I only know I like them and seek them out, but the thought came to a head after seeing Drive. It's gorgeous. The colors are lush, the music hypnotic; electro-pop voices coo about "Real Human Heroes." The movie hit each of one of my hot spots. It was totally seductive and for the most part I was absorbed in this post-modern dérive of LA Contemporary Cowyboy-Yakuza. But. Here is the thing: There is no transformation — even further, there is no possibility of transformation in Nicholas Winding Refn's cinematic frame. At the end of the movie you're just as stuck as you were in the beginning, you just happened to go for a scenic drive.
While not often achieved, I want to find myself at a different spot at the end of an aesthetic experience. I want to see my house and life differently. I want a moment when my expectations were not fulfilled because they were destroyed and in being destroyed are surmounted by a new recognition — you see, here it is — the moment of transformation. Where old expectations are confounded and unforeseen consequences ensue, consequences that challenge prior convictions. Such paradigmatic shifts have happened before — consider the Copernican Revolution, or the discovery of a non-Euclidean geometry, wherein the shortest distance between two points is not a straight line (suggesting that space is not flat but fundamentally curved). Obviously that's a lot to ask of a single work of art, but it's also worth reaching towards as an artistic agenda and, to my mind, the best work does so.

When I interviewed Irina Botea for Art21, we spent a long time talking about reenactment and what it was for, why it was important: reenactment is a construct, but it presents an original point of view. That contemporary-present-view layers on top of our learned perspective of historical events. By reenacting a history, we embody the past, and enable new possibilities latent in historical events. Recognizing those new possibilities highlights other new possibilities in everyday life. I don't think a civil war reenactment is anything necessarily different from genre writing. Within genre certain expectations must be fulfilled. Drive is a genre film and like many films meets the expectations determined by its genre. But it does not expand beyond those expectations. If anything it reinforces them. It is still just a Yakuza movie and, look, I love Yakuza movies, but I tend to give the old ones (c. 1960) certain leeway because of their age: they're grandfathers and great great grandfathers, and whether or not nostalgia is dangerous in its capitulation, I forgive its offense. I cannot do the same for contemporary work, at the very least because it falls short of its highest potential: to transform the genre it inhabits.
In Drive the gender roles remain fixed — the mother figure (Carey Mulligan) is helpless, virtuous and needs protection against the dangerous world around her. Hero, Ryan Gosling — her only salvation — is trapped in the obligations of his auto mechanic/moonlight-race-car-driver life. He is a loyal man of few words. He wants to protect the innocence of the virtuous mother's son (like his alter ego or anima). Protecting them (the idea of a nuclear family which he might then endear himself into) he appears justified in doing great violence. Aside from a flock of bare breasted strippers who lase about in a mirror-addled waiting room, the only other woman in the film (Christina Hendricks from Mad Men incidentally) serves as a bad girl-foil; there is a perhaps-too-pleasurable sequence where Gosling, with the gloves on, beats her in a hotel room. She dies shortly thereafter.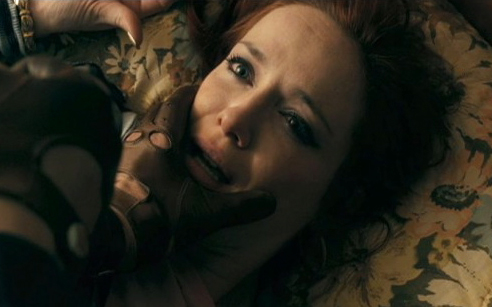 The most interesting moment in the film occurs when Gosling's profile fades into the figure of a stripper. In the ensuing scene he forces a mobster bad guy to eat the bullet said mobster gave to the movie's son (of the virtuous mother). The whole scene marks a defining point in the Gosling's character, because he has determined to take matters into his own hands. Its preceding fade, where Gosling and stripper blend into one another, is the sole challenge of normative gender throughout the film, and even while it's fleeting, it suggests Gosling's character is not so much a self-directed hero, but a cog in a performative machine. Suddenly there is a visual parallel between the "Driver's" hero complex and a service industry job. While the moment was too brief to bear the weight of the film's purpose, it underlines an otherwise scarce possibility for transformative thought.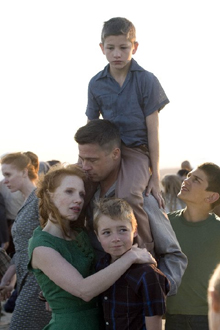 The careful cinematic style of Drive reminded me of Terence Malick's Tree of Life. Here too, we see the study of an inherited, male paradigm that remains in tact and Romantic at the end of the film, despite its intended study of that paradigm's imperfection. Brad Pitt stands at the helm : a 1950s patriarch with a beautiful wife. He calls her naive often enough to make the audience uncomfortable; similarly his reactive sons highlight the limited harshness of Pitt's aggressive upper lip to remind anyone in the audience that he is an anti-hero. (What is likely enhanced by the overall nostalgic decadence of the work as seen through a boy's eyes). The critique however falls short of catastrophe. Nothing actually falls apart. The characters continue, and continue to suffer. The mother never finds her voice and in ever instance wherein one of the family members tries to speak out against Pitt, we see him overcome (and forcefully suppress) their efforts.Pitt's flaws become a testament to his humanity. He is forgiven despite himself (thus echoing larger Christian themes in the film). Beyond that, from the glimpse of Pitt's grown son (Sean Penn), the paradigm has only continued. Penn is a chip off the old block — a professionally successful man with a beautiful wife whom he seems alienated by/from.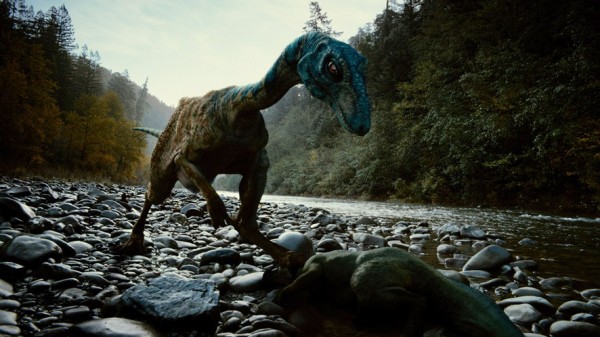 Both films are unusual Hollywood blockbusters (Malick takes this insane  side tour visual montage wherein he tries to explain the meaning of life, beginning with the an astral-vaginal slit that leads to the big bang, that focuses on lava explosions, into amoebic life forms, into secreting canals of live-giving fluid and seems to peak (after ages) with the grace of a benevolent dinosaur (wherein, I think? we are supposed to intuit the grace of God). That part is amazing: I mean, what?!). Both films are crafted with such deliberate love for the medium of film. They are incredibly seductive. The music, in both cases, is mesmerizing. The performance of its cast is also spot on. The shots themselves are almost so saturated as to feel drowsy and heavy with color. They are totally luxurious films, Romantic and romanc-ing. Nevertheless the allure of craft and aesthetic pleasure only reinforces predominant and historical archetypes of male machismo.
But of course all of this raises the question: is there a need to rethink masculine archetypes? Certainly paying audiences seem to applaud our familiar white middle aged patriarchs. Alec Baldwin has made a career out of cameo appearances where he knowingly espouses power — he's  30 Rock's favorite CEO. Don Draper and Tony Soprano are also beloved portraits of masculinity; we enjoy the spectacle of their self-interested and often misogynist behavior, either pitying the women who put up with them or applauding the strength of their female counterparts for surviving a constant barrage of infidelity and sorrow. Indeed we may even critique these leading ladies for the shallow pleasure they take in material compensation. Both Carmelo and Betty enjoy the status of a husband's material success. Perhaps one might suggest (with fair reason, given the proliferate examples of cowboy heroes) these binaries are Natural. The Oedipus Complex has been repeated again and again, an intrinsic propaganda, in an attempt to derive access to some universal meaning, i.e. all men are essentially driven (unequivocally) by x. Unfortunately, women tend to suffer from this paradigm. But what is to be done, if in fact, it is the natural and inherent consequence of humanity? The tragic flaw of our species, if not Nature In General. (We can at least wait for the end of days when, like Malick's cast, we'll frolic on the beach of redemption).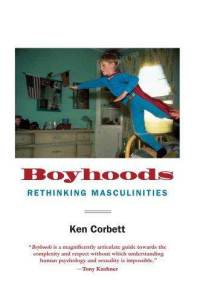 As one who assumes a great length of time between now and the end of the world, I am unwilling wait for a seaside picnic. Ken Corbett's book, Boyhoods: Rethinking Masculinities, writes at the length about how the common expectations of men and male psychology exclude and limit not just women but men as well. Differences in male psychology are glossed over in contemporary society. "Culturally ordered masculine ideals corral the emotional landscape called masculinity. The fantastic underbelly of masculinity is pinched and policed. The complexity of masculinity goes largely unrecorded; the variety that makes for complexity is only recorded as pathology" (p.9). Corbett examines the foundation of this "corral" before going through a series of case studies — from his own psychoanalytic practice — that defy traditional stereotypes (and in their defiance create friction with their affiliated family units). In the first chapter he examines the source of the Oedipus Complex, "Little Hans," pointing out Freud's subjective conclusions that are, themselves, based on a fantasy of masculinity.
"…the failure to include consideration of the intimate family surround is to leave Hans an oddly romanticized boy, one who is untroubled by the intrapsychic vagaries of relations, other than those that occur in his pursuit of phallic sexualized relations. The flavor of this romance seeps into Freud's proud description of Han's 'energetic masculinity with traits of polygamy,' a boundless heterosexual desire that Hans 'knew how to vary…with his varying feminine objects — audaciously aggressive in one case, languishing and bashful in another.' Hans pinned as a cad. This problematic romance results in Freud's underilluminated general theory of masculinity: men and boys are cast as desiring, but the relational yearning that shapes their desires goes unexplored," (42).
Corbett goes on to pose new interpretations of the very dream (belonging to Hans) that established the Oedipal complex in the first place. The implications of such a discovery are huge, in so far as they would tip a number of foregone conclusions, conclusions deep at work in popular culture and family mythology. (One of the threads in Tree of Life, for instance, depicts the oldest son wrestling with the desire for his mother and his recoiling efforts to undermine his father). "Hans is the Ur-boy, and through his construction and acts of consciousness the psychoanalytic construct of masculinity is endowed with meaning" (p.19). With new evidence having come to light ( Letters and interviews from Freud's case files were only recently made public), speculation about the mother who, "Freud [did] not position as a speaking subject," (p.35) and the dynamic life of their family, Corbett suggests that then is that Hans is responding primarily to an unpleasant and unstable home life — something specific to his family structure, not necessarily intrinsic to his sex.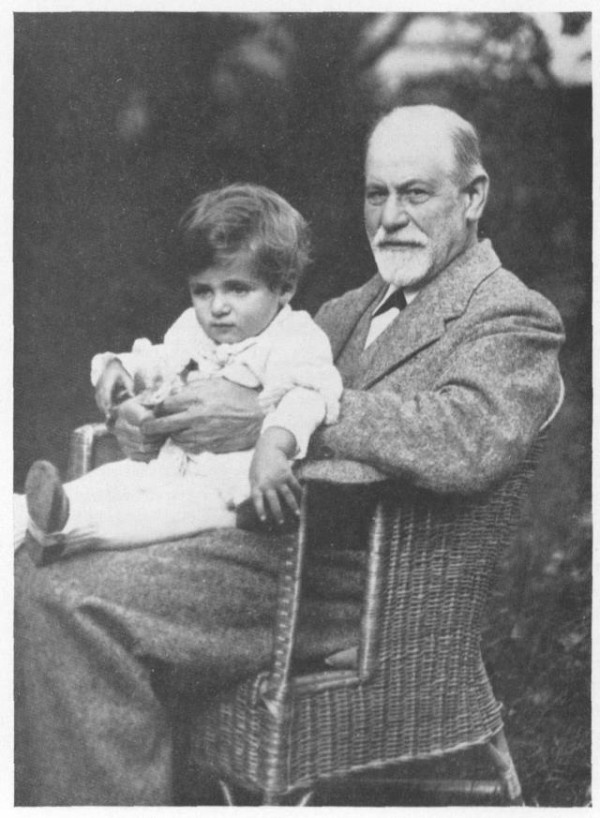 What happens, then, if we reexamine these archetypes? What happens to the stories we tell ourselves? Tree of Life is an homage to an American masculine identity. Brad Pitt is the hard-edged father, with a nearly silent but supposedly naive wife and three sons. The sons are competitive with one another for their father's affection, just as they are competitive with him for their mother's primary attention. The moment of Pitt's paternal failure is also fleeting: He admits to his son that he has nothing, that all his life he focused on the wrong things (wealth, not family). But his offspring seems to have learned nothing from this admission. Gosling's character admits, in some way, that he isn't a hero: he has to put on a mask stolen from a Hollywood make up both in order to shoot up all the bad guys, but he doesn't seem to accomplished anything between sacrifice. If anything, Gosling seems even more hemmed in at the end. Both Tree of Life and Drive seduce the viewer into an empathic relationship with the film's subjects without providing any transformation in contemporary views of gender and heroism. Of course, that's not an easy task. It's probably the hardest thing in the world to rethink archetypes, but that's also what good art does. It makes the impossible seem easy.  And, I'll be honest, I want to see new heroes, new paradigms, new shifts — there is a popular push for this reexamination in the air. Occupy movements are pressing against the organization of wealth and rogue  millionaires are storming congress asking for higher taxes (can you imagine?). We all know there will be no social security in our futures. We know that student debts are too high. It seems fair to assume that addressing these concerns properly requires we also reexamine the underlying social expectations that engendered our present system, open them up and give them new light. Why wait for a glory bream redemption if we can build its foundation now?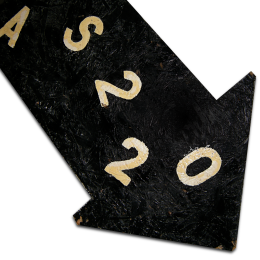 I never interviewed Founding Director Bert Crenca directly about AS220, so what follows is my recollection of a conversation we had, along with a description of the organization's structure. This is the final segment of what has been weekly series of interviews and essays about artist run spaces in Providence, each of which I've posted here on BadatSports. My particular interest in Providence — the purpose of my residency — was to study via conversation the relationship between the city's politics, it's social/historical geography and the respondent culture of artist community and action. You can access my collection of writing on the subject by going here.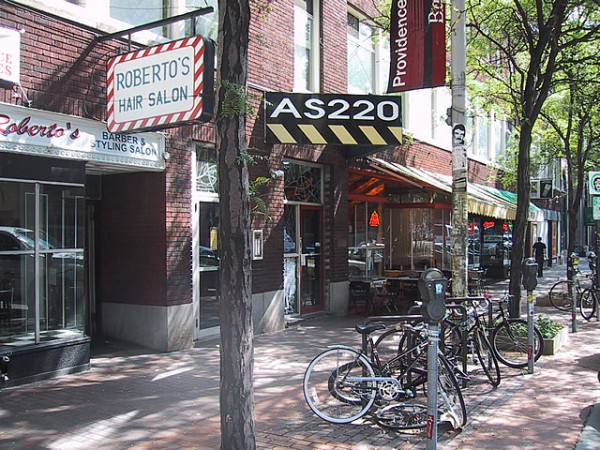 I visited AS220 for the month of July as an artist-in-residence. During my stay, I lived on the third floor of the Empire Street building (above), the first in a series of three buildings that AS220 owns. With each building positioned less than a five minute walk away from one another, AS220 takes up 100,000 square feet of downtown Providence real estate. Every space represents a project of historic restoration and, with its mixed use status, contains 3 restaurants, 3 bars, a locksmith, a photo lab, a robot lab, a print shop, a youth program (with every opportunity you could imagine from a separate dark room to a recording studio), 4 galleries, a performance space and live/work studios for artists. The operation is massive. It sustains an operating budget of 2.6 million dollars a year, with a staff of 50 employees. To begin to conceive how a non-profit arts organization can maintain such a privileged place in a downtown commercial hub is to begin to understand how AS220 has influenced not just the cultural climate of Providence but also the city's vision of itself as an artistic center.
AS220 is not simply an art space. It espouses a philosophical agenda as well. Every member of the administrative staff earns the same salary and health insurance; the minute you are hired for an administrative position, you get the same income as Founding Director, Bert Crenca, who's been at the helm of this ship for the last 25 years. If you live in one of the artist residency studios, you are expected to volunteer up to 5 hours of your time every week. Volunteering offsets your rent while ensuring everyone share in the responsibility of the space. AS220 is also doggedly unjuried and uncensored. It is a platform for work to be exhibited, not a space with a pre-determined aesthetic vision. Anyone can show here. If you are from Rhode Island you sign your name on a list and so long as you are willing to wait (at this stage the wait is three years long), you get to share your work with a public. The mixed-use aspect of the organization's structure is also part of its larger agenda: Crenca wanted to create an art space in a city that, 25 years ago, had more or less given up on itself.
AS220's origin story is contextualized by what was then a particularly bleak post-industrial setting. It has made a point to champion ART — both as a vehicle for individual expression and as a means to develop a visible local community (via the shared experience of artistic production) — in order to transform its depressed surroundings into a viable social opportunity for youths and old folks and everyone in between. To accomplish that goal, it was in everyone's best interest to create a space that facilitated community and discourse, not criticality. It had to promote an open place of nourishment, one that did not base its success on the whims of commercial art markets belonging to less intimate cities far afield. In other words, the focus had to be on a local level if it was ever going to improve local conditions. Of course the culture has a number of success stories: Shephard Fairy, for instance, and the constituents of Fort Thunder represent members of the Providence community who have had a tremendous impact on a national contemporary art dialogue. Yet also, there is a very concentrated local aesthetic, an often messy, sometimes Bacchic and excitedly peculiar scene. From my glancing view this seemed to manifest in costume parties, printed matter, a vested interest in education on all levels and the deep pleasure in idiosyncratic DIY culture, wherein high and low art (if those distinctions still exist) mix around in a big, impossible-to-parse soup of personality.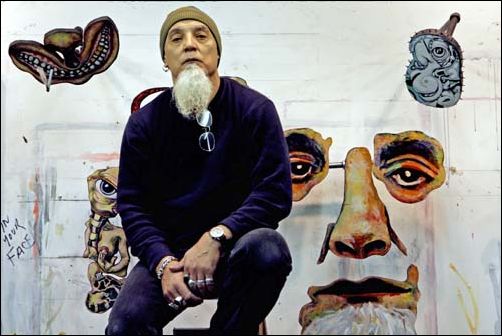 One evening in July, I happened to sit at the same table as Bert Crenca outside the AS220 restaurant. He told me he'd had to defend his non-juried agenda over and over again to board members. "They want to know how we ensure quality," he said. He grinned, obviously confident in his forthcoming punchline. "I told them 'We don't know. Nobody knows. But at least we ensure the possibility of quality.'" It is that confidence which is so contagious. He is a warm man and I had the distinct impression that he was used to talking to a wide of range of people. He is totally game for any kind of discourse. He can swear like a sailor, indulging dirty jokes as though to see where they land, and seeks out the different interests or capacities, whether philosophical, practical or biographical, in a conversation. Almost every night he was out, I saw him talk to different people at the space, people eating food or drinking or hanging out. Regardless the subject he was always engaged. No doubt it takes that kind of person to build a project from the ground up: someone affable, flexible and sure with conviction.
Just as he is proud of his artistic practice, Crenca is proud of his working class roots. Somehow the marriage of those personal interests have lead to his path as an arts administrator. The project began in 1985 when Crenca received a terrible review about his own work. As is the case with many DIY spaces, he responded through a positive action. He turned around and wrote a manifesto with peers Martha Dempster and Steven Emma. "We realize that no artist can survive and grow without the support of both his peers and the public regardless of the artist's unyielding belief in himself," they said. "We challenge the pervasive notion that complete, unbridled, uncensored freedom produces mediocrity and that excellence rises out of repression. It does not!," and then finally,  "Art has been removed from being an integral part of our society and has been relegated to mere processes which had lead to the production of dry, academic, pedantic, superficial, mechanical, and mass produced works of art devoid of all integrity, honesty, and meaning and has stripped art of its physical, psychological, moral, and spiritual impact necessary for the thriving and indeed the very survival of human culture. Art must be allowed to flourish unhampered because art is one of the last areas of culture where man defines his spiritual nature."
There is much more to the manifesto, but the vigor and vim underlying its message is clear — something still palpable in the various constituents of AS200 today. As an example, I remember meeting two floor mates for the first time in the kitchen. I think I was nervous and feeling like the new kid, I tried to make a joke with more swagger than I possessed at the time. "Oh!" I said, instead of introducing myself. "So this is where the cool kids hangout." Both joking and earnest, one of them replied, "There isn't anyone of us who is cool here, everyone is just good." In other words, open acceptance is in the water. And, indeed, everyone living at the space is creative. Many of them teach classes at the youth program one floor below. It's a utopic vision: here you can still be a painter. You can inhabit a structured bohemia, one still complimentary to capitalism. It is sustainable. It is user-friendly. I realized upon arrival that had I moved here after college, I would have embarked on an entirely different artistic experience. (Isn't it amazing when you discover the possibility of a parallel life?) Instead I moved to Chicago and had to answer questions about my own artistic approach: Why was I painting from photographs? What about my figure painting was different from or contributing to the canon of figure painting? And, even further: Why was I painting at all? Wasn't painting dead? How did my own practice recover Painting's Drowned and Beautiful Body from the river and bathe its corpse uniquely? (I'm thinking of Gabriel Garcia Marquez's story, The Handsomest Drowned Man In The World). Keep in mind, I feel especially grateful for the path I've come down thus far. I wouldn't trade it for the world, but gazing into the ecoculture of Providence, I stumbled upon the important realization that my artistic path thus far was not the only path. (It sounds obvious to say, but here : think about your own aesthetic positions and judgements, imagine conceiving another, auxiliary framework through which to engage with the world. Imagine, then, its ensuring consequence, some things difficult in the old regime will occur more easily, just as other things once simple encounter difficulty). Occupying the possibility of these two realities at once is like being a polyglot, to discover the shortcomings in one language while simultaneously appreciating its tremendously varied and peculiar (by contrast) vocabulary that opens up new worlds. For instance, I've heard the Inuit language has a huge index of nouns fitted to depict thousands upon thousands of kinds of snow.
From its original manifesto, AS220 was born with an $800 check that paid the first months rent of a shared loft apartment. 2nd floor space above the Rocket, a local nightclub on Richmond Street. AS220 eventually took over the third (top) floor, which became studio space). Originally it was an illegal, unheated, living space but because the city needed something and because Bert  possesses a convincing charisma, he was able to solicit the ever infamous mayor "Buddy" Cianci's help. "Cianci understood the potential of art and entertainment so he was open to suggestions." Which is how Crenca secured AS220's first space on Empire Street — a 22,000 sq foot property which, at the time was in great disrepair, surrounded by prostitution and drugs to such an extent that most locals avoided Empire Street altogether. Via whole sweat equity, constant fundraising and a countless number of events, AS220 provided a visible, above ground activity. Interestingly enough, a number of the original businesses that leased the space before AS220 bought the building remain. Crenca took them on as tenants and, in some cases, even helped rehab the business so that original tenants (for instance a locksmith, a barber shop and a gay bar) could move back in and carry on with updated working conditions.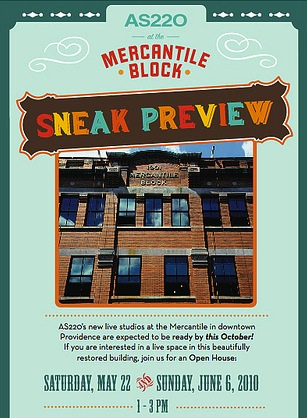 It's important to remember that projects like this aren't simply acts of social service, selflessness or charity. They are necessarily self-serving and there is a way in which each member of the AS220 crew is committed to the project because of how it fulfills (and I'm sure sometimes frustrates) their own ideals. Crenca will say he had to "create a place for his own survival," it just happens that identifying that need applied to a population larger than himself; his survival is contingent on the community he inhabits. As part of that testament, a handful of AS220 members put together a AS220StinkTank_Compost, How to Keep the Arts from Dying of Old Age in 2004, "You can grow things in a petri dish," they write, "but they need special care, and may not survive on their own. If you want to find something healthy, lively and strong, don't build a lab to grow it in; grow it in the dirt you make from your compost."
There seems to be a correspondence between the aforementioned dirt and a bed of pessimism. Despite the rampant idealism that oozes out of AS220, neither Bert nor anyone I met there is a Pollyanna. The Youth Program I mentioned is born from bleak prospects for young people and the more general difficulty of time's advance (how to keep AS220 forever renewed?). Apprehending a flanking darkness — perhaps even a larger sense of mortality — led the organization to establish a program for youth. Each kid enrolled (mostly teenagers from what I could see, they lolled about the stairwells from time to time, sometimes playing guitars, sometimes flirting with one another, sometimes grumpy and morose) makes a portfolio in whatever field they are interested in. They can use it towards job or college or professional applications. But as I said, this program is not charitable. It is essential. A frank realism regularly took hold most of my conversations over the summer and with Crenca in particular, I found we quickly went down rather dark passages — discussing the bleak potential of an abstract future that entertained global warming and economic crises. "Maybe that's what humanity is actually best at," he said. "Destroying itself."
"It's interesting to me that you would sound so resigned to the end of the world, but then at the same time you're putting all of your effort into this very idealistic organization," I said.
"You gotta do something," he shrugged. "You might as well."
"Yes, but you're not just doing something, you're specifically invested in the idea of a future because of the Youth Program," I said. "I'll be honest, I feel like obviously everything works well here, but I think that program is like the heart of this place. Because the kids aren't just taking classes, their education here is totally integrated into the whole organization. They are kind of brought up in community that reinforces and values all the stuff they learn, regardless of whether or not it's important in any other part of their lives. Here they're around a host of people already converted to the idea of art and expression."
"That's right," Bert nodded. "That's it, exactly. That's our insurance policy — the youth program. I mean, I'm getting old. Maybe I don't know what good art is. I might have lost touch a long time ago, but they're the ones that can carry this on. And you know it comes from my own background, I was a troubled kid. I had nowhere to go. We particularly want to serve people who don't have opportunities, and you know we've got 150 kids engaged a week. The youth program is our insurance policy." He cleared his throat. "As long as the base continues to swell, contrary to elitist notions around art."
"Well I have to imagine too, I mean even just me in my life, I think it's really hard to get outside of standard ideas of what one needs to feel OK—"
"Sure, sure. It's absurd. All that garbage on TV it really just makes you feel lousy. It's impossible to find places where you just feel good for being who you are. That's what I'm trying to do here, with these kids, with everyone. You got to build something that's independent of all that other stuff."
"But then that's the thing, that's like this big irony," I shook my head and probably guffed a little. "I mean it's like culture is kind of just fucked, and you know that, but then here you are trying to promote culture. To facilitate it."
"You have to. It's not fucked here."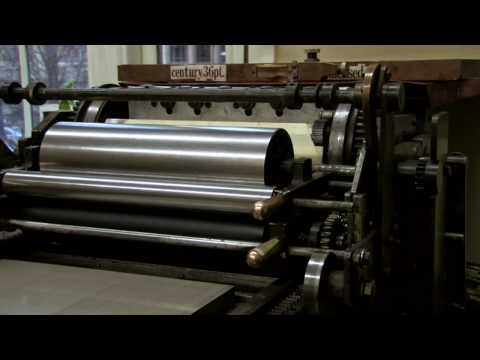 During the last week of my time in Providence, I came across another arts organization called The Steel Yard. It is what it sounds like — an old industrial complex that has been taken over by an arts organization. In keeping with the land's original tradition, The Steel Yard offers ceramics and metalworking classes that among others include welding, blacksmithing and jewelry making. As part of their annual fundraising, they host a yearly Iron Chef competition and an Iron Pour which (as you can imagine/see from above) involves a lot of flying sparks in the dark. (At such times — even looking at the video — I catch for a moment the wild Romance of light, its seeming mysticism, glowering in the dark. Imagine what it must have been like before the age of electricity!) The Steel Yard converted this all but abandoned property into a vibrant teaching ground for metalurgy — what stands out in my mind as another instance of Providence's intriguing utilitarian edge. While it's participants and administrators are focused on building a community in the present, they utilize the resources of an industrial, American past. I had a chance to ask Executive Director, Drake Patten, about the organization.