"A question of repetition: a spectre is always a revenant. One cannot control its comings and goings because it begins by coming back" (Derrida, Spectres of Marx).
What follows is a longer correspondence that began as a casual conversation at the Hyde Park Art Center. After talking for a bit, I emailed Anthony Elms, "Can I interview you about ghosts?" That was several months ago and ever since, we've been emailing back and forth at various interim. Why might I want to ask about ghosts? How does that pertain to a website about contemporary art? Partly, my interest stems from a Q&A I witnessed not too long ago. The conversation centered on the ghost of Hamlet's father. Consensus assumed the ghost a literary device on Shakespeare's part. "What if the ghost is real?" someone asked. Blank stares darted around the room. There was an almost impalpable twinge of embarrassment mixed with misunderstanding, "Of course the ghost is only a metaphor," silence seemed to imply, "ghosts aren't real." And the conversation went on to other things.
I got stuck on this notion; what did it mean to say the ghost isn't real? There is no reason to think the ghost any less real than Hamlet; both characters share the same frame of reference for the audience. And then I began to wonder what it might mean for any ghost to be real. I started reading Derrida's Spectres of Marx, which is when I encountered Anthony Elms. "I love that book," he said. "I've only just started it," I said. "Do you think ghosts are real?"
Anthony Elms is an artist, a curator, a writer and an editor of the wondrous press, White Walls, where he has curated a number of projects. His writings have appeared in Afterall, Art Asia Pacific, Art Papers, Artforum, Artforum.com, Cakewalk, May Revue, Modern Painters, New Art Examiner, and Time Out Chicago, but his accomplishments resist a concise sentence. For this and so many reasons, he seemed an especially good person to talk to. I have included the extent of our virtual conversation below. We talk about ghosts for their own sake, try to devise their locations and energetic habits while linking them (perhaps to Elms' chagrin) to artistic experience.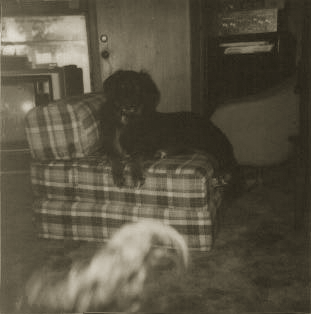 Caroline Picard:Â When did your awareness of ghosts begin?
Anthony Elms:Â I cannot actually remember a time when I was not aware of ghosts. Some of the earliest encounters I can think of are in Looney Tunes and Scooby-Doo, Where Are You!, not surprisingly, and elaborate costumes my mother would make for Halloween.
CP:Â How did that process take place?
AE:Â I really don't know. I did not grow up in a superstitious family. So it isn't that there was an environment of believers. That said, when I was growing up we lived in a series of large houses that were empty a lot of the time, and I would often be left to myself, and I never felt alone. A friend in high school really believed in ghosts, and he lived in a house said to be haunted by many. I never saw anything there. Others did. In undergraduate I lived in a place where I was always seeing things. I was never sure. I have had moments over the years where I feel watched by the dead.
CP:Â  How would you describe them?
AE:Â How would I describe ghosts, you mean?
As a presence that troubles, follows, affects, desires, drives and disturbs.
CP:Â Do you feel like particular cities have more ghosts than others?
AE:Â Without doubt. Some cities belong to ghosts more than to the people who live there.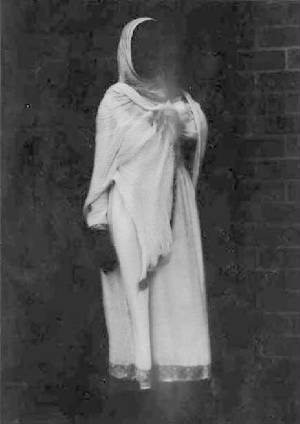 CP: One of the things I've been thinking about lately is what happens when artists incorporate ideas about magic, or shamanism or spiritualism into their work. I think it's interesting because, for me anyway, employing signs of magic for a public performance undermines the potency of those same signs. The performance of a ritual undoes my sense of the uncanny–I saw a performance a few years ago where an artist built an alter, lit candles and danced around the alter in a fashion; we watched as a large group of (maybe) 25 people; to me it felt like a pantomime of magic, or a parody, because there was nothing frightening or particularly unfamiliar in what she was doing. We were invited to witness. I thought about how different my experience would have been had I happened upon her—without permission; the context would have been destabilized, I think, and uncertain. This is a long winded way to ask whether there isn't something similar that happens with ghosts; i.e. something feels paranormal if it is unexpected, unpredictable, irrational—it would be impossible (or would it? ) to create a seance as an art piece…here too I think about the conversation you and I had about AA Bronson's Invocation of the Queer Spirits: what was essentially a private gathering. The resulting ephemera is the art, not the seance itself. Is this simply a distinction between what is public and what is private? And how does this relate to the way our imagination (vs. direct experience) relates to signs?
AE: As you know Caroline, it has taken me almost a month to respond to you questions. Most unhelpful to getting this conversation on track for a proper back-and-forth. You were calling out to no response. No pun intended. In part because the questions and thoughts are difficult ones. And, I'll be honest, in part because of the turn of the
conversation, of trying to think about ghosts in the context of art. I wasn't particularly excited about trying to frame my thoughts relative to art–for me ghosts are so much larger and more interesting than their relation to aesthetics–but in time I found my way and made peace. It happened rereading filmmaker Raul Ruiz's Poetics of Cinema. In the chapter "Mystery and Ministry" Ruiz sums up Western Civilization as basically a war between the two. He writes:
"Ministry's police repression favors (if not actually creates) the subversive function of Mystery; and in the very heat of battle, its hierarchical orders command the publication of Mystery's secrets, and therefore its conversion to Ministry. All this has happened many times. Ministry gains in secrets–which, for it, is a way of losing; while Mystery, whose substance consists only of shadows, cannot help but vanish as it comes forth into the light–therefore it loses as well. These circles could have gone on spinning indefinitely, if in this century the very nature of Mystery had not begun to change. Instead of discretion it now prefers public exhibition, and indeed it never risks even that without clarifying everything beforehand; there is no longer a shadow zone where the mysterious players can marshall their forces and practice their moves. We call this phenomenon a ministerialization of Mystery: its immediate consequence is to affect the nature of Ministers, who themselves become increasingly mysterious." (p.102)
So first, I will get ahead of myself and answer that, yes, a seance can and should be art. Now, I did not see the piece you mention and neither want to give it validation or critique. We are stuck with the good, the bad and the ugly. However, it is important to always stand in potential, and with respect. One of my favorite moments ever witnessed was a lecture by artist/composer Carl Michael von Hausswolff. He talked about a work made in collaboration with Andrew McKenzie of The Hafler Trio, Dale Travous and Annie Sprinkle. They combined, in different locations but synchronized in time, attempting to marshall technological, magical and sexual energies to rid Iceland of NATO. At the end of the gathering of forces the airbase was still there. However, during the time of their exorcism, a volcano erupted in the Philippines, smothering a U.S. airbase with ash, closing the base. Hausswolff explained that their focus was right, but obviously their aim imprecise.  A student incredulously challenged, "Are you serious?" Hausswolff responded: "Sure. What is to be gained if I'm not serious?" Case closed.
Back to the Ruiz. His assessment is correct: "there is no longer a shadow zone where the mysterious players can marshall their forces and practice their moves." And still mystery does exist. Lurking in the daylight. Art is one such realm. The space of art, much like the screen of a moving image or the stage of a musical performance is a zone where we don't just allow ourselves to encounter the unknown, we ready ourselves for a connection with the unknown. And this sometimes happens in the classroom too. You can sit there with all your administrative powers: attendance requirements, assigned readings,schedule, lecture notes, project assignments, and still you can never predict what will be summoned when all the individuals come to the table. And in fact it is those very structures and borders that set
the place for the unknown–good and bad–that does happen. It is the platform from which risk jumps. And to follow Ruiz's playful implication, anyone who has tried to get anything done that involved a large bureaucracy (the post office, a university administration, a city government all come to immediate mind) has witnessed under fluorescent light just how mysterious things can seem when everything is presented before you in plain 12 point type.
By the way: I love to swim, run. I enjoy yoga and have an unhealthy attachment to a rowing machine. What all these share in common is rote activity: repetition and pattern. The actions don't surprise me, I know what I am doing, for how long and where my actions are leading me. But in these moments I usually find my mind explodes, struck by
something I had either overlooked, or had not even recognized as a possibility. Or the unpredictable flow/feel of a limb, it has moved that way a thousand times and yet now it has discovered something in that movement it was never attentive to before. Or this does not happen. And of course this doesn't happen when I watch someone else swim, run, yoga, row. But maybe if someone shared with me the unknowing experience of their swim, run, yoga, row I could get there. Let me witness for a moment the behaviors by which matter changes for this other person. It is too easy to confuse facts for spaces of engagement in art: large amplifiers = heavy metal, or in your example, building an alter and lighting candles = spiritual evocation. Still, be generous. We would never say of a book that the cover ruins our surprise of the contents because it's sturdiness is a parody of a story's beginning and end, we are likely to talk about bad cover
design and poorly told stories. A crucial element of your listed troubles, and where the art seance chooses a path: unpredictable or parody, is related by art critic Jan Verwoert in "Under the Sign and In the Spirit of a Stoa: On the Work of Cerith Wyn Evans," republished in his collection Tell Me What You Want, What You Really Really Want.
A passage, funny enough, that segues quite nicely from Ruiz's administered mysteries.
"Besides, you never know with spirits. There is no guarantee that they'll come when called. They appear when they want to. So seances are a tricky technique for dealing with creatures from the past. Citations, conversely, are more controlling; the one who cites takes possession of what is cited. Things work differently in a seance. With spirits you must negotiate. And if you lose the upper hand in this process you might end up being the one possessed. Power relations are not predetermined; they are subject to negotiation. In contrast to the act of citation, the ceremony of convocation remains perilously performative and open ended. It cannot coerce a community (among and with spirits) to come into being." (p.213)
Perhaps the student lost sight of convocation and ended up in citation. Ghost hunter Michael Esposito once remarked, "we like recordings more than we like to listen." Or maybe the spirits were having a laugh at the student's expense that day. For spirits to survive, it is imperative to support Hausswolff and his request, "What is to be gained if I'm not serious." Which does not promise success at every attempt. If Hausswolff didn't help the wrong volcano to erupt,
what kind of a world do we live in? No world I'll come home to.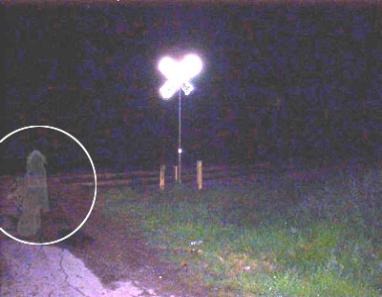 CP:  That makes me think about how you were talking about large populations of missing people; maybe like the large population of homeless people who disappeared from New York a few years ago when Juliani was cleaning up the town. Or, even, those undocumented workers who worked in the Twin Towers and disappeared after September 11th. I remember you'd mentioned another situation in South America, I think, where there was a large population of missing people. The shadow of those people is ghostly because their absence is palpable. In these instances, though, their absence seems to result from socio-political mores or laws. It's interesting to think that ghosts come about because they are incompatible with existing, dominant structures. 
AE: I referenced a chapter from Ghostly Matters: Haunting and the Sociological Imagination, by Avery F. Gordon about the disappeared in Argentina. Thousands were imprisoned, tortured and killed by the dictatorship. Obviously people are dead. The government for a majority of cases never admitted to imprisoning the individuals, and never
issued death certificates. So yes, people basically vanished, preserved in an unresolved gap. A question with no sounded answer. The absence is palpable because a clean label cannot be applied: living, dead, employed, institutionalized, etc., and the desire we feel for a name, a descriptive, is left wanting. French philosopher Jean-Luc
Nancy, in  Being Singular Plural, shares "willing (or desire) is not a thinking; it is a disturbance, an echo, a reverberating shock." It is not trivializing the disappeared to say they were incompatible to the existing dominant structures. That is why they were disappeared. And now the reverberating shock has no perimeters to catch and stop the waves."
I should resist, but I will now risk gross trivialization to somehow thread the loose threads of our exchange together by drawing an artistic analogy to the felt missing out there. Again, Verwoert, but this time from his essay "You Make Me Feel Mighty Real: On the Risk of Bearing Witness and the Art of Affective Labour" from the same collection mentioned above.
"Except perhaps whistle a tune, like people do when they walk alone at night. It's a strange habit. You whistle to chase away the thought that someone or something else might be out there with you. But for whom would you be intoning the tune if not for them, whoever or whatever they may be? Whistling in the dark is a way of relating to something out there like it was both there and not there. It is therefore a most suitable way of relating to ghosts; as the embodiment of the unavowed, ghosts are what they are because they are there and not there. Good art and thinking is always a bit like a tune whistled in a manner that echoes the possible presence of something or someone out there." (p.292)
This, ultimately, I am not sure why, reminds me: I think timing  and a tune is the key to ghosts.
CP: You told me once about how, while renovating your house, you found several pairs of men's woolen pants wedged between panels of dry wall. I think you said the pants were probably from WWII. Do you feel like physical artifacts like that create a ghostly experience? And, if so, is it because the artifact is a tangible record of a preceding, unobtainable action? Like the pants are a sign of a previous presence/activity, without revealing anything beyond that? I'm trying to locate the cause of, say, hair bristling on your arms when encountering a past. How much of it is the result of an empathic imagination? How much of it is about the physical objects themselves? Is it possible to make a distinction? (And if not, then doesn't that lead to interesting philosophical ideas about where one's self begins and ends? i.e. bodies would be more porous as the imagination (if that's the right way to think about it) participates with them.)
AE: Underneath the plaster and lathe of the walls were denim jeans. Obviously used as a cheap readily available insulation. So many jeans. My friend Matt and I jumped when the jeans came for us, clinging to our crowbars. Please do not feel embarrassed by my calling you out for wrong details, we need to keep this going… misremembering is key to
the sense of missed time that unleashes ghosts.
Anyway, to answer if it is empathic imagination or something intrinsic to the objects, the answer is both and neither, pending. Let's be distinct. Some objects hold my empathetic imagination: a somewhat useless antique chair that pressed uncomfortably into my stomach in the back seat of an economy car on a ride back from Washington D.C. in
the 70s,  a vase I bought my mother for a Christmas gift once and now sadly own, a painted portrait my father made of me when I was about four. These objects contain my attention, my care, my devotion and my love. They do not hold any ghosts. There are objects that seem haunted, my CD player that randomly turns off on its own accord, the VCR player that at times has a display light and at times does not. These objects raise my ire. They do not hold ghosts. And the others: a photograph I cannot imagine discarding, because I know some bad will befall me if so, the novel that for some reason radiates love from the shelf whenever my eye catches the spine, that album that exorcises the bad demons from any untoward moment, the Christmas ornament–owned less than 24 hours–that fell and broke and elicited instant tears, the ottoman I never wanted to see again. These objects hold ghosts.
Can I prove any of the above? Absolutely not. This does not make the above nonsense. This is precisely why we need to give these types of objects and responses more attention. And resist received wisdom. And I also wonder why we should require that our empathic imagination cannot be something intrinsic to the object? Verwoert appears here
again, and once again from his text on Cerith Wyn Evans, an artist who often references past texts and histories in his art, or arranges situations that call back to and bring forth past histories–Lettrists, Georges Bataille, W. S. Burroughs, Brion Gysin–often without a clear reason for the recall. But they are not puzzles for decoding.
"The mode in which Wyn Evans relates to Lettrist principle is thus not so much a form of reference but of reverence. Instead of displaying knowledge, he invests passion in the invocation of a spirit. He communicates the fascination inherent to a certain manner of freely engaging with cinema and literature…. What counts is spiritual affinity. It is through a gesture of reverence, therefore, that Wyn Evans creates proximity between characters and evokes the spirit of their collective subjectivity." (p.208)
Perhaps, when our empathic imagination rests on an object with which it shares a spiritual affinity, we see the ghosts?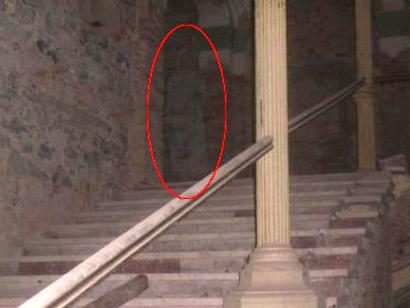 CP: Maybe too, where is the power of these art experiences located? In some way, I feel like artistic experiences are trying to achieve those moments of bristling arms. Do you think it's fair to think about it that way?
AE: An artistic experience that does not bristle your arms, or at least shut off your self-assured all-knowing voice is not worth having. Simply put. In fact, maybe an artistic experience that does not put you in touch with some form of spirit is not an artistic experience. And all this is possible in a photocopied booklet, paint and canvas, a snapshot, 16 mm film, tape and cardboard, store-bought product, graphite, a rock. You name it. I must appeal for the eternal return of
Verwoert, to quote him again from his essay "You Make Me Feel Mighty Real: On the Risk of Bearing Witness and the Art of Affective Labour":
"Spiritual as they are, if all spirits were exorcised, then art, writing, love and friendship would equally cease to exist. As artists, writers, lovers and friends, we are therefore not afraid of ghosts. On the contrary. Our biggest fear may be no ghosts. Without ghosts to converse with, we would have nothing to do and no right to be. But since we cannot scientifically prove their existence, our vocation to write, make art or love and be loyal friends will always remain questionable. …

Still, there is evidence that sometimes magic tricks work, spells are broken, curses lifted, and the load of unresolved emotions prevented from being passed on, when the load is cast out from the body, not onto another person, but openly transferred onto objects, pictures, gestures or words, to be arrested by and in them, not so that the load can be cast away and forgotten, no, on the contrary, so that the pain and joy it contains can be avowed and owned, together, by artist and viewer, writer and reader, temporarily sharing an experience, and freely avowing it, like lovers might." (p.270)
CP: In thinking about how to differentiate objects impregnated (is the right word? It feels like quite a funny word to use, but maybe it is, actually, appropriate) with ghosts versus those that are not, I wonder about how objects might accumulate potency separate from their function. It makes sense with personal affects and I appreciate the distinctions you make between precious objects vs. haunted objects. It reminds me of a remark an old roommate made about our apartment which was filled with items belonging to my parents. Off-handedly she said something about our household gods and when I asked what she meant she gestured to all the peculiar (and largely useless) artifacts from my family life, as though the nexus of their coordinates described the absence of my parents. In another instance, I imagine what it must have been like to stumble into Darger's room just after he passed away. I imagine the Vivianne Girls, who were not even connected to reality (except for the thread of Darger's attention) would have felt equally present, lingering in the air. Perhaps ghosts are stronger when they have many things to inhabit…
AE: Impregnated does indeed seem a very funny choice. Imbued? Go back to that comment "We like recordings more than we like to listen." I think we are–most of us–pretty bad at paying attention to the notions that we feel but don't know why. Rarely do we stop to think and interrogate these moments. Not interrogate to kill them, or rationalize them into an easy understanding, but to try to sharpen our ability to recognize things like love, avoidance, unease, or even that we are not by ourselves in the room. Perhaps having many objects around a room is kind of like billboards on the highway for our lazy intuition to catch wind of the changes in the breeze.
CP: How would you characterize that process? So often I associate interrogation with an active, rational mind, it's hard to think of an alternative.
AE: I don't think it possible to prescribe a process for the interrogation, because obviously there will be any number of methods for any number of types of moments. Being active and being attentive are both crucial to the process. Obviously a level of rationalizing and discernment is crucial to taking an experience apart in reflection. Or in being critical in the moment.
As far as the rational… I think it is important to look closely at the cracks in any structure. To also look at the sweeping large-scale shapes and drives and to be prepared to be surprised, to not know, to have an experience and be accepting of something that exceeds your current understanding. So in looking to learn from an experience, particularly of ghosts or haunting, do not work to explain away the unjustified remainders, the parts that do not quite add up, the details that seem unreal. Possibly treat these details as suspect, not as meaningless or impossible or silly. Use attentiveness to accept something beyond what you expect can or should happen and that may be even absurd. Nod. "Yes, this is a place I haven't been before and I do not know how I got here." Accept that your own limits are far below those the world routinely offers. Be open. The desire to understand can be a disturbance that creates the experience that is needed, particularly if the desire goes unfulfilled completely.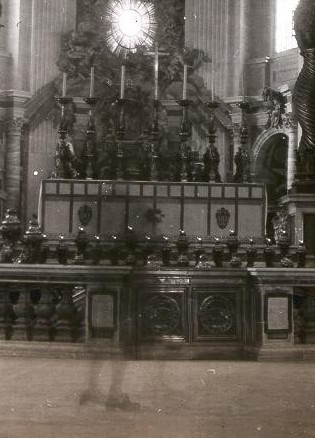 CP:  Personal objects seem more likely to feel haunted. I wonder about something like a Ouija Board as an alternative: a supposed portal into other realms that strikes me for its democratic disposition. Anyone can use it. It is comprised of the cheapest materials, plastic and cardboard.
It's possible that my first aesthetic experience (i.e. a moment in which the nape of my neck turned cold / I quelled with an undefinable sense of possibility and fear / I experienced a sense of illicitness among peers of whom I was at once skeptical and thrilled by) came from one of these game boards. Do you think that common or shared mythologies create these instances? Or are some objects simply born imbued with a curious energy?
AE: Oof, I need to say I am always suspicious when objects are described as having "democratic disposition", particularly when being held in opposition to items that somehow lack "democratic disposition." The frames need to be drawn very tight for that distinction to matter in a meaningful manner that is not glib or carefree. To the topic at hand:
Yes, I too had interactions with Ouija boards…I suppose many American kids did, particularly when they became mass produced by a gaming company and available at almost any toy store. To this day I'm not sure what happened in those times spent with the Ouija board: did one of the people at the table manipulate the direction? Did we conveniently together somehow agree what answers should come our way? Or did the spirits appear. I don't really care what caused the experience, I'm more interested in the fact that an experience happened. And I think it important to recognize something happened in a place with the intention to contact something beyond the assembled
group, even if some hood-winkery enters the frame. I do not doubt that some objects do indeed carry curious energy. But I think the importance of thinking with ghosts or spirits is not just to treat them as real, but to treat the spaces where the unexpected happens seriously and to not try and explain away the particular, beyond clean explanation experience.
In this light, I myself am not interested in seeking an answering, or even asking questions such as, "Do you think that common or shared mythologies create these instances?" I'd rather ask, "What common space did you share at that moment?" "What conflicting desires were in the people around that table, and how did these mix?" "What did you
reach for–mentally, emotionally, physically–to help ground you when the experience moved beyond expectations?" "How does the preparation for an experience focus the senses?" "What cannot be focused in such a situation?" Any question that looks at the space created in the action, rather than asking a sort of causal sociology.
CP:Â Do you think ghosts require a history?
AE: Of course, but we need not be able to recognize that history. Or even recognize it as a history.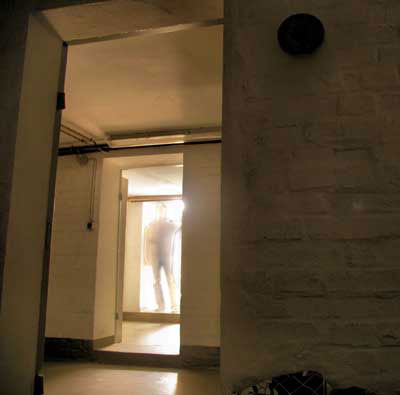 CP:  I'm not sure I understand how that works. If we are taking about a spirited absence (a missing-ness) there is already something interesting, I think, in the idea that the absence is positive. It has a presence. By suggesting that we don't necessarily need to apprehend the histories that an absence might be attached to, then wouldn't that make the absence absolutely active, rather than subjectively so? In other words, we could 'feel' the presence of a the missing people in Argentina without knowing anything about the dictatorship they were erased by.
AE: There could be an absence or there could also be too much presence. Something extra. Either way, there are many writers who would answer this question much better, Maurice Blanchot, Jacques Derrida and Jean-Luc Nancy all come to mind, and all at times attended themselves to notions of otherness and how to be with another and the other.
Let's somewhat glibly gloss thoughts from these three, it is important to let the other be other, to not try to append our definitions and rules to the other. To recognize the sovereignty of the other's position and begin to negotiate rather than to assimilate or absorb. This doesn't mean to give up the ability to react, respond, disagree, judge or confront that other, but to recognize it as a distinct presence (or absence) that may not play to our ways of being.
The importance of the issue of ghosts, haunting, and many of the points touched on is also that there is no way out of a subjective experience of activity. I cannot prove feeling of love or sadness or fear or boredom in any way that would make the histories for those feelings concrete or embedded in objects in a way that you would necessarily have to experience the feelings in the same manner. Still you might be able to sense, in a moment, that my relationship to an
object is based in some relationship that you do not share or understand. You might even sense that an object sits in a way that doesn't quite seem in line with the way the other objects around are sitting. There's just something off…
To wildly misuse a quote, British artist Victor Burgin in his essay "Perverse Space" writes, "There is no objectification without identification." Closeness and detachment require each other. And when feeling one we should not pretend the other is not lurking. To not recognize is to identify a difference and understand something is not of your kind. And this lack of recognition does not prevent, to use Verwoert's wonderful phrase again, "temporarily sharing an experience, and freely avowing it, like lovers might."
CP:Â Does anything else come to mind for you? Something we haven't covered? In much of this I have been steering (a little wildly) towards answers, but I also can't help feeling like I might not be asking the right questions. Not that I'm dissatisfied with your answers (on the contrary) but I still feel like I'm grasping at sand, something elusive and vanishing. Is there something I am missing in all this? Have you ever tried to hunt a ghost?
AE: Oh come now… I don't think you've asked the wrong questions. I think we have covered a lot it seems, and without reading back through anything I can't think off the top of my head.
I have tried to hunt a ghost. 3 or so times. Never success. I find them best when I'm not looking.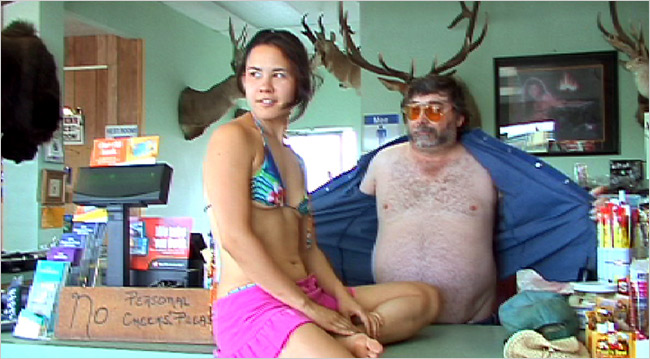 At 23, I sat on a beach with my brother, eight years older than me, and confessed to identify with women. Embedded in my confession was an indelible anxiety about what that meant—something I had always rejected. I don't know why it's the case, or where it came from but as early as I can remember I wanted to be a boy, rejecting the signifiers of femininity with a ruthless vehemence that vexed my mother to no end. (I remember, for instance, her asking with special timidity, whether I felt she was somehow too weak a role model for me; assuming, I suppose, that my fierce (and impossible) attempts at male-identification stemmed from a desire to be more like my father). Fortunately or unfortunately I didn't have an answer, though I do appreciate the tenderness with which she broached the subject—what I seemed to indicate her own conflict between trying to encourage and support the child-ego in me while wrestling with her own gender expectations. At the time I think I was perplexed by her question and (probably) slightly annoyed. I expect I was certain my individuality had nothing to do with her.
While I've yet to unpack the perceptions of femininity in my family (both immediate and extended) I have considered the female alternatives in child cartoons: I would always prefer to be a smurf than I a smurfette; I would rather be Popeye or a Brutus than an Olive Oil. Bat Man (or Robin, for whom I had a particular affinity) were far more intriguing to me than the Betty Boops or Barbies; I desired an experience of peril and achievement that was not contingent on negotiating a gendered body. I wanted to conceive the surmountable danger so prevalent in boyish narratives,within which the female protagonists were generally rare (i.e. one female within a cast of many differentiated males) and symbolic: female characters indicated a feminine force—what generally always had to address, in some way, their physical properties (whether the weakness of Olive Oil, the prettiness of Smurfette, the sexiness of Cat Woman). And then I ended up on a beach talking to my brother about gender at an age when I should have been fully sorted out. He repeated a dating metaphor his friend used, where women were gazelles and men lions. My habit would have led me to laugh, but suddenly I identified not with the lion but with the gazelle. I don't think either of us were equipped for the conversation at this time, but we did our best and thereafter I muddled through a new experience of the world. Of course there are probably countless women who enjoy the ritualized traditions of gender (these women always appear to me as idealized figments, perfectly manicured, elegant and slim with polite breasts and expensive taste) but I am not one of them. Furthermore I'm sure their meat-and-bones manifestations are more complex than I give credit in day dreams. Nevertheless I have begun to appreciate the way an albeit emotional response to banal images of half-naked woman wheat pasted on various surfaces of culture has challenged me to face and hopefully trouble the still and ever-present cultural representation of women, something I adeptly avoided when I didn't identify with them. I want to think about what those images mean, what they signify and where I stand/am supposed to stand in relation to them.
Which is why I so deeply enjoyed Laurel Nakadate's show, "Only the Lonely" at PS1. It closes this next Monday, on the 8th of August. I went to see the show about a month ago while visiting friends in New York. I had read about her work before hand; I had read about how she vies to be the center of attention to such an extent that she makes a parody of those attention-seeking impulse so easily exercised (and thus pervasive) in our times. I had read that her work platforms a much overlooked demographic—the middle-aged, single, shlubby, presumably lonely male, a figure marginalized in society and media alike. The punch of Nakadate's photographic persona is entirely reliant on the context provided by her male counterparts. It is their gaze we end up muddling around in an attempt to study her form. I had read about how her work involved a kind of self-exploitation, where she enacted the pinup, or reenacted the dance steps of Brittany Speers' Oops I did it again. To be honest, before going to the show, I braced myself. I thought, yes, this might make me faint in an hysterical swoon. After all, Knocked Up made me cry. I'm still terrified of the third book in 2666 (though I'm working up the courage, 300 pages of female murder sounds devastating) and I never saw Sex in the City because I felt sure I would leave the theater wanting to punch someone (the image of Kim Cattral riding a camel in the midst of our vexing Middle East presence seemed a dubious enough tip).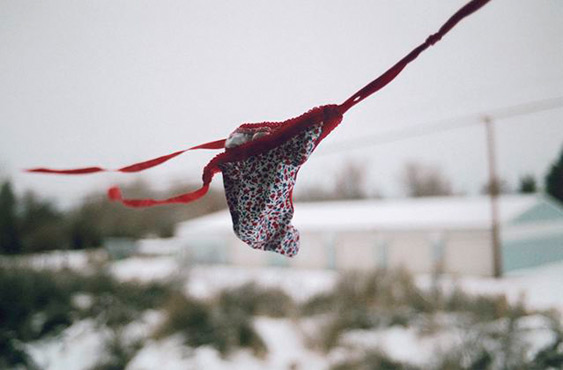 The last thing I expected when I walked into PS1 was to start laughing—that's what happened, though. I started laughing. Nakadate does create an uncomfortable space, because she is directly facing and then recreating the subject of male desire, but accompanying that muscular subject-tackle is an attention to humor. She reenacts slap stick death scenes by herself in an American landscape, putting a plastic gun to her lips and then spewing fake blood. She bares her chest to an empty landscape. Pretends to hang herself, badly–these motions are shlocky and amusing for their poor execution. They feel badly scripted, like one enacting a fantasy. In another series, Trouble Ahead Trouble (2006) Behind, she photographs different pairs of underwear just before releasing them outside a train window. The underwear itself, while handsome and nicely framed, conjures our curious affection for lingerie and all its ornamentation. Removed from the body, it hangs like a flag of passing fancy. In her video Love Hotel, she parodies sexual acts without a partner, still clothed (albeit ridiculously in fetishistic sports socks and all pink cotton panties) we watch her body writhe to the point of absurdity before repositioning from an all-fours jiggle to a partially upright stance with her hands against the wall. In this second pose, again, she appears to be humped by a ghost. It's comical because sex is comical. People look weird having sex outside the stylized lens of pornography and they look especially weird if they are alone, gyrating. She capitalizes on the signifiers of lust—those fetishized (and kind of creepy) knickers and bows so familiar in call-girl advertisements where 30 year-olds (you hope) dress like they're 16. Part of what enables the humor (and probably its inextricable companion, discomfort) is her lack of judgement. She embodies and performs with unapologetic commitment, leaving her audience to question its gaze.
Listed in the materials of Oops I did it again (2000) is the infamous Hello Kitty Boom Box (what also and always seems to be mentioned when anyone talks or writes about this piece) and while its presence immediately lightens the mood, it is further softened by the movements of  her companions who try with relative effectiveness to contribute to Nakadate's choreography. After being asked for a phone number, she asks to go to the man's house if he will let her take pictures. Upon arrival she sets up the boombox and the camera. She plays the Brittany Speers song and encourages the men to dance with her while she performs, verbatim, Speers' dance moves. Her partners are endearingly funny, not in a "look at those losers" kind of way, but in an empathetic way. (Jesus, if I had to dance with someone to that song, especially if they seemed to know what they were doing, and especially if we were alone in my kitchen, I don't know what I would do). For me, that empathy increased exponentially as I continued through the exhibit. I wasn't just empathizing with the projected loneliness of these characters (which I'm sure played a part) I was also empathizing with Nakadate's bravery, to create a relationship within a dynamic traditionally considered threatening to women at large (i.e., don't talk to the weirdo, he might do something–probably he looks at weird porn in the sad house he never leaves, and yes, maybe he wants to stick a hot rod up your girl-butt). Nakadate engages these men, demanding something performative of them, while also asking they clarify their participation in her performance. One of my favorite pieces in the show, Lucky Tiger (2008), features a collection of self-portraits where she has posed in a traditional pinup style: she sits atop a horse, barefooted in a cowboy hat and panties, navel undressed in a short cropped t-shirt. In another she has her back to the audience, her head partially turned over her shoulder, looking coy in cowboy boots. The photos are covered in fingerprints, fingerprints left behind by men who have examined them with her (she had them cover their fingers in ink). Accompanying these photos is an audio track where you hear her companions reviewing the image, "This is a nice one here," says a man. "Why?" Nakadate asks. Her companion responds, "You can see your diaphragm peeking out just there between your legs; that's nice." His voice is calm and reasoned: they are discussing the formal expectations required of such imagery. By documenting the conversation, Nakadate requires her companions to be both accountable to her, in the way he they assess her person as represented in the photograph, and accountable to an unknown public. And of course, what is most upsetting is to hear experience the reality of these evaluations–an extreme instance which, I would argue, takes place all the time everywhere to a lesser degree.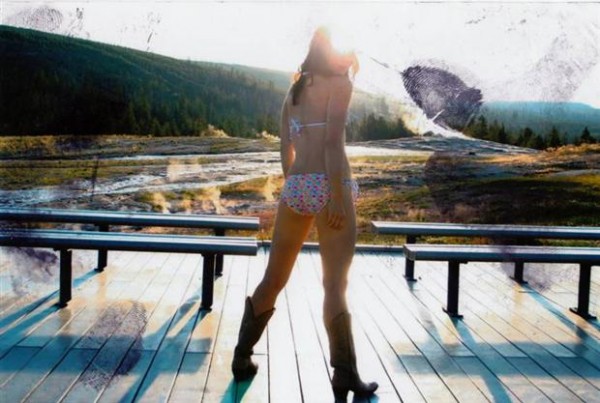 Consistently in her work, there is a back-and-forth dance of power. At first she appears exploited, then exploiting. In Lessons 1-10 (2001) Nakadate poses on a table, half dressed. A man sitting behind her looks up, concentratedly. He has a pencil in his hand and holds it over piece of paper. At first I imagined a young woman going to man's house after seeing an ad on Craigslist for life drawing models. I imagined her arriving to this house and felt a shadow of lonely perversity, as I doubted the credentials of his life drawing appetite. Then, I recognized Nakadate as the author of the shot; she has facilitated and documented this scenario. Perhaps she is the one exploiting, using her body as a kind of red herring to distract and illustrate the man in the room. Even then, though, the man has agreed to be in the room which calls forth a shadow of loneliness once more. One minute she seems in total control, the next you realize she is all alone in a stranger's house. One moment the men seem predatorial, the next devastatingly pathetic.
Add to this a last essential detail: I kept returning to an experience of mutual enjoyment between Nakadate and her subjects. This too facilitates humor, softening the brutal dynamics she exposes. She asks a man to lie down on a bed while she, as the eye of the camera, performs an excorcism. The bedding is sad, messy, unmade–the shelves around the bed are adhoc, containing disheveled books. Still, the man lying in this vignette is playful, repeating after her clunky, childish phrases to imaginary ghosts, "I do not want you in me. Stay away from me." The element of play allows a real relationship, despite its center around subject of sexual tension. Here too, I was supremely aware of my position as a voyeur—someone not privy to the specific interior dynamics of the relationship, an element of mystery that contributes to the work's success. "It's all about self-consciousness, really, in both senses of the word—being self-aware and being ill at ease. You watch Nakadate—and you watch her watching herself, because she often indulges in the tic of breaking character and looking at the camera as if checking herself in a mirror. Or you watch someone watching Nakadate, and then you watch yourself watching someone watch her as she watches herself—and all those different viewpoints start to blur together. This mise-en-abyme might make you want to be more alert about understanding what's going on, in the work and in yourself" (Barry Scwabsky, The Nation). We, the onlooker, can only judge based on our understanding of the signs as they are portrayed, the very signs which are being exhumed and challenged. Because she often works with the same subjects on different projects, we must assume experience is enjoyable for them, yet we cannot identify the precise nature of that enjoyment. It is reciprocally impossible to pin down the payoff for Nakadate's investment. Obviously the project, as a whole, works because she is making a point. At the same time, she is a complicit and active participant in this point, appearing as potentially lonely as her subjects. It's very probable she likes this form of attention—is that bad? Should it matter? Would it influence our aesthetic experience? What if she hated it? In an interview with Scott Indrisek she said, "In general, I wait to be approached. I want to be the one who's hunted, I want to be the one who they take interest in—because if they're not interested in me, they're probably not going to be interested in being in a video. I also like the idea of turning the tables—the idea of them thinking that they're in charge or that they're in power and they're asking me for something and then I turn it on them, where I'm the director and the world is really my world."
What is difficult about this work is the way it engages the subject of girl-ness, not girls as a stage in life but as it is portrayed culturally through the lens of American Apparel and Brittany Spears. It's a highly sexualized genre—something that remains taboo while being pointed, poked and exploited. Good Morning Sunshine (2009) further delves into the subject. Here, Nakadate is behind the camera, out of view; "'We'—that is, the camera—enter a young teenage girl's bedroom," on three occasions. Each room belongs to a different girl. Nakadate coaxes them awake, gently. She asks them how they slept, and not-so-slowly tries to convince them to get undressed. "Let me see your feet," she begins. "Can you take off your socks for me?" Peppering these requests with honey-dripped compliments, "You're so pretty," the young women seem uncomfortably complying. This project further informs Nakadate's relationship to the camera, her understanding of its power and how to illustrate one extreme of its mechanics. Do we imagine Dov Charney to behave any differently? What is our responsibility as consumers in that equation?
Of course that question comes to me again and again. Having seen a number of movies this summer and noted the lack of female protagnists (here's a pretty awesome conversation about The Smurfs/Super8), picked up on the on-going project of Lady Drawers, read about disheartening DC Comic conferences  and, maybe above all else, read the curiously aggressive comment threads that follow those posts–it was a relief to feel submerged in a body of work that dealt directly with the gender binary. Here too, I feel it's worth noting that Nakadate's work is about a male/female world–distinctions that are becoming more and more porous as our expectations of gender and its performance grow more complex and conveluted. "The traditional Oedipal backstory is grainy at best; we are copies of copies of copies of copies of Oedipus' children. Copies repeat. Copies degrade. Copies transform." (Ken Corbett, from his book Boyhoods: Rethinking Masculinities).
Recently I had the opportunity to interview Matthew Goulish on the Art21 blog. Much of that conversation centered around a performance by Every house has a door that took place this last June. I wanted to reenact some aspects of that performance through writing. Memory is like a muscle, in a way, and what follows is an exercise of memory. 
"The body (its matter) is eternal; the soul (the form of the body) is transitory" - Bela Bartók (1881-1945)
We met at the poolhouse in Holstein Park. It was a humid summer day—due to the heat we were asked to stay outside before the show. There was concern the room might get too hot from our cumulative body heat; the longer we could avoid its accumulation, the better. So we gathered around a bench, following incomplete conversational paths, subjects pursued to pass the time and, if necessary, abandon altogether should the doors open unexpectedly. In these preceding moments I realized, for the first time this year, that it was summer: a time for slow and amicable drifting.
Imagine you sit on this bench with us. You look at your watch; people have started to filter indoors. You follow them. You purchase a bottle of water from a vending machine and climb a set of stairs. I am just in front of you. The banister is wrapped with caution tape but you use it anyway. At the top of the stairs we enter a small, half-court gymnasium. Windows surround the upper third of the room. They are old fashioned, connected by a single metal bar; if you turned a specific rod, all the windows would open at the same time. Through the open windows, you hear the sound of children playing in the swimming pool outside. Sometimes you hear a car from the street. The room stills in anticipation of a beginning. You notice the sweat in your palms. It is very hot. Sun brightens the room and when you follow my gaze look through the windows, the sky is a Midwestern blue.
Hannah Geil-Neufeld approaches the microphone. The performance is beginning. It has begun. She begins to read from a rehearsal journal. Like the rest of the audience, we listen to her voice and thus enter the process that created the performance we have come to see. Her voice admits us back stage. She quotes Wallace Stevens. "The poem must resist the intelligence almost successfully," she says.
The rehearsal journal ushers an experience of intimacy. It welcomes the audience. It calms us with stable, descriptive footing. But of course this is a performance and we are in a theater watching people who have rehearsed the ensuing movement multiple times. This diary is also a practiced devise. It is a grounding point, coherent and personal and common. It opens the door providing a lens through which to see the rest.
Three men come to the stage. They wear coats and ties. Brian Torrey Scott is not among them. He has been struck from the rehearsal journal as well. Scott was one of the original dancers; he was in the preview of this same performance put on a year ago at the Cultural Center. He moved away, I heard, and Jeff Harms took his place beside Goulish and John Rich in this performance. Harms appears in the rehearsal journal as though he had been there from the beginning. His dance movements are the same–you remember for instance, the comic flop Scott enacted periodically. At the Cultural Center the arms out, face down semi-dive made people laugh. In the gymnasium we laugh at different moment.
In the gymnasium, these men enact a dance. The gestures comprise a vocabulary because they are specific and repeating and sometimes traded off. Each dancer opens and closes his body differently, as a kind of breath. A delicate syncopation, they execute repeated patterns of movement, weaving in and out of one another. Harm's flops down and up. Goulish wraps his arms inward and twists. Rich rotates, turning back and forth on an ankle. While the movements themselves are coherent  and descriptive, it is impossible to translate their meaning into words. The letters of this language are limbs. The body almost resists the intelligence. Someone coughs at your shoulder. There are people sitting on gymnasium mats and I feel fortunate to have a chair. By watching the dancing men, you feel cooler. Because they must be very hot.
Charissa Tolentino sits in the center of the room with an economical table. She plays music from her computer, blending organic, forest sounds with varied samples. The samples weave in and out of one another. You catch a phrase from Iggy Pop and catch my eye. I drink some water. The bottle is perspiring also. The various beats of Tolentino's music mix with the dancers'Â claps and stomps, making the room's noise greater than that of the children outside. And after a built-in rest (the men stand on the side lines breathing noticeably while Tolentino's soundscape fills the center of the room), the dancers bring scores and music stands to the middle of the gymnasium. John Rich is the only one who keeps his coat on. He gathers with the others, resuming the focal point of the stage to read and perform the notes inscribed. Here we see the body as an instrument and movement becomes its muscular folk music.
The body is also a diary in which memories are embedded, bound by tissue and variously noticeable tensions. It can be inspired, unexpectedly. The tri-tone stirs the body even when it's listeners resist (John Rich jumping up and down with a red plastic devil's fork. His feet make stamping sounds when they land on the otherwise squealing wood).
The tri-tone, Bartok and Barry Goodman are all characters in this performance. They linger in the air, as spirited figments, swooping down to possess the dancers periodically. Bartok was a pioneer of ethno-musicology. He collected folk songs like the Grimms collected fairy tales, traveling through the countryside with an Edison phonograph. The ease of his travel was impeded by the fall of the Austro-Hungarian Empire but he continued to visit what became Romania, trapping voices in an historical box. Folk singers regularly used the tritone without any evil associations and Bartok used it in his own compositions, smuggling the diminished fifth symphony halls. His violins were retuned to play dissonant notes on open strings and his audience was curiously moved in ways they didn't understand. Americans were similarly afraid of Jazz (it made the young people dance) but in 1938 the Goodman Band played at Carnegie Hall, what had otherwise been a site for classical performance. By drawing you into this gymnasium, I am trying to conjure the ghost of experience. Now we have these figments between us, as they were in the gymnasium.
And so we come to the final act. Goulish approaches the microphone and begins to read from the rehearsal diary again. He describes the movements of an opera. He returns to the idea of mothers while describing an after-rehearsal walk. We have left the center of the performance. In leaving the center, we approach the bounds of its circumference and crossing that line will mark the end. Goulish conjures a looming maternal presence–a presence that seems to have always been in the room, lurking in the shadows of each and every one of us, ill-defined until it was named. Mothers are the beginning of material experience. Her multiple facets standing like a grove of aspens with one single root system. This is the forest we have been walking through inside of this bare-bright gymnasium. The wooden floors, rife with patterns to measure court games, collecting sweat like a forest floor. The performance is a delapidated road and by its enactment it wants to mend itself.
But first, there will be a death scene. In the first month of summer, in the middle of a very warm day, you watch three dancers die while thinking of an opera you have never seen. Goulish describes the opera as I am here describing their performance. Their bodies jerk differently as they imagine themselves drowning in this dry heat and when they leave they exit out the gymnasium door. Goulish drowns last.
We cannot tell if it is really over, which is what happens with death. Material bodies are stupefied when they can no longer move themselves. The room begins to applaud. Performers come out from their backstage retreat to bow. The Director, Lin Hixson, is called out from where she has been watching in the audience with a smile. The room applauds with a bigger noise.
Back down the stairs you realize the banister you'd been using for support is only partially screwed into the wall. Thus the cautionary tape. In addition to the memory of the performance, you also remember (perhaps by accident) the faces of those sitting around you. The same faces you walk down stairs with. Strangers watching a partially silent music.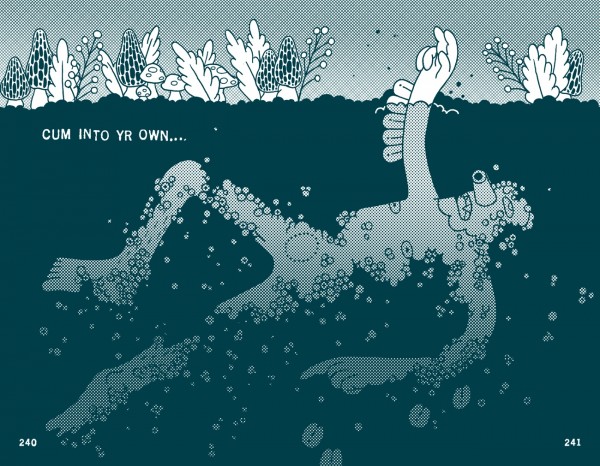 Edie Fake's first graphic novel,
Gaylord Phoenix
(Secret Acres) was eight years in the making. An erotic and sometimes violent psychedelic spirit quest,  the book compiles the adventures of its central birdman who travels far and wide in search of self-knowledge and passion. It's a two-colored interior, with a rich vocabulary of symbols and innuendo, from magical dwarfs to crystal splinters and tubular genitalia. The drawings are lush and decadent yet they resonate with a kind of personal touch too. When I put the book down I felt like I had been left with a piece of cartoon chalk—what will no doubt come in handy at such times in the future when I find something blocking my path (you know, because cartoon chalk draws doors through walls). This book is liberating and joyous and why not—for shouldn't life be the same? Pain and vulnerability can lead to insight.
Despite the epic proportions of  this one body of work (and here is a great 
interview
about
GP
specifically) Fake has worked on other projects as well, participating in performances, working as a tattoo artist and developing an alternative history of Chicago. I wanted to ask Fake more about his work and how it flows together in an effort, I suppose, to explore his underlying and hybrid ideology. In some ways I surprised myself—I asked a lot of questions about tattoos. I'm curious about what tattoos mean in our culture, (perhaps especially because I'm spending the month in Providence and tattoos are really and truly all over the place). How are tattoos different from drawings? And where do those paths cross. Edie Fake seemed like a good person to talk to.
Caroline Picard:Â What happens to you when a drawing of yours is tattooed on someone's arm? In other words, does the significance of the drawing change? How would you compare a tattoo with a drawing's relationship to the world when contextualized by a book/on a page?
Edie Fake: I think a couple of things happen in a couple of different ways. First off, drawing a tattoo for someone is sort of like finding the perfect gift for someone you barely know. Part of a perfect gift is that it is entirely wanted and sort of surprising and I think it also has to have a little personal flair, some indication of who the giver is and why they would choose to give such a thing.  So just the drawing/planning itself is already a lot more collaborative than just thinking about what you'd draw on your own. Then, you start tattooing someone and it's a whole other thing. It's a blood ritual and it's craftsmanship and it's fun and painful and casual too. I was only tattooing for a couple of years, but when I was working on someone there was this whole new process of understanding each line drawn, and also an understanding of why this tattoo was going to fit the person getting it. I think I was looking at the stuff I was tattooing like it was different sorts of heraldry. The person wearing the tattoo is a huge part of what the drawing becomes, both physically and energetically. That's the biggest difference throughout the process. With drawings on paper I usually am pushing out a drawing with my own vision,  and then it can have a really singular presentation. Tattoos temper your own version of how things should be with someone else's ideas and I really love it because it can really push the way you draw into some strange places trying to figure out the common ground where "what someone wants" meets "what you want to give to them." I'm not tattooing now, but I miss it a lot and I miss the way it pushed my drawings. I'm starting to casually put my feelers out for another apprenticeship here in Chicago.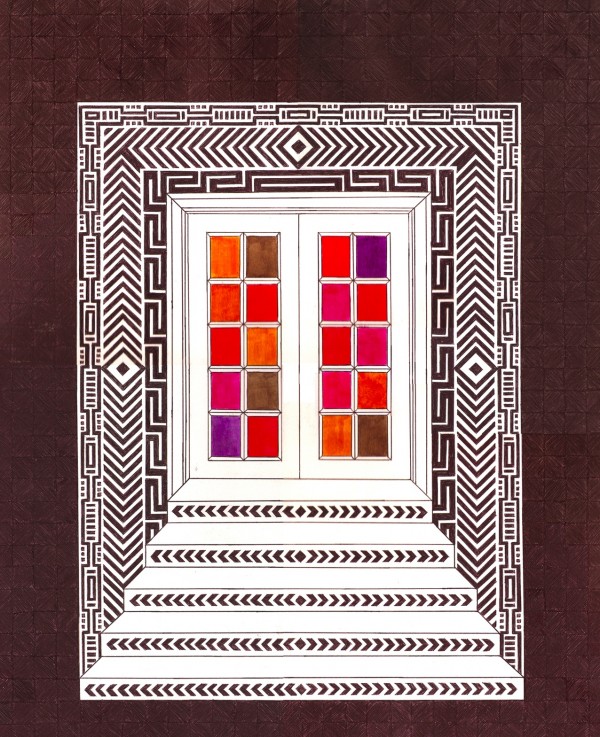 CP: I'm interested in how you use drawings to empower and embolden ideas you have about fluidity and gender identity–Can you talk a little bit about how the medium enables your philosophy/ies? 
EF:Â I'm not sure if my thoughts are organized enough to bring up anything worthy of being a philosophy! I do identify as a transsexual and I do think a lot about the expansiveness of language, the importance of self-definition and how that all relates to complicating gender and sexuality. Collapsing and expanding meaning of words and images can work towards a wild and playful vision of sex positivity as well; that's what I strive for in drawings.
Multiple meanings are critical – I really think that's what keeps visual, verbal and physical language alive, the way that new interpretations will always be added to the heap. I make a lot of work based on innuendo and word play. Coded meanings and visual decadence can provide a place where drawings can snap into something that complicates gender and implies new systems. For me, it's impossible to articulate queerness in a direct and definitive way because it doesn't exist like that – it's much better pieced together through a drawing with many things happening, the interplay of different codes, sly language tricks, a collision of symbols, because all these things together gets more toward the idea of a border-less, boundless queer gestalt.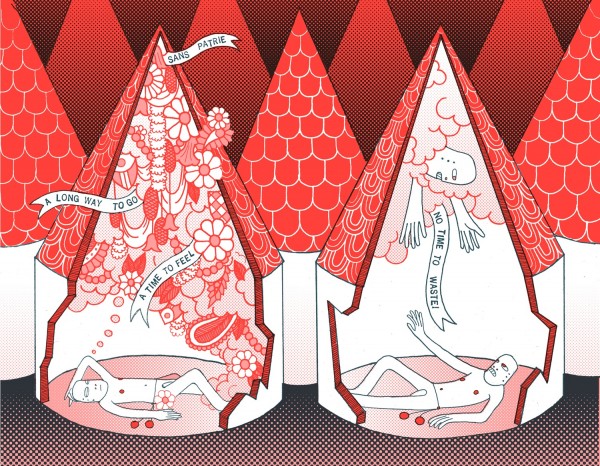 CP:Â  Do you believe in a Utopia? (not necessarily something to implement, but something to work towards?)Â 
EF: I don't believe in some true, universal, obtainable utopia, or any kind of unified vision for a utopia, at all. However, I have experienced periods in my life I would definitely call "utopic" where I've felt amazing energetic kinship to those around me, or even just to myself… I should add, these were not periods that were free of problems or hardships,  but they were times of feeling deeply connected to what I was doing and how I was living. Constantly scheming and trying to help others with their schemes.
I think the world is shitty and hard,  really lovely things always fall apart, pain, violence, heartache and futility reign supreme. Flying in the face of that, a utopia notion in my head can push me forward, and encourage me to try to create good energy and critical work. Utopia as a constant push to conjure up how things could be better, and then the working your ideas into realities.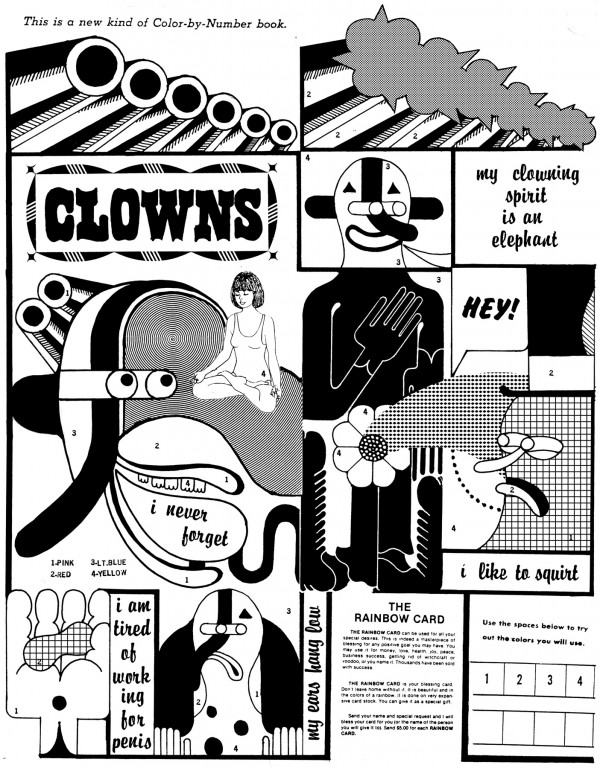 CP:Â In some way I was thinking about the utopia question because of the on-line project A Gay Utopia. I was wondering if you could talk a little about that–how did the project get started? What was it like developing work for an on-line and shared context?
EF: Before the Gay Utopia Online Symposium, I felt like the term was floating in the air a lot, especially the air over Chicago. In my experience, it was being used as sort of a rallying cry, to envision working for each other, creating networks, sharing resources, and helping each other build the things we wanted to see in the world. When I went on tour with Lee Relvas in  2006  she delivered this brilliant soapbox speech as part of our performance that culminated with asking the audience "Are you ready for a Gay Utopia?" Well, the answer to that was yes.
I'm unsure of how the Online Symposium started, but that project was the brainchild of Noah Berlatsky and Bert Stabler. It's a wild grouping of folks that they brought together, and I'm really proud of the work I did for the  project. There's a wide range of how people approached the work there, and I think I approached it as someone who feels like  "Gay Utopia" is a concept that nourishes me and is integral to how I see the cycles of my life tumble out. The Gay Utopia shares a lot with the Temporary Autonomous Zone and I am really invested in both of those, so I wanted to create  a comic that reflected falling down that rabbit hole. When I settled on a long scroll down drawing, I also decided that the most important thing for me to show in the images was the close combination of destruction and ecstasy, love and fury going hand-in-hand, fueling each other. That's a big part of my lived experience.
CP: I was thinking about tattooing again, and your description of its gift-quality. It made me think too about how you describe community and connectedness as being somehow central to those moments of utopic experience. In many cultures, it feels like tattoos have ritualistic significance–it's a sign given at the coming of age, for instance, or after some epic experience. I was wondering if you feel like tattoos have a ritualistic resonance in your experience and what that might be? 
EF:Â It's a funny thing- it IS totally a ritual, and there's this formal setup to it, but when you're in it, it can seem casual. I guess I should call it "important casual" though – it's a nice shared energy with tattooee and tattooist totally concentrating on what's going on. As I was learning, I did tattoos on a lot of friends and I think that certainly had the pleasant effect of getting closer to people in a new way, through this little ritual, that wouldn't have happened otherwise. It's very much an act of trust too, which plays into making it powerful.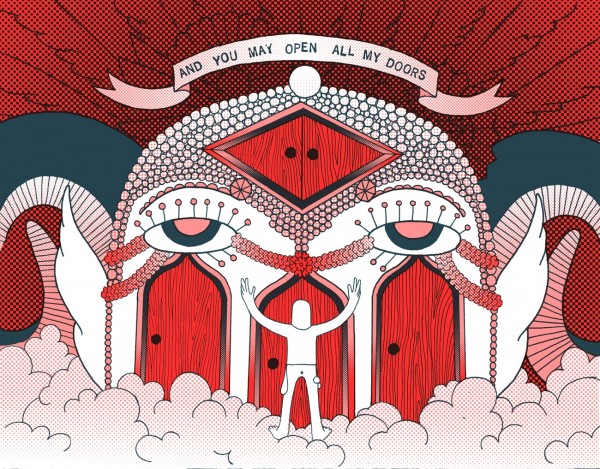 CP: What do you hope your work, say like Gaylord Phoenix, accomplishes in the public sphere? I'm asking partly because you talk about your drawings as though they reflect a personal process–like, it's the space where you can really center yourself around an interior landscape. That said, I feel like the book is incredibly welcoming and playful and generous–so it feels like a world where I am invited to participate.  I'm interesting in how that dynamic might play into the way you think about your work. 
EF:Â Ideally, I make drawings that are about possibilities and potentials. Considering it now, I suppose I'm making objects that try to occupy or push towards a world I'd like to live in. I'm always borrowing energy from powerful scraps of language that roll my way, trying to recognize patterns and kinships and teaming it all up visually. With that in mind, it's amazing to hear that the drawings can turn around and give out their own little powers. It's so great when it when it feels like there's sharing and exchange happening because I definitely hope for something large, lovely and real.
CP: I was also reading that you do some performance work as well–can you talk a little bit about that? And maybe what it is like to physically embody something, (vs. describing it 2-dimensionally).
EF:Â I do occasionally do performance work. To me it seems much more like conducting a public experiment, whereas displaying a finished drawing is like showing off the answer to a long series of problems. Performances are so dependent on your openness and the openness of the audience and they hinge on both the clarity of your purpose and also your ability to convey that purpose in a non-didactic way. It's usually a medium I use when I have a cluster of ideas floating around my head. To perform effectively – it is so hard! For me, performing is maybe the hardest, so I try to listen to my heart about it and know when I've got something cooking, and if I'm not really feeling it knowing to throw in the towel and forget it, I'll just do some drawings, which I always have ideas and methods for.
Go here for more glimpses of Edie's work.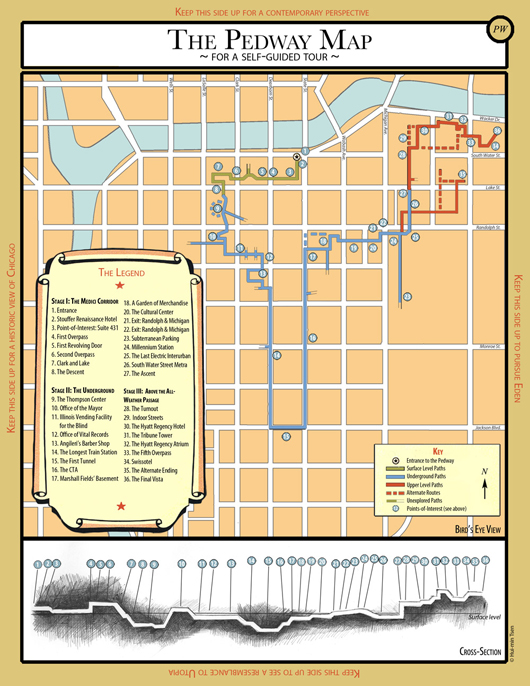 Last week I posted an
interview with James Barry
about his collaborative project The Mt. Baldy Expedition. James built a boat with Hui-min Tsen. Together, it took them seven years and after seven years they sailed the boat around Burnham Harbor. This week I wanted to talk to Hui-min about her experience with the project, in addition to other works of her public and contemporary exploration. Most of the interview focuses on
The Chicago Pedway Tour
 where Hui-min led groups through the curious and sometimes underground commuter passages — throughways which are largely undocumented despite their frequent use; during the tour she would stop periodically at points-of-interest in order to perform a narrative for her audience. Embedded in that narrative are ideas of the American Frontier, the mythology of cities and comfort anAs The Mt. Baldy Expedition emphasized the significance of learning in an art practice, The Pedway brings up issues of public and private space, while also tugging at collective mythologies. In addition to physical exploration, Hui-min also explores those issues.
Caroline Picard:Â Can you talk about your experience making the boat for the Mt. Baldy Expedition? Maybe specifically, how you would compare working independently to collaboration? And what was your experience of the boat as-an-art-object?
Hui-min Tsen: Building the boat was an unexpected experience for me — it was not something I ever thought I would do. When Jim and I first started collaborating, I had been working with ideas of urban exploration where I was exploring the city (calling it an expedition) and referencing explorers of the past. Jim had been dreaming about building a boat and the initial plan was that he would build the boat, I would lead in sailing it, and we would collaborate on all the side projects. As the project progressed, though, it became evident that one person couldn't build a boat alone and that we were collaborating fully on every aspect of the project — it no longer made sense to divvy up tasks to one person or the other. I did not have a lot of previous woodworking experience, so a lot of what I was working on, especially at first, was the less intricate work like cutting pieces to size, planing down wood, routing. A lot of the building process was new to both of us, though, so we worked together on testing the epoxy, figuring out how to read the plans, and eventually developed our own working methods and rhythms in the shop for techniques like getting all the screws in before the epoxy set, etc.  To be honest, I often had mixed feelings about the amount of time and labor building took — it's not the kind of work I naturally decide to do — but at the end of the day, I was always so proud and happy with the results and the experience of learning, that I was really glad to be there. I especially enjoyed it when I had my own tasks to figure out, like making the mast, boom, and gaff, the centerboard and rudder. So much of the project wound up being about the everyday act of learning and discovery and building the boat was at the crux of that discovery.
We always thought of the boat as both a functioning boat that we would sail and as an art object. It first and foremost had to float and handle well, but we also thought a lot about the conceptual tie-ins of the materials we were using, the act of making and documenting the construction, and how the boat would live when we were finished with it. Normally I tend to have a casual relationship with the craft of an object — I come from a photography background so the craft of the image has always been important, but the creation of a sculptural object was something new to me. Since the object was a functioning boat, the building and documentation of it was still very oriented around process and not just about the beauty of the final object.
In terms of working independently versus working with a partner, they are both methods I enjoy. I very much enjoy collaborating, whether it's with other artists or making work that relies on an interaction with the public in order to take form. Jim and I would often talk about how we wound up doing things collaboratively that individually we would never think of doing and how much stronger the project was for that. Having such a long a involved collaboration pushed me as an artist in directions I wouldn't have been comfortable with or thought of alone. When you have to work through ideas with someone else, you are forced to explain them far more precisely than you might be persuaded to do for yourself. Jim and I had very similar philosophies about art-making and how to exist within the art world.
There are times, though, when you really want to just dive into your own quirky interests. A project like the Pedway which very much followed my own train of thought, would have been difficult or impossible in a collaboration.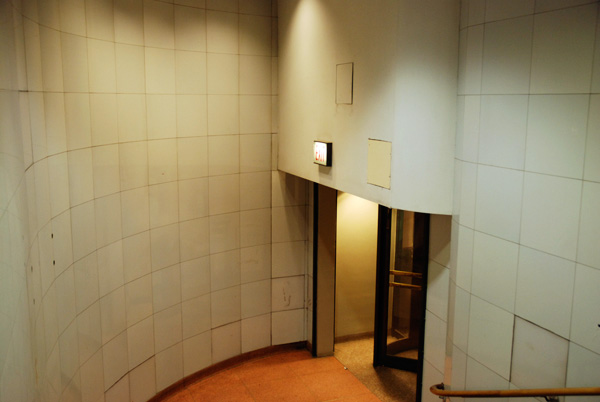 CP: What made you consider the Pedway as a site of artistic exploration? And how did you come to make the Pedway tour? 
HMT: When I first came across the Pedway, I had been working on urban spaces and the mental constructions surrounding them such as fear, attachment and belonging. These projects often involved mapping and walks — but I kept searching for the perfect vehicle to work with. One of the things that had first attracted me to Chicago was its role in the history of American industrialization and modernization — the tension of optimism and fear that came with the late 19th and early 20th century boom. In my mind, Chicago had come to symbolize the Mythic City, a site which, like the Mythic West, lives primarily in the imagination. I read all about visions of futuristic cities, urban planning, the history of Chicago, and fictional representations of cities from silent movies and novels. When I first moved here, I kept looking around for traces of that Mythic City.
When I stumbled across the Pedway, I saw in it my Atlantis — the elusive city born of fantasies. I began exploring it, looking for secret passages and connections and the possibilities of what lay at the other end. The more I explored it, the more I saw that it had a clear beginning, middle and end. After I walked through it for the first time, I loved the way the corridor unfolded so much I wanted to show it to everyone else! I knew that the temporal and spatial experience of transitioning through all these unique locations all strung together would never translate to a 2-dimensional piece and that the path was so difficult to navigate, there needed to be a guide to help other people through.
Since I had been working on projects involving mapping, story-telling, and walking, I had been looking at artists such as Stanley Brouwn, Emily Jacir, and Francis Alys, as well as photographers such as Sophie Calle and Joel Sternfeld's project "On this Site." Â These artists were influential in showing how action, text, and photograph could be used to address issues of site and memory. I had also looked at tropes from travel and tourism such as how guidebooks use points-of-interest to tell a story. Since the Pedway unfolds as one path, or line, in time, it seemed perfect for playing with how a story of history and place can unfold as a tour. I realized we are often led to experience a tour (even something as simple as a self-guided nature tour through a park) as if we are the protagonist walking through a 3-dimensional play where the land is the stage set and the points-of interest are the plot points. I used this idea of tour-as-narrative as the guiding principle when writing the Pedway tour. I tried to loosely construct it as a three-act play where the guide is the narrator, the Pedway is the protagonist, you are the main character, and historical figures such as Cosimo, Potter Palmer, and Clara Bow are the supporting characters.
CP: Didn't copyright issues play a role in your publicity materials? Can you talk about that? 
HMT:  I'm not sure it is as formal as copyright; no one has used that exact word with me, but some businesses have definitely taken issue with my photographing and how I've referred to them in some of my materials. Understandably they want to have control over how they are portrayed. When I was doing research for the project, I purposefully avoided interviewing the businesses in the Pedway. First, I didn't want to be tied to their "official" histories and secondly, I didn't want them to know me — I wanted maintain the luxury anonymity while moving through the spaces — sitting and observing the comings and goings in hotel lobbies and such, without people asking me questions about what I was going to use my observations for and when they could see the results. I had horrible visions of asking permission, being turned down, and then being banned from one of the buildings! Once I put the project out in public, I knew it would be much harder to remain anonymous. If you're leading a group of 35 people through a lobby, security will notice you. Some business' took issue with my photographing and a few have approached me about content. For instance, the Renaissance Hotel was unhappy I referred to them by an incorrect name on the map and asked me to change it to the "Chicago Renaissance Hotel."  I had kept their name a little more generic to blur the line between the Renaissance and the original hotel, the Stouffer-Riviere, calling them the Stouffer Renaissance Hotel on the first iteration of the map. I decided not to test the copyright issue, and changed it on later maps as per their request. For a while I was nervous that I would have to either conform to all the corporate histories or start omitting points-of-interest.
On the flip side, an unexpected and exciting result of bringing the project into the public is how it has lived in the public imagination and how my interpretation is helping to define the space. There is not much information about the Pedway out there, so when doing an internet search, my website comes up pretty quickly.  Most of the hits I get are people looking for a map of the Pedway. I love the idea that people are walking around the Pedway holding maps pointing to the "Subterranean Parking Lot," "The Descent" and "The Garden of Merchandise."  I keep wondering how it comes across to them — do they wonder why the portion they are walking down is labeled "The Medici Corridor"?
One building caught on to what I was doing was using my tour on their website as a selling point for their building!  They thought it was good to be part of a mythologized space, saying I would lead them "through a historical dreamland unlike any you have imagined before."  Ironically, this was a building that had asked me not to photograph in it, so I don't really have them as a point-of-interest on the tour.
By choosing to make it a public art piece, chance encounters like these became possible.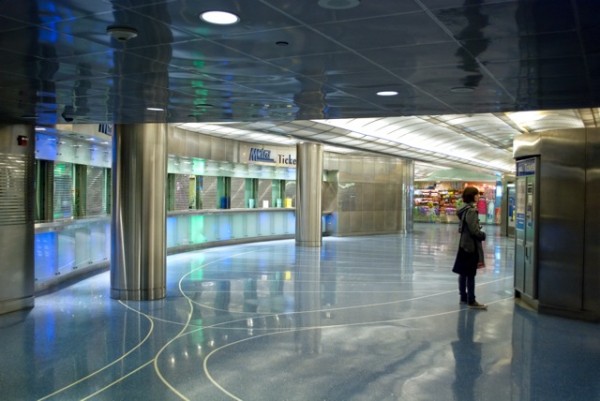 CP:Â How has the Pedway Tour transformed your idea of public space?
HMT: As someone who enjoys using the world-at-large as a studio, wandering the streets and photographing, I have often encountered the tension that can exist between public and private, ownership and invasiveness. With the Pedway, I encountered some unexpected issues of public/private. It turns out most of the Pedway is not actually public space, it is private space. This can create weird questions about access. However, I think the fact that it is a private space is part of the fantasy of a hidden corridor — it is your secret corridor. If it were just like walking down a public street, it would not be as fun.
During the two miles, the Pedway moves through varying degrees of public/private spaces as it passes through food courts, office lobbies, government buildings, the subway… Once you've gotten used to being in the private space of a hotel lobby, moving to the very public space of a subway platform can feel jarring. As I began noticing these shifts of private and public within the enclosure, I wanted to include that feeling of passing from one to another as part of the story. I let the experience help guide the narrative. In the first stage, the privacy of the corridor can be equated with your ownership of the space — it is a regal, luxurious, safe home that is yours and you can go wherever you want. The second stage (part 1) is a sudden thrust into the public government buildings. You are no longer separated and removed from the street — you are mixed in with the hustle and bustle, which can be intimidating. There are crowds and security cameras and the buildings exert an oppressive power above you. You feel much smaller and the presence of an external power is much greater. Here the story leaves the early urban history of the first stage and introduces turn-of-the-century ideas of Utopian planning. In the second stage (part 2) you are still with all the crowds, but this is a friendlier urban culture — more glamorous, more leisurely. It is more about the pleasures of moving within a public crowd. You ride mass transit, go shopping for mass produced goods in the department store, and enjoy a huge old library in the Cultural Center (the People's Palace). The final stage, stage 3, is east of Michigan Avenue. This part of the city used to be a large railyard and was not developed until the 60s and 70s. I think of it as the suburban portion of the Pedway. There is a slight removal from the city, you are separated out again — it is clean, sanitized, comfortable and again you have a feeling of privacy, a feeling that no one will bother you as long as you behave according to code.
It is fun, while leading the tours, to watch other people encounter the surreal line between public and private that exists in the Pedway — many people ask me if we're really allowed to be there. At one very disoriented part of the tour, down near Point-of-Interest #13, I draw attention to the fact that, although we are surrounded by the grid aesthetic, the normal lines of public space and the squares of private space normally associated with the grid, are no longer present. This, I feel, is one of the things that makes the Pedway so fascinating.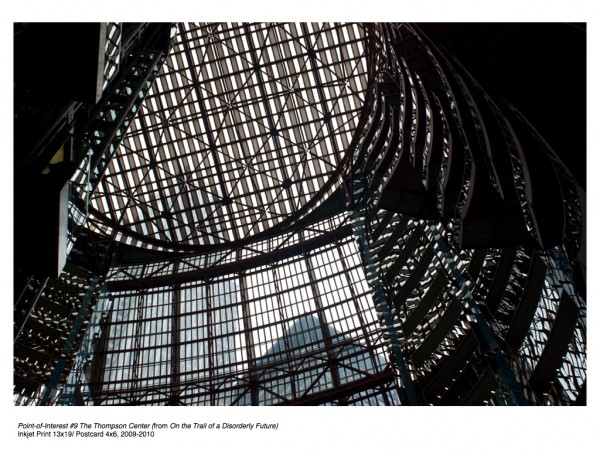 CP: Can you talk a little bit more about how you weave history through your work? 
HMT: For some reason I find this question difficult to answer. Although history is constantly a part of my work, I often think of it as secondary to themes of exploration, travel, and the idea of elsewhere. And yet I keep coming back to it as the context and framework for almost all of my projects. I guess, I think of it as a form of Elsewhere, of another place, intangible but ever present — a place that exists as a force on the imagination and our collective or individual sense of self. History has a real influence and impact on the present, and yet that impact is laced with projected ideals. Like many locations and cultures that are not physically located where we are located, history can be an origin — an often mythological origin to be revisited and played with. Coming from a multi-cultural family, I am used to looking for cultural origins and seeing, instead of one version, a plurality of versions. I think this has had a big influence on my outlook and can explain why I keep looking at how strains of history and experience can simultaneously layer on top of one another.
When I am working on a project, the research and project usually have a give and take. With the Pedway, I had already done a lot of research before discovering the Pedway. I then allowed the space to determine the rest of the research — looking up particular buildings or related topics like the history of the geodesic dome. Ultimately, what I choose to use is what I find intriguing and what excites my imagination. Some things you just keep returning to without quite knowing why. I guess if I really knew why it was so mysterious, I wouldn't have to make work about it!
CP: That makes me want to ask more about exploration. You've talked to me a little bit about a forthcoming project where you're documenting the lake over an extended period of time, and then drawing out ideas of geographical exploration. It seems to me that the Pedway tour is also about exploration, as is the Mt. Baldy expedition. How does exploration play out in your interests?
HMT:Â Yes, the project was for the show "Hecho en Casa/Home Made" at Cobalt Art Studio. Â The show was about acts of domesticity, localness, and home so I decided to take a trip at home, following in the footsteps of Alexander von Humboldt, an explorer I first came across while researching for the Mt. Baldy Expedition, but someone that we never used. I walked down to my local beach every day and looked out across the water, recording the weather conditions visible for as far as the eye could see. These observations were interwoven into a slideshow with the stories of Humboldt, Elisha Kent Kane, Margaret Fox, and the idea of north (the north pole and the northern islands of Lake Michigan).
I have always been attracted to photography's ability to aid in exploration and looking. As you point the camera at something, the picture is attaching you to the distant. My recent projects have become more focussed on the act of everyday exploration. As globalization increases and we have more and more mobility and immediate contact with distant places, the predominant everyday experience remains one of being in one place and looking outward from there. It makes me wonder about how other places and times impact what and how we see. What is just over the horizon? What is just beyond the visible? What mental constructions are layered onto the world around us? Exploration is synonymous with curiosity, learning, looking and discovery — a lot of my motivation with these projects is simple curiosity about what lies over there. It seems that even with new technologies and globalization allowing us to see around the world via webcam and satellite and to eat foods or watch tv shows from anywhere in the world, our relationship with the unknown and the distant will always be part of our experience of being located.