I just wanted to call attention to this awesome web symposium inspired by Wassily Kandinsky's book, On the Spiritual in Art. It looks amazing and people have already started posting their remarks. The announcement is as follows:
The year 2011 marks the centennial of the publication of Wassily Kandinsky's classic text, On the Spiritual in Art. Inspired by this anniversary, this project seeks to explore the place of the spiritual in contemporary art and to propose a challenge to the current devaluation of the inner life that prevails within the art world in our market-driven era.

Beginning today – Wednesday, March 30th – a ten-day virtual symposium moderated by Taney Roniger and Eric Zechman will be held in this forum.

Our symposium participants are: Suzanne Anker, Laura Battle, Connie Beckley, Anney Bonney, Deirdre Boyle, Nathaniel Dorsky, Jeff Edwards, James Elkins, Max Gimblett, Tom Huhn, Atta Kim, Roger Lipsey, Enrique Martinez Celaya, Joseph Nechvatal, Daniel Siedell, Charlene Spretnak, David Levi Strauss, Alan Wanzenberg, and Pawel Wojtasik. For participant biographies and other project details, please visit our site: www.beyondkandinsky.net.
SYMPOSIUM SCHEDULE

March 30th–April 1st: Session I: The Spiritual Then and Now

April 2nd–April 3rd: Session II: The Changing Shape of Art

April 4th-5th: Session III: Art and Its Audience

April 6th–April 7th: Session IV: The Artist in Society

April 8th: Conclusions
(And then I just thought I'd quote the very first post, since it seemed particularly interesting to me…)
Wednesday, March 30, 2011

A response to Session I questions

Posted by Max Gimblett at Wednesday, March 30, 2011

(1) How have our ideas about the spiritual changed with the dissolution of the Modernist dream, in which Kandinsky's vision was so deeply embedded?

What dissolution?! The Modernist dream has deepened and magnified.

(2) How has the notion of transcendence changed? Is transcendence still viable in a largely secular, postmodern culture?

Yes. We know much more about the world's cultures. For instance: the phenomenal growth of American Buddhism; our understanding and study of Indian Gurus; and the emergence of current Indian Art.

(3) What might account for the deep suspicion — or indeed denial — of the spiritual shared by many artists and intellectuals in our culture?

Postmodernism, cynicism, parody, materialism, suicide. These nihilistic tendencies choose academic study and ritual in an effort subvert our collective spiritual connectivity. Spirituality is perception and clear perception delivers the truth. Krishnamurti delivers the truth. My primary school model was "seek after truth."

(4) How have attitudes toward nature, the material world, and the body changed since Kandinsky?

As art history moves forward artists have branched off into ever more specialized investigations into all things. New and old ideas are explored and enriched. Beauty is found and lost.
Jason Dunda's work is impeccable. Each mark he lays down is precise, predetermined and, really, perfect. He paints wood grains, anthropomorphic hummocks, death chairs and wheelbarrows. Over the course of our friendship, I have remained intensely interested in his process, both as curator, as artist and publisher. In part my fascination stems from a sense that his work is a testament to the impossible. He paints towers that could not stand up, even if they appear to have structural integrity. Or, in another instance a fabricated tree made of smaller pieces of wood, appears to be trying to hang out with "real" trees; the fake tree obviously fails, yet it is also more interesting as a tree and diminishes the others which fade into the background. All of these pieces are made in gouache and a couple of years ago Jason told me he was going to start making giant, wall-length works. He was making them for a show in Dubai. He would ship them in giant, construction-site-sized tubes. It was all planned out. He was excited, I couldn't wait to see how it worked and I realized as I went home there were so many impossible things in that equation: first off, you can hardly breathe on gouache without leaving a mark. Secondly, Dubai is a massive massive distance. Thirdly, the city itself sounds like a cartoon, a monument to human enterprise in impossible conditions: I've heard, for instance, it boasts a building with a ski hill. It's all impossible and, for that reason, amazing. But all this strikes me as a perfect metaphor for what it means to create work in the first place. There is an idea that making work supplies a certain posterity. It is a vehicle to outlast one's own lifespan. Despite the ageless popularity of this idea, the life of a painting is full of hazard. Historic works get lost on boats, burned in fires—you name it. It's remarkable that anything stands the test of time. Dunda's work faces off with that issue. His paintings are materialistically vulnerable, capable of reflecting our own existential fears. Thankfully, each one has a sense of humor about itself—what's even more remarkable give the precision and time the work demands.
Caroline Picard: Can you talk a little bit about gouache? When and why did you start working with it as a primary medium? What is most difficult about it and how do those challenges complement your own artistic goals?
Jason Dunda: Gouache is a very opaque type of watercolour.  It's been used in the past in design and animation—any backgrounds in pre-digital age cartoons are probably painted with gouache.  I began using it about five years ago to make some quick works on paper to help me compose my oil paintings.  I ended up enjoying my experiments in gouache a little too much and my work on paper became the central focus of my studio practice.  Gouache isn't the most spontaneous medium—just like watercolour, once it's down on the paper there's no changing it so you have to be very confident and sure of what you're doing when you're working with it.  The paint is also very matte and chalky—a quality I love—so if you lay it down too thick it cracks and/or dries very inconsistently and looks horrible.  Basically, it's a very delicate and precise material to work with.  I often approach my work with a cautious delicacy and I really like to master a medium so I like the challenge.
CP: How do you choose your color palate? Do you mix colors before starting a piece?
JD: I mostly paint images of wooden objects, so I have a lot of yellows and earths but I mix it up with the occasional dull turquoise or cool grey here and there.  Because my subject matter is pretty consistent, I've been able to develop a central colour palette over the last few years.  There's a couple dozen colours I work with regularly and I'm constantly adding to it and changing it.  I choose and modify the colours in order to have a wide range of contrasts in temperature and value but maintain a limited, harmonious intensity.  The colours are pretty dull and work well with the colour of paper I choose a ground for most of my paintings.
CP: That leads me to another question about the way you make a piece. As I understand it, and partly because gouache so fussy, you plan out a painting before sitting down to paint it. Will you talk about what that process is like and how your foreseen vision matches its end result? How do you translate an idea into a visual structure? Does the idea occur visually in your mind's eye? Or do you execute a kind of transcription, translating the idea into a visual language?
JD: That's a great and huge question and I'll try to answer it as best I can.  I do a lot of research—both visual and academic—and do a lot of really quick messy image-making when I plan out a piece.  So yes, there's definitely a translation that occurs.  The initial image in my head almost never turns out to be the end result and I think that's a good thing.  Filtering thought through imagery and materials is a tricky thing and needs a lot of fine tuning if it's going to work.
CP: Do you ever run into limitations within your visual language?
JD: Some days I feel there's nothing but limitations.  You can interchange 'limitations' with 'structure,' though, and in that sense it creates possibilities and propels my thinking and making.  When I'm feeling particularly limited, though, I'll declare to myself that my day in the studio is going to be different from the usual—I'll spend the day with the expectation that I'll have no usable material results and all I'll do is experiment.  I've recently gone back to oil painting partly for this reason.  I can mess around and translate my ideas into a different set of materials.  My new oil paintings are really terrible.
CP: How do you anticipate scale?
JD: I never go bigger than my apartment door.  I learned that the hard way, seriously.  Scale occurs to me most profoundly as the relationship between the viewer and the piece.  There's a sense of intimacy and humbleness in small works and a more aggressive, public presence in large scale works.  I tend to go to the extremes of this spectrum.  Gouache is a really difficult material to work with in large scale— the surface can be really inconsistent over larger areas—so there's a particular challenge I like about large-scale gouache paintings.  I love antagonizing the intended use of a material.
CP: Sometimes you create sculptures as well—what I feel is like an almost traumatic transition, to move from a single-dimension surface to a three-dimensional physicality. When do you chose to work in three-dimensions? What is it about a given idea that moves you to break (if you'll grant me this) a kind of third-wall of the art object?
JD: I'll certainly grant you that and I think you've got it absolutely right.  The tangibility of an object is really different from the illusion of form and space in painting and that's what led me to make the first and so far only object I've ever made for exhibition.  It's that trauma as you call it—that fight between the illusory and the tangible that I wanted to conjure up when I used a large-scale painting as a sort of backdrop for an object.  I paired a painting of a dilapidated pulpit with a fancy wheelbarrow I custom built and had upholstered.  I used the opposition of image and object to highlight certain elements of my ideas—the conflation of the utilitarian and the ceremonial and a parody of cultural structures.
CP: What is your experience of surface?
JD: Surface and I get along very well. Â No matter the medium or imagery of the project, my work over the past several years relies upon a thorough consideration of surface. Â Because I'm a painting dork, I have to learn everything possible about the materials I'm working with. Â I have a tremendous amount of patience when experimenting with materials and it's really important to me to show a certain amount of that mastery in the work I make. Â I also think that it's really important to me use the materials in the wrong way but still make it look good. Â Most of my oil paintings look like they're painted on some kind of plastic but it's a concoction of walnut oil and wax. Â Similarly, my big gouache paintings involve a process of staining nine-foot tall pieces of paper in order to transform its colour and surface. Â I know when a surface is working when another painter can't figure out how I've done it.
CP: Recently we've had conversations about how you feel somewhat restricted by the predetermined nature of your current approach. Do you feel like that sense has to do with gouache? Or perhaps a shift in what you want to get from of an act of painting?
JD: Both, definitely. Â I think the busy work of planning, testing, and preparing when using gouache forces me to slow down and think a lot more while making. Â This can be a great thing or a very bad thing – I've felt stuck many times recently because the next move I need to make presents such a risk, but then again there's something very satisfying about meticulously constructing an idea while I meticulously construct a piece. Â So yes, I want to get something different out of the process of painting but I'm not ready to quit gouache. Â Ideally, I'd like to get reacquainted with oil paint while continuing the trajectory of my gouache paintings. Â There's something very interesting to me about working across media and showing the results together. Â Incidentally, I've done a couple of oil paintings recently and they're really awful. Â It's like I've never picked up a brush before and I really haven't got a clue.
CP: Although this wasn't my first thought in relating to your work, there was a certain point that I suddenly made a connection between your paintings and cartoons/comic books. Could you talk a little bit about that relationship?
JD: Oh man.  Well, it's no secret that I'm a comic book and cartoon dork and have been since I bought a copy of The Incredible Hulk #238 after a swimming lesson in 1978.  About ten years ago I began incorporating a linear, graphic approach into my work and I thought it was really successful.  I've gone back and forth between painterly and graphic over the years and I find the most satisfying paintings to me are the ones that balance those two qualities.  The thing that's most interesting to me about the aesthetics of comics is colour related to surface.  Today, comics are printed on super glossy paper and computer coloured and it's spectacular but it's not what I was immersed in visually as I was growing up.  Comics used to be printed on a pretty low-grade paper and the ink would just sink in to that surface.  The quality of colour in my work is directly related to this effect.   I mix colours that are relatively dull and I often make the contrast between the paint and the colour of the paper pretty low.  It's a nostalgia thing for me that's turned into a subtle narrative choice.  Right now I'd define my work as being less cartoony and more graphic—I'm looking at Disney all the time but it's in concert with Ukiyo-e prints, illuminated manuscripts, and early Renaissance painting.
CP: I suppose in some way, I think it's really interesting because cartoons tend to undo a certain gravitas that is pervasive in the rest of the world. Wylie Coyote falls off ten thousand cliffs with comedic survival. Superheroes are constantly being resurrected and, by virtue of that resurrection, become even greater. What I find interesting is that painting affords its own gravitas. The weight of its canon, for instance, or the way that (at least when I was in art school,) people always ask why something is painted rather than being photographed or manifested more directly. I just wonder what happens for you, when you start to incorporate that cartoon language as a stylistic tool? Particularly when, as in the gallows for instance, you're painting "serious" objects, while also employing very technical strategies —there is still a palpable sense of humor…
JD: Wow, that's a mouthful but you've hit the nail on the head.  There's a sense of detachment both in my work and in comics and cartoons.  In comics it's a result of these adolescent power fantasies (among other things) and in my work it's an impulse to not be so heavy-handed in my politics.  I'm not nearly  informed enough to make specific social or political statements, so I'm not interested in resolving anything.  Instead, I want to imply a narrative that embodies a particular and often fucked up set of social values.  Hence the gallows that can double as a vaudeville stage set or a sentry tower with a quaint aluminum awning.  I've always thought the images that I make in gouache are the evidence of some other civilization that exists parallel to our own—parallel universe narratives in sci-fi are also a current love of mine.  In my world, though, instead of granting wild canines the ability to mail-order anvils I simply gussy up the instruments of control.  Either way, it's a happy place in which you don't quite notice how desperate the situation is.
Jason Dunda has a show coming up with Laura Davis called "Lock the Doors."
Slow
Opening reception, Saturday, April 2, 6-9pm
2153 W 21st Street
Chicago, IL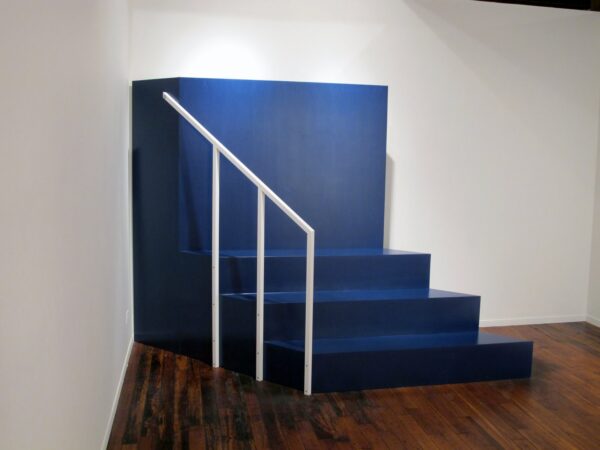 Recently I had the chance to ask Edra Soto a number of questions about how she approaches her practice. While I've been well aware of her work for some time, most of my encounters have taken place when I've visited a show or caught images on-line; in other words, I haven't before had a chance to talk to her specifically about what she's up to. As always, these weekly posts are welcome opportunities to do just that: to approach artists I admire and ask them things. For instance, I've noticed that Edra integrates an idea of performance in her work–whether  painting figures on a  stage or fabricating a real one, I always get the sense that she's trying to call attention (and therefore engage?) the spectator. In order to do so, she must adopts a certain hybridity, making use of different mediums to activate a concept from multiple directions, thereby reflecting multiple perspectives. There are a number of questions this brought to mind and I was excited to pursue some of them.
CP: Can you tell me a little bit about your background? How did you come to Chicago and how does it contrast with the other places that you've lived?
ES: I've been interested in the arts since I was a girl. I love theatre and wanted to be an actress. I also love music and used to write songs and sing them accompanying myself on the piano. I focused on visual arts during the last part of my high school years and ended up at the Escuelade Artes Plasticas de Puerto Rico, which is located at one of the most beautiful landmarks of the island: San Felipe del Morro, a 16th century Spanish fort. The school has a ridiculously beautiful view. Those were the days! I completed a bachelor's degree in visual arts and started a minor in education. After graduating, I won a fellowship to live and work in Paris for a year. I was 25, and that experience changed my life. I still think of the person I was then and how I thought Puerto Rico was the last place on earth. At that time, I was a painter in the commercial art scene of Puerto Rico. I had no idea about the financial aspect [of the art world], the types of people I needed to meet, what a curator was… I was selling paintings for $5,000 dollars and being interviewed for the local newspapers. The gallery that was representing me at the time also represented the premier artist of Puerto Rico, Arnaldo Roche. He was a graduate from SAIC (1984), and the gallery owner kept telling me, "You should go to the Art Institute"…so, I did. Again, it radically changed my perspective. I learned to understand American sarcasm and cynicism and I learned about the real me, the one I didn't understand when I lived in Puerto Rico. I stopped painting because I needed to explore the part I had denied myself because I thought it was unimportant, irrelevant. I always had the need to make things that were not paintings, but didn't understand their importance.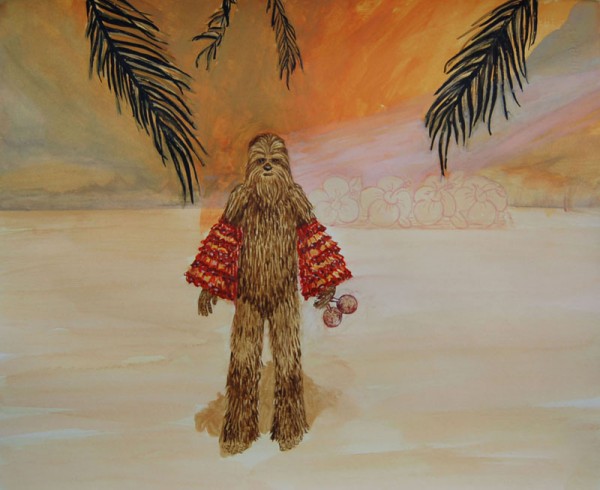 Caroline Picard: What does your studio process look like? Do you need different frames of mind to accommodate different spatial impulses? Or do you find your sculptural pieces come from the same place as your 2D work?
Edra Soto: I don't have a romantic studio process at all. I start with ideas on paper. I write my ideas and organize the concepts of what I want to do and how I want it to read, which leads me to the conception of the artwork. In my last three solo shows I used the same process. Before The Chacon-Soto Show, The Greatest Companions series was an explosion of ideas. I struck on something that took me way too long to find. It was a prolific time and I think I did not edit enough. I was completely emotionally connected. Since then I have been conscious of having to edit my work more.
I tested myself again with Forever (part of Forever Vegetal at Roots and Culture). Forever incorporated some of the images I started during the production of the Chacon-Soto Show that I felt were pertinent, drawing from the energy of The Chacon-Soto exhibition, but aesthetically with a more organic and dark variation. I wanted to change the look of the materials, reduce the scale and make a collection that was a hybrid; organic, fragmented and strange. I was confident that's what I needed to break from the emotional burst that The MCA exhibition provoked in me. I've never felt so sad about taking down a show.
Producing work in different formats and materials comes from a very honest place. More than 20 years ago I questioned my urges to work in other formats and mediums. Obviously, I don't restrict myself now. As an artist, I am interested and attracted to many types of formats and ways of communicating an idea.
To answer your question more directly, yes, everything comes from the same place.
C.P: One of the things that I've always loved about your drawings is your use of the line. Often you build up very complex textual areas on top of loose washes. I've also noticed a reoccurring motif of hair in your work, (like the wookie, or the dog, or also these phenomenal female(?) figures with massive manes). Could you talk a little bit about that?
E.S: You are very perceptive! I don't think anyone has asked this before. Yes, I love the delicate aspects of drawing and painting, and I do it for my personal pleasure. In painting, I went from figurative to abstract ways of expressing myself during my college years. I'm afraid my work might be a strange matrimony of my love for both styles. I do not question it so much. I do feel comfortable flowing around…it keeps things fun. The hair issue: yes, yes, yes, I love to paint hair so much! I used to love to paint water when I was in college. For a while now, it's been hair. My love for animals in general is very real. It is just meant to happen, I guess!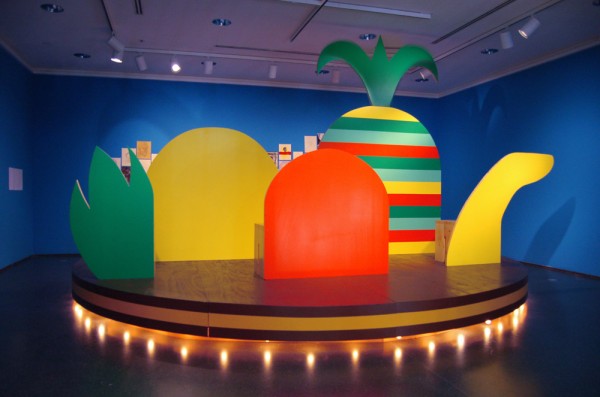 CP: I'm also interested in "The Chacon-Soto Stage (la Tarima)"—partly because some of your paintings feel staged to me (as though the "action" of the work is presented as a finite visual occasion within a larger field—I suppose that goes back to my experience of heavily detailed portions occurring on simpler backgrounds, but also with some of your earlier work there seemed to be a very deliberate stage that was part of the painting). What interests me in particular about TCSS is the way you manifest a physical stage, appropriated from a television program, where suddenly what was once a 2-Dimensional experience, becomes contemporary and interactive….
ES: Most of the series of paintings I produced for the Chacon-Soto Show were culled from video stills of the Chacon Show that I watched on youtube. I selected hundreds of video clips, made prints, and used them to make the paintings. The colors, the retro look, were all very alluring and I just craved painting them. Painting them literally was not an option, but soon enough I started creating my own scenarios in those settings.
Nevertheless, I maintain clear goals as a conceptual artist to have my language and ways of communicating art to be relevant to contemporary life. My ideas about making spaces that became communal has always been a philosophical preoccupation as an artist.  For instance: how to create a space of comfort for my audience? How to erase the boundaries between the audience as spectator and the audience as integral participator?  The exhibition Homily at Ebersmoore gave me the opportunity to once again challenge myself into mastering my way of communicating, edit my ideas, and provide an installation with a variety of formats where the audience can decide when to keep a distance and when to get close.
CP: When you refer to yourself as a conceptual artist, I am struck by how you seem to contrast that with an earlier approach to art-making, wherein you were called and thought of yourself as a painter. How do you differentiate those gestures of painting for painting's sake vs. conceptual work?
ES: I paint when I need to express an idea in painting, but I don't dedicate my life exclusively to painting. For 8 years, before and after college, that's all I did. Even at SAIC during the post-bac program, I painted. When I reached abstraction, I stared to think that I was done with painting, that I didn't have anything else to say with it. I don't think that anymore, but that's how I stopped painting for a while. I started to paint again in 2008. For health reasons, I had to be in bed for a month and spent most of my time with my dog Foster. His loyalty inspired me and I developed my first series of paintings that was called 'The Greatest Companions', exhibited at Mutherland and Rowland Contemporary.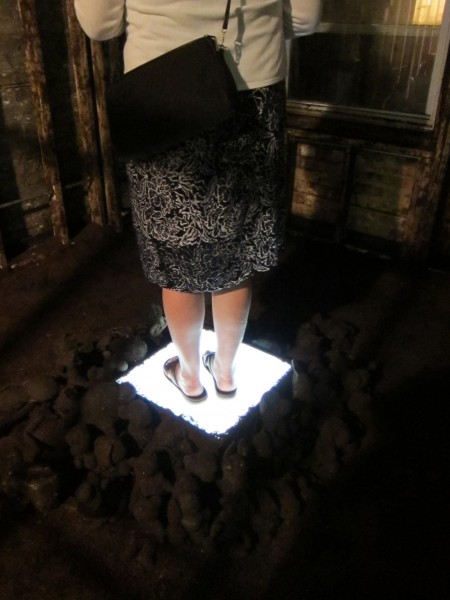 CP: In wanting to erase the boundaries between the audience and spectator and the audience as an integral participator—how do you make that distinction? (In particular with the way you hope people will interact with your work?) Also, where do you feel the tendency to be "spectator" in relation to art comes from?
ES: Scale generally provides the distinction. I will use the small scale of a painting and the very delicate details, for example, to provide a feeling of intimacy. Inversely, I will design a space (usually in sculpture format) where the spectator must introduce themselves physically to experience the space. Conceptual art can be challenging to a general audience. Because I come from a background where conceptual art was largely ignored, I think about the type of audience (and I include a younger me in that group) that might feel apprehensive about getting close to the artwork.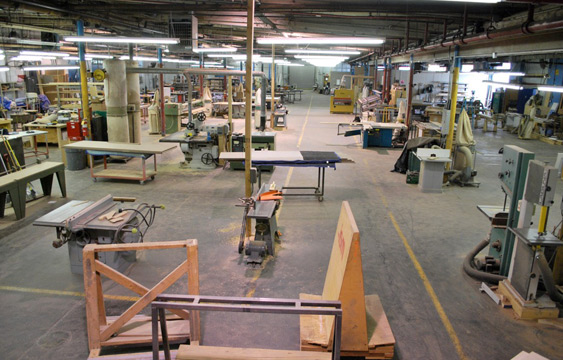 CP: You have a big project around the corner—Tell me about Dock6!
ES: Dock 6 is a collective of independent designers, furniture-makers and fabricators, including Dan Sullivan, my husband.  They've been together since 2009 and have grown into what is now the Dock 6 Collective. They have an amazing workspace and have done open house events and collaborated with underground supper club Clandestino, curated by Vicki Fowler. For that event they fabricated a 50 foot modular dining table from salvageable material. Some of my work that Dan has fabricated for me has ended up being exhibited at their events.  That's how it occurred to me to propose to Dock 6 Collective the Design and Art Series.  Aside from Dock 6 being an amazing space, this series will gather two communities, merging through this creative outlet. As curator, I am in charge of inviting the artists, and Dock 6 Collective invited architects and designers with whom to collaborate.
Among the artists featured are Kirsten Leenaars, who is currently working on a soap opera called On Our Way to Tomorrow, a companion of the ongoing exhibit Without You I'm Nothing at the Museum of Contemporary Art, curated by Tricia Van Eck.
Dan invited the Kujawa Architecture firm, who collaborated with Theaster Gates in the fabrication of his project for the Whitney Biennial. Their work is also reflected in the beautiful hotel rooms of Longman & Eagle.
This will be a one-night, one-day only event because it is being held at their workshop. We are incredibly excited to share this project with our artists, designers and architects communities in the hopes of generating more collaborative projects in the future. Our goal for now is to make this project happen twice per year.
"There is something dreamlike about the points that provide a view of the other side, but they belong not so much to the dreamtime as to dream work. The nomads enter the dreamtime not by setting off on some extraordinary, dangerous voyage, but through their everyday, ambulatory movement." -Cesar Aira, "Ghosts"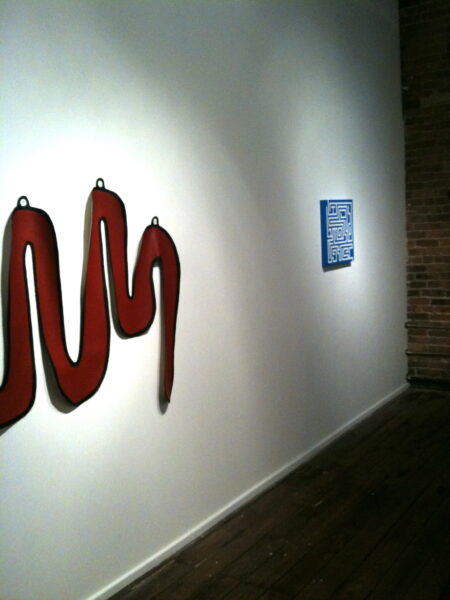 I have been thinking about Maren Miller's exhibition, Long Gone, for the last few weeks. When I begin to write about it, I pause,  get lost in thought and forget about writing. Until this week, I had not yet found the framework with which to formalize my intuitive reactions.
What I saw: Across the street from The Hills Esthetic Center, stands a Juvenile Detention Center;  Hills does not have a doorbell. A friendly face let me in after I called the prescribed telephone number. On my way up the stairs, several young men passed on their way out. For an old werehouse it was surprisingly warm inside. The steel stairs had been recently painted red. On the second floor, I walked through a wide hallway, went into one of many doors on the right and entered a welcoming living space. In the subsequent kitchen, a content-looking cat greeted me. It was polite—not overly friendly; it seemed to enjoy its hostly duties. The ceilings were at least 16 feet overhead and comparable windows bathed the room in light. There was a second room inside of this kitchen. Inside that second room hung Maren Miller's exhibit, Long Gone.
Miller builds architectural spaces with simple lines. I wanted to see if I might do the same with words.
Above one wall, the wall that the gallery shares with the kitchen, a mirror hung parallel to the floor. That way people in the kitchen could look into the exhibition space and people in the space could look into the kitchen. When I looked up, I was comforted by the domestic action of pots and pans on the other side of our common wall. They gave me more confidence in the clean, white room and periodically my eyes returned to the mirror, for a small, grounding break.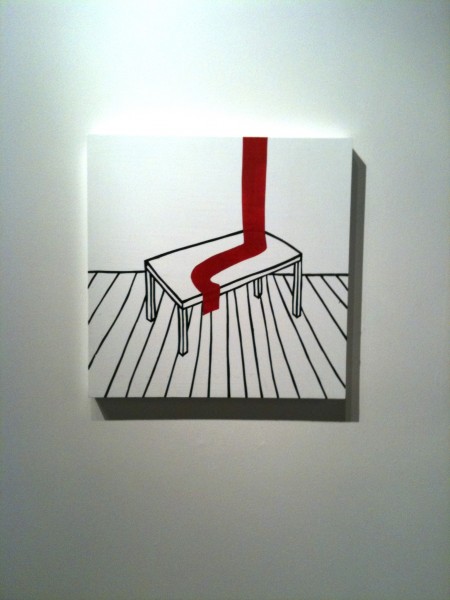 The show: Primarily red and blue and black and white. There is a sense of humor in the work and motifs refract through different pieces in an almost narrative arc: a labyrinth on a wood panel is akin to a snake-like canvas line, which is similar to a stream of paint that spills on a table that stands on a floor which, again, is reminiscent of the labyrinth. A chair covered in a tarp seat cover is the only three-dimensional presence other than myself. The chair beneath the tarp is intuited rather than seen and such considerations lean a little on the experience of my own physical presence. Behind the chair, a picture of a window is covered by a pictorial curtain. In another hanging canvas piece, a picture of what looks like text (blocky, reminiscent again of the labyrinth language) is cut off by what could be a curtain, or another very fat snake, or another stream of dripping paint. At the end of the room stands one real window. That window is also curtained by a patterned, unstretched canvas.
Each work in the show withholds something. It is covered by another piece of itself, asking to be uncovered or—in the most plain case of the labyrinth—solved. The motifs themselves are both banal and archetypal—the labyrinth, the snake, the window. Used in the everyday as they are in myth. Nevertheless, unlike their fabled counterparts, Miller's representations are insolvable; they cannot be uncovered and thus deny the traditional hero his or her epic fulfillment.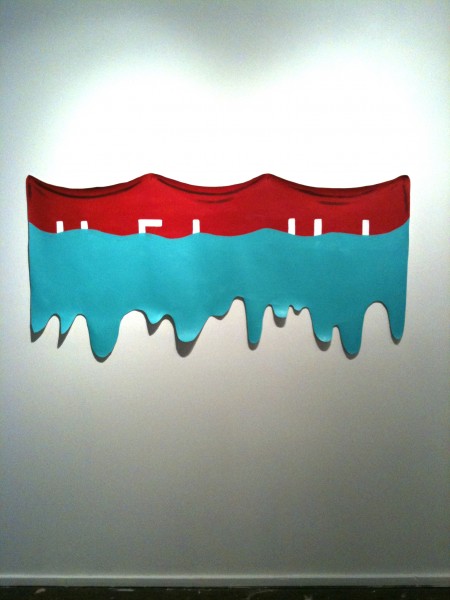 The painter is also in the index of archetypes, but Miller's paintings are not about a heroic painter.
The paintings are not stretched. Instead they hang on limp canvases, abstract, like cartoons of paintings. Other works on panels—the table with the floorboards, and the blue and white labyrinth—are not paintings at all, save for a gessoed background. These boast the illusion of paintings, for on closer inspection, the picture plane is defined by meticulously cut out (possibly electrical) tape. The surface of that tape lays flat, like a second layer of ink in a screen print. Here again, the surface is plastic and impenetrable.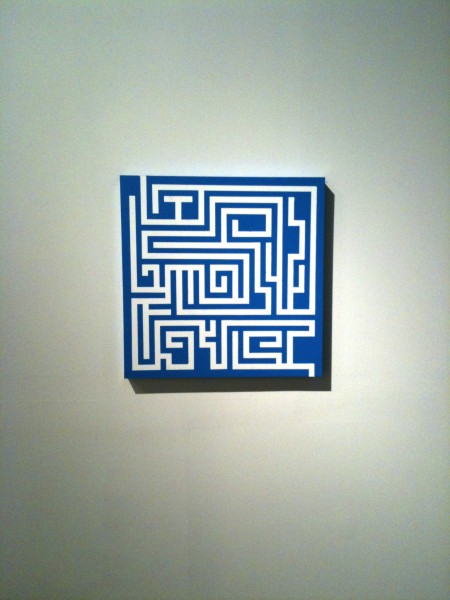 Ghosts: A few days ago a friend quotes a section in Cesar Aira's book, Ghosts. The book takes place in South America, in the middle of a growing industrial city; it centers on a family living in a high-rise construction site. Everything smells like cement. Halfway through the middle of the book the main character, a 13 year old girl, takes a nap. At this point the whole family is asleep–enjoying a siesta  before the evening, when the family will have a party on the roof. Up until this point, the action of the book takes place on a vertical plane as characters laboriously climb up and down half-built stairs. With this collective nap, the author introduces a horizontal axis, describing other human communities and the way their various architectural habitats reflect respective social priorities. In light of that digression, the book's monolithic skyscraper becomes one of many possible futures. In order to draw that conclusion, however—in order to shift from a vertical axis to a horizontal one, Aira uses dreams as vehicle of shift.
"There are societies in which the unbuilt dominates almost entirely: for example, among the Australian Aborigines. Instead of building, the Australians concentrate on thinking and dreaming the landscape in which they live, until by multiplying their stories they transform it into a complete and significant 'construction.' The process is not as exotic as it seems. It happens every day in the western world: it's the same as the 'mental city,' Joyce's Dublin, for instance….The visible landscape is an effect of causes that are to be found in the dreamtime. For example, the snake that dragged itself over this plain creating these undulations, etc. etc. These curious Aborigines make sure their eyes are closed while events take place, which allows them to see places as records of events. But what they see is a kind of dream, and they wake into a reverie, since the real story (the snake, not the hills) happened while they were asleep."

In waking, we see the affect of that gesture. In looking at Miller's work, I see a congress of decisions that took place before me. I cannot penetrate the surface she creates, because I was not present in the process of its creation. Further, the dimension I interpret is a product of my literacy—acquired over years and generations. Obviously this painted space is illusionistic, but its representation has repercussions in the way one regards other schemes of order. It is useful to recognize the myopic trajectory of history and progress—whether that history is about cities and human habitat, or painting or anything in between. Nevetheless Miller's work is not relativistic. These objects are sure of themselves and concrete. It is my relationship to them that shifts.

I looked at the mirror and saw the pots and pans and the cat was standing on a counter; its tail flicked.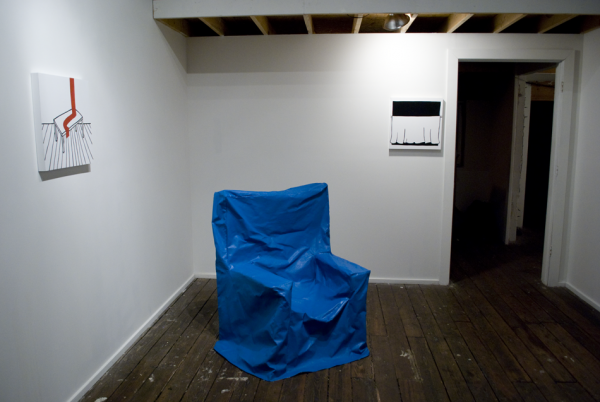 Maren Miller's work points to the dream state, during which objects are made. Her work creates the affect of space and depth, but in fact remain a surface. We see the affect and intuited depth of her gestures, yet the desire look "beneath," to capture an intimate relationship (or "truth") of the work, will remain unsated. She entertains Painting, as a genre, and in my analogy the Painting Genre is like the skyscraper. Massive, towering, lofty. Miller takes a dream in that building, while dreaming a snake with paint on its back undulates over a white wall. Something else stamps architectural lines onto a flat surface, creating dimension in a previously dimensionless space. As I stood there I looked again at the panel with the table and the red paint. The floorboards depicted in the "painting" mirrored those on the floor under my feet. I turned towards the literal curtain behind me, thinking about the repetitions of mark-making, how that repetition reinforces a world-view. The premises of architecture and art are inherited and built upon.
It was nevertheless with some relief that I pulled back the curtain and saw a street outside. A car drove slowly past the window.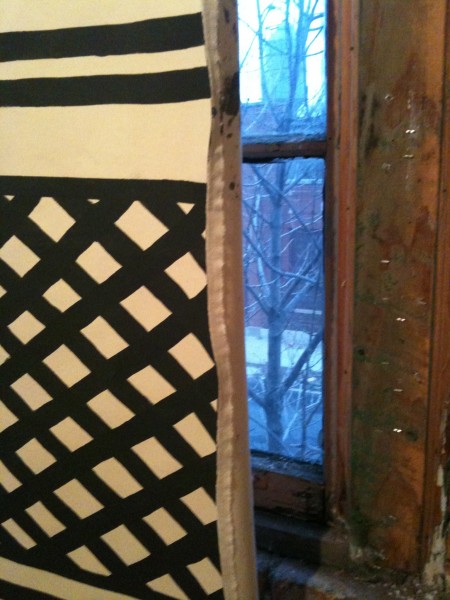 If you want to read another something about Maren Miller and her show at Hills, check out this interview with The Post Family.
Once a resident of Chicago, Stephen Lapthisophon has since moved to Texas where he continues to write and make work while teaching at the University of Texas at Arlington. His ties to Chicago remain strong–what is most recently evidenced by his exhibit, The Construction of a National Identity at the Hyde Park Art Center. Running concurrently in Dallas, Stephen exhibited a second body of work, Spelling Lesson, at Conduit Gallery. In both exhibits he investigates the source and strategies of identity, integrating text and found materials. Recently I had a chance to ask him some questions about his work–Devin, Stephen and I have been working together over the last several months compiling a series of Stephen's essays for The Green Lantern Press. In the midst of that process, I did not steal an opportunity to ask him about his visual work–what continues to play such a prominent role in his life. The more I learned about his practice, scouring through older publications, (Whitewalls published Hotel Terminus in 1999, as well as an artist catalogue, Writing Art Cinema 1977-2007 ) the more I began to wonder how he negotiates his own identity as an artist, particularly when his work seems so porous. It's a strange idea, I'll admit, to think of an art practice as being porous. What I mean is that Stephen seems to pass through accumulations of objects and ideas, undeterred by the cultural status of those materials (whether based in popular culture, day-to-day banalities or philosophy). He collects certain elements, one-liners and imagery, in order to then recompile those remnants through his own lens. Throughout everything he maintains a steady, personable voice. His work is warm, messy, I'd even say generous in its accessibility and boasts a consistent character–which of course points back to identity.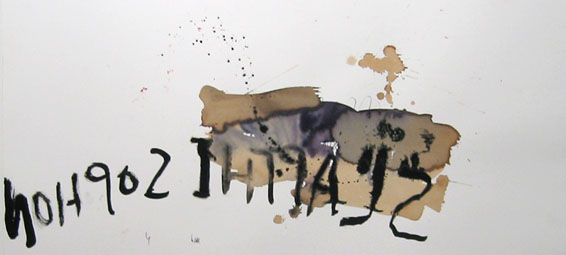 Caroline Picard: At your Conduit Gallery show, "Spelling Lessons" you address the question of a "signature." As I understand it, you employ a variety of mediums, as well as text, to undermine/explore the question of a concise artistic identity. Can you talk a little bit about that? And maybe what you think a signature represents? (I'm also interested in this because of your regular incorporation of text, which seems to become it's own kind of signature…
Stephen Lapthisophon: Yes.
First of all, I have this difficult, hard to spell (and hard to pronounce) last name. So names have been on my mind for a while—the way that names are not really words but instead serve as markers of a sort. I am interested in the way we mark ourselves, mark our place and mark our moment. I am also interested in drawing. And for me writing is closer to the act of drawing than it is to Painting which carries with it a number of assumptions and heavy background. Drawing is mark making, notation, surface and hand.
Also, as we move away from the hand we move away from a different kind of object. Picture making, works of art are no longer "signed" in the same way as they were in the past. Yet artists persist in making works that carry a recognizable identity, via repeated form. I am aiming for an everydayness of experience—signing, marking, making a notation, drawing, scratching and spilling.
I am also interested in the signature's ability to call into question our thinking about the idea of authenticity. Signatures should not be pre-meditated, forced or over thought. They should just "happen." We expect signatures to be "natural" and part of our selfhood. Odd then, that we sign a work of art –potentially full of artificial marks? To mark its authenticity…
CP: Following up on that last question, do you think of "text" as a kind of medium in and of itself? One not necessarily relegated to the page of a book, for instance, but even a free standing element? I suppose another way to ask that question is what is your relationship to text? How does that compare with your relationship to an art object?
SL: I am not sure if text is another medium but it is the element that makes certain media unstable. Is a drawing with text the same as a sign? I mean like a hand painted sign for a yard sale? Is a drawing/ painting with words an agreement, a caption for something else…or a list? I think text in visual works of art chips away at the solid place where we see a work of art as self contained and whole and moves it to an in between place–an object without a home.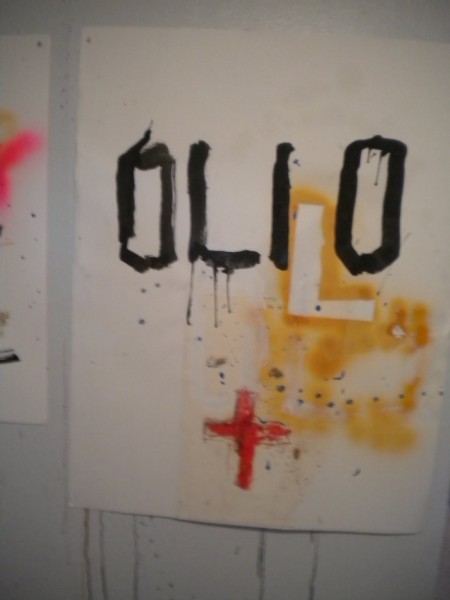 CP: You have a show, "The Construction of a National Identity" up at The Hyde Park Art Center right now. Here too, you seem to examine traditional ways of locating a self in space and time. On the one hand, it seems like you rely on those traditional mechanisms (i.e. national identity, which relates to place and, even more basic, I think, a kind of "naming" or identification of a particular aspect) and on the other deliberately undermine their integrity (in so far as you point to Paella, for instance, or the idea of hybridity in general). Can you talk a little bit about that tension?
SL: Definitions always fall apart. Either breaking away into tautology or crumbling under the weight iof their own defining terms. We are given many terms with which to define ourselves yet none of them match perfectly. We don't really add up…Given the hallway space at HPAC it seemed to make sense to push the transitory, ambulatory nature of identity—and the walking nature of the way that we exchange messages with each other in public. The installation is a poem with recipes written on colored walls or recipes for poems drawn on walls or walls marking overheard pieces of recipes signed by a writer. The food materials used to make the piece (saffron, rice, salt, coffee, olive oil, sesame oil and tea all hold associations with place and are part of our everyday lives. We build our sense of self through the repetition of daily rituals of food and drink and mark the day with words and gesture.
CP: Here too I am interested in how you incorporate those elements into tactile mediums. How do you characterize your relationship to your work–in a physical sense? Like when you're looking at what you make, in your studio, or in a gallery–even when you first approach materials with an intention to "fashion" them–what is your experience of yourself in those moments?
SL: I want my experience and the audience's experience to be of the moment–in process and in flux. An experience of everything around and in the piece. I want the experience to be heightened by a sense of the transitory and fleeting and of the potential for change. Not that the pieces change but that they have changed.  Materiality is important as it claims or sense of space and makes us aware of our body and all aspects of the sensory world. I use a lot of found objects and like to call into question what makes one object "art" while excluding another object from being art. I am drawn to material, older physical objects made by hand—objects that contain handmade marks.
CP: When do you find yourself most "the artist"?

SL: I guess I enjoy the making and the time and place when the surprise happens. I am an advocate of the irritation, of mystery and of ambiguity And I need to have a  sense of discovery as I return to the work. I like being in the space.