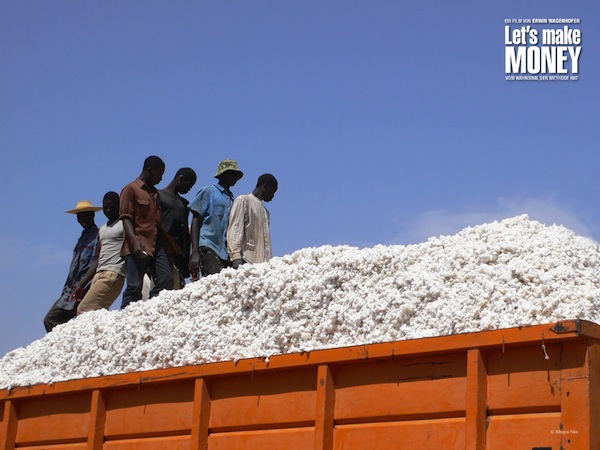 This is a quick note—I'm at home with a head cold and a little brain-dull too; to that end, I'm going to abdicate my writing priviledges today by pointing to another blog instead. Art Threat posted a list of/excerpts from 10 Documentary Films on Capitalism and Economics, from The America Ruling Class, to Inside Job, to Shock Doctrine. With my better mind, I like to think I'll skip the 3-hour long Merlin movie and watch these more pertinent films instead. It might be an impossible batter, but I type this now with fingers very deeply crossed.  On the same site, there is also a post about the 54th Venice Bienale where I gleaned the feel-good video below by Martin Sastre. Yes, in my cold-addled partly delirious brain, I will pretend we can all Tango with Obama.
Print shops are inherently communal. The overall expense and maintenance of printing equipment is generally only possible when shared. Being in this space, the smell of ink alongside a regular hammering of various machines (there was a particularly well-used off-set printer) reinforced one of the things I love about print making — its communal backbone, something that seems ever present in the proliferation of posters and brightly colored images. While at this print shop, I ran into an old friend, Andrew Oesch. I met Andrew for the first time years ago in Chicago. Oesch is a printmaker who, at the moment, teaches comic book production. In the following conversation we talk more about Providence and the enduring exchange of influence between generations.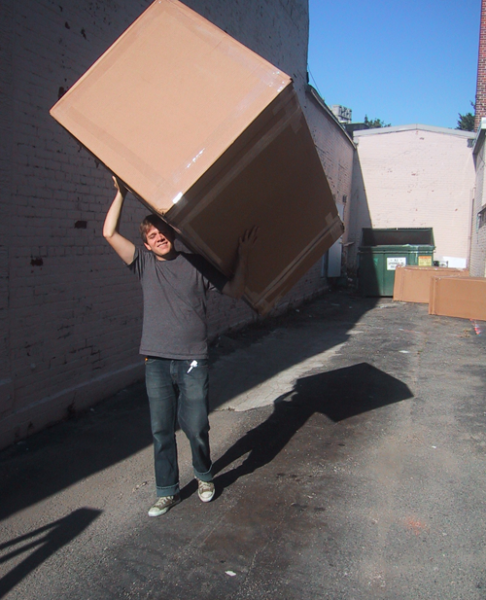 Caroline Picard:Â We first met when you came out for a show that Anne Elizabeth Moore had curated at The Green Lantern. That show was my first introduction to Providence and I was struck by the seeming resonance between the project you and Meg [Turner] installed, ("We Built This City Together") and my later impressions of Providence itself. For instance, you had some amazing stories about the physical place you living in at the time: cavernous rooms in old warehouses with smaller rooms built inside and space heaters. A lot of communal creative space that at the same time was somehow hyper aware of its (specific) urban context. In We Built This City Together, people were invited to take pre-printed stickers of buildings, color them in and paste them on a wall. It was sort of like a social experiment to see how people would respond to one another. It sounds very much like what those communal living situations must have been like. Â I'm starting to ramble, but can you talk a little bit about that?
Andrew Oesch: I hadn't thought about the ways that communal living might have been affecting my projects before. To put things in a little perspective artists have been living in large amounts of shared space for a while, it's not a phenomena which is unique to Providence, right? Those opportunities often form along peripheral conditions…artists move into provisional spaces that are in transition or of unclear purpose. In my personal work I do look to  architecture — both its planning and history — for a lot of insight to the culture of a place.
A lot of the architecture and culture of Providence is informed by the industry at the beginning of the 20th century. There was a lot of manufacturing — textiles, tools, and costume jewelry. So there's a fair amount of large brick mill complexes and a surprisingly dense amount of housing. In the early 1900s the peak population of Providence was around a million people.
With those historical notes in mind we come to the turn of the 21st century and all the large manufacturing is gone. The hemorrhaging of those industries started in the 70s and after a couple of decades the city is fairly depressed and its population is a quarter of what it once was. Some of the large mill complexes are there, though there are large vacant lots like broken teeth where a building might have burned down or was demolished. The buildings which remain are utilized in a variety of ways. Some have light manufacturing, some have small studios, some are flea markets, some are abandoned. The rent is cheap and landlords are permissive, so artists move in and things like Fort Thunder happen, and then they unhappen when the Real Estate market gets crazy.
One thing that I remember someone saying about why they live in these sorts of spaces is that unlike a house, these mills aren't made for people to live in. So it feels weird to live in them; she chose to live in them to continually remind herself that she wasn't normal, so she could remember that she feels weird.
I don't what that says about my practice… I feel weird and temporary? And to answer my own unsure rhetorical question I would say, yes. I am interested in the how Robert Smithson talks about entropy. The city is a system that shifts over time. I don't think it is moving towards an equilibrium…and it's not a closed system, but I can create finite systems and invite people to participate in them through various art making methods. Does any of this thinking make me a good housemate? That might be me starting to ramble.
CP: What kind of space does printmaking have in Providence? Has that changed over the years? And how has it influenced your own printmaking practice?
AO:Â 
Well, I wouldn't have a print making practice if I didn't live in Providence…maybe that's not true, but I began printing because I saw prints everywhere, and I was like "Oh, I wanna do that…"Print making and this place for the last 15ish years has been shaped by the 
Dirt Palace
, and other less permanent industrial mill living places. It just so happens that many of the folks who live at these various places make screen prints. The biggest way these practices continue to change is because the sprawling mill living spaces are less common. Buildings have been renovated, demolished, or just outright condemned. And this hasn't stop people from making, but it adds a provisional quality to everyones living situation. So that's why places like the Dirt Palace are really important: it is owned by two artists committed to keeping the world weird, loud, and rad. The AS220 prinshop is important in a similar way because it represents another place of stability. The contrast is that at the Dirt Palace every surface is covered by something else — old packing, glitter, show flyers, doodles, old paper mache projects…the space amorphously switchs from personal space to cooking space to work space to library to printshop to dance party and back again, while As220's printshop walls are more neutral. Their space is more obviously a printshop.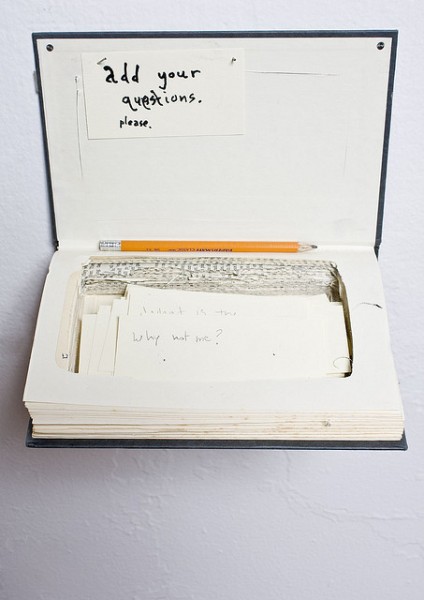 CP: While in Providence this summer, I noticed an interesting relationship between the city's educational institutions and the non-commercial, in many cases DIY, art spaces. Like the Dirt Palace got some kind of cartoon-making-machine because Brown no longer needed it. Do you feel like the universities have enabled the art-making community somehow?
CP: Yeah, Brown, RISD, & Johnson+Wales impact the city a lot. In mundane ways there is (what I imagine to be typical) resentment of the impact the universitys have on the tax base, and universities can gobble up real estate, and are touted by business leaders+politicians for innovation. But I think your observation is totally spot on;for the a certain section of the art scene universities have excess resources artists can mine. There are some  proposterously giant ways that happens and a lot of small ones too. All the Youth Arts programs I have been involved with have a few hand-me-down silk screens from RISD's print making department. And often at the end of the year there is a dearth of printing ink too.
But beyond the physical resources and material surpluses, these institutions have supported and spawned various organizations in town. 
New Urban Arts
, 
Community Music Works
, and 
AS220 Youth
 all ride a paradoxical relationship. Having been incubated by Brown, they nevertheless came into being because there was something that Brown was
not
providing. They exist because resentment and anger built up around the universities' inability to engage with a corrupt under city. Resources were mis-appropriated by a twice imprisoned mayor (and many others) while the public school population had 80% of its kids receiving free or reduced lunch (the school bureaucratic euphemism for "really poor"). Even with that resentment, these folks were able to start their respective organizations with the support of fellowships from Brown, and a few key mentors, and the large pool of potential volunteers who attended those same universities. Now these organizations and programs are a little over a decade old and they are the compelling civic leaders to offer something outside of the ways in which Brown, RISD, and Johnson&Wales do public engagement.

So what does this mean for our city's art scene? There is a generation of people who have grown up making art and hanging out with artists and mentors at these organizations; now grown up, that generation participates as emerging makers+artists+staffers, working and making alongside their former mentors. This is beautifully exemplified in this photo I really love of The "What Cheer?" Brigade, a loud and rowdy local brass band, taken by a young person who was a participant in AS220's Youth Studios, where a couple other members of the band were running a street band workshop. The photo has one of the trumpet players filling up most of the frame and foreground of the image, and in a the soft focus of the background there's another trumpet player and a trombonist, it's a good image, but those three members pictured are no longer in the band, and the photographer is.
CP: How did you start teaching comics? 
AO:Â 
So the last two years has been a slew of new jobs. My friend, 
Walker Mettling,
 was one of two artists who were written into a grant to run comics workshops in the 
Neighborhood Branch Librares
 in Providence. The other artist ended up dropping out, and both of them asked me to fill his place so I did. Probably the most important thing about  both Walker and me is that neither of us is a practiced comics artist. We're approaching the whole endeavor with a weird mixed bag of story-telling, print making, collage, busted graphic design sensibilities, and a general sensibility of fostering collaborative engagement. While working with Walker is new, and co-organizing workshops about comics is new, generally the project is a lot like my previous experiences as an artist educator and in that way it has been awesome!
Walker and I have been connecting kids and adults through 
The Providence Comics Consortium
. Admittedly there are a lot of things that we can not claim credit for. We draw on a pool of artists/friends/peers who are pysched about the ideas and images that kids create. Students in our class love to see their work adapted and amplified by adults. This simple equation of strong mutual appreciation/adoration is the essential bond that makes the project kinda magical. Kids come up with outlier ideas that adult artists are captivated by. There is peculiar way kid artists funnel their attention, which is revealed in the details they obsesses over and the aspects which are direct and simple. Walker and Myself are really just go go betweens them and the adults.
One of the ways we started off creating a dialogue between kids and adults was to try out our lesson ideas with a group of our friends. We would sit down and try out what we wanted to do in class with a couple of friends, this provided us with some feedback and refinement for our plans, but it also generated some awesome examples.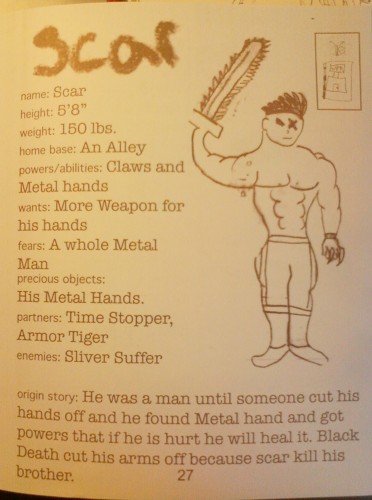 One of the critical story-develop tools and the primary visual vehicle between adults and kids is the series of character books we create. There are a variety of prompts and exercises we have utilized to start the germinating a character. My favorite thus far has been a process of hybridization where we start off asking the kids to draw two types of things. A pretty typical pair is "a food" and "a type of job." The kids make these individual drawings, we put the drawings into bags and everyone picks a pair which they have to combine into a character. This abstract visual mathematics can be confusing, but inevitably leads to good places… a memorable example is "The Apple Wedding Planner." The boy who drew these from the bags was confused at first, somewhat uncertain about what a wedding planner does… but that didn't matter because he could make his own meaning out of the random pairing he had drawn. The next phase in the character-develop is typically drawing a short strip using this character. After that little bit of narrative exploration with the character, we give them a worksheet with prompts to list the character's friends, enemies, special powers, height, weight, fears, and a little bit more narrative about the characters origin story. We end up retyping these stats and combine all the drawings and write-ups into a booklet. Compiling and re-distributing that book has two effects: One, it gets the participants super excited because they see there work in print! And two, the kids get super inspired by each others' creations. They start to utilize other students' creations, creating other characters in response.
Then we give those books to adults, who are equally as excited. We ask them to create adaptations using student characters. Soon we are going to put out our first anthology which features the student work and adult adaptations, so keep an eye out for that. (You can visit Secret Door Projects, to see how Ian G. Cozzens developed the Scar character).
AS220 is a special place. In last week's conversation with the Dirt Palace, you can already get a sense for how it has influenced the culture of Providence. In the following interview, I talked to Meg Turner, a former RISD graduate, who helped build and share AS220's print shop. Rather than focus on AS220, however, we spent most of our time talking about her life after Providence. About two years ago, she moved to New Orleans to start and run Art Works' non-profit print shop. It didn't work out and she has since embarked on another coop print shop project. To me, the whole story is valuable: what does it mean to think of an arts organization as an ethical parent?  What does it mean to keep the passion of your interest safe from the specifics of a bad experience? And, perhaps most of all, how do you balance one's personal creativity with administrative, communal work? Meg Turner is also a print maker dedicated to crumbling, abandoned buildings. She's just as handy with silk screens as she is employing (and teaching) older, photopolymer gravure, techniques. The second part of this interview will carry on here, where we talk more about her work and what was like to move her creative practice to New Orleans.
Caroline Picard: I'm curious about Noe, the print shop you're running in New Orleans, and how you came to be there.
Meg Turner: Right now I don't run the print shop. Right now I'm part of an amazing co-op that is totally existing because of every person putting in an insane amount of hours. I am the least part of running it because I left for 2 months.
But. I used to go on bike rides with my friend Morgan who ran the shop when we were at RISD and we would daydream about the print shops we would run someday — we would just think of the presses — we didn't really think of the form, just "Someday I'm gonna have a letterpress, and an etching press: I'm gonna have this equipment and that space—" the same way people decorate their kitchens and future homes. We didn't really think about structure or how it would work. When we heard AS220 was opening a print shop, we both called Susan to try to get a job. And she said, "No it's not like that. Come to the meetings." The first meeting took place in a bare room and we sat on the floor and there were 10-15 people there asking, "What do we want in this shop?" Once that question came up, then we started asking, "Who's going to use it? How does it work?"
The whole co-op structure and the way that it would work with volunteering, that wasn't instinctual for me, at least. It was an interesting—for a good 6 months to a year I definitely—coming out of RISD atmosphere of fine art editioning—I was thinking we would have to create the most beautiful print shop possible so fine artists could make beautiful work. Let's keep it clean and maybe it shouldn't be open to the public, maybe it should just be a small group of members that work together. But I got used to AS220's approach. Because if someone asks, "Hey can I come to your shop and learn how to screen print?" and I have to say, "No, I'm sorry it's only for these people—" it's too bad. I don't ever want to say, "This print shop is closed, you can't come here and learn." Because the whole point was create something that is as good as a university but open to absolutely anybody to come and use it  in whatever way they can.
But it was funny how long it took me to appreciate that. When I started working for my boss in New Orleans [at LA Art Works], I went to her shop and thought, "Oh my God it's so clean! One person uses this space! There's an endless supply of paper towels!"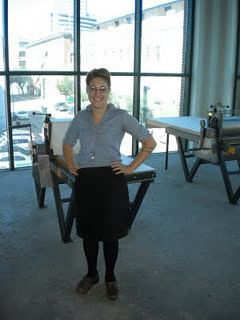 CP: Were you psyched at first?
MT: I was psyched—I thought this is the best thing I could ever imagine! And then after 3 days I thought that if I didn't have open shop to go to and didn't exist in the chaos of the ink and people showing up that were 50 and 16 years old my world would feel small because I wasn't spreading the love of this medium. Part of it is just that I love analog mark making and want everybody to  learn it. I want to make it as accessible as possible.
CP:Â Maybe this is a stretch but I feel like the silkscreening ethos is centered around production and dissemination.
MT: Yeah, it's totally about the democratization of art making and words and markmaking is the history of printmaking and I really love that. But you can also just make wedding invitations and other dumb things and you can make crazy political posters to wheat paste. It's anti precious even when you're making etches. And the art scene that I'm involved with is way more dirty and punk rock so we've created this really down and dirty silkscreen studio in a warehouse.
CP: Wait, you mean it's more punk rock compared to Providence?
MT: Well it's just a different scene down there. In Providence we've got an art school that pumps kids out, kids that come from the bubble of like, "I take my art really seriously," and our music scene is small enough that it doesn't divide itself. Providence is unique and that's why I love it, because the art and the music scene are totally intermingled—whereas down in New Orleans there are more people who want to be in galleries or work in non-profits, people who are cleaner in some ways, and then there's the punk scene that screen prints but printing is very much a hobby or in service of the music scene, and it's a little separate. That's where a lot of the constituents of the print shop are coming from. Having been familiar with the punk scene [in Providence], that's the part I plugged into [in New Orleans]. But a lot of the people I've met are amazing educators and there's beginning to be more of a mix.
The struggle down there now is how to not lose the feeling that anyone can walk in off the street at any time —which I felt like was lacking at AS220 — once a week, no appointment necessary. New Orleans isn't like New England — people don't have calendars, people don't want to sign up for things. They just want certain days a week when they can walk in. That has been by far the most successful thing. But I also want it to be a place where someone who wants to get a beautiful edition done can go, and it can be clean and organized and professional. And we also have no money now, no money at all. But we're going to do a kickstarter I think.
So that's been really interesting and the amount of enthusiasm out there — because there's not a printing or poster scene down there like there is in Providence. The poster scene is photocopies, still amazing photocopies, amazing drawings for shows.
CP: Do you have a sense as to why there wouldn't have been a poster scene down there?
MT: Well — I mean it's not that there completely wasn't — people have posters on the walls — but just not in the same way that I grew up seeing in Providence. I think a big part of it is RISD. New Orleans doesn't have an art school; there are art programs but kids don't settle in town to keep doing what they're doing. So it's not to say that there's no poster scene down there, because there is a huge flyer practice — the amount of time and effort that people put into making photocopied flyers down there is insane, and gorgeous and amazing — but the tools are different, you know?
What's been really exciting is how many people have been psyched about what we're doing.
CP: It's pretty awesome that you could even have walk in hours that people would use. I don't think that's necessarily the case in every city. There's also the whole thing of how you get people who would be interested to learn you exist —
MT: Yeah, and it's been funny how, even when we left Art Works and went to Noe — and Art Works was gorgeous— then to go to this amazing but totally chaotic, dirty warehouse and have people follow us from one to the other, people who had never been in a place that weird and, say, punk; it was cool. We've had some amazing middle-aged people, some high school students have been coming, and small business owners who want to make t-shirts. It's slow. It's definitely small, we get maybe five walk-ins at a time.
CP: You've told me a little bit about Art Works; it sounds like in that initial situation you had a budget and  a brand new facility but in that instance you had to work within a power structure that wasn't the best—
MT: Yeah it was a strange experience. There was definitely a power struggle going on between the CEO and the Director. When I moved there [for the job] they had very different ideas, so I was kind of caught in between. And there was no budget at all, actually, so the whole challenge was balancing the fact that the facilities were amazing but half-built there was like a hundred thousand dollars worth of tackage presses but there was no budget for anything, paper towels, screens, emulsion, not a cent.  So we had to create every dollar we could to spend on materials. When it started, we had a big meeting. "Does anyone want to do this? Who wants this? Who wants to get involved?" All these people came and our budget the first week came from the ten dollars we made at the first open shop. People donated equipment. People started paying dues immediately, it was 35 dollars a month and that let us buy our first bucket of emulsion. We could offer this amazing space, but the facility wasn't what it needed to be. The organization wanted a gorgeous, functioning edition studio to attract artists from around the country. It seemed like they were not as interested in a local community. There was definitely tension there. And then the place was just crumbling, They had no money. When they hired me I said I could make it financially independent in two years, if they paid my salary and gave a small budget to finish outfitting the shop — originally 6,000 dollars would be made available to finish the shop, but I got there and they were just like, "Sorry, no."
CP: Do you feel like it's easier now that you're sort of working on your own terms
MT: I think, it's gonna be a lot easier except that we don't have the same kind of facilities to offer the world, we don't have tackage presses. We don't have this like gorgeous room with 30 foot ceilings and glass windows, so, there are some there are some people who just won't even pay attention to what we're doing now, but I think in terms of the people who really respected what we were doing, they're psyched, everyone is really supportive.
CP:Â I remember you mentioned procuring a lot of equipment for Art Works. Once a space like that sort of folds, you can't take that equipment because it was donated specifically to the non-profit. How did you negotiate those issues of ownership?
MT: Because we all knew it was a bit of a sinking ship, I drafted things for people to sign when they donated equipment.  I made it very clear to my organization and the people that they were loaning the equipment and they could take it back at any moment. When we got kicked out, I said, "Everyone is taking back their equipment," and then I talked to the people who had donated that stuff and said, "We're gonna open again in a couple months if you feel like donating it again, that would be great." But what we didn't get to keep were the things that we built ourselves. That was the really tragic because it was like our blood, you know. For instance there's this rosin box that I got two local carpenters to build. It's not to code, and they couldn't use if they open again…Things were ugly when they fell apart. What we took with us was the energy of these ten people and we met in coffee shops for months, asking ourselves, "How can we do this again by ourselves no board, no money, no bullshit?"
CP: There must've been an important period of time where you were meeting without a facility, where your relationships were gestating, and you could figure out how you wanted to work together without the pressure of immediate, practical demands.
MT: Right, right. Some people that are there now have been there from the very beginning and people took different roles — that was the most exciting thing. A couple of people teach high school and middle school and have been teaching screen printing in those places. They were like really excited about being able to bring their kids to this facility and show them like you can work in amazing spaces. Then other people were more psyched about having a place to print, which the amazing thing about printmaking. It forces you to be communal (unless you're loaded) because you have to share equipment. What's hard has been how much administration needs to happen now that no one person is the manager. The last month has been all about insurance, bank account, bylaws; we became a nonprofit. I think like any place, if we all knew how much work it was going to be we probably would've been like, "Whatever!"  But so we'll see, we'll see how it goes, see like what role everybody wants.
Read more about Meg's visual work and abandoned building by going here.
Special thanks for transcribing help from Mallory Gevaert and Daryl Meador!
This is the last installment of the Dirt Palace interview. Here, you'll hear more adventures of Pippi and Xander: how they escaped the clutches of a Fire Marshall, what happens when events go public, and what it's like to finally fix a leak. You can read the first part of this interview series by going here. Thanks for reading and hope you all have a good weekend!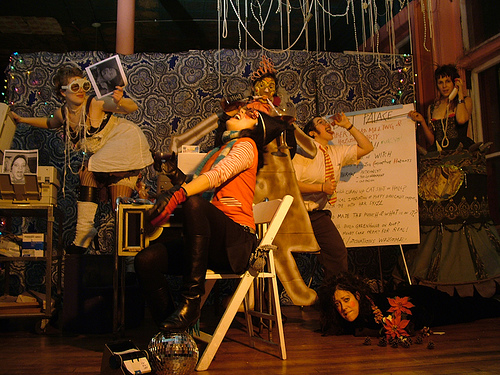 CP: After ten years paying a mortgage, you must take that constant overhead for granted. When it's paid off, it must feel incredible…
PZ: The biggest thing to me is the roof. We had a roof that leaked for years and we just couldn't afford to get a new one. Any time it rained and I wasn't home I had that like, "Oh no! Is anyone home? Are the buckets there?" Maybe there's one person who had a leak in their room and I'd end up feeling responsible for their stuff. Constantly. And if the buckets overflowed, the water would go through the floor. Knowing it was destroying the building at the same time — that was a constant stress.
XM: I think of a mom with a newborn. I used to sleep right there (points to the room next to the kitchen) and one of the biggest leaks was here [in the kitchen]. I could hear the leak when I was asleep, but I had this switch in my head where as soon as the bucket was full and I heard a different kind of drip, my brain would just turn on and I'd be like, "Alright, wake up. Go and empty the baby bucket into the sink or out the window and go back to bed."
CP: You were saying you used to do more performances and screenings. How has the public aspect of the space changed over the years?
XM: We started out doing a lot of shows and stuff and I think that was important to a lot of people here, because that's a big part of the culture that brought us all together in the first place. At one point someone approached us about doing this Trans Art Festival over a weekend and we explained the deal. We were like, "OK it has to be low-key, has to be you know, nothing in the newspaper, nothing on the air…"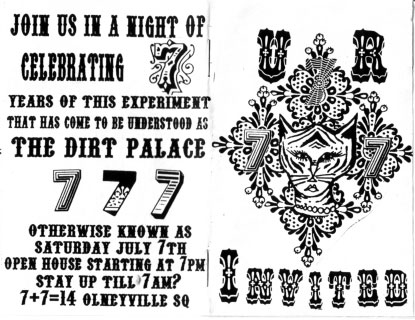 PZ: Well, we didn't say nothing about the New York Times Magazine.
XM: (laughs) Yeah, we were like no Pro Jo, no Phoenix, you know, not the local papers. The organizer is one of the most charming, charismatic people I've ever met in my life, so I understand why he got national media attention for this festival. It was pretty early in the Trans Movement back then.
PZ: Well the other thing is that he told them he couldn't give them the address, I mean he explained it and actually the media ended up publishing the address.
CP: And it was the New York Times Magazine?
(laughing)
XM: Is that when we were stalked by the Fire Marshal?
PZ: Yes. The Fire Marshall parked his car several feet away from the side door, just waiting to see if anyone would come in. For hours and days.
CP: Did you know that he was there before you left in the morning?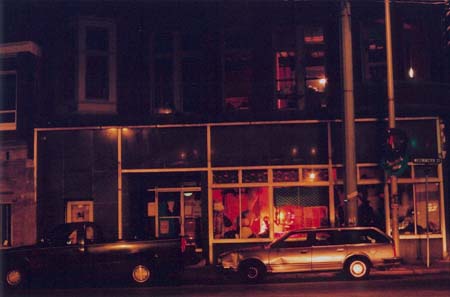 XM: Yes. We have a little peeper.
PZ: Right when the New York Times Magazine published info about our event, the door was open and the Fire Marshals just walked right in. And they were like, "What's going on here? There's going to be a festival?" We sort of played dumb and said, "Uh, I don't know." And they maybe poked around a little bit, but I don't think they came totally in. I think we ended up lying, saying we were under the impression that it was a conference and there was going to be like 25 people here…but after that they just wanted to see the whole building because we're not legal for public assembly. And then they also assumed since we're artists we lived here and basically he stalked the building to see if he could come in to like check it out. Which is totally weird and illegal. I was lucky because Xander called them and was like, "O I'm the landlord. Sure." And then tried to schedule an appointment with them.
XM: Yea, after they stalked us…
PZ: And then they'd be like, How's Monday? And Xander'd be like, "Let me look at my calender…you know, I think I'm all booked up until Friday, how's that?"
XM: During which time we got  every bed and the stove and everything—
PZ: Yeah, we moved most of the kitchen stuff out of here…
CP: Where did you move it?
PZ: Friends' basements. Into cars. A hotel. We just moved everything out. Then we had the fire inspection.
CP: Did he just want to come in and make sure that everything was up to code?
XM: It was during the Station Era, [after the Station Club night club fire] so everything went crazy. Rhode Island went from having some of the most antiquated exit codes to having the most stringent fire code in the country. And everyone just kind of went crazy with it. So whether or not we were planning on doing an event, the fire department knew that they had to come in an see that we had for a sprinkler and an alarm system.
XM: We set up some Chinese food on the table to look like, we're into take out. (laughs)
PZ: Yeah. Like we only use a microwave and get take out here.
PZ: OK it was ultimate paranoia how we set stuff up. They're used to going to artist spaces where someone like builds something like a nine-sided room where you have to crawl into a tunnel to get into it. We had always been building to code, so everything looked legit. And we cleaned like crazy. I just think they're used to crazy stacks of garbage everywhere. So they came in and I think the big thing they noticed was a poster on the wall for a Fireman's Ball—that sealed the deal—and they basically were like, "OK well, it's going to become law that all commercial spaces need a fire alarm system by 2005 or something so you have to do that. We'll send you a list of all the other things we have to do." Turns out no one ever sends a list because they don't want to be liable.
CP: You mean if something were to happen after they'd sent you a list you could sue?
XM: They'll never send you a final punch list; they'll tell you verbally you need this, this and this and they'll say, "Yeah sure I'll send a list to you," but you'll never get in writing,
PZ: That was really stressful because you know a fire alarm system is like 20 grand, 25 grand, but we also didn't know if they were going to come in and say, "You need sprinklers," or we don't believe that you don't live here. So we had a year to sort of figure that one out and that was the last time we've sort of ever been inspected.
CP: What happened with the festival?
XM: Moved it. And then after that we kind of just took the position that we really want this to be everyone's work space and live space and that like being a public space comes after that. And we kind of just scaled back what we do, like we do like small gatherings.
PZ: We won't do a show where 200 people are going to show up.
XM: Or that it's going to look like 200 people show up.
PZ: Because that was the big thing. During that time period there were big shows going on at underground spaces and there were always end up being busted because the cops said it was a "rave." Because like rave means drugs, but you know it'd be like whatever a rock band, so it was sort of hilarious. At that time, AS220 was still only the Empire Street building. I mean it's really only grown in the last couple of years.
XM: The impact AS220 has always had is that it's always been a real stable force and a stable entitiy and I think that's allowed people to say, "Oh let's not do this community based art project because we don't actually need that; there already is that. Let's do something that is really specific." And we were like, "Yes we want to. Our goal is to nurture young women artists, or have a home for people who are kind of in between this spot between when they're tyring to figure out if they want to do this professionally," realizing that we can kind of do things that are more specific or weird or whatever because luckily Providence isn't constantly reinventing the wheel of how to create an art space for  everybody. Where can we make this the place where there can be shows and there can be a gallery or whoever can gather. AS220 doing that already is kind of liberating for a lot of people to just not have to invent that.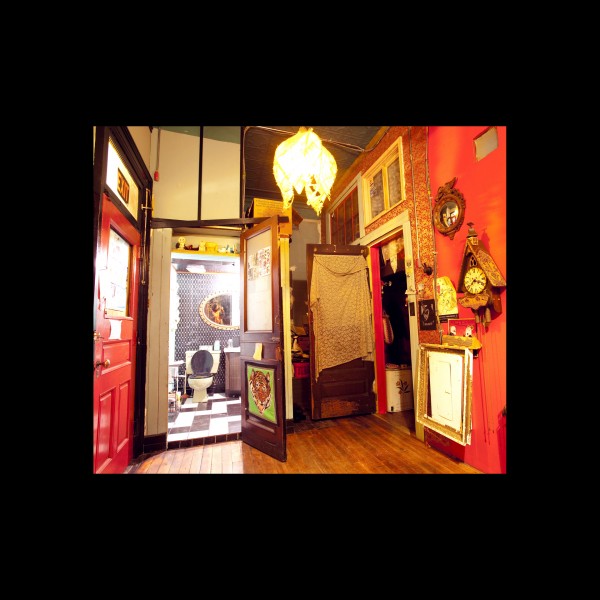 CP: I feel like it's been changing in Chicago even since I've been there. When I first moved there everybody wanted non-profit status because it made you legitimiate as a non-commercial artspace. It was a way to be signify that you were serious. Now I feel like there are more and more projects that reject both for profit and non-profit models, which is really important. Because those are two poles that are not actually inclusive.
XM: They both prescribe a path to a certain extent. It's kind of like, OK you go the not-for-profit route, you do blah-blah-blah, you ultimately try to get forward funded…this is how you achieve stability and this is how you take it that level of professionalism. And the levels of professionalism are ultimately dictated by corporate best practice, or something like that; no matter how radical you are trying to be, it's never acceptable to be the same. This is something I think is awesome about AS220, but I feel like is also exhausting about AS220: it's can't stay the same. It's always changing. They can't do the same thing for ten years and stay the same size. Which I think can be tricky to try to club away and you kind of have to be really creative to create other avenues and other challenges.
CP:Â It seems like rejecting the non-profit model gave you a lot more flexibility so that the Dirt Palace could develop organically.
PM: The not for profits that I think are really successful are successful because there is a person who is really invested with vision. At AS220 it's Bert. And I think without ownership, I think that's where a lot of places struggle. You need one person who calls it their passion and really just pushes everything forward. Because a lot of it is just volunteerism. And eventually you want to grow into the model where people get paid, but even when people get paid there's that thing where it's never enough and also it sort of just, if you think of the manager of a restaurant, they get paid a salary because sometimes they're there 70 hours a week. And just understanding that someone needs to really be the driving force. I think that's hard in that model. People get burnt out a lot. And I think for us, sure we've probably reached different points of time where one or the other of us was burnt out, but at the end of the day it's like, "Oh, but I own this thing." For me, at the end of the day, I'm not planning on selling the building and cashing in, but there's all these different ways of what ownership could do for you. For me it's psychological, because I could do any of those things even if I don't really want to.
That's also why our space is sort of interesting because there are people here who have a stake and people who don't. And we've gotten way better at figuring out what that means and how to manage it and understanding what it means for different people at different times. In the beginning it was sort of like this naïve idea that we were all on the same level, but we weren't on the same level. And then things changed and not understanding. It was also really unreal. We had this loan and we had a mortgage but it didn't rally sink in that I wasn't paying rent every day.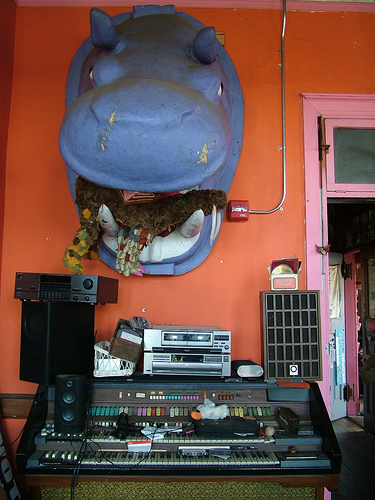 XM: I feel like our timeline is all tragedies and corruption and disaster.
PZ: I think after 2004 and after we were inspected by the Fire Marshall we just became way more low-key. And then every year things get a little more comfortable. Part of the way this space works is that we all pay rent, but we have one day a month where we work on the space together.  And that's srot of how we've chipped away at making the studios nicer and that's just been cumulative. It's hard to remember how hard things were at the beginning because the things we are doing it's not like we need a toilet upstairs, it's like, O maybe we should just tile that thing.
XM: OK, lets be real. The floor is going to rot if we don't tile it.
PZ: It's going to rot.  Yea. But at this point we're just trying to make things like better and more efficient. But in the beginning
XM: Needs that were like not getting met because things were in such an intense zone of struggle.
CP: I also heard you all make your own mead.
XM: Sometimes…..
check out the beginning of this interview by going here.
In the first part of my interview with Dirt Palace, we talk about how the organization started and what it looked like in it's nacent stages. It began as an idea for a bookstore, then morfed into a not for profit, women-run, studio space. Originally there were six members, but as the work of building out the space went on, it became clear that members within that group had different ideas. I think it's important to remember that things start that way: it's as if some kind of transcription is required when implementing a vision and that transcribed version will be invariably different from the original, shared (and I'd say elusive) dream. In this case, Xander and Pippi realized that not for profit status was not the best option for them. In order to arrive at that conclusion, however, they had to talk to a lot of people. At the same time interview is not only about the Dirt Palace, it's also about how political events (rallies around the Eagle Square Development, and scandal around the mayor at the time, Buddy Cianci) directly impacted Dirt Palace development.
Rowing the Boat to Sea: Part Two
XM:Â So one of the ladies who was on the board just said OK, let me help you with this and made the introductions. At the time there was a political will to help artists, and that was always a big help. Like Burt from AS220, he set us up with people who worked in the city. And by the time this had happened all of the stuff had gone down at Fort Thunder where they had been evicted, so it was kind of this perfect storm of political timing.
PZ: There were huge city hall meetings where hundreds of people who were concerned for different reasons about the development on Eagle Square; there was a lot of public uproar.
CP: People were upset that Fort Thunder hd been closed?
PZ: Yeah. it was hard because it was all these artists who stayed under the radar, because they were living in Eagle Square illegally. So officials thought those buildings were abandoned, but as soon as the people started losing their living and work spaces, they started coming out of the woodwork, saying, "we're a vital part of this community!" Some people would say, "Who are you? I've never seen you before." It was sort of a wake up call to us, that if you really want to be a vital part of a community you have to be visible and engaged.
XM: At the same time there were tons of people  who were saying this is the most important and powerful thing happening now. And the other thing about Providence's trajectory—I think you totally wove that into your description, Pippi—was the Safari Lounge, which was a dive bar downtown that there used host a lot of shows, even before things went down with Fort Thunder. The landlord evicted the guy who ran the Safari Lounge and there was a ton of community support around that. And Kara, who was another one of the initial people who started the Hive [what those founding Dirt Palace members have gone on to do since their interests in the Dirt Palace split from Xander's and Pippi's]—I feel like the 2 of us in the beginning were the main forces—we had worked together on a lot on that stuff. Figuring out how to articulate a case, or how to talk to media about why it's shitty for a landlord to increase the rent by three times—and it was actually successful with the SafariLounge. They're gone now, but the proprietor got another 2 year lease because it got all this media attention from people freaking out.
So we had just come off this experience where we recognized what could happen when you collectivize and talk about things intelligently in a public way. Taking action can really change the outcome of events. I feel like that experience led us to really want to do something sustainable, in reaction to Eagle Square. We wanted ownership within our own project.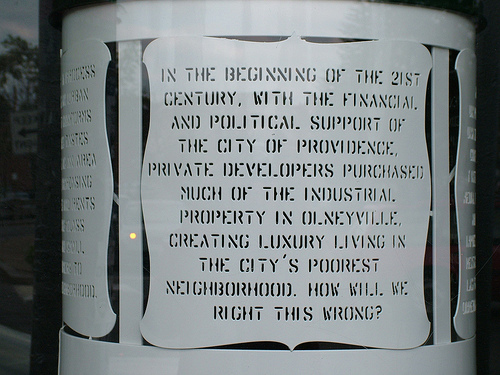 CP: Did you guys picket the Safari Lounge?
XM: We were really blessed by knowing someone who had a lot of money who decided that it was a super worthwhile thing, who helped us take out a full page ad in the Providence Journal. There's nothing that freaks people out more than when people who they think have no power all of the sudden take out a full page ad. The ad was basically everyone who had signed a petition, which was probably a thousand people, so it was a thousand names in tiny print. Providence is only 150,000 people so we represented a voting block. That's going to make politicians think twice.
PZ: I think the whole thing with Eagle Square was just a deal that was going to go forward—there was this big money developer who came in and was going to come in no matter what. But because of this big uproar I think the city had to show that they were supportive of the arts, and that was right when we needed a loan. It was perfect timing for us.
XM: We werent' the only people who benefited either. There were a lot of projects that sprouted up around that time.
CP: That seems like an appropriate action for a city to take. I mean on the one hand you realize there is a problem because people are living in an illegal, and perhaps unsafe space. Even if they are active cultural producers, it's probably not a sustainable situation in the longrun, especially if you have to worry about liability.
PZ: That was before the station caught fire, so even though things were sort of crazy with the fire department, they got crazier later, after the fire. In 2004 a big fire brought a new fire code and a new phase of liturgical society- things got really crazy and beauracratic then. But all this happened way before that. We ended up getting a really low interest rate commercial loan from the city for this building and we had to put down a down payment and at the time there was this idea that Xander and I could front some money for a down payment but that there were some other people in the group would buy in and that the building wouldn't just be owned by the two of us. People were in different states; some people really had the interest but didn't have the financial realities of being able to do that and other people just wanted to be able to be here and have a studio but have the flexibility of not owning. We knew everyone was coming from different standpoints but when we first bought the building there was this idea that we had such a strong core, we thought more of us would buy in at some point, and it was also that it was a commercial loan/building so living here was totally illegal.
XM: The other piece of the story I like was the chaos of actually getting the loan. Which was, I don't know…
PZ: I just remember because I was thinking about this all the time because I run now and Xander also runs, but at the time I was really unhealthy and I was really sort of like, I don't know I remember this one night where we had the accountant who was working for us pro bono give us the part of the business plan for application and it had to be in by five; the office was closing. It was like four-fifty-five. We were downtown and we had to  run to the other office with the stuff you know beucase the doors might close and I remember seeing her running ahead of me and being like, I used to run! I can't even run, but like actually running to get out application in—
XM: That's funny that's the part that you think of…because now you can kick my ass running. She's such a better runner at this point. But I was thinking more about how our loan application coincided with the city's Plunder Dome Scandall, when our mayor went to jail.
PZ: Oh yeah!
XM: It was the whole administration, so there were all these people who were like, "Yeah no problem. We'll approve that loan for you, just get us this, this and this. You're good." And we'd keep calling and we'd be like, "So what do we…?" And they'd be like, "No, no you're good." And we're like, "So what does that mean?"
PZ: And then that person would resign because of the Plunder Dome.
XM: Right, and no one gave us any tangible documents, they'd just say, "You're good darling, You're cool, kid." You know, like, "You got it. We're going to make this happen." No official anything and then one night half of City Hall moves to South Carolina—everyone was just cutting their losses and getting out. And then we'd have to deal with another Director of Planning. We had to deal with one and then another and then another until—luckily the people who we had to deal with, you know it seemed like the biggest thing in the world to us but we were like small pototaes, like it's $140,000 loan, not like this epic giant project that people really have ot think about. I kept thinking, "Are they going to leave note? Are people going to know that we're supposed to get this loan?"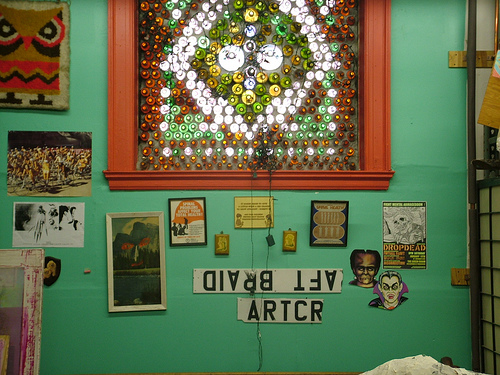 CP: So did someone call you eventually?
XM: We had a number of like fairy godfathers or fairy godmothers, just like people who like had our backs especially during the early days when there was a lot to get figured out. And our one friend worked there so he would help us make Xerox copies of all our documents. And he kept also saying, "It's OK," but it was just terrifying to wake up and suddenly think, "Wait does anyone we talked to still work there?"
PZ: I was so young I remember going to our hearing for whether we would get the loan. I remember trying to dress in business casual and taking out my nose ring, trying to look like someone who could really do things, but at the same time feeling really infantilized or young. I was sort of always wondering, am I doing something totally illegal here? Like for real? I think I still have that a little bit, but at that time I felt even less legitimate. Then we got the loan that  didn't leave us much money for capital improvements so we were on a shoestring budget. I still feel like, for other people in the world, we still are, but for us things have definitely loosened up a lot over the last couple of years.
XM: We paid off the loan now, so we finally have money that can actually go towards capital improvements. Every year we have a little more to go towards improvements and O! We need a new door! And we're going to save for that…
CP: When do you feel like that turn around happened?
XM: Pretty much when we paid off the mortgage. Ten years after we started.
CP: God that must have been awesome. Did you all have a party?
XM: I don't know if we did.
PZ: I don't remember.
XM: I think we high fived.
PZ: Yeah, parties are huge work. You don't want to have to clean up after all these slobs afterwards..
(laughing)
XM: we must have at least gone out to dinner.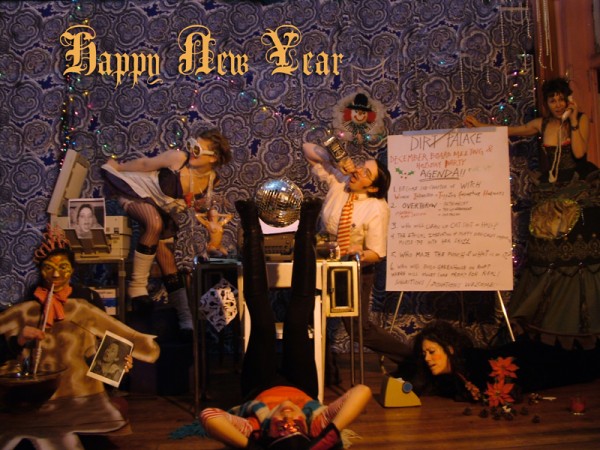 Check out the final installment of this interview by going here.