**all photos by Edward Crouse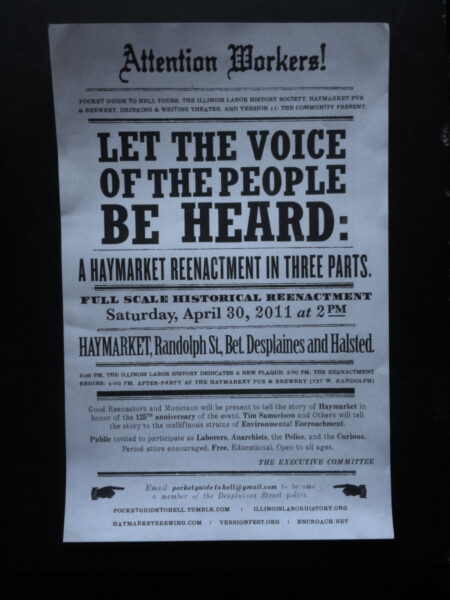 Until recently, my recollection of the Haymarket Riot is as follows:
Me, age 15 in the high school library looking over microfiche and taking notes on note cards as had been suggested by our US History teacher. As prickly as he was hilarious, he had a ruler he thwatted against the table and black board for emphasis. He made Republican jokes and I was very proud of the notes I took in his class. I used a variety of colors, more for aesthetic presence than any sort of code. He said once the only reason he became a teacher was because he always liked his teachers and  wanted to be similarly liked. He said once he'd started teaching he realized it was only the good students that liked you and there weren't very many of them. I wanted to be a good student. Actually, I was passable.
To be fair, I only chose to write about the Haymarket Riot because "riot" was in the topic title. And, actually, I do not remember much about my research. I remember being interested in how people managed to organize under such exhausted, alienating conditions. I remember being surprised at the conditions under which they worked; for instance, that previous to the riot people worked more than 8hrs a day on the regular. But aside from that I only recall my preoccupation with not plagiarizing and using a variety of pens to make my note cards handsome. The rest of that paper is a blur.
The older I get the more I discover blind spots like these—details that slipped past the guards of my younger memory.
Today, May 4th 2011, marks the proper 125th anniversary of the Haymarket Riot. On Saturday, April 30th Paul Durica's well-loved A Pocket Guide To Hell partnered with the Illinois Labor History Society, Version 11: Community, the Haymarket Pub & Brewery, Drinking & Writing Theater, and the Fulton District Association to stage a reenactment of those 1886 events. There were two groups. One, the one I was a part of, met at the Haymarket Brewery to get dressed up participate as police. The other, the anarchists and attendees, gathered at Randolph and Desplaines where a history was read and performed from a predetermined script. I can't speak for what happened in the square before our arrival, so I'll just give you a play-by-play of my experience.
My first tweet @10:59 AM: 125th anniversary of Haymarket Riot leads to Haymarket Reenactment 2day! 2pm at Randolph and Halsted. #pocketguidetohell
We had a Green Lantern squad. A merry band of buddies met me at the bar where we were given black coats, hats, and asked if we'd prefer to be wounded or have cap guns. I chose to be wounded and a small gold sticker was put on my shoulder. I was given a captain's hat, as someone who had organized other volunteers. I admired a woman's moustache, went to the bathroom and had second thoughts about whether or not I'd rather shoot a cap gun. Maybe I didn't want to get wounded after all. I hadn't pretended to do anything (publicly) in so long, the adolescent part of my brain bit my adult lip with consternation.
I decided to stay the course.
I decided I'd enact a stomach wound. I practiced, quietly, grasping my abdomen, imagining how I would fall down.
I very much liked my captain's hat.
Second Tweet @2:22: Can finally call myself Captain Picard#haymarketreenactment
Coming back to the main room I couldn't recognize my party because everyone wore the same black coats. The room was filling up rapidly. A waiter came around with a tray full of very small beers. I had one and found my people. Environmental Encroachment started to play by the door—a punk marching band cut from the same cloth as Mucca Pazza. Hearing them made me happy because EE had played in the first Green Lantern about five years ago during some crazy circus house-cat performance (don't ask).
While I've never been one to fully embrace the mystical significance of  synchronicity, I have always taken some comfort in our ability to return to themes.
Similarly, I started thinking about that first paper I wrote. I started thinking about how much my understanding of historical sequence has improved. I did not have enough context when I wrote that paper as Sophomore year. Of course, you have to start somewhere but as a 15 year-old the 1700s seemed as far away as the  1800s. It was like I experienced a temporal parallax from my 1996 co-ordinate. I had no means with which to conceptually measure those temporal distances. Now, 15 years later, I have a deeper sense of consequence and a better understanding of how one thing leads to another. 20 years is a literal distance that I've already traveled. Or, for another example, I understand how modernism lead to post-modernism. Nevertheless, the understanding of my 30 old-self is still based on an intellectual apprehension. History is still not present to me. Even thinking through all of the recent revolutions and protests, from Cairo to Madison: there is a way where people are active in the present for deep ideals which may be incongruous with the  hierarchical structures in which they are embedded. I'm thinking also of England, where students have been protesting almost constantly about the need for free education. By participating in this reenactment on Randolph and Desplains, I had an opportunity to internalize my own history so that my understanding wasn't simply intellectual, but became a muscle memory.
Someone stood up on a stool and gave us instructions. We were to march in a group around the block to a parking lot across the bridge.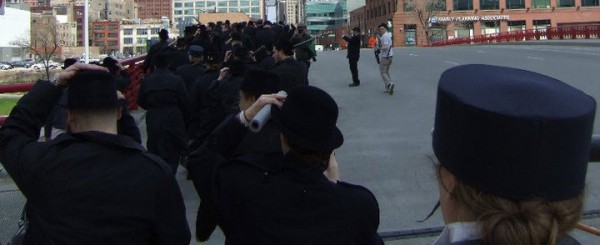 Third Tweet @2:47: Those who are wounded fall and hurt. You know who you are." #haymarketreenactment
In the parking lot more attempts were made to organize the police. We were instructed to form lines, 24 across and 8 deep. We were at least 2 more sets of 8 going back. And it was a great crowd. One of the things  I love about Chicago is the way a multifarious group of people working under the larger umbrella of cultural action (here I'd include DIY movie theaters, artspaces, publications, activist groups) can come together to participate in another group action. Certainly we've been seeing a lot of that lately, for instance with the MDWY Fair. The Haymarket Reenactment was no exception. Organizations like Quimby's, The Dil Pickle Club, The Nightingale, Columbia College, featherproof, Quickies, Dance Dance Dance Party, Stop Smiling, MAKE Magazine and others all had their own squad of 6+ people. Further, within the confines that Durica prescribed people were also able to enjoy themselves. There was a built-in chaos or disorder that had been accounted for. It was most apparent in the parking lot where we waited. The lines deteriorated slightly. It was hot. People made jokes about the sun finally coming out at last after so much winter.
Fourth Tweet @ 2:56: People have started speaking old timey #haymarketreenactment

When at last, we began to walk down the street we started to march. It was an unplanned development but we stomped our feet in unison while simultanesouly thwacking our costume-issued gray, styrofoam pool-noodle clubs. I suspect a similar movement took hold of the original police;Â  approaching a large mass of people will always be intimidating and if you're assuming any kind of authority you need all the help you can get. Sharing a drum beat from your feet works pretty well. We could see a massive group of people standing in the middle of Des Plaines. There was a road block. Proper police stopped traffic to let us pass and someone opened the street barrier so that we, as a group (still in lines somehow), could walk into the middle of the throng. An anarchist in a vest spoke to us through the microphone by the Haymarket cart.
What was said/The Transcript no. 1:

The POLICE march up Desplaines to the Wagon, forcing spectators and workers north. WILLIAM WARD approaches FIELDEN.

WARD: I command you, in the name of the State of Illinois, to immediately and peaceably disperse.

FIELDEN: We are peaceable.

WARD: I command you and you to assist.
EdMar made his way to the front, and waved his gloved hand in a queen's wave. Someone threw a dusty cloth up in to the air. It was white and it burst into a small smoke. There was the sound of a bomb. This was our signal. I began my death scene. A number of cap guns went off. Photographs scrambled to take pictures. I heard others groaning.
What was said/The Transcript no. 2:

THE HISTORIAN: No more than 5 minutes elapsed between the explosion and the last gunshot. No one knows who threw the bomb. No one knows how many workers and spectators who wounded or killed. The wounded along with the wounded police, 60 or so in number, were taken back to the Desplaines Station. One officer, Mathias Degan, died instantly from his injuries; seven others died later.
Fifth Tweet @3:34: Definitely died. Feel great. Still have to pee. #haymarketreenactment
The reenactment continued in a kind of fast forward over subsequent events. Most of the police who were wounded were wounded by friendly fire. Police started to sit up or stand up in order to listen and watch the performance. A mock execution was held. We listened to their last words.
What was said/The Transcript no. 3:

The actor who plays WILLIAM WARD is now SHERRIFF MATSON. He approaches the remaining 4 men who now stand with hands clasped behind their backs. After each speaks, he puts a hood over their heads. Parsons is cut-off mid-sentence. MATSON makes a gesture with his hand and the 4 drop their heads.

SPIES: The day will come when our silence will be more powerful than the voices you strangle today.

ENGEL: (in German) Hurray for anarchy. Hurray for anarchy.

FISCHER: Hurray for anarchy. This is the happiest moment of my life.

PARSONS: Will I be allowed to speak, oh men of America? Let me speak, Sheriff Matson. Let the Voice
of the People be heard! O—

MATSON and the 4 men receded into the crowd. The WORKERS hold up a sign reading June 25, 1893.
This is the way we fast forwarded through time: by signs held up with dates on them. In this way, a narrative was enacted, such that the consequences of the riot were brought to their conclusion.
What was said/The Transcript no. 4:
LUCY PARSONS (Alma Washington): My children and I were not allowed to see Albert the morning he was murdered. We were arrested outside the jailhouse. Thousands lined the streets as the bodies of the 5 men made the journey to Waldheim Cemetery. On June 25, 1893 a memorial was dedicated to them. The next day Gov. Altgeld pardoned Schwab, Fielden, and Neebe. The fight for the 8 hr. day continued. The fight for a just and better world continues.

I was not there with my husband in his final hours. I was later told that on the eve of his execution, around midnight, alone in his cell, he sang his favorite song, our favorite song, "Anna Laurie."
Finally I got up from my death pose. We were all lead in song after that; we sang "Les Marseillaise."
Paul Durica started making his own speech, stating in particular what became my sixth tweet.
Sixth Tweet @3:42: Paul Durica: "History is a public space. It belongs to all of us." #haymarketreenactment
It might seem tiresome, in some way, to include those transcripts. I did so, however, to help frame the whole experience. To show how much thought and effort went into the architecture of the event. It had been in the works since November and a ton of people participated to make it happen. To me the experience created a different rubric for education. By participating in a reenactment like this, one is directly implicated in the action of history. Furthermore, at least for me, I felt pretty carefree throughout all of it. I don't think I was taking it seriously, exactly, swept up as I was in the energy of a group. Yet suddenly, I found myself hearing the script, hearing that only one policeman died on the scene. Realizing that I probably would not have been that policeman (despite my dramatic pose). I bumped into historical accuracy in such a way that, I expect, I will always remember those dead and wounded. Furthermore, when I climbed back up from my pose on the street, I heard four speeches as bags were placed on four people's heads. It was suddenly somber. The subsequent speakers had an earnestness about them which I'm not sure I would have appreciated had I not been so cavalier before—because suddenly everything felt real and I was overwhelmed with a tactile experience of how our lives today have been so directly impacted by this short historical blip.
Special thanks to Mairead Case, Michelle Faust, Nat Ward, Kenneth Morrison, Jerry Boyle, EdMar of Version Fest, Larry Spivack of the ILHS, Pete Crowley of Haymarket Pub & Brewery, and Larry Gage of the Fulton River District Association

We still have no real idea what the narwhal horn is for. Of course it isn't really a horn, either. It's a tooth or a tusk like that of a walrus or elephant. It grows up and out in a spiral. At first they supposed it might be use to break holes in the ice, or spar with other whales. Because female narwhals don't often have these protruding teeth (though some do, and some rarer males have two), they are believed to be "secondary sexual characteristics" used to woo and impress prospective mates. That said, in 2005 scientists discovered narwhal tusks are opposite to our own: whereas our teeth have a hard protective enamel that covers the softer, nerve-ridden pulp, narwhal tusks are hard on the inside with 10,000 nerves worth of sensitive soft stuff exposed to atmosphere. This, combined with the acknowledgement that no one had ever seen such behavior, discouraged the tusk-as-rapier idea. It was thus concluded that the sometime 10-foot tooth might serve as a thermometer/barometer/measurer-of-salt. It's possible this tusk is used to communicate, bringing to mind an antenna. Nevertheless it's speculative. We still can't say why this whale, as opposed to others, would have such a specific tool. In Mark Booth's exhibition, God is Represented by the Sea, a wall drawing tastes the tusk, as though to unlock its mystery that way. Three of the four walls are covered in a narrative that includes, "I attempted to trace one furrow from the horn's root to its tip with my tongue. During this process of investigation my taste buds became inflamed and swollen, calling to mind an undulating colony of sea anemones."
ADDS DONNA is a long, narrow gallery with high ceilings. At first glance, Booth uses the space economically. There is nothing on the floor. Rather, smaller paper works hang near and above the door; like Hair Isthmus (above), these drawings are spattered, star-like reliefs of text—written in the same font as the text that lines the walls. On the wall, gray-blue vinyl letters describe the narwhal tusk, the way the narrator accessed it through "a purveyor of experience" and the narwhal's curious smile. At first I didn't see the inconsistencies in the font, assuming it, like most institutional lettering, was created by a computer. But slowly, as I stood letting my eyes wander over the letters, I couldn't place the font. The O's were curious, octagonal blocks and, like the A's, B's & D's, did not have central holes. I then noticed that the octagon's corners were not all at the same angle. It dawned on me then that every letter had been cut by hand.
Accompanying this work is an overhead audio recording of substitution, "Shimmering stars are represented by a milk-filled breast……A milk filled breast is represented by a river through a country in darkness……A river through a country in darkness is represented by sirens keening across a city……Sirens keening across a city are represented by women, men and children……Women, men and children are represented by  argon gas……Argon gas is represented by a petrified tree……A petrified tree is represented by a physical gesture…" It is Booth's voice, leading us through a  curiously poetic equation, one that wanders to through dreamy conclusions, convincing for the gentle tone of Booths' voice—easily presumed to be the same first-person in the text. Through that tonal repetition, bouncing as it does against the letters on the wall, the room starts to fill with an intuitive architecture. One in which the sea, with its sea urchins and narwhals and overhanging navigational stars is both central and ineffable.
The final piece in the last corner features more text, with curious shapes patterned beneath it in a cluster. The narwhal story ends under this last wall drawing. This time the text is a little darker and reflective; Â thinking through the sea urchin and sailors lost at sea, it conjures the mythic properties of their absence and the way we feed upon it. These anecdotes create an experience of wonder, a fetishitic curiosity. Perhaps because we live in a landlocked city, they are almost erotic.
…
It used to be that people hunted narwhal tusks for Kings and Queens, as evidence that unicorns existed. It was so much more plausible to imagine a horse with a horn than a whale, the idea of unicorns persisted. Can you imagine? Someone says to Another, "Unicorns don't exist." The Other, "Where do those horns come from?" The First, "Whales." The Second, "Shut the fuck up." But this is the way of the sea as it always has been. A dark, intemperate body, full of mystery: a field that woos the Romantic.
Perhaps it is true, the only way to comprehend it—even slightly—is to ingest some part of it.
…
Text has authority. The codified system of communicative terms is an institution; it parses our experience, mapping a common ground that necessarily diminishes the importance of what cannot be conveyed in order to protect its own cohesion. An inherited legacy, like any other culture, cheese, bread, alcohol, yogurt : these things propagate meaning by facilitating relationships and values. They are nutritious, while themselves evidence of sophistication and art. Perhaps we could add to these, myth and ritual, as we focus on the way in which these artifacts of tradition are nevertheless dynamic and alive. They are not static as institutionalized text-on-a-wall might have you think. The hand-cut quality of each letter reminds us that this is a story; it could be a dream or it could be autobiographical, historical or fictitious. It could be a long lie. The potency of this category lies in its reproduction. The bacteria of a particular cheese is given as a gift in order to be reproduced in some other country. At a party none of us are invited to, someone retells Booth's story, as though it was a personal experience. These tales can be repeated and through repetition they can change. The elemental letters that comprise their content are themselves dynamic and unstable. God is Represented by the Sea investigates text as it undermines the authority of language, where ideas hang like balloons to be consumed, sometimes on paper , sometimes on the wall and sometimes in the air.
…
First the guess artist told a story about a man-faced fish that lived in a green pond on a large estate during the Napoleonic Wars. Napoleon's army happened to pass through that part of the world and he used briefly that estate as a command post before one or another of the famous battles in which he refused to take anyone's advice and went his own implacable way.

While out for a walk on the estate, considering the best way to array his troops along the lines of battle, Napoleon passed by the pond in which the man-faced fish lived. Being a man who was fond of green ponds and private moments before battle, Napoleon lingered by the pond and stared down into its depths. The man-faced fish saw him and swam up to the surface.

— Good day, said the man-faced fish.

— Bonsoir, said Napoleon.

— Below, said the man-faced fish, it is neither day nor night.

The Way Through Doors, Jesse Ball
The quoted passage above is told from within a labyrinth underground. The characters are about to take a rest for the night. The literal labyrinth they are in mirrors the narrative labyrinth Ball leads us through. The Way Through Doors world is not stable, but constantly shifts as in a dream.
Booth's world is similarly shifting. As the cadence of his voice bears us along illogical conclusions, the path is nevertheless pleasing and so you drift along, without necessarily having to take responsibility for the consequence of your passage. But of course this show is also about Art. The tasting of the narwhal tusk takes place in a Zoological Museum. It is about the authority of spaces and texts and contexts. It is about our relationship to history, evoking, perhaps, the delight gleaned as we eat the myths of our predecessors, draining their nourishment in order to fuel our own expressive desires. The sequence of cannibalisms, so far taken for granted, as to remain dreamlike, impalpable, labarynthian.
…
The name "narwhal" comes from the Norse word "Nar" which means corpse. Literally translated they would be "Corpse Whales." Contemporary peoples have looked back on this, supposing the whale's propensity to float, unmoving, on the ocean's surface for endless hours as well as their discolored, spattered skin inspired the name. It is likely that, when found in the middle of nowhere on a flat, frigid ocean, days away from land and wind, these creatures astonished mariners as monstrous ghosts, gripping their hearts with uneasiness. However, on closer inspection instead of finding horror they found the narwhal's habitual smile. "Even in death, this enigmatic smile reflects the narwhal's reception of continual, unexpected pleasures," (Booth).
…
The final piece in the last corner:
It is commonly known that when the sea urchin resembles the texture and flavor of a drowned sailor leading the superstitious belief that the sea urchin is the repository for the souls of mariners reaped by the sea.

— God is Represented by the Sea, Mark Booth
…
Bas Jan Ader disappeared in the sea while searching for The Miraculous.
Perhaps in this dream, you are eating Bas Jan Ader.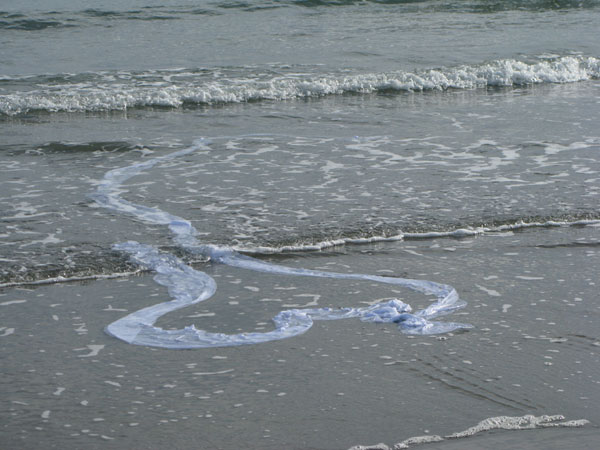 I first met Rebecca on Milwaukee Ave. I think we were at a gallery opening. I had been talking to a friend about The North Georgia Gazette, an Arctic newspaper originally published in 1821; I wanted to reprint it somehow. At the time the project was a pipe dream and when my friend saw Rebecca, she ushered her over and said, "You should talk to Rebecca. She's all about Arctic exploration." At the time, I think I stuttered through the introduction. Like many encounters, the virtue of our handshake was not in what was said but a recognition of friendliness. Since then I've followed Rebecca's work pretty closely. We put the Gazette together and even travelled to Philly at one point to put up an art show. We share a number of interests in book making and comics; her work has inspired my own in different ways. I've always appreciated its tactile honesty. There is something defiant about the unslick-ness of her tone, the efficiency of her energy. If she wants to illustrate a relationship with the ocean, she literally draws with it, or swims in it, or writes it a letter. She makes illustrated chapbooks connecting geographical exploration with a romantic biography. Or, upon recognizing weakness creates a ritual of exercise-as-performance. In everything there is a direct connection between the gut of her impulse and the resulting aesthetic experience. The distilled object–a photograph, a sculpture or video–is the result. Given her interest in exploration, it makes sense she would approach her practice so efficiently–it is as though she must employ economy in order to anticipate unknown distances ahead, in order to conserve energy and resources. Each piece is evidence of  a new discovery within an interior landscape–a place that could be a country or a poem.
Caroline Picard: What does it mean to explore something? What is your relationship to the iceberg?
Rebecca Mir: When I was a kid, I spent a lot of time scrambling over seaweed covered rocks and investigating tide pools by the beach, or building fairy houses in the roots of spruce trees on Monhegan Island. I channel some of that excitement when I'm walking through a new place, or building something in my studio. Exploration is partly about the physical space of exploring, and then it's all the pieces of the story surrounding the exploration. Some of my projects rely more heavily on the actual journey, to the water, or mountain, or the preparations for this journey. Getting directions from a deck of tarot cards for instance. Or the journey takes place entirely on paper. In a comic about exploring the sea floor and bumping into perished explorers.
Icebergs are explorers too. They break off of a glacier and set out a trip through the ocean. Sometimes they stop in shallow water and become an island. They are beautiful, but sometimes dangerous, to us. I am attracted to cold places and large bodies of water. It's only fitting really that I think icebergs are sexy and fun to draw.
CP: How do you relate to the mediums you employ? How do you chose, for instance, whether something is made out of paper, or bound in a book, or constructed with plywood?
RM: When I first decided to be an artist, (somewhere around fourteen?)  I was very old fashioned. I wanted to carve women in stone. I think this might be directly related to watching a film on Camille Claudel. I had a very romantic sense of the artist studio. Romantic and dramatic and devastating. I quickly gave up on figure drawing and sculpture for less figurative sculpture projects in fiber and ceramics. But I've returned to working with the figure and stone. I started drawing again, about five years ago, with comics. And I've been working with rocks again, in sculptures and drawings. It's sort of tying up the loose ends of my roots.  Choosing materials is sometimes a game. Figuring out how to build/draw/capture this idea with what is directly around me. Similar to the fairy house building in the woods. And sometimes this is just where it starts, and then I realize that I have to go seek the right paper, or wood, or rock. Or that I need to go make a photograph. Or find a video camera.
Plywood is great for making rigid things like ice floes and mountains. Paper is great for making water. I like the way crinkled paper makes me think of water stopped in motion; the light hits the crinkles in a similar way to it reflecting on the wavy surface of water. Paper is also great for writing on. When I want to tell a more linear story, I always go back to pen on paper. I turn them into books when there seems to be a group of stories, or a longer one. Books are easier travel companions. I can send them easily in the mail. They take up less space, but require more time.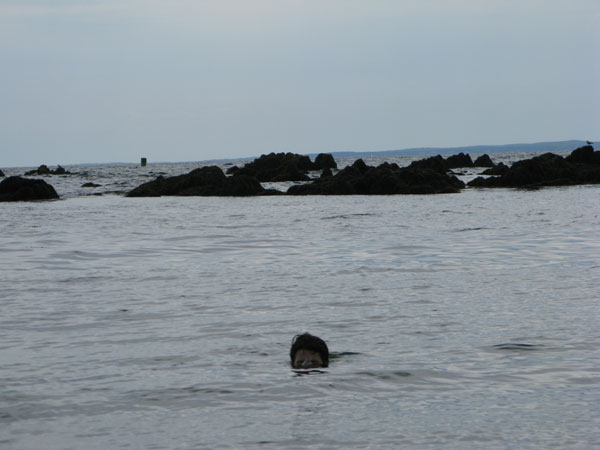 CP: Do you feel your work is contingent on others? I suppose I am thinking of the photograph you took, where you are swimming in the ocean in the winter. It looks like you are utterly alone, but of course the photograph was taken by someone. I ask because I feel like there is an idea about exploration that it demands a kind of alone-ness—i.e. you are going into unknown territories without being positive that you can return—yet in the action of performing that exploration, or making an art object, or taking a photograph, it seems to me there is an implied 'you' or witness…?
RM: Explorations aren't always alone. Often there are expedition teams. People who help you get to the cave entrance, or carry supplies up the mountain.
I have always been interested in solo adventures. I've read a lot of books of solo sailing trips around the world, solo flights etc. I am always curious about some of the worst moments. They seem small on the page, and in the past, but I'm sure they were huge in the moment.
My particular brand of exploration is about being alone. The photograph that you mention, was taken during a walk that I took with my sister, mother and aunt in Maine. We passed a rocky point with a stone church, that I've driven by a thousand times. It's a popular spot to get married. There was a small rocky beach nearby, that I'd never been on before. We walked down and I decided to get in the water. I passed the camera to my sister with some instructions. I was most definitely alone in the water. But I was there to be with the water. So I was alone with the water. And now I'm sharing a racy photograph with you.
CP: All this talk of exploration and solo journeys, and of course, the devastating romanticism of the artist–are you into Bas Jan Ader at all? What do you think of his final boat trip, In Search of the Miraculous?
RM: Yes, totally have a soft spot for Bas Jan Ader. A friend told me to look at his work when I was an undergrad. There weren't as many books in print of his work then, but I found a description of his boat trip and thought it was the coolest and most poetically self destructive art project I'd ever heard of. Still, I didn't really think about the size of his boat much til last year. It was only 12 or 13 feet long. That is like paddling a canoe across the Atlantic. I just finished reading Susan Casey's book about rogue waves (100+ foot waves, more common than you think…..and an awesome read), so I'd prefer a much bigger boat if I sail across the Atlantic.
I also really like his piece I'm too sad to tell you.
CP: What about Buffy? She seems like another hero in your work. I was thinking of the project you did where you did pilates while watching all the episodes. How did you come up with that as a project? How do you feel (if you do) like she fits into your artistic mythology?
RM: Yes Buffy is a hero. Super strong girl kicking lots of supernatural ass with total lesbo best friend – what is not to love? During the last episode of the show, Willow (Buffy's best friend, conveniently a witch) casts a spell that gives all the potential slayers the super strength that Buffy has. And then they head into battle. There are lots of portals in the Buffyverse (as it's sometimes refered to). So I started thinking about the TV as a portal to the Buffyverse. And if I had a ritual to do while watching the show on TV, then I might be able to access it/enter the portal via this repetition. So I had a pilates routine that I would every day in front of an episode of Buffy. The fight scenes were usually at the end of each episode, so I would also fight along with my punching bag at the end. For five months I had slayer training with Buffy every day, in my apartment/the Buffyverse. At the end I was indeed stronger. I also immediately noticed that my dreams were less insanely violent. And I stopped getting a cold every other week. The spell/ritual worked.
CP: How would you characterize your relationship to Chicago?
RM: Well, if the ocean is my lover, then Chicago is a great housemate. We get along really well.
I really like the city, and the people here. I've been here for almost ten years though, and I still get homesick for a rocky coast. But I realized a while back that if I left town every couple of months, and visited the ocean at least twice a year, that I could really be happy living in the Midwest.
CP: What is the handmade book for?
RM: Handmade books are friends. If you take care of them, and they stick with you and make you feel better.
CP: Will you talk a bit about the project/video where you walked around the lake with a homemade telephone?
RM: I have this thing for long distances. I think about them often.
In part because a lot of good friends live far away. And I had been in a series of relationships with people who lived elsewhere. (The romantic relationships didn't survive the distance.)
I wanted to put a ridiculous amount of effort into talking to someone. I wanted to physically cover a fraction of the distance that we frequently communicate across. A tin can telephone seemed to be the right tool for this exercise. I needed a length that was both daunting (for this specific task) and nearly insignificant these days. I picked a mile. And began making the phone.
My friend Dan lives near the beach in Indiana, and I always remembered from visits that the beach was rather empty in the off season. The beach didn't curve too much either, so it seemed like it would be ideal for unwinding a mile long tin can telephone. I drove out to Miller Beach with two friends, two video cameras, and some audio recording equipment. Andrea, Aay and I set everything up right in front of the path from Dan's house. Andrea stayed with the two cameras at the starting point. Aay and I began walking away from her, and each other, unwinding the telephone as we walked.
The goal was to have a conversation with a mile of beach in between us. And if it worked, record it. It was a lovely walk for a while. A warm and windy and sunny April day. And then there were lots and lots of knots and tangles in the string. At first just a few. And then I got stuck and I couldn't go any further. Apparently Aay had lots of knots in the beginning but then it was smooth unraveling. So Aay and I never got to talk on the tin can telephone. Which was okay. I was mostly interested in the experiment, and the walk. And the videos of Aay and I walking away from the camera (there were two cameras, one on Aay and one on me) and disappearing into the distance captured these sort of quiet adventurers off seeking a conversation.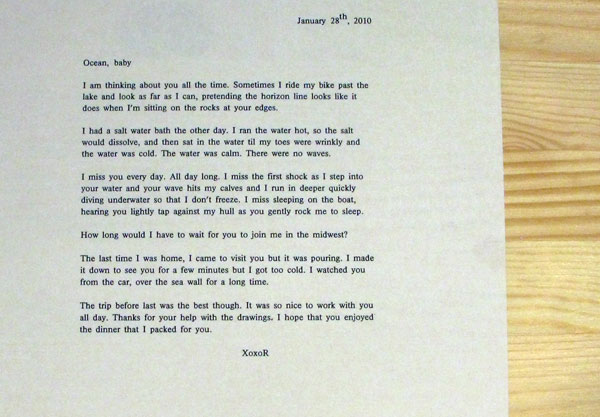 CP: Another thing I notice is how you characterize dynamic and personal relationships with traditionally inanimate things (like books, for instance, or Chicago, or the Ocean)–I'm particularly struck by how that characterizations relates to your description of the failed conversation with Aay–the contraption of the phone seems as alive and integral as Aay, or Dan, or the beach. In other words, you seem to describe a deep feeling connection to your environment and the things that occupy that environment. I'm curious about what role you see your work playing in that equation?
I absolutely have a deep connection to environments. Partly because when I was growing up in Maine, the ocean was such a calming force for me. Environments have a strong effects on their inhabitants. And we effect our environments. (This is where I tell you that global warming is real. And I admit that I am a nerd.) I meant it before when I said icebergs are sexy. A lot of my work is about romantic relationships with the environment. The romantic sense of adventure and conquest, and also heartache (a.k.a. natural disasters, glaciers melting)
One of my ongoing projects is about my long distance relationship with the ocean (which is why I was in the ocean by myself for that photo, I was visiting her). I joked once in a love letter (sent by bottle via the Mississippi river) that if I waited long enough in the Midwest the ocean would make it to me. Seriously, global warming is real.
CP: Rubaccaquon! I can't believe I forgot to ask about that–I just thought about it, because it also, as a project, seems to relate to the personal dynamism I mentioned before–in so far as you are defining a personal country, right? And then also how that reflect on the power and idea of naming something. Could you talk a little bit about that?
RM: I have a lot of nicknames. Rubaccaquon is one. (I believe Aay Preston-Myint is responsible) I started using it as a website name, an alter ego/placeholder name, since I had been toying with the idea of changing my last name. And when I decided to swap Grady for Mir, I started to think that maybe Rubaccaquon was really a place after all. I was thinking a little bit about Yvette Poorter's backyard Canadian soil residency project. If she could bring Canada with her to the Netherlands, then I could certainly date the ocean and have my own country. So Rubaccaquon became a nation/notion.
Discovering things and places is fun. Naming them helps with the storytelling that comes after the discovery.
CP: What have you been working on lately?
RM: I've been thinking a lot about space recently. Thinking and reading and doodling about space. Both outer space and the space in my apartment. I am making some directional and time devices/sculptures out of wood, metal, paper and stones. I've also been looking at a lot of Victorian acrostic jewelry. I want my next love letter to the ocean to be in stones.  A large scale series of stones set in sand instead of gold.
I'm making a mountain range for my apartment, out of plywood. And I've been making a lot of books. Some have been edits of things I've worked on in the past. I have an unpublished comic kicking around, that I'm finally going to print. And I made a new zine called SHE IS RESTLESS for the Chicago Zine Fest last month.
See more of Rebecca's work by going here.
I don't remember the first time I met Noé, but I do remember the first time I saw his work. He and Joseph Clayton Mills performed in a dark room while standing opposite one another. Noé had an accordian strapped to his back and he played, very softly, while Joseph moved closer and farther away. Depending on their distance from one another, something concealed in Joseph's hand (perhaps a hearing aid?) changed pitch. That performance epitomizes what I've seen of Noé's work. He is dedicated to creating an awareness around silence within a performative space. The manifestation of the body, as a tool for the range of sound is integral, as are the relationships between performative bodies. His ability to instill the necessary parameters for such an awarenes–particularly in collaborative settings–is, to me, remarkable. I wanted to ask him more about that, but felt like direct questions would somehow do away with the very thing I was trying to ask. Consequently I tried to ask around the idea of silence, in order to better understand the way Noé uses sound. Because sound requires space, that seemed a good place to start.
Caroline Picard: How do you think of space?
Noé Cuéllar: Space evokes potential, but also communicates very directly to my sense of placement.  I think a sense of placement paves the way for the rest of the senses… it's like a background sense made up by all the senses. I enjoy compound forms even when the individual pieces can still be recognized, in this case, space is the glue.
CP: It sounds like you think of space as something both sculptural (3-d figures) and linguistic (i.e. compound verbs). I appreciate the idea that space would be some experiential amalgam of those fields, even though I'm not quite sure how that would work. Is that what you mean? What do you mean by compound forms?
NC: Yeah, it's like our sense of space is happening before we find out how we actually feel.  I'm in a room now, but a second ago I was just fine without actively thinking how comfortable it is.  I think of artistic expression as a compound form that always involves more than one thing.
CP: How do you use space as a medium for performance?
NC: The outcomes are quite unexpected when the sense of physical space is combined with the spatial sense of the actual sound.  I think my work most often expresses rigidity and confines, but space is what can allow [the work] to be experienced with more spread – perhaps more than I would choose to imply in the work itself.  I would say I focus primarily on sound, but with a sense of belonging in a space.
CP: I'd love to hear about some examples of how this has occurred in different pieces…
NC: Last year I composed Kilter, a piece for Jeb Bishop (trombone) with accordion, and two speakers inside boxes with hinges that would rattle. Â I had in mind pressure and magnetic repulsion, yet the site-specific performance gave it a more wide-ranging effect, even in a dark, gritty basement with a short ceiling.
I've also been working with Joseph Kramer as Coppice, making site-specific installations and site-variable compositions, recently at the Museum of Contemporary Art, where the space was so large we were able to prevent any of our sounds from becoming part of a whole "surround experience," but remain dislocated and in motion, scattering the perception of their source.
CP: What, to you, is the relationship between the space inside of an instrument and the space around an instrument?
NC: The outside speaks for the inside.
CP: Can you talk a little bit about your collaboration with Joseph Clayton Mills? I was just thinking of the piece where you stood opposite one another and he kept opening and closing his hand, to change the frequency of buzz that magically manifested and grew stronger the closer you moved to one another. Then too, I think of more "traditional" pieces, where you sit down and perform for a definite period of time…
NC: Working with him is very factual, much in natural state.  We share a fascination with the attributes of objects and mechanisms, their hidden sound character and emotional effect.  It makes me think a lot about photography, which we also practice on our own.  A lot of what we do together is often a simple gesture, "subtlemost" more than "minimalist."  I think we both find that simplicity very lasting.
CP: Will you talk a little bit about the way you use silence in your work?
NC: Silence is space but also glue. Â It's an encouragement that is easy to miss. Â I like using silence as a way of pronouncing presence, or as a bearer of tension, or as a moment to coast on something that just happened. Â Silences can be essentially the same in different moments, but it is how it is accessed that makes it feel different. Â It carries the weight of the three tenses, it can be very prominent in itself, while also reflecting personal inner processes. Â It can even be felt even when sounds are present.
CP: Do you feel like you are interrupting silence? Or are silence and sound variations within the same medium?
NC: My listening is constantly active, therefore I wouldn't say I interrupt silence with my sound work, but rather bring the sound more forward to emphasize the moment.  Silence can be framed between those sounds, but in the end I feel like sound and silence are only evocations of a deeper level of silence – and of sound potential – more than what they simply sound like.  The repercussions of focused listening tap on that depth, beyond the temporal.
CP: I know that you regularly collaborate with other performers as well; sometimes you do so in a more traditional improvisation venue (like The Green Mill, for instance) and at other times you seem to locate yourself more definitively within a contemporary art/performance oeuvre. How do you negotiate those different contexts? Does a venue change the work you do?
NC: Venues shape the work more than they change it.  What feels right about performances in site-specific and gallery settings is that the audience-performer space is diffused, with more listening nodes available, and open to variation.  The stage setting has the advantage of centering a performance as a clear message.
CP: Can you talk a little bit about transcription? Or, how you translate and document your temporal, acoustic sound on a static piece of paper?
NC: I'm interested in some precise musical qualities, but also variable, interpersonal, implicit qualities that happen in the process of working one-on-one with a performer.  Transcription varies from one work to another; sometimes I don't put anything on paper, or very little just for my own reminder.  When working with performers I let them write their own parts over a skeleton score I make for them. We talk, try, sharpen, and write.
CP: Do you use that score as a kind of document? I'm thinking about John Cage's "score's'" for instance; do they look like that? Or are they more traditional pages of notes?
NC: It's a document of an idea but it's interesting to use that word, especially when thinking of it as a document for a future event. Â Sometimes they take a more traditional shape but with custom symbols, sometimes they're just scribbles, and sometimes they're graphic.
CP: Can you give me an example?
With Harrow/Dormant I wanted to figure out what my interpretation of a graphic score would be, and what it would be like to suggest sound from a more abstract visual departure.  I combined drawings with directions to set a structure on which the performers can stay afloat their own decisions. Julia Miller has been interpreting it with incredible tact several times now, as part of a study for a larger project of hers… which is great because multiple iterations reveal how sensitive interpretation is to one's standpoint.
(See this video)
CP: How do you think about sound when it is happening?
NC: Sound is a constant vibration that stimulates our impulse to imagine, stir remembrance of events that perhaps haven't quite happened to us directly.  It's kind of way of keeping check of our experiential ability and our location.  It's a way to be present and also to be somewhere else, beyond our windows.
CP: You enact such precision in your work; I'm trying to understand how you think about that precision, and how you locate the "action" of your work in time and space…so somehow, sound becomes the vehicle for that action, right?
NC: I regard presence and intention very highly as a basis. Â In my mind those two things almost make sound all by themselves.
CP: But then what does that mean? For sound to be a vehicle? A vehicle for what?
NC: A vehicle for transportation…
CP: It's also really interesting to think about intention—I'm not sure I understand what you mean by that…it sounds like you're thinking of your mind as an auxiliary component—and extension of the instrument?

NC: My sister is a graphic designer, and browsed many art and design magazines when I was growing up.  I have many vivid memories of her explaining contemporary artworks to me and she would talk a lot about intention.  I remember there was an advertisement all white with only one small logo in the middle, and I asked her why they would waste so much space, and she pointed out that the blank space lead our eyes to the logo, that was the focus.  That got me thinking about doing only what felt like enough.  Insights like that built up very solidly, and I'm reminded of that particular one quite often.  The intentional framework for a message.
Mr Hirst spent the evening playing snooker, but on being told the sale figures, he pronounced: "I think the market is bigger than anyone knows. I love art and this proves I'm not alone. And the future looks great for everyone." (Economist, 2008).
1. FOR THE LOVE OF GOD
We arrived in Florence last February and stayed for about five days. It was cold and damp in the mid-50 degrees, reminding me of San Francisco. A friend we were visiting said the city was built on a swamp and we climbed up a hill to a Franciscan chapel where the original alabaster windows were still in place. Through the translucent stone, the light shone dark and brown and because it was colder inside than out, we didn't stay long but climbed back down the hill to wander through the city once more. During those five days I felt a little like a pinball bouncing around a Renaissance amusement park. A classy Medieval Times with boar instead of mutton. Regardless of our haphazard path we inevitably ran into something famous: Dante's church, for instance, or a squatting boar fountain—even those churches that hadn't made it on the map still contained gravestones embedded in their walls or floor—some of these dating as far back as the first or second century. History was everywhere and it was bigger than us.
On the third day a bus passed with an advertisement for Damien Hirst's bedazzled reminder of death. I burst out laughing.
The last thing I  expected to see was Hirst's glimmering, gaudy skull in a city that seems in constant worship of its past.  Nevertheless, the city seemed to love it. There were banners and posters all over the place. Everywhere it said, "For the Love of God," and why not?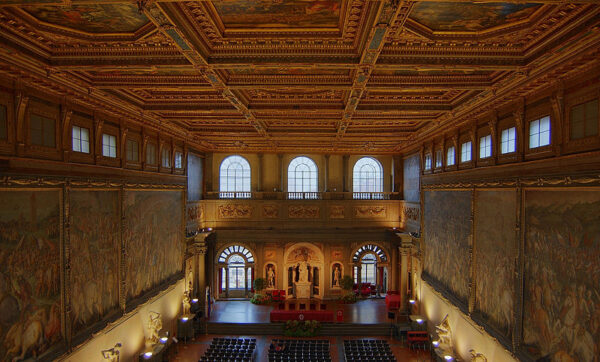 The skull was on view in the Palazzo Vecchio—an old city hall, adjacent to a square full of fountains and sculptures and ice cream shops. Walking past the David replica, we bought tickets and wandered upstairs to the second floor. There, we entered a giant ballroom. The dimensions of the room itself were astounding—170×75 ft—not to mention the similarly massive tapestries on the walls, or the several larger-than-life sculptures that lined the room. While the tapestries themselves are phenomenal, they are nevertheless replacements for work never made by Michelangelo and Leonardo DaVinci; both had been commissioned to make work for the room and both, for various reasons (Da Vinci's fresco allegedly melted when he tried to heat up the drying process with hot coals) were unfinished. In their stead, Giorgio Vasari's war paintings hang with astonishing authority, depicting a series of Florentine victories in battle. They are massive, complete with impeccable detail. Horses so plump they are cherubic, with lords in armor on their backs, holding spears as shorter personalities–midgets and boys–hustle at their feet replenishing arrows and running swords or torches every which way. In these tapestries everything is in focus, each curious figure serving its own distinct purpose that nevertheless reinforces a greater compositional whole. There is no focal point, rather the harmony stems from the a series of active constellations.
But of course, the room boasts even more cultural capital. The ceiling is indescribable. It's full of different panels of paintings and due to their detail it feels a little closer than it actually is. Additionally, larger-than life sculptures pepper the room.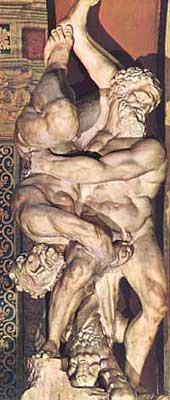 Among those sculptures, six statues by Vincenzo de'Rossi depict the Labors of Hercules. As the story goes, Hercules was enraged (by Hera) to kill all of his children. After waking from his madness and discovering what he'd done, he went to the Oracle of Delphi to seek atonement. There he was set to 12 impossible tasks. These he accomplished. He is also attributed with making the world a safer place, in that he killed all of its monsters.
All of these works and figures depicted in the ball room were larger than life for the feats they captured, the size of their depiction and their (to me extreme) historical vantage.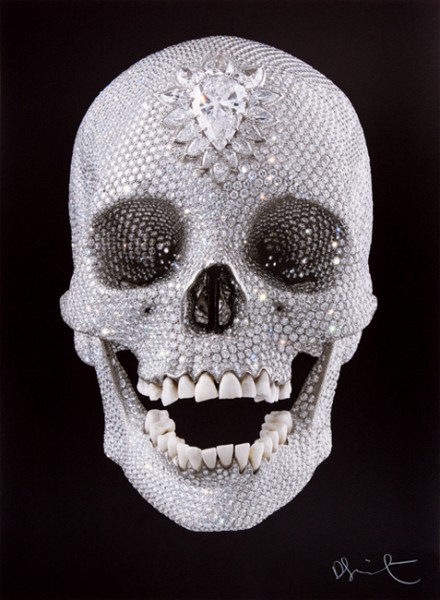 Two ticket attendants stood in the far corner of this room. They clacked our tickets and pulled back a velvet rope so we could step behind them and passing through a very narrow, subsequent room I had the impression  we were walking through an old fashioned toilet, or cloak room. Built-in benches lined the walls. Each surface of this wooden vestibule was also painted and close, so that I could have reached up to touch the ceiling with my hands. After no more than four strides, someone pulled back a velvet curtain. I could not make out this person's face, only their white gloves. Beyond the curtain lay another small, light fast room no more than 8ft squared. In the center of this room Damien Hirst's skull sat on a plinth encased in glass. Aside from the very small flashlight of the skull's attendant, the diamonds were the only thing illuminated in (and illuminating) the small cloak-and-daggers space. We were permitted to walk once around the glittering mask—enough that I could enjoy the diamonds in the roof of the skull's mouth, the curious third eye and the gritty unglittered teeth—before the same faceless attendant pulled back a second curtain and emphatically (as seen with the rigorous flash light motion) ejected us back into the grand ballroom.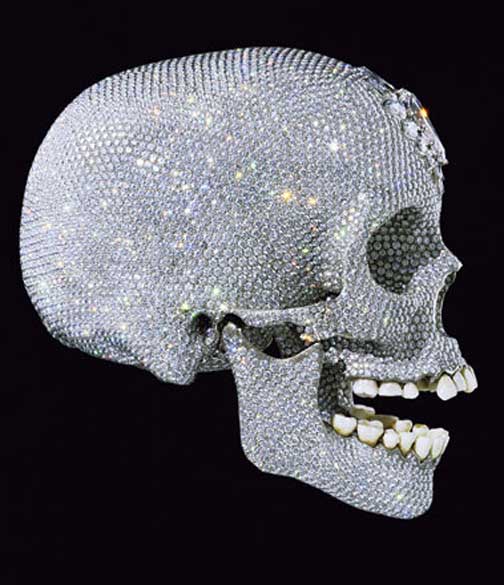 2. Hercules
A few weeks ago I found myself at the Lyric Opera House, on the third floor balcony watching Hercules; it was a pretty psychedelic experience. Tiny figures with massive voices paraded around a massive stage. Whereas in Italy I'd been small with respect to the work, here I could cover anyone's head with my thumb.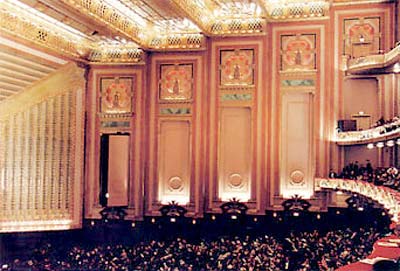 The opera is not personal, it's archetypal. The characters don't have personalities so much as they have roles and musical motifs to enact. Except for their voices, they might as well be cardboard cut-outs. In this instance Hercules has returned from war. Peter Sellars took Handel's four-hour opera and reduced it to 2 with one intermission. The libretto is full of repetitive phrases and the performers trilled through those like song birds. The set did not change shape; most of the stage contained a landscape of rock that no one walked upon with pillars and a pathway around it. Depending on the emotional tempo of the performers, the rocks gleamed in different colors. Sellars' interpretation pulls out a story of Post Traumatic Stress Disorder; the repeating phrases underscore that intent, as each character is constantly reliving their experience. Hercules has returned from battle with the spoils of war–including a young woman who just watched him kill her father. Hercules may or may not be interested in her and his wife, Dejanira, cannot connect with her husband; she remains perplexed and frustrated that, after so much waiting, she would remain alienated in her husband's presence. She is jealous of the young woman he brought back. They argue. She tries to win him back by dosing his coat with the blood of a centaur. The centaur told Dejanira that his blood was an aphrodisiac where it turns out to be an acidic poison. When Hercules puts the coat on, he burns alive.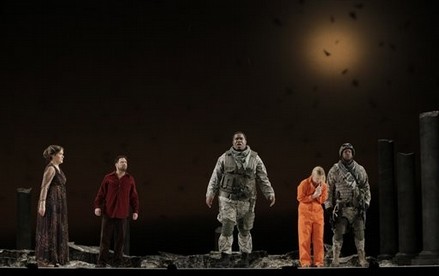 While I don't think about Hercules often, I think even less about his death. It seems that his death is the greatest problem, in a way. No one knew what to do with him once he had been admitted in Olympus. There is an awkward encounter between Hercules and Odysseus, for instance, when Odyseuss has to differentiate between Hercules the God and Hercules' ghost.
"And next I caught a glimpse of powerful Heracles—
His ghost I mean: the man himself delights
in the grand feasts of the deathless gods on high…
Around him cries of the dead rang out like cries of birds
scattering left and right in horror as on he came like night…"
Somehow these thoughts coalesced then. I started thinking about how one must be large when facing the death of heroes; how the import of these legacies is both essential and arbitrary. Hercules is part of a scaffold that makes meaning. Florence is an early pillar in that scaffold; its Renaissance established a criteria that is still resonating today–whether under Sellars' directorial agenda (during which one can experience over and over and over again the death of Hercules), or in Hirsts' work, where, it seems, the hero is dead and the market remains.
"The speech of an elder in the twilight of his life is not his history but his legacy; he speaks not to describe matter but to demonstrate meaning. He talks of his past for purposes of his future. This purpose is the prejudice of his memory. He remembers that which has been according to what could and should be, and by this measure sifts the accumulation of his memory: he rejects the irrelevant event, elaborates the significant detail, combines separate incidents of similar principle. Out of physical processes he creates a metaphysical processional. He transposes the chronology of his knowledge into a hierarchy of meanings. From the material circumstances of his experience he plots the adventure for the mind which is the myth," (Divine Horsemen, Maya Deren).
3. History
The diamond: something that has been marketed to represent eternity, who's value is based almost exclusively on market control. Until 1870, diamonds were rarely found in South American riverbeds. Thereafter they discovered huge diamond mines in South America. In order to protect the value of the diamond, these jewel harvesters had to band together to "perpetuate the illusion of scarcity" (Atlantic Magazine, Edward Jay Epstein,February 1982). This is where the value of Hirst's skull comes from, which is interesting given his consistently unconventional use of auction houses as primary exhibit halls.
The focus of Hirst remains fast on the potentials of an immediate future. He has utilized the auction house as a kind of performance filled with its own intrigue. In one article, there was a mysterious Russian who participated by phone. Everyone is complicit in the staging of this wealth. "Sotheby's was keen to build its own brand around a celebrity artist rather than the usual assortment of inanimate objects. The sale was marketed on YouTube and through the media around the world, part of a conscious effort to broaden international demand for the work. Sotheby's filled its exhibition rooms with Hirsts. Never had so much of his art been seen in one place. Many art-world insiders saw the sale as an artistic event," (Economist, 2010). And of course, like diamonds, the value of the work lies in the demand.
In some way, I want to posit the idea the emphasis is on the market because, contextualized by such predecessors, it is impossible to participate on their terms. If Hercules can die, what is there? I have heard that Hirst has a storeroom of corpses with which he can replace deteriorating sculptures. I have also heard, in response to the suffering market, he has considered opening his own museum, to house his own work. Those are unfounded rumors, but I like them. In the context of that great hall, Hirst's skull struck me like a peep show at a carnival; it was gaudy and feeble and small. Titillating because of its impeccable surface of expense. A trashy sex kitten with black teeth: perhaps the perfect face for death. Yet here too, we've seen the market is not "bigger than anyone knows." If anything the last couple of years have demonstrated real limits to capital.