We are just around the corner from a ten day international performance art festival, Rapid Pulse. Over the course of those ten days, 29 national and international artists will present a  variety of works both inside and outside gallery settings. Additionally one can expect panels, discussions and group walks between events. Like much of Chicago's cultural energy, the festival emerged from a DIY ethos. It's professional ambition is nevertheless evident  from the wide-spanning range of engagement; the confluence of those two aesthetics promise to create a profound mix of community enthusiasm and high caliber art — my favorite mix. In the following interview, Defibrillator Gallery Director Joseph Ravens talks about how it came together, some of the highlights one might anticipate from the festival and how it engages public space.
Caroline Picard: So tell me a little bit about how Rapid Pulse came about? It seems like an incredibly ambitious project — ten days worth of performance art, not to mention a number of out-of-town (and international) artists. Was that a network that already existed for you? 
Joseph Ravens: When I first started the gallery, I knew that an international festival was something I wanted to do. When putting together the festival, I fully intended to call upon the personal contacts that I made touring international festivals over the past decade. I made many friends over the years and simply thought I would draw upon those resources. At first, it was going to be very small. But we put out an international call for artists and received about 150 applications and most of them were very strong. So it just grew, unexpectedly. Sometimes I regret it and other times I'm delighted. I'm mostly delighted. I then reached out to Julie Laffin and Steven Bridges to help co-curate. This choice was not only to help make the overwhelming task of sorting through the applications more manageable, but also, to diversify the type of work that we would present. I would never be able to do this without them. I wanted Rapid Pulse to embody my vision, but not necessarily be an extension of my preferred tastes and styles. The fourth curator, Giana Gambino, was also instrumental in the beginning of the festival. She approached me late last year and said that if I wanted to follow through with the festival, she would help me. I've leaned on her a lot. We are certainly short on resources but, luckily, ambition is in high supply.
CP: What has it been like communicating with various artists about their upcoming projects? Are there particular events that you're excited by at the moment?
JR: Managing the data and correspondence has been one of the most difficult tasks confronting me. As you can imagine, performance artists have unique requests. One artist, Brazilian, Cristiane Bouger, wants to smash 300 full bottles of Brazilian beer. I'm still a little stumped about it. In general, though, it has been a pleasure for me to get to know artists whose work I respect and I look forward to meeting them face to face. German artist, Regina Frank, applied and I am so flattered and honored because I am familiar with her work and strong reputation. I'm really excited about Italian/Austrian artist Helmut Heiss' project. He's flying a banner behind an airplane as his performance. It says "sharp" by the start time on his night because it's all arranged with the flight company for a specific place and time. Added as an afterthought, I'm also quite excited by our video series. We received such great submissions and some of the artists we invited to perform live weren't able to come. So we initiated this series to show their work and works by other artists who we admire. This was also an effort to diversify the regions and styles of performance represented in the festival. It is an interesting thing to correspond with artists about their projects. I have shaped certain ideas about their personalities based purely on email exchanges. I'm really excited to meet the artists and discover how their live personalities correspond or conflict with their digital personas.
CP: You mentioned that there were going to be some performances in more traditional gallery settings, but also that some performances would take place on the street, playing with our expectations of the everyday. Can you talk a little bit about some of those? What does it mean to engage a banal and public street that way? Of course it probably depends on the particular performance, but I'm curious about what it means to you, as a director of sorts, in thinking about reserving different "sites."
JR: Public performance is a particular interest to me as an artist and a curator. Last year Defibrillator curated a series called, Out of Site where we presented 12 unexpected encounters in Wicker Park in association with the local SSA. I'm interested in arresting peoples' daily lives; giving them pause to reevaluate their surroundings and the boundaries of art. Performance art, especially, can be elitist to a certain degree. Unless you are seeking it out or familiar with the form, you may never encounter this medium. So taking it to the streets is a way to further the reach of this often inaccessible and misunderstood discipline. I actually presented a work in Out of Site for which I ran with a giant fish for two hours around Wicker Park. One viewer posted a 'missed connection' in the Reader thanking me for the surprise encounter she experienced when coming out of the Division Blue Line stop. This delighted me. I'm on a mission to broaden the awareness and understanding of performance art among the general public. For Rapid Pulse, several artists are performing in the street. Chicago duo, Industry of the Ordinary, will be branding passers-by with ink stamps. Brazilian artist, Tales Frey will be staging a half hour gender bending wedding kiss. For a project called Apparition, Texas artist, Julia Wallace, will be dressed as the Virgin Mary while breast feeding a baby Jesus. There are several others, including local artists, Lucky Pierre (walking Chicago from south to north) and Lisa Vinebaum who will picket outside local sites in an effort to connect the current crisis in timed labor to the historical struggle for workers' rights. Designed to be more enticing than confrontational, these works will broaden ideas about what art is and could be.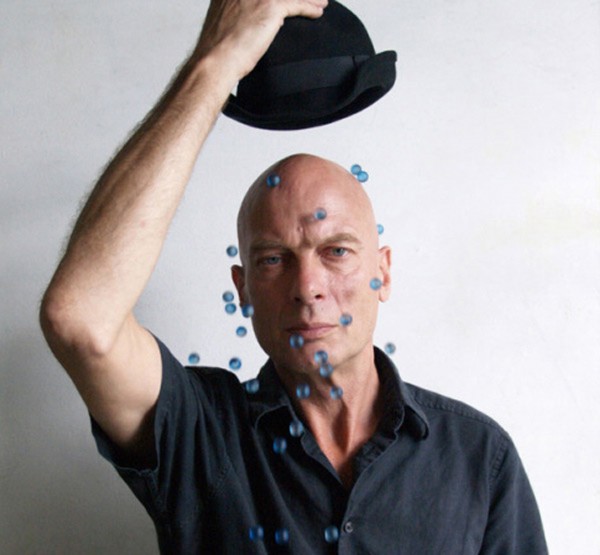 CP:Â What has it been like finding places for artists to stay? And do you feel like that reflects something about Chicago in particular? Or performance? That there is a willingness to share a home, in some way….
JR: I love this question. Our original idea was to place artists in hotels but, of course, finances are a problem. People stepped up right away to help out and I'm really proud of them (and Chicago) for this. We've scheduled a panel on the "Chicago Aesthetic" within the festival, but one thing that stands out to me in regard to this city is our DIY attitude and our gracious hospitality. By placing artists in peoples' homes, it embodies these ideas. So where I was at first disappointed at not being able to provide hotel accommodation, I'm now thrilled that the housing now reflects Chicago's style. We've organized two "Directors of Hospitality" to ensure that the guest artists have a pleasant and comfortable stay in Chicago. It's really important PR, actually. People leave a city and talk about their experiences and I want to make sure that all the artists go away happy and paint a wonderful picture of Chicago to their friends and colleagues around the world. I love Chicago and am proud and happy to share our city. I firmly believe we should have larger visibility on an international scale.
Unlike other mediums where one might send a piece away to be exhibited, performance artists need to be present to show their work. I've toured extensively and some of the best experiences I've had have been ones where I stayed with local people. It's a way to get insight into the everyday lives of those in that city. It's also a great way to make long lasting friends and connections. When organizing Rapid Pulse, I was embracing things that worked when I was in other festivals, and correcting things that didn't work as well. Many of the opportunities and invitations that I've received have been the result of connections I've made from prior festivals. I would love for Chicago artists to have more visibility within international platforms. One way to accomplish this is for them to make connections during Rapid Pulse. In addition to home stays, we have planned group meals each day so the local and international artists and volunteers can get to know one another and seeds might be planted for future exchange. We hosted Estonian artists, Non-Grata a couple months ago, and one of our volunteers, Amber Lee, formed a relationship and is now touring with them in Europe. This makes me happy and proud. I hope similar situations arise as a result of Rapid Pulse.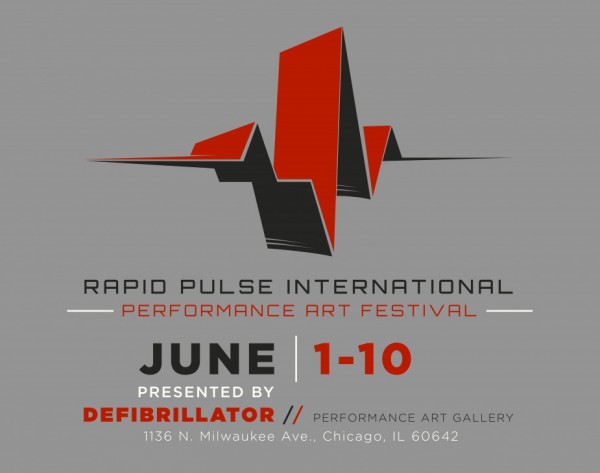 Over the last several months, I have been working with Matthew Goulish as an editor and publisher of his forthcoming collection of essays, The Brightest Thing in the World: Three Essays from the Institute of Failure. Over the course of that process, questions began to emerge from the periphery of the text as I continued to read and re-read the manuscript. These questions did not arrive at first glance for me, but rather coalesced with my sense for Goulish's craft. The Brightest Thing in the World is a collection of essays that touch on seating strategies, Dick Cheney, cuckoo clocks, the Fibonacci series, butterflies and old friends. It covers tremendous ground for being only 70 pages; the experience of those pages feels most like an afternoon I spent once, a few years ago, when a very dear friend whom I hadn't seen for years had a six-hour lay over in Chicago. We spent about three of those hours walking around Wicker Park and after the 20 minutes of  personal-life catch up, regularly found ourselves in a conversant territory that was at times abstract, reflective, sanguine, funny and joyous. Only in retrospect did I consider how our physical derive coincided with the discussion we'd had, or how — perhaps — we had, in an intuitive and accidental way, managed to negotiate the past and the present at once. Goulish similarly weaves multiple threads together like a tapestry and by their accumulated resonance creates an impression of loss and longing. As in Sebald's Rings of Saturn, the reader passes through an associative experience and the colors of each facet are bright and vivid — perhaps like the leaves in fall on a misty morning. These are the essays of a poet; like the performance of words, each verb is as active as a muscle. The Brightest Thing in the World: Three Essays from the Institute of Failure will be released at Defribillator Gallery on Monday, May7th from 7-9pm. 
Caroline Picard: At the end of the book, there is a small but striking note about the deteriorating relationship between humankind and animals. Something came into focus when I read that note —I suddenly realized how present other life forms were in the book, from the pets abandoned in Katrina, to monarch butterflies, to ctenephore (what in some ways feels to me like an A-list star of the book, though I suppose there are many stars). Can you talk a little bit about the presence of animals in The Brightest Thing in the World?
Matthew Goulish: When I go to the movies, I always sit through the credits until the very end. Sometimes a dedication appears and pauses on the screen before the fade out. I appreciate that the very last words one sees have a special place, and a particular role to play, as the threshold leading out of the work and back to the world – like an usher opening the door of the theater. Beyond that gesture, I find the last moment a charged one in the way it can, with a very small comment, re-inflect everything that has come before, as if to offer a revelation from the vantage of the retrospective view, and to invite a second reading with that end grace note in mind. The passage on the possibility of animals going away forever comes from Howard Norman, whose writing has been a longtime inspiration for me. Throughout his work, starting with his earliest translations of the Swampy Cree in Manitoba, one finds this attitude of respect for animals who "are people like us" although they have a skepticism of humanity. I remembered the quote as I was working on the Barbellion essay.  I wanted to introduce that kind of thinking into the essay, as it seemed to make explicit the implicit reverence with which Barbellion observed nature. I did not know what to do with it until I had the thought to drop it in at the end like that. Then when I selected these three essays to constitute this book, the quote guided my thinking in the way it might amplify that thread through all three of the essays, and do so after the fact if it appeared at the end of the book. I had in the back of my mind, for example, in the middle essay, that between the death of the monarch butterflies in Mexico in 2002 and the race riots of Tulsa in 1921, an equation exists that has to do with uncountable loss, and the ancient belief of the butterfly as psychopomp, the carrier of the human soul between lives. This was how I formulated my response to W. G. Sebald – as if to compress and Americanize his obsessive hysteria, his monologues that seem to be running to try to keep pace with accelerating disaster. But through the three essays this thread appears in a backgrounded way, the way animals might make their appearances in human life, anyway my life, rushed and crowded in an urban setting. As the bus approaches the bus stop, I see a Sandhill Crane flying over Division Street, possibly headed for the Humboldt Park lagoon. Or I'm leaving a friend's house at the end of the night and I surprise a raccoon at the back porch. If I let it, that encounter, however fleeting, resets my thoughts about my behavior, my values, or anyway my day. I wanted to use the book's last moment to draw attention to that unobtrusive thread – call it ecology.
CP: Â What does it mean to fail? And is this inherently tied to mortality? Can failure be a quest?
MG: My father is a retired engineer. Growing up with him I learned about failure analysis as a way to understand a complex system. It is not difficult to see the philosophy in that, when the system concerns thought. My jacket catches on the arm of the chair as I try to stand up, and the comedy of my life commences. Failure is certainly inherently tied to the mortality of my intentions. Attention to failure can constitute a quest to understand the broader spectrum in which any action actually operates. In the last essay, I do not mean to suggest human mortality as a form of failure. The operative failure is in my ability to write about death, maybe because death, when it is actual and not imaginary or virtual, eludes writing, or maybe just because writing about it eludes me. I can only write in proximity of it. I mean to say that to succeed, in any traditional sense, would mean to ignore events that insist themselves into one's thinking, but to ignore them would be the death of the writing. One must fail and include them.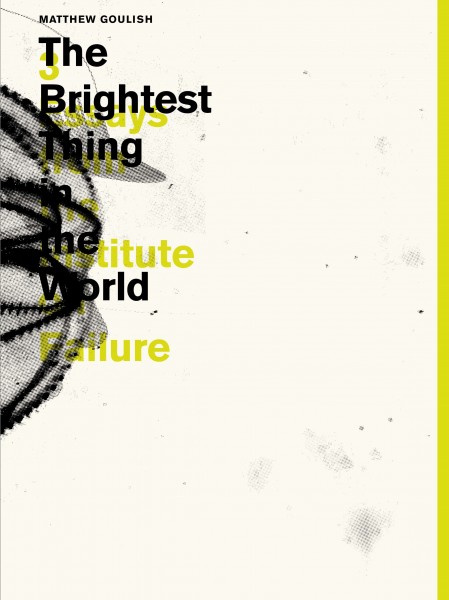 CP: What happens to the text when it is printed and read? How does this differ from its passage as a delivered lecture?
MG: I am happiest when I write as if there is no difference.
CP: I also love the presence of diplomatic relations — the way these come up, with the presence of Orsen Welles in the first lecture, and then a second reiteration of WWII through Barbellion's position in history. There is another instance with Dick Cheney's duck hunt. I can't quite put my finger on it, or necessarily understand why I'm asking this, but I want to ask you about freedom, the freedom of an individual acting within his or her time. How do we negotiate our context? What is the point of that negotiation?
MG: This question relates to the first one for me. The comment, made in passing, toward the end of the analysis of the Dick Cheney hunting accident, that animals feels insulted if they are hunted incompetently, also derives from Howard Norman. I think that the appearance of animals in the book, that I mentioned above, brings with it two modes of discourse; one, that we can talk about animals as a veiled way of talking about the human (the ctenophore as a life); and two, that we can read in attitudes toward animals a measure of human ethics. The Cheney passage operates in this second mode, as relevant in relation to the care for the apprehension of the other as separate from, and not in service of, oneself. I am partial to the way that ethic asserts itself in stories of diplomacy, in which individuals represent nations perhaps, as in Graham Greene's tale of Harry Lime, an American war profiteer who realizes the fantasy of witnessing his own funeral on his way to becoming the perfect, invisible gentleman criminal. During the Bush-Cheney years, there was a great deal of talk in philosophical circles about a resurgence of Hobbesian brutality, in service to the sovereign and in irreconcilable conflict with other nations, seen as fundamentally alien. I felt I needed to address that at the time, and my own role as an ambassador to Switzerland, where that lecture was delivered. By address it, I don't mean examine it in any way other than the hall of mirrors approach of parading case studies and letting them bounce off one another. That is to say, when I talk about Harry Lime, I mean Dick Cheney, and when I talk about animals, I mean to offer an escape hatch from the prison of the individual as representative of a nation-state, that is to say, the fixed identity, and therefore the grandiose self. How we behave now, or anyway what we are attentive to, in response to the social interactions that the moment offers us, is determined by how we consider our own identities. Are they fixed, or always in motion? How do I attend to another person's intention invading my own? How does the pursuit of dignity differ from the pursuit of happiness? How do I think of the margin my life occupies in relation to the historical moment as a kind of center?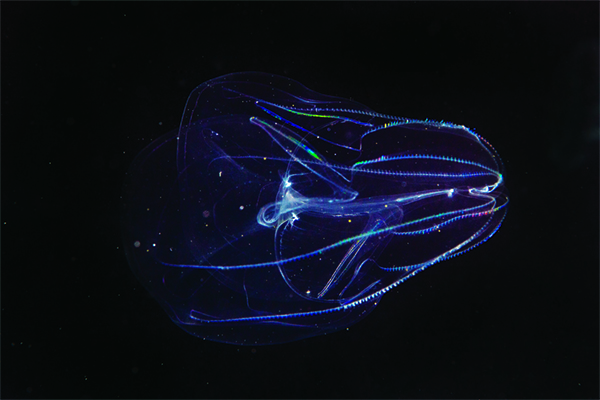 CP: I think this interview would be remiss if I were to skip over the idea of love. It comes across in Dan Beachy-Quick's reflection on your book, where he says "I want to say the failure of the bud results in the blossom — such ruptures lovingly unfold as failure's larger gifts" but is also evident throughout the body of text: the care of your description and interest. The time you spend with Barbellion, or the effort of Kust's grave site. Can you talk a little bit about care in the face of failure?
MG: Is it possible to feel love without an object for that love? Without a person, or creature, place, or recipient of any kind? Can writing serve as a form of training for such objectless love? For aligning the powers of thought with the powers of feeling, as an exercise, that brings one into a relation with oneself, or constantly adjusts one's being in the world? Those are questions for which I do not have an answer, but questions that I want to stay close to, or keep near at hand, in any act of writing.
On the other hand, it has been said that we are here simply to find the things we love, and to find the appropriate way to praise them. Then to risk making of our lives a public song of praise. I mean that writing offers us a chance to find what we love, and to pay attention.
Matthew Goulish co-founded Goat Island in 1987, and Every house has a door in 2008. His 39 Microlectures – in proximity of performance was published by Routledge in 2000, and Small Acts of Repair – Performance, Ecology, and Goat Island, which he co- edited with Stephen Bottoms, in 2007. He was awarded a Lannan Foundation Writers Residency in 2004, and in 2007 he received an honorary Ph.D. from Dartington College of Arts, University of Plymouth. He teaches in the MFA and BFA Writing Programs of The School of the Art Institute of Chicago.
 
A quick note — more of an observation, really, or a re-directing of attention, but I was looking at my blog reader today and found a wonderful thematic coincidence on the Art Asia Pacific blog and Granta. Today, Art Asia Pacific reflected on Global Art Forum 6, remarking in particular:
There's something about the immediacy and urgency of writing against the present that can be panic-inducing; paralyzing even. 

It feels as if we should be quicker than we are.  We should be able to respond more efficiently.  It should be easier by now.  Our brain's functionality should be in sync with the latest social media apps on our Blackberrys, tablets and Mac books—so that we can not only multitask, "double-screen" and consume information (both virtual and real) at the rate of several giga-Hertz per second—but also analyze it, digest it and produce a meaningful reaction to it immediately.  Except that's not exactly how our cerebral cortex works; there is a lot more complexity involved—and maybe there is a saving grace in that somewhere. 

The pressure to keep up with, and contextualize the arts within, the most up-to-date socio-political happenings was cited and critiqued at the recent discussion series, Global Art Forum_6. Part of the titan that has become Art Dubai and its collateral programming, this year's forum was titled "The Medium of Media," and for this second installment writers Rayya Badran, Rijin Sahakian, Shahira Issa and myself were invited as "forum fellows" to reflect on issues in the fair. Art critic and forum fellows mentor Kaelen Wilson-Goldie talked about an almost expected reflex to situate art within contemporary politics (or politics within contemporary art), with particular reference to Lebanon and Syria. Such a reflex has been intensified by two things in recent times: the conflicts and uprisings of the Arab Spring, and the penetrating and shifting role of instant online media in news reportage.
The post goes on to question the capacity of art to respond, quickly and critically on its own contemporary times, particularly when our times are mediated at such a rapid pace. Author Jyoti Dhar suggests that perhaps art's function is to slow us down, to demand a pause.
Seemingly to that point, Granta posted an article by Mishka Henner about the censorship of google earth — particularly in regards to the Dutch government:
When Google introduced its free satellite imagery service to the world in 2005, views of our planet previously accessible only to astronauts and professional surveyors were suddenly available to anyone with an internet connection. Yet the vistas revealed by this technology were not universally embraced.

Governments concerned about the sudden visibility of political, economic and military locations exerted considerable influence on suppliers of this imagery to censor sites deemed vital to national security. This form of censorship continues today, and techniques vary from country to country with preferred methods generally including use of digital cloning, blurring, pixelization and whitening out sites of interest.

Surprisingly, one of the most vociferous of all governments to enforce this form of censorship were the Dutch, hiding hundreds of significant sites including royal palaces, fuel depots and army barracks throughout their relatively small country. The Dutch method of censorship is notable for its stylistic inventiveness compared to other countries: imposing bold, multi-coloured polygons over sites rather than the subtler and more standard techniques employed elsewhere. The result is a landscape occasionally punctuated by sharp aesthetic contrasts between secret sites and the rural and urban environments surrounding them.
There is something so stunning about these images (there are more on Granta's site) — seemingly crude and colorful, as in a decorative obliteration: A kind of purposeful withholding. But it creates a pause, demanding time from the viewer as it presents something unexpected. It looks like a painting in gouache!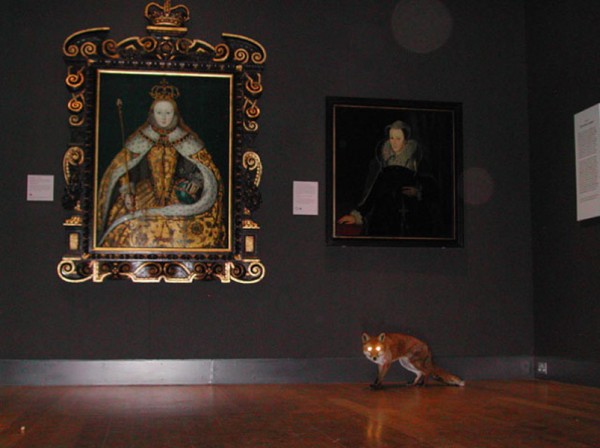 There is a fox in the museum. It is the only thing that moves in the whole space: is this why the fox's presence is so striking? Because it alone is unpredictable within the camera frame? Because it might do something to the paintings? No one else is present. Nighttime is inferred. The title of this work The Nightwatch suggests some kind of threat. Perhaps we are witnessing footage from an apocalypse. More likely, the museum is just closed. The stillness of the room adds to the potency of our fox. It passes like a shadow through the National Portait Gallery — the only representative of flesh and blood. It doesn't notice the fine work hung on its bounding walls. And why should it? It has no relation to these figures, or at least it didn't before it entered the museum. It stops and pokes its head through what might be a fireplace. Looking for a way outside? When one discovers a mouse in a high rise apartment, one imagines an unknown, or secret, exit. One, perhaps, not built to the human scale. In the case of our fox, the artist is the entrance and the exit. This is the fox of Francis Alÿs — the man who ties magnets to his feet and walks around Mexico City collecting metal. He has similarly pushed a giant block of ice around until it melted to a nub the size of a stone. There must have been a crook in his back by then. He also chases tornadoes and has lead a flock of sheep around a city square like a Pied Piper. The Nightwatch  was one of seven works commissioned by London-based Artangel, wherein Alÿs was asked to make work in response to the city. I saw a striking video at PS1 last summer that was part of this same series, in which Alÿs videoed the English guard marching, at first alone, though the deserted city, and then slowly finding one another, growing every more comfortable as their number grew. The sound of their feet grew louder and louder, echoing through the empty corridors. Yet, I am most interested in his fox at the moment.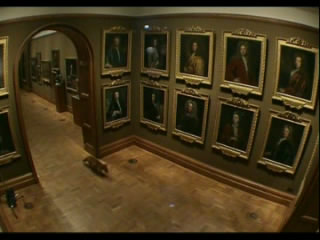 The fox articulates a non-human space within the cultural architecture of humanity. It is not simply that the museum was built by human enterprise, but that it functions as a temple of sorts, a house for historical works. The museum is a proper place, full of oil paintings and serious faces, poised with solemn and practiced grace. These works have survived the test of time. In that respect their presence is partly due to chance, for it is likely some have travelled great distances, across the sea for instance, barring wreckage, flooding, fires and sunlight. They hang now, like static vampires in gold frames, very much preserved. They are representatives of posterity: examples one might find inspiration in. The fox disrupts their solemnity, destabilizing whatever authority they might possess. The animal is so dynamic by comparison, trotting around with speed and self-possession. What is that statistic? In a matter of weeks the jungle would encroach upon New York City if human kind were not present to fend it off. It would take so little time to be gobbled up by trash, vines and rats — and then the larger beasts would come to sniff through our bodegas.
Joseph Beuys brought a coyote into a gallery in 1974. The interaction between Beuys and the coyote became a work of art, the performance of a developing relationship. It illustrated the process of equilibreum as it was discovered between a four-legged beast and a human being. Between two cultures, one wild, the other civilized. The coyote, of course, is endemic to American mythology — a trickster, a mirror, a scavenger. Alÿs' fox, on the other hand, is closer to English lore. There are any number of pubs named after it. For Sunday sport, English gentry used to set out on horseback to hunt it. But foxes are also tricksters, though these (apparently) can sometimes climb trees. In Nightwatch, the artist is absent. Instead the fox interacts with the object of art-space; that physical space becomes a conduit for history, not, as in the case with Beuys, the artist and his props.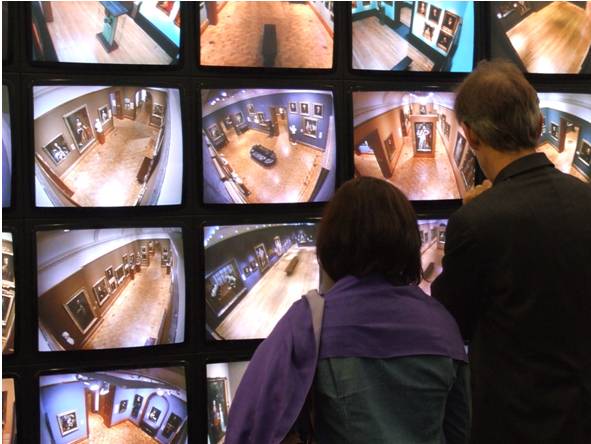 Alÿs began his project with the idea of using CCTV footage from surveillance cameras all over London. While it is legal for any member of the public to watch the footage, it is illegal to use it for some other purpose. Alÿs adjusted his plan and focused instead on the National Portrait Gallery as a site. They have state of the art surveillance cameras. To test this, to engage our interest in the strangeness of animals, he set a fox called Bandit loose in the museum at night. What is it that we are looking for when we watch this fox? Go here to watch an excerpt from this piece.
"The fascination with monsters — that is, with human and animal oddities and hybrids — is as old as human civilization. Indeed, a history of the monstrous would constitute a veritable history of culture and civilization, for the monstrous marks the boundary of culture, where it shades off into nature or some other form of radical otherness against which cultural identity is defined. Though the discourse on monstrosity is wildly heterogeneous, this culture-defining property is constant from ancient Greek, Babylonian, and Roman reports of monstrous races to contemporary discussions of animal and human cloning, stem-cell research, and 'partial-birth abortions.'" from C.Cox's essay Becoming Animal 
Over the last several months, I have grown intensely interested in the relationship between humans and animals — this has, in no small part, inspired a number of interviews that have taken place on Badatsports. But  there has been a significant amount of bleed off into other areas of my writing, thinking and reading. As my research and interest deepens so does the seeming impossible task of defining, clearly and fixedly, the distinction between human and animal. A more interesting question begins to emerge, however:  how we do negotiate our own identity, and the identify of animals if such a differentiating border is impossible?
The question leads to subsequent  and necessary upheaval; our whole way of life as human beings is predicated on an ancient insistence of difference. Humanity considers it somewhere between the beast and the divine, yet we cannot define that difference with certainty. That insecurity has led to an insistent reiteration of human superiority. "However one interprets it, whatever practical, technical, scientific, juridical, ethical, or political consequence one draws from it, no one can today deny this event — that is, the unprecedented proportions of this subjection of the animal. Such a subjection can be called violence in the most morally neutral sense of the term and even includes the interventionist violence that is practiced, as in some very minor and in no way dominant cases, let us never forget, in the service of or for the protection of the animal, but most often the human animal."  (p.25, Derrida, The Animal That Therefore I Am.)
At the same time, our species shares a collective sense that we are capable of destroying, (no, are destroying) the environment by way of that very separate identity to which we cling. Our subjection of not just animals, but also the earth, our profound ability to produce waste (I sat in a class once where the professor singled out humanity as the "messiest animal") — an ability we seem incapable of controlling, makes the boundaries between human beings and "nature" impossible to support. Our sphere of influence underscores a deep and undeniable interconnectivity. Yet to accept, embrace, and work with such an integrated perspective requires a reorganizing a centuries-old hierarchy.
Certain artists face this predicament head on and make work about or around the upheaval of interspecies power dynamics. In an intriguing paper by Marie Laval-Jeantet, she describes her work with animals; under the moniker AOo, she and her partner Mangrin used prosthetic limbs, extending her neck to communicate with giraffes or wearing cat-like stilts to redefine her relationship with their cat. "It showed us the force of visual illusion which, irrespective of olfactory signs, was capable of transforming man into, if not exactly a deer, into a type of hybrid man-animal that was more acceptable to them [animals]" (Jeantet, Plastik: Art & Science).
In another instance, Natalie Jeremijenko created a series of sites that facilitate human/animal interactions called OOZ. Animals stay by choice, not because of cages. "OOZ is interactive  — it provides humans a set of actions, the animals provide reactions and these couplets add to a collective pool of observations. The human/animal interface has two components: 1) an architecture of reciprocity, i.e. any action you can direct at an animal, it can direct at you, and 2) an information architecture of collective observation and interpretation. OOZ addresses learning that reveals interconnections among complex natural systems and the ongoing political effect of changing someone's ideas about their role in the local environment." The first phase of the project is slated for the Netherlands, where humans can explore the possibilities of geese-communication. Here, they climb into a "goose chair" that communicates with a robotic goose on the water. By moving their body within the "chair," participants can manipulate the goose robot as it paddles through a pond full of geese. Meanwhile, pond animals learn to push certain buttons that will communicate phrases to human beings.

   

I read about Agnetha Dyck, a Canadian artist who has spent the last 14 years "collaborating" with bees to make sculptures. Through this work, she investigates interspecies communication. "[Her] research has included the bee's use of sound, sight, scent, vibration, and dance. [She is] studying the bee's use of the earth's magnetic fields as well as their use of the pheromones (chemicals) they produce to communicate with one another, with other species and possibly with the foliage they pollinate."
In each of these efforts, there is a sense that something might be learned from non-humans — furthermore, what might be learned is potentially personal, something that akin to the rewards of friendship wherein one is not simply a subject studying an object. Very likely suffer these interpersonal dynamics are prone to equivalent interpersonal complications.
What could this look on a larger scale? How might humanity's relationship to its environment change if it were to similarly give voice to the environment? At first glance Bolivia's Ley de Derechos de la Madre Tierre (Law of Mother Nature) looks like an exotic stunt. In December 2010, President Evo Morales presented a bill in which Bolivia granted Mother Nature the rights of a "collective public interest." Accordingly, Nature is granted the right to "not be affected by mega-infrastructures and development projects that affect the balance of ecosystems and the local inhabitant communities." This is another attempt to translate the environment into human terms. It's an effort to protect the natural world by giving it legal status. Individuals can become guardians of land in the same way that an adult might become the guardian of a child: protecting its human rights when it is unable to protect itself. Despite the initial sensation, the law is quite reasonable. Mother Nature is defined as "the dynamic living system made up of an indivisible community of all living systems and living beings, interrelated, interdependent, sharing one common destiny" (article 3). The implementation of "Nature's" right would curtail any singular self-determination in order to account for the impact one action might have on others. Corporate interest would have to accommodate local populations, which would also have to accommodate one another. The sticking point of the law is that, as yet, there is no built-in system to moderate the interests and impact of different groups. The inter-relatedness of self-determined capitalism goes dumb in the face of interrelation. Because much of Bolivia's GDP comes from the harvesting of its natural resources (and the fallout environmental destruction) it is both of utmost importance the Bolivia be at the fore of this popular reform; both its immediate livelihood and long term sustenance hang in the balance. Bolivia is a peaking reminder of our global situation.