This Tuesday, October 23rd, The Green Lantern Press — a slow-media, art press I started in 2005 — has a book release party at the powerHouse Arena in Dumbo, New York. There, Anne Elizabeth Moore will read from the GLP's latest book, Hip Hop Apsara: Ghosts Past and Present. Hip Hop Apsara is  a collection of essays and photos that examine Cambodia's emerging middle class, with a particular emphasis on ways in which people gather in Phnom Penh's public space to dance. They dance together in choreographed rows all evening. It would be similar to Tai Chi or Country Western line dancing, except that these dances involve a mash up of traditional Cambodian ballet, called The Apsara, and contemporary Hip Hop. The older folks dance earlier and their moves tend toward the traditional side. As the dusk turns into night, dance moves become ever more contemporary and the old folks—mostly survivors of genocide, mass killings, or poverty-enforced starvation— are replaced by younger generations. Its functions as both excercise and entertainment, and represents a significant turn in Cambodian life. After all, it wasn't too long ago that people were hungry and had to conserve as much energy as possible. On the 23rd, from 7-9pm Anne will be reading along with a colorful cast of characters including the hatefully talented Mike Taylor, acclaimed novelist and cardigan-curator Elizabeth Crane, 'funny' Joe Garden, and internationally renowned cat-spotter Elizabeth White. It's going to be an exciting night with lush projections of the Cambodian night life, stories about rock, ghosts, and social change. The powerHouse Arena is located at 37 Main Street, Brooklyn, NY 11201.Go here for more info.
And, last but not least, here is the playlist, as promised, and read more about Anne's book in an essay she posted on Largehearted boy's website. (what created the original impetus for the mixtape). The audio clip featured at the top of this post was recorded live at Quimby's, when collaborative duo The Speers played a music set for Moore's book. Additionally, Moore will be reading at Bluestockings in Manhattan on the 24th of October.
Hip Hop Apsara: Ghosts Past and Present (book trailer) from Anne Elizabeth Moore on Vimeo.
About the Author:
Anne Elizabeth Moore is a Fulbright scholar, a UN Press Fellow, the Truthout columnist behind Ladydrawers: Gender and Comics in the US, and the author of several award-winning books. Cambodian Grrrl: Self-Publishing in Phnom Penh (Cantankerous Titles, 2011) received a best travel book award from the Society of American Travel Writers Foundation in 2012. Hey Kidz, Buy This Book (Soft Skull, 2004) made Yes! Magazine's list of "Media That Set Us Free," and Reclaim the Media's 2004 Media and Democracy Summer Reading List. The first Best American Comics made both Entertainment Weekly's "Must List" and Publishers Weekly's Bestsellers List. Unmarketable: Brandalism, Copyfighting, Mocketing, and the Erosion of Integrity (The New Press, 2007) made Reclaim the Media's 2007 Media and Democracy Summer Reading list and was named a Best Book of the Year by Mother Jones. Moore herself was recently called "one of the sharpest thinkers and cultural critics bouncing around the globe today" by Razorcake.
About the participants:
Joe Garden is a grown-ass 42-year old man incapable of making basic decisions without input from strangers on social networks. In the past, he was features editor at The Onion (where he created the characters Jim Anchower and Jackie Harvey), co-wrote two episodes of the award-winning cartoonWord Girl, co-wrote three novelty books (The New Vampire's Handbook, The Devious Book For Cats,and The Dangerous Book For Dogs. Great gifts! Check 'em out!), and appeared in the critically acclaimed film Big Fan. He currently working on a new website for Adult Swim.
Elizabeth White's work includes photography, video, installation, and social practices. Her work has recently been exhibited in the Artisterium International Contemporary Art Exhibition in Tbilisi, "No Soul For Sale" at the Tate Modern in London, "A Map is not the Territory" at FiveMyles Gallery in Brooklyn, and "Surveil" at the Center for Endless Progress in Berlin. Her work has also been shown in New York, Dublin, and Leipzig as well as Japan and New Zealand. White was awarded a project grant from CECArtsLink in 2011 and has been honored with an Aaron Siskind Fellowship and the support of the Hattie Strong Foundation. She has been featured on ArtInfo.com and her interview with Dina Kantor was published by The Girl Project. White holds an MFA from the School of Visual Arts in New York, and a BA from Vassar College. Based in Brooklyn, she teaches digital art and culture courses at the College of Staten Island (CUNY) and Ramapo College, and has been a visiting faculty member at Bennington College in Vermont.
Elizabeth Crane is the author of three collections of short stories, most recently You Must Be This Happy to Enter. She is a recipient of the Chicago Public Library 21st Centu
Last month, I compiled a collection of interviews with a curatorial projects operating in the city of Chicago. In it, Happy Collaborationists, LVL3, New Capital, slow, Roxaboxen, Plaines Project, and Johalla Projects all answer the same four questions, discussing their respective curatorial agendas. I always love to hear the back room story behind spaces, the way administration and practical impasses influence day to day decisions. I would love to post all of them here, but as it is, I'm only going to wet your whistle on this Internet-machine. After all, the interviews were intended to go together. While the resulting zine, "AD HOC," was available for free in the Bad at Sports booth of the Chicago EXPO, you can download the entire booklet via the following link: EXPO_Bas_pamphlet_for_web. Below I have included an interview from that collection with co-director Paul Hopkin from slow gallery — a wonderful space that straddles the line between apartment space and storefront gallery. At present, slow is exhibiting Benjamin Bellas, Represent the sound outside these spaces wherein"Benjamin performs herculean tasks and shows what is produced by his efforts." That exhibit is open to the public until November 10th. For information about what they're up to, the show they have installed in Clutch Gallery (a portable exhibition site in founder Meg Dugid's purse). Hopkin's co-director, Jeffrey Grauel is carrying it around at present, and even brought it to Washington DC for its official opening. Visit their website here  and don't forget, the following interview is just the tip of the ice berg. Each of those seven spaces has a interesting and varied way of thinking about their curatorial work.
Caroline Picard: What kind of exhibitions excite you generally?
Paul Hopkin: I like an exhibition that gets under my skin. Art is best when I am not sure whether I like it or not, but I can't stop thinking about it. I always try to get artists to present work in ways they would be less likely to without me, or the kind of space I run. That means pairing people who otherwise would not be paired, encouraging a new direction in the work or taking more risks in its presentation. I have been really lucky to have worked with a lot of really fantastic artists, but I have two favorite shows: one was called the low down and featured the work of Jeffrey Grauel, Caroline Allison, and Danica Favorito. Jeffrey covered all the windows with panels of crocheted video tape. It brought a darkness to the space — clearly because it was a sort of blackout curtain, but it also just pushed its presence into the space generating a kind of tension. Well, the fact that you also walked straight into a slowly spinning baseball bat maybe helped that a little too. I also really loved the play between Caroline's gorgeously printed and beautifully framed photos with Danica's that were off her junky inkjet she had at home, wrinkled and hung with obvious pieces of masking tape. I think one of Danica's photos had a coffee stain on it.
The second show was last spring, titled, it ain't over. Brent Garbowski and Joe Mault collaborated on this work that was not just designed for the space, but for people who come to it, for me. There was a kind of specificity to the work that was truly remarkable. They cut down a power pole and lay it down on the floor so that it cut through the gallery, through the entrance of my apartment and ran alongside my bed. They fabricated a swing arm with the familiar arch of a streetlight, so that the bulb illuminated my bed, complete with the way-too-bright light of an outdoor fixture. They are in the process of installing parts of that pole in another space and it is becoming a wholly different work. I also love that I got Barbara DeGenevieve to make work that was really light-hearted. I was really excited that she, one of my more established artists, was excited to work with Brent and Joe, two boys still in undergrad.
CP: Do you have a particular story about what the back-end of your space is like? Something perhaps indicative of your administrative process? 
PH: I would probably not be running a gallery if there were no separation between my private apartment and the storefront gallery. It is funny to me now, but I thought I wanted to keep people in the public space and keep my home out of the mix. A couple of shows into it I just realized it was ridiculous — it was more comfortable to use my home as the space to hang out in. If I haven't swept the floor in my apartment and there is an opening, I just let it happen anyway. "Y'all come to see the work and enjoy a beverage. Hell, some of you seem comforted that there are little mounds of my dog's hair everywhere."
I made a rule — if I find you difficult to work with, it is not worth it to me. I will also not work with you if I don't trust you to be alone in my home. I do this because I love it, and it is important for me to continue loving it. I have only had a few conflicts, and I hope I have resolved them well. Most of the artists I have worked with have truly been a pleasure. Not that there is never stress; stress is part of getting something worthwhile to happen. But the artists I have worked with have been helpful, resourceful, and interested in having good shows. I have been thrilled to see it work that way. I have had artists who have shown in my space just jump in and help with practical chores even when it is not their show.
I keep a running list of artists that interest me. Some, I check in with from time to time. I throw ideas around, often in casual conversations with friends. Just keep at things until an idea clicks. Then I approach the artists. Sometimes that doesn't work out and it means I have to start again. Maybe an artist is unavailable, or sometimes just not into the idea. I usually have three or four studio visits with each artist leading up to a show and I always run my show ideas by Jeffrey Grauel, my co-director.
The biggest practical decision I make is to avoid shipping work. I have done it, and it has worked, but I mostly show Chicago folks. I find the practical matters to be a part of the scene, so working within the resources and space I have is a part of the fun. I don't choose in a terribly practical fashion. I mean I had a power pole hovering over my bed for two months, and I let a performer live in my space drunk for a week.
I write for every show. It brings clarity about the show and why I put the artists together in the first place, and it helps the artists understand it too. When I get it right, the writing also helps generate some interest in the shows. But I try to avoid describing the work. I want to generate experience with the work on its own terms. I have my ideas, but I don' t ever want to impose them on the work in a way that overshadows the work itself. I don't have my writing in the space at all during a show. It resides on the internet on purpose.
I don't understand your question about, "engaging a public audience"— I mean, people come; the events are, in some direct way, public. It is a bit of a mystery to me that I engage a consistent crowd of undergraduate artists, and a consistent crowd of adults who have been out of school for a good long while, whereas I don't draw a ton of graduate students. It is a little frustrating to me, because critical attention has a way of following the interests of those grad students. But I think the shows at slow are better than that. And not that the projects haven't received attention, because they have. But sometimes I still feel like slow is a secret. I have had a couple of grad students tell me straight up that it doesn't seem like a place where they can figure how to get in —and if it doesn't present them with opportunities then they don't get invested in the space. The funny thing to me is that it can present them with showing opportunities. And then there's the flip side of the same question: what good does it do for anyone if the venue will show anything that comes along? Editing, some kind of vision and hierarchy, seem to facilitate better things all the way around. I guess I am still figuring out some things, and those artists are too. But I want to maintain a kind of criticality, a kind of rigor, and I don't mind that there are interesting artists who remain outside my radar.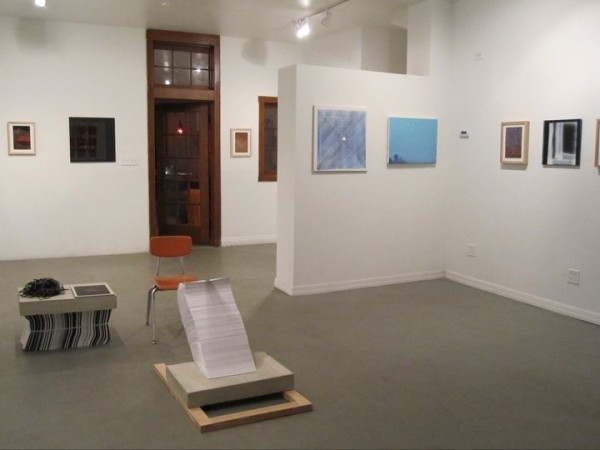 CP: Do you think non-traditional sites for exhibition are important?
PH: Important is a funny word. Curators that work in canonized venues rely on the rest of us to decide what is worth thinking about, worth seeing. But what burbles to the top is just that; it is the thing that garnered attention. Local food and local art — you know? A lot of the best stuff will remain unknown to most, and that is why we visit the places that produce locally. It isn't so much that  that venues like mine are important, but we do a kind of work that isn't done by important venues. Not so long ago Hamza Walker spoke very directly about waiting in the wings until a certain few venues have chosen first to pay attention to an artist, or to a new kind of approach. I think it is common for important critics and curators to wait and see what the lesser of us do. If a non-traditional venue bites on a new hook, and the results are well received, it can move through a system and become important. But I want to work from a messier place that is full of risk and opportunity. I love to play with ideas on their own terms. I love the heady space of "why the hell not" and "it's about time." That can happen when there is no bureaucracy. I can risk a big failure because nothing so terrible happens when I do fail. The payoff can be so much more satisfying when it comes from that sort of space. It isn't all just freedom and light, but it is so much closer to the fantasy of how the art world works. I support what strikes me, what feels ignored or absent from the scene, but nevertheless compelling. I hope to bring a critical eye to my part of the art world in a time where criticality is threatened and disappearing.
The television show The Wire changed how I think about storytelling. You get such a deep version of a really compelling story if you see the entire 5 year arch of the show. Artists usually work more like the storytelling in The Wire than in, say, Gilligan's Island. But we tend to see work that is from the fresh young thing just out of school. Or the work that has become important in the meantime. We see the same details, the same place in the storyline, repeated over and over. It is set up in this way that we think we are seeing a serial, but we're really seeing one or two pieces of a story set on constant repeat. But there is so much more happening than either of those snippets. And I get to pay some attention to work in a way that has a different piece of the puzzle precisely because I do not aspire to become important as a venue.
Importance is overrated.
CP: What are some administrative influences and how have they colored your own approach to running a space?
PH: Artists need good opportunities to exhibit. I feel privileged to have such a big part of my own creative process that functions through the work other artists have made. I try to make the work and the show the focus of the experience. As much as I have a point of view in this, I want that to support the artist's work, and not the other way around. I have worked as an administrator in several other capacities, and what everyone seems to want is freedom to choose things that have an importance, and for the things that aren't valued by the individual to just disappear, to be done by elves. I work to make everything simple, approachable, and pleasant for the artists. If I can't be the elf, I let them know. But if I can make something easier, I certainly will. My structure, my approach, is built on the philosophy that this will be what I want it to be, and what the artists want it to be, as much as possible. This is the place where you can ask to do anything, and it is a simple conversation. I am very aware that I am not an institution. I am not aspiring to be a lucrative business. I am opinionated, invested in fearless and sometimes transgressive art, I have a sense of humor, I have a sense of style, I am social and chatty, I enjoy a good beverage with friends, and I am intellectually motivated. I try to structure the shows to take advantage of all those qualities.
slow is located at 2153 W 21st Street, Chicago, IL.
At the end of August, Chris Hammes has an exhibition, Twenty-OneMotorcycles, at the Hills Esthetic Center. One of my favorite things about the show was probably the sound it created. I walked into a pitch black exhibition space and instantly zoned in on three different kinetic sculptures; flickering lights defined the bounds of each. In the first instance, I saw a stack of recognizable VHS tape player screens, recognizable only because of the disembodied digital numbers. The players themselves were subsumed in darkness and the numbers seemed to hang, like little electronic ghosts. To the right of the door, I saw a dizzy red,digital clock face spinning. And then, in the far corner, a spinning circle of colored light that looked almost like string. Each machine whirred, cranked and croaked in the darkness. It was white noise in darkness. Lights and sound in tandem created a mesmerizing effect. Every piece was engaged in its own, personal orbit, exhibiting a repeated, kinetic energy that was somehow calming rather than frenetic. It made the darkness full, as a house during the summer in the middle of the night. Fans I could not see, spun lights and pushed air. The various motions of these objects created a complex oral texture. In the following interview, I had a chance to ask how Hammes' came to create a dark exhibit, where his interest in hypnotism has come from, and why he's compelled by motorcycles.
Caroline Picard: What is it like to make work for the dark? How do you anticipate what you will see and what you are building (in the light, presumably)?
Chris Hammes: I didn't actually consider these works to be made for total darkness, it was a decision we made when the show was installed.  I made the work in the light and had intended to have some low-wattage spot lights on the pieces, but when we looked at the works in the space we realized that each piece has a pretty bright luminescence, and viewing in darkness just made it more intense.
CP: I know you have an on-going interest in hypnosis where did that interest come from and how does it manifest in your practice? 
CH: When I was in high school I picked up a book on self-hypnosis and experimented with it on my own, tape recording myself and then listening back. It was fun but I didn't see any use for it so I didn't really do anything with it. I studied sound at SAIC which lead to improvised electroacoustic performances, which lead to working as a producer and "talent" on a radio show called Blindspot, where I conquered some stage-fright and developed an interest in things like writing and performing for monologue and narrative. About four years ago I started experimenting with hypnosis again. I read a few books and realized this was a really fertile place to develop a collaborative practice that combined a lot of different disciplines that I wanted to explore. After some feeble first attempts, I was lucky enough to meet a professional hypnotist that took an interested in my work, and became somewhat of a mentor that examined my technique and gave me critical input to help me improve. I'm also lucky enough to know some very adventurous artists, so when I needed volunteers they weren't hard to find.
CP: When you hypnotize people, do you think of it as a kind of performance? What does that say about the artist i.e. artist-as-hypnotist?
CH: These sessions are a form of collaboration that often manifests as a performance, where the goal is to facilitate new experiences that can lead to the production of a narrative, sometimes music, an object or an image, while exploring the power-relationship between the collaborators. It involves seriously different roles on the parts of the collaborators, and can result in a power imbalance that's difficult to manage. And this power balance is something to battle against, follow or fall into unexpected places. In preparation I write scripts based on what we mutually want to accomplish in the session, but it's always an improvisation. For me as an artist, it's a tool for steering desires and perception towards an unusual creative place.
CP: I saw a connection between your work with hypnosis and the Harley Mandala. Can you talk a little bit about that?
CH: The Harley Mandala is one of two works in the show I've made using the Harley-Davidson logo, looking into the cultural significance of the Harley brand. Harley seems to possess a notion of freedom fused with rebellion that puts optimism in conflict with pessimism. Considering motorcycle culture symbolized by the Harley logo, I wanted to raise the logo to a spiritual place.
The Harley Mandala piece spins at about 1000 RPMs, which transforms the spinning Harley Davidson logo into concentric circles of light, similar in appearance to a circular mandala. This is one of two spinning pieces in the show composed of modified fans.  Part of the motivation with these two kinetic pieces is to exploit the limitations of vision by spinning an object so fast that it masks the true shape and appears to be something else.  Along with looking like a mandala, it also has that mesmerizing effect of the spiral use by hypnotists in movies. This mesmerism can happen when you know an object is different than what you're perceiving, which is similar to a perceptual shift that can happen with hypnosis. Maybe that's the connection.
CP: I also understand that, with the namesake sculpture, Twenty-One Motorcycles, you modified the interior of VHS machines, causing them to rattle and whir. VHS machines have such a curious presence — they're like these obsolete but very nostalgic machines. Somehow, by making them whirl especially loudly, you're connecting them to movement—specifically the open road, the motorcycle: can you talk more about that connection? 
CH:Â I attached metal tines to the spinning player head that reads the magnetic tape in a way that allows the machine to still function, but sound as if it's broken. When I press play, the motor slowly starts up and gains momentum, sounding like a much larger motor. It occurred to me that this kind of noise-making is similar to the pretending that a child does when attaching a playing card to the spokes of a bicycle, transforming it into a motorcycle. This ability to transcend through pretending feeds back to the VCR as another formative presence in the youth of my generation. The sound is created by this circular movement, but unlike the other work in the show with visible motion, this is announced by a screeching mechanical drone. They're stacked up at a height of a little under 7ft because I wanted it to be the height of a really tall, intimidating human. These machines still work as well as they always have, but nobody wants them anymore. The drone sounds aggressive, like a scream.
CP: The last thing I wanted to ask, in some way I feel like my questions have been leading up to this, but I was interested in the place of Romanticism in your show. Calling forth the specter of Voltaire and connecting them to motorcycles in Candide-Voltaire Motorcycles (as though they had a specific shop somewhere and fixed up bikes) or too, with Enlightenment, where one can drink a shot out of a resin cast shape of Voltaire's head….how does Romanticism play into this? I can't help feeling like there are ideas about justice and liberty, also connected to the open road, and a sense of space and nature—all of which come together here in a very Romantic, and especially American, fantasy. Maybe a better way to ask this question is, what does Voltaire's motorcycle shop look like?
CH: I hadn't thought of a motorcycle shop run by a mechanic team of Candide and Voltaire, but I love the idea.  I'm picturing modified pantaloon coveralls, maybe a mesh John Deere cap on top of Voltaire's powdered wig.
I'm not sure if it's Romanticism I'm interested in as much as a pairing of symbols of different cultural value.  Candide is valued European literature while Harley is working-class America, and both can be Romantic for different reasons. I've made a number of works that reference Candide by Voltaire to signal a division between Optimism and Pessimism. The novel is famously pessimistic, but also a political satire against the theological optimism of the Enlightenment era. It describes youthful naivete in a chaotic and malevolent world. I'm pairing Candide-Voltaire with Harley-Davidson to represent a similar conflict between optimism and pessimism.  Harley always reads as patriotic  and American. It was one of a few companies supplying motorcycles to WWII, and the formation of motorcycle gangs comes in large part from the post-war alienation felt by veterans returning home. On the surface, there's an obsession with death imagery, black leather, skulls and flames. Underneath is a clear corporate marketing presence and commodities feeding these images. This logo can read as a celebration of fearlessness, a burn out before you fade away kind of freedom. But it can also invite fearfulness, playing into the dark-side of outlaw motorcycle clubs engaging in organized crime, drugs, violence, prostitution, human trafficking, ritual initiations, etc. We know the motion picture Easy Rider, and we know the Hells Angels at Altamont. With both symbols there's a spiritual aspect, and a separate blunt reality to contend with.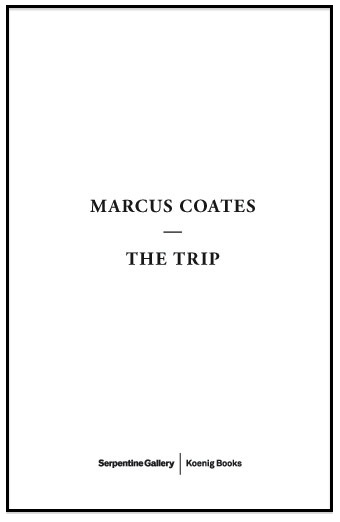 British Artist, Marcus Coates published The Trip (Serpentine Gallery, 2011) last year — a book documenting Coates' project with terminal patients at St John's Hospice in London. Coates interviewed patients, asking a a single, preliminary question: "What can I do for you?" Embedded in that question is an acknowledgement of mortality. Death is on the horizon and Coates offers to accomplish a task this patient can no longer see too, a task this patient regrets never having done. In particular, the book focuses on Alex H.'s request; H. asks Coates to go to the Amazon on his behalf. The first part of the book is dedicated to the proposal, wherein this request is made. The second half is written like a play, where Coates describes the experience of his travels. In one sense The Trip is a travel book. Coates is articulate about his experience with the Huaorani tribe, relaying answers that H. had prescribed. In another, the project raises questions of identity, location of self and self-lessness. It's an incredibly altruistic project, and yet of course its couched as an art project, a gesture that seems to muddy the waters a little bit. Then too, if you take this work in the context of Coates' earlier works, it fits into his ouevre as a public shaman. As a reader, participating in the nuances of this dynamic relationship is interesting, particularly when the presence of the Amazon is mediated entirely through a the guise of a written play. In other words, it's possible Coates might never have gone to the Amazon at all. (The Trip has also been presented as a 35 mm film).
Coates has interested me for a while now; most of his work operates in a liminal space between somber and slapstick. Often the result is a little suspicious, and maybe even for that suspicion, the more compelling. His tongue-in-cheek approach to shamanic mimicry seems to illustrate the desire to step outside reality, to connect to non-human (and perhaps more primitive) modes of being, while admitting the impossibility of that desire. The fact that shaman classes are offered so casually (I imagine a sign up sheet tacked to the bulletin board of one's local book store) is just another reflection of cultural desire.  "Coates was inducted into the ancient techniques of shamanism on a weekend course in Notting Hill, London. The workshop trained participants to access a 'non-ordinary' psychic dimension with the aid of chanting, 'ethnic' drumming and dream-catchers.Coates has explained the process as essentially being a form of imaginative visualization. Historically the shaman would have been employed to solve the daily problems of the community; since these usually involved the finding and killing of animals, shamans were valued for their ability to communicate with other species in the spirit world," (Jonathan Griffin, Frieze, 2007). Coates has made a series of performances where he claims to communicate with animal spirits in the underworld, and after returning from their realm, delivers messages of truth. Or common sense? It's hard to say. "I think firstly I should say that I am deeply skeptical myself, particularly about new age culture," Coates said in an interview with Mark Sheerin. "Usually I kind of expect people to walk out," he says of his rituals, "and I'm quite open to people calling me a charlatan and laughing. I quite like people not to be so reverential."
Graham Coulter-Smith described Coates this way in art intelligence:
"In one work Coates buried himself in the earth in a consciously theatrical attempt to get close to the forces of nature. He has jumped into the sea on the English coast and on emerging attempted to adopt the mentality of a seal while being videoed—one must have something to show in a gallery. In the remarkable Journey to the Lower World, 2004, he took on the role of shaman dressed in a deer skin complete with antlers. This was a participatory performance situated in a room in high rise tower block in Liverpool—it was also videoed and so there must have been a camera crew present at the occasion.  This performance required considerably performative skills in encountering working class Liverpudlians living in a high rise tower block awaiting eviction. The proposal was that Coates would help the residents come to terms with their problem via a shamanistic communing with animal wisdom. In the performance he give an introduction to his audience of working class men and women and then covered his everyday casual clothing with a deer costume complete with antlers. In so doing he mixed the ordinary with the extraordinary in a manner that does seem well suited to contemporary existence. He then delivered a curious and somewhat absurd performance in which he appeared to take on the spirit of the animal acting in an animal-like manner and making animal-like sounds. All of this was incomprehensible to the audience and the video camera turns on the audience to register their expressions of amusement, surprise and disbelief. Perhaps the most extraordinary/ordinary aspect of the performance is when he descends to the 'lower world' via the tower block's lift (elevator). He returns to give the audience an account of his chthonic experience in normal language telling them what the animal world had conveyed to him about their predicament and hopefully providing them with some therapeutic comfort: the advice was not bad encouraging them to sustain their community in the wake of the eviction."
And, in the same article  (aptly called "Simulacral Shamanism" by ) Coulter-Smith puts Coates in the context of late capitalism:
"But set against romanticist inclinations is the inexorable mercenary pragmatism, the superficiality and homogeneity of late capitalism. It is impossible for contemporary artists to escape their cultural context and this is the case for Coates who freely admits he is not sure whether his artistic practice is spiritually significant or merely playacting." (read the whole article by going here.)
I have been interested in a similar "Hipster Shamanism" idea for a long time now. It's a phrase that came to mind four or five years ago for me when I'd walk around town and see all these 20-something kids wearing dream catcher t-shirts and moccasins. There were echoes in the deer heads at art fairs and hipster galleries, and a kind of feral youth aura emanating out of popular comic books. While it connecting that chain of icons to Native American spiritualist tropes would do for its own essay, let me just say here that Coates taps into that same zeitgeist, claiming to have access to an alternate reality while nevertheless admitting an uncertain ability to do so. It's not quite ironic (he offers fair advice to those about to be evicted from their housing complex, for instance) and yet it's is not quite serious either. It has a disquieting effect. While the hipster-moccasin trend has become less pronounced since, I believe there is still something to it. And somehow I think it's tied to a sense that nature no longer exists because a) America is a domesticated suburb and b) separating humankind from "nature" is impossible. Without nature, though, there is no "elsewhere" to turn to. The network of global capital is impossible to step outside of — even if one dislikes its values and consequence. Under this light it's as if Coates just embodies a fantasy to escape, but let's go back to The Trip again: something real is at stake, just as some exchange is being made. Regardless of the framework that caused such an occasion, it's a project that dives into the most basic maelstrom of humanity. 
I have many favorite stories — some of which were never written down, but for instance, end up being repeated by close friends to other close friends, as though in repeating and remembering those stories we become closer for our shared history. One of those stories, which happens to have been printed, is Homer's old epic poem, The Odyssey. That book centers on Odysseus; his adventures are vibrant and colorful and occupy the most prominent space of the book. Over the years I have grown more intrigued by Penelope's position and life — that segment that remains on the periphery. What we know is that she stayed at home, her house grew full of suitors who waited for her to give up on her husband's return. We can suspect they ate and drank and reveled the hours away. We know she led them on while always keeping them at bay, unrequited but ever hopeful. She Penelope promised to choose one of them whenever she finished her tapestry. And, of course, we also know she wove and unwove the same piece of fabric for many years. When first told the story it seemed like she did this to protect herself, to assuage their pressures. Now think she made that game for herself. Because she was undecided, unwilling to either rebuke or encourage the men in home. We might imagine that she kept these suitors to flirt with and cajole and take comfort in. But never to commit to. The act of weaving is connected to time (think of the weaving fates, for instance) and Penelope kept herself in suspension. Undecided, fickle, old and young at once. When I saw Judith Brotman's show at The Bike Room, time felt similarly suspended. These works seemed caught between mid-breath, a moment brought into focus with stitches and cracked plaster putty, as bones and limbs and celluloid surfaces.
Caroline Picard:Â I feel like there is a real engagement with the physical body, in your work. How has your sense of the body changed over time, as a system to engage via sculpture?
Judith Brotman: A few years back, I made a number of deliberate attempts to try to eliminate or minimize references to the body in my work, thinking it would prove to be an interesting experiment. The most interesting result was that my efforts proved to be futile. In fact, the harder I tried to remove these bodily references, the more they seemed to appear. In a way, this has been liberating, as it suggests that I have the freedom/luxury to "look away," and manifestations of the body will still be present; they seem to be key/core concerns of mine. Working with the body as a referent has indeed involved shifts/changes over time. The older I get, the greater my awareness of the body's fragility. Paradoxically, it's also the case that the body is absurdly resilient and bounces back repeatedly from all manner of things…until it doesn't. I find it really interesting that the fragility & the resilience are both true, and that there is such a delicate balance. There are all kinds of things we can do and choices we can make to try to tip the balance in favor of strength and longevity, but there are other factors, including luck and random events, that impact what happens. My sculpture pieces and their precarious-but-still-standing aesthetic tend to reflect and respond to this paradox. I don't, by the way, recommend leaving everything in life to chance & luck. Actually, quite the opposite.
I was also a bit of a latecomer to making art, having originally planned (approximately since birth) to be a doctor. My father was a doctor, and this was back in the day when patients would actually call our house for appointments and graphically describe all their ailments, seemingly undeterred by the fact that the person answering the phone was 10 years old. I worked in my father's office for years.  Sometimes patients left his office, claiming to already feel much better, which implied that there was something in addition to medicine/treatment that impacted perceptions of wellbeing. An awareness of illness, health, & the body are part of my earliest memories. I was actually a pre-med student for 2 years before realizing that I had virtually no interest in becoming a doctor and left school for a time. An improbable series of events happily led me to the School of the Art Institute where I enrolled in Anne Wilson's Intro Weaving class; it was life changing. I spent much of my undergrad years working in the Fiber Department — I had an interest in work that was process-oriented and in ritual garments and textiles. I also spent years, going to the Field Museum and making drawings of tools and objects that were useful/useable and relate to a lived life/the body. Those drawings seem quite related to the work in my current Bike Room show, although the function of my objects is never clear.
I now look back & refer to my first few years of art making as the honeymoon years, although I wasn't necessarily calling it that back then. Keeping in mind that I had never so much as held a pencil, everything was brand new and filled with unlimited potential. Perhaps it still is, but as the years pass, this seems increasingly difficult to remember/know/see. It almost takes a bit of work to hold this thought, although, I confess that I still retain an unabashed pleasure in studio time. The paradox here is that although I'm long past the honeymoon years, I do have more clarity about what I care about in my work. And there also comes a point in working with a material when you begin to know what it does/what it does not do. There's a big pay off after the extended getting-to-know-you process especially in conjunction with years of thinking about the same/similar forms. The work starts to feel more fluid/less forced. I'm less concerned about the work resembling anything in particular.  Sadly this magic moment is almost certain to be fleeting!
CP: On the heels of that question, I want to ask about the ethereal quality of your work: it's whiteness — almost as though (aside from the sewing wire interventions) it has been blanched — it's fragility, it's almost precarious balance; much of the work looks like it might fall apart given a strong enough breeze. Somehow you've managed to conjure corporality and dreamlike-ness at once. Is your work defiant, somehow? Suspended? Magic? Do you think about the body and the non-body at once?
JB: Not only does my work look like a strong breeze might blow it away, but it is often the case that I will leave the studio & return the next day, and everything has collapsed!  The work tends to look best right on the edge of "anything could happen when you turn your back."  When I set up work in a show, I have to force myself NOT to over-stabilize the work &/or pin it in too many places.  I am, on the one hand, wanting the work to stay hung throughout the duration of an exhibition, but also keep it on the edge of toppling over.
CP: How do you think about sculpture —  a field that historically gives humans a chance to leave large iron footprints in a landscape —
JB:Â My very short answer to your question is:Â  I am far more inspired by the work of Eva Hesse then by the work of Richard Serra.
And then there's my longer answer. I think it's a fairly common human response to want to leave a footprint…art or otherwise. We're only around for a comparatively short time, and we never really know how our own story will end. We also want to be remembered. I do think that contributes the desire to leave something that will outlast us. That is a very reductive & simplistic view, and I do not think it's the sole reason artists want to make work. Neither do I think it's the sole reason people have children. But I do think it can contribute to the desire for either or both. I'm a bit pragmatic about this: I'm not going to live forever and there's no way around that. I don't have children & my work is very impermanent. (Please note: 1) I make vast distinctions between artists and parents.  2) I frequently admire the contributions/dedication of both.)
I'm visiting New York City now & have spent a disproportional amount of time at The Met, looking at Greek & Roman sculpture: figurative, monumental, stunning. Personally, I'm glad they didn't fabricate those works out of paper or something fragile, or I wouldn't be seeing them now. But despite the fact that they have endured for centuries quite a few are pretty messed up in a variety of ways. Many of them are broken and held together with steel rods & other modern day fabrications. Some of the heads & other body parts are missing. We no longer know who many/most of these people are — let alone the identity of the artists who made these pieces. They haven't completely succeeded in eternal life. Furthermore, most of these sculptures were stolen from their countries of origin. But they are gorgeous. I could stay in those galleries for days.
Immediately before working with paper, I fabricated my sculpture pieces out of industrial felt — not marble or steel, but stronger (& itchier) than my current work. The work was fairly dark in both tone (referenced armor, bondage toys, prosthetics, and animal traps) and color. I switched to mainly white paper after that (I was already integrating touches of it in my industrial felt pieces) for several reasons. For one, the tone of my work usually is somewhere on a continuum of dark/quirky/curious and I was interested in using an opposite kind of material, primarily to focus on the details. Everything resides in the details: the crumple, the sheen, the decorative flourishes, the distress, the bit of map information (I use atlas pages in some of the work). This is something of the reward or payoff you get from careful looking. I am aware that my work can be taken in at a glance — a lot of white, a lot of paper, some odd/eccentric stitches. I like that there is extra visual information available if you stop to look. I suppose there is a defiance about that, particularly as people typically spend about 11 seconds (on a good day) looking at art work. And I suppose there is a defiance — quiet defiance? — in making such ephemeral work. I recently threw out a huge installation of paper pieces. I had shown it once as entire immersive environment and selected a few individual pieces to exhibit a few other times. I started re-hanging the pieces in my studio this summer, and they looked like hell. They had lost their "body" through the hanging/re-hanging/packing process; they were limp in an uninteresting way.  I would leave the studio and hope I was mistaken, willing them to look better the next day. But, of course, they never did. When I finally threw the whole collection out, it felt really good & very right. Somehow the new work began to come with greater ease. The bottom line for me in terms of materials I'm currently using: white paper, wire, thread, modeling compound, packing tape — is that they seem to be the right choices for the implications and contradictions of my current work.
CP:Â Could you talk about your interest in alchemy and how that has influenced your practice? Does the quest for gold somehow translate into a quest for aesthetic fulfillment?
JB: An extremely brief intro to alchemy for anyone who doesn't know the history:  The alchemists were the precursors to our modern day chemists. Their intention was to transform ordinary metals — through a series of processes like heating, cooling, and distilling — into gold. Needless to say, they were unsuccessful. They did, instead, frequently start fires, cause explosions, and some of them lost their lives. I would argue they were as interested in their on-going experimentation as in actually realizing their goal. Theirs was a lifelong pursuit and like all lifetime pursuits, the actual achievement of the goal can be overrated, or at least, anticlimactic. There are a number of things I really respond to about the alchemists. First and foremost is the concept of transformation which was central to their experiments and to my work. Material transformations have been a part of my work since my weaving days. And a central theme of my work is the pivotal moment when something could, but might not, happen.
I do also really love alchemical images; they are strange and wonderful. They include a weird symbolic language in which the union of opposites (in the form of sex between "the king and queen") results in the desired transformation. Everything is somewhat cryptic and coded; theirs was a secret language, philosophy, and society.  I am intrigued and a bit inspired by their love and devotion to process. And although they didn't ever create gold, or anything close modern day science owes them a debt of gratitude. Don't get me wrong, I love a good finished product! I'm not sure I could be as committed to my art practice if each and every thing I made was exactly the same failure as the last time. But I love the fact that I'm never done or finished…that each body of work unfolds one to the next. I'm also rather grateful that my art practice is a way of learning and understanding the world around me. It's a kind of "onion skin" of delving deeper that fascinates me about the alchemists and my own art practice.  I would say the "quest" — for me — is for successive bodies of work to dig a bit further into core concerns. And to not (literally) blow anything/anybody up in the process.
CP:Â Can inanimate objects possess drama? Is that something you are interested in? How does it manifest?
JB: I do believe inanimate objects can suggest a kind of drama — sometimes more literally and other times a bit more metaphorically. Long before I started working with paper, I would give my students an assignment in which they take a huge stack of copy paper, an especially innocuous material, and separately transform each and every sheet. Drawing on the paper is not allowed. The paper can be ripped, torn, cut, or shaped, and only the use of scotch tape, white out or white thread is permitted.  This assignment, which I call "The Something From Nothing Project," is not necessarily my most popular one. But there are always a few students who clearly respond to it and find it expands their notions of making art. Many students lose patience/interest before they even get started — what is there to do with a sheet of crappy paper? But the ones who persist and are curious find that a fold or a cut can convey meaning or that a heavily twisted sheet of paper can carry the "memory" of the hands that created the impression on the paper — I find this a kind of embedded action or subtle drama.
In my past installations, (not so much in my current exhibition at the Bike Room), sculpture pieces were interconnected and/or set up in conversation with each other; often they faced off in dramatic or tense moments.  I am particularly inspired by love stories ranging from Othello to the soap opera, All My Children. (the latter is now cancelled, & this has nearly broken my heart)  I am really interested in short stories as a genre as they tend to hinge on a climatic ending. I considered the sculpture forms in my immersive environments to be characters in somewhat theatrical situations — sneaking up upon, ignoring or confronting each other. Delineations between inside and outside were fluid, and the viewer, too, could unexpectedly become part of the drama.
In the past few years, the drama of each installation does not reside solely within any given object or even in the relationship between objects. It is additionally a function of how the objects respond to the architecture of the space. The activation of the sculpture pieces — the tone of the exhibition — is increasingly determined by the space. The Bike Room has been a particular pleasure to respond to — the space is quirky and raw and has a variety of nooks and crannies. There are a couple of hidden sculpture pieces that you might or might not notice; how they were hidden was totally a function of the oddness of the space.
CP: What is your experience of distance (metaphorical or narrative or geographical) and time? 
JB: The passage of time, the distance between moments and/or decades, is more relevant to my work than actual geographical distance. On Kawara is a huge inspiration to me although there is seemingly no connection between his work and mine — certainly not a visual one. I am incredibly moved by his date paintings and the dedication of counting all the days of his life. I am also awed by the objectivity of his documentation, as I possess little to none of this quality. The counting of days, the passage of time, how the past typically informs the present except when it doesn't — these are of great interest to me. I've talked about my interest in pivotal moments and potential moments of transformation, but I'm intrigued by the fact that we don't necessarily recognize them at the moment we experience them.   There are certain marker events in our lives — the days we look toward as the big moments:  graduation or wedding or major exhibition, just to name just a few. But it's likely that we don't recognize the most critical moments of our lives when we first stumble upon them; they're often quiet and not announced with bells and whistles.  The work in my current show is more of a reflection or response to the ordinary extraordinary. The title of the exhibition, "I Dozed, I Napped, I Writhed, I Dreamed," is excerpted from a longer prose piece I wrote, a rumination on what happens during a typical (or at least MY typical) day or week, and so on. The works in the show are stitched drawings (some on mylar, others on packing tape) and mixed media constructions (paper, thread, wire, modeling compound). Most of the objects do not look new and many look as if they have just been casually hung in the space, without too much thought. Things look a bit haphazard at first—two drawings, one object, etc., but if you spend a bit of time, hopefully you see that there's an echo from one object to the next. Most of us have the notion that we keep changing throughout our lives; hopefully that's true.  But it's a bit like reading your old diary or looking at your old art work. In some respect, you might feel like you no longer know the person you once were. On the other hand, there are these eye-opening moments where you realize that what you were thinking about years and years ago seems identical to what you were thinking about just yesterday. I find these moments quite stunning, and in a way, oddly comforting, too.
Judith Brotman's show,
I Dozed, I Napped, I Writhed, I Dreamed, 
is open until September 1st at The Bike Room, 1109 W. North Shore Ave., Chicago IL 60626 (CTA Red Line, Loyola Stop). To schedule an appointment, please contact Director Nancy Lu Rosenheim : nancy@nancylurosenheim.com /  773 329 7879. There will be a closing event on Saturday, September 1, 4-7 pm