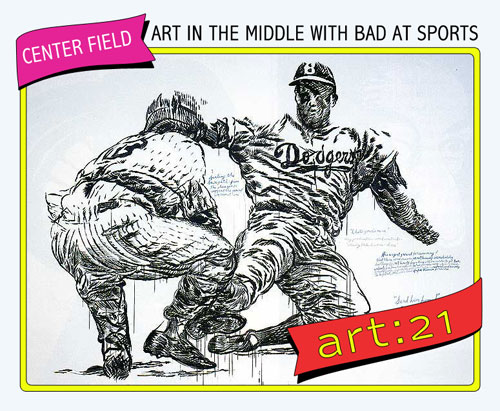 Last September, DePaul Art Museum hosted an epic group exhibition, featuring Imagist artist work on the first floor and a contemporary generation of artists on the second. While those contemporaries have in many respects plotted their own independent and respective courses, there was something refreshing about co-curators,' Dahlia Tulett-Gross and Thea Liberty Nichols, ability to highlight the visual and theoretical connection between generations. The resulting exhibition, Afterimage, illustrated a visual legacy, reinvigorating the past while demonstrating it's transformation into the present.
Caroline Picard: Often collaborative curatorial projects come from on-going conversations — how did you two conceive of the Afterimage show?
Thea Liberty Nichols: You're right on target in thinking that the show evolved through a series of ongoing conversations, but ultimately, Dahlia came up with the idea. She's connected to a lot of local galleries and has built relationships with dozens of artists. Recognizing a renewed interest in the Imagists among contemporary artists who, rather than obscure or reject their connection to them, prized it, she isolated a certain look or feel that many of those artists shared with the Imagists. She approached me about co-curating with her partly because I had written my thesis on the Imagists. Ultimately, our commitment to showcasing the work of every artist as an individual within the larger context of our show led to the publication of an exhibition catalog, which we were so pleased to include you in!
CP:Â What was so important about platforming art with writing in the catalogue?
TLN: We were dedicated to creating some enduring historical record since, like Imagism itself, there's a lot of historical background noise about art writing in Chicago — both its quality and its outlets, or lack there of. In both instances, rather then engage distant and stale debates, we wanted to have a new conversation featuring new voices. We were lucky to work with a whole host of arts writers, including arts journalists, critics, curators and even some visual artists who also write for our publication. go here to read more.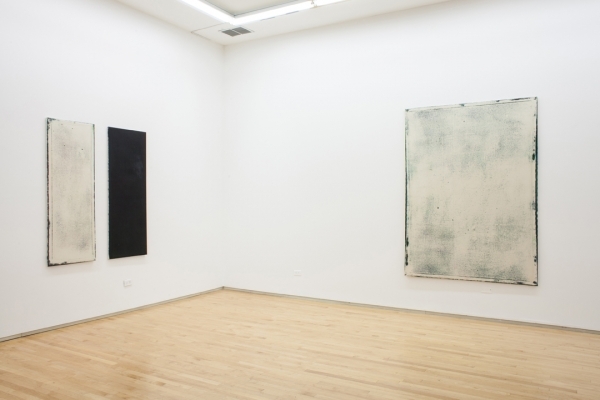 Everything I've read about Berlin-based painter, James Krone's, recent exhibit Waterhome centers Krone's practice around an empty aquarium. The aquarium in question, however, is not present in the exhibit itself. Instead you'll find a series of paintings hung on the wall, a folding screen dividing the room that is similarly composed of paintings and a stack of paintings face up on a plinth. These monochrome works seem at first either black or white. At first they appear unpainted, as though they were salvaged from a musty basement and hung as testaments of mold and unforgiving sunlight. The marks on the canvas seem to have grown over pure blankness, or pure darkness — like intrusions of time and environment. Slowly, upon closer inspection the range of color becomes apparent, the areas of bleaching and stretch marks conspire to create a cohesive, aesthetic experience. The image of a tank collecting algae is tied in with this work, and I kept asking myself how it — with its self-generating, dynamic ecosystem — connected to painting, especially when these paintings speak so directly to minimalism, and abstraction. Waterhome opened this past Saturday and will be up until February 2nd at Kavi Gupta Gallery. All images courtesy of the gallery.
Caroline Picard: I am interested in the relationship between your paintings and this fish tank — an object that seems present in everything I've read about your work, even while it is absent from the physical exhibition space. Without the fish tank, I experience your paintings as these lovely, subtle color fields that reflect back on a collective/historical painting conversation —  your works strike me as non-painting paintings, almost. They have been crafted in such a way as to seem like canvases left in a damp basement for an extended period of time — flecks of paint look like tiny blotches of mold peppering the surface. And yet, by incorporating this fish tank, even as a (non-present) totem of the work, your paintings engage the natural world as well. I have started to fixate on this fish tank —What is its relationship to your paintings? Does it function as a muse of some sort? Or does it have a more direct relationship to your painting process?
James Krone: The fish tank was something that I had, was given as a gift at one point because I had wanted a pet lobster. I had some miscommunication with the electrical company at the time and my power kept going off. I was worried that if I put a lobster in the tank and the electrical company turned off the power again, Â the lobster would die. Also, I realized what a lot of work it would be to maintain a salt water tank. Instead of getting rid of the tank I filled it with water and put it on a table in my apartment and decided that that was enough. I couldn't tell if it was a sculpture or if I was just keeping water as a pet but I found it somewhat fascinating and it didn't take any effort to have it there. It was visible and transparent, recycling its qualities through an electric filter. It wasn't very long before algae started to grow in the water, a rather delicate layer of soft velvety chartreuse. I've never really thought of the algae as nature, primarily, so much as an inevitable form of production that was filling a void while simultaneously articulating my incapacity to maintain either an illusion of emptiness or a consistent object. I'm often seduced by points where assumed binaries falter and merge back into one another.
The accretion of the algae persisted and would get quite thorough, creating moments of total opacity and then it would die, or do something that appeared to be entropic, and just collapse off the sides of the tank in sheets of fibers. The process would repeat itself. It seems to be a form of decay but in fact its an active, matter subverting an otherwise sterile space. I admired the mindless production of its cycle and the revolutions of transparency and opacity, persistent and hungry yet apparently neither progressive nor resolute. It is difficult to say whether the algae was a subject coming into being, a subject arrived sui generis or something that was destroying the subject. I think that the paintings work in this way, too.
CP: It sounds like you see a process of painting in the aquarium's inherent, or natural, process — can you say more about it? How are those conversations wrapped up in one another for you?  
JK: I think of the aquarium's relationship to painting as being about the quotidian and transfiguration, being as a form of continuous maintenance, more than I think about it as nature. Or what is natural? A fungus that eats plastics was recently discovered in South America. I guess I see nature as the incomprehensible totality of everything and just shy away from the references that get associated with nature or the natural (organic, etc…) as they seem to suggest a necessary idea of the unnatural, that I can't accept.
Maybe if this idea of the unnatural were really just a prudish stand in for perversion then I'd have an easier time dealing with that.
Painting is a thing a person can do quite easily but it will most likely happen in an empty or undetermined space because it isn't a solicited activity, if it's of any value. There is no proper or prepared place to make a painting or art because no one is initially asked to do so. If I wanted to be a nurse or make sandwiches for people, there are rooms for me to go to that would be readymade. To make paintings I have to go get an empty room and bring my things there and the person who rents it to me probably says, "Don't get it on the floor."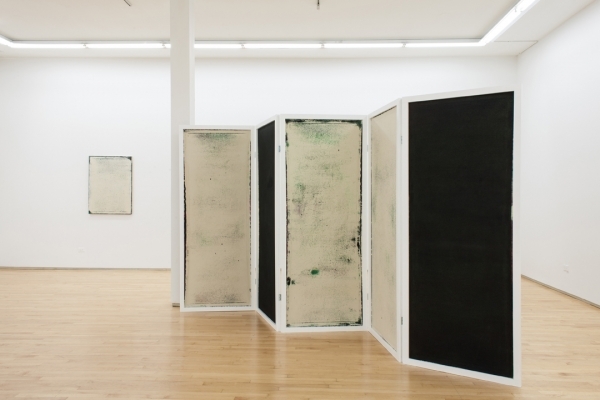 CP: You directly speak to the idea of entropy in the Waterhome exhibit description. I want to say this connects somehow to the blank canvas, or the empty fish tank. That these blank spaces inevitably fill up and get dirty. Is this where you are locating entropy? i.e. the fact that "the purity of the void" will be compromised marks a sign of failure? I'm interested in this idea because I feel like it's somehow based on a philosophical premise of your own, namely that something clean and clear and empty is an idealized state; the addition of mold/small flecks of green color, scuff marks, the apparent bleach of the sun, or errant stretch marks is the function of dilapidation. But you could also think of mold is an additive growth, a positive, productive transformation. And the signs of age and dilapidation on your canvases are fabricated by you — which also seems additive. That's a rambling way of arriving at my question: How do you think about entropy as a painter? 
JK: I think it does speak of entropy. Maybe it's also a rejection of the notion of entropy. Is entropy anything more than an effect that articulates… what? A disappointment with the impossibility of nothingness? Of permanence?
I don't know but I don't like to think of painting on a canvas as going somewhere so much as doing something.
Each painting does end, though, and working on a single painting forever would make it seem far too important.
This thing of dirty is interesting to me because on one hand I do feel at the moment I first touch a blank canvas that I'm somehow soiling it… but claiming a blank canvas is even worse than ruining one.
The term "purity of void" has more to do with a criticality of the notion of purity than it does with championing the fantasy of the void. It's exposing that there would be this idea of a void or an anti-space and that in the totality of this emptiness, a certain purity would be attained. I see the void as the imaginary friend of the puritanical; some evidence that the desire for the pure is motivated by death drive.
There is a promise of clarity in a glass box and that is probably just an illusion. It's cruel because we know how to yearn for that illusion. It performs a job until something else arrives and that arrival ruins the illusion. This is both a relief, as it cancels this yearning, and a disappointment, as it cancels this yearning.
The death of a false promise is still a loss.
CP: I am also interested in this idea of choreography and exposure — as I understand it, you apply layers and layers of washes to the canvas and the washes respond to a laid rabbit glue surface, settling permanently in some places as they wash away in others. Is that process where you locate this idea of dance?
JK: The canvases are sized with several layers of rabbit skin glue and then I paint a single wash of paint on them daily. The colors I use are based on the colors produced in the aquarium; viridian, sap green, alizarin crimson and lemon yellow.
This accretion of the layers of paint negates the color of those preceding and the canvas builds towards an ostensible black. Eventually, a section of the sizing on the canvas wears down and begins to resist saturation and even degrades back towards a lightness. I take either occurrence as a signal to stop. It's an exposure of the painting in that it destroys the painting's potential to be a monochrome. I either leave the canvas like that or I unstretch it and reverse it. The paintings that get reversed seem to have something more like a personality because of the moments where the support has faltered and paint has bled through. But as much as you see the points where the color has come through you are also seeing the places where it has not.
It isn't a terribly complicated process, rather deskilled, if peculiar and specific.
The choreography is knowing what I will do beforehand and remaining more or less consistent to that, intending that the repetition of the behavior avoids a narrative of progress.
I'd hope that the paintings are anachronistic, not in the sense of timelessness but in that they might deny tense.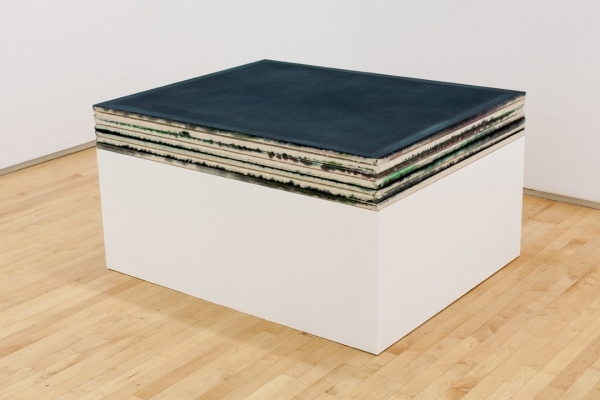 CP:  One of my favorite pieces in your exhibit at Kavi Gupta is the stack of canvases — I loved the way you transform the painting into a sculpture and by stacking them emphasize the painted side or edge — a typically marginalized space where accidental drips and stains exist like a dirty closet in a house or dorm room. But you emphasize that side and cover the faces of many paintings. Can you talk a bit about how you decided to stack these works? And did your process of painting change when you anticipated stacking them?
JK:Â The sides of these paintings were always attractive to me because they look the same regardless of which side of the painting has been stretched. Last February in Berlin I made a different exhibition with this work that included a coffee table consisting of a stack of square Waterhome paintings elevated on rather feeble legs. The dressing screen in this show made that option seem too much like a literal conversation between painting and furniture but I wanted to retain some kind of focus on what is usually, as you said, a typically marginalized space.
There was some playing around with that piece for a while, verticality, horizontality, what a pedestal does or does not do or infer, etc… I felt that it had to be a piece in itself more than just an apparatus to describe the other work. I think it becomes a grammatical elongation of those margins by collapsing the physical space between them.
The process of the painting really doesn't ever change but different consequences seem to arise as I continue to make them, whether or not I want them to.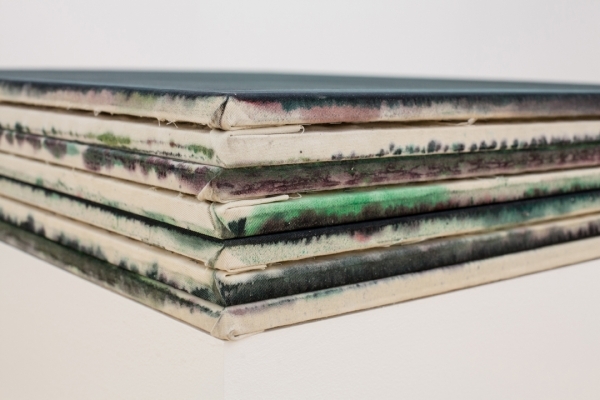 In the spirit of the holidays, I thought I'd post something a little on the playful side: a comic I recently revised while thinking about the relationship between text and narrative, how we propagate myths as a society and (even) how drawing can be a kind of dramatic reenactment.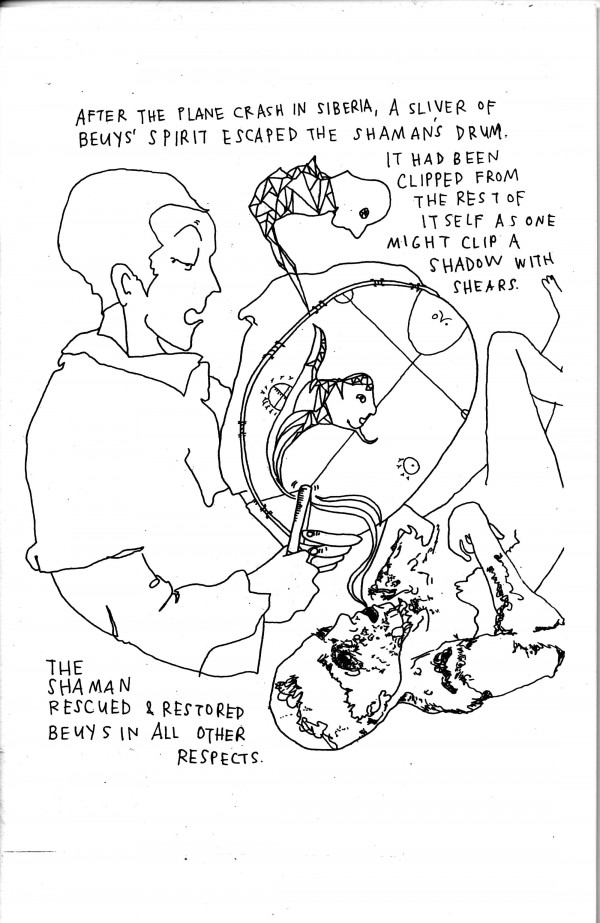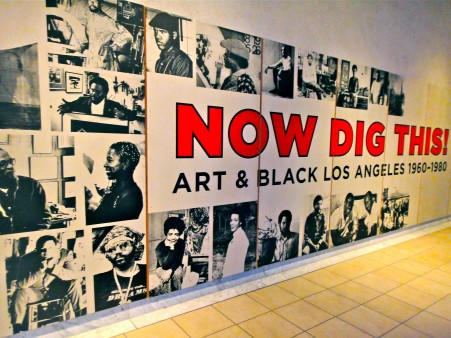 The following petition has been circulating response to dubious (at best) statemtents made by New York Times reporter Ken Johnson. As Blouin Art Info puts it "An anonymous petition expressing concern about recent New York Times reviews of women and African-American artists has hit a nerve, sparking a wave of support from some serious bold-faced names. Artists Glenn Ligon and Coco Fusco confirmed to ARTINFO this morning that they had signed the letter, while other (currently unconfirmed) signatories include artists Paul Ramirez Jonas, Janine Antoni,Louise Lawler, Julie Mehretu, Kara Walker, and Martha Rosler as well as art historians Rosalyn Deutsche, Miwon Kw0n, and Robert Storr. As of this writing, the petition bears 312 signatures and is growing by the minute." I have included a portion of the petition below after which you can follow a link to read the entire thing and sign it as you wish. I signed it and was proud to do so. Johnson's reviews are precisely the kinds of articles that encourage the further marginalization of race and gender. The lens and tone of media coverage — particularly when printed by such a prominent newspaper — affects all of us.
The Petition
Dear New York Times:Â 
In his review of "Now Dig This!" Mr. Johnson starts with the claim that "Black artists didn't invent assemblage." Instead, he states that black artists appropriated the form from white artists who developed it. 
Both these statements attack a straw man; no 
historian, artist or curator has ever made a claim that anyone, black or white, "invented" assemblage.
 In fact, assemblage has roots in many cultures and it is well documented that European and American Modernist artists borrowed heavily from African art in their use of the form.
Mr. Johnson organizes his review around an oversimplified opposition between the apolitical, "deracinated" work of white artists and the political, "parochial" work of black artists. He claims that white European artists, such as those of Cubism, Surrealism and Dada, who "were as free as anyone could be," were only playfully messing around with aesthetic conventions. 
The aesthetic play of assemblage "took on a different complexion," to use Mr. Johnson's unfortunate turn of phrase, when black artists politicized the form
. But he ignores both the extreme political unrest in Europe at the time and the ideological motivations of these artistic movements. What was DaDa if not a response to the social psychosis and industrialized mass murder of WWI? go here to read more (and sign!)
It is difficult then to delve into the past and exhume whole passages of injustice, especially when those passages operate inside of a system one believes to be good. In doing so, one must discuss the significance of trauma, peel back old wounds and attempt in some way to make peace. Or perhaps it isn't about making peace at all. Perhaps it is instead about admitting and honoring discomfort, frustration and unhappiness, for while it is horrific to admit that there are cracks in the systems we employ, it is worse to gloss over or deny them. The Chicago Torture Justice Memorials Project (CTJM) addresses these issues directly, engaging a local history of police brutality to create a platform for public monuments and discourse.
Rather than cover up those horrific moments, CTJM seeks to uncover and air out the darker edges of our past and present, pulling them into focus with the help of survivors, artists, activists, community organizers and lawyers. Together, they invited proposals "for speculative ways to memorialize the torture cases," in an attempt "to honor the individuals, families, and communities affected by torture, as well as address the obstruction of justice that has occurred in the aftermath." That call was issued in 2011 and asked for anything from "from architecture to haiku, website to mural, community organization to performance, bronze plaque to large-scale memorial."
"Opening the Black Box: The Charge is Torture" is features 70 of those proposed monuments at SAIC's Sullivan Galleries. The exhibit is  named after a particular torture device (the "black box") that was used by Officer John Burge to coerce confessions from 1972-1991. Burge is responsible for as many as 200 incidents of torture, many of which involved electrical charges that shocked prisoners. Although legal routes had granted some success, many of the case advocates (lawyers, victims and activists alike) felt that the law was unable to offer adequate retribution. They turned to art. "Opening the Black Box: The Charge is Torture" is one aspect of that process. It is open until December 21st.
Complementing the theme of that exhibit, the Sullivan Galleries are hosting two additional shows: Laurie Jo Reynold's Tamms Year Ten Campaign Office,where Reynold's has effectively installed a working office from which to advocate for the closing of Tamms: a "supermax" prison on the southern tip of Illinois. It opened in 2008, intended as a site for "super shock" treatment that would not extend beyond a year. Now, something like 1/3 of Tamm's prisoners have been there, non-stop for a decade."[Inmates] live in long-term isolation—no phone calls, no communal activity, no contact visits. They are fed through a slot in the door. Prisoners at Tamms only leave their cell to shower or exercise which they are allowed to do, depending on their behavioral level, from zero to 7 times per week. Exercise is solitary, in a concrete pen." Reynolds and her collaborators (including former inmates and inmate family members) also work to connect inmates to the outside world in some way — including, for instance, taking photographs of certain objects at the prisoners' request. Requests include "the Masonic temple in DC", "what's left where the Robert Taylor Homes used to be", "a heartsick clown with a feather pen", "my mom in front of a mansion with money and a Hummer", "Michelle Obama planting vegetables in White House garden", "any Muslim Mosque or Moorish Science Temple in Chicago or Mecca or Africa", and "fallen autumn leaves (which we do not have access to in the "concrete box" which is deemed a yard here)". During their residency at the Sullivan Galleries, Tamms Year Ten continues their regime of activism while planning additional public programs.
Tirtza Even's Preview: An Assembly from Natural Life (work-in-progress), which  describes itself as "a feature-length documentary produced by SAIC faculty Tirtza Even alongside the legal efforts of the Law Offices of Deborah LaBelle. The work challenges the inequities in the juvenile justice system by telling the stories of several individuals sentenced to die in prison since youth. The project's goal is to depict the experiences of these youths who receive the most severe sentences available for convicted adults—a sentence of 'natural life' or life without parole—against the contexts of social bias, neglect, apprehension, and alienation."
It's a tremendous line up with much to think about and discover and there are a few additional events on the horizon well worth checking out.
Saturday November 17Â Claire Pentecost will facilitate a conversation around Photo Requests from Solitary. Men housed at Tamms supermax prison were able to request a photograph of anything in the world, real or imagined, and members of the public realized the pictures. Men formerly housed in Tamms, the family members of current inmates, and other special guests will be on hand to view the photos and respond to the project.
Thursday November 29 Kevin Coval, Darby Tillis, Achy Obejas, Gary Younge, Quraysh Ali Lansana, Krista Franklin and others present I AM A MEMORY: Chicago Writers Against Torture. This evening of readings and performances is dedicated to the survivors, their families, and their communities who endured unspeakable acts of torture at the hands of the Chicago Police.
Saturday December 15 brings the final program. A Film Festival Against Torture presents a daylong screening of three powerful films about torture, featuring discussions with the filmmakers: Peter Kuttner, Cyndi Moran, and Eric Scholl; Jackie Rivet-River and John Lyons; Ines Somer and Kathy Berger.