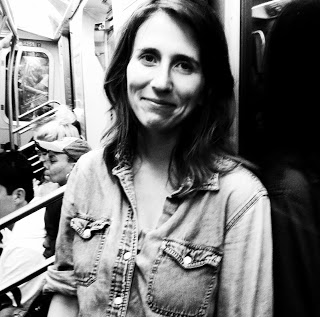 PODCAST: This week Bad at Sports talked to critic, poet, gallerist, the award winning Director of the Fort Gondo Compound for the Arts Director Jessica Baran, the self-same Baran who appeared in Kelly Shindler's earlier this year here.
The week began with Dana Bassett's EDITION #11, featuring emboldened news about public art projects, Threewalls' 10 year anniversary party (Huzza!), the scoop on Logan Square's post office, trends with face paint and the admittedly all-time favorite Who Wore It Better. Get it all here.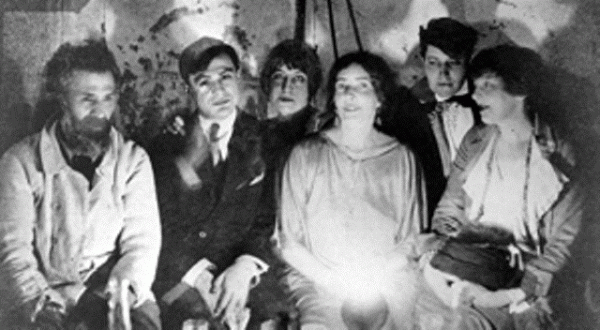 We also saw a highly controversial post about the status of Feminism in Romania, written by Gene Tanta from the city of Buchrest where he is presently living:
American Feminism demands that society treat women as the equals of men under the law. The difficulty with positing such a legalistic position remains that law bleeds in and out of other parts of the social architecture.  The best trick Patriarchy ever pulled off was to make women believe they are equal to men since this makes women into gender-bound objects through the performative power of the word "equal". To categorize women and men according to gender erases the individuality of both equally. Despite the paradox of losing one's individuality to group identity in order to become freer, the social justice need for the work done by identity politics remains.

European Feminism demands that women look beyond gender expectations to become more themselves, more individual, and less beholden to the male gaze. Mina Loy's "Feminist Manifesto" articulates this point bombastically enough: "Leave off looking to men to find out what you are not—seek within yourselves to find out what you are." But of course any such interiority (whether at the end of a penis or vagina or anything in between) pulses stuck in the traffic jam between individual and society. These construction sites of gender make our society function … but at what cost and who pays for it? Can an individual take her own freedom or must a group give her that freedom?
Bad at Sports received a few emails that would argue a contrary position, and if you're interested it's well worth checking out Tanta's Facebook comment thread a long comment thread. One of my favorite responses came from Vanessa Place who posted the following image and caption on Tanta's FB timeline. Does this resolve the matter? I suppose not….
To anyone inclined to write a formal rebuttal (or more general responses for that matter), email me: lantern.g@gmail.com.
Thomas Friel covered the Michigan Modern:
You're not likely to see a better display of the most important architecture and design of the 20th century anywhere else this summer, so the fact that Michigan Modern: Design that Shaped America only focuses on what came out of post war MI is even more remarkable. Starting with Charles Eames and Eero Saarinen's highly influential submissions for the Organic Design in Home Furnishings at MoMA in 1940, and ending with a recreation of a living space in Mies Van der Roe's Lafayette Park in Detroit, there are few stones left unturned…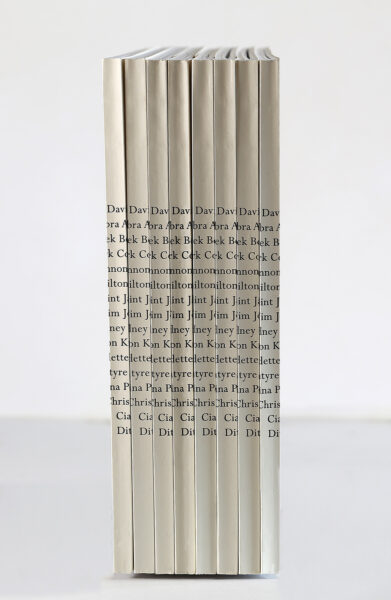 An interview with Lisa Radon was published b y our Portland Bureau of Radness, Sarah Margolis-Pineo, who described the artist as follows:
Lisa Radon eludes traditional definitions. Occasionally a geologist, previously a critic, and perpetually a poet, she dabbles in all manner of creative work from performance art to small-batch publishing. Driven by research and aided by collaboration, Radon's projects are buoyed by a multitude of voices that, knowingly or otherwise, are ushered into her game. Much of her work can be conceived as a playground—or temporary autonomous zone—in which she spins circles around the structures of language and ideas, drawing liquid connections between word, image, and concept to insightful and poetic ends.
Updates on the Carissa Hinz Hit and Run tragedy were posted by Richard Holland over the course of the week. "For those who missed the story yesterday, we reported the shocking death of artist Carissa Hinz, 21, last Friday as she was leaving Version Fest. She was killed by a hit-and-run driver who has yet to be apprehended. Please make all donations to Jackalope." If anyone saw anything or knows anything contact the authorities.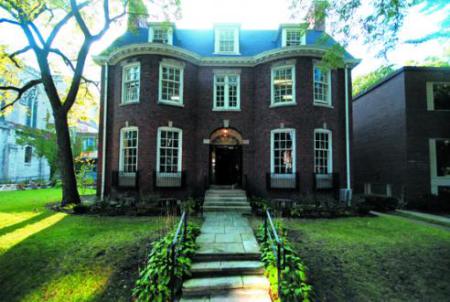 Thea Liberty Nichols posted a great piece from Laura Shaeffer, "the entrepreneur and custodian behind a number of projects housed within a handful of unconventional— and often under utilized— spaces on the Southside of Chicago, including Home Gallery, The Op Shop and Southside Hub of Production (SHoP)." Shaeffer writes:
Maybe artists and others who are attracted to unconventional spaces to view and think about art, like the mansion, the small townhome, the porch, the back yard gallery, the storefront, the park, and various unexpected public spaces, are more likely to want to examine their role in social change, themes of modern urban life in spaces that are themselves a challenge. There are artists who have certainly been repelled. I like the story of one artist who had proposed a project for an exhibit at SHoP, was invited to participate, and showed up on a typical day for us, where kids were hammering pieces of wood together on the front steps, students were running a yard sale in the front yard, some seniors were playing bridge inside, the house was buzzing with activity preparing for the installation of the next show. I saw a looming figure outside the house and then I saw him disappear, I asked a friend if they knew why this artist left the scene without coming in to meet us (I knew him from his resume and photos) She said that he 'didn't want to show his work in a house run by unprofessional hippies.' This artist never responded to us again. I could see his point, but I love general (orchestrated) chaos, so I guess that's my fate.
Over the last few days, there has been time to ruminate over Robert Burnier's post "The Outward Spiral" during which Burnier examines the fluctuating impact contemporary context has on historical (and current) interpretations of art:
Aside from any categories we might apply to our work, I like to think in terms of how things move; what dynamics keep us in the search, trying to create something, and trying to look critically at what is happening. There are aspects to life around the artist that change, like technology, politics, social tension and geography. These kinds of things morph at very different rates, some daily while others are fixed for millennia, which can create openings to explore as currents slide past each other. The artist can also look back and find a great deal unresolved, perhaps seeing something that was abandoned that could bear a lot more exploration. Alternately, in light of present circumstances, one can seek new meaning through an old, established idea. So in view of the approach to grappling with these issues as suggested by Kalina, I submit a few observations to consider in addition to the framing devices he offers us. I will touch on a few of these notions here, mainly focused on examples in painting and photography, knowing that they are only sketches or pointers toward a deeper investigation of these dynamics in future writing.
Because I missed my chance to post last week's "Week In Review," this Sunday is going to be a double whammy. I'm post last week's Week In Review first, here, and then, this weeks directly after…If you're confused now, just hang on to your hat. It'll all make sense in the end. First, I start with the week before last….

Bad at Sports' PODCAST Land featured an interview with "Contemporary Art Museum St. Louis Director Lisa Melandri live and without a net at our opening, in front of a moderately baffled audience."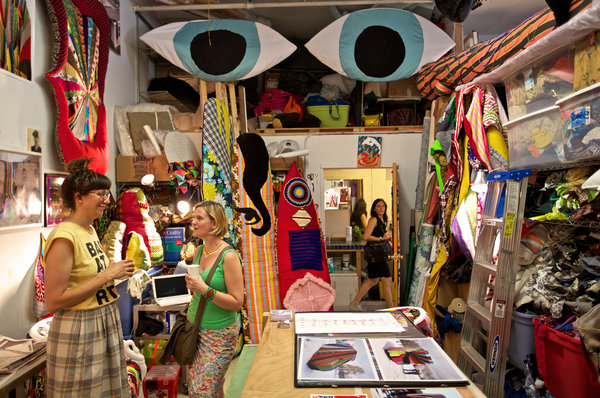 Curious about what Amanda Browder's studio looks like? Now is your chance to see, because she was in the New York Times (again!). #RADÂ 
The week begins and ends with comics, actually — and in this instance we started with Faye Kahn who published a piece called "Comics and the Aesthetic Economy":
While social evidence that the rich is dividing farther away from the poor becomes more & more unavoidable, it seems that at the same time the art world is inversely nudging the them closer together. Traditional distinctions between "high" & "low" art are fading. In his essay "Comrades of Time," discussing the definition of the term "contemporary," Boris Groys states that "…at the turn of the twenty-first century, art entered a new era-one of mass artistic production, & not only mass art consumption." Art-making is no longer restricted to a higher, educated or professional class. With the encouragement of advancing technologies from the ball point pen to the smartphone & increased visibility of the individual creative practice via the internet has reified this notion of art as "mass-cultural practice" ad infinitum (probably to some ad nauseum). To track the currency of art between upper & lower economic & academic classes & attempt to elucidate the creation of connecting middle classes of art, for instance independent comics & publication as well as social media experiments, it may be helpful to recognize the presence of commercial aesthetics in all classes. By following this reciprocal currency of consumerist media to high art & back, there are many significant signs pointing to a possible future of a classless art world. 
San Francisco-based Jeffrey Songco posted an interview with Glen Helfand, a man rumored to be "the only relevant art writer in the city." Songco and Helfand sit down discuss, Proximities, an exhibit Helfand put together at the Asian Art Museum. When asked to describe what the show is about, Helfand replies:
I like to talk about the show from the standpoint of it being a challenge to solve. The Asian Art Museum has been interested in opening up its audience and to embrace more contemporary work. I had to start with the idea of why I didn't feel so connected to the institution. I've always felt a bit of intimidation, not knowing a whole lot about Asian art, not knowing how to pronounce the names of various contemporary Chinese artists. I figure that people probably feel the same about the Contemporary Jewish Museum. Kibbitz. My initial premise was to highlight how artists have some kind of connection to Asia even if it wasn't the expected connection.
Milwaukee resident, Shane McAdams, has begun a new series of posts, and in this particular case, writes about a low-to-the-ground project run by Ashley Janke, Lara Ohland, and Tim Stoelting, called The Imagination Giants:
After a year-and-a-half of writing about more basic cultural differences between New York and Milwaukee, the results of my cultural reconnaissance will now take the form of local art coverage. This being the first piece, I'd like to mention that, unlike NYC where almost everything including what passes for 'underground' are usually pre-dug, locating art culture in Milwaukee has proven to be a little, well, subterranean. So far the digging has been the most gratifying part of being here. Not having the luxury of a media guide dedicated to informing masses of art goers about what is yet undiscovered, is a pleasure. Searching for art in Milwaukee makes me feel feral – it's the art equivalent to hunting and gathering.
Eric Asboe asks some important questions about building local art community in relation to a more global vision of contemporary art:
What role can local artists play in a global museum? MAEP [Minnesota Artist Exhibition Program] exhibitions are far more than an experiment in thinking locally. The exhibitions are dynamic; the artwork is excellent. More importantly, by supporting an artistic peer selection process, the MIA helps build a community of artists, specifically in and with the resources of a major art institution. Alan Brewer's exhibition pushes the question further. When I met with him in his MAEP exhibition, he stopped to talk to a visitor, an older man who had written a description. They discussed his description and possibilities for recreations. The transformative power of that individual conversation and the way Brewer has empowered all visitors to the MIA to engage in completely new ways with its collection demonstrates to me the MIA is not just asking how local artists can shape a global museum, but, more importantly, how we can all shape the museums of the future.
I posted two interviews this week. The first is a result of the Open Engagement Conference in Portland, where I met and interviewed artist, Dillon de Give about his project, 4-6 Dogs at the Museum. I fell in love with idea of an interspecies social practice, though with good reason, DeGive is more practical in his approach (and terminology):
I love that phrase "inter-species social practice." But I guess I would be a bit more conservative in my response. I've observed that dogs in public are always serving as mediators between humans. There's a dog park across the street from my apartment and everyone seems to know each other! I live right there and I don't know any of these people because I don't own a dog. I am interested in other species as a conceptual complement to existing human-based social practices. I think that when we are talking about a given social practice we are implicitly making assumptions of what human-ness is, so having some idea of a non-human present in the discourse is, in a way, almost necessary. Why are cat videos so immensely popular with human viewers on youtube? On the other hand, imagining something like sociality existing between humans and other species is difficult to do in the present, because of our seemingly absolute need to monopolize the environment. In most cases it's just not really a fair playing field where a balanced relationship that you might call "social" could pan out. But maybe in the distant future…

Then I had a great opportunity to interview former SAIC graduate, Jaye Rhee, about her work with the The Merce Cunningham Dance Company, The Flesh and the Book. Among other things, we discussed Rhee's interest in traditions of movement, and whether or not the body can become a unit:
I was more interested in the character and history of individual dancers under the umbrella of Merce Cunningham Company. Cunningham dancer's movements are Mercified but individually they all have different characteristics. We all have different history as individuals, but there are also larger histories which a family shares as a smallest unit of the society, then there are larger groups and larger groups…..and so on. Merce Cunningham dancers make up another kind of familial unit. Even though the dancers' movements were different, a few audiences actually recognized that the dancers somehow evoke Merce Cunningham's style.
TOP 5 courtesy of Stephanie Burke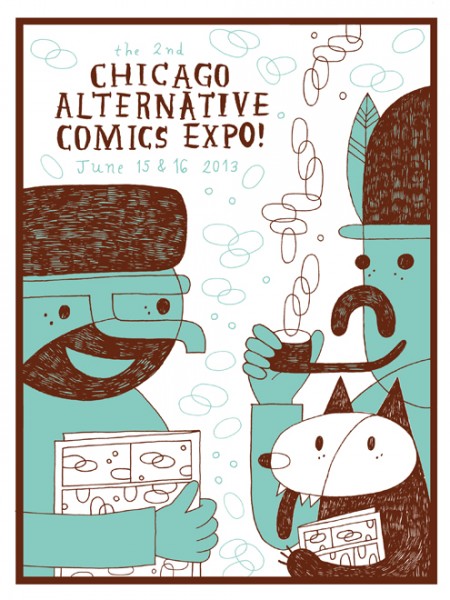 Sara Drake posted a shout out for "the second annual Chicago Alternative Comics Expo, fondly known to comics creators and fans alike as CAKE." (This, incidentally, is where I happened to be last weekend as well). It took place in a massive gymnasium at the Center on Halsted, featuring a huge throng of comic makers, buyers and additional public programming.
Bailey Romain rounded out the week by interviewing Luke Daly about local (and ever magnanimous coop print shop) Spudnik Press' latest programming addition, The Annex:
As more of a "clean" space than the printshop next door, the Annex also provides an expanded exhibition space for Spudnik. Curatorial duties rotate between Spudnik coordinators. The most recent show, Charlie Megna's Lost Tribes of Renni, which opened last night, was organized by Luke Daly – a Spudnik member who has been a driving force in developing the Annex. Luke co-edits and runs the small press arrow as aarow. I also co-teach a class with him at the Annex, which will be running for the third time in the fall. Charlie Megna is the director of the Peanut Gallery and a founding member of the Peanut Collective. His show will be up through early August.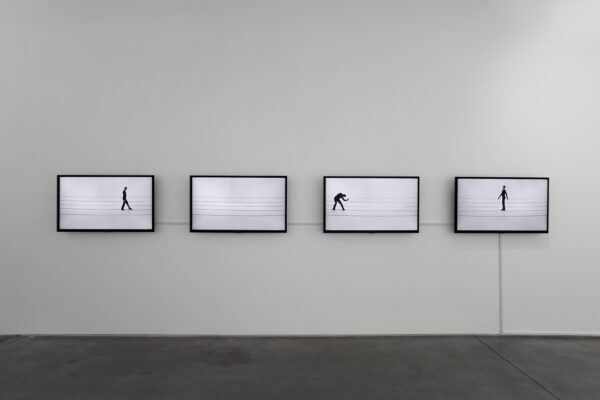 I am accustomed to diminishing the importance of an individual dancer's history in the course of a staged performance. Unconsciously, it's as if I imagine performers congealing for a moment on a stage in order to manifest the agenda of an invisible author. For dancers, especially, it is always about the body — the body as a structure capable of grace and choreographed strength. Over the last month, artist Jaye Rhee debuted a 4-channel video piece that engages the body as a minimalist structure, while emphasizing the dancers' previous life in The Merce Cunningham Dance Company. The Flesh and the Book places these figures in a musical score of five rubber bands, flattening a three-dimensional space into an illusion of two. The bodies enact a series of choreographed gestures, who's style and form evoke a Cunningham past — like moving archives of embodied knowledge. The Flesh and the Book, closes tomorrow at Doosan Gallery, 533 West 25th St. in New York.
Caroline Picard: How did you first conceive of The Flesh and The Book? 
Jaye Rhee: In 2007, I made the work called "Notes." At that time, I was interested in re-producing two things: a popular children's play called "Rubber Band Play," and re-staging visually resembling it as musical notes. It is also known as "Chinese Jump Rope" in America.
The rubber band play requires memorizing all the steps and jumps from the beginning till the end as rules with repeated practice. That, I think, is methodologically similar to learning playing music instrument in a way because learning a musical instrument also requires both brain and body memory. So the Chinese Jump Rope Play and leaning a musical instrument become parallel. I wanted to re-produce both events at the same time.
Rules and regulations often governed my childhood and I couldn't help but think of that when I worked on the Notes.
When I worked on Notes, I knew that it would become the mother piece of another work.  One art work often yields another work. Even though I am the one who creates the work, it is as if the work has a life of its own, one more quick-witted than me. In other words, many times, art works are a lot smarter than I am.
I was sure of two things when I worked on The Flesh and the Book: 1) I am going to play with space more, for example, three-dimensional space transformed into two-dimensional space. Only the size of the figures and trace of the movements will allow viewers to feel the space. 2) I want to work with mature dancers.
I did not have title for the new work. While pondering that, I happened to think of the poem Brise Marine by Stephane Mallarmé, and the first line reads, "The flesh is sad, Alas! and I have read all the books."
I wrote the sentence down on my sketchbook.  And after some time, especially when I started to meet dancers for the project, I realized that my knowledge of dance and dancers did not come from direct bodily experience, but had been learned through books. It is completely out of context of the poem, but the words flesh and book  stayed in the title. Also, it is hard not to think of book as music sheets, flesh as body, and dance.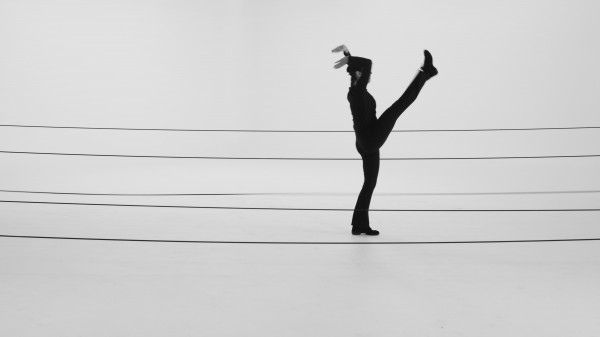 CP: What is like working with the dancers that used to work for Merce Cunningham? Did you spend a long time developing the piece with them? 
JR: It took a long time to find dancers. When I started to search for dancers, I looked for dancers who had gone through the transitional stage in their career as dancers.  Many dancers face career changes early in their lives compared to other profession. And being a dancer is not just a profession but is also an identity. Thus I didn't want to work with dancers who were physically young. I searched  for dancers who already experienced the high peak of their physical youth, in other words, someone who has already been there.
While I was still searching for dancers in 2011, Merce Cunningham company disbanded; that event made me wanted to work with them even more. I always liked the geometric quality that Merce Cunningham company had and was excited to work with them. They seem to embody a reminder — something that was once there. We know what they were, we will remember it. It's like a once-young body, or the idea youth.
It took a while to meet Cunningham's dancers.  In the beginning, I attended Merce Cunningham dance workshops and met many great modern dancers who were not necessarily Cunningham's. Then again at the Cunningham's technique classes in Fall of 2012, I met original dancers of Merce Cunningham with a help from Robert Swinston.
The dancers I worked with are great. Â Once I met them, I knew that it was going to be great. Everything went very rapidly.
CP:Â You also had another collaborator with this work, Elliott Sharp. How did you all work together? What were the dynamics like?
JR: I asked Elliott to come up with specific sound that I can use for the project, and he gave me 67 sound files. I selected ones that are appropriate for the dancer's movements.  Communicating with other artists is not always easy. Art is abstract, concept is abstract, and language itself is abstract. But then there is a moment that everything intersects. That's when the magic happens.

CP: I feel like you're interested in the body as a unit, of some kind. Everyone wears black, standing in relation to the same 5-line structure in an otherwise white space. In your case, however, you platform the dancers' history. Do you feel like something of that history with Cunningham is ghosted into the viewers' experience? What happens to the dancers' history with Merce Cunningham in The Flesh and The Book?
JR: I was more interested in the character and history of individual dancers under the umbrella of Merce Cunningham Company. Cunningham dancer's movements are Mercified but individually they all have different characteristics. We all have different history as individuals, but there are also larger histories which a family shares as a smallest unit of the society, then there are larger groups and larger groups…..and so on. Merce Cunningham dancers make up another kind of familial unit. Even though the dancers' movements were different, a few audiences actually recognized that the dancers somehow evoke Merce Cunningham's style.
CP:Â Thinking about the work asa 4-channel piece, and then seeing framed stills from the video, I wanted to ask you about movement and how that ties in. In other words, does the piece change for you if the "movement" (which refers I think to music and dance) is extracted? How do you think of your photographs as compared to your video?
JR: I consider these mediums separate, with different approaches for both. It's like siblings with same parents. Each medium has its own life. Different mediums show different aspect of one thing. I use the photographs because they capture the 2- dimensional representational quality.
CP: How does this piece ties into some of your other work? I noticed that you have done a number of works that play with the idea and structure of environment. I was thinking about Bambi, for instance, or Polar Bear, Swan, Cherry Blossoms, Niagra; really so many of your works seem to juxtapose a still tableau with a playful in-time interaction. Is The Flesh and The Book on a similar tip?
JR: For The Flesh and the Book, the performers held a string (thick black rubber band) between them.  The strings were at least 3 meters away from each other. I really wanted to expand the idea of transforming 3-dimensional space into a 2-dimensional tableau look. So that a viewer can only feel the space by following the dancers' movements very carefully and watching the body scale change. The Flesh and the Book is a special work which is leading my interest into working in 3-dimensional space. I think I can say, the lines between performers sort of played the role of a tableau – an invisible and flexible tableau.

Of the many adventures that I had at Open Engagement, I enjoyed an evening at the Portland Art Museum. Their annual program, "Shine A Light," came together in conjunction with PSU's Social Practice MFA, in an effort to "ask visitors to reconsider what is possible in a museum." It featured a number of MFA artist's works including a reenactment of a lost Grateful Dead concert ("Turn on Your Lovelight" by Travis Neel), a dental trailer offering free dental work to visitors ("Dentistry at the Museum" by Zachary Gough), a booth in the basement where viewers were encouraged to record stories of objectified objects and being objectified ("Objectification Stories" by Erica Thomas and Heather Donahue), an invitation to commune with dead artists via mediums from Portland's own Psychic Siamese Terror through select works of art ("The Dead Artists Salon" by Alysha Shaw) and much much more. (full program here) At every turn through the museum that night, you could feel the institutional context in a concentrated experiment in flexibility. It felt like a kind of earnest game, one in which visitors were simultaneously challenged to revise and open up their own expectations. It was a glorious mayhem. Outside, between the museum's two buildings, people of all ages danced expressively. A beer truck stood across from an artisanal pizza tent, as the torches to PAM's second entrance (what was a Masonic temple in a former life) bloomed brightly in the coming dusk. Artisanal popcorn was also for sale. In the midst of this, I ran into Dillon de Give, another Social Practice MFA presenting work. His project, 4-6 Dogs in the Museum furthers the desire to flex the museum structure, except in de Give's case, he tried to apply that flexibility to non-humans.
Caroline Picard: Can you talk about where 4-6 Dogs Allowed in the Museum originated as an idea for you?
Dillon de Give: The project originated as an off-handed comment I made in a brainstorming session. I wrote down something like, "allow dogs into the museum, have some sort of plan for when they poop". I didn't think about it very much at the time, but then for some reason it kept coming back into my head.
I've been interested in the power relations present in our dealings with animals for a while. Dogs are the most common "other half" of a public human-animal relationship — especially in the city. They are the animals that people walk side-by-side with, and many see dogs as family members. At the same time they are a point of mystery, like art.
That relationship was the subject of the work, but the process of examining the subject by partnering with an art institution was also important to developing the idea. I entered into these dealings being identified as a student, as much as an artist. And as such, the strength of my position as a negotiator was recognized, but somewhat limited.
The initial proposal was to open the doors of the museum carte blanche to dogs during Shine A Light, the one night event that "asks visitors to reconsider what is possible in a museum." An official mechanism by which to allow dogs into the museum was attractive to me, because it involved a conversation around breaking a taboo. Admitting a new kind of life into the institution, proved to be fairly complicated. Have you ever tried to bring an apple into another country? It can get you into a lot of trouble. Yet I knew it was not out of the realm of possibility, because the museum was legally bound to admit service dogs.
The initial proposal also stated that any difficulties, negotiations, and ad hoc measures of control necessary to execute the idea (which at that time called Dogs Allowed in the Museum) would be considered part of the work. I didn't know how much resistance the idea would actually meet with (a lot) but including this provision allowed it to move forward. The project changed many times, and almost died. At one point we were discussing a version called A Dog Allowed in the Museum. I had to let go of the initial proposal for universal dog entry. But it was important to me that the dogs that participated be "non-working" dogs, and we held onto that.
CP: I feel like this piece attempts to open up the field of social practice outside the human sphere of experience. That effort could have interesting ramifications, for instance, what does inter-species social practice look like? Are you interested in that question? Do you have ideas about what it could lead to?
DDG: I love that phrase "inter-species social practice." But I guess I would be a bit more conservative in my response. I've observed that dogs in public are always serving as mediators between humans. There's a dog park across the street from my apartment and everyone seems to know each other! I live right there and I don't know any of these people because I don't own a dog. I am interested in other species as a conceptual complement to existing human-based social practices. I think that when we are talking about a given social practice we are implicitly making assumptions of what human-ness is, so having some idea of a non-human present in the discourse is, in a way, almost necessary. Why are cat videos so immensely popular with human viewers on youtube? On the other hand, imagining something like sociality existing between humans and other species is difficult to do in the present, because of our seemingly absolute need to monopolize the environment. In most cases it's just not really a fair playing field where a balanced relationship that you might call "social" could pan out. But maybe in the distant future…
CP: What was it like talking to dog owners in the dog park about this project? 
DDG:Â Interestingly, during the initial stages of the project it was as hard to convince dog owners on the merit of allowing dogs into the museum, as it was to convince the museum itself. Most dogs are really not interested in spending time in a foreign indoor environment. When I determined that the goal would be to have the owner choose a particular artwork as a hypothesis about what the dog would appreciate, then the conversation became easier. I had a simple, but precise interaction that I would use to engage people. The actual dog park was not the most productive place to approach owners. Sometimes people would be weirded out and walk away, but the people who decided to participate saw value in the idea of having their animal enter into a context of art-meaning.
CP: What do you think the dogs saw when engaging select works of art? Do you think their owners chose works of art that their dogs would like? Did the owners' selection have more to do with their dog's disposition, or with their sense of 'dogness'? 
DDG: Each dog was given a "personal" moment with the work, and we would all watch the dog to see what they would do. I don't think they saw anything special. Maybe they did, but we have no way of knowing. They acknowledged the art objects spatially. They looked at them. They sniffed them. I think the owners that participated knew their dogs well, and in most cases took into consideration their particular dog's point-of-view in the choice of artwork. Most objects were near the ground, often three dimensional, and often made of natural materials. One was a sculptural representation of another animal. There was one low-hanging painting that was chosen because it depicted a beach that the owners and dog visited on vacation. One of the owners, Lis, chose Useful Art #5: The Western Motel by Nancy and Edward Kienholz, which basically recreates a kind of domestic environment. I do think that the dogs had a sense of accomplishment in navigating a new environment without too many incidents.
CP: How did the museum context, as a human institution, respond to a living, non-human presence? 
DDG:Â It was a very controlled experience. Members of security, collections, and education needed to be present. It was stipulated that the visits happen after museum hours, in brief 20-minute segments, one dog at a time. A dog trainer also accompanied the group to provide a level of assurance. The first visit was quite tense, by the final visit, it was more relaxed because we knew what all of our roles were and had a better sense of the choreography involved.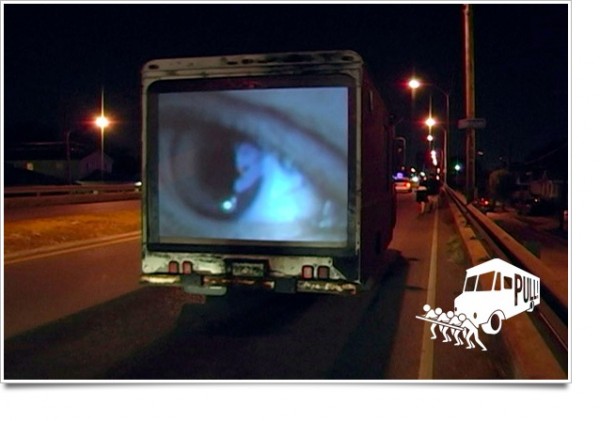 This week has been like a road trip through midwest; halfway through the week, I felt like I was taking a drive from Chicago, to Cleveland, arriving in Kansas City, and then Indianapolis — so many stops over such a vast (and flat) distance in a magical and illogical order; additional posts on more abstract ideas — performance archives, or The Cremaster Cycle, or even what the best size of a book might be — those seemed to mark the longer distances between destinations. Times when the radio wasn't on particularly loud, and perhaps all of us passengers had emerged from a musing lull into dialogue.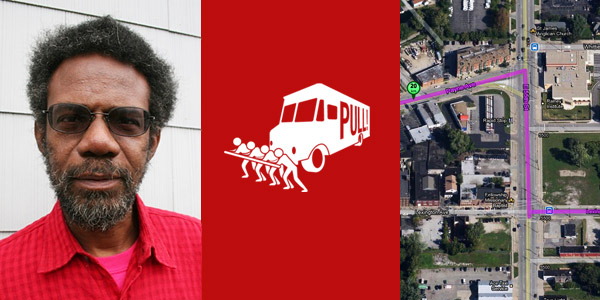 It all began with a podcast interview with Chicago's own William Pope.L, who's show is currently on view at the Renaissance Society until June 23rd. The interview, conducted at the Three Arts Club discusses Pope.L's RS exhibit and the performance —  Pull:  "Non-stop from June 7-9, hundreds of Clevelanders will manually pull a truck across the city. Images collected from people across Cleveland– hopefully you included! — about the meaning of work in our lives will be projected from the truck as it is pulled through North Collinwood, Glenville, University Circle, Hough, AsiaTown and downtown; to West Park, Clark-Fulton and Ohio City."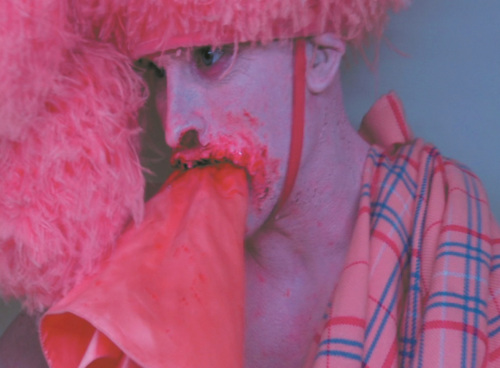 Jereiah Hildewine writes about watching the entire Cremaster Cycle, comparing it to other noteworthy cultural keystones including Star Wars, Game of Thrones, and Benjamin's Art in the Age of Mechanical Reproduction: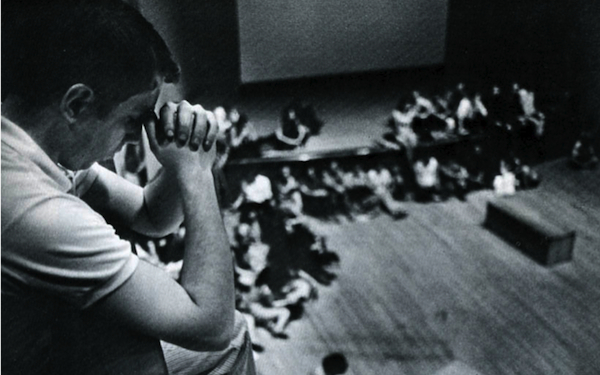 "There is not one way to know a performance work, there are many, and it is for that reason that the quality of performance is brought to light through the normalizing tendency of the archive." Anthony Romero mulls over the authority that archives impose over collective experience, especially as it applies to performance:
The archives is a technology of bureaucracy. They are way stations for data and accumulated temporality, flattened proofs of the "official" experience. The system of the archive itself is responsible for this kind of alienation. Categories, decimal numbers, and white gloves are methods of sanitation that work to preserve the individual's experience/state requirement. Once cataloged, memories of childhood, legal forms, receipts, and other accouterments are neatly laid beneath layers of fabric and cardboard. So precious are these relics that the archive must continually migrate them from one outmoded media to the next. The performance relic, however, subverts the safety of the archive.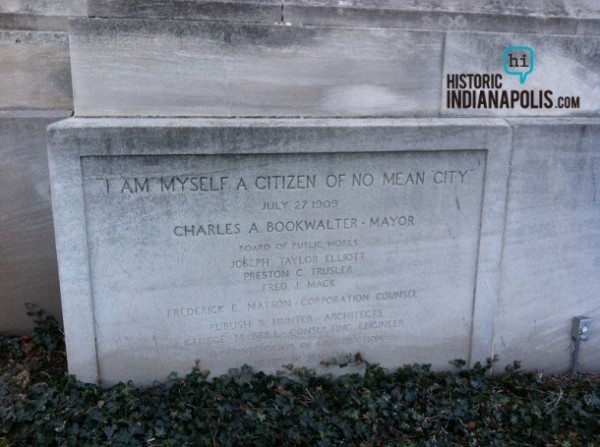 Indianapolis is in the house. Which is to say poet and former resident of Chicago, Wendy Lee Spacek, is going to be posting about art events in her fine city over the course of the summer. This particular issue describes a number of cultural happenings, from poetry readings, to Mucca Pazza, to surreptitiously painted mail boxes. She also describes what sounds like an incredible show wherein a group of artists installed work in a long since abandoned Old Indianapolis City Hall:
The show was curated by graduation Herron Seniors Taryn Cassella, Anna Martinez and Andrea Townsend. Where TURF was an exhibition of installation art, VACANT included work across mediums. I especially enjoyed Jordan Ryan's section off the main library detailing the history of the building. 
Kansas City resident, Carolyn Okomo, started her guest series this week, publishing an interview she conducted with graphic novelist Jeffrey Brown. In her words:
Since self-publishing his wildly successful first novel Clumsy in 2002, he's created numerous other painfully funny autobiographical comics, co-written the 2012 star-studded film Save the Date (starring Party Down's Lizzy Caplan and Mad Men'sAlison Brie) and penned a hilarious series of graphic novels that explore the challenges of being both Darth Vader–ruler of the evil Sith empire–and a single dad.

Brown's newest Star Wars-themed book Jedi Academy (out on Aug. 27), is a coming-of-age story about a boy named Roan and his adventures mastering the Force while juggling all the issues that come with being a middle schooler.
Jamilee Polson Lacy also writes from Kansas City, discussing her final project as Curator-in-Residence at the Charlotte Street Foundation in Kansas City. That project, rises Zora, is "a multi-venue visual and performing arts exhibition, [that] explores Kansas City as an urban labyrinth" through a plethora of various artists and multi-media, multi-durational art works:
Theories of the labyrinth—and there are many which span the ages of Greek and Roman mythology to early Christianity, Karl Marx to Umberto Eco, Cervantes to Borges and Calvino—demonstrate the thing as both concept and literal form that ultimately represents time. The labyrinth is an infinite series of choices to be made through time and space, and we get to decide whether to be conscious of those choices or not. I think the city, which quite obviously mimics a literal labyrinth, presents a plethora of choices—some exciting and dangerous, some banal and commonplace—so it's nearly impossible not to think of it as a conceptual labyrinth as well.
<iframe width="560″ height="315″ src="http://www.youtube.com/embed/Np450xMSncE" frameborder="0″ allowfullscreen></iframe>

Terri Griffith set out to write a book review of Hilton Kramer's Abstraction and Utopia, and found herself discussing her appreciation for small-sized, intimate edition, including book in the 33 1/3 series:
 Their smaller than average 5×7 size is cute as pie. The 33 1/3 series is published by Continuum and started in 2003 with Warren Zanes' treatment of the 1969 classicDusty in Memphis, by Dusty Springfield. A few other notable recordings that undergo inspection are Aja, by Steely Dan; Swordfishtrombone, by Tom Waits; Marquee Moon, by Television. Seriously though, there are as of this writing 86 titles, so certainly there is something for everyone. Don't expect a "making of." These little gems are more essayistic and idiosyncratic than that. Check out Phillip Shaw's treatment of Patty Smith'sHorses. It's the first book of the series that I read, and it's a delight.