Saturday, March 16, 2013 4:00-6:00 pm
Chicago Cultural Center, Millennium Park Room, 5th Floor
Panel Discussion & Book Release with Joyce Fernandes, Stuart Keeler and Allison Peters Quinn
There are all kinds of overlaps in this art world of ours, old friends and close friends and collaborators — I find myself working with people in different capacities all the time. This weekend my press, The Green Lantern, is releasing a book three years in the making. It's a project that exemplifies the overlap and intersection of various networks — what is perhaps especially fitting, given that it centers on the subject of socially engaged art practice. To celebrate the release of the GLP's next book, "SERVICE MEDIA: IS IT PUBLIC ART? OR IS IT ART IN PUBLIC SPACE?" we'll be having a panel discussion at the Cultural Center, moderated by Bad at Sports' own, Duncan MacKenzie. Details are as follows:
Inspired by The Green Lantern Press' 30th title, Service Media: Is it "Public Art" or is it Art in a Public Space?,  this panel, a Poetry Center of Chicago Heap of Language Series event,  will discuss unconventional art works and practices that take place outside of galleries. As such, the panel extends a conversation that Service Media begins, from text-on-the-page to an evening of public discourse.  Service Media: Is it "Public Art" or is it Art in a Public Space? is a collection of essays that investigates socially engaged art. Editor Stuart Keeler strives to reexamine the terminology surrounding this discipline, just as ensuing contributors explore and critique a range of socially minded projects as artists, administrators and critics. It's a collection that deserves attention for its careful assessment of a once-radical practice that has since become a staple in contemporary art practices and institutions alike.
Joyce Fernades, Executive Director of archi-treasures since 1998, is a cultural worker whose career encompasses extensive experience in arts administration, lecturing and teaching, critical writing, and visual arts practice. Her primary focus has been to develop innovative community arts practices. As Executive Director of archi-treasures she works hard to facilitate strong community  partnerships by recognizing and honoring the tremendous assets and resources that are available in all communities, and designing creative projects that leverage and complement those assets. Fernandes is also the former Director of Exhibitions and Events at the School of the Art Institute of Chicago, and the former Program Director at Sculpture Chicago. She received her MFA from the School of the Art Institute of Chicago and her BFA from Tyler School of Arts in Philidelphia.
Stuart Keeler is an artist of public spaces who organizes exhibitions and multi-platform projects with the collaborative role of "curator" as the conceptual identity of his practice.  Is it "public art" or is it art in public space?  The role of the artist is challenged by his investigative projects interpreting social praxis as an innovative business model. Keeler aims to model a new process of curatorial practices by engaging with a continuing dialogue in public space centered on the expanded role of the artist. With an MFA from the School at the Art Institute of Chicago (2005), Keeler has exhibited at Gallery 400 UIC, Yerba Buena Center for the Arts, Center on Contemporary Art, Espace-Art Unit, The Hyde Park Art Center, John Michael Kohler Arts Center among others.  Innovative curatorial projects include Art 44|46, Chicago, Le Flash! – Atlanta, LEITMOTIF, Nuit Blanche – Toronto. Keeler has completed over 75 public art commissions in North America and Internationally. He is currently  completing a commission a the San Diego International Airport with Swaroskvi Crystal–Austria.  He currently holds the position of Director/Curator at The Art Gallery of Mississauga, Canada.
Allison Peters Quinn is the Director of Exhibitions at the Hyde Park Art Center (Chicago), where she has curated exhibitions, and produced symposiums, performances and publications since 2004.  She has organized significant exhibitions for emerging and established artists such as Cándida Alvarez, Theaster Gates, Kelly Kaczynski, and Bibiana Suárez.  She has served on critique panels and taught graduate seminars at the School of the Art Institute of Chicago and The University of Chicago Graham School. Awarded the Ramapo College Curatorial Prize, she has served as juror for the Artadia Award, Efroymson Award, and the Ragdale Foundation.  Her writing has appeared in Proximity Magazine and artists' monographic publications including William Steiger: Transport (2011) and Altogether Mutable: The Work of Mary Lou Zelazny (2009). Allison studied a MA at the Center for Curatorial Studies, Bard College, and a BA at the University of Wisconsin – Madison.
Founded in 2005, The Green Lantern Press is an artist-run, non-profit press focused on emerging or forgotten texts in order to bridge contemporary experience with historical form. We celebrate the integration of artistic mediums. We celebrate the amateur, the idealist and those who recognize the importance of small independent practice. In a cultural climate where the humanities must often defend themselves, we provide intimate examples of creative thought. Dedicated to the "slow media" approach, the Green Lantern Press conceives each book as a   curatorial site;  small editions are printed with artist plates, ephemeral inserts and silk screen covers. We are efficient about the material we use, economic about our proportion and intent on local production. More information at www.press.thegreenlantern.org
An independent not-for-profit arts organization founded in 1974, The Poetry Center of Chicago's mission is to promote poetry through readings, workshops, residencies and arts education, to make poetry accessible to the general public, to stimulate and encourage young poets, and to advance the careers of poets by offering them professional opportunities. The Poetry Center is in residence at the Chicago Cultural Center. A Heap of Language is the Poetry Center's 2012/13 Event Series, at the Chicago Cultural Center.
I came across the following essay about performance (and its relationship to the institution) on The Weeklings. Since the subject has come up — even obliquely — a few times on B@S in the last month or so, from Tanta's conversation with performers last week (asking them about how protest functions, if at all),to Göransson's discussion of ASCO, and Gutierrez's performance at the MCA, I wanted to link to Amy Sherlock's essay here:
Is He For Real? The Blurry Boundaries Of Contemporary Performance
Sunday, February 17, 2013
AN ODD THING just happened to me. I am writing this essay at a desk in a public library, the British library, no less, the largest public building built in the UK in the 20th century. I'm sitting, in silence, in a busy reading room, surrounded by literally hundreds of people. Most of  us are tap-tap-tapping away at their computers, each in our own world, near enough to hear one another's breathing and yet entirely isolated in our silence, the contractual silence that is the condition of our being here. Not that this is anything out of the ordinary. The "funny thing" happened outside in the café, where, having eaten alone and also in silence, an unknown man at a facing table called me over as I was leaving and asked, in flagrant contravention of unspoken library protocol, what I was working on. He invited me to sit, which I did, and we proceeded to chat with the superficial, stilted brevity of such awkward encounters, until sufficient time had elapsed that I felt able to take my leave without appearing rude. Now installed at the silent haven of my desk, I'm trying to work out what to make of this unexpected, unsolicited encounter. I was uncomfortable, and wary about why this stranger called me over and the demands he might make of me. I was also slightly irritated, unfairly disinterested, from the outset, not wishing to confide or to be confided in, eager to return to myself and my own thoughts. I also had the niggling suspicion that this was some kind of set-up, a trick to make a fool of me or to get something out of me. I was waiting for the punch line to this protracted, unfunny joke; for him to ask for my money, or my number; for his friends to appear and make a scene. Perhaps cynically my first thought was "is he for real?"
And, all those feelings – they could be ascribed to contemporary performance art. There's been a huge surge in performance's popularity the past few years. This summer Tate Modern opened their Tanks as a dedicated space for performance and video installations, while in the museum's Turbine Hall Tino Seghal staged These associations , the first live art piece to be performed in the towering, empty space. In 2010, his This Progress, spiralled up the central rotunda of the Guggenheim Museum, and there were seventy-seven days of Marina Abramovic's mute, immobile presence in MoMA's atrium (The Artist Is Present). Here on this side of the pond, the Hayward Gallery in London staged Move: Choreographing You, while,. this year a whole floor of the Whitney Biennial was given over to performance, and in LA, there's even a new gallery set up by hip young artists dedicated to, guess, yes, performance.
The Abramovic phenomenon in particular has come to exemplify the complicated alliance between performance, the museum, and institutional and commercial gallery spaces. For all its professed immediacy and the emphasis on the ephemeral "present," MoMA did a good job of packaging up  "the moment" and circulating it. There are photographs, official catalogue and the feature-length film. And, then there were the follow up shows later that year across both of Lisson Gallery's London spaces exhibiting documentation from earlier Abramovic performances. All of which seems to scream, precisely, that the artist is not present. However you choose to evaluate the work and despite any reservations you may have about the mythical status of the artist or the art institution as a sanctified space, what's undeniable is The Artist Is Present celebrated the face-to-face one-on-one encounter. And, that exchange is at the heart of the performance revival. (read more)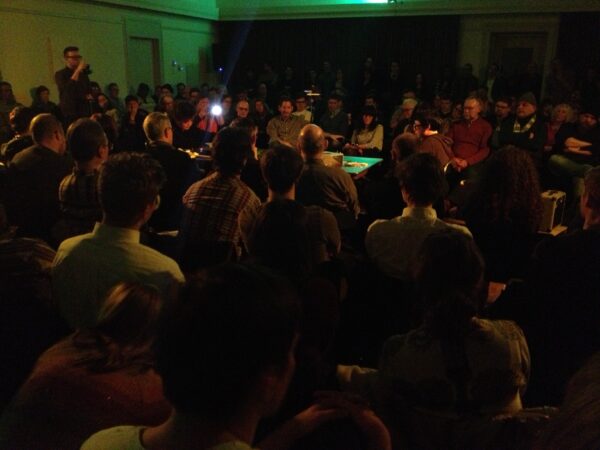 By the time I got there, it was standing room only. Everyone crowded around two small tables under minimal but nevertheless theatrical light. We stood this way, waiting for Korean sound muscians Hong Chulki and Choi Joonyong to play their experimental music sets. We stood in the converted ball room of a once-great mansion in Old Town. Of course the mansion is still grand, but instead of providing residence to humans it is the home base for The Graham Foundation — an organization that dates back to 1956. Dedicated to the architecture and its role in the arts, culture, and society, The Graham Foundation offers "project-based grants to individuals and organizations" while producing public programs. I had come to see one of LAMPO's productions — one of many in an on-going experimental sound series; in order to access the ballroom, however, I had to pass through a stunning exhibit of Soviet Modernist Architecture installed in the rest of the mansion's first and second floors. The buildings in this series are so strong and immovable in their position against the sky — and would prove to be an excellent foil to the immaterial, unfolding sequence provided by Chulki and Joonyong.
Choi Joonyong and Hong Chulki have been pioneers in Soel's emerging experimental music scene for the last 15 years. Choi Joonyong started Astronoise — South Korea's first noise group — with Hong Chulki in 1997. Later in 2000, the pair co-founded an experimental record label, "Balloons and Needles;" they have released a number of records since . Together, this collaborative duo embody a nexus being both community advocates and practitioners who have been called "acoustic explorers" in a "Bermuda Triangle of Sound," creating "non-conformist, post military service" music. 

They sat on either side of two respective tables. Chulki played a record player without a cartidge, running different materials along the player's sides from what I could see  — a legal-sized piece of what looked like metal, for instance — in order to create a small variant whine. Meanwhile, Joonyong used portable music players in unconventional ways — he set up two or three open Discmen and placed small pieces of tape on the spinning, exposed discs. These small tape pieces clicked against one another intermittetnly, until one finally spun off, returning the room to soft discmen whirs. At such times, Chulki's record player manipulations would emerge as the focal point, underscoring the way these two composers wove a sonic tapestry between them, organically alternating which devices were more prominent. Chulki and Joonyong made use of one another while engaging the spatial acoustics of a given room. Chulki never got up from his seat; he remained like the grounding line or backbone throughout both sets while constantly modifying the sounds he created. Joonyong on the other hand regularly stood up from his seat to relocate sound makers in other parts of the room. It was as though he was building a low-fi surround-sound system. He set up four exposed Discmen with bits of tape on them in the four corners of the room. He unwrapped a spool of tin foil while walking around the perimeter of the room as well, fixing the ends of the foil to speakers with tape. In another instance he pushed amplifiers on wheels down one side of the room, then opened a door and placed the amp on the other side of that door, or rolled a second amp, as it sputtered mechanic drones, down a flight of stairs. Each and every sound — the sound of tape unwinding, foil unwrapping, the sound of footsteps, the gutteral amplifiers, the whine of Chulki's ongoing centrally located soundscape — heightened my awareness of the room. Although we were all in the same room, the strangely muted affect of this improvised composition created the illusion of distance and depth. Chulki's manipulations reminded me of a distant construction site (the whizzing of concrete getting sliced by an electronic, saw) heard through the window of a sky scraper. Joonyong's flicking bits of tape stuck to the portable CD players clicked against the strips of foil he had laid out, conjuring for me a a nearer sound like that of a half-broken fan. I began to get an acoustic map of a space that did not physically exist but was conjured by their audio web. Its delicate detail heightened by the overall nonchalance of the performers themselves. Chulki took out three electronic hand massage devices and first set them up on his table, until one pushed a Discman onto the floor before falling to the ground itself. He then walked these small, plastic vibrators around the room, tucking one in the space between an inner and outer window, or behind a door. These vibrations, muffled though they were, emanated into the main space, adding another layer of depth. I found a video of this moment, and the friend who posted it referred lovingly to the duo as "The Bas Jan Ader of Korean experimental music," what likely sums up the embrace of failure, or in this case the pratfall of an electric masseur.
This is quick, but I wanted to repost a great interview I came across in BOMBlog, wherein a writer set out to interview Sophie Calle and, for various reasons, failed.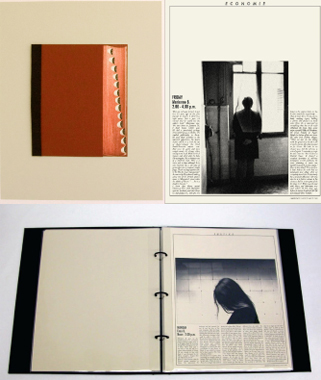 Sophie Calle's controversial project, The Address Book, was recently translated in English as a proper, purchasable book by Siglio Press. The book itself is based on a real-life address book of Pierre D. Calle found the book, and (after xeroxing ever page) returned it to its owner. With the facsimile at her disposal, Calle contacted everyone inside this stranger's address book and interviewed them about the address book's owner. When Pierre D. discovered what the artist was up to, he was outraged. "Eventually Pierre D. stumbles onto Calle's plan and, as you may have guessed, was outraged. He threatened to sue the artist and bizarrely demanded that Libération publish nude photographs of Calle in return. To resolve the turmoil, Calle agreed not to publish her complete findings until Pierre D.'s death, which occurred earlier [in 2012]" (Huffington Post). This mode of inquiry gave Calle a means to understand certain things about this stranger, through the experience his contacts relayed. Like much of Calle's work, there is an intensely voyeuristic aspect, what is now furthered by her now-totally-public findings. The interview I refer to doesn't actually ever present Calle's answers to any questions. Instead the artist remains remote as one of her subjects.
The interviewer is left with unanswered questions that nevertheless offer insight into the project. I have included an excerpt below:
I thought Sophie Calle was blasting Van Morrison in her studio when I called for an interview. A few minutes later she told me to turn my music down. The hold-songs were a comically misread sign that the third party conference-call site was not in fact recording our conversation. We ultimately forfeited to the mechanical obstacles that foiled our attempts to start over. Had I understood the technology, had we had more time, had "Born to Run" not drowned out our brief interaction, I would have interviewed Sophie about The Address Book—her project from 1980 newly translated into English and published by Siglio Press.

The controversial project has attracted a sizable viewer/readership, but for those who aren't familiar: it is a compilation of text and images that documents Sophie Calle's encounters with the acquaintances listed in an address book she found on Rue des Martyrs. Before returning the book to its owner, known to us as Pierre D., Sophie photocopied its contents in order to build a portrait of a missing subject by contacting his contacts. Each documented encounter yields a new impression with a new valence; overlay them all and a figure may start to take shape. Toward the end Calle reflects, "The descriptions merge together. The picture gets more defined and exhausts itself at the same time." Some examples: Paul B. characterizes Pierre as "a child forgotten in an airport;" Jacques O. remarks on his "well-mastered incongruity;" and Marianne B. describes him as "a cloud in trousers." Other encounters yield nothing besides Calle's reconsideration and doubt concerning her work. Pierre's brother, a psychoanalyst, declined the invitation because the project was "too inquisitive." The accompanying photos—a chair Pierre liked to sit in, his building's peeling ceiling, the crotch of an informant—are equally inquisitive, and quietly illustrative. (read more)
That said, if you're like me and still curious, I also found the following youtube video where Calle talks about her approach to editing (among other things)…
We are in the midst of a winter festival. Its occasions take place at a variety of locations across the city, featuring a variety of performance artists from all over the world. In each case, the art work at hand is dynamic and ephemeral; the culmination of hours/months/years of work fit into a small, public window of time. Audiences come to experience that time-concentrate and in so doing are transported. Born in the UK, Chicago-based performance artist, Mark Jeffery, is similarly invested in temporal, aesthetic exercises. Over the course of his career, he has a regularly incorporated collaboration and experimentation into his work. It seems fitting that he would address curation as well, opening the field of performance into an administrative capacity. The result is a bi-annual festival, IN>TIME. There have been two other iterations of this festival, in 2008 and 2010 — both of which were co-curated by Sara Schnadt and took place at the Cultural Center. This year Jeffery has expanded the scope of the project, curating roughly 26 different events at 15 different venues from January 11th – March 2nd, 2013. I wanted to ask Jeffery about the origins of this bi-annual festival, as well as how it fit in with his overall practice as an artist.
Caroline Picard: Can you talk a little bit about how IN>TIME 13 came together?
Mark Jeffery: There have been two previous editions of IN>TIME in 2008 and 2010 at the Chicago Cultural Center that I co-curated with artist and Chicago Artist Resource webmaster, Sara Schnadt. Sara has since now moved to Los Angeles, but during the summer and fall of 2011, before Sara left, we discovered that our contact at the Cultural Center, lost her job. At the time there was no support for this program to continue. As a result, we considered how we could expand this festival from a one-night event at the Cultural Center to a multi-venue festival throughout the city of Chicago. We were both excited to contact and connect with local venues and spaces that we already respected for their public programming of performance, symposia, exhibition, talks, and/or readings — spaces that already had an affinity towards IN>TIME's desire to showcase performance practices in the broadest terms. We met with curators, directors and programmers of spaces in their venues, at the Palmer House, on rooftops of hotels, in phone conversations, in meeting rooms to discuss the possibility to program work in the winter of 2013. What we didn't expect when we cast this net was that the community would be equally excited to focus their programming on performance, giving an extended platform to this experimental form.
CP: Does IN>TIME reflect on your own orientation/aesthetic agenda as a performance arts practitioner?
MJ: I was a member of the performance group Goat Island for 13 years and have collaborated with Judd Morrissey for the past 10 years. I take collaboration and working with fellow artists very seriously. I learn so much from working with others and during my time of making performance work I have had multiple opportunities to be in many diverse and interesting contexts to present my work since 1994. For me, I grow from conversation. I learn from working with others and I see that permission, openings and discovery happen when doors are opened. I think I discovered this as a student at Dartington College of Arts from my teachers Sally Morgan, Sally Tallent, Nancy Reilly, Rona Lee, Gillian Dyson, Roger Bourke and Tim Brennan. My teachers gave me access to being curious, to being open, to allowing my voice to grow, to not be isolated, but to discover other artists and other ways of working through connecting with others.
In Goat Island I leant from my fellow collaborators and performers and director Lin Hixson to open up a space, even if this was an uncomfortable risk. In coming to America, and in the ending of Goat Island in 2009, I suddenly had to be on my own feet, here in this Midwestern city, as an Assistant Professor in Performance Art. I had to be engaged. I had to become an adult. I had to share my knowledge of the spaces, networks and connections I had made now over the past 20 years.
Chicago is my home, it is a place where I can engage through teaching, through making, through performance and exhibitions — and now also through curation, as another way to open up spaces for? collaboration. I am grateful to be here and I am grateful that 14 venues are willing and interested in working with each other to make this dream come true. For the 2008 edition of IN>TIME Sara gathered a group of makers, curators into the Chicago Cultural Center in the summer of 2006. At that time I remember saying that I would love to see how we as a city could have a multi-venue performance art festival, similar to the one where I was first curated into in 1994 as a 21-year-old in Glasgow by Performance Art Curator, Nikki Milican and her National Review of Live Art Festival. Now, seven years later we have arrived.
CP: I am always suspicious of generalizations about localized styles or approaches to a given medium, but specific environments seem to facilitate peculiar dialogues. I have heard, for instance, that New York art performance is more integrated with dance, or that Europe is more open to experimental works. I don't know if those comments are true or not, (they certainly came out of casual and speculative conversations) but I'm interested in whether or not you feel like Chicago has a particular conversation of its own. Does IN>TIME 13 respond to that at all? 
MJ: Good question. I remember being in the library as a 19 year-old at Dartington College of Arts studying Visual Performance in the UK, (Dartington was a similar place / space to Black Mountain College). In the library I would read the High Performance and P-Form journals and read reviews about performance in Chicago. In 1996 I came to Chicago for the first time to join Goat Island Performance group. For me the roots of performance came from reading those articles, from being part of Goat Island and seeing the trail end of Randolph Street Gallery — a non-profit performance/gallery space here that ended I believe in 1998. In the past 15 years that I've been here, I have seen some extraordinary work from performance makers in their studio performance spaces and venues here with Lucky Pierre, Dolores Wilber and her collective, Julie Laffin, Joe Silovsky, Cupola Bobber,Joan Dickinson, Larry Steger, and more recently Erica Mott, Justin Cabrillos, Joseph Ravens and Peter Carpenter.  More recently I think of Chicago as a place for experimentation, a place for artists to really explore and test rigorous ideas. It is a place for research to take place, and for non-traditional, informative intersections and overlaps that to spring up unexpectedly via collectives and collaborations. That is what I get excited about. My training at Dartington and also in Goat Island taught me to be open, to be curious, to not be hierarchical, to give permission, to open up new spaces. I am about to hit 40 in 4 months and to have known this practice now for over 20 years and still be working: that's is what I am grateful for. Performance is a medium that is forever shifting, one of the things for me about coming to Chicago and living and working in America is that things can happen. I am ambitious and a workaholic and in a funny way I am thinking of this festival as my mid-life crisis! (this is my sense of humour btw). Sometimes you have to give yourself permission to ask and see what is out there. I am lucky now to be here two decades into this practice and that when I ask certain things, like a 14 venue performance festival where hybridity, where venues that wouldn't normally work with each other have an opportunity for exchange, for dialogue and conversation. Where doors open and the container of performance can be a storefront gallery, a video installation, a reading, a movement art endurance work, a reenactment, a meeting between museum spaces, schools, galleries, DIY spaces.
CP: How did you go about organizing the programming? 
MJ: The programming of the festival came firstly from Sara and I meeting with all the venues in the summer and fall of 2011 and then slowly from there having conversations to see about what would be the best fit for each of their spaces. Some venues suggested if a particular artist would be a good fit for the festival in regards what they were already considering, venues like the Dance Center of Columbia College with Zoe I Juniper or Museum of Contemporary Art with Miguel Gutierrez and Threewalls with Mary Patten and Mathew Paul Jinks. All the venues have really exciting work that will enter their spaces and showcasing incredible talent. I am excited about the three venues I have just mentioned in the openings these spaces can present these artists. I am also excited to see how these artists present their work here in Chicago. These are highlights, other highlights for me are being able to go back to the Cultural Center and have the US premier of Spanish, Swiss based artist Maria La Ribot perform her 5 hour work Laughing Hole. I have never seen her work live but have followed her work closely with a video work of hers I show in the classroom, a documentary called La Ribot Distinguida filmed at the Tate Modern in London and the Pompidou in Paris. Through the new director of Performing Arts, Shoni Currier at the Chicago Cultural Center we are able to showcase her work. Also at Joseph Ravens Defrillator performance gallery we are able to bring Singaporean artist Lynn Lu, she will share an evening with British visual art poet cris cheek from Ohio and two emerging local artists Kitty Huffman and Hope Esser. Croatian Movement Art Group OOURR, local dance artist Peter Carpenter will be on the same bill and have been excited to follow him these  past two years. at Links Hall local Chicago Artists Every House as a Door, Erica Mott and Trevor Martin, Hyde Park Art Center and having artists in residents Minouk Lim from Korea and Croatian born London-based Vlatka Horvat. The challenge to me is to keep curious and to put things together that normally wouldn't be together in a program. I like group exhibits where experimental forms of performance, movement. Language, actions, durations, emerging, established can come together. Again, to me this comes from my training and also wanting to connect people. The curator / caretaker is first to open up a space and the last to leave.
CP: Maybe because the title of your festival is IN>TIME, I'm reminded of the ephemerality of performance, and various conversations I've picked up on peripherally about how to document performance, how the documentation can eclipse the performance itself as an art object, or what happens to a piece when it is recreated in a different time and context, by different performers. I realize those conversations are vast and intricate, but it occurred to me that you might be negotiating some of those as an organizer, putting together a multi-faceted, multi-venue festival. How you have been dealing with documentation?
MJ: Last week eight students at the School of the Art Institute of Chicago worked with London Based artist Kira O'Reilly with the three-week visiting artist class called FROZEN IN>TENSITIES that is a course driven exhibit at SAIC. Each week there is a presentation at SAIC of the work they have been doing with the artists. With Kira the students found an old filing cabinet that has been in the green room this past semester. The filing cabinet was full of files that is an archive of the performance department when it was being chaired by the departments founder Tom Jaremba and former chair and now Graduate Division Chair, Werner Herterich. I site this filing cabinet as it became both a rich treasure trove of correspondence and a source of material for students to respond to. There were files from Linda Montano for example, and Alistair MacLennan when they visited the department. This cabinet has been making me think about how do we document our lives now in 2013. What are our filing cabinets? How do we store and retain this information, this memory of being here, especially with performance? For the class we also have 3 rooms in the Sullivan Galleries, and so we are also having this conversation about the document, of how to archive what remains. It becomes an exciting challenge. Yesterday I helped Sabri Reed, the teaching assistant for the class, take the filing cabinet on a cart from the Columbus Drive building to the Sullivan Galleries. It was quite unwieldy and heavy, but became this opportunity to walk and mark those moments of exchange spanning the past 30 years across Monroe Street. The students are also going to insert a record of their work in the class into a file and put it back into the filing cabinet for the exhibit and this will remain.
Last week I also renewed the Goat Island website as it was going to run out, the domain name in five days or something. This position between the physical and the virtual, the mixed reality of archive and document is a really interesting question for me. If we don't maintain the upkeep of our websites what does remain. What are our filing cabinets of 2013?
CP: This image of time keeps coming back…
MJ: To me this is an experiment. Since 2006 I have also been curating and have developed series of OPENPORT A performance, sound and language festival (2007) co – curated with Nathan Butler, Judd Morrissey and Lori Talley at Links Hall, Intimate and Epic (2006) co – curated with Sara Schnadt in Millennium Park and The Simulationists (2011) co – curated with Claudia Hart and Judd Morrissey at SAIC as well as the IN>TIME series. Time becomes an important thing and I often think about how to stamp time now as it moves so quickly (the 40 thing again ;)) – yet, if you take time to make something, I think something can come through and with Sara and I meeting all the venues 18 months ago, the results of this time has come through. I come from a father who was a herdsman who milked 200 Friesian cows each day, woke at 5 and worked till 8, seven days a week. A life's work, working for over 30 years on the same farm. There is something in building a life through projects, through ritual, through time that you can get a lot done and through the creative make a place and space for opportunity to enter. Again for this I am grateful and I always thank my teachers for giving me the space, time and attention. You work towards something to thank them.
Further Information: Â http://www.in-time-performance.org/