A friend posted this interview between Steven Cox and Scott Wolniak on the ol' FB. I thought I'd repost an excerpt here.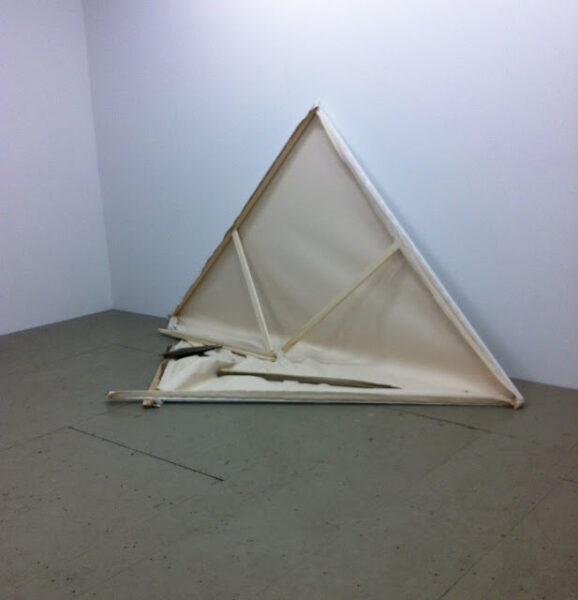 HUNTED PROJECTS presents Chicago based artist Scott Wolniak.
Scott is currently a tutor within the Visual Arts department of the University of Chicago, where his multi disciplinary practice expands upon the realms of installation, painting, sculpture and video.  With references to both destruction and humor, his past experience of being an art handler shines through with sculptural and painterly works that suggest the purposeful mishandling of materials.  This being made particularly clear through his video work The Ratio of Effort to Effect (2010), which in a tongue in cheek manner, explores the ever so common mishandling of art work, done in a manner that hints at Wolniak's appreciation of the absurdist comedy of Steve Martin.  In all, Wolniak's rounded practice explores the cockamamie, poking fun through the purposeful use of humble materials, whilst simultaneously rationalising conscious bad craftsmanship as a by product of expressionism.
Can you tell HUNTED PROJECTS about yourself and your creative background?
SW: I am a multidisciplinary artist based in Chicago.  I studied Painting and Drawing at the School of the Art Institute of Chicago, and did my MFA in Studio Art at the University of Illinois at Chicago.  After finishing my BFA in 1995 I spent five years working as a truck driving art handler, which introduced me to important social and logistical aspects of the art world.  I opened an alternative exhibition space in my garage called Suitable Gallery in '99, which was in operation for 5 years.  It was a positive experience; we did many great shows with great artists.  My studio is now in this same finished and heated garage that used to be Suitable.  After completing my MFA in 2002, I began part time teaching at SAIC and, in 2007, began my current full time teaching appointment in the Department of Visual Art at the University of Chicago.  Teaching is a really important part of my practice and helps me to constantly reconsider my relationship to visual art.
When did your interest within the arts begin?
SW: As a kid, art was a natural form of entertainment and escape.  It was always frustrating but endlessly engaging… same as now.  I shield away from formal instruction and traditional techniques in favor of cartoons, material experiments and made-up imagery.   I used to steal techniques and styles from classmates in elementary school.  Some of my early influences were Shel Silverstein, B. Kliban and LeRoy Nieman.  As a teenager I was nourished by music and record cover art.  I also loved comedy, especially ridiculous, physical stuff like early Steve Martin.  I decided to go to art school because nothing else really made sense… and I liked the idea of making a life doing what I was already doing anyway.  I knew nothing of art history before I began school at SAIC.  My 1st life-changing encounter with Art was the work of the Abstract Expressionists.  I spent hours looking at DeKooning's Excavation at the Art Institute.
                                                                                    
Can you discuss your day-to-day creative process?
SW:  My studio is in my backyard.  Convenience is really important to me because I like being able go to my studio any time, for any length of time, even if just to glance at something.  I am in my studio every day, so the work is a constant.  I have a hectic daily routine, which has required me to compartmentalize in order to sustain my practice.  Nights have always been a haven of undisturbed studio time for me.  Ideas come from everywhere.  My work typically involves combinations of everyday life and abstract systems, explored through labor-intensive processes with humble materials.  I tend to work on several things at once, shifting between conceptual projects that are primarily about planning and process-based pieces that are heavy on labor.  My labor-intensive projects are probably the most enjoyable.  I like to see things accumulate and transform over time.  I can drop into the studio for 15 minutes or 5 hours; either is productive since it is always moving toward the same end point.  As with meditation or exercise, small efforts conducted with great regularity do add up.
I listen to tons of music while working, as inspiration and background noise.  I often smoke marijuana in order to trick myself perceptually.
(read more)
Harmony Korine's Spring Breakers has been quite the buzz of late. To quote SF filmaker/friend/artist, T. Siddle:
Did a double feature of Stoker and Spring Breakers yesterday. Stoker is very very good, I'm not convinced by Spring Breakers (though I liked all the neon and the hideous beach font it used for titles). My experience of the latter was somewhat hampered by the elderly man sitting behind me who made pornographic grunts whenever a semi-naked woman was on screen.
There are lots and lots and lots of half-naked women in this movie, so a grunt per visible breast would be distracting indeed. I also saw Spring Breakers recently, also during a double feature. We went Spring Breakers first, then Olympus Has Fallen. Surprisingly, I liked the first. I thought I would hate it, because I tend to dislike excuses to show naked girls for the sake of showing naked girls. I read about how anti-feminist it was, how exploitative. How the female leads were shallow and hard to differentiate. And yet I was surprised. Korine's movie is all of those things — however I would argue everyone in this movie is exploited and exploiting, everything is shallow and everything is a product of a corrupt, late capitalist culture. The leading ladies are not liberated in a positive way, necessarily, but they have learned to be so hard and material, so soulless in a way, that they fulfill the very requirements of their image and then go beyond that image to exploit and manipulate and murder. Korine uses so much nudity it becomes boring — yes! — blending a vaccuous (and I'd say also American) desire to "find oneself" in pleasure and abundance, that offers this compelling, albeit gross, portrait of class (perhaps more than anything else) and gender.
It probably could have been shorter, and I think it's a little too pretty for its own good — as a portrait of corruption, maybe there shouldn't have been so many breathtaking moments (the Tiqqun-ish Young-Girls dancing in pink unicorn ski masks, pink bathings suits, dayglo sneakers and carrying artillery rifles as drug dealer James Franco plays a former-Mousekateer Brittany Spear's song on a white piano) but. At least it exploits the rotten-ness of Vice Spring Break — drawing the narrative to an ethical nightmare that is almost lost in the mood of the moment. Blood is spilled in Tarantino proportions, feeling far more hopeless, more pathetic — if only because these main female protagonists (two of them as child stars, the third being Korine's wife) seem to be on an unconcious gender-revenge mission: as though they are simply products (or surfaces) of a culture, not self-reflecting members. These girls have developed a steel-hearted strategy of care-less-ness. And maybe that's a zeitgeist at the moment — consider Sofia Coppolo's new movie about teenage girl robbers:

Spring Breakers felt like a kind of indictment against the American Dream that gave itself so that it's youth could have any and all possibilities at its beer-guzzling feet, Olympus Has Fallen became such a freak show of propaganda (the White House is under siege and the President's son is hiding in its halls as his father is held hostage by evil captors below ground). We walked out after 30 minutes of blood soaked not-ironic-enough patriotism. What I'd like to do is splice those two films together, to show the one myth on one side, (of priviledged youth in a commerically marketed Rumspringa excercising its American-ness), and on the other the myth of America's need to defend itself from an evil Non-American.
Jeffrey Sconce wrote a great review about the film on his blog, Ludicdespair:
In a fair world, or at least one less crippled by stupidity and mediocrity, James Franco's "Look at my shit" speech from Spring Breakers (2013) would be one of the scenes featured in the Academy's "Best Picture" clip-reel at next year's Oscars. Just imagine how amazing it would be to see Ron Howard, Ryan Gosling, or some other safely bankable Hollywood functionary forced to take the stage and read an Academy staff writer's impression of what Spring Breakers is about:

"In a chilling performance, James Franco captures the essence of evil as he seduces four young girls into a life of crime…"
"James Franco is terrifying as the local crime kingpin who turns an innocent rite of passage into a nightmarish ordeal."

All of this would be bullshit, of course, but probably as close as Hollywood could come to getting a moralistic bead on this movie's unapologetic nihilism. But it would all be worth it to see the lights in the Kodak theater go dark so that TV America could witness the corn-rowed, grill-bedazzled "Alien" (James Franco) inventorying the contents of his sick St. Pete bedroom:

This is the fuckin' American dream. This is my fuckin' dream, y'all!

All this sheeyit! Look at my sheeyit!

I got … I got SHORTS! Every fuckin' color.

I got designer T-shirts!

I got gold bullets. Motherfuckin' VAM-pires.

I got Scarface. On repeat. SCARFACE ON REPEAT. Constant, y'all!
…This will never happen, of course, because Hollywood will be too busy auto-fellating itself with the historical import, social relevance, and quality competence of another

Lincoln

or

Argo.

Meanwhile, Harmony Korine's sublimely ugly and mean-spirited takedown of American awesomeness will likely go unnoticed, a film that in its own way says, "yeah, Lincoln was a great guy for passing the 13th Amendment and

Argo

is the story of some very heroic patriots, but in the end, nothing could stop America's manifestly obscene destiny to become a nightmare of beer funnels, breast implants, blow, and Skrillex.

(read more)
Ann Toebbe is well known for her stylized, architectural paintings — paintings of empty rooms occupied only by objects. These are rooms at rest, between uses, and the furnishings within them stand enigmatic and remote, at once pointing to a network of human relations while being simultaneously autonomous; it is as though these things are preoccupied with a non-human work. Toebbe's chairs seem to be doing very well for themselves, even when not fulfilling their intended, anthropocentric function. In her latest solo show at ebersmoore, The Inheritance, Toebbe introduces humans for the first time. The human figure shares space with its furnishings, pointing to a narrative that seems, at first, more accessible. It is a narrative that invokes the artist's biography as well. By way of a press release, we learn that these ornate tableaus tell a story of inheritance and greed — "Dorothy and Jessie also left shares of their P&G stock to their handyman and caretaker, Ron; to their church pastor, and to a man from their church named Loreaux. But when Dorothy and Jessie died, Loreaux claimed a greater share and sued the estate. While the lawsuit was pending the stock market crashed; by the time it was all over, the fortune was all but wiped out. Toebbe's parents had counted on the inheritance for their retirement, but because of Loreaux's greed, all they inherited was frustration, disappointment, and anger." While this narrative hovers like a background noise, the figures depicted seem remote from it at first. They stand or sit, static as any area rug, bed or book case. Together, these various, human and non-human, elements conspire to create an illusion of stability and cohesion, an illusion that ties in directly with our expectations of domestic life. The home is supposed to be a solid and reliable structure. It never is simply that, however, especially when one considers the transmission of its objects between generations. As a result the given narrative reminds the viewer that what one assumes based on a constellation of objects is only ever half of the whole story. While Toebbe presents calm scenes of the home, she nevertheless reminds us of an unpredictable and dynamic vitality therein, incorporating shifting POVs and gestural marks that evoke the emotional somersaults in a home and its family. Somersaults not always visible from the sphere of personal affects. It is perhaps the way any home works, being at once functional and flighty, recognizable and strange.
Caroline Picard: How do you think about the objects in a given space?
Ann Toebbe: I have a knack for flattening space. It wasn't considered a great asset in my early training in drawing and painting but I have cultivated my skewed perception — often called folk or faux naïve — of space. I imagine objects flat first, then bend and fold them in creative ways to make everything fit in a given room.
CP: Yeah, there are points in a given painting with the orientation of a viewer to the scene will completely shift form, for instance, a bird's eye view transforms into an eye level sight line.
AT: I started out using predominantly a bird's eye view. My early paintings look like cardboard boxes with the lid taken off. You'd look in and see a room in my version of three-point perspective. I drew the lines of the wall in perspective making the floor look like it was in deep space. As I painted more rooms the architecture flattened out — it's simpler for me to unfold the walls rather than try to use extreme perspective to include everything. The rooms are unstable in terms of gravity but since I know from the start how the painting will be oriented and place things accordingly, they feel grounded.
CP: That's what's so striking to me: even though the POV shifts dramatically, the objects you paint feel grounded and stable — even the way you incorporate materials like doily fabric, or the grounding pattern running across the floor — everything has this visual tactile quality, but then you'll suddenly twist the POV — can you talk about that a bit?
AT: The Inheritance is my first mixed media show. I included fabric from my mom's wedding dress, yarn, store bought Christmas lights, and grass paper intended for train sets. My mom inspired The Inheritance and she loves kitsch.
CP: This is the first time I've ever seen you incorporate the human figure into your work — how did that transition came about? Did the human form felt like an intrusion in your conception of space?
AT: I've wanted to include the figure for a while. I can't count the times I've been asked why human figures aren't there or if I'd ever include them. I wanted to give it a try — why not? I just had to come up with the right body of work. Without figures the mood or emotion in the rooms is very different — it's still or even embalmed. The rooms represent many similar memories compressed into one picture — so the paintings are always in the past and the memory centers around how the room was decorated and the furniture arranged.
The Inheritance is a story about a specific time and place and also about a specific set of relationships. The people don't feel like an intrusion in this particular body of work. It wouldn't have been interesting to paint the rooms without them.
CP: What is the difference between living subjects and furniture in your paintings?
AT: It's not evident from the digital images but the figures and furniture in The Inheritance are cut paper collage not painting. I constructed everything in the rooms with the same level of care and detail — a folk art thing. The furniture and figures are stiff, sort of like a carved wood sculptures. I carefully chose the figures' poses especially how they positioned their hands and feet. A posed figure is different from placed and positioned furniture. The figures change the role of some of the furniture. Instead of being stand-ins for the figure, as in previous paintings, the chairs and couches become props for the people sitting on them.
CP: What is it about the domestic setting that compels you?
AT: I started using domestic settings in New York in my twenties. I lived in Brooklyn and was homesick. I had no real intention of returning to Ohio but at the time everything in my life was topsy-turvy and uncertain. I stumbled into painting interiors because it felt comfortable and so many things about living as an artist made me uncomfortable. The funny thing is now that my life is more like Ohio, I miss unruly Brooklyn; so I've made several paintings about my Williamsburg apartment. Painting interiors calms me down and allows me to focus on formal concerns — composition, color, shape, texture. I spend my studio time inventorying life and putting things in order, this works for me as an artist.
There's a story behind each painting and collage. In the early work they were my stories — sleepovers at my grandmother's farm, mopping my kitchen's white tile floor, the neighbors messy house where I babysat. In the newer work I ask people to draw and describe rooms from their memory — my husband's apartment with his ex-wife, my mom's attic bedroom growing up, my uncle's one bedroom apartment…
CP: I am also really interested in your depiction of the outdoors — the "natural" landscape is always framed by a window, and your treatment of that outdoors is totally different, the way you describe trees, for instance, feels much more gestural and abstract — as though it is composed in a different vocabulary of mark making. How did that variation came about, and what does it say about the domestic tableaus you create?
AT: A friend told me that he knows my world until he looks outside my house.
I take a lot of liberty in painting the outdoor views that will be covered by curtains or partially hidden from view by furniture. I desperately want to paint loose and to be expressionistic and these obscured outdoor spaces give me the opportunity to be painterly. I use washy, sponged, and pooling paint in the window views in the newer work. Another clue that the room is a painting and isn't grounded in reality.
CP: Maybe this also ties into a similar idea of framing and mark-vocabulary, but I you also quote other paintings — you know, because it's a domestic scene so of course these people have paintings on the wall, and then you copy them. But here again, there is a stylistic break that I'm really interested in. What happens in those moments? Those little framed images also feel so pastoral, or decorative, and that seems like a kind of meta-conversation that you are having as a painter painting these very decorative, domestic tableaus…..does that make any sense?
AT: Perfect sense! My compositions are made up of the all objects in a room. And as you said this includes the artwork or pictures on the walls. My approach or technique for depicting the art within the art is to do what is most economical. For cats or fruit I look online for simple images and abstraction often comes from cut outs of paintings made by my young daughters. The miniature art works channel the Sunday painter in me along with my admiration for dollhouse craft. It's much easier to paint small — each little artwork can be very detailed but only takes an hour versus weeks to make.
The stylistic breaks you mentioned, the outdoor spaces and miniature artworks, are ways for me flex different artistic muscles and at the same time ride the balance between modern and folk and representation and abstraction.
Saturday, March 16, 2013 4:00-6:00 pm
Chicago Cultural Center, Millennium Park Room, 5th Floor
Panel Discussion & Book Release with Joyce Fernandes, Stuart Keeler and Allison Peters Quinn
There are all kinds of overlaps in this art world of ours, old friends and close friends and collaborators — I find myself working with people in different capacities all the time. This weekend my press, The Green Lantern, is releasing a book three years in the making. It's a project that exemplifies the overlap and intersection of various networks — what is perhaps especially fitting, given that it centers on the subject of socially engaged art practice. To celebrate the release of the GLP's next book, "SERVICE MEDIA: IS IT PUBLIC ART? OR IS IT ART IN PUBLIC SPACE?" we'll be having a panel discussion at the Cultural Center, moderated by Bad at Sports' own, Duncan MacKenzie. Details are as follows:
Inspired by The Green Lantern Press' 30th title, Service Media: Is it "Public Art" or is it Art in a Public Space?,  this panel, a Poetry Center of Chicago Heap of Language Series event,  will discuss unconventional art works and practices that take place outside of galleries. As such, the panel extends a conversation that Service Media begins, from text-on-the-page to an evening of public discourse.  Service Media: Is it "Public Art" or is it Art in a Public Space? is a collection of essays that investigates socially engaged art. Editor Stuart Keeler strives to reexamine the terminology surrounding this discipline, just as ensuing contributors explore and critique a range of socially minded projects as artists, administrators and critics. It's a collection that deserves attention for its careful assessment of a once-radical practice that has since become a staple in contemporary art practices and institutions alike.
Joyce Fernades, Executive Director of archi-treasures since 1998, is a cultural worker whose career encompasses extensive experience in arts administration, lecturing and teaching, critical writing, and visual arts practice. Her primary focus has been to develop innovative community arts practices. As Executive Director of archi-treasures she works hard to facilitate strong community  partnerships by recognizing and honoring the tremendous assets and resources that are available in all communities, and designing creative projects that leverage and complement those assets. Fernandes is also the former Director of Exhibitions and Events at the School of the Art Institute of Chicago, and the former Program Director at Sculpture Chicago. She received her MFA from the School of the Art Institute of Chicago and her BFA from Tyler School of Arts in Philidelphia.
Stuart Keeler is an artist of public spaces who organizes exhibitions and multi-platform projects with the collaborative role of "curator" as the conceptual identity of his practice.  Is it "public art" or is it art in public space?  The role of the artist is challenged by his investigative projects interpreting social praxis as an innovative business model. Keeler aims to model a new process of curatorial practices by engaging with a continuing dialogue in public space centered on the expanded role of the artist. With an MFA from the School at the Art Institute of Chicago (2005), Keeler has exhibited at Gallery 400 UIC, Yerba Buena Center for the Arts, Center on Contemporary Art, Espace-Art Unit, The Hyde Park Art Center, John Michael Kohler Arts Center among others.  Innovative curatorial projects include Art 44|46, Chicago, Le Flash! – Atlanta, LEITMOTIF, Nuit Blanche – Toronto. Keeler has completed over 75 public art commissions in North America and Internationally. He is currently  completing a commission a the San Diego International Airport with Swaroskvi Crystal–Austria.  He currently holds the position of Director/Curator at The Art Gallery of Mississauga, Canada.
Allison Peters Quinn is the Director of Exhibitions at the Hyde Park Art Center (Chicago), where she has curated exhibitions, and produced symposiums, performances and publications since 2004.  She has organized significant exhibitions for emerging and established artists such as Cándida Alvarez, Theaster Gates, Kelly Kaczynski, and Bibiana Suárez.  She has served on critique panels and taught graduate seminars at the School of the Art Institute of Chicago and The University of Chicago Graham School. Awarded the Ramapo College Curatorial Prize, she has served as juror for the Artadia Award, Efroymson Award, and the Ragdale Foundation.  Her writing has appeared in Proximity Magazine and artists' monographic publications including William Steiger: Transport (2011) and Altogether Mutable: The Work of Mary Lou Zelazny (2009). Allison studied a MA at the Center for Curatorial Studies, Bard College, and a BA at the University of Wisconsin – Madison.
Founded in 2005, The Green Lantern Press is an artist-run, non-profit press focused on emerging or forgotten texts in order to bridge contemporary experience with historical form. We celebrate the integration of artistic mediums. We celebrate the amateur, the idealist and those who recognize the importance of small independent practice. In a cultural climate where the humanities must often defend themselves, we provide intimate examples of creative thought. Dedicated to the "slow media" approach, the Green Lantern Press conceives each book as a   curatorial site;  small editions are printed with artist plates, ephemeral inserts and silk screen covers. We are efficient about the material we use, economic about our proportion and intent on local production. More information at www.press.thegreenlantern.org
An independent not-for-profit arts organization founded in 1974, The Poetry Center of Chicago's mission is to promote poetry through readings, workshops, residencies and arts education, to make poetry accessible to the general public, to stimulate and encourage young poets, and to advance the careers of poets by offering them professional opportunities. The Poetry Center is in residence at the Chicago Cultural Center. A Heap of Language is the Poetry Center's 2012/13 Event Series, at the Chicago Cultural Center.
I came across the following essay about performance (and its relationship to the institution) on The Weeklings. Since the subject has come up — even obliquely — a few times on B@S in the last month or so, from Tanta's conversation with performers last week (asking them about how protest functions, if at all),to Göransson's discussion of ASCO, and Gutierrez's performance at the MCA, I wanted to link to Amy Sherlock's essay here:
Is He For Real? The Blurry Boundaries Of Contemporary Performance
Sunday, February 17, 2013
AN ODD THING just happened to me. I am writing this essay at a desk in a public library, the British library, no less, the largest public building built in the UK in the 20th century. I'm sitting, in silence, in a busy reading room, surrounded by literally hundreds of people. Most of  us are tap-tap-tapping away at their computers, each in our own world, near enough to hear one another's breathing and yet entirely isolated in our silence, the contractual silence that is the condition of our being here. Not that this is anything out of the ordinary. The "funny thing" happened outside in the café, where, having eaten alone and also in silence, an unknown man at a facing table called me over as I was leaving and asked, in flagrant contravention of unspoken library protocol, what I was working on. He invited me to sit, which I did, and we proceeded to chat with the superficial, stilted brevity of such awkward encounters, until sufficient time had elapsed that I felt able to take my leave without appearing rude. Now installed at the silent haven of my desk, I'm trying to work out what to make of this unexpected, unsolicited encounter. I was uncomfortable, and wary about why this stranger called me over and the demands he might make of me. I was also slightly irritated, unfairly disinterested, from the outset, not wishing to confide or to be confided in, eager to return to myself and my own thoughts. I also had the niggling suspicion that this was some kind of set-up, a trick to make a fool of me or to get something out of me. I was waiting for the punch line to this protracted, unfunny joke; for him to ask for my money, or my number; for his friends to appear and make a scene. Perhaps cynically my first thought was "is he for real?"
And, all those feelings – they could be ascribed to contemporary performance art. There's been a huge surge in performance's popularity the past few years. This summer Tate Modern opened their Tanks as a dedicated space for performance and video installations, while in the museum's Turbine Hall Tino Seghal staged These associations , the first live art piece to be performed in the towering, empty space. In 2010, his This Progress, spiralled up the central rotunda of the Guggenheim Museum, and there were seventy-seven days of Marina Abramovic's mute, immobile presence in MoMA's atrium (The Artist Is Present). Here on this side of the pond, the Hayward Gallery in London staged Move: Choreographing You, while,. this year a whole floor of the Whitney Biennial was given over to performance, and in LA, there's even a new gallery set up by hip young artists dedicated to, guess, yes, performance.
The Abramovic phenomenon in particular has come to exemplify the complicated alliance between performance, the museum, and institutional and commercial gallery spaces. For all its professed immediacy and the emphasis on the ephemeral "present," MoMA did a good job of packaging up  "the moment" and circulating it. There are photographs, official catalogue and the feature-length film. And, then there were the follow up shows later that year across both of Lisson Gallery's London spaces exhibiting documentation from earlier Abramovic performances. All of which seems to scream, precisely, that the artist is not present. However you choose to evaluate the work and despite any reservations you may have about the mythical status of the artist or the art institution as a sanctified space, what's undeniable is The Artist Is Present celebrated the face-to-face one-on-one encounter. And, that exchange is at the heart of the performance revival. (read more)