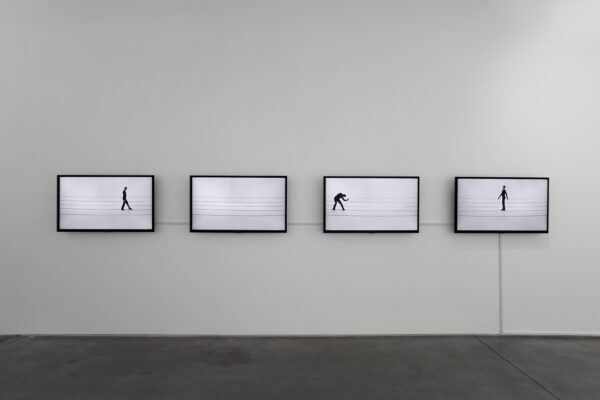 I am accustomed to diminishing the importance of an individual dancer's history in the course of a staged performance. Unconsciously, it's as if I imagine performers congealing for a moment on a stage in order to manifest the agenda of an invisible author. For dancers, especially, it is always about the body — the body as a structure capable of grace and choreographed strength. Over the last month, artist Jaye Rhee debuted a 4-channel video piece that engages the body as a minimalist structure, while emphasizing the dancers' previous life in The Merce Cunningham Dance Company. The Flesh and the Book places these figures in a musical score of five rubber bands, flattening a three-dimensional space into an illusion of two. The bodies enact a series of choreographed gestures, who's style and form evoke a Cunningham past — like moving archives of embodied knowledge. The Flesh and the Book, closes tomorrow at Doosan Gallery, 533 West 25th St. in New York.
Caroline Picard: How did you first conceive of The Flesh and The Book? 
Jaye Rhee: In 2007, I made the work called "Notes." At that time, I was interested in re-producing two things: a popular children's play called "Rubber Band Play," and re-staging visually resembling it as musical notes. It is also known as "Chinese Jump Rope" in America.
The rubber band play requires memorizing all the steps and jumps from the beginning till the end as rules with repeated practice. That, I think, is methodologically similar to learning playing music instrument in a way because learning a musical instrument also requires both brain and body memory. So the Chinese Jump Rope Play and leaning a musical instrument become parallel. I wanted to re-produce both events at the same time.
Rules and regulations often governed my childhood and I couldn't help but think of that when I worked on the Notes.
When I worked on Notes, I knew that it would become the mother piece of another work.  One art work often yields another work. Even though I am the one who creates the work, it is as if the work has a life of its own, one more quick-witted than me. In other words, many times, art works are a lot smarter than I am.
I was sure of two things when I worked on The Flesh and the Book: 1) I am going to play with space more, for example, three-dimensional space transformed into two-dimensional space. Only the size of the figures and trace of the movements will allow viewers to feel the space. 2) I want to work with mature dancers.
I did not have title for the new work. While pondering that, I happened to think of the poem Brise Marine by Stephane Mallarmé, and the first line reads, "The flesh is sad, Alas! and I have read all the books."
I wrote the sentence down on my sketchbook.  And after some time, especially when I started to meet dancers for the project, I realized that my knowledge of dance and dancers did not come from direct bodily experience, but had been learned through books. It is completely out of context of the poem, but the words flesh and book  stayed in the title. Also, it is hard not to think of book as music sheets, flesh as body, and dance.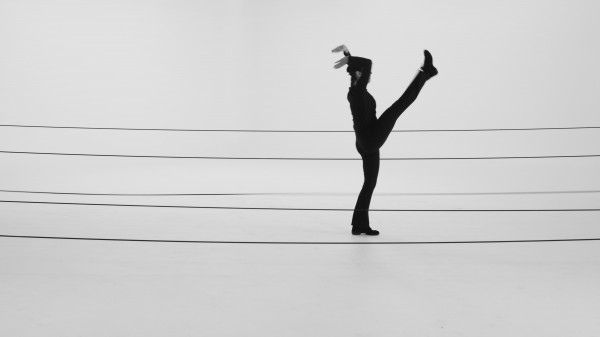 CP: What is like working with the dancers that used to work for Merce Cunningham? Did you spend a long time developing the piece with them? 
JR: It took a long time to find dancers. When I started to search for dancers, I looked for dancers who had gone through the transitional stage in their career as dancers.  Many dancers face career changes early in their lives compared to other profession. And being a dancer is not just a profession but is also an identity. Thus I didn't want to work with dancers who were physically young. I searched  for dancers who already experienced the high peak of their physical youth, in other words, someone who has already been there.
While I was still searching for dancers in 2011, Merce Cunningham company disbanded; that event made me wanted to work with them even more. I always liked the geometric quality that Merce Cunningham company had and was excited to work with them. They seem to embody a reminder — something that was once there. We know what they were, we will remember it. It's like a once-young body, or the idea youth.
It took a while to meet Cunningham's dancers.  In the beginning, I attended Merce Cunningham dance workshops and met many great modern dancers who were not necessarily Cunningham's. Then again at the Cunningham's technique classes in Fall of 2012, I met original dancers of Merce Cunningham with a help from Robert Swinston.
The dancers I worked with are great. Â Once I met them, I knew that it was going to be great. Everything went very rapidly.
CP:Â You also had another collaborator with this work, Elliott Sharp. How did you all work together? What were the dynamics like?
JR: I asked Elliott to come up with specific sound that I can use for the project, and he gave me 67 sound files. I selected ones that are appropriate for the dancer's movements.  Communicating with other artists is not always easy. Art is abstract, concept is abstract, and language itself is abstract. But then there is a moment that everything intersects. That's when the magic happens.

CP: I feel like you're interested in the body as a unit, of some kind. Everyone wears black, standing in relation to the same 5-line structure in an otherwise white space. In your case, however, you platform the dancers' history. Do you feel like something of that history with Cunningham is ghosted into the viewers' experience? What happens to the dancers' history with Merce Cunningham in The Flesh and The Book?
JR: I was more interested in the character and history of individual dancers under the umbrella of Merce Cunningham Company. Cunningham dancer's movements are Mercified but individually they all have different characteristics. We all have different history as individuals, but there are also larger histories which a family shares as a smallest unit of the society, then there are larger groups and larger groups…..and so on. Merce Cunningham dancers make up another kind of familial unit. Even though the dancers' movements were different, a few audiences actually recognized that the dancers somehow evoke Merce Cunningham's style.
CP:Â Thinking about the work asa 4-channel piece, and then seeing framed stills from the video, I wanted to ask you about movement and how that ties in. In other words, does the piece change for you if the "movement" (which refers I think to music and dance) is extracted? How do you think of your photographs as compared to your video?
JR: I consider these mediums separate, with different approaches for both. It's like siblings with same parents. Each medium has its own life. Different mediums show different aspect of one thing. I use the photographs because they capture the 2- dimensional representational quality.
CP: How does this piece ties into some of your other work? I noticed that you have done a number of works that play with the idea and structure of environment. I was thinking about Bambi, for instance, or Polar Bear, Swan, Cherry Blossoms, Niagra; really so many of your works seem to juxtapose a still tableau with a playful in-time interaction. Is The Flesh and The Book on a similar tip?
JR: For The Flesh and the Book, the performers held a string (thick black rubber band) between them.  The strings were at least 3 meters away from each other. I really wanted to expand the idea of transforming 3-dimensional space into a 2-dimensional tableau look. So that a viewer can only feel the space by following the dancers' movements very carefully and watching the body scale change. The Flesh and the Book is a special work which is leading my interest into working in 3-dimensional space. I think I can say, the lines between performers sort of played the role of a tableau – an invisible and flexible tableau.

Of the many adventures that I had at Open Engagement, I enjoyed an evening at the Portland Art Museum. Their annual program, "Shine A Light," came together in conjunction with PSU's Social Practice MFA, in an effort to "ask visitors to reconsider what is possible in a museum." It featured a number of MFA artist's works including a reenactment of a lost Grateful Dead concert ("Turn on Your Lovelight" by Travis Neel), a dental trailer offering free dental work to visitors ("Dentistry at the Museum" by Zachary Gough), a booth in the basement where viewers were encouraged to record stories of objectified objects and being objectified ("Objectification Stories" by Erica Thomas and Heather Donahue), an invitation to commune with dead artists via mediums from Portland's own Psychic Siamese Terror through select works of art ("The Dead Artists Salon" by Alysha Shaw) and much much more. (full program here) At every turn through the museum that night, you could feel the institutional context in a concentrated experiment in flexibility. It felt like a kind of earnest game, one in which visitors were simultaneously challenged to revise and open up their own expectations. It was a glorious mayhem. Outside, between the museum's two buildings, people of all ages danced expressively. A beer truck stood across from an artisanal pizza tent, as the torches to PAM's second entrance (what was a Masonic temple in a former life) bloomed brightly in the coming dusk. Artisanal popcorn was also for sale. In the midst of this, I ran into Dillon de Give, another Social Practice MFA presenting work. His project, 4-6 Dogs in the Museum furthers the desire to flex the museum structure, except in de Give's case, he tried to apply that flexibility to non-humans.
Caroline Picard: Can you talk about where 4-6 Dogs Allowed in the Museum originated as an idea for you?
Dillon de Give: The project originated as an off-handed comment I made in a brainstorming session. I wrote down something like, "allow dogs into the museum, have some sort of plan for when they poop". I didn't think about it very much at the time, but then for some reason it kept coming back into my head.
I've been interested in the power relations present in our dealings with animals for a while. Dogs are the most common "other half" of a public human-animal relationship — especially in the city. They are the animals that people walk side-by-side with, and many see dogs as family members. At the same time they are a point of mystery, like art.
That relationship was the subject of the work, but the process of examining the subject by partnering with an art institution was also important to developing the idea. I entered into these dealings being identified as a student, as much as an artist. And as such, the strength of my position as a negotiator was recognized, but somewhat limited.
The initial proposal was to open the doors of the museum carte blanche to dogs during Shine A Light, the one night event that "asks visitors to reconsider what is possible in a museum." An official mechanism by which to allow dogs into the museum was attractive to me, because it involved a conversation around breaking a taboo. Admitting a new kind of life into the institution, proved to be fairly complicated. Have you ever tried to bring an apple into another country? It can get you into a lot of trouble. Yet I knew it was not out of the realm of possibility, because the museum was legally bound to admit service dogs.
The initial proposal also stated that any difficulties, negotiations, and ad hoc measures of control necessary to execute the idea (which at that time called Dogs Allowed in the Museum) would be considered part of the work. I didn't know how much resistance the idea would actually meet with (a lot) but including this provision allowed it to move forward. The project changed many times, and almost died. At one point we were discussing a version called A Dog Allowed in the Museum. I had to let go of the initial proposal for universal dog entry. But it was important to me that the dogs that participated be "non-working" dogs, and we held onto that.
CP: I feel like this piece attempts to open up the field of social practice outside the human sphere of experience. That effort could have interesting ramifications, for instance, what does inter-species social practice look like? Are you interested in that question? Do you have ideas about what it could lead to?
DDG: I love that phrase "inter-species social practice." But I guess I would be a bit more conservative in my response. I've observed that dogs in public are always serving as mediators between humans. There's a dog park across the street from my apartment and everyone seems to know each other! I live right there and I don't know any of these people because I don't own a dog. I am interested in other species as a conceptual complement to existing human-based social practices. I think that when we are talking about a given social practice we are implicitly making assumptions of what human-ness is, so having some idea of a non-human present in the discourse is, in a way, almost necessary. Why are cat videos so immensely popular with human viewers on youtube? On the other hand, imagining something like sociality existing between humans and other species is difficult to do in the present, because of our seemingly absolute need to monopolize the environment. In most cases it's just not really a fair playing field where a balanced relationship that you might call "social" could pan out. But maybe in the distant future…
CP: What was it like talking to dog owners in the dog park about this project? 
DDG:Â Interestingly, during the initial stages of the project it was as hard to convince dog owners on the merit of allowing dogs into the museum, as it was to convince the museum itself. Most dogs are really not interested in spending time in a foreign indoor environment. When I determined that the goal would be to have the owner choose a particular artwork as a hypothesis about what the dog would appreciate, then the conversation became easier. I had a simple, but precise interaction that I would use to engage people. The actual dog park was not the most productive place to approach owners. Sometimes people would be weirded out and walk away, but the people who decided to participate saw value in the idea of having their animal enter into a context of art-meaning.
CP: What do you think the dogs saw when engaging select works of art? Do you think their owners chose works of art that their dogs would like? Did the owners' selection have more to do with their dog's disposition, or with their sense of 'dogness'? 
DDG: Each dog was given a "personal" moment with the work, and we would all watch the dog to see what they would do. I don't think they saw anything special. Maybe they did, but we have no way of knowing. They acknowledged the art objects spatially. They looked at them. They sniffed them. I think the owners that participated knew their dogs well, and in most cases took into consideration their particular dog's point-of-view in the choice of artwork. Most objects were near the ground, often three dimensional, and often made of natural materials. One was a sculptural representation of another animal. There was one low-hanging painting that was chosen because it depicted a beach that the owners and dog visited on vacation. One of the owners, Lis, chose Useful Art #5: The Western Motel by Nancy and Edward Kienholz, which basically recreates a kind of domestic environment. I do think that the dogs had a sense of accomplishment in navigating a new environment without too many incidents.
CP: How did the museum context, as a human institution, respond to a living, non-human presence? 
DDG:Â It was a very controlled experience. Members of security, collections, and education needed to be present. It was stipulated that the visits happen after museum hours, in brief 20-minute segments, one dog at a time. A dog trainer also accompanied the group to provide a level of assurance. The first visit was quite tense, by the final visit, it was more relaxed because we knew what all of our roles were and had a better sense of the choreography involved.
Some big things worth mentioning — maybe…
1. RAPID PULSE, an international performance festival, is taking place this weekend and next week. The Chicago Reader just wrote a great something something, with the evocative sub-header "Wafaa Bilal wants Twitter's help to inflate a giant head, and other oddities, at Defibrillator Gallery's second annual Rapid Pulse International Performance Art Festival." Find out more info about that here, or if you want, download the schedule of events via this link: RP13_poster-brochure.
According to The Reader:
Pure voodoo at its best, performance art traffics in psychic violence, provoking questions that viewers, by virtue of their emotional disturbance, feel compelled to answer. Defibrillator Gallery's Rapid Pulse, now in its second year, is designed to make the genre more talkative: the festival, which includes window shows, public spectacle, and video screenings, coordinates performances with discussions, spread over ten days and four venues (Defibrillator, 1136 N. Milwaukee; Electrodes, the gallery's front windows; Hub, 1535 N. Milwaukee; Nightingale, 1084 N. Milwaukee). Come for the bad vibes, stay for the nauseating hypersonic jolt. (Jena Cutie)
2. EAT WHAT ARTISTS EAT:
Our friends at ACRE launched a Kickstarter Campaign for their unique Residency Kitchen Program. There (among other things) you can get a copy of the ACRE cookbook, and support a good program that feeds creative acts/minds all summer long. In their words:
We believe meals equal community and the ACRE kitchen strives to foster a place where residents, visiting artists and local farmers can cross-pollinate.

Funds raised through kickstarter will go towards supporting locally grown and produced agriculture and conscientious businesses, purchasing equipment that will make the kitchen more efficient and sustainable, our yearly cookbook KADABRA, a collection of recipes from each year's residency, and will give us the support we need to keep creating a diverse selection of considered, artistic, and nutritious menus for our residents.

KADABRA VOL 3, Annual Cook Book

cover designed by Edie Fake & Daniel Luedtke

artwork and recipe contributions by the ACRE Kitchen Staff & Resident Alumni
3. THE FLOOD THAT NEVER CAME: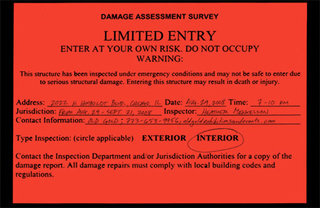 I often overhear and/or participate in conversations about cultural amnesia in the arts — shows and spaces come and go with out a trace. Despite material evidence, however, I believe finite works continue to exercise their impression well into the future. With that in mind, I responded to a recent call on Art21's blog asking for articles about hindsight. I responded by writing a review of Heather Mekkelson's show, Limited Entry, at a long-gone apartment gallery, Old Gold:
It was the summer of 2008. It was hot. And humid. Everything was green and/or sweating. People who didn't sweat stood out. Their reserve both enviable and mysterious—a contrast from everything else. Refuge from the heat was similarly impressive and constantly sought. Most apartment galleries were barely tolerable for their heat. At cooler exhibition sites, visitors inevitably took considerable time examining the works of art on display. That August, Heather Mekkelson had a solo show at an apartment gallery—or what maybe we should call a basement gallery—half a flight downstairs in Logan Square called Old Gold. With its dark 1970s style wood paneling, built-in bar and enough floor space for a pool table, Old Gold looked like an old rumpus room. It was anything but neutral and its unapologetic, undeniable character forced artists to continually incorporate the space into their exhibitions. Mekkelson's project was no different. Limited Entry was based entirely on the unique environment. And at that particular time, it was significantly cooler than anything outdoors.

In order to access the stairs down to the gallery, one walked through a front gate and around the side of an apartment building. According to rumor, the landlord and upstairs resident did not know Old Gold existed. Being an unpredictable fellow, gallery directors Kathryn Scanlan and Caleb Lyons preferred to keep the professional aspect of their curatorial project discreet. They didn't advertise much and the only label on the door was composed from Home Depot stickers, appearing more like the absent-minded work of a teenager than anything formally significant. This place was easy to miss. (read more)
4. Longtime Chicago champions Elijah Burger and Deb Sokolow are featured in VITAMIN D2 (video courtesy of Western Exhibitions):
Thus far at Open Engagement, I've heard no discussion around the terminology of social practice, or specifically what to call "social practice." The conference at large seems  presently unbothered by the nomenclature of its  discipline. It's quite refreshing, actually. Perhaps it means the terminology is settled, or perhaps because the conference is organized by PSU's Social Practice MFA Department, the department inadvertently sets a precedent for how artists define their methodology in this particular context. Earlier this week Mary Jane Jacob's made a similar observation on Bad at Sports, outlining a good list of terminology options, along with their point of origin, and thereafter drawing the conclusion that, "Maybe it has taken us 20-some years to arrive at a name ["Social Practice"], not because we didn't try, but because the practice itself has been evolving and this name works."
While suggested terms continue to crop up, (relationship aesthetics, new genre public art, dialogic art, participatory art practices, participatory art, art of social cooperation, live art, service media etc.) the discipline itself  continues to evolve as well. It seems possible that the artist practitioners might be less invested in the politics of terminology and more interested in what is at hand, what is commonly understood as the best term which will supply a shorthand meaning to a given listener: practically speaking, what term to use when applying for a grant?
I realize, very few people want to sit in a room listening to others pontificate on the benefits of one name over another — nevertheless, I find it interesting because Social Practice (as a discipline) is straightening out, in a way, becoming more and more compatible with the canon of art. As such, the terminology around it seems to be settling down as well. What was once a renegade discipline has reached a kind of young adulthood. The field is still wide open for experimentation and development, but some of its edges have been defined through consensus. The various MFA programs dedicated to Social Practice further reinforce that transition, as they are forced to codify-in-order-to-teach. Those programs are similarly invested in propagating their own terminology, to validate the significance of their program. And this too is what I find so interesting about names: while the artists themselves might be more interested in the activity of making, the administrators, curators and theorists flanking the discipline have a lot at stake in the theoretical baggage/leverage different names bear. I'll admit that for a while it seemed a little like the Wild West to me, where every year another artistic thinker would propose a new name for the discipline, like a cowboy opening a new shop in a small, as yet brand new town. Each new phrase brought with it a host of promises to be tested.
Regardless owhole settled things might seem now, I like to think there is something about Social Practice that resists a stable affinity with language. While it might adopt an umbrella term for practical ends, the artists working within this discipline continue complicate the labeling of their work with other qualifying terms. In one statement I read this week, for instance the artist said she "worked in social practice and participatory art," implying some difference between these two often synonymous terms; when presented side by side like that, the words feel somehow self-conscious and slightly uneasy as a reader has to trouble over their distinction. In other words, while I may be preoccupied with these terms, it would seem a number of participants here in Portland enjoy mucking up their terminology, culling from various lexicons and thereby creating  a unique assemblage of terms for themselves.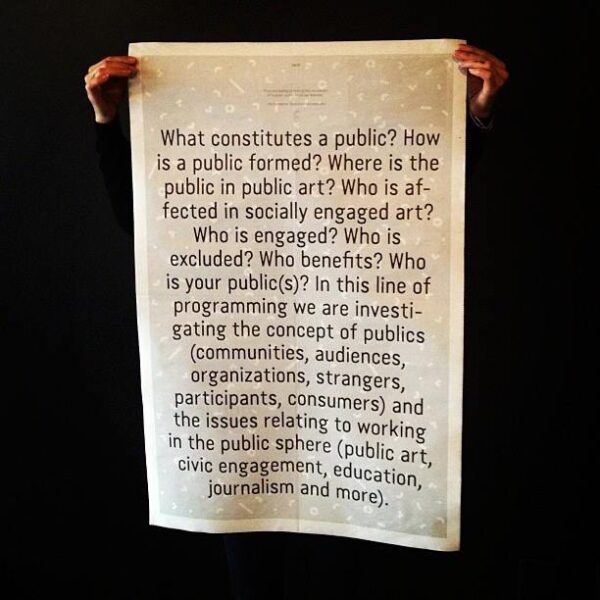 I keep trying to trace emergent themes at Open Engagement. Our organizers have done a good job of marking three umbrella categories, under which each panel, presentation or discussion resides. These headings, Publics, Contexts, and Institutions, feel like hubs through which a larger, interconnected current runs. One conversation bleeds into the next. Institution could be one example of a context, for instance. An institution could also be populated by a  public, but neither "Contexts" nor "Publics" rely exclusively on "Institutions." The project of this particular conference, one might say, is to investigate the way socially engaged art practice runs through (or negotiates) those headers.
That said, I am hunting around for additional trends, for theoretical concerns that crop up continually in the subtext of various presentations, reflecting perhaps on a collective undertow that Social Practice artists are preoccupied with. There is something problematic about my efforts. It's an artificial exercise in a way, especially when the subject of presentations — not to mention the styles of address — are so broad. My insights are additionally subjective, stemming from what panels I've seen and how the concerns therein stick to my ribs.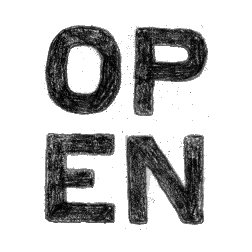 Still, I persist. Obviously this is a post that I deliberately published. Obviously I am interested in failing a little bit. I'm emboldened by the fact that failure, as a topic, is one of those recurring themes. Failure and the equally nebulous question about ethics. These subjects bubble to the surface not only in talks themselves, but also in audience questions. For instance, "I feel there is a danger that the projet you described could waste someone's time. Someone in your intended audience for instance. How can you be sure you're not doing that? What can you guarantee your public?" It suggests the artist ought to deliver something, and ideally that whatever is delivered is good, or worthy of (in this instance) one's time. Ethics and failure are linked up with responsibility in this regard — conveying a feeling that something in works of art that rely on audience participation ought to offer or fulfill something.
First let me make a case for the #EthicsTrend. In an account of Friday's panel, "Sociology (of and) for Socially Engaged Practice, Institute for Art Scene Studies" I was told Pablo Helguera, Barbara Adams, David Peppas, and Adeola Enigbokan staged a kind of reductio proof of what not to do as a social practice artist. I missed it, unfortunately, but heard that someone posed as an artist, presenting a series of ill-advised projects to the panel, pretending to be an artist. (For instance, the acting artist claimed to have done a project where s/he gave up all possessions in order to see what it was like to live under the poverty line.) The panel then critiqued these projects, highlighting what exactly was ill-advised about them. (Using the same example, the panel pointed out that the artist was able at any time to reenter her/his life of material stability). This was relayed to me by a rather horrified member of the audience who, at the end of her account, leaned in conspiratorially and whispered "And it was all a hoax! The 'artist'" (she used scare quotes) "was making it all up!" seeming at once relieved and frustrated that she had been duped. In a later panel that same day, "What's the Harm of Community Arts and Social Practice? The Ethics of Engagement and Negative Value," Marnie Badham, Amy Spiers, Claude Schryer, and Dr. Kathleen Irwin wrestled with questions of how and when artists intrude on a public. In her opening remarks, Badham noted first, "this turn to community is rarely explored critically," and then asked "is social change always good?" An ethical approach is often taken for granted in socially engaged art. There is an implied use or service tends to go hand in hand with these social experiments. A desire to save the world, or at least some very small piece of it.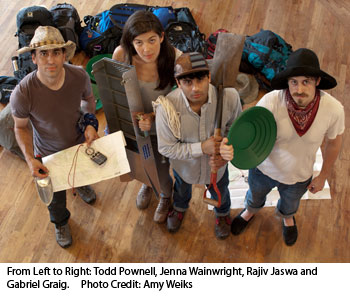 Here the idea of failure comes in — because, in a way it is impossible to save the world. However in articulating an attempt, I would argue, the art project sets out to "do" something. As such it becomes easier to measure and assess.  Rakowitz rebuffed this point yesterday when he suggested that art didn't necessarily have to do anything. But if that's the case, one's ability to measure success and failure becomes more difficult. And, perhaps, more interesting. For instance, this morning at "Craft + Social Practice: A Roundtable Conversation" at the Museum of Contemporary Craft, a group of panelists (Gabriel Craig, Ayumi Horie, Stacy Jo Scott, Michael J. Strand, moderated and organized by Sarah Margolis-Pineo) described their relationship to failure. Many suggested that failures provided new opportunities for insight — Gabriel Craig talked about "Slow Gold," a project based on ethical metal sourcing, where he and four collaborators went to the Black Mountains in South Dakota to find gold for a couples' wedding bands. (The betrothed couple participated in this project.) They could only find .4 grains. His conclusion, "Mining, no matter what scale it's on is absolutely catastrophic for the environment." On that same panel, Stacy Jo Scott of the Craft Mystery Cult confessed, "Occult is always dealing with failure. That's because we have this desire to speak of ideals, in terms of an ideal poetic space, but also in terms of utopic vision. Knowing the failures of past utopias, but still desiring Utopia. What results is the absurd: optimism in the face of futility."
Keep this idea of ethics in one hand. Hold in your other hand the idea of failure. Now imagine yourself in the Shattuck Annex, sitting (like I was) in chair with a small desk attached. It is the sort of desk students often use. The sort of desk I haven't sat in for years. Keep in mind it is raining outside and the opening bars of Woody Guthries' "This Land is Your Land" is playing on a loop. People shuffle in slowly. Some are ushered to an overflow room when the room is at capacity. In that room this afternoon, Claire Doherty gave a fantastic keynote, opening with an observation that keynote speakers have the ability to highlight and anchor conversations in a conference. The keynote provides a kind of watering hole – a central point in the middle of the day during which most conference-goers sit in the same room, sharing the same experience, after scattering out again to different panels, rendez-vous, and performances. Doherty hastened to remind everyone about the underbelly of social practice — that many projects, while on the one hand providing photographs of an engaged and happy public digging ditches and/or eating ice cream often come out of duress or protest. These works have the ability to engage a collective, public imagination because they tend to address points of tension. She went on to discuss Nowhere Island, a project by Alex Hartley produced by Situations — the organization Doherty directs. As a travelling landmass, self-designated as a site belonging to no-country, Nowhere Island became another version of Utopia. Pulled by a tug boat through international waters, it visited many ports, acquiring 23,003 citizens over the course of a single year. There is much more to the story, of course, but I like situating this island in this post because the land mass in an of itself is what Doherty might call a "charismatic object," a physical object both engaging and alluring to a public imagination. This object was capable of, again in Doherty's words, "Nourishing the capacity for creative illusion, [such that a public was able] to act and think as though things were different." In and of itself the island is not ethical, but it enables a public to explore their own Utopian expectations thereby exploring the problems that such ideals might subsequently create.
Now, open your hand.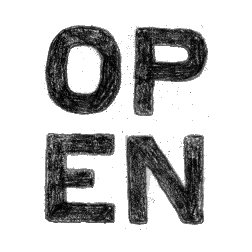 In Tim Etchells words, "A Utopia of dispute might be better:"
Dear Citizens of Nowhereisland

as we stop in the shelter of a doorway in the thunderstorm
S. holds out his hand to check the rain.

The hand. The flatness of it. The open-ness. The question of it. The directness. The simplicity. The pragmatism. The straightforwardness. The sunshine.

And maybe just the repetition of this gesture, which must be as old as the hills, as old as the co-presence of hands and rain. 

(read more of Etchells' Nowhere Island response)