The following article has been circulating around the art-internet of late and I thought I'd repost it here for your consideration.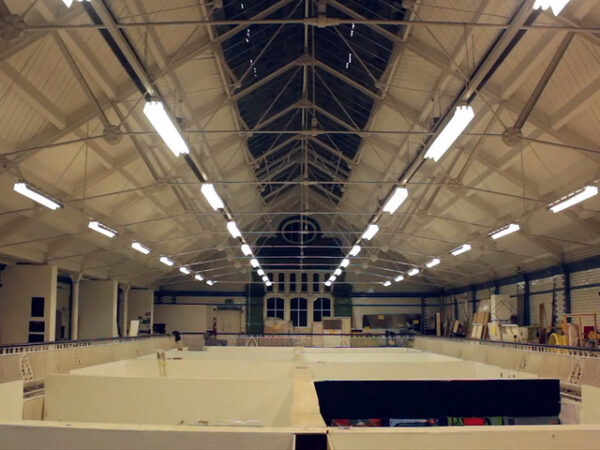 A Letter to Goldsmiths art students on capitalism, art and pseudo-critique
written by Prolapsarian
Dear Goldsmiths Art Students, I attended your MFA show two nights ago. I apologise to an extent: with so many artworks on display it was difficult to digest any of them. That situation was exacerbated by the fact that so few of the works seemed to have it in them to behave destructively towards the others. Maybe this is where I can begin: that the type of co-operation between artworks, their intellectual co-ordination, is something I find troubling. It didn't seem to me to be the co-operation of a school thinking together, but instead the co-ordination of the school uniform, of a discipline that had been so fully internalised that all of the artworks, under its authority, might comfortably coalesce. That made those artworks difficult to be with. I want to write to you about a single gesture that was performed by a great majority of the artworks in the show (although there were some important exceptions). It is a gesture that claims to determine a relation between artworks and "capitalism". It is of no surprise that under the contemporary situation of global capital, undergoing its most profound crisis in eighty years – creating conditions not only of mass destitution but also of mass resistance and protest – that the relation between art and capital would present itself more explicitly in the new works of art than has been the case in the last decades. But the expression of this relation of art and capital in the work displayed at your show was not only predictable, but questionable on both political and aesthetic grounds. The gesture that I refer to is that of artworks that attempt to parody capitalism, and in this parody hope to effect a critical irony through the apparent distance between the artwork (and its social situation) and the forms of commodity or capital that it parodies. In this gesture the artwork proclaims a radicalism, a dissatisfaction with the actually existing. It proclaims that the object of this dissatisfaction is "capitalism". The modes of making explicit the structure of parody are plural: some take up the bathetic disjunction through a fully instrumental comparison with some hazy far-away classicism or humanism; others exaggerate the shoddiness of capital's products; others rely on a revelatory mode whereby it is claimed something of capital's seamy underbelly is exposed; while others are just bits of fixed capital – most often employing the high technologies of marketing – transposed into the gallery-space. But the gesture of this parody common to all of them will, I imagine, be familiar to you. read more
In reality, the Young-Girl is only the model citizen such as commodity society has defined it since WWI, as an explicit response to the revolutionary threats against it — Tiqqun,Preliminary Materials for a Theory of The Young-Girl
A woman must continually watch herself. She is almost continually accompanied by her own image of herself — John Berger, Ways of Seeing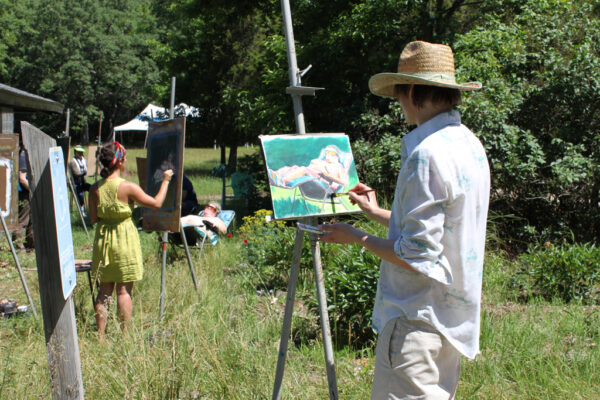 At the risk of trying to tie up a week too simply in one bow, I felt like each post had an underlying vision of Utopia, whether the artist residency in the woods, the dream of fashionistas, the work of uncovering and discussing gender dynamics, the performance of queer migration, or simply the project of a single book — each of this week's articles strive toward something, something idyllic and often just out of reach.
"Ox-Bow is like Hogwarts for adults," obviously. Or so says Duncan MacKenzie who is planning to teach a course there this summer.
"Chicago's "art world" is in no way distinct from fashion–especially as it's located within SAIC–but rather it's intimately connected to it," or so says Paul Germanos who posted an incredible assortment of images from SAIC's annual fashion show.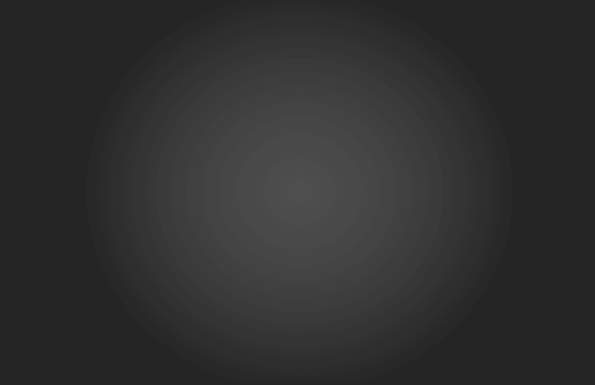 I wrote a piece about James Turrell's darkness in Pleiades, and how I confused a jpeg of the elevator landing at The Mattress Factory for Turrell's lighted dark space. I'm not sure that it fits into the Utopia idea, but maybe my effort to muddle through an idea of darkness serves as an adequate counter point:
I went there first as a Sophomore in college with a group of friends. One friend in particular was an upper classman and seemed to have a better handle on contemporary culture. As such we deferred to his authority; to do so was pleasant; he rattled on about various rumors (and possibly fictions) that seemed to walk a tightrope between gossip, mysticism and art history. As someone with very little contact to contemporary art at the time, I relied on the banter of my peers to overcome whatever sense of alienation I might carry into unfamiliar situations. Standing in a pitch black room for an indefinite period of seemed both provocative and confusing. If I thought about it too much I wouldn't know what I was doing there. Still the narrative of the artist had me intrigued. Stories about Turrell's alleged arrest for helping young men dodge the draft. His Quaker background. His life in California that yielded an interest in minimalism, light, and science.  As I prepared myself to walk down this very dark corridor in the year 2000, I was told that at the end, in the pitch black (and if I waited long enough) I would begin to see light, like stars (I thought), or a halo. My friend suggested it was the result of a primordial and biological fear of nothingness.
Juliana Driever posted an incredible interview with artist Andrea Washko, discussing feminism today — it's place in American culture at large, how that compares with the art world we live in and what how discussions about feminism play out in the massively multi-player on-line role playing game, World of Warcraft:
WoW is geographically, economically, politically, socially, and racially diverse. Discussing feminism in WoW is like going to a virtual (but still very physical) city and having access to people who are also inhabiting many, many disparate places but simultaneously inhabiting the same virtual space.

2. WoW is an environment in which people talk a lot in a variety of different channels. You can access thousands of people on a server at once.  Granted, not all 1,000 will want to discuss feminism with me….but it's still a better, bigger, and more diverse sampling than I can get on a city street corner. I want to hear from rural + urban attitudes, "conservative" + "liberal," worldly + isolated, antisocial + popular, blue collar + white collar + the unemployed + freelancers + students, etc…WoW is great because the anonymity of the space allows for a frankness that is both frightening and also impressive, because no one is held accountable for what they say.  This could mean that people can lie, but more often it means that they can be as extreme as they like in their beliefs and not be judged for it (and are actually generally rewarded for it socially).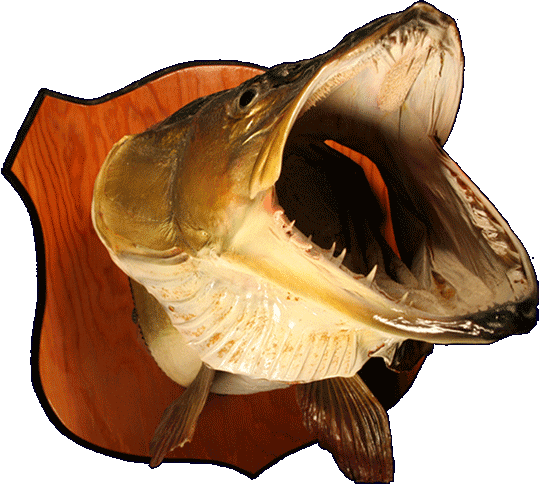 A favorite list of Must-Sees: Top 5 from Stephanie Burke.
A new post from sweet sweet Atlanta via Meredith Kooi who has been posting consistently around and about the subject of performance. This week she wrote about John Q:
Atlanta-based idea collective John Q premiered its work The Campaign for Atlanta: an essay on queer migration at the Atlanta Cyclorama on Friday, May 17, 2013 and Saturday, May 18, 2013. The performance, an essay as John Q calls it, insists on exploring the phenomenon of queer migration into urban spaces, Atlanta being one of them. Using the space, movement, and pictorial qualities of the Cyclorama along with archival materials of queer filmmaker Crawford Barton, native to Resaca (about an hour north of Atlanta), later based in San Francisco, John Q essays (used here as a verb) a narrative of history, creative production, queerness, and geography.
Maintenance #3 features a collection of reviews from Mairead Case that discuss the following works—
+ Triumph of the Ape: Stories by Todd Dills (THE2NDHAND, print edition 2013)
+ nods by Carrie Lorig (Magic Helicopter Press, 2013)
+ Madness, Rack, and Honey: Collected Lectures by Mary Ruefle (WAVE Books, 2012)
+ Tracy's Tiger by William Saroyan (Doubleday, 1951; out of print)
+ The Mere Future by Sarah Schulman (Arsenal Pulp Press, 2009)
+ Violence by Vanessa Veselka and Lidia Yuknavitch (Guillotine Press, 2012)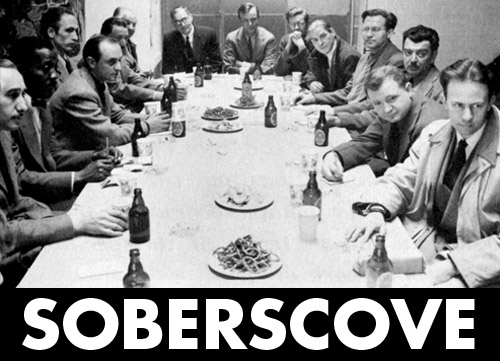 Monica Westin interviewed Julia Klein about Soberscove Press and their latest book by Robert Goodnough,  Subject Matter of the Artist, a book "comprised of interviews [Goodnough]  undertook with many artists, from Rothko to Pollock, about abstraction." About this book, Klein says:
The mythology around Abstract Expressionism is complicated and we've definitely received a flattened and manageable version of what was going on then, which was of course more complicated and not as neat. I'm glad you got this from the book. There's an art historian writing about this now and I'm really into her stuff– Valerie Hellstein. From her 2010 dissertation: "While Abstract Expressionism has come to signify heroic individuality and Cold War patriarchy, I want to suggest that it signifies the very obverse—radical community that recognized separate-togetherness."

Goodnough's project is appealing to me for its curiosity and humbleness- he was involved in the problem of non-representational subject matter and he wanted to talk about it with the leading artists of his time in order to understand it better himself, as well as to help art students and non-artists understand it better; it was weird and off-putting to a lot of people then (probably still). As Helen Harrison's introduction points out, it's odd that this document isn't wider known and that is especially interesting to me…. I am pleased to be able to make it available through the publication of the book. I'm also very pleased and proud to be able to publish Goodnough's writings (though this isn't all of them…there are others that weren't in the purview of this book, which is focused on exactly what the title describes).

 
I was reading about James Turrell's epic series of museum shows in The New York Times recently and recalled a moment of my own recollection of his work.
It's simple enough: I follow The Mattress Factory on Twitter. On November 26th, they tweeted an image of a room being painted.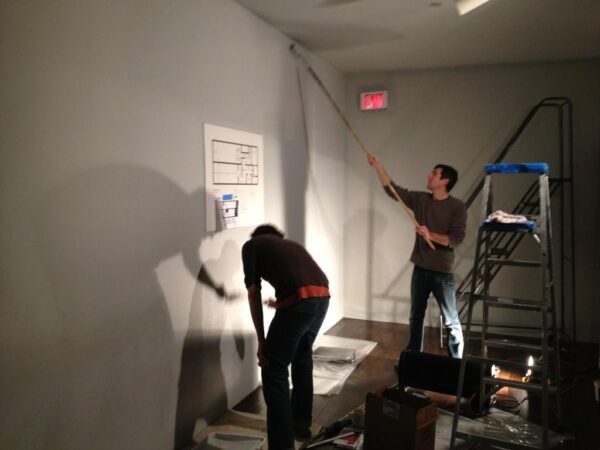 I suppose because they mentioned that the lights were actually on, I assumed it referred to Turrell's pitch black piece, Pleiades (1983). (It does not — as I was told later, but bear with me, I'll account for that discrepancy in the end).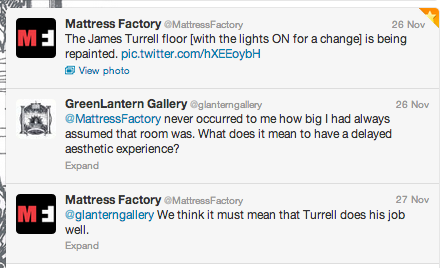 I understood it to be a picture of a James Turrell's Pleiades (1983) installation getting repainted. The image drastically transformed my reaction to the installation. Indeed, I had such a profound reaction to the tiny, banal image, I pulled it off twitter, and put it on my desktop where it has been sitting ever since.
There is no reason that that image should be particularly captivating. It is a familiar enough: gallery walls must constantly be painted and repainted, and if it didn't have anything to do with Turrell, it would hardly be of interest. However, appearing as it did within the context of social media (and all the misunderstandings tweets can lead to) that is exactly why it made my jaw drop: because this tiny image challenged everything I had assumed via sensory experience of Pleiades.
Pleiades, is the first of Turrell's "dark pieces." At The Mattress Factory, as I recall, you go up an elevator and on the designated floor, you go through a doorway, down a pitch black corridor and into a pitch black room. You stop a metal rail. I have visited this room about three or four times over the course of ten years. Each time that one room has baffled me.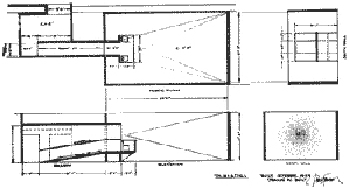 I went there first as a Sophomore in college with a group of friends. One friend in particular was an upper classman and seemed to have a better handle on contemporary culture. As such we deferred to his authority; to do so was pleasant; he rattled on about various rumors (and possibly fictions) that seemed to walk a tightrope between gossip, mysticism and art history. As someone with very little contact to contemporary art at the time, I relied on the banter of my peers to overcome whatever sense of alienation I might carry into unfamiliar situations. Standing in a pitch black room for an indefinite period of seemed both provocative and confusing. If I thought about it too much I wouldn't know what I was doing there. Still the narrative of the artist had me intrigued. Stories about Turrell's alleged arrest for helping young men dodge the draft. His Quaker background. His life in California that yielded an interest in minimalism, light, and science. Â As I prepared myself to walk down this very dark corridor in the year 2000, I was told that at the end, in the pitch black (and if I waited long enough) I would begin to see light, like stars (I thought), or a halo. My friend suggested it was the result of a primordial and biological fear of nothingness.
Whatever his prescribed cause, this is what is supposed to happen:
"Pleiades, a work of darkness, utilizes the difference in function between the two types of photoreceptive cells, that is, cones and rods. The cones are suitable for discerning colors at light places. crowding toward the center of the retina. The rods serve to make out delicate shades in dark places, mostly gathering near the periphery of the retina. In the darkness designed by Turrell, the viewer experiences the difference between the two kinds of cells during the period of time when the eyes of adaptation to darkness takes place."
According to another visitor, you are supposed to see this: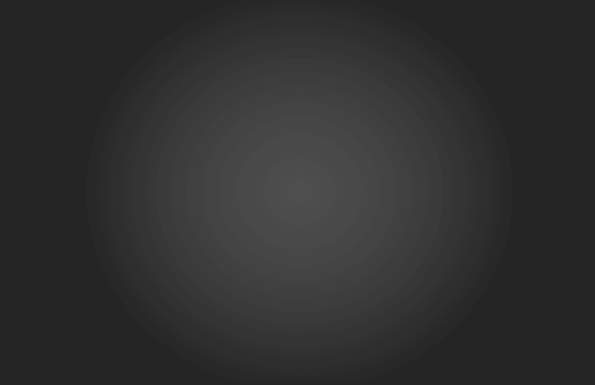 It never happened to me. I waited in the dark for that thing to take place for about thirty minutes. Or maybe it was an hour. It could have also been 10 minutes that were simply so distilled from movement that they slowed and lengthened my sense of time. As I waited, all of my attention strained toward an event that was supposed to take place within my body and end up projected outwards, as a type of vision. I waited to see a white eye-shape in the dark. I was excited at first, and then defeated, slightly. Nothing happened. I remembered looking at countless Magic Eye posters in dorm rooms; I could never make out the subliminal texts/images in those either, no matter how many times I had been instructed to fuzz out my vision with the image pressed up against my nose.
Subsequent visits to Pleiades were no different. No vision appeared before me in the dark. Because I no longer expected it, however, I had grown more interested in thinking about the darkness that space afforded. I suppose I still waited, in an almost existential way, for something to happen, but the sense of waiting became more interesting than the event I waited for. I realized that the whole project of Pleiades was existential — whether something emerged in the darkness or not. I began to appreciate the feeling of that darkness, the way it seemed to extend endlessly, the slight terror at its unknown breadth. I distinctly recall a very faint breeze which enhanced the dimension of the room, but that too could have been my imagination. I preferred to inhabit the space by myself, perhaps it seemed more noble that way. When strangers came and stood beside me, I was  distracted by my attempts to anticipate their movements and, even, their physical shape. Remember, it's impossible to see anything, even another form. It was more complicated to inhabit an Unknown when others, particularly people you don't know, are trying to do the same. On several occasions, I accidentally stepped on a foot and had to apologize, breaking the spell of silence through my clumsy, miscalculated movement. The moment of contact, my foot on the strangers, the exclamation of paint — it established a common, temporal location in the room, overshadowing the otherwise relentless blankness everywhere else. I stepped back. Held my breath for a moment and settled again into my feet. The room would grow still once more and with it our sense of the darkness grew. At times it felt oppressive, at others benign, certainly it felt ambivalent towards me. It was larger, more constant and self-assured than I was. I sort of enjoyed being intimidated by it — because I began to develop a relationship with that room. I didn't see any lights, but the darkness became "something." I've ever experienced such spatial endlessness. And while I never saw those lights, there was some part of me that enjoyed the incongruity of my own experience; perhaps I felt I had a more "true" experience because it seemed more nihilistic to experience nothing.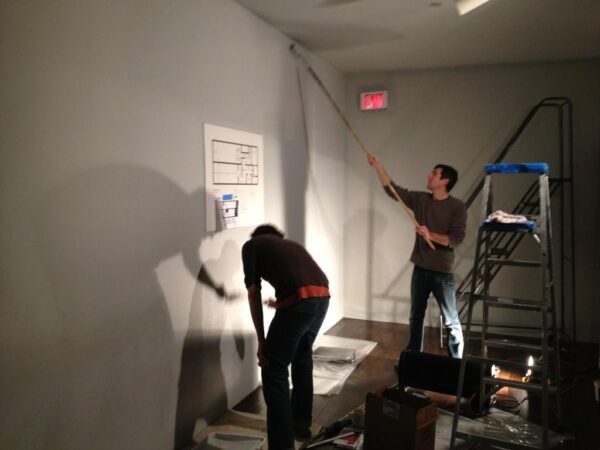 You can imagine then, what shock that tiny jpeg. of boys painting a room would give me. It looks like they could be in a closet! I was so shocked at the thought that I had misunderstood the room, I instantly believed it to be true. The vague confirmation provided by the tweet-conversation I had with The Mattress Factory seemed to confirm my sense, which was so exuberant as to lack self-consciousness, that everything I assumed to be true about that dark room was wrong in so far as it could have existed in a tiny-tiny-tiny room. I realized that even though I did not see "the light" I was still projecting dimension and psychology into Turrell's darkness. It was affecting me. I was affecting myself through the medium of darkness provided by Pleiades.
As I said, I since learned this is not Pleiades itself, but rather an image of the elevator landing on the Turrell floor of the Mattress Factory. While the true dimensionality of that room remains a mystery, I am all the more certain of the evocative uncertainty it yields.
Pleiades is a Dark Piece where the realm of night vision touches the realm of eyes-closed vision, where the space generated is substantially different than the physical confines and is not dependent upon it, where the seeing that comes from 'out there' merges with the seeing that comes from 'in here,' where the seeing develops over and through dark adaptation but continues beyond it. It is the first piece in a series of works. While it relates to the last piece of the Mendota Stoppages, 1969-70, in that it develops over time, it is definitely a departure in that after the seeing develops, it is no longer static. The thing that gave me the idea to do this was the fact that I needed to work with very low levels of light for the night seeing in the crater piece. The last time that I had really worked in that arena was with the Mendota Stoppages where I had some very dark pieces that took a long time of dark adaptation, sometimes as much as fifteen minutes. When you actually had that seeing, though, the space that was generated was a static space – you saw it and could walk in it, but it didn't change. In this work, what is generated in you and what is actually out there become a little more equal. – James Turrell, The Mattress Factory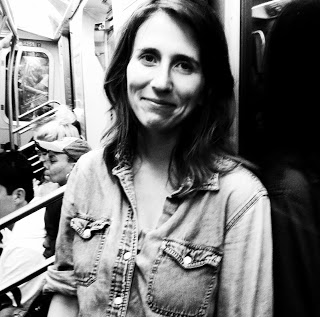 PODCAST: This week Bad at Sports talked to critic, poet, gallerist, the award winning Director of the Fort Gondo Compound for the Arts Director Jessica Baran, the self-same Baran who appeared in Kelly Shindler's earlier this year here.
The week began with Dana Bassett's EDITION #11, featuring emboldened news about public art projects, Threewalls' 10 year anniversary party (Huzza!), the scoop on Logan Square's post office, trends with face paint and the admittedly all-time favorite Who Wore It Better. Get it all here.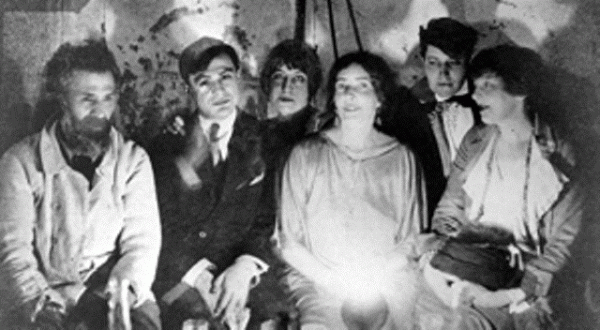 We also saw a highly controversial post about the status of Feminism in Romania, written by Gene Tanta from the city of Buchrest where he is presently living:
American Feminism demands that society treat women as the equals of men under the law. The difficulty with positing such a legalistic position remains that law bleeds in and out of other parts of the social architecture.  The best trick Patriarchy ever pulled off was to make women believe they are equal to men since this makes women into gender-bound objects through the performative power of the word "equal". To categorize women and men according to gender erases the individuality of both equally. Despite the paradox of losing one's individuality to group identity in order to become freer, the social justice need for the work done by identity politics remains.

European Feminism demands that women look beyond gender expectations to become more themselves, more individual, and less beholden to the male gaze. Mina Loy's "Feminist Manifesto" articulates this point bombastically enough: "Leave off looking to men to find out what you are not—seek within yourselves to find out what you are." But of course any such interiority (whether at the end of a penis or vagina or anything in between) pulses stuck in the traffic jam between individual and society. These construction sites of gender make our society function … but at what cost and who pays for it? Can an individual take her own freedom or must a group give her that freedom?
Bad at Sports received a few emails that would argue a contrary position, and if you're interested it's well worth checking out Tanta's Facebook comment thread a long comment thread. One of my favorite responses came from Vanessa Place who posted the following image and caption on Tanta's FB timeline. Does this resolve the matter? I suppose not….
To anyone inclined to write a formal rebuttal (or more general responses for that matter), email me: lantern.g@gmail.com.
Thomas Friel covered the Michigan Modern:
You're not likely to see a better display of the most important architecture and design of the 20th century anywhere else this summer, so the fact that Michigan Modern: Design that Shaped America only focuses on what came out of post war MI is even more remarkable. Starting with Charles Eames and Eero Saarinen's highly influential submissions for the Organic Design in Home Furnishings at MoMA in 1940, and ending with a recreation of a living space in Mies Van der Roe's Lafayette Park in Detroit, there are few stones left unturned…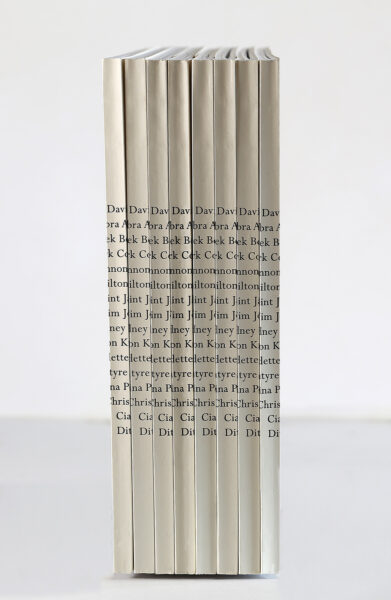 An interview with Lisa Radon was published b y our Portland Bureau of Radness, Sarah Margolis-Pineo, who described the artist as follows:
Lisa Radon eludes traditional definitions. Occasionally a geologist, previously a critic, and perpetually a poet, she dabbles in all manner of creative work from performance art to small-batch publishing. Driven by research and aided by collaboration, Radon's projects are buoyed by a multitude of voices that, knowingly or otherwise, are ushered into her game. Much of her work can be conceived as a playground—or temporary autonomous zone—in which she spins circles around the structures of language and ideas, drawing liquid connections between word, image, and concept to insightful and poetic ends.
Updates on the Carissa Hinz Hit and Run tragedy were posted by Richard Holland over the course of the week. "For those who missed the story yesterday, we reported the shocking death of artist Carissa Hinz, 21, last Friday as she was leaving Version Fest. She was killed by a hit-and-run driver who has yet to be apprehended. Please make all donations to Jackalope." If anyone saw anything or knows anything contact the authorities.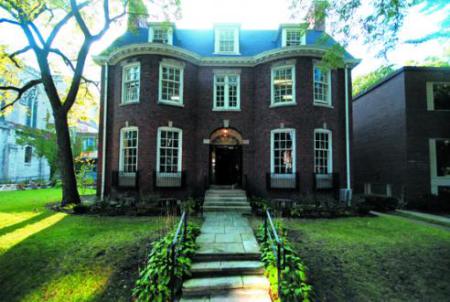 Thea Liberty Nichols posted a great piece from Laura Shaeffer, "the entrepreneur and custodian behind a number of projects housed within a handful of unconventional— and often under utilized— spaces on the Southside of Chicago, including Home Gallery, The Op Shop and Southside Hub of Production (SHoP)." Shaeffer writes:
Maybe artists and others who are attracted to unconventional spaces to view and think about art, like the mansion, the small townhome, the porch, the back yard gallery, the storefront, the park, and various unexpected public spaces, are more likely to want to examine their role in social change, themes of modern urban life in spaces that are themselves a challenge. There are artists who have certainly been repelled. I like the story of one artist who had proposed a project for an exhibit at SHoP, was invited to participate, and showed up on a typical day for us, where kids were hammering pieces of wood together on the front steps, students were running a yard sale in the front yard, some seniors were playing bridge inside, the house was buzzing with activity preparing for the installation of the next show. I saw a looming figure outside the house and then I saw him disappear, I asked a friend if they knew why this artist left the scene without coming in to meet us (I knew him from his resume and photos) She said that he 'didn't want to show his work in a house run by unprofessional hippies.' This artist never responded to us again. I could see his point, but I love general (orchestrated) chaos, so I guess that's my fate.
Over the last few days, there has been time to ruminate over Robert Burnier's post "The Outward Spiral" during which Burnier examines the fluctuating impact contemporary context has on historical (and current) interpretations of art:
Aside from any categories we might apply to our work, I like to think in terms of how things move; what dynamics keep us in the search, trying to create something, and trying to look critically at what is happening. There are aspects to life around the artist that change, like technology, politics, social tension and geography. These kinds of things morph at very different rates, some daily while others are fixed for millennia, which can create openings to explore as currents slide past each other. The artist can also look back and find a great deal unresolved, perhaps seeing something that was abandoned that could bear a lot more exploration. Alternately, in light of present circumstances, one can seek new meaning through an old, established idea. So in view of the approach to grappling with these issues as suggested by Kalina, I submit a few observations to consider in addition to the framing devices he offers us. I will touch on a few of these notions here, mainly focused on examples in painting and photography, knowing that they are only sketches or pointers toward a deeper investigation of these dynamics in future writing.