"In the air I can already feel the lateness of things, the way Autumn is waiting at the back of this month." Helen McClory,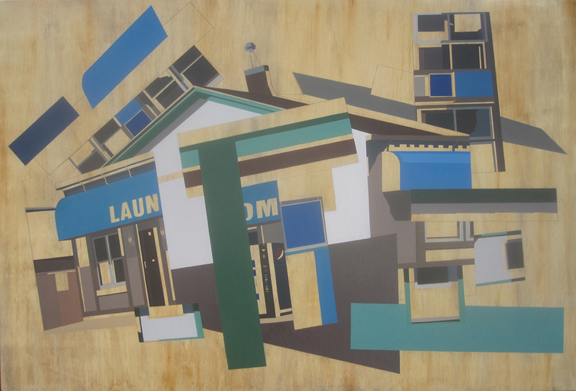 This week on the podcast, we discuss David Linneweh's  podcast Studio Break and his kickstarter campaign "Remembering Place." Linneweh has been described as one who paints "unpeopled, architectural landscapes always carefully rendered on bare wood supports. Sometimes the buildings are taken apart and reassembled – fractured almost beyond recognition. Other landscapes are left incomplete with empty spaces that demand completion in viewers' minds. What could this mean in early 21st century America?" Listen to it all here.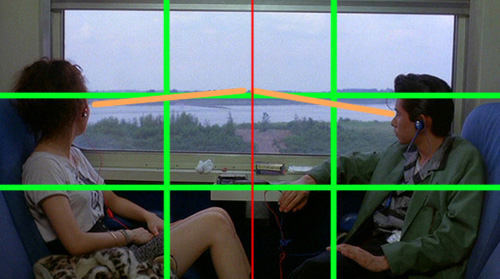 Monday began with Jeriah Hildwine's reflection on critical framework:
Metaphorically, then, the frame can serve more as an unconscious bias, changing an image indirectly, by the context of its presence, and without the viewer's conscious awareness. When you see something in a given frame, that frame alters what you are seeing, but does do without your knowledge or consent. It takes alertness and training to become aware of the influence of the frame, and even with this awareness, its influence may not be negated. To return to the initial example, seeing something in a Modernist frame may mean unconsciously minimizing the political, activist, Conceptual, gendered, or other meanings of a work, and perhaps emphasizing the rapturous and sublime, along with overt formal analysis which is the ostensible goal of this frame. If the intention is to directly change the meaning of the subject, then the frame may be the wrong metaphor; perhaps a lens is intended instead.
Word from Indianapolis this week comes with love from Wendy Lee Spacek. Spacek describes a series of events and art shows that she attended this month, including 4th of July fireworks, Ai Wei Wei's traveling exhibit at the Indianapolis Art Museum, an installation at 100 Acres Park at the IMAÂ called Flock of Signs by Kim Beck, a studio visit and much much more:
Later in the month I was lucky to be able to visit the studio of one of my favorite Indianapolis artists Kyle Herrington. Kyle has several shows coming up in September, so there was plenty of new work to see. One show is called Backyard Phenomenaand chronicles Herrington's struggle with being thrust into new found adulthood, which culminated in him turning thirty and buying a house. His anxieties about something catastrophic happening to his house has translated into sculptural pieces as well as paintings. We talked for quite a long time. I admire Kyle's commitment to making everysingleideathathehas. I think it is what has allowed him to make such a large body of work with what I see as having very consistent and complete conceptual ideas in relatively short time frame (just one year). Kyle's work makes reference to sci-fi logic, modern obsessions with the apocalypse and celebrity and mashes them altogether into a funny, but kind of scary reality.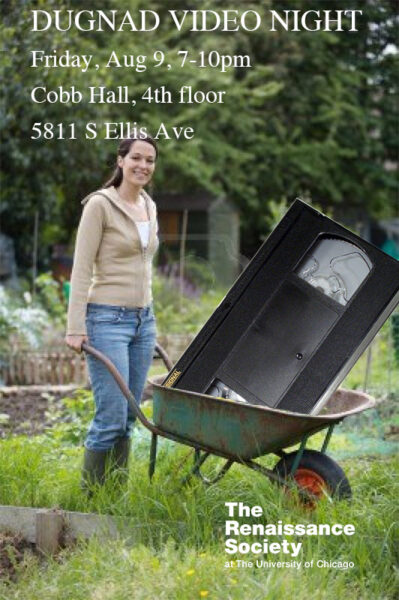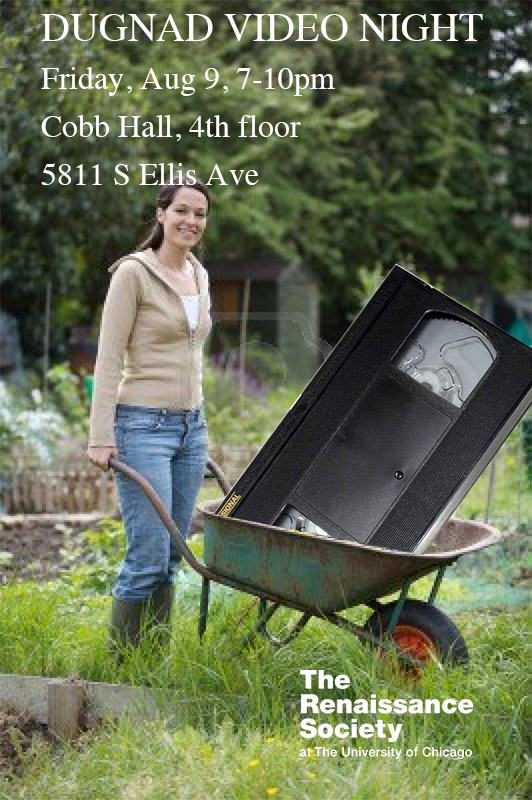 Stephanie Burke's Top 5, y'all.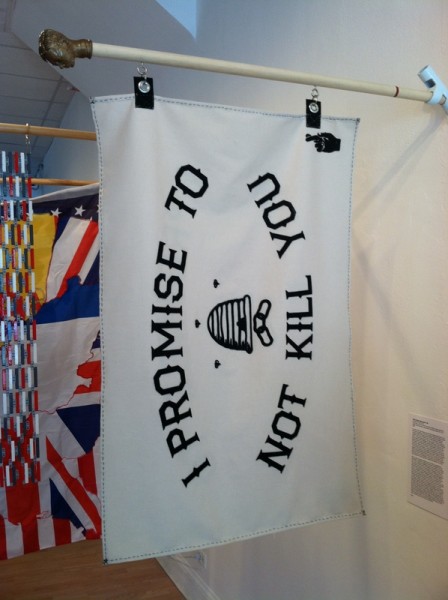 With regard to dreams and flags, Eric Asboe writes about Gamut Gallery's Flag Show curated by Lauren Thorson:
My favorite dreams these days are the ones closer to life, the walks down familiar streets, the supermarket with fluorescent lights. In the morning, they are clearly dreams too, but I wake to contemplation instead of surprise or relief. Those closer to life dreams linger in my brain longer, maybe because they are easier to remember, maybe because they blur the line between my waking and dreaming lives. The flashier dreams make more of an immediate impact, but the normal dreams burn much longer and slower.

Flags are meant to be visible and memorable, to represent some message, some place, someone. The artists in Flag Show use flags to call attention to the reality and complexity of waking life. Adam Setala's I Promise To Not Kill You layers visual and textual cues to confuse who is safe from whom. Brian Walbergh's White Flag for Misplaced Teenage Angst #1 and #2 carry the weight of personal and societal histories in their visibly heavy denim. Lea Devon Sorrentino questions the differences between long-distance and digital communication with #Semaphore.
Heralding from Brighton, UK, art writer Mark Sheerin posts about a group show in Reykjavik:
It is more than 1,000 miles from Luton, England, to Reykjavik, Iceland. But Dominic from the UK town appears to love a good caper. Why else would he put together a group show on very little money in one of the most far flung and expensive cities in Europe?

"It was done on a wing and a prayer," he tells me on the phone from his Luton studio. "The art was just really, really ambitious considering we didn't have much money to play with. It's amazing what you can do with a cardboard tube and a delivery van."

Five artists took part. And the show has just run for a month at gallery Kling & Bang. Along with Dominic, the full bill included Gavin Turk, Mark Titchner, Laura White and Peter Lamb. The show went by the name London Utd. "It's kind of doing what it says on the tin," says Dominic, whose eponymous town is just a twenty minute train ride from the UK capital.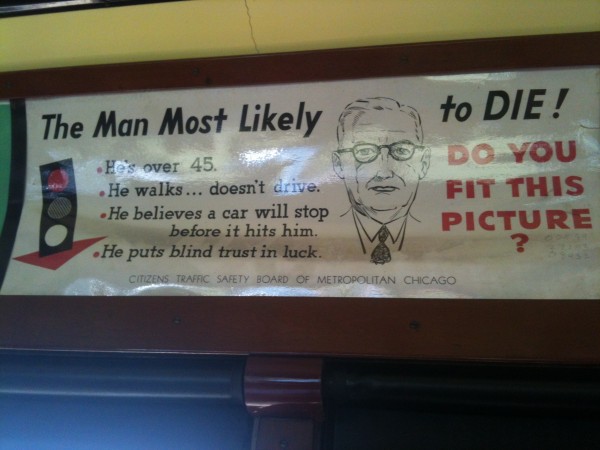 Terri Griffith posted a little something on the Illinois Railway Museum:
Good public transit is the hallmark of a civilized city. One of the things I love most about Chicago is the train system. Both the Chicago Transit Authority's "L" and the Regional Transportation Authority's Metra are fantastic examples of how efficiently people can be transported from hither to yon. You can, if you wish, take this with a grain of salt seeing as I hail from the Pacific Northwest where public transportation is craptastic, save for the stellar ferry system. But it's more than just getting to work or the grocery store that makes me loves these trains—it's the history. Most people would find it impossible to conjure an image of Chicago without also envisioning the elevated train line that rings our downtown. This is why last weekend, my friends and I headed to Union, Illinois to visit the Illinois Railway Museum.
The week closed out with Saturday's Endless Opportunities.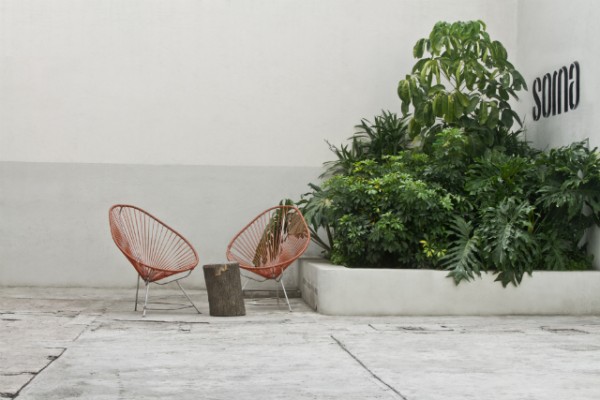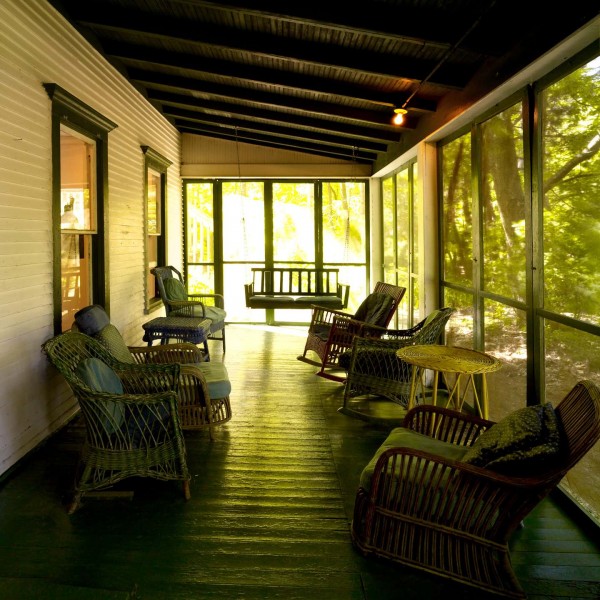 1. Oxbow Development Coordinator
Ox-Bow is seeking a Development Coordinator. This full-time position based in downtown Chicago with occasional trips to the Saugatuck, Michigan campus.

The Development Coordinator works with the Executive Director and Development and Marketing Director to implement and support key initiatives (appeals, events, cultivation and stewardship activities, etc). This position's primary responsibility is to provide integral support for Ox-Bow's fundraising and donor marketing efforts (with annual targets of $1.5 million and growing) and join a vibrant, creative Ox-Bow team. The Development Coordinator reports directly to the Development and Marketing Director. (more here)

2. New Urban Arts in Providence, Rhode Island  is accepting applications for a new Director of Programs.
We seek a candidate who believes in the power of creative practice and lifelong learning. The complete job posting follows.

Founded in 1997 with seed funding from the Echoing Green Foundation and Brown University's Swearer Center, New Urban Arts is a nationally recognized arts studio and gallery for high school students and emerging artists in Providence, Rhode Island. Our mission is to build a vital community that empowers young people as artists and leaders to develop a creative practice they can sustain throughout their lives. We have been recognized as a national model for engaging underserved teenagers through the arts.

The President's Committee on the Arts and the Humanities has given New Urban Arts a Coming up Taller Award, the nation's highest honor for youth arts and humanities programs. We were one of only nine organizations selected to participate in ARTOGRAPHY, a multi-year national Ford Foundation-initiative documenting and disseminating the artistic and organizational practices of exemplary diverse community-responsive arts organizations. Each year we serve over 300 high school students, 25 emerging artists and 2,000 visitors through free youth programs, professional development, artist residencies, public performances, workshops and exhibitions. We have a permanent staff of six and an annual operating budget of over $450,000.

The Director of Programs designs, manages and oversees year-round arts mentoring programs for high school students and emerging artists. S/he connects with the community (especially high school students, artist-mentors, parents, and school personnel) to create a learning environment that conveys a sense of belonging, risk, and responsibility. S/he works closely with the executive director to assess the effectiveness and ensure the feasibility of programs. S/he strives to foster a rewarding workplace that is stimulating, trusting, and results-oriented, where the mission of New Urban Arts can thrive. The Director of Programs reports to the Executive Director. (more here)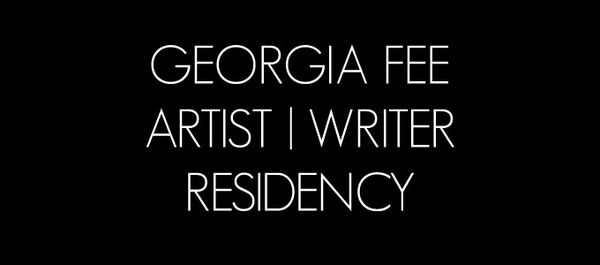 3. Go to Paris and get paid for it via The Georgia Fee Artist/Writer Residency.  Application period closes August 16th.
The Residency is open to visual artists of all mediums, art writers and critics, 24 years or older. Recent graduates are especially encouraged to apply. The selection will be made based on the merit of past work and the potential for future success, the ability to independently develop new work, and the proposed project's relevance to the city of Paris. Recipients will be required to maintain a blog, which will be posted on ArtSlant.

The Georgia Fee Artist/Writer Residency in Paris provides the recipient with lodging for 2 months in an apartment in the 14th arrondissement, travel to and from Paris, and a stipend to be used for studio space, materials, and other costs.

For Frequently Asked Questions on eligibility, submission guidelines and materials, please check here.

3. a.pass is an artistic research environment that develops research on performativity and scenography, in an international artistic and educational context. Â NEXT CALL FOR PROJECTS: APPLY BEFORE THE 1st of SEPTEMBER 2013
a.pass offers a one-year artistic research training program at post-master level for artists and theoreticians, based on the principles of self-organization, collaboration and transdisciplinarity. a.pass participants develop an independent artistic research project, with a personalized curriculum in a shared and collectively created research environment. 

The a.pass artistic research center develops, documents and archives tools for qualitative and relevant artistic research practices. The research center uses this growing archive to communicate and interact with the artistic and educational field and functions as a forum for the development of a critical approach on artistic research. a.pass emphasizes the relation between the research practices and a broader societal field, and encourages engaged transdisciplinary practices.


In the context of its artistic research center, a.pass offers a tailor-made PhD trajectory for doctoral students that gives the possibility to develop the practice-based part of their PhD research in collective research environment. More info here.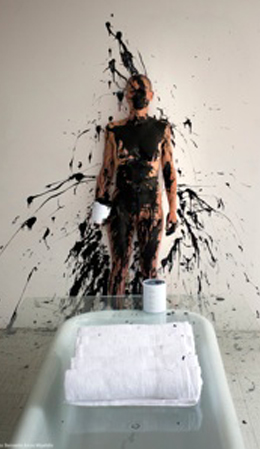 4. 
MAYDAYÂ an intensive workshop on the praxis of PERFORMANCE ART
by 
VestAndPage
 (VERENA STENKE & ANDREA PAGNES) at DEFIBRILLATOR GALLERY on 
Monday 9th – Friday 13the September 2013 
from:Â 
6 – 10pm each evening
, with a final presentation of the participants on
Saturday, 14th September. 
While the workshop does cost money to participate, there are a few select scholarships available, and those who sign up before August 17th pay $75. Thereafter it is $100. Space is limited to 15 students. 
Find out more about the workshop and instructors by going here.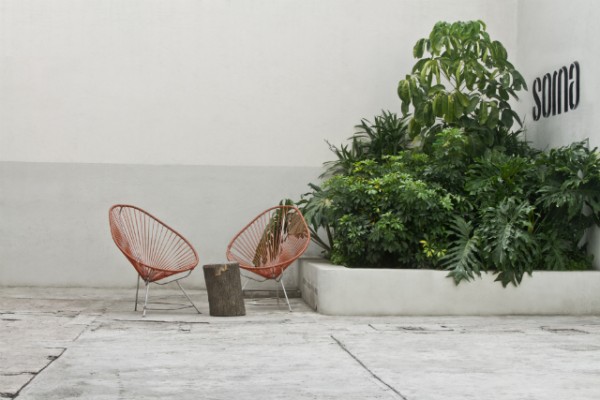 5.  SOMA: a different take on the MFA approach (and one that comes with funding). English speakers, there is a catch: you have to learn Spanish. Application deadline:  October 23, 2013
Calle 13 #25 Col. San Pedro de los Pinos, 03800 Ciudad de México.  SOMA offers a two-year program for training contemporary artists based on continuous exchange between young artists and established professionals through courses, workshops, one-on-one critiques and studio visits. SOMA's faculty comprises artists, theorists, and curators with extensive experience in their fields, both nationally and internationally. This program is for students who have already completed a bachelors degree in visual arts or related studies. All students accepted into the program area are granted a scholarship of 80 percent of the total cost of attendance. Check it out here. (All classes are conducted in Spanish.)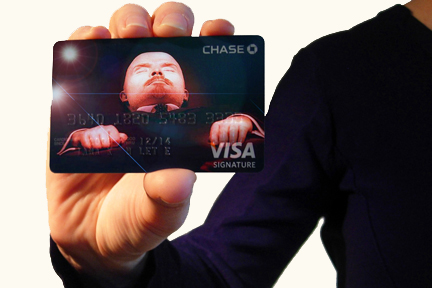 This week on the podcast Brian haunts the halls of the Anaheim Convention Center at SIGGRAPH 2013 conducting a series of interviews, then we talk to Greg Sholette! All that (and more) here.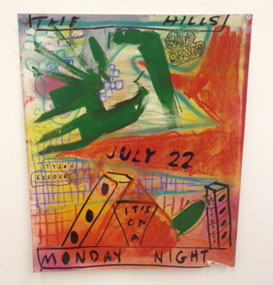 Dana Bassett kicked things off to a good start with her bi-weekly column, "What's the T?" Among other delectable sundries, she wrote about a Monday opening at the Hills Esthetic Center:
This past Monday (yes, an opening on a Monday) evening at The Hills Esthetic Center "Jyson Deeder and Tim Rain" debuted "A Nerdier Red", "community organized" by Josh Reames, at everyone's "favorite" Garfield Park "gallery", The Hills. The collaborative exhibition came together as it opened with Reeder & Drain turning the notoriously useless loft above the gallery into the command center from which the art was generated and then incorporated into the official gallery space.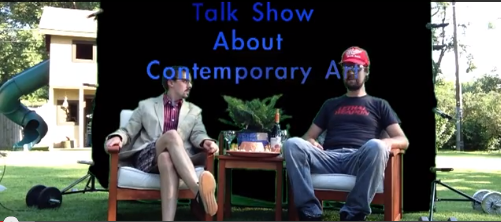 Contemporary art chat show: So genius brilliant strange that it can only be art, let's agree to call it a serious WTF? You can find their youtube channel here.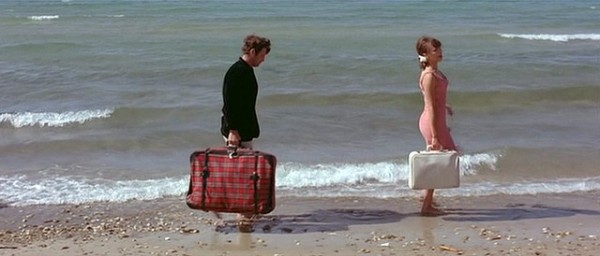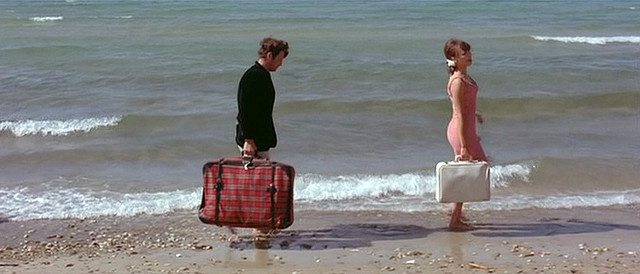 Jaime Kazay's final installment on the subject of Barbies:
I'm on the porch rifling through Barbie posters and notes on what she would prefer when running away to a deserted island. I know Barbie would want to be with Ken. The way "Marianne," played by Anna Karina in "Pierrot le fou" ("Pete the madman"), ran away with "Ferdinand," played by Jean-Paul Belmondo, to live in the French Riviera. The couple ran away for two different reasons, and their fears kept them together. At the end of the film, I like to reinvent different outcomes. Perhaps they should have stayed in town.


I posted an announcement about Claudine Isé's talk at the Humboldt Park Library this Saturday. While the event has passed, I understand that series host, Philip VonZweck is putting together some more artist talks in the future, so keep your eyes peeled. You can read more about the series here. (You can also check out the history of Much Much More talks, that used to take place at a different location here).
Sarah Margolis-Pineo interviewed Sara Huston:
Recently, I was thrilled to learn about ruf·fle, an exhibition organized by Portland's League of Awesome Women Designers, (LAWD), that opened earlier this month at the University of Oregon's White Box Visual Laboratory. Even in a town like Portland, where inclusive design firms seem to outnumber coffee shops, women are underrepresented in the field—statistically in number and in rank, but perhaps more importantly, women are less visible as a driving force behind the innovation that Portland is celebrated for. In her essay "Men Explain Things to Me," cultural critic/historian Rebecca Solnit employs the phrase archipelago of arrogance to describe an inflated self-confidence—a distinctly masculine phenomena—that is so aggressively assured, it keeps women bound in self-doubt, inhibiting them from speaking up and, in turn, from being heard. In an essay written for GOOD, Alissa Walker seemingly responds to Solnit by encouraging women in design to use social media as a way to assert one's voice in the field. She writes, "in this age, women can't wait for someone else to organize the event or to curate the museum show… Creating a rich narrative, illustrated with videos, photos, blog posts, essays, is something I don't see nearly enough from women in the field. Their numbers may be small, but it's the responsibility of that 10% to tell at least 50% of the story."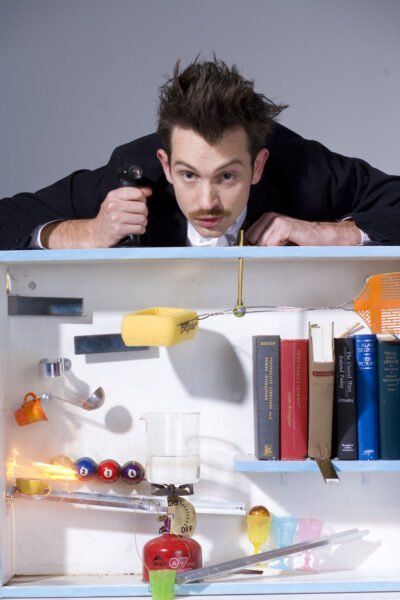 New York City report this week comes from Juliana Driever. Driever interviewed Joseph Herscher about his kinetic Rube Goldberg machines:
My current project is taking me a year to complete and will be five minutes long. Most of my ideas come from playing with objects and discovering interesting things I can do with them. Then there is a LOT of trial and error to get it to work every time. Sometimes I will spend two weeks on something that only lasts four seconds. I don't move on until I see it work fifty times in a row. My biggest error was in using acetone one time, which looks just like water but reaches boiling point much faster. I forgot that it is also highly flammable. The first two attempts worked like a treat, but on the third it caught fire and most of The Page Turner caught alight, spraying melted sponge everywhere, which was really hard to get off. And it almost burned the house down.
Live from Kansas City, Carolyn Okomo writes about Gune Monster:
After losing his job and apartment on the same day a couple of years ago, Los Angeles-based street artist Gune Monster says he contemplated a suicide. Instead, he picked up a marker and begin drawing the toothy, ghoulish figures that would eventually become the hallmark of his monochromatic alter ego.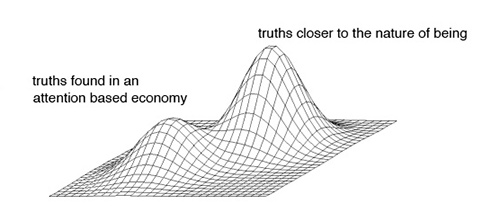 Do you ever feel like you're wading in the wake of symbolization? I have a post for you (follow the highlighted text below to read notes 1,2, and 1.5):
It's clear that our time and attention is limited, and there's too much going on in the world to pay attention to it all, especially now. Countless people are fighting for our attention and trying to convert this energy into political, social and economic power. Even inanimate things themselves can be thought of as competing for our attention (1)(2). This competition for attention has been turned into a highly skilled craft by plants, animals (1.5)and culture at large, which is especially evident in the battlefield of consumer products and advertisements.
Obviously, the week wouldn't be complete without Stephanie Burke's TOP 5.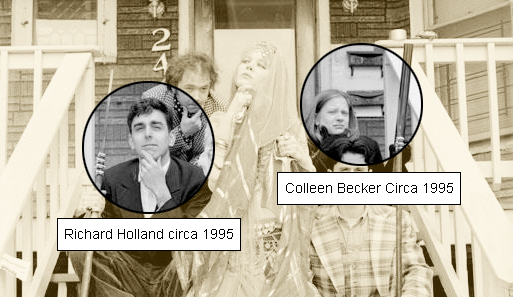 And here, you can see a picture of Richard from 1995 while reading about life in London with Colleen Becker:
Colleen Becker is an American writer and academic living in London. Her published work spans fiction and non-fiction genres, including flash fiction, academic articles, journalism, art reviews, and essays, and she has read at numerous venues including Princeton University, the Tate Modern, and Foyles Bookshop. She holds PhD, MPhil and MA degrees from Columbia University and a MA from NYU, and she is a 2013-14 Visiting Fellow at the University of London, School of Advanced Studies, Institute of Germanic and Romance Studies. She has text based artwork included in an exhibition at the Anatomy Museum, King's College London. "Translation Games"Curated by Ricarda Vidal (KCL) and Jenny Chamarette (QM) which runs from 31st July to 2nd August 2013
Monica Westing posted a great interview with Melika Bass:
Bass has been quietly making rigorous and rigorously strange films for a decade, and in 2011 she created an installation for MCA's 12X12 based on her film Shoals, comprised of relics from the shoot that extended Shoals's imaginary pastoral-gothic world in the ambiguous space of a contemporary white cube gallery. She recently was commissioned to make a film for Sigur Rós, Varðeldur, conceived as a character study of "an unstable entity in a haunted vessel," a gloss that can describe many of her half-created characters, both absolutely unknowable and archetypically suggestive of the heroes of fables and the antiheroes of fairy tales.
Finally, I posted some Endless Opportunities #BingoBangoBongo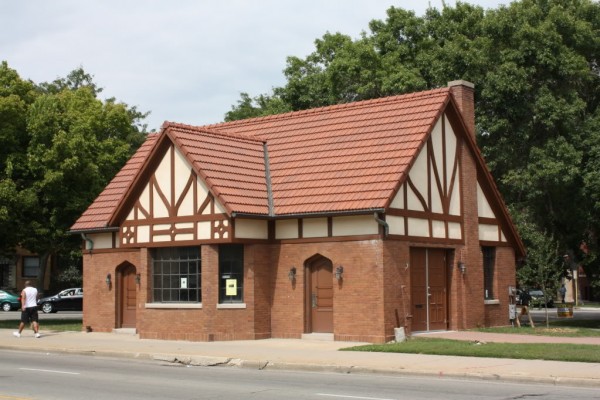 1. Comfort Station 2014-2015 Call for Proposals. Scroll through their website for proper details and more info about the organization (they also invite music/event submissions). The deadline for proposals is: Saturday, August 31st, midnight. 
Comfort Station is a turn-of-the-century structure turned multidisciplinary arts space in the heart of Chicago's Logan Square. Originally a shelter for trolley riders in the early 1900s, the building was eventually defunct and was used to store the city's lawn equipment for decades. The space was adopted and restored in 2010 by Logan Square Preservation and opened as its current incarnation as a community-focused art space in 2011. As the only structure of its kind still standing along the entire boulevard system, Comfort Station represents the preservation of a neighborhood rich in history, while playing host to exhibitions and events that promote its present culture.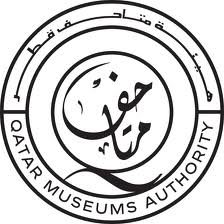 2. Curate Award – Qatar Museums Authority / Fondazione Prada Curate, a global competition organized by Qatar Museums Authority and Fondazione Prada to find new curating talent, is accepting entries online at http://www.curateaward.org/ until 31 December 2013.
As stated by the Curate jury: "The notion of 'curating' no longer belongs just to the museum. With the development of digital and social media, it has now become possible for anyone to participate in the selection, editing and communication of ideas. We hope that people, whatever their age or background, will make the most of the opportunity offered by Curate to think about the future potential of exhibition making, where there are no imposed boundaries to media, scale, content and formats, and ideas, whether from the fields of science or the arts, can come from anywhere."
3. Audience Architects recently put out a call for Dance: A Moving Canvas, "a new program that seeks to expand dance audiences in Chicago by enabling select participants to deepen their understanding of the choreographic process." Deadline is Friday, September 6th. Visit their website here for more information about stipends and guidelines.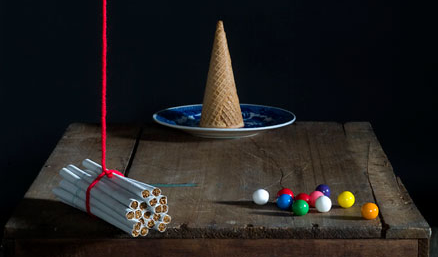 4. Play "Telephone" with strangers via this open call: Nathan Langston's Telephone Game at Satellite Collective. It's in the air apparently — Gallery 400's show "Whisper Down the Lane" has similar themes, so if you want some inspiration check that out. How to play in this iteration:
This game works almost exactly like the kids' game "telephone," also known as operator, ear-to-ear, and many other names the world over. One player devises a message, and that message is whispered to the next person, who whispers it to the next and the next. The message evolves as it travels, surprising and confounding the players.

Rather than simply passing our message from person to person via language alone, Satellite Collective is passing it from art form to art form. A message in music might become a poem, which might become a film, and then a dance work, and so on. The process begins with a very specific message we're "whispering" from artist to artist, but each participant will have access only to the work directly preceding his own. None of the players will know the full evolution of the message until the end. As in the original game, the progression is a secret.

The threads will also branch out: A single painting may be assigned to two or three other artists. When we publish the final succession of works on Transmission, the viewer will be able to follow one thread to the end, go back to the beginning and choose a different route through the series of art works. (More info here)
5. Micro-grants for cartoonists: Sequential Artists Workshops's third round of grants to working cartoonists. SAW continues its commitment to offering small grants of $250 to practicing artists. Two small $250 grants will be awarded on or around September 30, 2013. Eligible artists must be developing and dedicated to a current project that fits within the mission of The Sequential Artists Workshop (basically anything that is high-quality comics, a graphic novel, comics journalism, etc.) More on that here.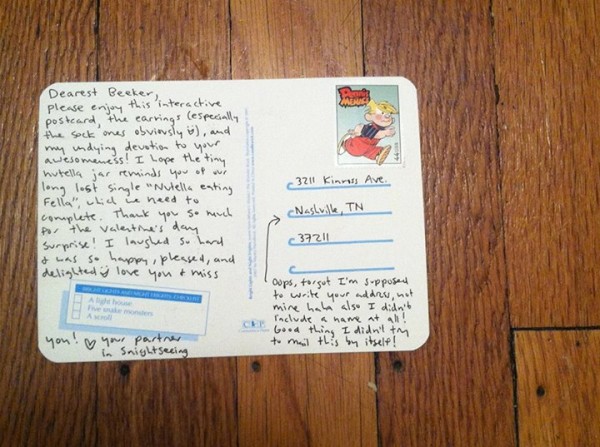 6. and finally — the following is not so much an opportunity for you, per se, but rather an chance  for you to lend creative fodder to students at 826 Chi. Mail off an original postcard today to the address below. "826CHI is a non-profit organization dedicated to supporting students ages 6 to 18 with their creative and expository writing skills, and to helping teachers inspire their students to write." Here is the call:
HEY! SNAIL-MAIL LOVERS!

Next week 826CHI is holding a workshop in which story-writing is based on the contents of postcards. Michael Light, the instructor/a former intern, NEEDS YOUR HELP….This Saturday, no matter where you live, send us a postcard. Its contents are up to you. Pictures. Salutations. Poems. Even a single word. You never know what might inspire a student.

The class is Tuesday (8/6), which means any postcards in the mail BY SATURDAY should make it in time. Please address them to:Â 

Ann Onamoose
1331 N. Milwaukee Ave.
Chicago, IL. 60622

We can't wait to show you how the students transform your correspondence!
A link to the following essay was sent to us in response to The Letter to Goldsmiths that I posted last week. I have only included the very beginnings of the post, but you can carry on reading the rest if you follow the link at the end, (before the end notes).
Sterling Crispin
2013
All of human culture competes for our limited attention and resources, evolving and mutating over time. Everyone plays a role in shaping this behavior, although its clear some key players have more control. Each observation and action is an opportunity to contribute to the reproduction or demise of a thing or idea. The observer changes what it observes, and moreso when content producer and consumer are one in the same.
The Internet has accelerated the pace of feedback between creation and response, and one of the results has been a continued embrace of novelty and irony. Capital, currency and power are running rampant without checks and balances from truth, knowledge and beauty. Its time to more fully embrace directness, earnestness and sincerity. This applies to not only what we make and do, but what we support indirectly through our actions.
The following essay is a deconstruction of, and argument against, the post-internet condition. Specifically, I want to address the over use of irony, novelty, attention as currency, persona as product and the embrace of the spectacle of society.
The first four sections are meant as an introduction to the core argument, and offer a broader context which is often overlooked in such discussions of the post-internet condition. Supplemental notes and sources have been included which provide clarification, tangental ideas and some quotes where appropriate.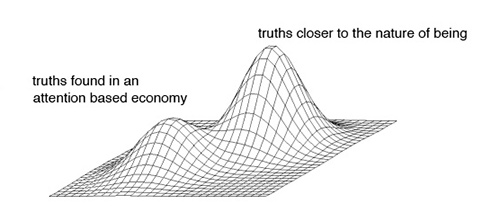 ///Deconstructing the Image-Object ///Wading in the Wake of Symbolization
1.
It's clear that our time and attention is limited, and there's too much going on in the world to pay attention to it all, especially now. Countless people are fighting for our attention and trying to convert this energy into political, social and economic power. Even inanimate things themselves can be thought of as competing for our attention (1)(2). This competition for attention has been turned into a highly skilled craft by plants, animals (1.5)and culture at large, which is especially evident in the battlefield of consumer products and advertisements.
This competition can be understood in terms of Attention Economics (A) which describes the finite nature of human attention in contrast to the vast and exponentially growing access to information. However, it may be more accurate to describe this situation as an attention based ecology rather than an economy. This ecology is an evolutionary system of richly complex interactions between limited resources (human attention), competing agents (corporations, other people, algorithms, ideas, aesthetic styles, cultures, objects themselves) and countless internal and external forces. The time between publishing information and audience response has nearly collapsed since the dawn of the Internet, further exacerbating this situation. The rapid feedback loop between production and consumption, when considered as a whole, can be thought of as vast synthetic brain evolving its ability to engage with humans and understand how we think (3). (read more)
____
END NOTES:
(1) This can be seen in the material-semiotics of Gilles Deleuze and Félix Guattari's (B) concept of the rhizome, the world as a horizontal networked structure of relations that seeks equilibrium and is constantly shifting. Michel Foucault, Donna Haraway and much of traditional 'eastern' philosophy also speak on this subject. The fields of cybernetics and chaos theory are scientific approaches to this subject, and I'll address them later on. (1.5) I'd also recommend Michael Pollans "Botany of Desire" regarding the coevolution of humans and plants.
(2)Also in Bruno Latour's Anthropological Matrix(C) which describes the world existing as a web of hybrid things that are both subject and object, between nature and culture, between agency and raw material. In the Anthropological Matrix all things are both real and imagined, both nature and culture. Latour has also extensively written about Actor-Network-Theory (ANT) (D) which describes existence as a network of 'actors' (human or nonhuman, essentially everything) engaged in a series of relationships. ANT disrupts the concept of differentiated individuals acting in the world and states that these things are really the sum of many other actors which reinforce each other.
(3) See Kevin Kelly's inspired book "What Technology Wants", and authors like Oliver Reiser, Buckminster Fuller, Dane Rudhayar, Sri aurobindo, N.A. Kozyrev, Teilhard de Chardin, Jose Arguelles, et al.