Every hour, we'll be posting images from the Detroit Museum of Art's collection. This gesture is part of a larger, Internet-wide effort to reflect on the institution's resources in the hopes that it might, in some small way, counter any proposal for future deacquisition. For more information A Day for Detroit has been covered here, on the Daily Serving. Please consider joining the Detroit Institute of Arts as a member. Or, join us today and post pictures from the DIA collection today on your blog, facebook, or twitter feed.
The following essay by Dylan Trigg was published by The White Review.

THE GHOSTS OF PLACE
'So I turned around for an instant to look at what my field of vision onto the sea had not offered up: the heavy grey mass where traces of planks lined up along the inclined ramp like a tiny staircase. I got up and decided to have a look around this fortification as if I had seen it for the first time, with its embrasure flush with the sand, behind the protective screen, looking out onto the Breton port, aiming today at inoffensive bathers, its rear defence with a staggered entrance and its dark interior in the blinding light of the gun's opening toward the sea.' – Paul Virilio, Bunker Archaeology
IT IS OCTOBER 2010 AND I AM IN THE KITCHEN OF AN OLD HOUSE IN SUSSEX. FROM THE KITCHEN, A DOOR LEADS TO THE HALLWAY. SUDDENLY THE DOOR BEGINS TO SWAY FROM SIDE TO SIDE. AT FIRST, I THINK NOTHING OF IT AND PUT IT DOWN TO A BREEZE FROM ANOTHER ROOM. BUT THEN THE SWAYING BECAME MORE DELIBERATE, AS IF A PRESENCE WERE TRYING TO COMMUNICATE FROM AFAR. THE DOOR MOVES TO ONE END, PAUSES FOR A SECOND, AND THEN PROCEEDS TO RETURN TO THE OTHER SIDE. TO AND FRO IT MOVES, UNTIL SUDDENLY, AND WITHOUT WARNING, IT STOPS. AS I STAND TO INVESTIGATE, AN IRIDESCENT LIGHT FILLS THE HALLWAY, AND A TALL SILHOUETTE CLAD IN BLACK SLOWLY CROSSES THE LANDING BEFORE DISAPPEARING INTO THE BRICK WALL. IN RESPONSE, THE SKIN ON MY BODY BECOMES CLAMMY WITH ANXIETY, WHILE THE HAIRS BEGINNING AT THE BASE OF MY HEAD AND EXTENDING TO THE LOWER REACH OF MY NECK RECOIL, AS IF THEY HAD GRASPED SOME KIND OF HORROR THAT I WAS STILL IN THE PROCESS OF EXPERIENCING. ONE MINUTE LATER, I AM ON THE STREET.
Disturbed by the vision, I look at the house from the vantage point of the outside. If the figure has come to me in a moment of private intimacy, then I am sure it would not follow me down the stairs and onto the other side of the street, and thereby expose itself to the public gaze. On the contrary, I am fairly convinced it is still inside, likely oscillating between the landing on the hallway and the kitchen, where – so I assume – it may have once encountered some kind of trauma that led it to being affixed to this place in time.
How many other people had seen the figure since the conception of the house in the fifteenth century? Numerous people no doubt through the centuries, each of whom will have had their own story to tell. In addition, all of these people will have had their own interpretation of the figure, from the seventeenth century interpretation of spectres as restorers of social injustices of the living to the nineteenth century interpretation of the such sights as a figure of death that refuses to die, thus offering hope that in an increasingly secularised age, life after death remains possible.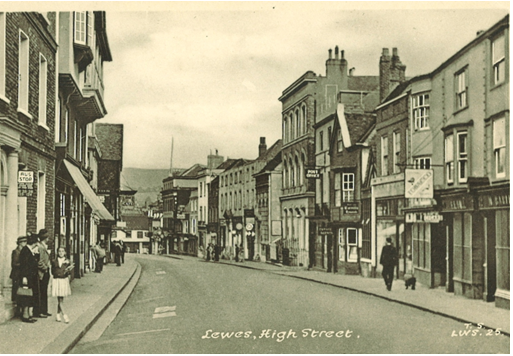 In all this, I may well form part of a historical community that will have encountered this vision in this particular place, 70 High Street, Lewes, Sussex. What did the figure want from us all: to testify to its mournful existence, to become its voice, or simply in the act of affecting another person, to remind itself that it still holds the power to form an alliance with the living? And why did it choose us? Are we in some sense more receptive to the troubled dreams of those who refuse to die than other people? Did the figure sense an anxiety within each of us that renders our senses more attuned to ambiguous forms of life?
***
What is a ghost? The question has gained a particular value in the last decade or so owing to the influence of Derrida's concept of hauntology, a pun on ontology referring to the spectre of Marxism. As it is understood in a post-Derridean context, the concept refers to a broad range of cultural phenomenon characterised, above all, by a certain collapse in the spatio-temporal order, signalling the radical collision of old and new. It is a Ballardian vision of time, in which the end has already occurred and we are now – perhaps unknowingly – living in its shadow.
The term figures in a variety of mediums, from the archival restoration of 'abandonware' and 'dead tech', to the music of both Caretaker and the retro pastiche of Belbury Poly together with the associated Ghost Box Music label. In films, the theme is evident in works such as Peter Weir's Picnic at Hanging Rock (1975) and Nic Roeg's Don't Look Now (1973). Alongside these mediums, the image of the urban ruin being reclaimed by wild mangroves, the drained swimming pool of an abandoned hotel, and the decommissioned remains of war bunkers would all be central motifs for the hauntologist. In each of these forms, the hauntological aesthetic plays out in terms of an appeal to the uncanny: that is, to the re-emergence of what was originally repressed, but only now—through an accidental rupture in the present – comes to light. Such an aesthetic has its roots in Freud, and can then be mapped out in the work of surrealists and their usage of anachronism, before then resurfacing in Walter Benjamin's philosophy of history, which will later re-appear once more in the works of W. G. Sebald, and in a contemporary guise, in artists such as Cyprien Gaillard and Gregory Chatonsky. (read more)
A link to the following essay was sent to us in response to The Letter to Goldsmiths that I posted last week. I have only included the very beginnings of the post, but you can carry on reading the rest if you follow the link at the end, (before the end notes).
Sterling Crispin
2013
All of human culture competes for our limited attention and resources, evolving and mutating over time. Everyone plays a role in shaping this behavior, although its clear some key players have more control. Each observation and action is an opportunity to contribute to the reproduction or demise of a thing or idea. The observer changes what it observes, and moreso when content producer and consumer are one in the same.
The Internet has accelerated the pace of feedback between creation and response, and one of the results has been a continued embrace of novelty and irony. Capital, currency and power are running rampant without checks and balances from truth, knowledge and beauty. Its time to more fully embrace directness, earnestness and sincerity. This applies to not only what we make and do, but what we support indirectly through our actions.
The following essay is a deconstruction of, and argument against, the post-internet condition. Specifically, I want to address the over use of irony, novelty, attention as currency, persona as product and the embrace of the spectacle of society.
The first four sections are meant as an introduction to the core argument, and offer a broader context which is often overlooked in such discussions of the post-internet condition. Supplemental notes and sources have been included which provide clarification, tangental ideas and some quotes where appropriate.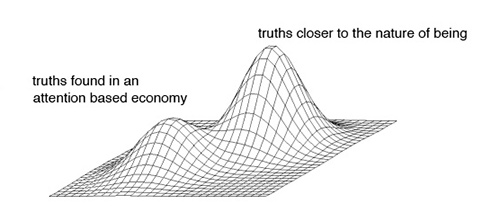 ///Deconstructing the Image-Object ///Wading in the Wake of Symbolization
1.
It's clear that our time and attention is limited, and there's too much going on in the world to pay attention to it all, especially now. Countless people are fighting for our attention and trying to convert this energy into political, social and economic power. Even inanimate things themselves can be thought of as competing for our attention (1)(2). This competition for attention has been turned into a highly skilled craft by plants, animals (1.5)and culture at large, which is especially evident in the battlefield of consumer products and advertisements.
This competition can be understood in terms of Attention Economics (A) which describes the finite nature of human attention in contrast to the vast and exponentially growing access to information. However, it may be more accurate to describe this situation as an attention based ecology rather than an economy. This ecology is an evolutionary system of richly complex interactions between limited resources (human attention), competing agents (corporations, other people, algorithms, ideas, aesthetic styles, cultures, objects themselves) and countless internal and external forces. The time between publishing information and audience response has nearly collapsed since the dawn of the Internet, further exacerbating this situation. The rapid feedback loop between production and consumption, when considered as a whole, can be thought of as vast synthetic brain evolving its ability to engage with humans and understand how we think (3). (read more)
____
END NOTES:
(1) This can be seen in the material-semiotics of Gilles Deleuze and Félix Guattari's (B) concept of the rhizome, the world as a horizontal networked structure of relations that seeks equilibrium and is constantly shifting. Michel Foucault, Donna Haraway and much of traditional 'eastern' philosophy also speak on this subject. The fields of cybernetics and chaos theory are scientific approaches to this subject, and I'll address them later on. (1.5) I'd also recommend Michael Pollans "Botany of Desire" regarding the coevolution of humans and plants.
(2)Also in Bruno Latour's Anthropological Matrix(C) which describes the world existing as a web of hybrid things that are both subject and object, between nature and culture, between agency and raw material. In the Anthropological Matrix all things are both real and imagined, both nature and culture. Latour has also extensively written about Actor-Network-Theory (ANT) (D) which describes existence as a network of 'actors' (human or nonhuman, essentially everything) engaged in a series of relationships. ANT disrupts the concept of differentiated individuals acting in the world and states that these things are really the sum of many other actors which reinforce each other.
(3) See Kevin Kelly's inspired book "What Technology Wants", and authors like Oliver Reiser, Buckminster Fuller, Dane Rudhayar, Sri aurobindo, N.A. Kozyrev, Teilhard de Chardin, Jose Arguelles, et al.