In a 2007, Art Orienté objet, a French collaborative group comprised of Marion Laval-Jeantet and Benoît Mangin, began a series of body modification experiments intended to communicate with animals outside of language.  "Basically the project was to artistically adapt Jacob von Uexküll's Umwelt theory, which argues that the meaning of an environment differs from one animal to another in relation to its sensorial system" (Marion Laval-Jeantet, "Self-Animality," Plastik: Art and Science, June 2011). The project began with an investigation of cats — what eventually culminated in a single piece, Felinanthropy, where Laval-Jeantet put on a pair of cat-like prosthetic hindquarters; by transforming her status as a bi-ped, she was able to change the hierarchical relation between herself and the cat. A subsequent experimental work led Mangin to put on a prosthetic giraffe head and engage giraffes in a zoo — exploring the giraffe's ability to recognize Mangin not as a human, but as something almost giraffe. More recently, AOo embodied an equine perspective; Leval-Jeantet built up a tolerance to horse blood by injecting a small bit of the animal's plasma into her system over the course of a year. She subsequently staged a horse blood transfusion performance with her partner Benoît Mangin.  What remains of Que le cheval vie en moi!, is the  "relic," a small, innocuous petri dish, with human/horse blood. In the following interview, originally conducted for Paper Monument where an affiliated essay, "Humanimals" was published, I asked Laval-Jeantet a few questions about this work. All answers have been translated into English by Basia Kapolka.
Caroline Picard: What were you anticipating the affect of injecting horse plasma into your blood steam would be? How did you expectations measure up with the reality of your experience?
Marion Laval-Jeantet: In a certain way, I knew what to expect from the injection of the horse plasma since I had received injections of the horse antibodies one at a time during the preceding months.  But it was still difficult to imagine what the effect of receiving all the antibodies at once would be. In actuality, my body's reaction was much more unruly than predicted.  I think the families of antibodies increased each other's effects, so that the final reaction was very complex, affecting even my metabolism, my endocrine glands, my nervous system, as well as my sleep and appetite.
CP: Also, did you use the blood of one specific horse? Did your relationship with that horse change at all?
MLJ: I used the blood of three specific horses that belong to the laboratory I worked with.  You couldn't say I established genuine contact with the horses.  On the other hand, I wasn't specifically familiar with the horses before the experiment. The experiment changed my psyche so that I saw the horses differently after it, with a different appreciation. A familiarity.
CP: Can you talk a little bit about your horse-stilts? How did your experience of your own body change?
MJL: The stilts were mostly there to allow me a different way of communicating with the horse who was present during the performance. I was a little afraid of horses, actually. And it seems like horses attitudes change completely when your eyes are at the same height as theirs. With the stilts, my eyes were the same height as his, and I could see that the horse was calmer. It was also a way for me to be aware of the reversal of roles between me and the animal. And naturally, it was a way to distract myself from the possible anxiety that might arise because of the infusion. Because I was on stilts, I could only think of the goal: to join with the animal, and not of the psychological problems that might come out during the performance.  Experiments with prosthetics always affect your fears about your body, and in the performance it was necessary that I have a strong sense of a double transformation,  mental and biological.
CP: Do you feel like your "self" has been forever altered? In other words, there is an idea I believe I, at least, take for granted: that is that my self is continuous and sustaining throughout a linear experience of time. This assumption is challenged by ideas of drastic plastic surgery, transplants and cloning, for instance–the self as it was defined before is fundamentally no longer the same self it was before. It seems to me your work poses similar a question: how can a distinctly human self sustain its identity when it has become, also, part horse?
MJL: Your question about fundamental change is completely fair. At the moment, I have a very strong sense that my body, and also my identity were deeply changed by the experience.  In a physical sense, it's true.  I will always have within me biological markers that bear witness to my meeting with the horse. The problem is that the external physiological effects seem to have only lasted a few months, and were strongest in the first four weeks. So today, even if there are some delayed reactions or long-term consequences, I can say that the transformation remains more in the mental structure than in the physical one.  I have the sense of not having been completely human for some time. The experience changed my inner self forever. But this is also the case with previous strong experiences I've had, like my introduction to the pygmies of Gabon. Who made me see death.  Each of these experiences makes my thoughts and my existence more complex, the more they change them. I believe deeply in the adaptation of the human body. More than in homeostasis. Existence itself is a permanent transformation, a constantly-evolving system. You speak of changes made to the body, but I think grief, for example, shakes up identity much more. My aim is not so much a transformation of my essence, as the wish to respond to an eternal frustration: to finally feel the animal otherness in myself, but also to stop thinking from a purely anthropocentric point of view. Already, the pygmies succeeding in making me feel the spirits in the forest, during a trance. I think that I am less and less purely human, which is to say that I am fundamentally more and more human, in the utopian sense of philosophical humanism.
Paper Monument was recently interview on the Bad at Sports podcast.
This interview has been long in the making — it began months ago after I visited Robert Burnier's solo show at Design Cloud in the West Loop. It began because I'd seen Burnier's work over the preceding summer at Andrew Rafacz Gallery, and again at Chicago Art EXPO; it began because I kept wondering about his crumpled aluminum wall sculptures — what to me have always seemed like the wreckage of a minimalist object, still pristine, still auratic, and yet all the more difficult to resolve somehow. The following interview, conducted largely by email, paralleled other conversations we had begun about what is and is not considered natural — a conversation embedded in my own curatorial research at the moment — and how our understanding of digital space is influencing our understanding of a material landscape. Not surprisingly, Burnier yielded a wealth of insight and I'm happy to share at least some of that dialogue here.
Caroline Picard: How do you think about landscape? Does that question emerge when you're composing your abstract aluminum works?


Robert Burnier: I definitely have to be conscious of landscape in the sense that anything for the wall can be seen in that way. Beyond this, though, I've often made work that hovers or vibrates between the categories of landscape and figure, or landscape and terrain. By "landscape and terrain" I mean a difference between pictorial space and experiential space.
 For the sculptures, specifically, the idea of terrain is very important. As opposed to a more direct kind of construction and mark making, I think about operating within something that comes with its own history and peculiar spatial configuration. As I move through these spaces, I look for something interesting to emerge. They also essentially operate on me as they proscribe certain actions through their boundaries and character, and by how every move simultaneously closes some pathways as it opens others. And yet they don't completely dictate what I will actually do with them as a whole.
CP: You've mentioned the situationist dérive in conjunction with your aluminum pieces — as though to suggest that the ways in which you improvise, negotiate, fold and crumple the material is a kind psychogeographical exploration of that same material. Would you agree with that?
RB: Yes, I would agree with that to a large extent. In retrospect, I think I've been interested in something like that for a long time, actually. I've always had a penchant for wandering urban spaces in a way reminiscent of what Guy Debord describes in his essay on the theory of dérive. So it's made its way into my practice more or less consciously. While dérive was a response to physical urban spaces, we also experience our contemporary urban geography through virtual structures, with populations acting in concert with communications networks and sets of common interfaces and devices, etc.

In my work, I've put virtual and physical spaces on par in certain ways. They are both material for use. I might use off the shelf CAD systems, readily available physical materials and commercial paints. What I do with them resembles a dérive in the sense that I "walk" through prefigured fields of shapes — or terrains as described above — while translating between virtual and physical mediums. Certain complexities play out on their differences. For example, a form in a CAD system may be contradictory or at least untenable in the physical incarnation. So I'm discovering certain things as I "test" them [those digital systems] in, say, sheet metal. I start out by following the lines, by scoring and cutting by the potentially "problematic" drawing, but then I take detours and make other choices that go against the line, and ultimately still produces something that contains and expresses that original trajectory. In a very general way, I like to think that whenever I use a CAD system, a can of spray paint, or a gel pen, I'm definitely handing a lot of what happens over to the nature of that system or material. Its not exactly collaboration, but its a kind of acceptance of mass technological culture in the work. At the same time I try to make these things go beyond themselves rather than have them pass unfiltered.

CP: Is your background in computer science present to you when you are working artistically?
RB: More than anything right now, certain states of mind that come from working with computer technology and software have a bearing on what I do. I am focused on process and algorithms as ways of approaching art where the steps I lay out matter to me as much as whatever actually happens. I should add: "as much as", but "not more than". Often what I'm trying to do is come at these things from a decidedly different vantage — by taking something precisely, mathematically defined and putting it through the vagaries of some physical challenge, or employing techniques that are at cross purposes with straightforward execution, or by making two things interfere with each other somehow. But its also critical that I be me in the studio doing something. Its not just about a fascination with wreckage or a glitch, or winding up elaborate systems that plays themselves out.

CP: How has minimalist sculpture influenced you?
RB: The direct and experiential aspect of minimalism always attracted me. One thing I take from it is the idea of art as a demonstration; a thing put forward as a concrete suggestion. But I never think about this concrete presence as some completely stable, impenetrable unity. 

I like to see what is real, in front of us being what it is and also something else. It can be a material that is made to appear like a different material, for instance — something that creates an impression that goes beyond itself. I get excited when a sculpture appears simple or decisive in some way, while being difficult to add up. Minimalism often worked to achieve a kind of wholeness that I sympathize with, and at the same time I try to complicate that.
CP: Do you worry about scale at all?
RB: There are current tendencies toward the non-monumental I can identify with, though I don't feel especially constrained by them. Right now I am making generally smaller work that enters painting dialogue and exists in a somewhat more intimate individual space. I like to think someone can enter into a piece and follow me when they are presented with what happened as much or more than they would if they were confronted by something especially sizable.

What a minimalist approach does for me is increase my focus on small moves and their potential significance. Of the few elements I do bring together in the work, however, I like them to play against each other subtly rather then be simply aiming toward the same whole.
CP: Do have expectations for what a work of art should do? Where do those come from?
RB: Minimalism turned over a lot of fundamental things about what constitutes a work of art. Is it supposed to absorb or repel a viewer? Be autonomous or relative to its environment? Instantaneous or durational? However I answer those kinds of questions now, thinking about Minimalism has made an indelible mark on the way I approach my work even if only in the kinds of questions I ask of it.
CP: You work in other mediums as well, which require their own strategies…
RB: 

I like the term "strategy", which implies a consideration of means to an end. I like to try different things out. Hans Haacke's "project based" approach comes to mind. But I also have a thing for the ineffable surprises to be found in the arrangements of an artist like Richard Tuttle and how he can burrow in on an investigation through as series of objects. When it comes down to it, though, I actually think in a very physical and experiential way about what I do and source things from experimentation and a process of discovery. I remember Terry Myers telling me of his impression that I was "tinkering" around in the best possible sense. That sticks with me.


CP: You have  series of line drawings on plywood where you reproduce wood grain. Where did that body of work came from?
RB: So with the drawings on plywood panel, I wanted to see what would happen if I took a few elements, thoughts and actions and wove them together. Plywood is interesting as a kind of hybrid, something natural that has been made artificially stable through geometry and chemistry, like a prepared and preserved food. And yet it has this natural wood grain. I thought the most direct approach would be to have a square of the material, and to work within the boundaries of that space by drawing something equally basic — a series of lines from edge to edge. The lines get very complex when you draw enough of them next to each other freehand. I could have predicted the moire pattern, and I chose a color that was a really good not-quite-match for the Baltic Birch, hoping it would "sink" into the wood visually. But it turned out even better than I imagined, judging by the way you read the lines as virtual wood grain.
CP: Do you feel, regardless of medium, that your work addresses related themes? Is that important to you?
RB: Yes. A culturally situated identity or a logically constrained action are important touchstones, for example. Mediated marks, subsumed images and ruptured natures are important, such as in the plywood drawings or a fully representational, painted sky scape I separated onto multiple panels and turned sideways to transform into a minimal color grade. I always try to confuse and mix these things. In all of it I hope a little bit of expression will sneak out from under a pile of process, enter through the back door of an algorithm, or emerge from a bunch of repetitive doing. On the subject of constrained identity, I've been thinking about and talking with a number of Chicago artists who may share some of my mixed cultural and racial background. The more time I spend on that the more I think there's something I have to find in that. Along those lines, choices like the use of Baltic Birch and African Mahogany plywood for my drawings resonate, given my 50/50 Northern European and African genetics. African Mahogany, I've discovered, also has something called chatoyancy which causes its color to  change appearance depending on the angle of view.
Singapore based artist Robert Zhao Renhui is the 
Institute of Critical Zoologists
, an organization that — for any Doctor Who fans out there — would be the environmental analogue to the Torchwood Institute.  The fictional Torchwood was founded to protect the Earth from supernatural and extraterrestrial threats; with that mandate in hand its employees must remain open and unperturbed by a myriad of strange and uncanny possibilities within the universe. Shrouded in secrecy, however, it attempts to perpetuate the myth of everyday banality, to keep their fellow human citizens free from fear. Although similarly invested in strange zoological proclivities of our non-human fellows, the ICZ is not a secret society. It delves into the multifarious world around us to expose the strange assumptions  humanity takes for granted about its surrounding landscape. Working primarily as a photographer, Renhui blends fact and fiction to emphasize the idiosyncratic relations between animals, their habitats, and the humans that categorize them. While the result is ecologically minded,  the dominant effect is uncanny. The ICZ affectively unearths little understood behavioral habits of animals and re-presents them within gallery settings as representational photography, encyclopedic texts, and multimedia installations. Currently ICZ currently has an exhibit, 
The Last Thing You See
, up at 
2902 Gallery
 in Singapore until January 5th that examines the act of sight. By demonstrating the shift in perception that would result from a sensitivity to ultraviolet light, ICZ reveals a world familiar to insects while being totally divorced from human experience. ICZ is going to appear in an upcoming series of shows I'm curating at 
Gallery 400
 and 
La Box
.
Caroline Picard:Â How did the Institute of Critical Zoologists (ICZ) come about and what does "animal spectatorship" mean?
Robert Zhao Renhui: The ICZ came about mainly because of my interest with photography and animals. A long time ago, I was involved with animal rights activism. At that point of time, I was curious with how photography was used in animal activism. I contributed a lot of photographs to talk about the plight of animals living in captivity in Asia. I got too emotional and personally involved at one point. On the other hand, I was also using photographs to create my own fictional narratives about humans and animals. In college, my tutor asked me to look at my photographic narratives with my concerns of animals rights together, instead of two separate projects. Slowly, the ICZ took shape. Animal spectatorship, in my work, is very much about the conditions of looking and understanding animals.
CP: I feel like you're interested in the way things are visible and invisible — for instance how a human can all but disappear in a suit of leaves, or what a spider's web looks like in ultraviolet light, can you talk more about how this series of works came together.
RZR: My interests are very much shaped by my medium, photography. Photography has always been about a way of seeing. In this exhibition, I was interested in how not seeing is as important as seeing. For the longest time, nobody knew why certain spiders weave distinctive markings on their webs. It isn't logical for spiders to make these markings because then they render an otherwise hard-to-see web visible. Scientists came up with a theory that the markings are made to warn larger animals to not walk into the spider web and destroy it. In other words, the insect trap had a defense mechanism.  It was not only recently that we realised that most insects see in the UV spectrum, a visual spectrum invisible to humans. Under UV light, the web mimics the shape of a flower. These markings are also visible on flowers in UV light. A spider web that wants to be a flower. I like that idea. A mimic and an invisible trap. Like a photograph.
CP: Traps come up in several of your works —  I'm thinking of your bee trap for instance, or the wolf trap — in both instances I feel like you're somehow able to tap into an animal semiotics, almost, using the bee's attraction to blue to bring them into the gallery, or using the wolf's appetite for blood to disguise its sense of pain. What draws you to traps? 
RZR: Michel Foucault said that "visibility is a trap." He meant it in the case of the Panopticon, a prison where the all the inmates were visible to one another, hence creating a system of totalitarian, mutual surveillance. I've been thinking a lot about this statement, but with the trap not relating to the observed, but the observer. Visibility is a trap because we imagine we know a lot through empirical evidence. But what is beyond the visible? Even my interest with animal traps is linked to my interest with photography. A photograph can trap us rather than liberate us. Seeing can be dangerous and misleading because we always have an eye out for the truth. It narrows our vision and the price to pay is not really knowing the bigger picture. That's how animals get trapped –  they fail to see beyond what is already presented to them.
CP:Â You have a book that just came out! How long did it take for you to make it? What does it contain?
RZR:Â A Guide to the Flora and Fauna of the World is an encyclopedia of man-made nature. It started of with the goldfish. Why doesn't the goldfish have a scientific name? Why is it not included in any natural history encyclopedia? Today, the goldfish is a very common fish and in China, they recently held a competition for the World Goldfish Queen. I wanted to find out if there was a book that the goldfish can exist in other than a decorative aquarium trade fish. I started looking at other aquarium fishes that were artificial and slowly branched out into other animals and plants affected by aesthetic modification, ecological conservation, pollution, evolution and genetic-modification. It took me about a year to create the volume. Included in the book are my past projects like Acusis and A heartwarming feeling. So you can say the book has almost 3 years of my research. At the end of the book (there are about 3 books in this book, all housed in a box) there is a book that talks about Tropical Bonsai, specifically the Banana Bonsai Plant. My father keeps a dwarfed banana bonsai plant of 6 years at 15cm tall. Bonsai is the art of miniaturising trees. It is man controlling nature in a very obvious and aesthetic way. There are rules to create bonsai and there are also rules to view bonsai. There are front views, side views and back views. This is a very important part of the book. Â It offers a way to think about the way we have controlled nature. As a species, we have always defined and controlled the way nature existed with us and this is nothing new. Brocolli and Cauliflower are not natural although we have become so familiar with them. Man has always determined what nature should look and feel like. The way we think and look at Bonsai may offer us a way to contemplate our complicated existence with nature.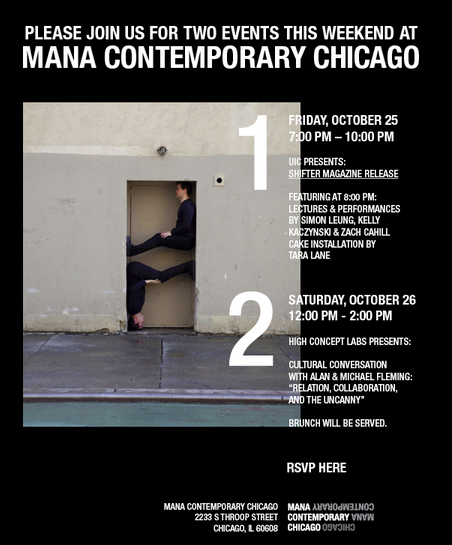 The latest issue of SHIFTER comes out this Friday with a launch at MANA Contemporary from 7-10pm, featuring lectures and performances by Simon Leung, Kelly Kaczynski and Zach Cahill, with a Cake Installation by Tara Lane. A Cultural Conversation with Alan and Michael Fleming on Saturday in case you want to sleep over. RSVP here.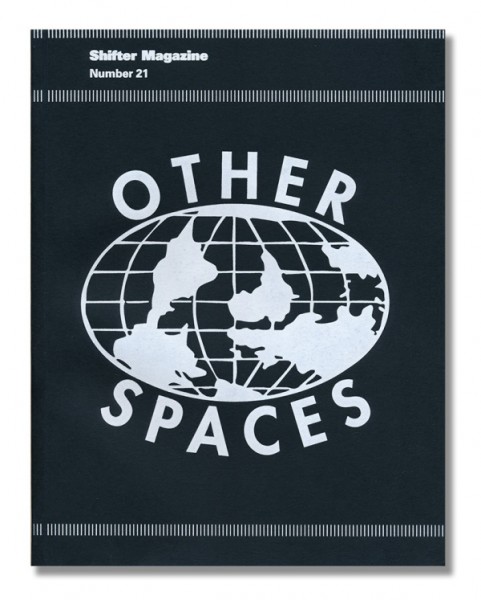 Shifter's 21st issue, Other Spaces, considers the body as a site where architecture's traditional polarities of private and public collapse. This polarity, mirrored in the distinctions we draw between individual and social freedoms and domestic and political action are challenged every day by spontaneous, collaborative re-imaginings of space.
In this issue artists, writers and critical thinkers reflect upon and imagine those other spaces that are coming to be and that are yet to be imagined in the social transformations of our present. While Other Spaces may appear to be an Atlas, it may just as well be read as a diary.
Number 21 features contributions from Jeremy Bolen, Luis Camnitzer, Tyler Coburn, Julia Fish, Beate Geissler & Oliver Sann, Sheela Gowda, Joanne Greenbaum, Tehching Hsieh, Kitty Kraus, Dan Levenson, Blank Noise, Alison O'Daniel, Sean Raspet, Blithe Riley, Jacolby Satterwhite, Greg Sholette & Agata Craftlove, Lise Soskolne, Mariam Suhail, and Josh Tonsfeldt.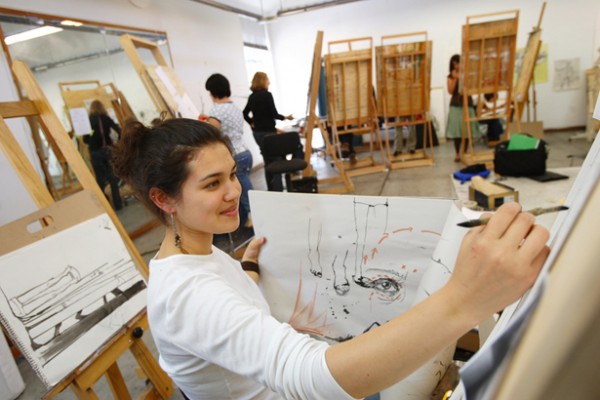 1. Mills College is looking for an Assistant Professor of Painting and Drawing. Review of applications will begin October 30, 2013, and will continue until the position is filled.
The Department of Art and Art History at Mills College seeks a full-time, tenure-track Assistant Professor of Painting and Drawing to teach graduate and undergraduate level courses. An MFA degree or equivalent is required. Candidates must be practicing artists with strong exhibition records, capable of conceptual criticism in all mediums including painting, sculpture, photography, video, intermedia, and new genres. They must be dedicated teachers and mentors at both the undergraduate and graduate levels. Teaching will include undergraduate studio courses; therefore candidates must demonstrate proficiency in the technical as well as theoretical and historical aspects of their fields. Full-time faculty must also advise students, participate in curriculum development, and serve on department and college committees. To apply, please go to mills.interviewexchange.com. About Mills College
Mills College is located in the San Francisco Bay Area on 135 beautiful acres in the foothills of Oakland, California. Additional information about Mills College can be obtained on our website at www.mills.edu.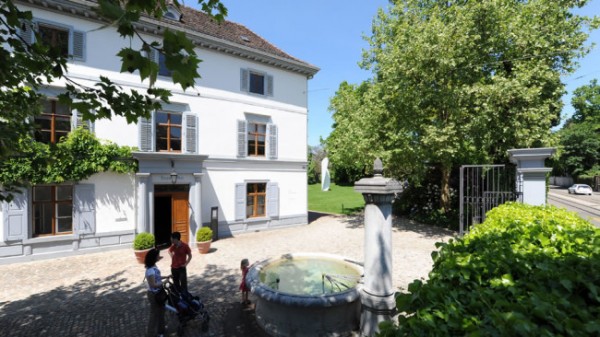 2. RU & GALAPAGOS: NATURAL SELECTION – 6 MONTH RESIDENCY FOR NYC ARTISTS IN SWITZERLAND (DEADLINE: OCT 21ST, 2013). 
RU and Galapagos has partnered with IAAB, the International Exchange and Studio Program of the Canton of Basel, Switzerland, to each year offer an artist from New York City the opportunity to spend six months near Basel, in the Swiss countryside town of Riehen. In turn, RU supports a Swiss artist in NYC for 6 months. The studio is situated in one of the old estate buildings on the "Berowergut", just next door to the Beyeler Foundation. When the barns located on the "Berowergut" have been renovated and the Kunst Raum Riehen has been installed, the old coach house at the back was converted into a two-storey live-in studio. The residency program is generously financed by private and public sponsors. The iaab offers a 700 square foot working and living space from January 1st to June 30th 2014, an allowance of $1,200 per month while in Switzerland to cover day to day living costs and a plane ticket to Switzerland with return to New York. In Switzerland the artist will also receive a 'half tarif' public transport card for all public transportation in Switzerland…and lots of chocolate! More info about iaab: www.iaab.ch

3.Chicago Alternative Comics Expo (CAKE) 2014 is now accepting exhibitor applications; the application process will close on 11: 59 P.M. CST on December 15, 2013
Starting Tuesday, October 15th, CAKE will be accepting artist's exhibitor applications for the 3rd Annual Chicago Alternative Comics Expo.  The event is a unique opportunity for artist exhibitor's to showcase and sell their art and last year's event hosted over 200 exhibiting artists, attracted over 2,000 attendees and featured award-winning comics guests such as Chris Ware and Phoebe Gloeckner. CAKE's 2014 event will take place on Saturday, May 31st and Sunday, June 1st at the Center on Halsted, 3656 N. Halsted Avenue. Confirmed special guests include Mexican cartoonist Inés Estrada and Chicago native Anya Davidson, with more announcements to come. All applications will be reviewed by a jury and applicants will be notified of the jury's results by January 20th via email. A guide to the 2014 Exhibitor Application process can be found here: http://www.cakechicago.com/2809/a-guide-to-our-2014-exhibitor-application/

4. High Concept Laboratories announces THE LIVING LOOP PERFORMING ARTS FESTIVAL APPLICATION:
We are accepting applications for performers and performances wishing to be considered for participation in a new festival to take place in the Loop, in the Summer of 2014. A $500 stipend and extensive visibility will be provided each of the 12 participating performances. The mission of the festival, presented by Chicago Loop Alliance and High Concept Laboratories,  is to showcase Chicago's diverse performing arts community in the heart of the city. The event will showcase a dynamic series of weekly performances in site-specific locations throughout the Loop. We're looking for exemplary performers and performances to participate in this one-of-a-kind inaugural festival, featuring one performance each week for a total of twelve weeks June-August 2014. Visit the website for more information. The deadline for submissions is January 1st, 2014.

5. Call for writing via Gaga Stigmata:
After nearly four years of intensive critical-creative output and interaction with popular culture, Gaga Stigmata, in its current journal incarnation, will be coming to an end at the strike of midnight on January 1, 2014.

In these final months, we are requesting submissions in the following three veins:

(1) Any new essays on Lady Gaga's ARTPOP era
(2) New essays on any pop cultural phenomenon that manifests what we call a "stigmata effect" – that is, the blurring of lines between superstar and fan, between high and low art, between art and interpretation, between the "original" and the "copy." In particular, we are interested in essays about about Miley Cyrus, Kanye West, Jay-Z, Ke$ha, Lana Del Rey, and Katy Perry, but you are not in any way limited by this list.
Additionally, we are also seeking essays that explore new pop cultural phenomena such as the aesthetics of new media forms (e.g. Twitter, Tumblr, YouTubers, .gifs, Vines, Instagrams, etc.)
We are also interested in essays that explore manifestations of the stigmata-esque intersection of the "art world" and the "pop world" in contemporary culture.
(3)Â Any essays about Lady Gaga that have previously been published elsewhere. (We would like to create a one-stop on-live archive of the best Lady Gaga scholarship and creative criticism ever published; we will of course give credit to the original source of publication).
You are welcome to write traditional essays, and/or to use a creative-critical format for your work. Youtube videos, photoshopped images, memes, and .gifs can all feature in your work. You are also welcome to submit more than one piece during this final incarnation of the journal, after which the journal aspect of the project will move into an archival stage. More info here.

6. If you're curious about how futures trade, check out Pocket-Guide-to-Hell's latest reenactment at The Chicago Board of Trade on Sunday, October 20th at 3pm:
THE PIT is a free and fun site-specific performance that uses costumes, props, music-and you-to tell the story of commodities trading and the futures markets in Chicago. THE PIT combines a scene from Frank Norris's 1903 novel The Pit, about an attempt to corner the wheat market, with the form of a sports event, an idea from Bertolt Brecht. Play-by-play announcer Alex Keefe (WBEZ) and color commentators Tim Samuelson (City of Chicago cultural historian) and Mike Gorham (economist at IIT) narrate the frenzied trading in the PIT. Reporter Niala Boodhoo (WBEZ) interviews traders and members of the public alike as the corner in wheat collapses. With marching band music by Justin Amolsch and concession-based commodities by Maggie Hennessy. And the national anthem sung by L. Wyatt. And 1890s commodities traders played by volunteers from SlowFood Chicago, Northwestern University Press, Paddy Long's, Public Media Institute, Civic Lab, Archeworks, MAKE magazine, the Hideout, and Architecture for Humanity. The PIT is part of the Chicago Architecture Foundation Open House event and has been co-planned by Ingrid Gladys Haftel. More on that here.
7. Speaking of reenactments — consider Town Bloody Hall: