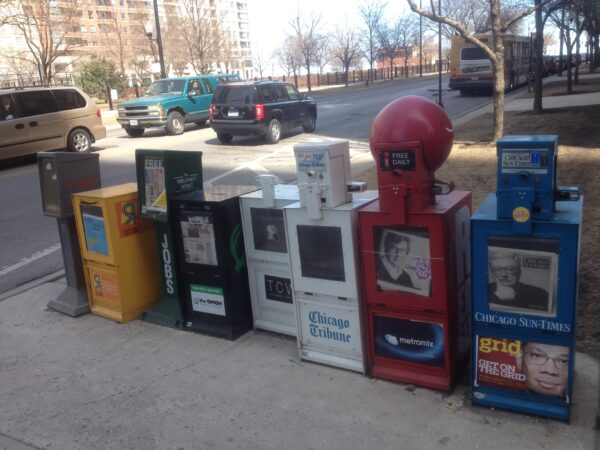 What does it mean when a city of almost three million with a thriving art scene has not a single full-time art critic? That's the situation in Chicago when just weeks ago Time Out Chicago was bought out bringing an end the print edition, which circulated to 55,000, moving to an all-digital format and along the way losing almost all of their staff of about sixty. This included the city's last remaining full-time art critic, Lauren Weinberg. I wish her nothing but the best and good luck on her future plans.
This is not to say that Chicago lacks art critics, indeed we have many, and some (like Jason Foumberg) are able to work the equivalent of full-time with various freelance gigs. However, at Chicago's two major dailies and high circulation magazines there is visual art coverage but no staff critic. Kyle Macmillan made this point recently in the Chicago Sun-Times noting, "While each [of the two daily newspapers] has a full-time critic devoted to theater, for example, art is covered irregularly by free-lance writers." I hope the irony was not lost on readers; just to spell it out Macmillan himself is a freelance writer covering art irregularly in the Sun-Times. A similar situation exists at the Chicago Tribune where both Claudine Ise and Lori Waxman (and both with connections to Bad at Sports) write about art, but are classified as "Special to the Tribune."
With art covered in some way, some may ask what the problem is. To answer that straightaway, the problem is that by covering visual art with freelance labor the papers make little commitment to the writers themselves and seemingly little commitment to the Chicago art scene. When the Tribune does cover art it's apparently "special," not part of the usual coverage though such coverage appears regularly. In this way it's the perfect solution for these cash-strapped media companies, they get to keep up appearances of visual art coverage while not actually making commitments to it. One has to wonder how many people these companies are fooling, particularly in the art community, which can sense ingenuity like a disturbance in the Force. The Tribune just emerged from bankruptcy court and are seeking to sell off assets. Correct me if I'm wrong, but the Sun-Times doesn't seem to be breaking revenue records either. Meanwhile, Newcity, with a firm, consistent, and overt commitment to arts coverage guided by Jason Foumberg (and where I occasionally contribute) doubled down on the arts at the height of the Great Recession. The result is a strong and genuine brand identity (even if you don't like what they write, their commitment is undeniable) and, as revealed in a tweet from Newcity last month, print revenue that is up 33%.
The lack of dedicated staff covering art, e.g. an art critic, leads directly to repeated situations of the visual arts being marginalized within the newspaper content itself, broader civic discussions, and/or panels. Last month the Tribune sponsored a panel discussion titled "Chicago Forward: The Future of the Arts in Chicago" included were "Chicago Tribune editorial page editor Bruce Dold and [theater] critic Chris Jones as moderators, among [sic] with celebrity chef Rick Bayless, Chicago's cultural commissioner Michelle Boone, artist and playwright Tony Fitzpatrick and renowned architect Jeanne Gang." Again we see arts represented, but not by the organizing media company. Or last month also the Tribune had a "Critic's Roundtable: Violence in the arts." Missing: one Tribune art critic. What's interesting is that in researching this I've found that the Tribune has no less than three "arts" critics (Mark Caro, Christopher Borrelli, and Howard Reich) but the regular visual art coverage doesn't come from them, rather it comes from Waxman and Ise. When will one or both of these women be given a seat at the critic's table? Their qualifications are beyond doubt and obviously they've already produced quite a bit of content for the paper.
If arts coverage is marginalized within these media companies, it should come as little surprise that the lack of coverage manifests in larger, undesirable ways. Without several critic voices regularly describing and communicating Chicago's art scene are we then surprised that International Association of Art Critics-USA (AICA-USA) nominated only exhibitions and institutions on either coast with very few exceptions? Without our major media companies making a real commitment to art are we surprised that journalism seems to not include art criticism more and more often? Without regular writing about contemporary art are we surprised that most people don't understand contemporary art, support it, or buy it? Without the continual and full support of media coverage in Chicago are we surprised when artists flee to the coasts?
If the Chicago art community wants more, more national and international attention and recognition, more major artists staying in Chicago, more opportunities across the board from sales to exhibitions, it's time that we demanded our major newspapers and magazines step up and make a commitment. It's time we had an art critic in our newspapers.
Preface
This week the Fashion Institute of Technology held a panel on scale and spectacle called "Size Matters" (apparently unaware that they were in danger of ripping off and thereby angering curator Shaquille O'Neal, also a basketball player apparently, who curated an exhibition in 2010 by the title of "Size DOES Matter"). The panelists were Gavin Brown, Roberta Smith, Peter Halley and KAWS, with Hrag Vartanian of Hyperallergic.com as the moderator. There are a lot of panels all over the world and this one wouldn't really be notable except that Julia Halperin, editor of Art + Auction, live tweeted it and one particular tweet caught my attention. Following the subject of the panel on scale, Halperin reported that "Roberta [Smith] likes Anish Kapoor's Bean [Cloud Gate] in Chicago because you can have a private experience [with] it."
This caught my attention, and the attention of at least two other writers, since it seems the exact opposite of what the actual experience of the artwork is—extremely public. I recalled an essay I had written years ago about the artwork but, wanting to share it with my colleagues, realized that I had never published it since I wanted to be sure to retain copyright over it. I imagine a lot of other writers also accumulate essays and articles never published for one reason or another.
So in the interest of expanding the dialogue around this iconic Chicago work it seems time to publish this essay albeit in slightly modified and updated form.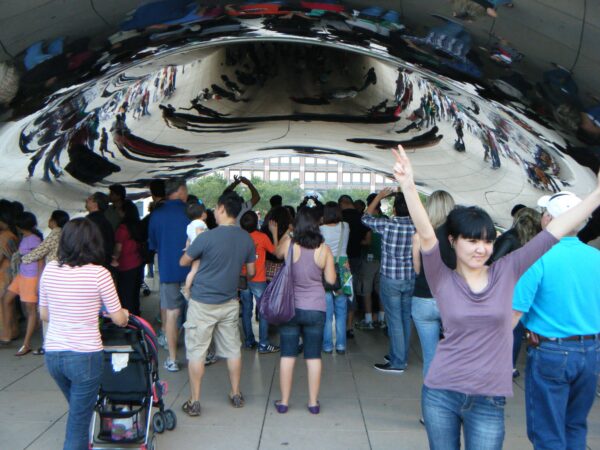 "[O]ver the past 15 years public sculpture. . . has become one of contemporary art's more exciting areas of endeavor and certainly its most dramatically improved one," stated New York Times art critic Roberta Smith, in August of 2008, when she visited Chicago's Millennium Park. And by all accounts, Chicago's Millennium Park is an extraordinary success, inspiring other communities across the country to take on similar projects. The success of Millennium Park, and public art generally, lies in how the artworks function in relation to the city and the people. The artists have achieved a high degree of success in their respective creations, which directly makes the park successful in its mission: "to be a new public space for the people of Chicago."

The mission of Millennium Park sounds a bit generic until one considers the difficult challenge behind that goal. Chicago is the third largest city in the U.S. and like all major cities is home to a variety of people and interests. We're only drawn together by the fact that we are Americans and that we share certain intangible ideals. Other than that we differ in appearances, faith, language and a myriad of other things. We are alike, yet profoundly different. This has been the strength, and challenge, of American life since our country's founding, and this is the strength of the public artwork in Millennium Park, that it allows the viewer to celebrate our differences while creating a tangible sense of community.

Anish Kapoor's Cloud Gate, nicknamed "The Bean" by Chicagoans, is a large, highly polished stainless steel abstraction that looks like a round cloud pinned down on both ends. The reflective surface lures visitors in close, drawing them from far off as if by magnetic attraction. Cameras emerge and visitors start taking pictures, in groups, individually, up close, or far off. We try to find ourselves in the reflections and simultaneously we find ourselves surrounded by the city, and we see ourselves in the city, part of a fabric larger than ourselves. It's a powerful metaphor that becomes real when we see a young Chicagoan make this connection.  Strangers inevitably become a part of other people's pictures, guards are let down and conversations are struck up. The curving reflections of the work dissolve the barriers we put up between ourselves, drawing people into relation, and sometimes conversation, with each other.

The alien form of the abstraction identifies itself immediately as Art but does not alienate, instead it draws people in through their curiosity and the work's generosity. Kapoor's contribution accomplishes the mission of Millennium Park, while being wholly successful on its own terms. Rather than an indifferent sculpture, this is public art that lives up to the aspirations of its genre, bringing people together and inspiring them.
Chicago is one of the few major cities that use taxpayer dollars to destroy art, to the tune of $9 million in 2010.  It's this situation that makes a book like Chicago Street Art a valuable historical document as well as a rare survey of the street artists currently producing work.  This artwork is literally here today and gone tomorrow.
The book also serves as an opportunity to discover who's behind that mysterious piece of art that has suddenly appeared in your neighborhood.  I learned that it was CYRO who has pasted up an odd creature made of mostly fingers on the back of a local clothes donation box.  I found out that it was CRO who did the stencil of a cheerleader holding a cross in one hand—and a gun in the other.  Importantly some artists and artwork remain unknown, even within the ultra-reclusive street art community, but they are still included. Like the artist who puts up positive phrases in block letters around town like, "TRUE LOVE" and "HOPE DIES LAST".
Photos are usually the highlight of street art and graffiti books and Chicago Street Art has excellent ones from Oscar Arriola, Chris Diers, Patrick Hershberger and Thomas Fennell IV.  Some of these photos were shown in the Chicago Urban Art Society's exhibition "The Chicago Street Art Show."   Shot on professional cameras and clearly with time to spare, they are better than the photos in another recently published book about the same topic, The History of American Graffiti (HarperDesign, 2011), which had to rely on amateur snapshots.  The photographers succeed at including the surrounding of the artwork, which is a significant challenge for picturing street art.  You can tell that Grocer piece is on one of Chicago's iconic drawbridges, and a Don't Fret piece is on a pylon for the El tracks.  The grit of the street comes through too; these walls are not decontextualized with the work pried from its environment.  The abandoned buildings are seen, the weeds and tall grass of neglected lots are pictured, the dirty blank expanse of a brick wall is turned into an artist's canvas.  These photos and photographers do the art and, importantly for street art, its environment total justice.  I'd imagine the artists are pleased.
And all the must-know Chicago street artists are included here: CLS, Don't Fret, Goons, SWIV, Nice One, SOLVE, MENTAL 312 and many others. There's only a single artist inclusion that I take issue with, the religious nut-ball that posts screeds all over town, listed in the book only as "Crazy Talk/Artist Unknown." This is most certainly not art, even if it is on the street.  In an especially unfortunate move a homophobic piece from this person is included, although it's tempered by a note someone else has scrawled on it, "God also said love thy neighbor assholes." This piece and the artist should never have been included. While it shows the democratic nature of the street, this is not art.  There's no indication that it was ever intended to be.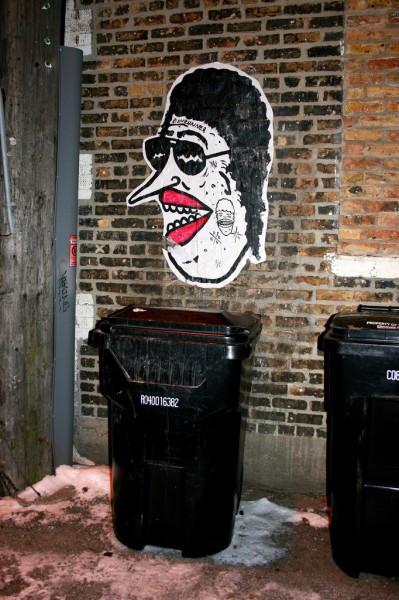 Goons. Photo by Oscar Arriola [not included in book]
The author, designer, editor, and publisher Joseph J. Depre makes a valiant and admirable effort at theorizing street art in his several essays but falls short.  There are some significant errors ("Jackson Pollack") along with spelling and grammar issues that diminish the effort, starting at the introduction. The design could also be more uniform, with fonts, font size and margins frequently changing from essay to essay.  But nonetheless you have to give him props for being a one-man printing company.
Despite some flaws, Chicago Street Art is a must-have for anyone interested in street art, whether they are in Chicago or not.  It also fills a gap in Chicago's reception of the art form, while Los Angeles is having a landmark street art exhibition at their Museum of Contemporary Art, Chicago's institutions have remained completely indifferent.  And at $15, the price of two drinks at the bar, it's quite affordable.
(Chicago Street Art is available for purchase at the Chicago Urban Art Society Chicago Street Art is available for purchase at:Â www.chicagostreetartbook.com/)