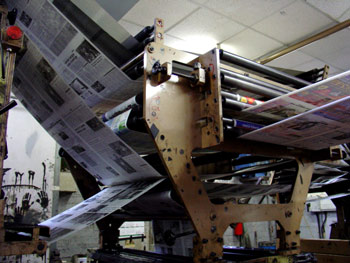 For those who don't subscribe to the e-flux announcements, or have stopped paying attention to them, there was an intriguing round table discussion going down over the weekend at their New York City space on the Lower East Side. With the launch of issue #4 of e-flux journal, they set out to ask:
How do art journals reflect what is currently available or possible in terms of content and distribution?
What forms of practice or engagement do they propose?
And how do they produce and reflect readerships?
And, at the end of the day, why produce or publish (an art journal)?
In the interest of disclosure, I must mention that I have been working with e-flux on their e-flux video rental project, but hopefully that doesn't undermine my saying that their approach towards producing a journal is an all around forward-thinking one.  As an online, freely available, print-on-demand effort, the issue of physical production is not negated but rather deferred.  The publication's production not only lies in wait for the individual, but also the potential producer/distributor.  From what I understood, e-flux seems to be daring someone to actually take up the task of producing the thing, while they focus on what is surely more rewarding.
As far as the participants in Saturday's round table, AA Bronson brought a lovely smattering of rare and out-of-print journals for show and tell, dot dot dot's Stuart Bailey dropped the Deleuze references ("P" is for professor), Silvia Kolbowski valiantly stuck up for October, and Gareth James took a ribbing for the yet-unpublished Scorched Earth. Other participants were Sara G. Rafferty from North Drive Press, Sina Najafi from Cabinet, and of course the three editors of e-flux journal, Brian Kuan Wood, Julieta Aranda, and Anton Vidokle. This was the dynamic that led to the most interesting line of questioning regarding the pedagogical role of a journal, the construction of an audience (otherwise just a phantasm), and the need to publish a journal at all. Look for the recording at e-flux.com, I know there was one.

One thing that remains true across most markets is that its all about the buzz, so I feel compelled to weigh in on my experience at this years Armory and satellite fairs.  Perhaps ironically, I appreciate the crass commercialism of art fairs for the discussions and contextualization they bring about.  Hypothetically, one doesn't even need to see the work in the gallery booths to get the most out of the fair.  The difference between a worthwhile contemporary art fair and a superfluous one is their ability to provoke conversations around art, and that often comes down to programming, programming, programming, (the same often remains true for contemporary art museums).  With this in mind, I made it a point to check out the two Open Forum discussions at the Armory and Volta on Friday, making these the main event and lofty excuse to visit these otherworldly candy stores in downtrodden times.
The first of the day at Pier 92 in the Armory was "Museums Speak! Funding, Exhibitions, Collecting and the Future" featuring Arnold Lehman, Director of The Brooklyn Museum of Art, Thelma Golden, Director and Chief Curator of the Studio Museum in Harlem, and Claudia Gould, The Daniel W. Dietrich, II Director, Institute of Contemporary Art, University of Pennsylvania.  Of course the obvious topic of conversation was the economic recession's effect on museums large and small.  This amounted to amplified fretting and hand wringing about poor endowment returns, staff cuts, and pressure to sell off artworks for those collecting institutions.  Ultimately this inside baseball failed to peek my interest as the average art enthusiast, but by no fault of the participants or others whose jobs might depend on the future funding of museums.
Next up was Volta, a more engaging fair simply for its concentration on individual artists.  Part of the same Open Forum programming was the panel "Re-Inventing Non-Profits in NYC" featuring Anne J. Barlow, Executive Director of Art in General, Mary Ceruti, Executive Director of Sculpture Center and Gianni Jetzer, Director of Swiss Institute.  The discussion was far more reaching in its implications for the future of artist, which automatically perked up my ears as the tendency in these circles is to forget that without artists there is no art.  Again the discussion was set to the doom and gloom tune of economic woes, but fortunately geared towards adjusting and moving forward.  Artists take note, it appears these non-profits are foregoing extravagant exhibitions in favor of funding and facilitating projects that might not otherwise be feasible for emerging artists.  The level of success for these spaces is refreshingly difficult to quantify relative to the museums — which ultimately just want to get bodies through the door —  but issues such as branding still came up as a strategy of shear survival.  Gianni Jetzer seems to think the Swiss Institute has no branding, but he fails to notice that Switzerland itself is a brand, and a damn good one as his performance confirms.  Of the three non-profits, SI seems to be the most willing to take chances and perhaps it's that godmother country's loose purse strings on top of her sex appeal that keeps SI not truly in any position to worry.
A closing note from this last discussion was the divisive question about whether tough economic times will be good for art, as some have suggested.  There seemed to be some consensus that any such idea is a myth, but I have to say I'm not quite convinced.  My hunch is that the playing field is a little more level and its hard not to notice the change in the air that has inevitably come from the powerful having a little less power.
For the sake of introduction, here's a project that kicked off last Saturday in New York City's Coney Island and on the Lower East Side at MWNM. The Box Game is the traveling stage of a larger artwork called 'What's in the Box'. In the month of March a black box will be taken to various locations throughout the United States and Canada by Lukas Geronimas and David Horvitz. At each location they will set up a game that asks people what they think is in the box.
As a sort of real life meme, this project will be interesting as it develops.  Also check out the website. It is much in the same spirit as the artist David Horvitz's other Internet activities both on his own site and the co-curated ASDF Makes.  One can purchase editions of this work in the form of tanks of gas to help these two drive the box across North America.