From the opening shot of Isaach de Bankole waving Tai Chi gestures in a bathroom stall, I could see this was a beautifully composed film.  From the first line, "You don't speak Spanish, right?" it was also clear that this would be a Jarmush film.  Beyond these two facts, I'm not sure what to make of it.  Has the legacy of European Cinema in America unraveled itself so much that a Lone Man finds his purpose in vengeance against some toupée-wearing Philistine?  It seems Jarmusch has taken the best of mentors and contemporaries such as Wim Wenders and Claire Denis, along with the worst from the Hollywood echo chamber of happy endings and pretentious self-indulgences.  Aside from the words of bad reviews, however, I would like to say that it is a risky film.  It's a film to take in pieces, just as each clue is delivered to the Lone Man.  My sense is that those who too heavily criticize the sense of the narrative miss the point, but those that indulge in the inner world of Jarmush fail to see the forest for the trees.  Can you tell the difference?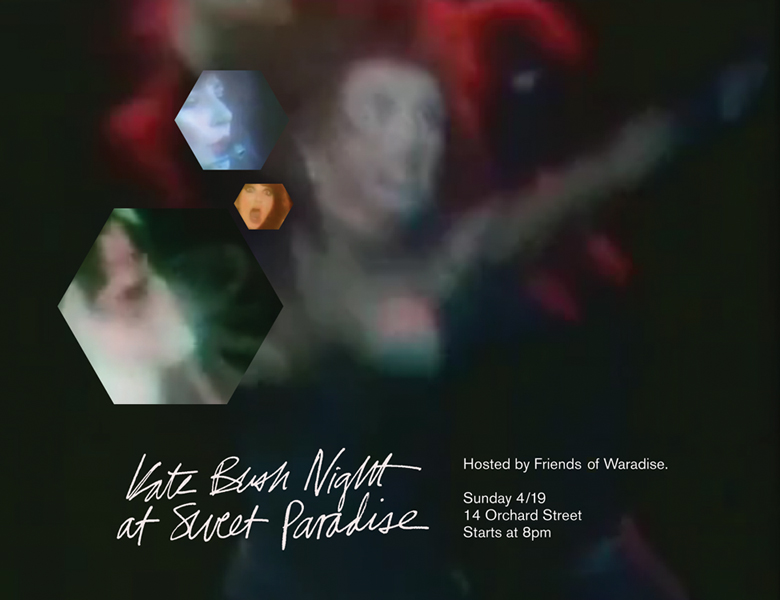 I have to take a moment of BAS time to mention this amazing way to spend a Sunday night.
Via Paper Mag:
"Several of us are banding together to start a new party – Kate Bush Night @ Sweet Paradise. We don't know if it will be weekly, monthly, or a one time thing, but we're giving it a test run this Sunday. We're positioning it as a semi-tongue in cheek counter to Sway's Morrissey night. And any excuse is a good excuse to listen to Kate Bush…"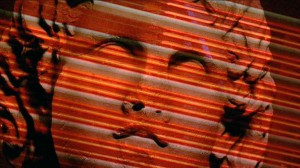 Something tells me that when Jerry Saltz said, "It's a cool school, admired by jargon-wielding academics who write barely readable rhetoric explaining why looking at next to nothing is good for you." He meant something like this:
From the Press Release for Transfers:
Untitled, a 16-millimeter film first screened as part of an exhibition at the Friedrich Petzel Gallery in 2006, emerged from Price's observation that abstraction was rarely seen in film or video presented in art-world settings, despite a strong tradition in experimental film in general. Price purchased a 6-second video loop from a company that makes "empty" background images for corporate use, then added color effects, looped it, and transferred it to film, yielding a hypnotic, emptied-out work that looks back to structuralist and early film experiments even as it presents an image of degraded and détourned digital junk, threatening at each instant to collapse into compression artifacts.

Perhaps out of stubbornness, I still plan to attend.  Although it's an intriguing proposition that we'll see less of this type of work rather than more.
Transfers: Three Works by

Seth

Price
Tuesday, April 14, 2009 at 7:30pm

220 36th Street, 5th Floor
Brooklyn, New York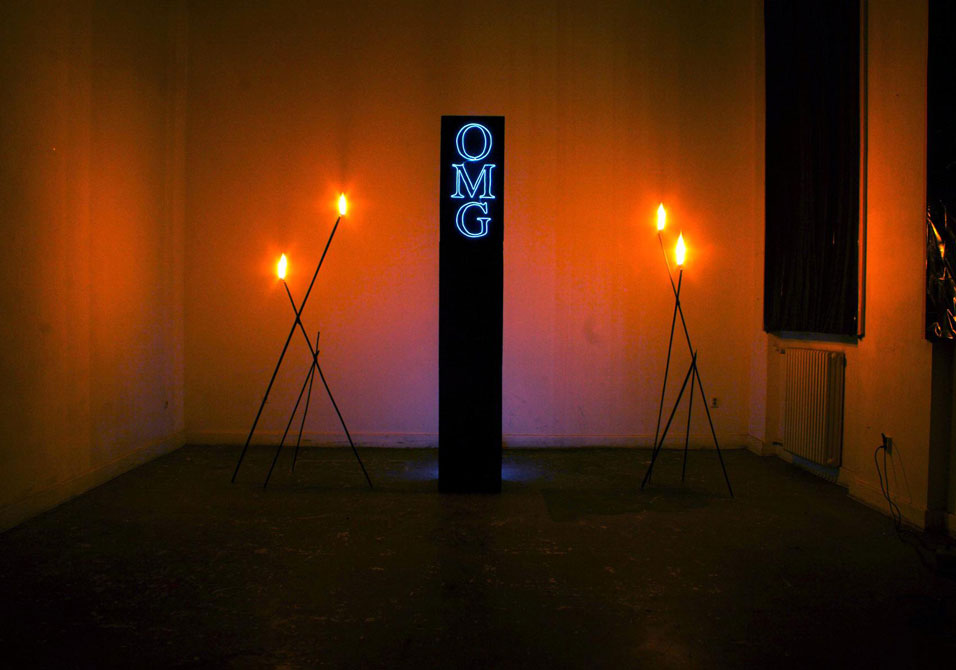 Is it sacrilegious to open a show titled "Younger Then Jesus" the week of Easter?  Presumably that was the provocation, along with the very idea of a generational show for artists under 33 at the New Museum.  After seeing the show, I can't say there's a strong argument for a generation of like-minded artists, but I believe we've come to expect pluralism.  For that very reason, most still shoot arrows in the dark towards some answer about what artists of the present moment are doing.  Everyone hits a different target.
My projection about our generation — I myself am younger than Jesus — was not even to be found in the New Museum exhibition.  The only thing that the New Museum seems to deserve some credit for is posing a question about the present moment at an opportune time. Coupled with the collapse of the art market, it is not inappropriate to be thinking, "What now?"  And that can very easily translate into "What IS now?" The New Museum, however, did not seem to have the answer.  (Which is actually just fine).
Here's how others summed up Generation OMG as represented by the New Museum show: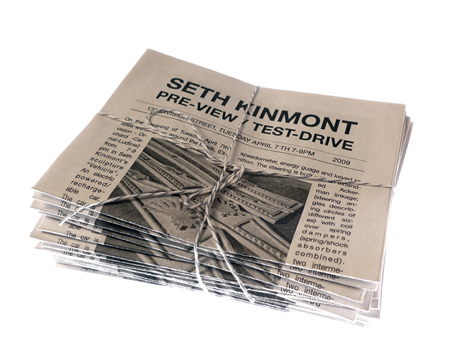 It's not very often that I actually pick up the postcards and flyers I see on the counter of the local coffee shop.  This one, however, caught my eye as it sat there and mocked the New York Times sitting next to it.  Apparently the artist Seth Kinmont knows how to grab the attention of his audience: give them lots of text and images in a clever package.  I expect the same from his electric car.
The car is powered by four twelve volt batteries and sports a set of other familiar amenities, you know, the usual disc brakes, rack and pinion stirring, headlights, air conditioning(!).  And just to throw in a little bit of a challenge, he's built the whole thing out of wood.  From the invite:
Tuesday, April 7th 7-9 pm 138 Division Street (Orchard/Ludlow)
On April 7th, the first in a series of three wooden electric cars will be on view and will be giving rides around the block during the opening hours. Space is limited, so if you are interested a ride, please arrive early to place yourself on the ride list.
On a related note, I objectively love the Project No. 8 website.