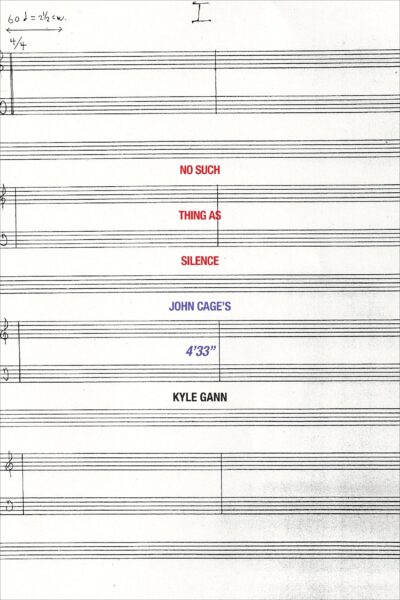 For the longest time I thought John Cage was an asshole. The first thing I knew about Cage was his infamous composition 4'33"—four minutes and thirty-three seconds of silence. To my young mind, this seemed ridiculous, a joke, a lark, or worse, a way to make fun of the listener. But I was a lazy music student, and never bothered to interrogate the assumption I'd formed at my local community college's summer music camp. 4'33" continued as my sole association with Cage until I became interested in Abstract Expressionism and later Minimalism. Even then, I simply placed this work within that mid-century framework. It seemed to me like in the 50s if you were an artist, writer, or composer, and of course, male, there was nothing forbidden. I chalked this work up to nothing more than Cage seizing male privilege.
When I read an ad for Kyle Gann's No Such Thing as Silence: John Cage's 4'33", I immediately ordered it up. Part of Yale University Press's excellent Icons of America series, No Such Thing as Silence undertakes a lovingly enthusiastic investigation into Cage's signature work. This is not serious music history, nor serious art history for that matter. What No Such Thing as Silence does is take an accessible look at a not-so-accessible composition. Gann places 4'33" into the larger art world discourse of the time, while also exploring the work through the lens of Cage's Buddhist beliefs.
It's still easy for me to view 4'33" as prickish, or more generously, arrogant. At least now I can appreciate the composition and its place not just within music history, but also within the history of Minimalism. Despite the highbrow subject matter, No Such Thing as Silence is a fun and illuminating read.
When I was a kid, I was crazy for Andy Warhol. I mean I just loved him, practically erotically. His photo hung on my wall along with pictures of his work that I cut from magazines. To signal my arrival as a teenager, for my 13th birthday my mom bought me a subscription to Interview. After school, I'd go to the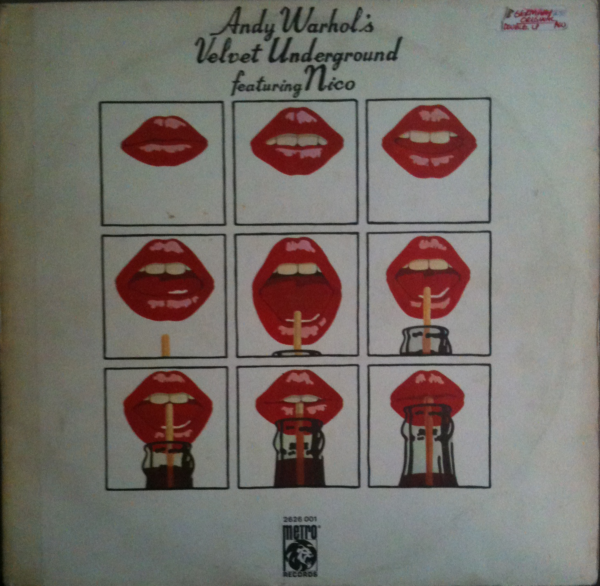 library. I read every book by or about Warhol that my library carried. I'd spend hours in the listening carrels (remember those?) playing records that I'd read about in Interview. For Christmas my eight-grade year, my mom got me The Velvet Underground and Nico from the snooty vintage record shop downtown. Not the regular everyday version with the banana. No, my mom got me the German double-album with the 20-something minute version of "Venus in Furs." Just what my eighth-grade self needed.
Last month I found myself in Pittsburgh. And what's that old proverb? When in Pittsburgh make your way to the Warhol Museum? Finally after all of these years, I got the opportunity to see the museum first-hand. There were many exhibitions, but two stood out. First is "Silver Clouds," a room filled with giant silver Mylar balloons. Fans are installed in all corners, the air pushing the silver pillows counter clockwise around the room. Viewers are invited in to play with these silver clouds as they float around the room. It is a delightful exhibition. In the gallery with three strangers, I felt like a cloud, light and shiny. Perhaps they felt like clouds too. We chased the balloons and playfully batted them around. I couldn't stop laughing. Then some lady came in and beat violently on the clouds, like a disgruntled employee or something. It was very strange and demonstrated just how reliant the installation experience is on the other viewers. This chick completely harshed my Rainbow Bright experience.
First was an installation of televisions all of which showed episodes of Warhol's television shows, specifically Warhol TV. I spent maybe forty minutes walking from television to television watching this old show. I saw Duran Duran, Jerry Hall, Cynthia Gibb. Actually, if I'd thought I'd end up writing about it, I would have watched more interviews with actual artists and fewer of washed-up seventies television stars whom I love so much.
These episodes aired on public access in the late seventies and early eighties, at a time when Warhol had fallen out of favor in the eyes of the "legitimate" art world. At this point Warhol was seen as a joke, a hack, a sell-out, which is really all he ever wanted or claimed to be. You could argue that the Warhol of these shitty public access shows was the culmination of his commercial vision. These shows are charming and shockingly innocent. Watching a series of interviews with people who were hot hot hot at that specific moment in time, placed in relief my current ideas about Warhol. I didn't know most of the people interviewed. They didn't stand the test of time. The coolest underground band in 1983 isn't necessarily remembered in 2011. But everybody still knows Warhol, irrespective of their ideas about him or his artwork. Warhol TV read as camp at the time, but here, more than thirty years later it reveals itself as prescient. I wonder what Warhol would think of today's reality TV stars. My guess is that he would have featured them on his show.
I might be late to this party, but I recently fell in love with photographer James Bidgood. Bidgood is what they call a "re-discovered" artist, though he was re-discovered more than a decade ago. That term always makes me nervous. I'm not sure why. Maybe because re-discovered is often masking something else more sinister lurking in the era from which the artist was supposedly lost, like hostility or worse, indifference.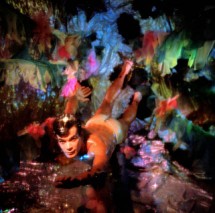 In 1999 Taschen released Bidgood's first and as far as I know only monograph, then in 2009 it was re-released as well as heavily discounted, which really does matter because, man, art books are expensive. The whole book is a delight. It's huge and lushly illustrated with photos that are themselves lush. Bidgood got his start in the physique magazines of the early 1960s. He produced stunning, elaborate pictorials for magazines such as Muscleboy and The Young Physique. All of his images are of men who I really want to call boys because they are all so innocent and wide-eyed, and oh yea, nude. On the interwebs people often refer to his work as "erotic." Seems to me that this is based mostly on the nude part. His work doesn't seem particularly erotic to me, perhaps because the photos are so filled with fantasy and whimsy. I would call his work sensual (in every sense), even his later work that is more explicit.
Bidgood shot most of these quasi-narrative pictorials in his tiny Manhattan apartment. Fabricating the ocean from yards of lamé, luminous cave walls from tin foil, and sinewy seaweed from everyday waxed paper, Bidgood often lived for weeks in his creation until the shoot was completed. You can see the ghost-image of James Bidgood on Pierre et Gilles and the portraits of David LaChapelle.
If you haven't seen Bidgood's work, you can check it out at his gallery CLAMPART or read the book James Bidgood by Bruce Benderson.