It's easy to think of the New York art scene as a big, gay playground. Okay, maybe not a playground, but a place where gay men have had the opportunity to be relatively open, at least within the parameters set by the norms of their particular era. Think Johns, Rauschenberg, Warhol, and sometimes Larry River who, although didn't identify as gay, often took one for the team. In his book Between You and Me: Queer Disclosures in the New York Art World, 1948-1963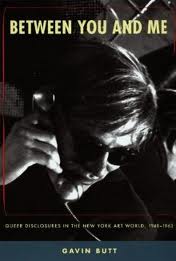 , Gavin Butt presents gossip as an alternative, let's say queer, way of knowing. Butt proposes that when we consider an artist and his work (all the artists presented are male) that we consider more than just reception histories and textbook biographies. Butt suggests that we look deeper than that, showing how gossip informed the work these artists produced, as well as the way the public and art world received it.
Why is gossip important? Well, even in the comparatively liberal New York art scene, it was still the 50s and even if one's homosexuality were "common knowledge" that didn't mean it was accepted by the general public. Artists were often inned by galleries and the mainstream art press. Butt gives many clear of examples of this. He also uses the queer press as confirmation of alternative histories placing such publications as The Mattachine Review and Gay Sunshine Press on the same level as The New York Times.
In a chapter entitled "Dishing on the Swish, or, the 'Inning' of Andy Warhol," Butt outlines the experience of a young Warhol, whom we now think of as a purveyor of prurient gossip. But at the beginning of his career, Warhol was the victim of gossip. In the hyper-masculine 50s, Warhol's sissy demeanor was an embarrassment to the traditionally masculine artists (both gay and straight) in the scene. Warhol became re-invented, not as gay or straight, but as asexual. While the entire art world knew his orientation, Warhol and the media effectively maintained a beyond-sexuality public persona. We can see this same method employed today every time someone says an artist's work is "universal," or that his or her sexuality is "unimportant."
Between You and Me lingers between art history and queer theory, which in itself makes the book queer. This is an older title, published by Duke University Press in 2005, and somehow it feels like it never really found it's niche. Perhaps it is because of this inbetweenness, or maybe because the subject is gossip, which is inherently unserious. I highly recommend this book, not because of what it teaches about the golden age New York art scene, but what it teaches us about queer ways of knowing art today. Between You and Me is a serious academic book, but because of its subject matter left me with an overall feeling of playfulness. Good summer reading, if summer ever comes.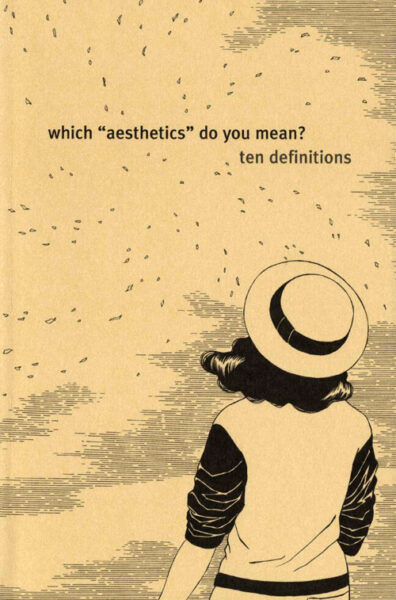 I don't know much about aesthetics. When my friends start talking, usually with plastic cups of wine in their hands, and tossing that word around I nod my head and pretend to know what they mean. But I don't really. The problem is that the word has so many meanings and definitions vary depending on who's using it. I never studied aesthetics in school, but it's not as if I haven't made an effort to educate myself. I read a little Kant and that helped, but not in any sort of practical way. When people say "aesthetics," I'm still not sure what they are talking about.
When I saw the charming little book Which "Aesthetics" Do You Mean?: Ten Definitions, I immediately picked it up. At only 94 pages, many of which are images, this slim book by Leonard Koren undertakes to clear the confusion. In the introduction Koren drills right down, writing "If you have this book in your hand you are most likely a creator or cultural worker who, on any number of occasions, has been seized by the desire to wrestle the terms 'aesthetic' or 'aesthetics' to the ground and strip them of their pretentions. This has probably occurred when you've heard or read 'aesthetic' or 'aesthetics' used in some vague or ambiguous way whose main purpose, it seemed, was to fill semantic dead space, as in I really like his uh, uh, ummm, aesthetics." He's right on all counts.
Which Aesthetics Do You Mean? is divided into two sections. The first section is simply ten definitions of aesthetics with concrete examples, and they are everyday definitions at that. For example, "a style or sensibility" and  "a branch of Western philosophy concerned primarily with the nature of art and related phenomena." These are the kinds of definitions I was expecting, but he also has some surprises in "a profession devoted to the beautification of the human body." Well, I guess that's aesthetics, too. By addressing without judgment all of the ways in which we use "aesthetics," Koren allows us to consider the meanings and their relationship each other.
The second part of the book, however, is odd. Presented as "usage in context," part two serves myriad functions. True to its title, Koren uses the words "aesthetic" and "aesthetics" in context, and next to each instance he provides the definition in brackets. It's illustrative and funny. The oddness comes in the content. At its heart, it is an essay, but it becomes unexpectedly personal and nearly narcissistic with Koren discussing the ugly lawsuit with his ex-wife and what lead him to write his previous book Wabi-Sabi. I also found myself questioning the veracity of what I was reading and wondering if Koren hadn't just presented this fictive example of aesthetics in action. But I don't think so.
Despite its peculiarities, or perhaps because of them, when I finished reading Which Aesthetics Do You Mean?, I was sad. Ultimately, that's how I judge a book.
Which Aesthetics Do You Mean? Leonard Koren. Imperfect Press, 2010.
I love art books. My bookshelves bow with them and they offer thoroughgoing diversion when I can't sleep. Monographs work best for this. I prefer thick paper, with big images that fill the whole page. Although I always read the introduction and biographical essays that start these sorts of books, I prefer the artwork to stand alone on the page. Maybe a date, but that's it. These books offer what all books offer, the ability to experience what I haven't experienced in real life, or to re-experience what I have. I've never been to the Tate or Van Gogh Museum, or even the Frick. But that's the beauty of books, right?
Still, this same warm fuzzy argument doesn't extend to all mediums, at least not for everyone. There was recently a spirited Facebook debate between some friends of mine about Art Project by Google. The pro Art Project folks said that for the first time in history some of the world's best art was available directly to our homes, that with our personal computers we could access images of great (and maybe not so great) art. Because the images are high-resolution, we can zoom in close, see the paint, the hairs left by the brushes, the hand of the artist, all at a quality even more detailed than an actual book, even more detailed than standing in front of the original painting. And what about the detractors? They argued that when we log into Art Project we are not looking at art, we instead are looking at digitized reproductions. Even reproductions in books are still ultimately objects. These same folks also argue that we are on a slippery slope, where a virtual experience becomes a replacement for the experience itself.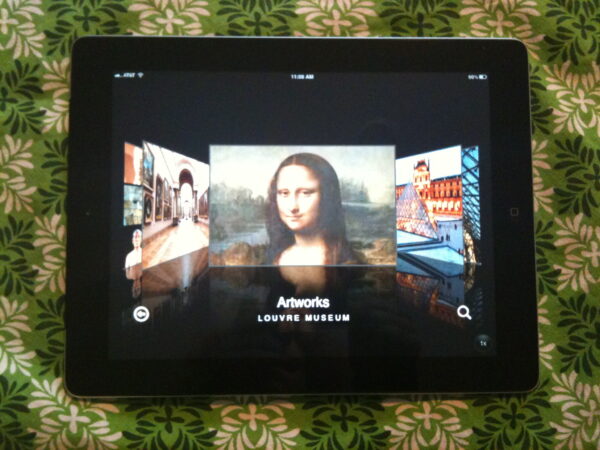 Recently museums have started making apps for smartphones and tablets. Personally, I have apps for The Louvre, Hermitage, The Art Institute of Chicago Impressionist collection, and the MoMA Ab Ex Exhibition. Some of these apps are better than others. For example MoMA's excellent Ab Ex app takes you through a tour of their recently closed Abstract Expressionist exhibition. You click on an image to make it larger and to access information about the artwork. But along with the images we also get a video of Ann Temkin discussing why she mounted the show and how she selected the works that would be included. She discusses the history of the Abstract Expressionists and why we should care about them today. Arguably, if I had seen this show at MoMA, I wouldn't know any of these things. Perhaps what is lost by not seeing the works in person is made up for by added information and contextualization.
David Lynch said, "If you're playing the movie on a telephone, you will never in a trillion years experience the film. You'll think you have experienced it, but you'll be cheated. It's such a sadness that you think you've seen a film on your fucking telephone. Get real." I do see Lynch's point, a smartphone or even an awesome tablet doesn't equal a real-life experience with a work of art. But my question for Lynch is, does he extend this to all non-theatrical viewing? I mean before we watched movies on our phones we watched them on DVD, and before that video, and before that broadcast television if we were lucky enough that the one of three stations would re-run a movie we might consider "art." Where exactly is he drawing the line in the technological sand? What technology is an acceptable mediator for art? The harsh tokes are that once your art is in the world, you don't control it anymore no matter how hard you try (I'm talking to you, Anish Kapoor).
Over the years we have grown comfortable with new technologies. By now, no one is threatened by a book. When records were introduced people argued that this reproduction was not the same as a live performance. Then CDs were not as "alive" as the sensuous analog sound of vinyl. MP3s not as "lush" as compact discs. Without exception this is all true. What is also true is that we now listen to music all day instead of just on special occasions. So perhaps we trade quality for quantity, but we also gain access to music we could never hear live and we can also control when we listen to it.
All through college "The Birth of Venus" hung over my bed. Never once did I confuse this poster with the real thing. The original hangs in Florence at The Uffizi Gallery. I've never been to that museum and sadly enough, I probably won't ever. Mechanical reproduction and digital technology has acted as a mediator between viewer and artwork for centuries. How is an exhibition app any different than a catalogue? Even with all its bells and whistles an iPad is still on the same trajectory as moveable type. After all those years of looking each morning at Venus, I never saw her so clearly as I did when I saw her on Art Project.
Over the last few years, Community Supported Agriculture (CSA) has exploded in popularity. When I moved to Chicago in 2000, there were only a handful of CSAs available to Chicagoans. Now there are dozens. CSAs have become so popular that The New York Times frequently runs articles about what to do with your seasonal surpluses. CSAs work in an interesting way—customers "subscribe" or buy "shares" in a farm's yield. In this way, farmers know in advance their minimum sales and also have money upfront to purchase supplies. For the buyer this means excellent, seasonal produce (or fruit, meat, dairy) that is usually organic and always high quality. But CSAs are about more than just yummy, healthful food. CSAs are a way for non-farmers to support an activity they find valuable, like independent farming.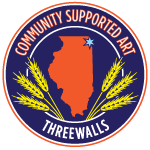 Three Walls is applying this same idea to art. Their Community Supported Art program offers six artworks by six different artists, all for the reasonable price of $400, or $350 if you act before April 30th.  Various arts groups have done this before. In the 80s, SubPop had their Singles Club whereby each month subscribers received a fresh-off-the-press single right to their mailbox. More recently, I was a subscriber to Featherproof Press's Paper Egg, a subscription book service. Sadly, Paper Egg didn't really work out for the folks at Featherproof, but that doesn't mean it was a failure. People want to support artists. Buying art is hard, though. It's expensive and often it is hard to know where to spend your hard-earned dollars when you do finally decide to buy an artwork. But this is where the subscription, the food-type CSA model does its best work. Just as we are not exactly sure what each CSA box might yield, neither do we know the contents of a Three Walls CSA box. I mean, anything could be in there. [UPDATE: Okay, so not anything could be in there. There are 12 works in total of which each subscriber will receive 6.]
While not exactly common, Community Supported Art programs are springing up around the country and are a fresh way to explore alternative methods of connecting artists and those who buy art. Do listen to Claudine Ise, Duncan MacKenzie, and Dan Gunn discuss this on the Art:21 Centerfield podcast. The official launch of the 2011 Three Walls CSA is on April 30th from 6 to 9, in conjunction with Art Chicago/NEXT.
Last week on the NPR blog Monkey See, there was an interesting article by Linda Holmes about a new study released from the National Endowment for the Arts. In this study enticingly entitled "Age and arts participation: A case against demographic destiny," the NEA talks about the decline in what are called "cultural omnivores." These omnivores participate in many arts events. They go to the ballet, opera, and classical music concerts, which the NEA actually refers to as "highbrow" events, with "high cultural status." But these same folks also participate in "middle- or low-brow events." Cultural omnivores like music and theatre, and they also comprise a large percentage of gallery attendees. This makes sense to me because the study argues that our omnivorousness correlates to age—the younger we are, the more likely to participate in all sorts of cultural events. From what I've seen, this appears to be true. It seems gallery events usually do skew young. But the study also says that our greatest population of cultural omnivores were born before 1955. We are now breeding fewer and fewer omnivores.
In my circle, which I'm inclined to think is a lot like your circle, being able to competently consume acr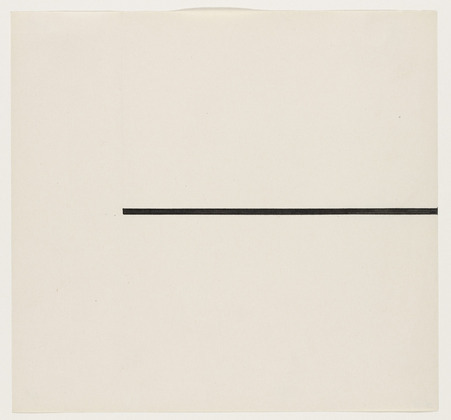 oss cultural status (high-, middle-, and low-brow) is the sign of well-integrated person, and dare I say it, a cool person. I mean, what good is being able to spend a contemplative half-hour with an Ellsworth Kelly if you can't follow it with an evening on the sofa drinking beer and watching Total Recall on Blue-Ray? What concerns me is that this downward trend in omnivores is somehow reflective of our current state of American politics. Polarized red and blue.
In the NPR article, Holmes has a more optimistic take on the whole thing. She thinks that perhaps we are still just as omnivorous, it only looks different in this digital age. We no longer need to leave the house to engage in such events; we can bring these events to us. What would that make us? Cultural Localvores? A good example of this is when BBC's Radio 3 started its Beethoven series. Listeners brought the server to its knees downloading classical podcasts. Now who would have expected that? Haven't we all read those articles about how classical music is dead?
This study causes me to ponder what exactly it means to be culturally literate, and if it even matters anymore. Do people actually think about which events have "high cultural status"? The NEA study focuses a lot on what the decline of cultural omnivores means for arts funding, which is a bit dry unless arts funding is your thing. But the discussion of cultural omnivores that starts the study is fascinating.