The Spectacular of Vernacular
Walker Art Center, Minneapolis
128 pp, $19.99
From January 29, through May 8, 2011 The Spectacular of Vernacular ran at the Walker Art Center in Min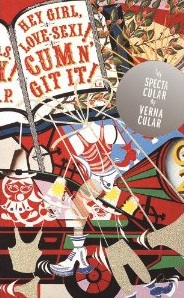 neapolis, Minnesota. With 26 contemporary artists and more than 40 artworks included, Vernacular was sure to be fabulous. Sadly enough, I didn't get the chance to see this show, which is why this little catalogue is such a gem. To be honest, I picked it up because of snazzy cover, a detail of Lari Pittman's A Decorated Chronology of Insistence and Resignation #30. Exhibition catalogues are best when they do more than simply document what has already occurred, when they instead take on their own identity and become a book. The Spectacular of Vernacular achieves this, mostly through the three contextualizing essays.
The introductory essay by Darsie Alexander, chief curator at The Walker, divides the concept of vernacular into three broad categories (I'm paraphrasing here): Location, Ritualistic, Amateur. She then uses these parameters to specifically discuss many of the works included in the show. Her definition of vernacular runs from regional signage to faux-naïve thrift store art. Ultimately, I needed this essay to understand the connective tissue that linked these sometimes disparate pieces. For example the seemingly unrelated Beauty, by Jack Pierson and Marina Abramovic's video Balkan Erotic Epic: Exterior Part 1 (B). After reading Alexander's essay, I came to see the relationship–using that which already exists (or at least seems to) to create something new. Something in the family of found art, if you can call Abramovic's use of ancient religious ritual "found." I wonder what the viewer who didn't read the essay thought about the selections.
The concluding two essays were interesting but not necessary to understanding the exhibit. "The Vernacular," excerpted from the 1984 book Discovering the Vernacular Landscape, by John Brinckerhoff Jackson discusses architecture, particularly of small town America. The book concluded with Andy Sturdevant's delightful essay "You Are Not Nowhere!: Visualizing the Heartland Vernacular." In it, Sturdevant discusses the perception of the Midwest as "nowhere." Funny and true.
Nestled between these essays are the images of the art itself. There are probably as many pages of text as there are of art. Each of the 26 artists is represented along with their statement. I was pleased to find William E Jones included in this exhibition. His 2009 piece, Killed, is a presentation of photographs commissioned by the Farm Security Administration (FSA). It was the policy of director Roy Stryker to punch a hole through the negative when a work was removed, or killed, from the collection. Jones presents these photographs complete with black void looming somewhere in the image. What is so interesting about these photos is that there is no explanation of why the image was killed, leaving the viewer to wonder just what about the photograph was unacceptable.
The other new work that caught my eye was Lorna Simpson's Interior #1 and LA '57—NY '09. In these works both contain snapshots, home beauty photos really, of a young Los Angeles woman in the 50s. Alongside, Simpson has taken photos of herself in period clothes and in the same postures. Looking at the photos compelled me to wonder which was real, which was "authentic." I spent quite a while scouring the images trying to identify what made some look old while others were surprisingly contemporary.
Besides, the found photography element of the works by Jones and Simpson, what also connects them is that both artists manage to get the viewer, or reader in this case, to engage with a photograph in a different from what was intended by the original photographer. In a new context, the pictures are given new life. These works, and by extension, this catalog, drove me to the internet to read more about many of the pieces included in the exhibition. To me this makes the catalogue a success in its own right.
The Spectacular of Vernacular continues on to Huston, Texas, July 23-September 18, 2011; Mont Clair, New Jersey, October 8- January 1, 2012; Chapel Hill, North Carolina, January 14-March 18, 2012.
I spent the first part of this week in my bedroom, blinds drawn, air cranked, trying to escape the heat. I caught up on a bunch of reading, and actually finished a few books I'd been reading for so long that I feared that at any moment they might turn in to those books that just never get finished. But all of that ground to a halt when the weather changed and the temperature dropped, like what, 50 degrees? So here it is Friday, and I spent all of yesterday pissed off because it's so cold and rainy, and there's just more of that to come.
What are you doing during all this rain? I've these storms have made me too restless to either read or write so instead I've been frittering my time in the bosom of the interwebs. So for today's post, I thought I'd suggest three art and media archives that are an amazing way to kill a few (dozen) hours. Think of them like giant time sponges that will suck every available minute. Maybe more like the Borg, pulling you in until it's impossible to tell where you end and the site begins.
Europa Film Treasures houses a vast selection of historic (mostly) European films. A majority of them are shorts, which isn't hard to understand as the films reach all the way back to the 1800s. This archive is particularly attractive for those interested in film history. There does seem to be the expectation that visitors will know exactly what they are looking for. It was a little hard to navigate, but since I had no real business there, clicking around on whatever caught my fancy worked well enough. You can search by date, director, country, sound or silent, black and white, color, hand colored. If you are doing real research, I'd definitely check this out.
Last winter I went on Chicago Detours' Pedway tour. At each historic spot, we clustered around a handful of iPads to watch archival footage of Chicago and interviews with awesome folks from the 70s. I asked our guide where the footage came from and she said Media Burn. Turns out this site is politically minded, with a definite Chicago slant. Though not as extensive as some other sites, Media Burn: Independent Video Archive is a great place to see documentary footage. Much of the video came from the producer of the show Image Union and also Studs Terkle. It also seems like Media Burn is actively working on expanding the site to include historic documents as well.
Lastly, the grandmother of all online spoken word libraries, UbuWeb. Think of it as a digital repository of the avant-garde. Some of the cool things I've pried from there is Gertrude Stein reading "If I Told Him: A Completed Portrait of Picasso," Takashi Murakami's ad for Louis Vuitton, and Joan Logue's "30 Second Spots: TV Commercials for Artists, " with Nam June Paik, Orlan, and Laurie Anderson among others. It even has some Gavin Bryars pieces that it took me forever to track down back in the day. To be honest, since UbuWeb has been around for so long, I'd nearly forgotten about it. But recently, I dropped by again and was stunned by the staggering video additions. The library is extensive and seems to be growing everyday. UbuWeb is not university affiliated, which I'd always assumed, but was instead started by poet Kenneth Goldsmith in 1996. UbuWeb is free and is committed to making available works that would otherwise languish, out of print, and eventually forgotten.
So here are three places to spend your time just in case it stays miserable. But if the sun comes out, go for it. Take advantage of it while you can. Winter's just around the corner.
It's easy to think of the New York art scene as a big, gay playground. Okay, maybe not a playground, but a place where gay men have had the opportunity to be relatively open, at least within the parameters set by the norms of their particular era. Think Johns, Rauschenberg, Warhol, and sometimes Larry River who, although didn't identify as gay, often took one for the team. In his book Between You and Me: Queer Disclosures in the New York Art World, 1948-1963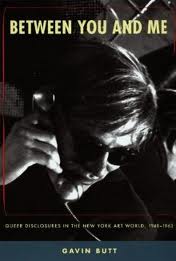 , Gavin Butt presents gossip as an alternative, let's say queer, way of knowing. Butt proposes that when we consider an artist and his work (all the artists presented are male) that we consider more than just reception histories and textbook biographies. Butt suggests that we look deeper than that, showing how gossip informed the work these artists produced, as well as the way the public and art world received it.
Why is gossip important? Well, even in the comparatively liberal New York art scene, it was still the 50s and even if one's homosexuality were "common knowledge" that didn't mean it was accepted by the general public. Artists were often inned by galleries and the mainstream art press. Butt gives many clear of examples of this. He also uses the queer press as confirmation of alternative histories placing such publications as The Mattachine Review and Gay Sunshine Press on the same level as The New York Times.
In a chapter entitled "Dishing on the Swish, or, the 'Inning' of Andy Warhol," Butt outlines the experience of a young Warhol, whom we now think of as a purveyor of prurient gossip. But at the beginning of his career, Warhol was the victim of gossip. In the hyper-masculine 50s, Warhol's sissy demeanor was an embarrassment to the traditionally masculine artists (both gay and straight) in the scene. Warhol became re-invented, not as gay or straight, but as asexual. While the entire art world knew his orientation, Warhol and the media effectively maintained a beyond-sexuality public persona. We can see this same method employed today every time someone says an artist's work is "universal," or that his or her sexuality is "unimportant."
Between You and Me lingers between art history and queer theory, which in itself makes the book queer. This is an older title, published by Duke University Press in 2005, and somehow it feels like it never really found it's niche. Perhaps it is because of this inbetweenness, or maybe because the subject is gossip, which is inherently unserious. I highly recommend this book, not because of what it teaches about the golden age New York art scene, but what it teaches us about queer ways of knowing art today. Between You and Me is a serious academic book, but because of its subject matter left me with an overall feeling of playfulness. Good summer reading, if summer ever comes.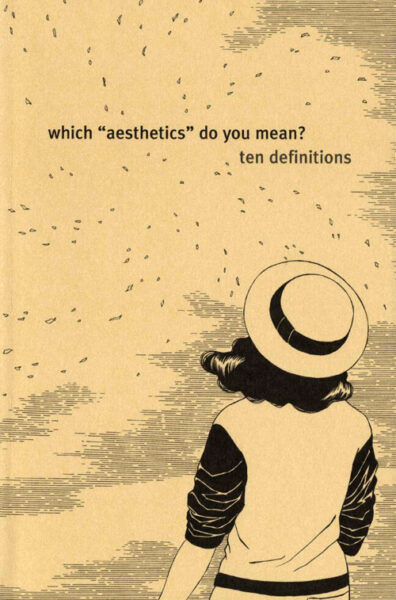 I don't know much about aesthetics. When my friends start talking, usually with plastic cups of wine in their hands, and tossing that word around I nod my head and pretend to know what they mean. But I don't really. The problem is that the word has so many meanings and definitions vary depending on who's using it. I never studied aesthetics in school, but it's not as if I haven't made an effort to educate myself. I read a little Kant and that helped, but not in any sort of practical way. When people say "aesthetics," I'm still not sure what they are talking about.
When I saw the charming little book Which "Aesthetics" Do You Mean?: Ten Definitions, I immediately picked it up. At only 94 pages, many of which are images, this slim book by Leonard Koren undertakes to clear the confusion. In the introduction Koren drills right down, writing "If you have this book in your hand you are most likely a creator or cultural worker who, on any number of occasions, has been seized by the desire to wrestle the terms 'aesthetic' or 'aesthetics' to the ground and strip them of their pretentions. This has probably occurred when you've heard or read 'aesthetic' or 'aesthetics' used in some vague or ambiguous way whose main purpose, it seemed, was to fill semantic dead space, as in I really like his uh, uh, ummm, aesthetics." He's right on all counts.
Which Aesthetics Do You Mean? is divided into two sections. The first section is simply ten definitions of aesthetics with concrete examples, and they are everyday definitions at that. For example, "a style or sensibility" and  "a branch of Western philosophy concerned primarily with the nature of art and related phenomena." These are the kinds of definitions I was expecting, but he also has some surprises in "a profession devoted to the beautification of the human body." Well, I guess that's aesthetics, too. By addressing without judgment all of the ways in which we use "aesthetics," Koren allows us to consider the meanings and their relationship each other.
The second part of the book, however, is odd. Presented as "usage in context," part two serves myriad functions. True to its title, Koren uses the words "aesthetic" and "aesthetics" in context, and next to each instance he provides the definition in brackets. It's illustrative and funny. The oddness comes in the content. At its heart, it is an essay, but it becomes unexpectedly personal and nearly narcissistic with Koren discussing the ugly lawsuit with his ex-wife and what lead him to write his previous book Wabi-Sabi. I also found myself questioning the veracity of what I was reading and wondering if Koren hadn't just presented this fictive example of aesthetics in action. But I don't think so.
Despite its peculiarities, or perhaps because of them, when I finished reading Which Aesthetics Do You Mean?, I was sad. Ultimately, that's how I judge a book.
Which Aesthetics Do You Mean? Leonard Koren. Imperfect Press, 2010.
I love art books. My bookshelves bow with them and they offer thoroughgoing diversion when I can't sleep. Monographs work best for this. I prefer thick paper, with big images that fill the whole page. Although I always read the introduction and biographical essays that start these sorts of books, I prefer the artwork to stand alone on the page. Maybe a date, but that's it. These books offer what all books offer, the ability to experience what I haven't experienced in real life, or to re-experience what I have. I've never been to the Tate or Van Gogh Museum, or even the Frick. But that's the beauty of books, right?
Still, this same warm fuzzy argument doesn't extend to all mediums, at least not for everyone. There was recently a spirited Facebook debate between some friends of mine about Art Project by Google. The pro Art Project folks said that for the first time in history some of the world's best art was available directly to our homes, that with our personal computers we could access images of great (and maybe not so great) art. Because the images are high-resolution, we can zoom in close, see the paint, the hairs left by the brushes, the hand of the artist, all at a quality even more detailed than an actual book, even more detailed than standing in front of the original painting. And what about the detractors? They argued that when we log into Art Project we are not looking at art, we instead are looking at digitized reproductions. Even reproductions in books are still ultimately objects. These same folks also argue that we are on a slippery slope, where a virtual experience becomes a replacement for the experience itself.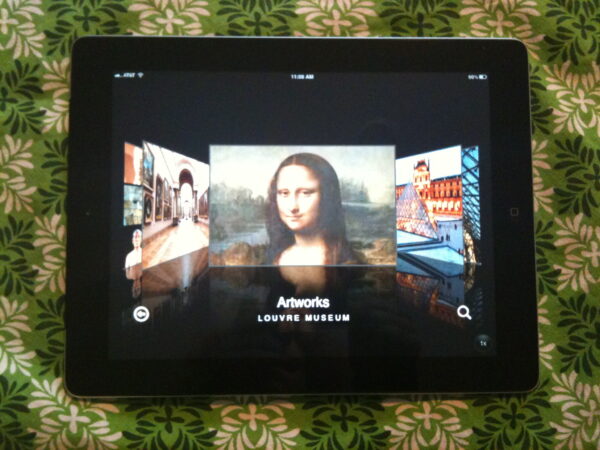 Recently museums have started making apps for smartphones and tablets. Personally, I have apps for The Louvre, Hermitage, The Art Institute of Chicago Impressionist collection, and the MoMA Ab Ex Exhibition. Some of these apps are better than others. For example MoMA's excellent Ab Ex app takes you through a tour of their recently closed Abstract Expressionist exhibition. You click on an image to make it larger and to access information about the artwork. But along with the images we also get a video of Ann Temkin discussing why she mounted the show and how she selected the works that would be included. She discusses the history of the Abstract Expressionists and why we should care about them today. Arguably, if I had seen this show at MoMA, I wouldn't know any of these things. Perhaps what is lost by not seeing the works in person is made up for by added information and contextualization.
David Lynch said, "If you're playing the movie on a telephone, you will never in a trillion years experience the film. You'll think you have experienced it, but you'll be cheated. It's such a sadness that you think you've seen a film on your fucking telephone. Get real." I do see Lynch's point, a smartphone or even an awesome tablet doesn't equal a real-life experience with a work of art. But my question for Lynch is, does he extend this to all non-theatrical viewing? I mean before we watched movies on our phones we watched them on DVD, and before that video, and before that broadcast television if we were lucky enough that the one of three stations would re-run a movie we might consider "art." Where exactly is he drawing the line in the technological sand? What technology is an acceptable mediator for art? The harsh tokes are that once your art is in the world, you don't control it anymore no matter how hard you try (I'm talking to you, Anish Kapoor).
Over the years we have grown comfortable with new technologies. By now, no one is threatened by a book. When records were introduced people argued that this reproduction was not the same as a live performance. Then CDs were not as "alive" as the sensuous analog sound of vinyl. MP3s not as "lush" as compact discs. Without exception this is all true. What is also true is that we now listen to music all day instead of just on special occasions. So perhaps we trade quality for quantity, but we also gain access to music we could never hear live and we can also control when we listen to it.
All through college "The Birth of Venus" hung over my bed. Never once did I confuse this poster with the real thing. The original hangs in Florence at The Uffizi Gallery. I've never been to that museum and sadly enough, I probably won't ever. Mechanical reproduction and digital technology has acted as a mediator between viewer and artwork for centuries. How is an exhibition app any different than a catalogue? Even with all its bells and whistles an iPad is still on the same trajectory as moveable type. After all those years of looking each morning at Venus, I never saw her so clearly as I did when I saw her on Art Project.