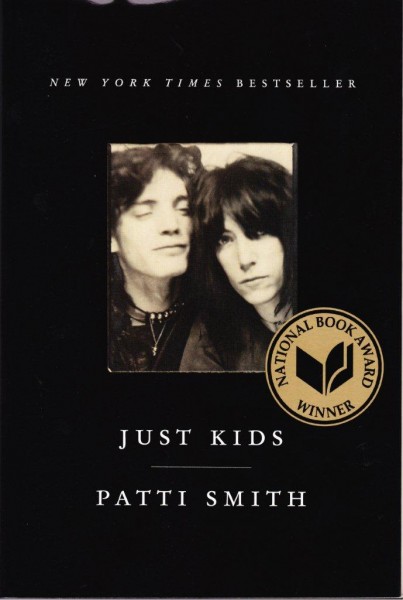 For a while now I've been meaning to write about Just Kids, Patti Smith's 2010 memoir about her relationship with artist Robert Mapplethorpe. But you know how you put things off until it seems like the moment has passed? Well, that moment has just come back around again. In case you were super busy last year, let me fill you in. Just Kids won the National f*ing Book Award and spent almost two months on The New York Times bestseller list. She was also this year's speaker at The School of the Art Institute's commencement. That's a lot of action for someone who started her career in the early 70s and is often referred to as the Godmother of Punk.
Two interesting things happened this week. Spotify just posted a ten-hour playlist based on music mentioned in Just Kids. I thought I was the only one who made playlists from books, but it turns out that for many biblio/audio-philes this is a legitimate pastime. The publishing blog Galley Cat has been posting links to playlists for authors like Ann Patchett and Thomas Pynchon. You should definitely check them out. The ones I've seen are considerably shorter than ten hours.
The second tidbit is that Patti Smith has been contracted to co-write the screenplay for the film adaptation. I love, love, love artist bio-pics. Pollack. Basquiat. Henry and June. Caravaggio. The Moon and Sixpence. (Perhaps this is worthy of its own blog post.) I can't wait to see the completed movie. I hope they cast really sexy people and not just some kids who are popular. Hmmm, I wonder who could play Patti Smith and Robert Mapplethorpe at 20? Well, whoever ends up playing them, they're most likely still in junior high so it's probably not worth my time thinking about it too much.
Do check out the book:
Just Kids by Patti Smith
Ecco, Harper Collins, 2010
320 pages
There sure have been a lot of storms this week. My power went out twice. While it would make sense for me to recommend some books to read during the next deluge that is expected to start Sunday, when it's storming all I want to do is curl up on the sofa and watch a good movie. With this in mind, I am recommending three documentaries, all of which I have seen more than half a dozen times. These films are informative, sure, but mostly they are lovely to look at and transporting, unusual traits for documentaries.
Visual Acoustics: The Modernism of Julius Shulman (2008) focuses on the life and work of architectural photographer Julius Shulman. When I first heard about this film, Shulman's name was unknown to me, so you can imagine how surprised I was to find that I had seen his work my whole life. Try this: Conjure any amazing picture of a mid-century house or building that you can remember. Okay, Julius Shulman took that picture. Well into his 90s, Shulman reminisces about the architects that influenced him. He talks about his start with Frank Lloyd Wright and there is even a scene where an uncustomarily humble Frank Gehry credits Shulman for helping launch his career. The film is rich with architectural history and beautiful, mostly black and white shots of Shulman's work. Really though, this film is just modernist porn.
Objectified (2009) by Gary Hustwit takes a close and surprisingly loving look at industrial design. Throughout the film, we are shown everyday objects and then follow the origin of that design. Objectified features rock stars of the industry, like Dieter Rams of Braun, the designers at Smart Design, and Jonathan Ive of Apple. In fact there's a little Apple love letter embedded in the film. Words like "extrusion" and "machined parts" somehow come together to paint a warm portrait of the tools we use everyday. Hustwit has a knack for illuminating items that are so common they are invisible. If you don't believe me, be sure to watch his first film, Helvetica (2007).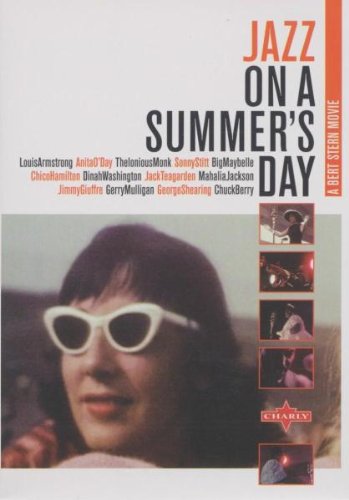 Jazz on a Summer's Day (1960) is less like a traditional documentary or concert film, and more like a home movie. Well, a home move if your dad is Bert Stern, sixties stylin' photographer to the stars. Sort of the Tom Ford of his day. He's probably best known for Marilyn Monroe's final photo shoot. Jazz on a Summer's day documents the 1958 Newport Jazz Festival and is filled with all your favorite fifties performers. Dinah Washington, Thelonious Monk, Mahalia Jackson, and Louis Armstrong. By '58 most Americans were snuggled into the bosom of cool jazz. The Newport Jazz Festival certainly demonstrated this with bands like the Gerry Mulligan Quartet, but much of the music in the film is New Orleans style jazz. This is purportedly a jazz film—and it is, I'm not denying that. But even though this was filmed with high-fidelity sound (unusual for the time), the magic comes in the visual. Lush, long shots of the audience. Hot, sweaty, and well-dressed in their 1958s way. Suit jackets, red lipstick, ties, pumps, and cigarettes. Smoking never looked as sexy. While the music is excellent and the reason I watched this film the first half-dozen times or so, it is Sterns imagery that sets Jazz on a Summer's Day apart. The last time I had a party I ran this sensual film without sound and provided my own soundtrack. This is one of the most beautiful films I've ever seen. The next time you've had a stressful day at work. Pour yourself an iced tea or a glass of wine, watch this film, and feel your everyday worries slip away.
All three of these movies are readily available streaming though Netflix, on Apple's iTunes, and whatnot. When you're rained in next week, believe me, these films will set you free.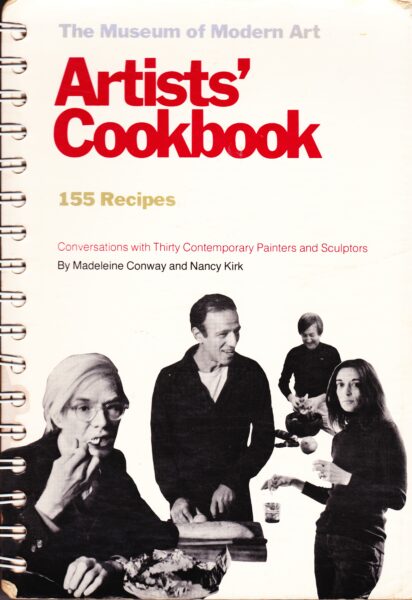 Sometimes a book will sit on the shelf so long that it loses its specificity and becomes merely a faceless one of many. Recently I have been revisiting this group of old friends who are stacked shoulder-to-shoulder on my bookshelves like classmates in some dimly remembered second grade group photo. The Artists' Cookbook by Madeleine Conway and Nancy Kirk is a 1977 publication by The Museum of Modern Art. This book has lived on my shelf since 1979 or so when my best friend's mom gave it to me in a purge of superfluous reading material. As an elementary schooler, I had little use for a cookbook, especially of the gift book variety, but since I've kept it all these years, it must somehow appeal to me. Perhaps she sensed this. This is also the same women, who, when I was thirteen, offhandedly gave me the complete diaries of Anais Nin. Hmmm.
Subtitled "Conversations with Thirty Contemporary Painters and Sculptors," The Artist' Cookbook offers a photograph of the artist in the kitchen, a one-page discussion of his or her perspective on food, followed by a series of the artist's own recipes. I can't even begin to imagine what the authors said when they pitched this book. Maybe something along the lines of… "We could get Warhol to make soup" (146-148). "Marisol eats only 'natural' food" (97-102). "And oh yea, I hear Larry Rivers makes an excellent Bronx Chicken" (126-129). Now I love Willem de Kooning as much as the next person, but do I really want a recipe for his brother Koos's Seafood Sauce? Maybe not, but somehow reading Robert Indiana's recipe for Hoosier Borscht makes me feel as if I know something about him that his art doesn't reveal.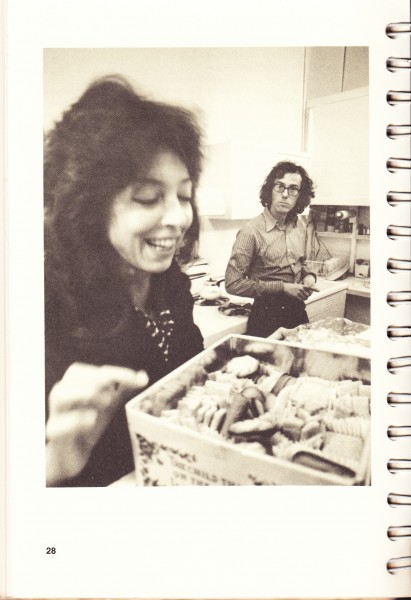 The most charming artists in the book are Christo and Jeanne-Claude—listed only as Christo, of course, since it was 1977. Still, within the text they are treated equally as artists. But only one of them cooks, and that is Jeanne-Claude, and that is if you consider opening a can "cooking." Their little introductory bio is both delightful and bullshitty. The photo, though, is what makes their story. In it, Jeanne-Claude and Christo are younger than I have ever seen them. Christo looks on as Jeanne-Claude giddily peers into a box of cookies. It was only when I was writing this that I realized that I have the same cookie tin. Though you can't tell from the photo, the sides of the box are inscribed with marital advice. For example, Be to her virtues very kind. Be to her faults a little blind. As well as, And oft I have hear defended, Little said is soonest mended. This advice is well employed in our house. Judging by what by all accounts was a successful love affair, it seems that the advice worked as well for Christo and Jeanne-Claude.
 The Artists' Cookbook has been out of print pretty much since the moment it was published. Unlike other out-of-print art books, this one is still affordable, maybe because it does not fall tidily into any particular category. The interwebs show it starting at $25. Collecting vintage cookbooks right now is HOT HOT HOT, and this book would make a nice gift for someone who likes art and cooking, but not, perhaps, for someone who just loves to cook. These recipes are a little hit-or-miss.
The Artists' Cookbook: Conversations with Thirsty Contemporary Painters and Sculptors
Madeleine Conway and Nancy Kirk
The Museum of Modern Art, New York 1977
The Spectacular of Vernacular
Walker Art Center, Minneapolis
128 pp, $19.99
From January 29, through May 8, 2011 The Spectacular of Vernacular ran at the Walker Art Center in Min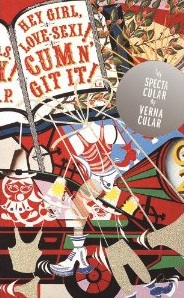 neapolis, Minnesota. With 26 contemporary artists and more than 40 artworks included, Vernacular was sure to be fabulous. Sadly enough, I didn't get the chance to see this show, which is why this little catalogue is such a gem. To be honest, I picked it up because of snazzy cover, a detail of Lari Pittman's A Decorated Chronology of Insistence and Resignation #30. Exhibition catalogues are best when they do more than simply document what has already occurred, when they instead take on their own identity and become a book. The Spectacular of Vernacular achieves this, mostly through the three contextualizing essays.
The introductory essay by Darsie Alexander, chief curator at The Walker, divides the concept of vernacular into three broad categories (I'm paraphrasing here): Location, Ritualistic, Amateur. She then uses these parameters to specifically discuss many of the works included in the show. Her definition of vernacular runs from regional signage to faux-naïve thrift store art. Ultimately, I needed this essay to understand the connective tissue that linked these sometimes disparate pieces. For example the seemingly unrelated Beauty, by Jack Pierson and Marina Abramovic's video Balkan Erotic Epic: Exterior Part 1 (B). After reading Alexander's essay, I came to see the relationship–using that which already exists (or at least seems to) to create something new. Something in the family of found art, if you can call Abramovic's use of ancient religious ritual "found." I wonder what the viewer who didn't read the essay thought about the selections.
The concluding two essays were interesting but not necessary to understanding the exhibit. "The Vernacular," excerpted from the 1984 book Discovering the Vernacular Landscape, by John Brinckerhoff Jackson discusses architecture, particularly of small town America. The book concluded with Andy Sturdevant's delightful essay "You Are Not Nowhere!: Visualizing the Heartland Vernacular." In it, Sturdevant discusses the perception of the Midwest as "nowhere." Funny and true.
Nestled between these essays are the images of the art itself. There are probably as many pages of text as there are of art. Each of the 26 artists is represented along with their statement. I was pleased to find William E Jones included in this exhibition. His 2009 piece, Killed, is a presentation of photographs commissioned by the Farm Security Administration (FSA). It was the policy of director Roy Stryker to punch a hole through the negative when a work was removed, or killed, from the collection. Jones presents these photographs complete with black void looming somewhere in the image. What is so interesting about these photos is that there is no explanation of why the image was killed, leaving the viewer to wonder just what about the photograph was unacceptable.
The other new work that caught my eye was Lorna Simpson's Interior #1 and LA '57—NY '09. In these works both contain snapshots, home beauty photos really, of a young Los Angeles woman in the 50s. Alongside, Simpson has taken photos of herself in period clothes and in the same postures. Looking at the photos compelled me to wonder which was real, which was "authentic." I spent quite a while scouring the images trying to identify what made some look old while others were surprisingly contemporary.
Besides, the found photography element of the works by Jones and Simpson, what also connects them is that both artists manage to get the viewer, or reader in this case, to engage with a photograph in a different from what was intended by the original photographer. In a new context, the pictures are given new life. These works, and by extension, this catalog, drove me to the internet to read more about many of the pieces included in the exhibition. To me this makes the catalogue a success in its own right.
The Spectacular of Vernacular continues on to Huston, Texas, July 23-September 18, 2011; Mont Clair, New Jersey, October 8- January 1, 2012; Chapel Hill, North Carolina, January 14-March 18, 2012.
I spent the first part of this week in my bedroom, blinds drawn, air cranked, trying to escape the heat. I caught up on a bunch of reading, and actually finished a few books I'd been reading for so long that I feared that at any moment they might turn in to those books that just never get finished. But all of that ground to a halt when the weather changed and the temperature dropped, like what, 50 degrees? So here it is Friday, and I spent all of yesterday pissed off because it's so cold and rainy, and there's just more of that to come.
What are you doing during all this rain? I've these storms have made me too restless to either read or write so instead I've been frittering my time in the bosom of the interwebs. So for today's post, I thought I'd suggest three art and media archives that are an amazing way to kill a few (dozen) hours. Think of them like giant time sponges that will suck every available minute. Maybe more like the Borg, pulling you in until it's impossible to tell where you end and the site begins.
Europa Film Treasures houses a vast selection of historic (mostly) European films. A majority of them are shorts, which isn't hard to understand as the films reach all the way back to the 1800s. This archive is particularly attractive for those interested in film history. There does seem to be the expectation that visitors will know exactly what they are looking for. It was a little hard to navigate, but since I had no real business there, clicking around on whatever caught my fancy worked well enough. You can search by date, director, country, sound or silent, black and white, color, hand colored. If you are doing real research, I'd definitely check this out.
Last winter I went on Chicago Detours' Pedway tour. At each historic spot, we clustered around a handful of iPads to watch archival footage of Chicago and interviews with awesome folks from the 70s. I asked our guide where the footage came from and she said Media Burn. Turns out this site is politically minded, with a definite Chicago slant. Though not as extensive as some other sites, Media Burn: Independent Video Archive is a great place to see documentary footage. Much of the video came from the producer of the show Image Union and also Studs Terkle. It also seems like Media Burn is actively working on expanding the site to include historic documents as well.
Lastly, the grandmother of all online spoken word libraries, UbuWeb. Think of it as a digital repository of the avant-garde. Some of the cool things I've pried from there is Gertrude Stein reading "If I Told Him: A Completed Portrait of Picasso," Takashi Murakami's ad for Louis Vuitton, and Joan Logue's "30 Second Spots: TV Commercials for Artists, " with Nam June Paik, Orlan, and Laurie Anderson among others. It even has some Gavin Bryars pieces that it took me forever to track down back in the day. To be honest, since UbuWeb has been around for so long, I'd nearly forgotten about it. But recently, I dropped by again and was stunned by the staggering video additions. The library is extensive and seems to be growing everyday. UbuWeb is not university affiliated, which I'd always assumed, but was instead started by poet Kenneth Goldsmith in 1996. UbuWeb is free and is committed to making available works that would otherwise languish, out of print, and eventually forgotten.
So here are three places to spend your time just in case it stays miserable. But if the sun comes out, go for it. Take advantage of it while you can. Winter's just around the corner.