With Thanksgiving behind us, it is now undeniably the "holiday" season. As the B@S Book Advocate, I at first planned to write about literary gifts for your artist friends. But then I realized there was no way I could read through enough books this month to give any kind of reasoned recommendation. After all, with the change in time and change in season, what I really wanted to do was curl up on the couch and watch a decent holiday movie. As I started making a list of these films, it became clear that all my favorite holiday films are about creative workers, with the notable exception Elf–unless, of course, you consider snowball fabrication and toy construction creative work. So here they are, three holiday films that will help you kill a chilly winter afternoon.
Christmas in Connecticut (1945)—We've all read those homekeeping magazines. You know, the ones that tell us how to make the perfect turkey, or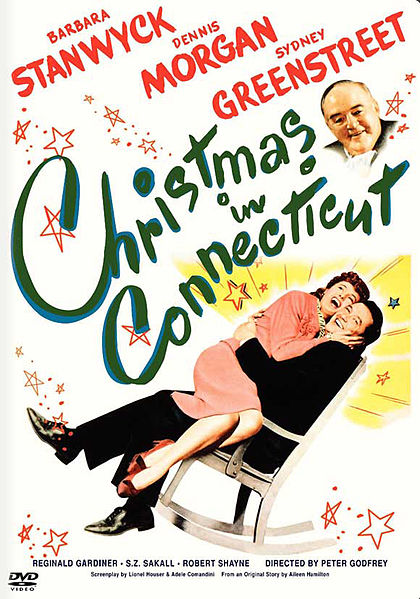 decorate our homes so that they look like the inside of snow globe, and most likely we all fall short by comparison. Good thing for Jefferson Jones (Dennis Morgan), handsome military man, hospitalized after his boat has been sunk by the Germans, that lifestyle writer Elizabeth Lane (Barbara Stanwyck) has a husband, a new baby, and lovely farm in Connecticut. When Lane's publisher asks her to host Jones for Christmas, everyone's a winner, right. Unfortunately for Elizabeth Lane, she isn't any of things she's been pretending. She's a scrappy, single, struggling freelancer who lives in a tiny New York apartment. You can probably see where this is going…Lane must procure a husband, baby, and farm in Connecticut all by Christmas and still have time to fall for the hot guy. (Steer clear of the 1992 remake with Dyan Cannon, Kris Kristofferson, directed by Arnold Schwarzenegger.)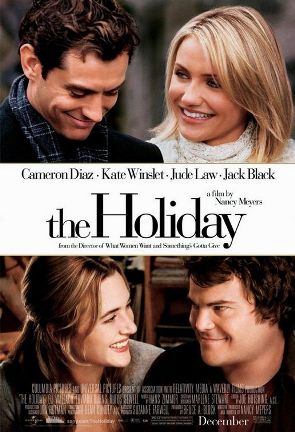 The Holiday (2006)–Life sucks when you're a successful producer of film trailers and your boyfriend is a philandering jerk. This is the circumstance Amanda Woods (Cameron Diaz) finds herself in. Despite seeming to have it all, what she really wants is to get the heck out of Los Angeles. To rectify this situation, Amanda goes to a house swap site. And who is desperately waiting on the other side of the interwebs? Iris Simpkins (Kate Winslet), an editor at The Daily Telegraph with poor taste in men and a charming little cottage outside London. The great thing about Amanda and Iris's houses is that they both come with sweet guys, Miles DuMont (Jack Black) and Graham Simpkins (Jude Law), who help make these women's holiday a little more merry and bright. As an added bonus, you'll learn all about how a classic romantic comedy is constructed from Amanda's neighbor, old time Hollywood romance writer Arthur Abbott (Eli Wallach). The Holiday is by Nancy Meyers who also made It's Complicated and Something's Got to Give, which should immediately tell you if this is your kind of movie or not.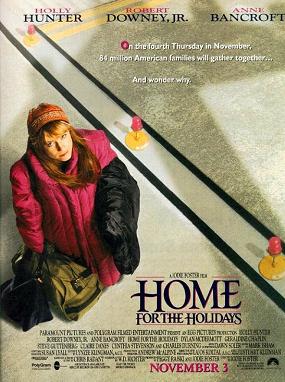 Home for the Holidays (1995)–Claudia Larson (Holly Hunter) has had a really bad day. After getting fired from her job as an art restorer at an unnamed, venerable Chicago art museum, she makes out with her boss. Kitt, Claudia's teenage daughter (Claire Danes), drives her mom to the airport and as they arrive, announces to her mother that she plans on having sex for the first time while Claudia is back home visiting her own parents. On the plane Claudia, calls her brother Tommy (Robert Downey Jr.) and confesses all of her troubles to his answering machine. And this is all within the first ten minutes. Most of the story takes place on Thanksgiving day, when the family comes together and pretty much misunderstands each other for the next hour and a half. Claudia's parents are aging and their adult children deal with it in their own ways. If there is a theme to this movie, that would be it–we all get older. There's a romantic subplot in which Tommy brings a handsome young man (Dylan McDermott) to Thanksgiving and Claudia thinks he's Tommy's new boyfriend, when really he is a gift for her. Home for the Holidays delivers the kind of family arguments expected in this kind of holiday film, but does it in a way that somehow feels authentic. My favorite line in the whole film is shouted by Claudia's sister, "I'm the only normal person in this family!" I mean, haven't we all felt that way at one point. I hated Home for the Holidays the first time I saw it, but over the years it has become my favorite holiday movie. This ensemble cast also features Geraldine Chaplin, Anne Bancroft, Cynthia Stevenson, and Steve Guttenberg, and is directed by Jodie Foster, all favorites of mine.
So, here it is Black Friday. Take an afternoon and watch one or maybe all of these films. Beyond enviable jobs held by all four of the protagonists, what really binds these films together is the feeling they leave you with. Not just a happy ending, but that all in all, everything will be all right.
Chicago loves big ideas. We love big buildings, big architects, and big plans. Why? Well, I suppose because they all have the power to stir the hearts of men. (Oh yea, and some women, too.) In the new book Design on the Edge: Chicago Architects Reimagine Neighborhoods, seven locations are tackled by the rock stars of Chicago architecture. Represented are: John Ronan, Jeanne Gang, Doug Garafalo and Xavier Vendrell, Sarah Dunn and Martin Felsen, Patricia Saldana Natke, Ross Wimer, and Darryl Crosby. The project is simple, each of these architects (or team) is assigned a neighborhood designated by an L stop, and they create a visionary design for the site—a way of rethinking what is already there.
Design on the Edge is really an exhibition catalog, but this one succeeds where others fail to be anymore than a memento of a past event. The book is divided logically into chapters  centered on each of the neighborhoods that are considered: Loyola Red Line, Addison Red Line, Addison Brown Line, Western Blue Line, 18th Street Pink Line, Midway Orange Line, 35th Street Green Line. With a short introduction by the architect or team, each section is full of images of the site reimagined as well as the sort of architectural renderings one would expect from a book like this. Although all of the sites have their points of interest, a few stand out as exemplary.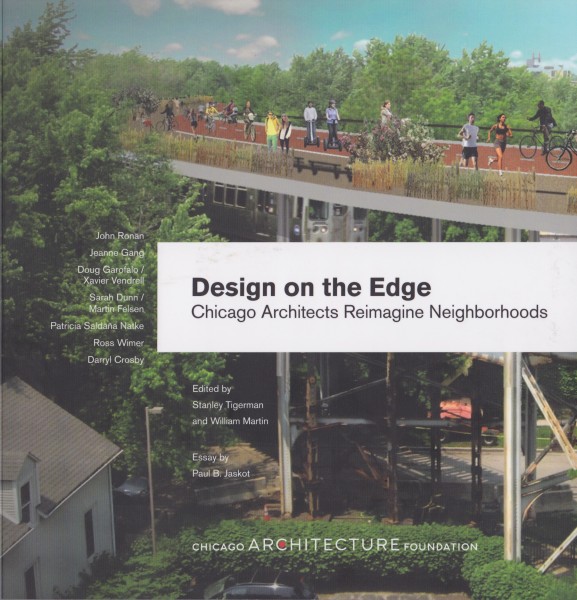 My favorite of these is the project by Ross Wimer of Skidmore, Owings & Merrill. He was assigned the Orange Line stop at Midway. Now, if you've even taken the L to Midway, then you know what an uninspiring bit of city the terminus of the Orange Line is. Since the site can't actually be expanded, Wimer envisions ringing the airport with an attractive facade that invites the community to look into the airport. This reimagining includes restaurants and shops designed to bring the neighborhood into the airport. The specific thing I like most about this plan, is that at no point is Wimer trying to hide the airport or make it something that it is not. Instead, he wants to reframe Midway to highlight the way people used to conceive of it, as a gateway to the world. A place that is exciting in its own right. A place of neighborhood pride.
The most important thing to keep in mind with this catalog and the exhibition that it accompanies, is the intention of this project is not to implement these ideas. The heart of this project is really about imagining a different future, a different way things could be. I'm not sure what the contributors thought as they crafted these projects, but to me it seems that it must be liberating to create in a purely visionary way, to unmoor from the practicality of actually having to build project. If you love the city of Chicago, this book will be fascinating. The exhibition runs through July 1, 2012 at the Chicago Architecture Foundation. Design on the Edge will give you a whole new way to envision our neighborhoods.
Design on the Edge: Chicago Architects Reimagine Neighborhoods
edited by Stanley Tigerman and William Martin
Chicago Architecture Foundation
paperback, $20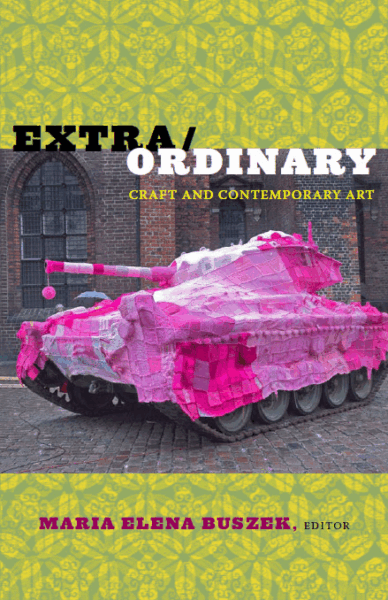 Since its explosion in the late 1990s, it's hard to ignore the increasing visibility of craft in contemporary art. In her new anthology Extra/Ordinary: Craft and Contemporary Art, Maria Elena Buszerk collects 14 essays and one interview to discuss the role of craft in today's art world. The book is divided into four sections: Redefining Craft: New Theory; Craft Show: In The Realm of "Fine Art"; Craftivism; and New Functions, New Frontiers. To me the title doesn't quite describe the contents. I might have subtitled this book something like Contemporary Craft as Fine Art, which is really what each discussion drills down to.
In what is probably my favorite essay, "Rebellious Doilies and Subversive Stitches, Writing a Craftivist History," Kirsty Robertson talks about the use of craft in contemporary protest, specifically knitting. "Radical knitters and Stitch and Bitchers," people who have a "sophisticated understanding that the making of any textile is connected to the capitalist system," are the focus of much of her discussion. In her examples, she cites artists who employ the knitting as both an act of protest and fine art. The cover of Extra/Ordinary shows Pink M.24 by Marianne Jorgensen with the Cast Off Knitters. In this collaborative work, the knitters created a giant tea cozy fit to a tank. The image of the cold, hard, masculine tank of war wrapped in the warm, soft, feminine pink of the cozy is startling and effective.
Extra/Ordinary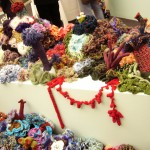 concludes with an interview of Margaret Wertheim, the founder of the Institute for Figuring, which (among other things) teaches about the intersections of art, science, nature, and craft. You might know her work with her sister Christine from The Crochet the Reef Project. Exhibited at the Chicago Cultural Center in 2007, The Crochet the Reef project asked artists and crafters to demonstrate hyperbolic space through crocheting of sea forms and coral. Before reading this book, I thought of Wertheim only as a scientist. Okay maybe a scientist, who likes to crochet, still I did not have an image of her as an artist or craftsperson. The interview changed my ideas about her work and the relationship between art and science.
Certainly this book will appeal to those who work seriously in craft, and perhaps fiber artists in general as this is the focus of most of the writers. But the surprise in Extra/Ordinary is the stitching together of what had seemed to be disparate ideas: contemporary art, craft, women's work, capitalism, protest, and gender. Ultimately all of the essays discuss these ideas. I recommend this book. It's nicely illustrated as well.
Extra/Ordinary: Craft and Contemporary Art
Edited by Maria Elena Bruszek
Duke University Press 2011, 24.95 paperback
If there's one thing readers of the Bad at Sports blog share, besides a love of art, it's an affection for podcasts. Duncan assures me that most of our listeners come through iTunes, which isn't surprising. I probably interact with iTunes everyday, not because I want to, but because it's ubiquitous. One thing I don't do much of is spend time at the iTunes store. My podcasts load automatically, I stream my television, and I still purchase music the old fashioned way–on compact disc. Yet recently I've found a reason to love iTunes, and that's iTunes U.
In case you are unfamiliar, iTunes U is just like iTunes but with less Katy Perry. Clicking on the Fine Arts tab will take you to sea of offerings from well-known universities such as Harvard and Yale as well as venerable institutions that we might not immediately consider educational, like MoMA. Before I found Bad at Sports, I listened to a dozen "art" podcasts I had browsed out of iTunes, one of which was simply two stoned guys walking around the Seattle Art Museum talking about the work they saw, but never letting their listeners in on the secret of which piece they were looking at. This kind of monkey-business won't be found on iTunes U. Their definition of "fine art" is broad, including, of course, visual art, but also media studies, music, theater, and cooking. The variety of format is broad as well. There are regular podcasts like the one you already listen to each week, video lectures, but there are also fully-produced magazine-style shows that look as good as anything you'd see on your local PBS station.
By no means exhaustive, I've picked a few highlights that I thought would be of interest. The School of Visual Arts (SVA) has an impressive collection of video lectures about contemporary art and culture. These are organized in the most boring way possible, by department, with the name of the chairperson as your guide. I'm currently watching a symposium called "Where the Truth Lies" that discusses propaganda in documentary film. From The Experience Music Project (EMP) you'll find 2009′s (and 2010 and 2011) Pop Conference on the theme of Dance Music Sex Romance: Pop and the Body Politic. Particularly interesting is the lecture by David Scott, "Gay for Play: The Love that Dare Not Speak Its Name Certainly Does Sell Records." Here an audio only podcast is just fine. Lastly, while I usually try to steer clear of all things Florida, The University of Southern Florida has a great series called Lit2Go, which is fantastic. Really nothing more than a collection of classics read aloud by English professors, Lit2Go is a great time. I just finished re-"reading" Picture of Dorian Gray, a book that bears the distinction of being subject of Bad at Sports' only book group.
When I was a little girl, my mother told me that in the future anyone could learn anything  she wanted, all we would have to do is turn on the television and our greatest artists and teachers would come right into our living room. Maybe television didn't quite live up to its promise, but it looks as if the Internet might.
I hate to break it to you, but summer's over. The good news is that any moment it will be fall. Time to put away the madras shorts and halter tops, and bust out the corduroy and oxfords. September is also the perfect time to go on a Chicago Architecture Foundation tour. CAF is probably best known for their boat tours. Whenever I have out of town guests, I always get tickets for one of these. It's impressive and occupies a couple of hours, which is especially great if you're entertaining people  you don't know very well. But when I want to do something with my friends, just for fun, I sign up for a walking tour.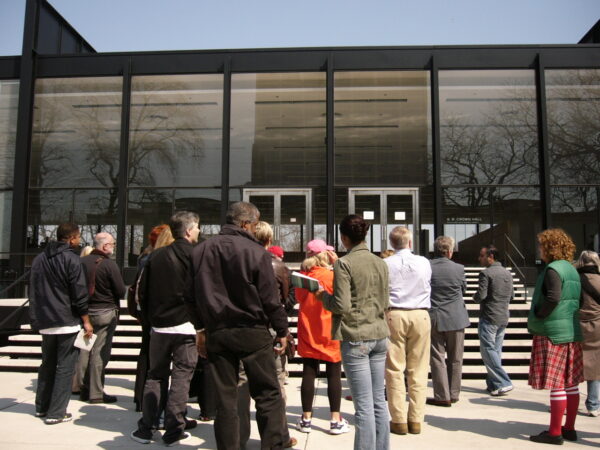 You might have seen a CAF walking tour while you where in the loop. They're easy to spot—a group of people blocking the sidewalk and usually they're all looking up. There are quite a few of these tours available: Historic Downtown, Modern Skyscrapers, Downtown Deco, Millennium Park Revealed, and many more. I have been on all of them, and each is fascinating in its own way. CAF's docents are responsible for the content of the tours, so no two tours are alike. There's nothing better on a beautiful fall day than to walk around downtown looking at the buildings that comprise our vibrant city. More than a dozen tours are offered everyday, seven days a week. Try a 7:30 AM Early Risers tour of Chicago Skyscrapers. Too early? What about a lunchtime building tour? And who doesn't like a little drinky-wink at the end of a long workday. For those folks there are even 5:30 Happy Hour Tours that end at a downtown watering hole.
CAF has bus tours too. I've been on nearly all of those as well, but I like to save those for winter when it is too bitterly cold to go outside. These tours are fantastic. They just drive you around in a narcotically warm bus, where you can sip a latte, press your nose against the window, and try to remember a time when it was warm out. Every architecture tour I've been on has been a love letter to Chicago. If you are ever on a tour and see a woman in a green down vest, say "hi." It's probably me.