At the risk of sounding like a shill for Google, I will dedicate this post to Google Books. Actually, it's now
called Google Play, but I'm old and find this concept confusing, so I'm going to ignore it. I suggest you do too. It is possible to purchase contemporary titles from Google Books and read them on your device, but so what? Everyone sells digital books. You can even check them out from the library. What I find most compelling about Google Books is the access to periodicals, old ones that I'd never encounter on my own. Admittedly, I'm pretty infatuated with old magazines. I bought 54 years of Gourmet off eBay, co-edited the New Art Examiner anthology, and interviewed Bad at Sportser Meg Onli for Art 21's Centerfield post. Onli is currently working on a project about Black World/Negro Digest. She's accessing all of her material through Google Books. I realize people use Google Books all the time, but I want to reframe it from just another place on the interweb trying to part me from my money, to an invaluable tool for artists.
Google calls all text, books, even magazines, even pamphlets, so keep that in mind. A simple search on "art" and restricting the results to free, yields only 47 titles, but what interesting titles they are. The first hit is The Art of the Moving Picture…: Being the 1922 Revision of the Book First Issued in 1915. Well, there's just so many curious things about this book, I hardly know where to begin. The Art of the Moving Picture makes some excellent assertions, that still ring true. For instance that the pace of the "action photoplay" leaves no room for "full grown personal passion" (12). Think Die Hard or Con Air. Some things have not quite stayed the same. For instance "when a moving picture house is set up, the saloon on the right hand or the left declares bankruptcy" (207). I wonder what the author Vachel Lindsay would think of today's upscale brew and views?
Because it's Google, you are able to search within individual titles. Starting with magazines, restricting results to free, and searching "art" brings crazy random articles like this one from Vegetarian Times, called "Vegetarianism in Art."  There are more popular periodicals as well–hundreds of issues of Life. A browse of December 28, 1936, reveals a story about the first panda coming to the US and workers for the WPA's Chicago theatrical arts project striking at the Merchandise Mart. The American Art Directory Volume IX (1911) has advertisements for art galleries on its forepages, is lousy with statistics, and names of artists and curators of the moment. And in case you didn't know, back then all the high-end Chicago galleries were on South Michigan and admission to The Art Institute was twenty-five cents.
Besides book and magazines, you can also find other, more sundry reading material. There are many museum and exhibition catalogues, gallery brochures, bulletins from art organizations, but these charmers are a little more shy and require quite a bit of coaxing. Perhaps a bottle of rose and a bouquet of peonies would help.
Obviously, there is little contemporary art represented here, at least not for free. "Modern" in Google Book world lingers somewhere around 1912, which is kind of fun because searching a word like "sculptress" yields dozens of hits. Be warned, there are serious issues with meta data. Clicking on "Magazines" does not bring you to all of their magazines, it brings you to items scanned as individual issues. Most of what I read comes from bound volumes, that although look quite bookish, aren't. Most of these are classified as books, though they're still just magazines. Don't expect the date Google gives you be correct, because it often isn't. Read the title page. Even with these limitations, I still recommend spending some time on Google Books and exploring what these old magazines and books have to offer.
One night in the mid-80s, my friends and I were walking along Capitol Hill, and there on the lawn of Seattle Community College was a group of men holding a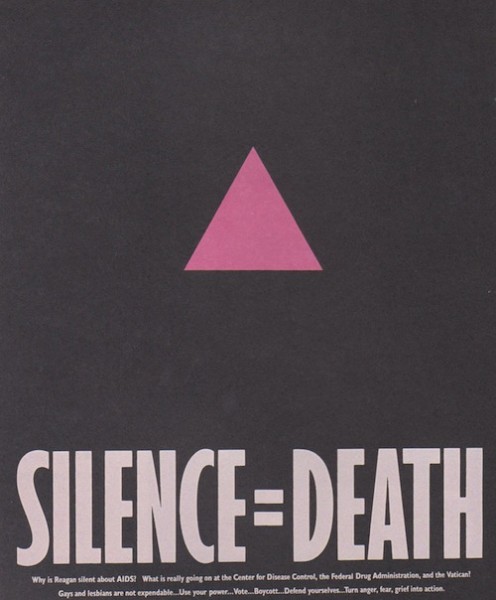 candlelight vigil. There were only four or five of them. We asked them what the vigil was about. One man gave me a pamphlet and said that gay men and junkies were dying of a new disease. He told me that with the way this mysterious illness was spreading, soon everyone would have it. I didn't believe him. But over the course of the next ten years, what he said turned out to be true, or at least to many of us felt true.
For that long decade, Americans struggled to make sense of HIV-AIDS and what it meant to us, not just as individuals, but also to our communities. We saw conceptual art enter the national consciousness, exemplified through the work of Felix Gonzalez-Torres, who took as his subject matter grief and loss. Cleve Jones' Names Project, is a robust example of memorial art, that is as powerful today as it was when it was first displayed in 1987. Here at the 30th anniversary of the start of the AIDS crisis, it is not surprising to me that both Larry Kramer's The Normal Heart and Tony Kushner's Angels in America are experiencing successful revivals. Of course, we are also seeing exhibitions, like the one at the MCA, This Will Have Been: Art, Love, & Politics in the 1980s, that reconsiders the work of artists and activists of the time.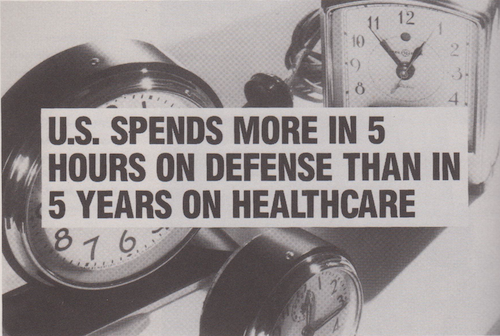 The way I best come to understand a historic period is to look at the cultural production of the time. AIDS Demo Graphics by Douglas Crimp, with Adam Rolston set out to document the graphic protests of the time–mostly through the work of ACT UP (AIDS Coalition to Unleash Power) and Gran Fury. In the introduction, the editors position the book itself as a direct action, which at first seemed to be an overstatement, but as I read, I came to agree with. The book opens with ACT UP's first direct action, a demonstration on Wall Street. In the photograph a young man, dressed in a suit is being hauled off by the cops. Called "No More Business as Usual," this action protested the US government's cozy and deadly relationship with the drug manufacturer Burroughs Welcome. "The target: BUSINESS. BIG BUSINESS. BUSINESS AS USUAL."
Undoubtedly, ACT UP in particular  changed what American protest looks like. While the 60s and 70s offered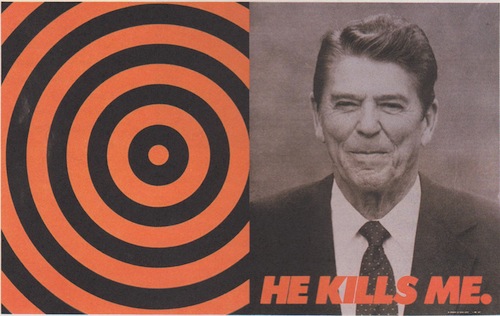 homemade political signs, ACT UP's imagery resembled an exhibition poster, or more accurately, a United Colors of Benetton ad. The book is organized chronologically and by the time I reached the middle, Gran Fury (the design arm of ACT UP) is producing compelling posters of protest, that are visually compelling and convey information about the spread of HIV that at the time, the public did not have access to. You can see one of Gran Fury's famous ads, "Kissing Doesn't Kill, Greed and Indifference Do," as part of the This Will Have Been advertisement on the Red Line around the Belmont stop.
Only three years passed between that first action and the publication of AIDS Demo Graphics in 1990. Even without the privilege of hindsight, the book serves as a snapshot of the graphic history of protest around the spread of HIV/AIDS. Each protest and its direct action is detailed, so that by the end of the book you have an understanding of the trajectory of both the lives of people living with HIV/AIDS and US government policy. I highly recommend this book for those who are interested in a succinct history of the AIDS crisis, and also to those who have an interest in the role design plays in social movements.
AIDS Demo Graphics
Douglas Crimp, with Adam Rolston
Bay Press. Seattle. 1990.
142 pp.
Out of print. Widely available on the interwebs for about $5, or from the Chicago Public Library for free.
To tell you the truth, I was late to the whole 3-D movie thing. I'm not philosophically opposed as some of my filmmaking friends are. It's just that until very recently there were no 3-D movies that seemed interesting to me. Much of what is being produced appears to be fantasy children's stories, filled with magical characters and inanimate objects imbued with supernatural powers, or mindless special-effect heavy action flicks. Now, don't infer that I'm action adverse. I mean how cool would Die Hard have been in 3-D? Luckily for me and maybe for you things on the three-dimensional front seem to be changing.
I've been kicking myself for more than a year since I missed my chance to see Werner Herzog's brilliant documentary Cave of Forgotten Dreams. In a rare instance, Herzog is permitted to take his team and 3-D cameras into the Chauvet-Pont-d'Arc Cave in  southern France. By virtue of an avalanche, this cave was sealed from both the grubby hands of humankind and the grievous effects of time until it was discovered in 1994. For 30 thousand years dozens of beautiful cave paintings were preserved just as they were when the artist created them. Herzog believed that 3-D was a way to bring a sort of tactile reality to a marvel that is closed to the public. Did he succeed? I couldn't tell you, because I didn't get to see it in 3-D.
Last weekend I saw my first 3-D movie, Wim Wender's documentary Pina. Pina Bausch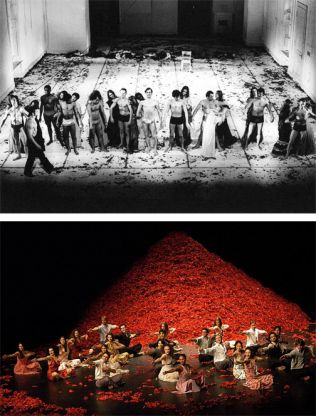 was a German choreographer most known for her modern dance works. Sadly, she died right before filming began. Instead of being a tribute, Pina became a memorial. But of course I didn't know this when I walked into the theater. I just knew I was going to see a 3-D modern dance film by Wenders, and that was enough. The film was everything I could have hoped it would be. Pina presents non-contiguously four works by Bausch. Within the film, the works don't exist as discrete pieces unto themselves. Instead, Wenders edits these works into a sort of narrative that becomes surprisingly emotional by the end. Although the film contains traditional elements of a biographical documentary (history, interviews, old film footage) Pina doesn't feel like a documentary at all. Instead the film itself feels vibrant and alive as if the members of Tanztheater Wuppertal were performing the pieces right in front of me.
On the train ride home, I thought about what I'd just seen. I felt as if I'd seen something completely new, perhaps even a new medium. High-end theaters no longer show just films. They host live group meetings. Last year A Prairie Home Companion lured its listeners away from the dulcet voices of NPR and into movie houses across the country, where the show was broadcast live into theaters. The Century 12 Evanston/CinéArts 6 is currently hosting the Metropolitan Opera in High Definition, live! Imagine what that might be like in 3-D. It could be like being there. Maybe even better. It would mean that any town with a mall could also have an opera or a symphony, or an experimental German modern dance troupe. Of course, it wouldn't really be a live performance, I know that. Wenders toyed with the idea of filming Wagner's Ring Cycle in 3-D but it fell through. Too bad, perhaps that would have been the perfect marriage of art, action, and magic.
It is easy to conceptualize of something incorrectly and not even realize it until faced with the reality. This is what happened to me last week when I was lucky enough to see the Maurizio Cattelan exhibition All at the The Guggenheim just days before it closed. I'd read a bit about this show, which is all of Cattelan's tangible work hung (or perhaps strung-up) in the atrium of the museum. Considering what I'd read, I was thinking of this as a swan song of a retrospective, but the reality is that All functions as an exciting, unified single piece.
A few individual sculptures stood out, not just to me, but the hundreds of other viewers who were there with me. Possibly it was the adrenaline rush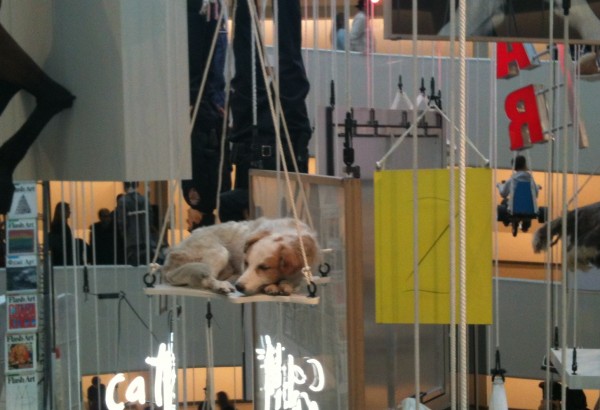 of staring death in the face, or even the perverse thrill of eluding the reaper, because by far the works that drew the most attention were the taxidermies. Squirrel, horse, cow, donkey, rabbit, pigeons (lots and lots of pigeons), and quite a few dogs. The first dog I came across startled me. So lifelike, yet obviously dead. Hanging from the ceiling, there is no way to mistake it for a living dog as might happen in previous gallery installations. As I stood looking down on it, trying to overcome the ick-factor, people passed by, stopped, and then talked fondly about their own dogs both past and present. Instead of reminding people of the lurking nature of death, Cattelan's dogs reminded people of something they loved, perhaps even evoking life. (Pictured: Stone Dead, 1997)
Lingering in the middle of the mobile is a large, black granite tombstone, that references a wartime memorial. The catalog likens Untitled (1999) to Maya Lin's memorial for those killed in The Vietnam War, but to me it echoes the memorial for The Great War that stands in front of City Hall in the town where I grew up. I expected to see names of soldiers engraved, but instead there is a list of all of the matches in which the English national football team was defeated. I have no idea what Cattelan is attempting to provoke from his viewer with this, but I immediately thought, These are men's things. War. Football. Sometimes they are even treated as equals, but their losses, they are not equal. Both war and football delineate a place free of women, though sometimes we are allowed to trespass. Men's conflicts. Men's defeats.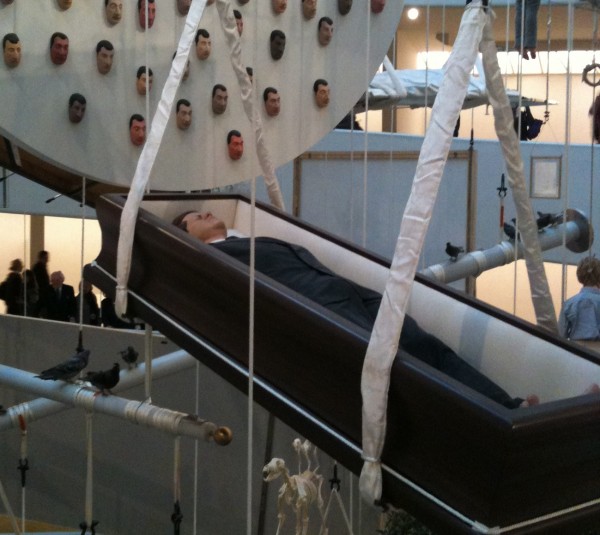 Near to the bottom of the massive installation hangs a casket. Although I could see the casket from nearly every vantage point, what I couldn't see was its resident. When I finally made my way down, there was a crowd gathered 'round. The security guard stepped aside and took me by the elbow to get me a better spot, which I've never had happen before. There in the casket lay Kennedy, looking as perfect as if he had never been shot. Put simply, it was strange to see Kennedy there. I had to ask, whose loss was this? Kennedy's? The nation's? Now was made in 2004, but I wondered if Cattelan could see into our future eight years later. Here we are as a nation fetishizing this moment in history, arguably, one of our nation's most devastating moments. But unlike today, it was a moment that was simple. Grief is simple.
For those who couldn't make it to the show, The Guggenheim website has much to offer. There is a great time-lapse video of the installation, which is as laborious as any I can imagine. There is a reprint of the article from the brochure, by Nancy Spector. If you're inclined, an "interactive, multi-platform app" for 4.99. Still, after shelling out for admission and fifty bucks on the catalog, somehow another five seemed steep. It looks great, though, with John Waters hucking it. Call me old fashioned, but when I want to re-experience an exhibition, I turn to the catalog for that.
The catalog for All requires special mention. This is written by Nancy Spector, Chief Curator. It is effectively a catalogue raisonné, but I wouldn't count my chickens before they're hatched in that regard. The book itself is lovely, and looks like an old encyclopedia volume. It is worth purchasing, or at least borrowing from the library. However, presenting the works individually does undo the singularness of All, transforming a unified whole back into discrete works. Still, All was a rousing salute to a life's work and the catalog reflects this.
Finally, for a good time, do check out Amanda Browder's previous Haiku Review of All.
Now that Christmas is almost here, I have a lot of time on my hands. Not, of course, enough time to do all the reading I'd like before the world begins again in January, but time nonetheless. S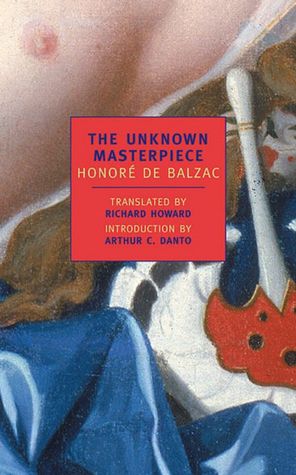 o I'd thought I'd recommend to you one of my favorite novellas—something short enough to read in one sitting, yet compelling enough to read in ten minute increments if you tend toward distraction.
The Unknown Masterpiece (also translated as The Hidden Masterpiece) by Honoré de Balzac tells the story of three painters, all in pursuit of what I can only call perfection. The young painter Nicolas Poussin, comes to the studio of the accomplished and finically successful painter Porbus. While there, Porbus and Poussin are joined by the master painter Frenhofer, who proceeds to describe to the painters how to make a painting come to life. His ultimate goal, to see his painting "breathe." Later Poussin and Porbus join Master Frenhofer in his studio to view the painting he has spent the last decade creating. Now, not give anything away here, but it is the reader's interpretation of the painting itself, that is at the heart of this story. Either this story is some amazing happy accident, or Balzac was more prescient than anyone could ever have imagined.
The Unknown Masterpiece has an interesting history. Supposedly, Picasso was so taken by the story that he came to rent a studio at the same address Porbus'. It is in this studio that Picasso painted Guernica. Written in 1832, yet set in 1612, The Unknown Masterpiece might seem to be based on the real life of Nicolas Poussin, but I am assured it is not. Still, it doesn't hurt to approach the book as a novelistic imagining of the early life of a master.
If there's still someone you need to buy a gift for (even yourself), there is a lovely edition with a new translation by New York Review Books. But if it's just a story you want, it is available from Project Guttenberg in HTML, ePub, and Kindle editions all for free. (The Unknown Masterpiece here. The Hidden Masterpiece here) There is also a film based loosely on the story called La Belle Noiseuse (1991), which is worth watching.
Happy Holidays! Happy Reading!