In January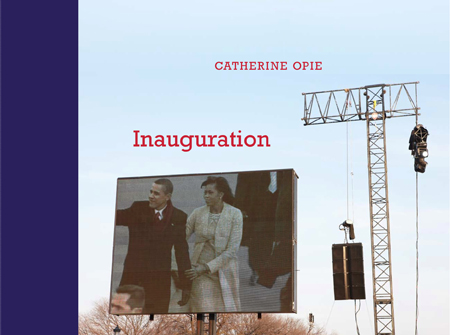 2009, Catherine Opie traveled to Washington D.C. where spent three days photographing the inauguration of President Barak Obama. From this came the 100 picture photo series and companion book called both entitled Inauguration. These photos reveal the nation's excitement surrounding the event. The book itself is lovely, cloth bound, with photo printed boards and debossed title.
Much of the book consists of pictures of the ecstatic Americans who came to the White House to witness the inauguration. Opie captures all kinds of people, from all over the country. The crowds were dense. A Jumbotron conveyed a live feed of the inauguration to the mass of people outside the formal event. Close-up ups of individuals amid the crowd. Some of the most interesting photos, though, were of the people visiting the sights of D.C. There are two photos, one of a middle-aged woman, one of a young woman, both African American. These women are clearly pleased to be at this historic event and mug for the camera, a camera that does not appear to be Opie's. At first these seems to optimistic photos, after all the women are here to attend the inauguration of the first African American president. Still, both women were posing in front of the National Council o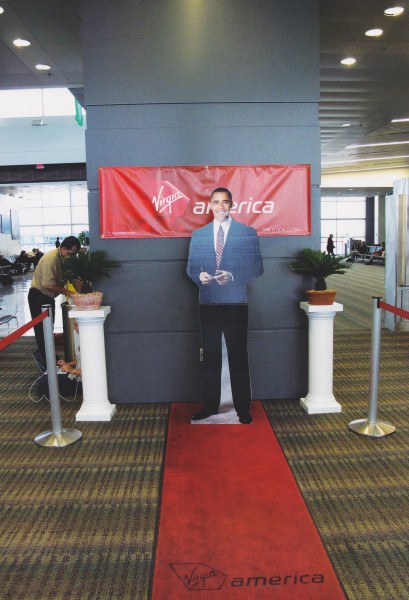 f Negro Women, and these photos remind us that in America, some people are still more equal than others.
The first photograph in the book is perhaps my favorite. In what looks like the terminal of Virgin America stands a cardboard cutout of Barak Obama. He's friendly and welcoming and the Virgin banner emblazoned with the word America hangs behind him. Despite the warm tones of the red carpet, and the smiling face of our soon-to-be president, the picture feels hollow. Our cardboard president in the foreground and rows of empty chairs with people waiting in the background, the photograph conveys not a feeling of pride or optimism, but instead speaks to futility.
With this being election season it is impossible not to draw parallels. I'm not sure what Opie's intention was with this project. Clearly she couldn't know what the following four years would bring. But looking at this book now, it's unreliably depressing. The people in the photographs, so hopeful, were so excited about that watershed moment in American history. Although it was only three years ago, it feels like a lifetime. It's not that anyone believed Obama was magic, but just for a moment many Americans thought this inauguration signaled a beginning, a new start. A poem by Eileen Myles concludes the book. Myles write, "I'd like to have that day again." After reading Inauguration, I have to admit I agree.
Inauguration by Catherine Opie
Gregory R. Miller & Co., September 2011
Cloth, 124 pages, $50
ISBN: 9780982681329
In the past I've written about film archives, Google Books, and online galleries. These digital resources are not just entertaining and educational, but they are invaluable tools for contemporary artists. Today, I'd like to share with you three library digital databases that are free and open to anyone. All three of these databases are black holes of time-suckage, so consider yourself forewarned.
Duke University has an impressive digital archive, by any standard. But one of their standout collections is an archive of the work of photographer William Gedney. With more than 5,000 items, you could spend all afternoon in this collection alone. There's a fantastic pictorial of the 1978 Gay Pride March commemorating the tenth anniversary of Stonewall. Also impressive, though completely unrelated, is Duke's collection of vintage advertisements called AdViews. Here you will find commercials for your favorite products from the 1950s through the 1980s. Michelob. NyQuill. American Express. Old Spice. Always Maxi-Pads. It's all there.
The New York Public Library has amassed a stunning array of digital documents and pictures. There are dozens of collections, many you might expect, like photographs of Brooklyn, the Richard Rogers collection, New York Women's Suffrage. But there are also some surprises that are unbelievably cool, Yiddish Theater Placards, Vintage Holiday Postcards, and the unfreaking believable collection of restaurant menus from 1850s through 1930s. There's some menus from old time Chicago restaurants as well. In 1854 at the Lake House Restaurant on "the corner of Michigan and Kinzie," you can get a glass of claret for .75 cents. Not bad.
Perhaps best known for its role in National Treasure 2, the Library of Congress belongs to all of us. It's America's library, that's why the president hides all his secrets there. And you know what is also hidden there? All sorts of national treasures. There's National Jukebox, a historic collection recordings from the Victor Company between 1920-1925, all of these transferred from 78rpm. There are vintage newspapers, lots of stuff about the legislature, a performing arts digital encyclopedia, and "over one million digital photographs." Now you can't beat that.
Check out these excellent resources. They're fun and they're free, and in the case of the Library of Congress, paid for with your tax dollar.
At my house there is an unhealthy obsession with forgeries, all kinds of forgeries. I can trace this back to our interest in Han van Meegeren, the famous Vermeer forger. Although there had been much written about van Meegeren, it was in 2008 when two books came out and a long series of articles by Errol Morris appeared in The New York Times that our interest intensified. Concurrent with Morris's story was a photo quiz where they'd show you an original Vermeer and a van Meegeren and ask you to pick the one you prefer, then an art historian told you why the Vermeer was better. (Sadly, I can't find the link to this.) Without exception, I picked van Meegeren. This tells me a couple of things. First, I'd better brush up on my art history. Second, maybe I don't really like Vermeer. Lastly, perhaps I have bad taste. But I still have this question, why are we so interested in forgeries?
Often books and articles about forgeries center on the idea of money, being ripped off, and the dollars lost. Simply put, money is just a signifier of value—a way to apply something tangible (money) to the intangibility of genius and beauty (art). The excellent book, The Billionaire's Vinegar by Benjamin Wallace, tells the story of Hardy Rodenstock and a case of "lost" bottles of wine that purportedly belonged to Thomas Jefferson. He fooled everyone. Wine critics. Auction houses. Everyone. One of these "lost Jefferson bottles" sold for $156,000. Why was that? Because this specific wine was just thing to serve with Saturday night's porterhouse? No, because the purchaser wanted to be close to something grander than himself. In this case Thomas Jefferson. He was filthy rich and wanted to own a piece of history. He wanted to open that bottle and consume Jefferson in a transubstantitive way. And who can blame him?
Back in episode 164 of Bad at Sports, Joanna McKenzie and I reviewed Lee Israel's memoir Can You Ever Forgive Me?. Israel was a well-respected biographer before booze and a series of bad decisions turned her into a forger of letters. While it was amusing to read about her escapades and how great she was at forging the words Dorothy Parker and Lillian Hellman, I found it upsetting to discover that her forgeries had made it into academic studies and are cited in authoritative texts. At that point it no longer seemed funny, like she'd pulled one over on snotty memorabilia collectors, she'd pulled one over on researchers and those with an honest desire to know more. She pulled one over on us.
There have been quite a few dust-ups in the last decade when people got so upset at authors who were later discovered to have inflated their memoirs. Remember James Frey's Million Little Pieces? Augusten Burroughs' Running with Scissors? Even more recently the This American Life retraction of Mike Daisey's episode on Foxconn? These events spawned surprisingly smart public discussion on the nature of authenticity and the meaning of truth. Birthed from the whole imbroglio was a new w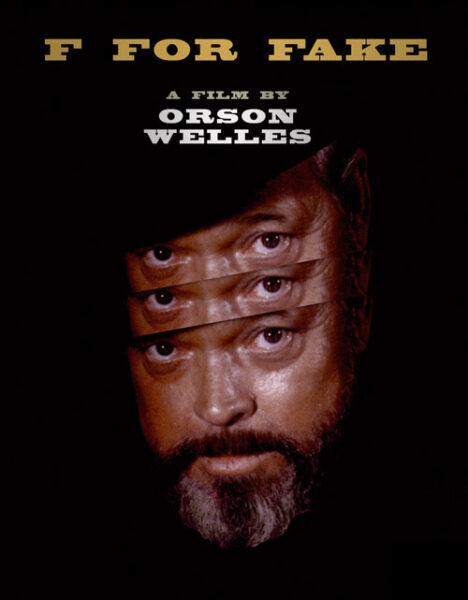 ord, "truthiness." I mean we already had "verisimilitude," but somehow truthiness was just so much more truthful.
There's a line in Orson Welles' film about art forger Elmyr de Hory, F is for Fake (1973), where de Hory says "if you hang them in a museum, in the collection, and they hang long enough, then they become real." Once we move beyond the financial ramifications of fraud, who is hurt by a forged painting, a counterfeit bottle of wine, a couple fabricated letters, or a memoir made a little more exciting? Perhaps de Hory hit the nail on the head, that the fraudulent will eventually become real. Maybe what is so fascinating and so frightening is that a good forger is a good liar. A good forger can fool even the most educated people in their field. And if we can't trust what we read, or what we drink, or what we see in the museum, then who can we trust?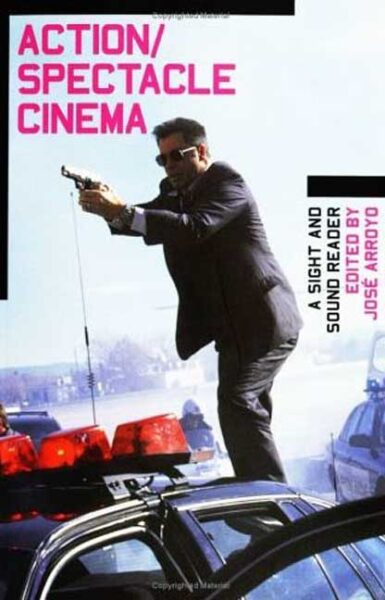 I was late to the Action movie genre. Really late. In fact maybe all of the 90s was wasted on me. It was only a few years ago during a particularly stressful time that my partner said, You know what you need? A good action movie. Then we proceeded to watch Die Hard (1988), Die Harder (1990), Die Hard with a Vengeance (1995), and Live Free or Die Hard (2005). And guess what? After weekend of watching John McClane vanquish bad guys, both foreign and domestic, I felt a lot better. I mean what did I have to worry about? I didn't have to run barefoot through broken glass to save my wife and everyone in her office from terrorists—on Christmas Eve, no less. So when I saw Action/Spectacle Cinema by Jose Arroyo on the "new" shelf at the library, I snapped it right up.
Action/Spectacle Cinema: A Sight and Sound Reader, is a collection of writings from The British Film Institute's Sight and Sound, a smart and not too academic magazine. Instead of being organized chronologically, Arroyo divided the book into thematic sections: Big, Loud Action Movie; A John Woo Interlude; Comics, TV, SFX, and 'the Ride" at the Movies; Indie Pulp and Neo-noir; Serial Killer in '90s Hollywood; Critical Perspectives on a Mode; and Action/Spectacle in Review. But my favorite section is Arnold Schwarzenegger as Spectacle in Action.
This section, as you can imagine takes, Schwarzenegger as its subject, or if not the subject, then the vehicle by which the authors discuss their ideas. J. Hoberman's essay "Nietzsche's Boy" examines the trajectory of Arnold's career and the shift from total bloody body count to that of benevolent action savior. This is best demonstrated by the difference between The Terminator and Terminator 2. The thing that struck me so much about these essays were that they were written in the '90s, at a time when Schwarzenegger's career as a politician was just beginning. This chapter foreshadows the man we would see as governor of California . This section, like the others, ends with reviews.
Although the essays are for the most part excellent, the real meat is in the reviews. Let's be honest. Action movies are meant to entertain. There's a car/train/plane chase. Shit blows up. The good guy wins. He gets the girl. I never thought much past that, and if I do read a review for an action movie, it's only to see if it's worth my $10.50. Action/Spectacle Cinema contains dozens of reviews and it was great fun to read them and see these films through a new, much more critical and loving lens than that which I am used to viewing action movies. Reading these sometimes twenty year-old reviews reminded me of films I'd completely forgotten about and loved, like The Long Kiss Goodnight. I also learned a lot about my viewing habits. As someone who somehow missed both Avatar and Titanic, I was surprised to find I am a James Cameron fan. Who knew?
Action/Spectacle Cinema is a good time. It's not the kind of book most people would read cover-to-cover, nor is it must have for every library. Despite being on the library's "new" shelf, it turns out that Action/Spectacle Cinema is not so new—it was published in 2000. But because this is an anthology of  '90s film writing, it doesn't feel dated, but instead like a snapshot of an exciting time in action film history.
I had no intention of reviewing The Guerrilla Girls' new catalog Not Ready to Make Nice: In the Artworld and Beyond. I mean it's such a slim volume and I figured I knew everything there was to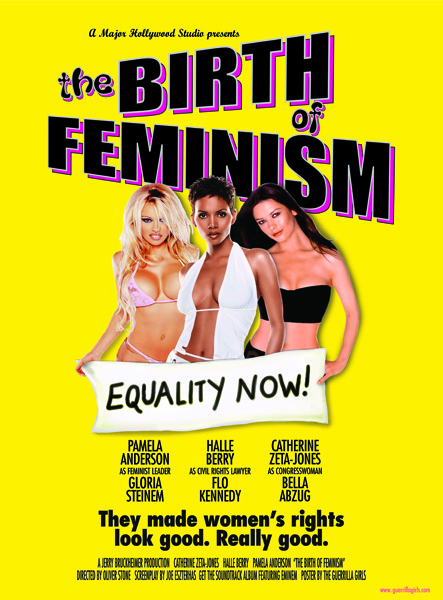 know about The Guerrilla Girls. Besides, I had practically emptied the library of the art books from the "New" section. Still, when I got home, put those big hardcover art books on the coffee table, it was the little Guerrilla Girls book that I brought to bed with me that night.
Not Ready to Make Nice is a straightforward catalog from the Columbia College A+D Gallery where the Guerrilla Girls were artists in residence this spring. (Bad at Sports is currently in residence, so stop on by.) The body of this 36-page book is a retrospective of the Guerrilla Girls' last ten years. What I found surprising, sadly surprising, is that it seems the inclusion of women and people of color in our major institutions hasn't improved much since they started. One of the most illuminating pieces is Chicago Museums: Time for Gender Reassignment! The facts in this work state "even the solo shows at the MCA since 2010 have been 80 percent male." When I read that, I thought, Wow, that's way more than I expected. Then my heart sank a little. Really, twenty percent? Remember that line from Rocky Horror where Magenta says to Frank, "I ask for nothing, Master," and he responds, "and you shall receive it, in abundance." Yeah, just like that.
The catalog also contains three contextualizing essays and a forward by Jane M. Saks, the executive director of the Ellen Stone Belic Institute for the Study of Women and Gender in the Arts and Media at Columbia College. The first essay by Neysa Page-Lieberman gives a succinct overview of the history of the Guerrilla Girls. The second essay by Joanna Gardner-Huggett considers the Guerrilla Girls through the lens of the feminist movement. Lastly, the catalog closes with an essay by Kymberly N. Pinder that places the Guerrilla Girls within context of  '80s-era culture jamming and street art. Taken together, Not Ready to Make nice is a tidy overview of the Guerrilla Girls' career and their influence on contemporary arts culture.
This last paragraph is where I usually talk about how much the book costs and where you can buy it. I got mine at the library, which seems like a good place to get a book. But when I started looking for purchase information, I couldn't find any. It seems the only reasonable way to come by this catalog is to check it out or read it for free online. I love this idea. Catalogs can be crazy expensive and hard to come by, so the idea of posting it for free seems both intellectually and financially respectful. Go ahead, read this book. It's interesting and it won't cost you a thing.