We are in the midst of a Vivian Maier moment. She has concurrent shows around the world. Three lovely coffee table books, one a year since 2011. There's a forthcoming documentary out about her, Finding Vivian Maier. Then there's the Chicago History Museum lecture coming up on April 16 called "The Reinvention of Vivian Maier." And all of this since her death, or more rightly, because of her death.
Since I first saw the exhibit Finding Vivian Maier at the Chicago Cultural Center in 2011, I have had mixed feelings about Maier's work. It is undoubtedly compelling. The images are beautiful and the photographer so clearly loves city life. I pretty much never miss a street photography show. Last year's Film and Photo in New York with Helen Levitt and Robert F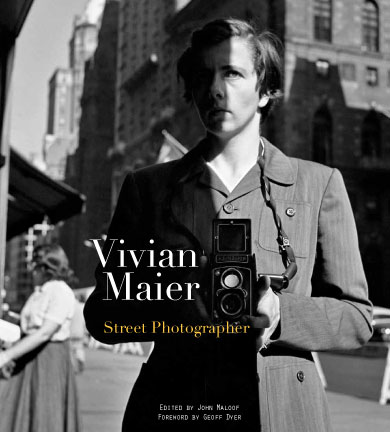 rank among others, as well as Dawoud Bey's Harlem USA, both at The Art Institute of Chicago, were riveting examples of urban photography. But they were different from Finding Vivian Maier. These photographers created work specifically for exhibition. They not only consented to their work being exhibited, they also had a say in the body of work from which the curators had to select. Even if this say came only in the form of editing out images the individual artists didn't prefer. Vivian Maier didn't have this opportunity. Her oeuvre of over 100,000 negatives I am assuming are relatively unedited by her, and they are certainly not edited for exhibition.
Vivian Maier Street Photographer is beautiful. Glossy, nice-sized pages that encourage getting lost in the images. Although all of the images contained are of public space, there is an intimacy to Maier's work that makes me want to curl up on the sofa alone and spend some time with them. This irony of looking at these public images in private does not seem to be lost on the book. While some images are shown on opposing pages, others are allowed a blank page to give the reader time and space to consider the photo.
The book is organized roughly into three sections. The first are the city photos everyone loves—people, buildings, urbanity. Toward the end, there is a cluster of photos of animals dead in the street. These are juxtaposed against images of people sleeping, passed out, dirty children. It is impossible not to read this as "Oh look how these dead city animals resemble our tossed aside urban people." It is here that the book becomes interesting in another way. I couldn't help but wonder if Maier would have edited the book in this fashion. There are no titles to images. No dates. This is not the fault of the editor and rescuer of Maier's work, John Maloof. I spent a lot of time on his website and it is clear that while some of her images are dated, most are not. How does one curate over 100,00 photos? With so much to chose from, is it even possible to allow the work to tell it's own story? And what story would that be? The story Maier wanted to tell with her photographs? The story of Vivian Maier? Maybe it's the story of John Maloof, whose life is now inextricably bound to hers.
After the Acknowledgments, there are more photos, Maier's self-portraits. These are moving and unsettling. All I could think about was what this impossibly private person might think of all this. Looking at her pictures of other people seemed fine, but looking at pictures of Maier herself felt prurient and unseemly. But that is part of what the world loves about Vivian Maier, she is the fantasy of the undiscovered artist. The person who made work just for herself and then after her death is discovered to be a genius. It's like every undergraduate art student's fantasy come true.
This is a lovely book to spend time with and is more thought provoking than I had expected. I highly recommend it.
Vivian Maier Street Photographer, edited by John Maloof
Hardcover, 144 pages
Powerhouse Books, $39.95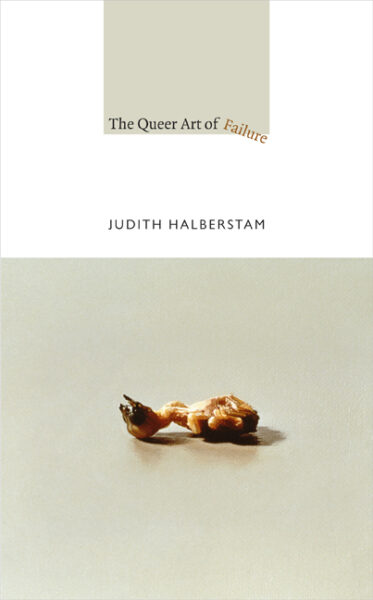 I feel an affinity toward the word failure. As a member of Generation X, the words loser and slacker have been historically used as general-purpose descriptive terms to define people of my generation. Of course, this characterization ultimately did not end up being the whole of the story, as is true for every generation before and to follow. But still, the concept of failure is deeply embedded in those born in the shadow of the Baby Boomers. In The Queer Art of Failure Judith Halberstam, who also writes under the name J. Jack Halberstam (see Gaga Feminism), introduces us to alternative ways of viewing failure, as perhaps an expression of rebellion or as means to resist mainstream America's pressure to conform. Halberstam writes in the introduction entitled "Low Theory" : "From the perspective of feminism, failure has often been a better bet than success. Where feminine success is always measured by male standards, and gender failure often means being relieved of the pressure to measure up to patriarchal ideas, not succeeding at womanhood can offer unexpected pleasures." Through this feminist lens the book examines contemporary art and pop culture looking for places of resistance within popular texts. "This resistance," writes Halberstam, "takes the form of investing in counterintuitive modes of knowing such as failure and stupidity." (See the chapter "Dude, Where's My Phallus" for a discussion of the charmingness of male stupidity.)
Chapter One, "Animating Revolt and Revolting Animation" introduces the idea that childhood itself is a queer state wherein children are "disorderly," and that if you "believe that children need training, you assume and allow for the fact that they are always already anarchic and rebellious, our of order, and out of time." It is within this framework that Halberstam undertakes the discussion of contemporary animated children's films such as Finding Nemo, Toy Story, and Monsters, Inc and positions these films as Marxist texts of revolt. Halbertam credits new methods of animation, CGI in particular, as the catalyst for this form of storytelling. Halberstam calls these films "'Pixarvolt' i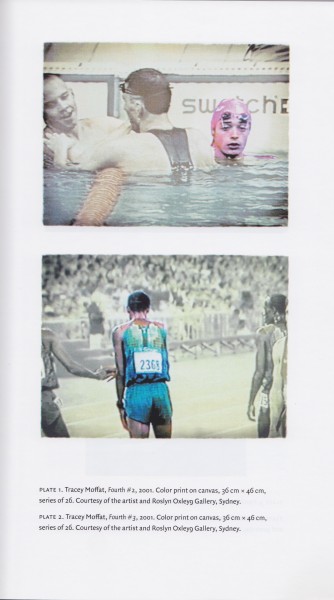 n order to link the technology to the thematic focus." That these tales of insurgency and escape appeal to children is not surprising, but that these same films offer an alternative, queer, utopian vision of the future to adult viewers, is. Just re-watch Chicken Run and re-consider the ending of the films where "the all-female society of chickens allows for unforeseen feminist implications to this utopian fantasy."
One of the things I like best about Halberstam's books is that contemporary art is always included in the discussion of more general contemporary culture. In a Queer Time and Place and Female Masculinity are good examples of this. The chapter "The Queer Art of Failure," includes a discussion of both the process of art-making and the works themselves. Looking at queer culture through the lens of failure was surprisingly revealing. Halberstam says, "[for Quentin] Crisp, as for an artist such as Andy Warhol, failure presents an opportunity rather than a dead end; in true camp fashion, the queer artist works with rather than against failure and inhabits the darkness. Indeed the darkness becomes a crucial part of a queer aesthetic." Transgressive fiction and art have always appealed to my sensibility. In fact, I divide my life into before High Risk books and after. Undeniably, this genre is dominated by self-defined queers. I have read critiques that dismiss the whole lot of them as bitter and angry. While I agree that this work is often bitter and angry, that does not seem to be the motivating factor for creation of the work. It is Halberstam's discussion of darkness as a queer place, that led me to better understand work I have already loved for decades, and helped me to see more recent work in a new light.
Included in the text are glossy color plates as well as some black-and-white images peppered throughout. My favorite of the included works are two photographs from the series Fourth, by Tracey Moffatt. Moffatt had been considered for a position as the official photographer for the 2000 Sydney Olympics, and though this did not come to pass, it sparked her interested in the way we talk about winning, and the ramifications of fame and celebrity. Her series Fourth, shows athletes as they discover they have come in fourth place at the Olympics. These athletes, whose names we will never remember, came so close to earning a medal, but failed epically. Perhaps even a worse failure than coming in last.
The Queer Art of Failure is a surprisingly fun read, and more than once I laughed out loud, which is a pretty unusual response to a Queer Theory text. It is also one of the most accessible books on Queer Art Theory that I've read, if accessibility is one of your criterion. Halberstam is my favorite theorist and excels pulling challenging ideas from the least challenging material. Halbertam is most successful introducing new ideas and applying them to popular culture. Perhaps less successful is Halberstam's follow-through. But then again, So what?
The Queer Art of Failure, by Judith Halberstam
September 2011
Duke University Press
Every January 1st it seems I have the same set of New Year's resolutions. Over the years I've added a few and a few have dropped away, but the core resolves always stay the same. One of those that has made the list every year since I was 15 is "See more movies in the theater." While it is clearly true that the genre of film is its own legitimate form of art, what is also true, to me at least, is that film has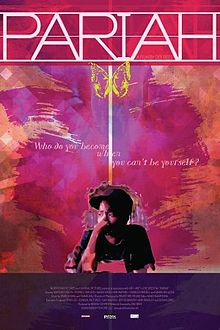 the power to transport in a way that other art forms do not, with the possible exception of the novel. This power to transport exists outside of subject matter and artistic intent. A film with serious intentions is neither more nor less transportive than a film whose sole objective is to entertain. Why does this matter?, you may ask. It matters because real diversion, actual imersive experience, subverts the stresses of the everyday. At minimum, it takes your mind off the laundry list of shit to do. At best, a good movie gives our mind a reprieve so that we may return to our own work invigorated and refreshed.
In Andersonville, there's a hidden cinematic gem, Chicago Filmmakers. Okay, the "theater" is not so great, but Chicago Filmmakers is undoubtedly the best purveyor of independent cinema in Chicago. They are running a couple of series concurrently. Feminism Flatlined: The New Girl Series, "explores the impact of today's media and an increasingly sexualized culture on teenage girls and young women." Coming up is Wonder Women: The Untold Story of American Superheroines (2012). This  documentary uses the superheroine Wonder Woman as a way to discuss media representations of strong women and what these representations mean to our society as a whole. I'm looking forward to the interviews with Linda Carter (Wonder Woman) and Lindsay Wagoner (Bionic Woman). Also at Chicago Filmmakers is the decade-old series Dyke Delicious. A lesbian centric film series, Dyke Delicious brings films that most likely wouldn't show at a mainstream movie theater. March 9th they are showing the film Pariah (2011), the story of an African-American girl coming to terms with her butch identity. Pariah won the Sundance Award for Best Cinematography. If you are so inclined, Chicago Filmmakers offers classes and independent filmmaker services. Do check them out.
The opposite of the scrappy indie Chicago Filmmakers is the international theater chain Cinemark, which has a northerly outpost at the Century 12/ Cine Arts 6 Theater in Evanston. Much to my surprise, they host a national film series called Cinemark Classic Series, which plays at theaters across the country. I finished up the winter series last Wednesday with Saturday Night Fever (1977), a surprisingly sad and serious film despite the tsunami of cultural marshmallow fluff it spawned. The next series was just announced this week. Through March and April look forward to Forrest Gump (1994), West Side Story (1961), Lawrence of Arabia (1962), American Beauty (1999), Casablanca (1943), and The Godfather (1972). The Cinemark website lists all of the theaters across the country that are hosting the series. And as an added bonus, on Valentine's Day they're showing all of the Die Hard films back-to-back, culminating in the release of the newest in the Die Hard saga. It's hard to imagine anything more diverting than 12 hours of Bruce Willis.
Would that I were able to simply say, "Once a month I will go to the movies," but I don't have that kind of discipline. It takes a prepaid film series to get me out of the house during the week, especially at night, especially in winter. But the amazing thing about a film series is that you are there in theater with others who share your interest. Seeing a film in the theater is different than watching it at home. Somehow the big screen and the communal experience makes it easier to see these movies as works of art and not just a late night rerun.
Michigan Avenue can be a frantic place, especially on the southwest corner of Michigan and Monroe. You have The Art Institute of Chicago to the south and the spectacle of Millennium Park to the north. But if you look up you will see that overlooking them both is the quiet oasis of the Pritzker Military Library. I walk past this sparkly new library everyday on my way to work, but it wasn't until recently that I made time in my schedule to check it out in person.
The event that finally pulled me off the street and up to the second floor entrance was the exhibition Don't be a Dope: Training Comics from World War II and Korea (through March). I have a deep love of training materials. They're so reflective of their time and often more instructive about the culture than they are about their supposed subject matter. Many of the posters addressed the kinds topics you would expect, like don't contract VD or get drunk in bars and spill military secrets. There were some surprises, though. One poster cautioned against carelessly spending all of your pay because you won't have anything when you get home. The one I was most tickled by urged men not to fly foolishly to impress girls. Honestly, I didn't really think that would be such a huge problem that the government felt the need to address it in a training poster. Many noteable names are featured: Will Eisner, Al Capp, and Arthur Szyk. Perhaps most famous is Theodore Geisel, our own Dr. Seuss. His poster warns us of the perils of the adorable little bug "Ann." That would be the Anopheles Mosquito that spreads malaria. Despite the warnings and her lethal nature, I can still see a little Cindy Lou Who in her.
The second show currently on exhibit is She's a WOW!: Women's Service Organizations in World War II (through summer). This show highlights the role of women during WWII, a time when women were  consigned to auxiliary roles. Still, these jobs were pivotal and most all branches of the military had their own women's corps. This history is told through a series of stories of individual women. Pictures, interviews, personal histories are all included to reveal the myriad reasons these diverse women chose to buck the prevailing cultural convention to join a service organization.
In addition to the physical space, The Pritzker Military Library has a sizeable collection of online resources. There's a searchable gallery of military posters going all the way back to the 1700s. I lost an hour just looking at the posters from WWII. If after seeing an exhibit you'd like to know more, there is supporting material available. For example, Don't Be a Dope has a downloadable bibliography that is particularly useful for those interested in learning more about the work. There are also oral history podcasts and recordings of library events.
The space is spectacular and the staff is friendly. There is a librarian with whom you can make a research appointment. As a bonus, there's a military-themed movie every Saturday at 1 o'clock—films you wouldn't expect like White Christmas (1954) and The Magnificent Seven (1960). The library even presents new films. The documentary From Hell to Here (2012), which chronicles the challenges of a veteran battling post-traumatic stress disorder, screens January 26, and will be followed by a Q&A with director Rachell Shapiro. The next exhibit starting spring 2013, will be of iconic WWI posters. Think The Christy Girl and Uncle Sam. The Pritzker Military Library is located at 104 S Michigan Ave. There is a $5 admission fee, but is free with military ID.
Porno-Graphics: The Shame of Our Art Museums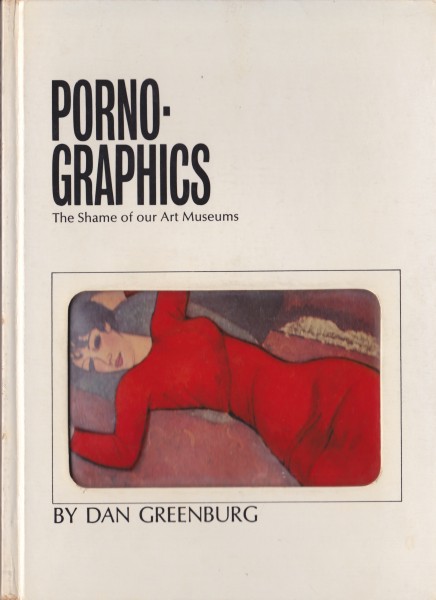 by Dan Greenburg
Remember those interactive pop-up books from when you were a child? Lift tab A to reveal this. Or pull lever B to reveal that. Dan Greenburg used just this method in his charming 1969 book Porno-Graphics: The Shame of Our Art Museums. This small gift book at first looks like a children's book with board pages. Save for the two-page Prologue, the book contains no text, only images of famous works of art. The conceit of the Porno-Graphics is best explained by Greenburg himself:
"Artists and art historians and art critics and art museum directors and other perverts have been perpetrating a cruel and devious and immoral hoax upon us for the last few centuries, and it is high time we recognized it and did something about it. These people have been pretending t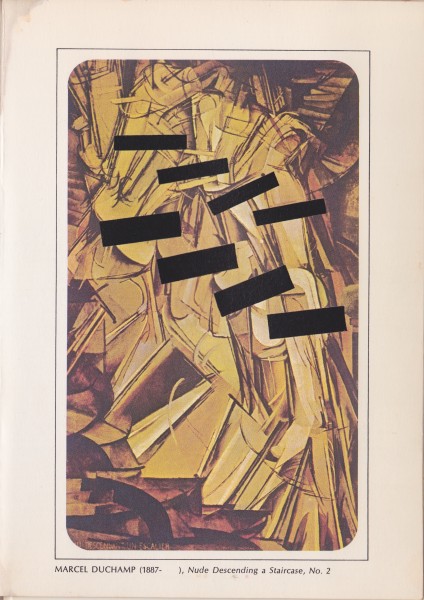 o us that a painting of a naked lady without a stitch of clothing on—in which you can see every single part of her body absolutely undressed—is great art and should be allowed to hang in a public art gallery and to be reproduced on a public postcard instead of insisting that it be sold under the counter and leered at in a sleazy underworld store in some red-light district and prosecuted to the fill limit of the law along with other hardcore pornography as it deserves…"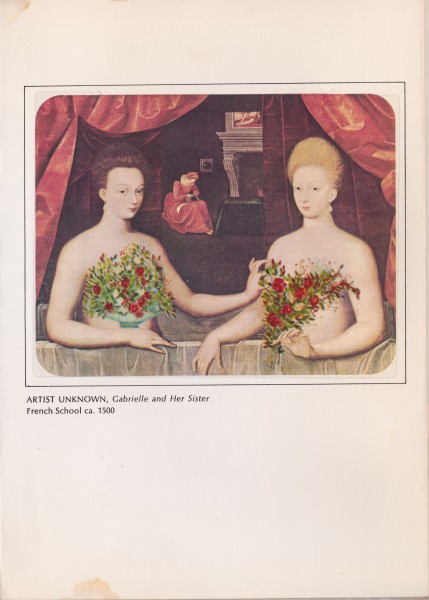 Thus Greenburg proceeds to take some of the Western world's most famous art and cover it up. The effect is funny and smart. Often these "improvements" turn what was once a beautiful nude into something that is actually dirty. While Porno-Graphics might not make any great statement about the nature of contemporary art, it did make me honestly reconsider the nude in art, and surprisingly made me question just what I view as obscene.
This really is a ridiculous little book, but with this being Black Friday and all, why not consider buying this quirky gift book for a friend. As of this writing it is available from both eBay and Amazon at less than ten dollars.
Porno-Graphics: The Shame of Our Art Museums
Dan Greenburg
Random House, hardcover, 1969