I love Christmas movies. Really, I do love them. I'm not being ironic or anything. Most Christmas movies are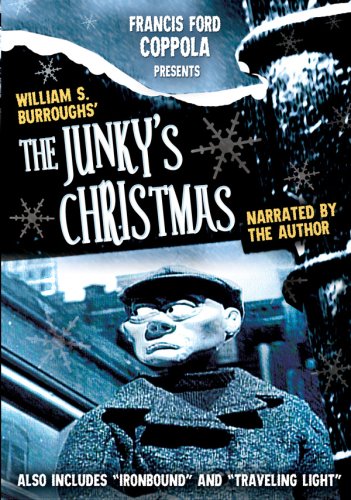 expertly crafted for the sole purpose of making the viewer feel good, to uplift our spirits on these dark, frigid nights. I wrote about some of my favorites in a post a few years back. But sometimes "the season," can be a little much.
The Junky's Christmas is the perfect antidote to this oppression of cheerfulness, while of course, still maintaining that Christmas vibe. This twenty-minute film is short story by William S. Burroughs, produced by Francis Ford Coppola. In Christmas short tradition, the film is claymation, with voice over from Burroughs himself. I have no idea what the intended venue of this film was, but I saw it on Canadian TV way back in the day. I can't imagine this on American broadcast TV, even now all these years later on the film's 20th anniversary.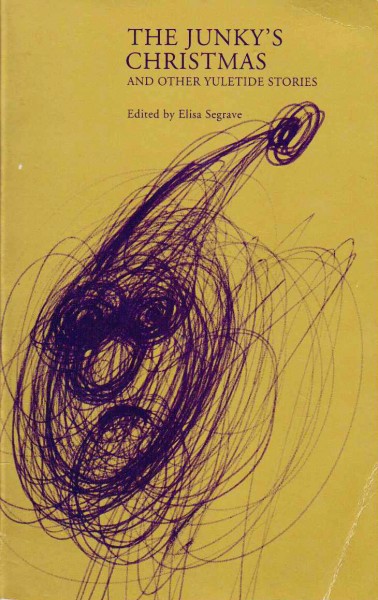 The text for the film comes from the story of the same name from the anthology The Junky's Christmas and Other Yuletide Stores, edited by Elisa Segrave. A quirky book, this anthology collects 18 Christmas tales, more the way Christmas really is than The Lifetime Chanel would have you know. It's an interesting idea, but the reality is lacks. I mean, who really wants to read a whole book of Christmas stories.
So I recommend that if you need a break from all the holiday sparkle and tidiness, you check out Junky's Christmas.  Sit back, relax and let ole Grandpa Burroughs read you a Christmas story:
"It was Christmas Day and Danny the Car Wiper hit the street junk-sick and broke after seventy-two hours in the precinct jail…"

The Junky's Christmas – William S. Burroughs, F.F. Coppola – 1993 short from alexey l on Vimeo.
In the early pages of PUSSY RIOT!: A Punk Prayer for Freedom is a letter written from prison, by Masha, one of Pussy Riot's founding members. In this letter, she describes the women in the prison with her, hungry, cold, one woman who miscarried because a police officer raped her whi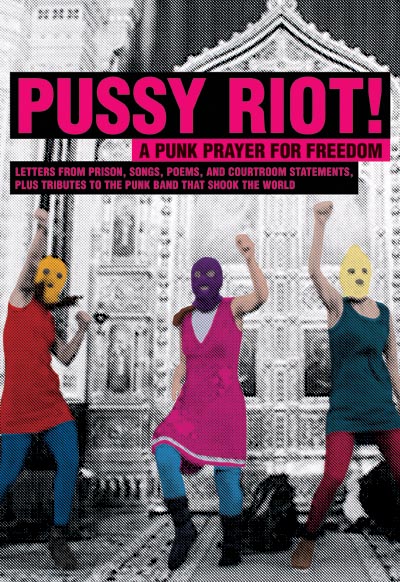 le she was in custody. Masha writes, "She's one of Pussy Riot too." What strikes me about this is not the violence, because this kind of violence happens to women in the United States as well, but that Masha feels a kinship with her and calls this woman one of her own, Pussy Riot. I think in this letter, she is saying that all women are Pussy Riot.
Pussy Riot is a five-woman feminist performance punk band from Russia, who on February 21, 2012, stole into a section of Moscow's Cathedral of Christ the Savior reserved for priests, where they performed their work "Virgin Mary, Put Putin Away." The account in Pussy Riot!: A Punk Prayer for Freedom, has the performance lasting forty seconds. For this, they were chased off, later arrested, brought to trial, and three of the members subsequently were convicted of "felony hooliganism motivated by religious hatred." For this forty-second performance, they received a two-year prison sentence. This event should frighten artists everywhere.
From the closing statement by defense attorney Violetta Volkova: "These women are recognized as political prisoners by international organizations such as Amnesty International, Memorial, and others. These women are not here now because they danced in church in the wrong clothes, in the wrong place, and prayed incorrectly, and made the sign of the cross the wrong way. They are here for their political beliefs. The words of the song, the words of the prayer that they performed—it is a political song, a political prayer addressed to the Blessed Virgin."
PUSSY RIOT!: A Punk Prayer for Freedom collects letters from prison, court transcripts, and lyrics. With all the media attention that Pussy Riot received, this book is the first time I have heard the story from the members of Pussy Riot themselves. This event was much more political, focused, and transgressive, than even the alternative media made it seem. The slim book ends with artists' "Tributes to Pussy Riot." There is a poem from Karen Finaly and another from Eileen Myles, a response from Le Tigre's JD Samson, and a surprisingly compelling essay by Bianca Jagger. But my favorite is a letter by Yoko Ono:
Dear Yetaterina Samutsevich [Katya],
   Thank you. You are right. You have won!
   You have won for all of us, the women of the world.
   The power of your every word is now growing in us.
   From here on, please take good care of yourself, as much as
you are allowed to.
   Each one of us is very much needed now.
   Let's cleanse ourselves for the next battle, and heal the
world with the power of truth.
   War Is Over! (If You Want It.)
   In sisterhood,
Pussy Riot is just what we need right now. This little book from The Feminist Press is a compelling time capsule told exclusively from the perspective of the women themselves, and their artist supporters. I'm sure the future will provide us with an academic anthology retrospectively detailing the cultural, political, and activist implications of Pussy Riot. Thankfully, this is not that book.
14.95 paperback
 a very  reasonable 2.99 digital
The Feminist Press, 2013, 144 pages
If we are lucky, our work becomes larger than we are and takes on a life of its own. Sometimes we know this at the outset and sometimes we come to know as the work moves forward. I'm thinking here of Walt Whitman and his Leaves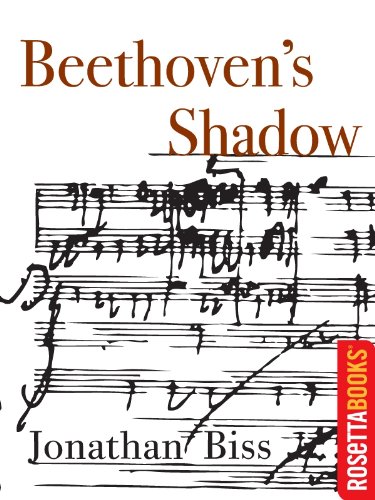 of Grass, which started as a slim and youthful volume of poems. Whitman revised this modest book until, on his deathbed, book had grown weighty, to over 400 poems. Over his lifetime, as Whitman had hoped, the work had grown with him. Pianist Jonathan Biss might similarly be embarking on this sort of life's work. At 33 he is undertaking to record all of Beethoven's Piano Sonatas, a project scheduled to take nearly a decade.
I was taking a MOOC on Beethoven's Piano Sonatas and thought I would do a little extra reading on my own. The simplest Google search brought me to a book written by course's instructor, Jonathan Biss. At $1.99 it didn't seem like much of a risk, so I downloaded it. I didn't know who Biss was before I took the course, so I had no idea what to expect. Beethoven's Shadow is an odd little book. It is not a full-length collection of essays; it is not a full-length book at all. Instead, it is a long essay, a meditation really, on what it feels like to play Beethoven. Biss opens the book with an anecdote about one day in the recording studio in which he became completely unmoored by the experience of recording Sonata Opus 109. Biss writes:
"The microphone is so often likened to a mirror not only because it exposes flaws, but because it is so passive in its judgment — it offers no response. An audience can be an intimidating thing, but it feels, and one can feel it feeling. But the microphone has no feelings, no agenda — it is merely one's own doubt reflected back."
The book continues in this vein, addressing what it is like to interpret a genius. I don't know if Beethoven was a genius or not. I don't really care. What is interesting, though, is reading the someone who experiences transcendence with Beethoven's work. This is a good thing, because Biss is scheduled to record all of the sonatas over the next nine years, a project he looks at with a bit of trepidation. To complete this task, Biss who is now only 33 will have to set aside nearly a whole decade to Beethoven. Our laser focus on certain things, perhaps we might call these our passions, by extension must exclude other experiences. Part of the subtext of the book is Biss's asking the reader to question our own choices. What is it that we love? What art moves us beyond reason? What is it that we exclude in our pursuit of that which we love? And lastly, is it worth it?
Biss is an excellent writer and does a great job of placing the reader somewhere they might not otherwise have been, like a recording studio or on the stage at a concert hall. At the end of this book, I knew a little more about Beethoven, but a lot more about the what it means to undertake a creative project that might truly end up being a life's work.
Beethoven's Shadow, by Jonathan Biss
Rosetta Books, Kindle Single
December 2011
56 print pages
$1.99
Massive open online courses (MOOCs) are the future of education. I feel as certain of this as I am certain that one day cars will fly and that ironing will become obsolete. There's a Ted Talk with the co-founder of Coursera Daphne Koller and an episode of Charlie Rose with the CEO of EdEx Anant Agarwal that addresses this new way of teaching and learning. To summarize Agarwal on Charlie Rose, the thing that is fundamentally different about MOOCs versus the way traditional college works is that with traditional college all of the gatekeeping is at the front end. You have to apply. You have to be accepted. You have to have tuition. Sometimes you need to have prerequisites or test into the courses you want. With MOOCs it is different, at least for now. The gatekeeping occurs at the backend. Anyone can register for a course, but not everyone will finish. And for those who do, there is often the option of a certificate. With some courses there is even the option of credit…for a fee. This allows all kinds of learners to participate in a course. For example, some might only be interested in part of the course's curriculum. That student can participate in just that portion of the lectures, readings, and discussion, and ignore the rest. Of course, they will not receive a certificate, but then again, So what? Others might successfully complete all of the assignments for the entire sequence and receive a certificate. Both students got what they wanted from the course, but they dictated their level of involvement, not the instructor or the institution.
But how does this relate to contemporary art? Glad you asked. In the US, our contemporary art world is deeply shaped by academia. It's hard to imagine a curator with anything less than a Masters Degree. The same with visual artists. I would love to see some statistics on this, but I would guess that many of today's working artists are also employed as teachers. Academia and contemporary art are so bound together, that changing one, will clearly change the other. I chose to be optimistic about this. While it is true that the majority of MOOCs are in the sciences, there are some art related courses out there and I expect this will grow over time.
This summer I took my first MOOC, from Coursera. The course was entitled Art and Inquiry: Museum Teaching Strategies for Your Classroom, offered by The Museum of Modern Art, taught by Lisa Mazzola. The course focused on using the inquiry method with object-based learning, specifically within a museum environment. This course was an amazing experience for me. First of all, I got to take a course from MoMA. I never thought I would have this opportunity, but the beauty of an online course is that location isn't an issue. This had the consequence of the course being very international. 60 percent of Coursera's students are from outside the United States. In this course, we were required to participate in the discussion forums. Our final project was to write a lesson plan within our discipline using the inquiry method and a work of contemporary. Clearly, it was instructive to troll The Art Institute of Chicago for just the right artwork an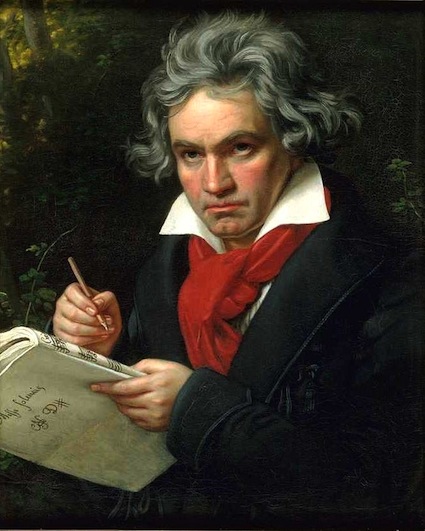 d write my own lesson plan, but what might have been more instructive was peer grading my classmates' assignments. There were 32,000 students in the course. I graded a student from Spain and two from Columbia. It was interesting to see the curriculum requirements of other countries.
I am currently taking a class called Exploring Beethoven's Piano Sonatas. It's very challenging, maybe too challenging for me. But I'm having a good time and I'm learning more than I ever could on my own. The course is taught through The Curtis Institute of Music in Philadelphia, by professor Jonathan Biss. This course demonstrates the beauty of gatekeeping at the end of the educational experience instead of at the beginning. If the course proves too difficult, I can always select the "no assignments" option, continue with the video lectures and the class discussion, but at the end I will not receive my certificate. Like I said earlier, So what? People should be able to attempt things that are difficult or out of their realm of experience without penalty. These MOOCs are showing the possibilities of our educational future. The courses are fun. I'm learning a lot, and I get to "meet" people from all over the world, artists, musicians, even other people who teach English at an art school. MOOCs have the potential to make the study of any of the arts, more global and, most importantly, accessible to anyone with a smartphone. Maybe that's good, maybe not, but it's the future.
Good public transit is the hallmark of a civilized city. One of the things I love most about Chicago is the train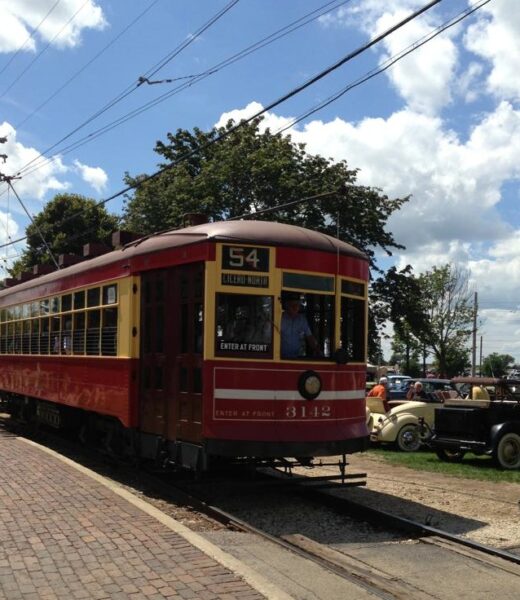 system. Both the Chicago Transit Authority's "L" and the Regional Transportation Authority's Metra are fantastic examples of how efficiently people can be transported from hither to yon. You can, if you wish, take this with a grain of salt seeing as I hail from the Pacific Northwest where public transportation is craptastic, save for the stellar ferry system. But it's more than just getting to work or the grocery store that makes me loves these trains—it's the history. Most people would find it impossible to conjure an image of Chicago without also envisioning the elevated train line that rings our downtown. This is why last weekend, my friends and I headed to Union, Illinois to visit the Illinois Railway Museum.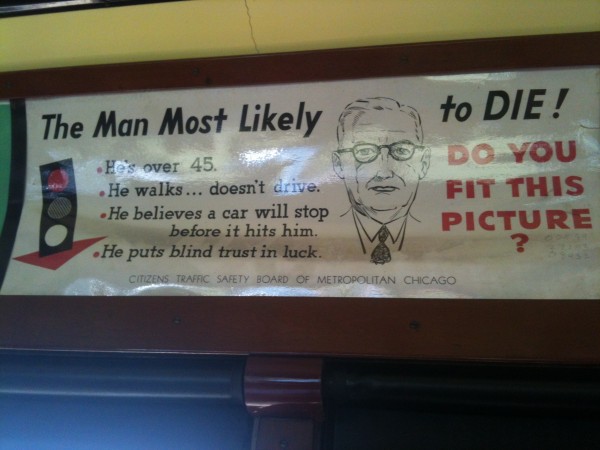 The IRM's grounds are much bigger than I was expecting and are designed for visitors to spend the day there. There are pick nick tables and a little diner that sells burgers and hot dogs. There are nice, clean restrooms and vending machines with water and pop. Bring sunscreen and sun hats, though. Museum to me says "inside," so I was surprised by how active the site is and how much time we spent outdoors. There is a 15 minutes trolley ride that coveys its passengers around the perimeter of the museum grounds. You can get off and on at any stop. It's a great way to get your bearings and see what the museum has to offer. The old CTA trolley is one of the originals that ran in the Loop until the trolleys were replaced by buses in the late 1940's The interior is meticulously restored complete with excellent original advertisements, pretty much exactly like the ones on the Red Line today, except cooler because they're vintage.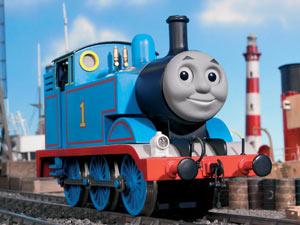 In addition to the trolley, there are working trains that run on tracks at the edge of the grounds. The collection includes electric, steam, and diesel trains but they are run only on certain days, so if there's a particular train you'd like to ride, be sure to check the schedule. The train rides are included in admission and take about 40 minutes each. The day we were there, two trains were running, which we didn't budget our time for. There are also Thomas the Tank Engine Days throughout August. I'm not exactly sure what that means, but the website makes it seem very popular and there are, of course, train rides for the kiddies.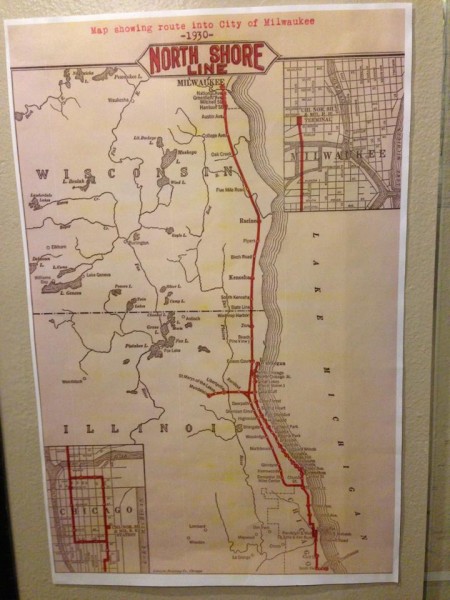 In the center of the museum grounds are large pole buildings that each hold numerous train cars. There are many different kinds of train cars: passenger, sleeper, roomette, dining, and bar car. These cars are from different manufactures and over many years. Passing from one car to another is like moving through time. I enjoyed seeing the cars with the crappy 80s facelift. Many looked as if they had just been pulled out of service. But of course, the old ones were the most fun. The little tiny roomettes!!! The Transformers of sleeper cars. My favorite cars were the oldest ones that had not been restored. These you couldn't walk through, but could only view from behind a rope. Part of what is so interesting about these is to be able to see how the patterns of wear, what had disintegrated, and what looked new.
Scattered throughout the building and grounds are other attendant train paraphernalia. I was outraged to see my train, the train that stops on my block used to run to Milwaukee. I'd heard this before from a conductor, but to see the map with my own eyes was somehow different.
The Illinois Railway Museum is a fun day out for everyone. Well, everyone who likes public transportation. The entrance fee is about the most confusing thing I've ever seen. There are free days, many days it's ten bucks, except during the peak season, when it's more, and it costs more on days when there are special events. They also have a family maximum fee of fifty bucks, which might be good if you've got a passel of kids. Check it out for yourself. You will never take your commute to work for granted again.