Arts/Industry: Collaboration and Revelation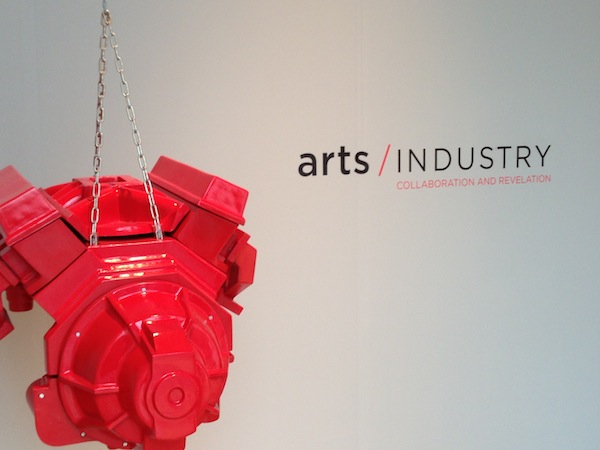 John Michael Kohler Arts Center, Sheboygan, WI
March 22 through August 31, 2014
For forty years, the Kohler Company in Kohler, Wisconsin has hosted a residency for artists. If you are not familiar with Kohler, just step into your bathroom or kitchen and take a peek. Kohler is best known as one of the country's oldest manufacturers of sinks, toilets, bathtubs, and urinals. Despite the rather practical application of their products, the Kohler Company is dedicated to the marriage of art and industry. In commemoration of this historic four decade marker, the Kohler Arts Center in the town of Sheboygan, Wisconsin, has curated a retrospective of a diverse group of artists called Arts/Industry: Collaboration and Revelation. Many of the works on display are taken directly from Kohler's own extensive collection.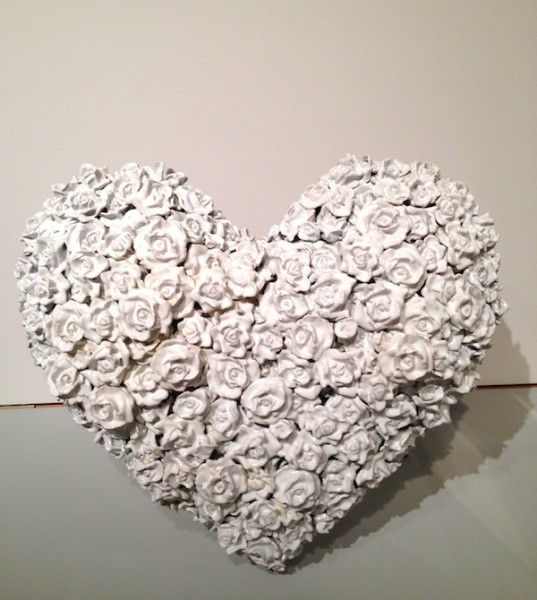 Since this is a retrospective, there isn't much that unifies the individual artworks as a whole, with the single exception of materials. The artists in residence work with the craftspeople at Kohler to utilize the available materials and manufacturing methods in the factory. This means nearly all of the work is vitreous china, cast iron, or bronze. This had an interesting effect on me as a viewer by drawing my attention to material in a way I usually ignore in a traditional gallery setting. It's hard not to make comparisons between works when they all start with the same source material. Of the dozens of artists, I thought I might call your attention to two.
"Funeral Wreath" (2001), by Sarah Peters is slipcast, hand built, glazed vitreous china. At the size of an actual floral funerary, this sculpture conveys lightness and life. In fact, I was surprised when I read the title. There are no artists statements or wall tags, so I cannot know what Peters intended. Still, as I stood there marveling at the delicacy of the work, I couldn't help but notice how often funeral flowers and wedding flowers look the same.
"Babel" (2008), by Jim Neel is a startling collection of slipcast chimpanzee soldiers, 50 of them. Some have no legs, some no arms, each soldier is unique. The complete work itself, dominates the room. "Babel" reminded me of the Chinese Terracotta Army that I saw in Seattle when I was little. Those soldiers impressed me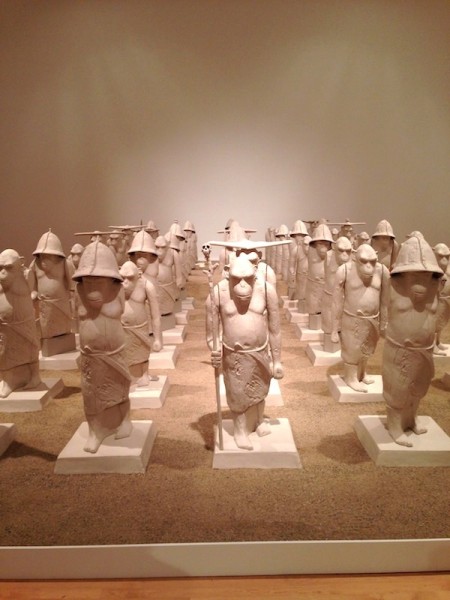 then, and it was an interesting experience seeing Neel's work in person. 50 sculptures is difficult. It's too many to engage with individually, yet the grouping is still small enough to view from a fixed position.
Arts/Industry: Collaboration and Revelation is an interesting exhibition because it highlights how individual artists from different periods, approach the same materials while working in the same environment. The Kohler residency offers once-in-a-lifetime opportunities for artists to have access to the kind of industrial manufacturing that is closed to most artists. (You can read about and apply for the residency here.) This is a worthwhile exhibition. Certainly, if you find yourself in Wisconsin, you should stop by. There is another gallery space with a concurrent exhibition. Oh, and while you're there, don't forget to check out the bathrooms…all of them.
I received Polpo as a gift. When I first held it in my hands, I wasn't quite sure what it was. I thought it was an artbook about, I don't know, octopuses or something. The cover is a pale sand-colored hardboard with gold embossing. The spine is naked to reveal the smyth sewn pages. It appears to be a hybrid of manufactured and hand made. The overall result is an object lovely on its own. The surprising thing was it wasn't an artbook, it was a cookbook. But a cookbook this beautiful, well how good could it really be?
Before receiving this book, I had never heard of chef Russell Norman nor his restaurant called Polpo. And while this book is subtitled A Venetian Cook Book (of Sorts), the actual restaurant isn't in Venice at all, it's in London. The introduction takes the reader through Norman's process of deciding to open a Venetian restaurant. It becomes a little travel porn-y as we accompany Norman from one little restaurant to another tiny wine bar. Sometimes this kind of thing bothers me, but the general good-naturedness of the text makes it a pleasure. As you page through, the photographs of Venice are as enticing and illustrative as any travel book, but the subject is always ultimately the same, fine quality, regional food.
Venetian food is not something I am familiar with, but if Polpo is indeed accurate, I would describe it as simple, fresh Italian, with few ingredients, and often a seafood component. Despite its fancy exterior, the food within this book is quite simple. I've made many recipes from it. Every one turned out spectacular and definitely more than the sum of its parts. Much of the food is small plate, and if we are to believe the chef, what constitutes bar food in Venice. I made the "Bresaola, Rocket and Parmesan Wrap" for dinner one night. I served it with a salad and a bottle of wine. It was a huge hit and took about ten minutes. Seriously, it was impressive. Tonight I am making as a side dish, "Grilled Fennel and White Anchovy Skewers."
Polpo is successful on three fronts. First, it is an excellent introduction to Venetian cuisine. Honestly, I didn't know. Secondly, this is a well-written, well-tested cookbook. So far, everything I have made is just as tasty as the photo implies. And the photos are astounding. Check them out on Jenny Zarin's website. She changes the meaning of food photography. Lastly, while this clearly falls into the aspirational cookbook genre, it is successful in this, leading me to both make the recipes in book and to lie dreamily on the sofa dreaming about a trip to Venice.
Polpo: A Venetian Cook Book (of Sorts)
Russell Norman
Bloomsbury, 2012
$50
Oh Internet, I love you so much! You are so good to me, bringing the world's knowledge right into my living room. I've written previously about film archives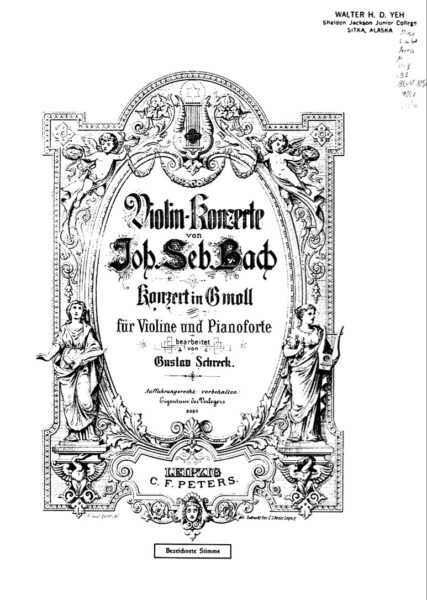 , Google Books, and online galleries. To me, this is the promise of the digital age. Today, I'd like to tell you of two new archives I've have recently discovered.
The Internet Music Score Library Project, also called the Petrucci Music Library, is an online archive of mostly sheet music. This library is based on the wiki model, so it is a collaborative project. All of the works are copyright free with the exception of contemporary works, which are uploaded with the express consent of the composer under the Creative Commons License. The library is vast and easily navigable. One of the things I find most interesting about this site is that the scores are of two types: newly typeset and also scanned. Of course, the new ones are easy to read, clear and dark. Probably, these are the best to play from. But the scanned ones are the most fun because they are complete with the cover art. Some of the scores are more than a hundred years old and the marking from their library of origin are equally as fascinating. The original illustrations on some of these compositions are art works in their own right. Sadly, you can't search "vintage cover art," but it literally seemed as if every third score had some amazing images. Even if you are not a musician, these illustrations are worth a look-see.
Musopen is similar to IMSLP, in that its aim to provide the world with copyright free music scores. But Musopen also has a considerable library of classical recordings available as well. Along the right hand side is a fun list of the most popular listens. I played the most popular of the day, the 1st movement of Winter from Vivaldi's The Four Seasons as performed by the US Air Force Band. Maybe this has something to do with the Polar Vortex, who knows. Over the last few years, Musopen has launched a few highly successful Kickstarters to fund even more copyright free recordings. According to Wikipedia, they have successfully recorded all 32 Beethoven piano sonatas and set them free in the world. Their last Kickstarter was to record the complete works of Chopin. Musopen is a non-profit and based in California and seems to have a more lofty goal than IMSLP.
Of course, there are plenty of places to listen to classical music and to download scores, but what sets these two sites apart is that they are so comprehensive and so easy to use. You can queue up a piece of music, then pop over and look at the score.
I love Christmas movies. Really, I do love them. I'm not being ironic or anything. Most Christmas movies are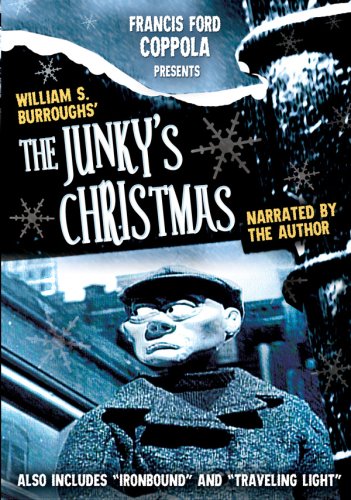 expertly crafted for the sole purpose of making the viewer feel good, to uplift our spirits on these dark, frigid nights. I wrote about some of my favorites in a post a few years back. But sometimes "the season," can be a little much.
The Junky's Christmas is the perfect antidote to this oppression of cheerfulness, while of course, still maintaining that Christmas vibe. This twenty-minute film is short story by William S. Burroughs, produced by Francis Ford Coppola. In Christmas short tradition, the film is claymation, with voice over from Burroughs himself. I have no idea what the intended venue of this film was, but I saw it on Canadian TV way back in the day. I can't imagine this on American broadcast TV, even now all these years later on the film's 20th anniversary.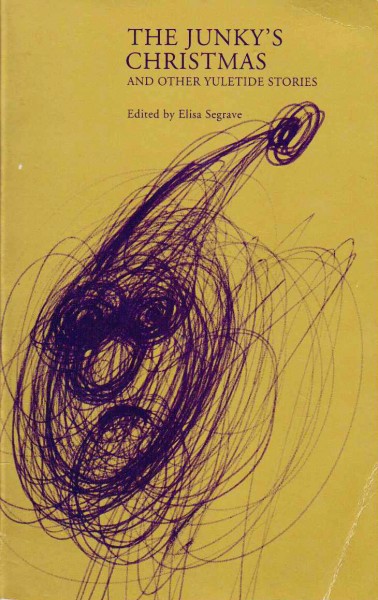 The text for the film comes from the story of the same name from the anthology The Junky's Christmas and Other Yuletide Stores, edited by Elisa Segrave. A quirky book, this anthology collects 18 Christmas tales, more the way Christmas really is than The Lifetime Chanel would have you know. It's an interesting idea, but the reality is lacks. I mean, who really wants to read a whole book of Christmas stories.
So I recommend that if you need a break from all the holiday sparkle and tidiness, you check out Junky's Christmas.  Sit back, relax and let ole Grandpa Burroughs read you a Christmas story:
"It was Christmas Day and Danny the Car Wiper hit the street junk-sick and broke after seventy-two hours in the precinct jail…"

The Junky's Christmas – William S. Burroughs, F.F. Coppola – 1993 short from alexey l on Vimeo.
In the early pages of PUSSY RIOT!: A Punk Prayer for Freedom is a letter written from prison, by Masha, one of Pussy Riot's founding members. In this letter, she describes the women in the prison with her, hungry, cold, one woman who miscarried because a police officer raped her whi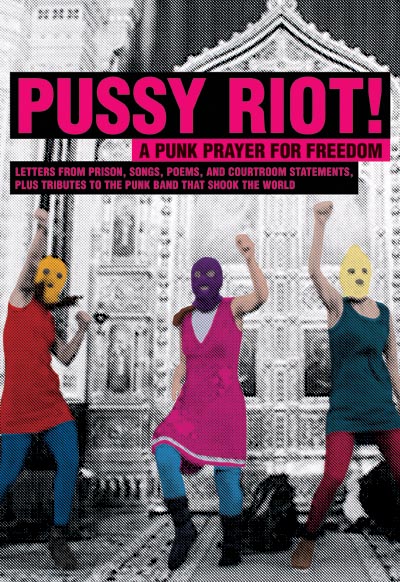 le she was in custody. Masha writes, "She's one of Pussy Riot too." What strikes me about this is not the violence, because this kind of violence happens to women in the United States as well, but that Masha feels a kinship with her and calls this woman one of her own, Pussy Riot. I think in this letter, she is saying that all women are Pussy Riot.
Pussy Riot is a five-woman feminist performance punk band from Russia, who on February 21, 2012, stole into a section of Moscow's Cathedral of Christ the Savior reserved for priests, where they performed their work "Virgin Mary, Put Putin Away." The account in Pussy Riot!: A Punk Prayer for Freedom, has the performance lasting forty seconds. For this, they were chased off, later arrested, brought to trial, and three of the members subsequently were convicted of "felony hooliganism motivated by religious hatred." For this forty-second performance, they received a two-year prison sentence. This event should frighten artists everywhere.
From the closing statement by defense attorney Violetta Volkova: "These women are recognized as political prisoners by international organizations such as Amnesty International, Memorial, and others. These women are not here now because they danced in church in the wrong clothes, in the wrong place, and prayed incorrectly, and made the sign of the cross the wrong way. They are here for their political beliefs. The words of the song, the words of the prayer that they performed—it is a political song, a political prayer addressed to the Blessed Virgin."
PUSSY RIOT!: A Punk Prayer for Freedom collects letters from prison, court transcripts, and lyrics. With all the media attention that Pussy Riot received, this book is the first time I have heard the story from the members of Pussy Riot themselves. This event was much more political, focused, and transgressive, than even the alternative media made it seem. The slim book ends with artists' "Tributes to Pussy Riot." There is a poem from Karen Finaly and another from Eileen Myles, a response from Le Tigre's JD Samson, and a surprisingly compelling essay by Bianca Jagger. But my favorite is a letter by Yoko Ono:
Dear Yetaterina Samutsevich [Katya],
   Thank you. You are right. You have won!
   You have won for all of us, the women of the world.
   The power of your every word is now growing in us.
   From here on, please take good care of yourself, as much as
you are allowed to.
   Each one of us is very much needed now.
   Let's cleanse ourselves for the next battle, and heal the
world with the power of truth.
   War Is Over! (If You Want It.)
   In sisterhood,
Pussy Riot is just what we need right now. This little book from The Feminist Press is a compelling time capsule told exclusively from the perspective of the women themselves, and their artist supporters. I'm sure the future will provide us with an academic anthology retrospectively detailing the cultural, political, and activist implications of Pussy Riot. Thankfully, this is not that book.
14.95 paperback
 a very  reasonable 2.99 digital
The Feminist Press, 2013, 144 pages