Closed for a decade, the Rijksmuseum, Amsterdam's national jewel, finally reopened in mid-2013. The extensive restoration returned the massive building's interior to its original 1885 charm. We started our visit with the "Gallery of Honour," which is where you will find all of the paintings you might think would be in the Rijksmuseum. This is my favorite gallery, not because of the Vermeers and Rembrandts, but because it contains many lush Dutch still lifes that I am startled to find I've come to love after decades of thinking, "So what?" Pheasants, rabbits, random game, all dead. Dogs, both hunting and companion types, all living. Fruits and vegetables, featuring most spectacularly white asparagus. Fruit, much of which I cannot recognize. No surprise here, but tulips. And I would be remiss if I forgot to mention the lemons. Really, it's like no one had ever painted a lemon before the Dutch.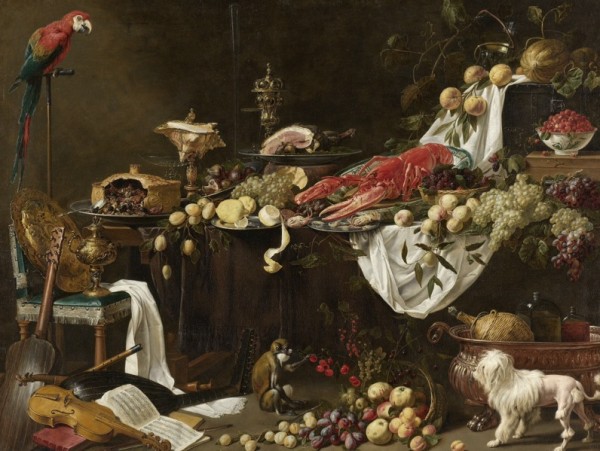 We returned to the Rijksmuseum the next day to see the exhibit Art is Therapy by practical philosopher Alain de Botton and philosopher art historian John Armstrong. Really, this is best described as a meta-exhibit, essentially a contemporary show overlaying selected works from the permanent collection. The Post-Its start as soon as you enter the museum. At first, I didn't even identify them as the exhibit I was there to see–that is, until I started reading. As you walk through the museum, you'll occasionally see large Post-It notes next to an artwork. They are jarring, especially in contrast to the old masters. For me, this incongruity of oversized office products in the midst of a museum drew me to them, but I noticed that many other people simply ignored them.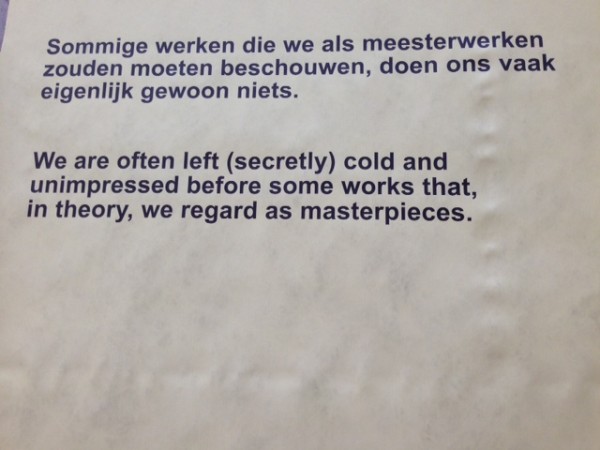 These yellow notes provide, not factual information, but instead philosophical insights into the nature of art itself. I suppose this shouldn't be surprising considering de Botton might be best known for his book How Proust Can Save Your Life. Still, it was an odd experience to read commentary on the purpose of art as well the experience of viewing art right there next in the museum. For example next to Vermeer's View of Houses in Delft (1658) the Post-It reads: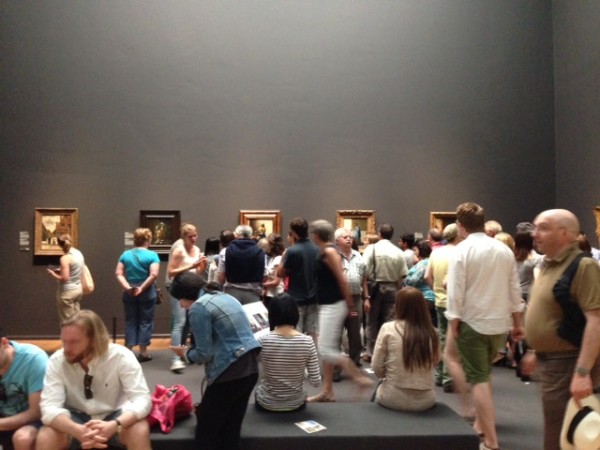 "In one of the side galleries of the Rijksmueusm's Gallery of Honour, probably behind three rows of people, hangs one of the most famous works of art in the world.
"This is bad news. The extreme fame of a work of art is almost always unhelpful because, to touch us, art has to elicit a personal response–and that's hard when a painting is said to be so distinguished. This painting is quite out of synch with its status in any case because, above all else, it wants to show us that the ordinary can be very special. The picture says that looking after a simple but beautiful home, cleaning the yard, watching over the children, darning clothes–and doing these things faithfully and without despair–is life's real duty…"
It is a great gift to be yanked from the malay of Vermeer fans right into the work itself. I suppose the painting alone should do that, but it didn't. For me, it took these words to place me in the picture. For that alone, I am impressed.
The Rijksmuseum offered up all the Dutch Masters I anticipated and I wasn't disappointed. What I wasn't expecting was an historic museum to be so thoroughly modern. Art is Therapy prods the museum-goer into engaging with the works in a more authentic way. This contemporary way of thinking about art does not end with the physical museum and its works. More than 120,000 images from the collection are available at the Rijksmuseum website with the ultimate goal of eventually having the complete collection online. These high-resolution images can be downloaded to do with what you will. Also available are many guided tours that you can load onto your phone through the Rijksmuseum app to help you navigate the, quite honestly, intimidatingly large collection. They offer free wi-fi throughout the building, which makes it easy to use your phone for the tours. We took the tour for Art is Therapy, narrated by Alain de Botton himself. I'm glad I took advantage of this offering because it brought me to sections of the museum I likely would have forgone, like the room of Asian ceramics, the suit of armor, or the room of nautical miniatures. As I finished the tour, I realized that with the tour app and the high-res images, it was possible to take this tour from ones home computer. Of course, it isn't the same, but I think it would be worthwhile anyway. Besides, you'll probably get a better up-close view of that Vermeer from your livingroom than packed behind three rows of people.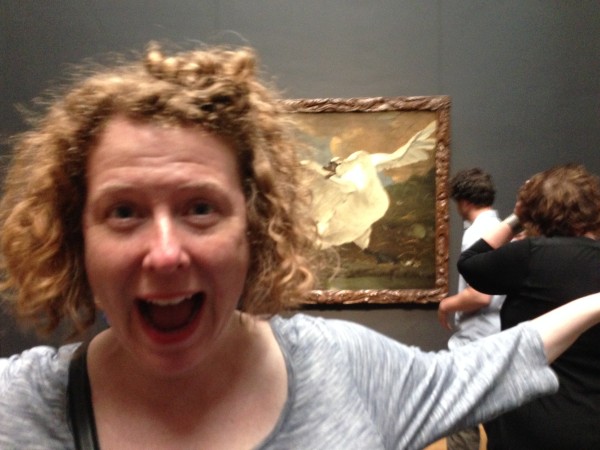 As thick as the phone book of the town I grew up in, the catalogue for the 2014 Whitney Biennial is a whopper, coming in at 419 pages. But seeing as how this year's Biennial was an impressive three floors, the attendant corridors, stairwells, random outside spaces, and more than 100 artists, maybe it's not so big after all. Like the Biennial itself, the body of the catalogue is dived into three sections, one for each of the three curators: Stuart Comer, Anthony Elms, and Michelle Grabner. Each of these sections contains a contextualizing essay by the respective curator. In an interesting formal note is that the three sections are printed on different paper, which has the effect of making each section literally feel distinct.
Evaluating a catalogue is difficult; the success depends on what the reader is looking for. As preparatory material for viewing the exhibition, the catalogue is perhaps most successful. I doubt I would have enjoyed the exhibition as much if I had not read all of the essays beforehand. These essays proved invaluable to my visit to the Whitney. I previewed the artwork and made notations about the works with which I wanted to spend a little time. This method is itself flawed, because we all know that seeing a work in person is a very different experience from looking at pictures, no matter how lovely. It also mostly rules out the element of surprise. But honestly, the Whitney Biennial is such a massive undertaking for me as a viewer; this seemed to be my only method of making sense of this large and incongruent collection of artworks.
As a thorough record of the exhibition, the catalogue also succeeds, which in this case is important because the Biennial is nearing its close. When I read a catalogue that is little more than reproductions of the art, with the wall text on the following page, I am disappointed. A person is lucky to view a show once, let alone twice, but a book is different. There's no end to a textual exhibition. We can visit anytime we want. This is where the catalogue succeeds. The 2014 Biennial contains a substantial amount of performance, audio, and video work. These are notoriously hard to capture on the page. Stuart Comer's section is rife with essaylettes on selected works. There are writings on the performance works, which is great because although I visited twice, I didn't manage to coincide with a single performance. Although all of the curators included text-based work, it is most noticeable in Anthony Elms' section. I missed much of this text during my visit. It was crowded. It was hard to see. Text takes a lot of time. At home with a book, I have all the time in the world.
As an accurate reflection of the 2014 Whitney Biennial, I am less sure of the success of the catalogue. In the introduction the authors state, "If there is any central point of cohesion, it may be the slipperiness of authorship that threads through each of our programs… In many ways, it has simply become inefficient to slow down and figure out who is responsible for a specific idea or action, opening up interesting areas of collaboration." While the authors are describing the discrete works in the show, perhaps this whole idea might be applied to the Biennial itself; it is very slippery. But the catalogue is intentionally less so, with its Roman numeraled sections, and three different paper stocks, the catalogue makes clearer distinctions than the curators do. The final section is by Michelle Grabner is marked by the inclusion of numerous conversations between artists, including Dawoud Bey, Christopher Williams, Rochelle Feinstein, Gaylen Gerber, to name a few. While all this focus on process seems as if it should make this section feel more slippery, it does the opposite—it concretizes the final section of the book. Real people, real artists, talking to other real people. The overall effect is humanizing, and intimate, a feeling that was impossible experience at the show.
Ultimately, I recommend this catalogue for those who want a serious look at the 2014 Whitney Biennial. This is not a coffee table book, nor is it a casual exhibition catalogue that one can leave on their bedside, to casually flip though before dropping off to sleep. No, this is the kind of catalogue you need to read while sitting up, with a cup of coffee. You might want to take some notes. If you have reading glasses, you better get 'em.
Whitney Biennial Catalogue 2014
paperback, 416 pages
Yale, $55
Arts/Industry: Collaboration and Revelation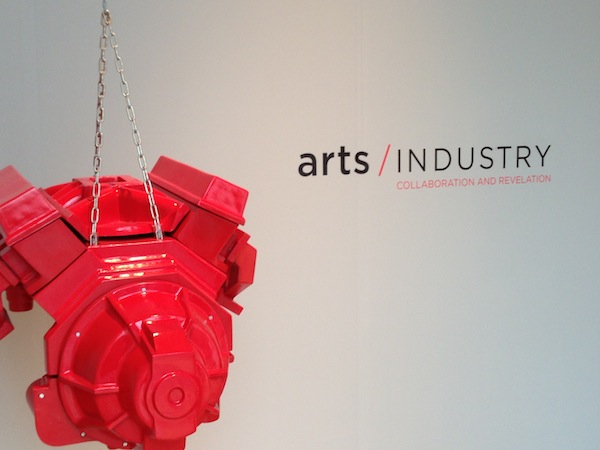 John Michael Kohler Arts Center, Sheboygan, WI
March 22 through August 31, 2014
For forty years, the Kohler Company in Kohler, Wisconsin has hosted a residency for artists. If you are not familiar with Kohler, just step into your bathroom or kitchen and take a peek. Kohler is best known as one of the country's oldest manufacturers of sinks, toilets, bathtubs, and urinals. Despite the rather practical application of their products, the Kohler Company is dedicated to the marriage of art and industry. In commemoration of this historic four decade marker, the Kohler Arts Center in the town of Sheboygan, Wisconsin, has curated a retrospective of a diverse group of artists called Arts/Industry: Collaboration and Revelation. Many of the works on display are taken directly from Kohler's own extensive collection.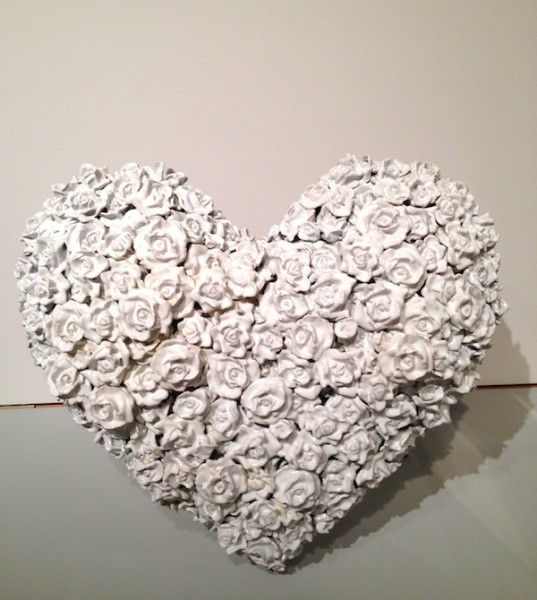 Since this is a retrospective, there isn't much that unifies the individual artworks as a whole, with the single exception of materials. The artists in residence work with the craftspeople at Kohler to utilize the available materials and manufacturing methods in the factory. This means nearly all of the work is vitreous china, cast iron, or bronze. This had an interesting effect on me as a viewer by drawing my attention to material in a way I usually ignore in a traditional gallery setting. It's hard not to make comparisons between works when they all start with the same source material. Of the dozens of artists, I thought I might call your attention to two.
"Funeral Wreath" (2001), by Sarah Peters is slipcast, hand built, glazed vitreous china. At the size of an actual floral funerary, this sculpture conveys lightness and life. In fact, I was surprised when I read the title. There are no artists statements or wall tags, so I cannot know what Peters intended. Still, as I stood there marveling at the delicacy of the work, I couldn't help but notice how often funeral flowers and wedding flowers look the same.
"Babel" (2008), by Jim Neel is a startling collection of slipcast chimpanzee soldiers, 50 of them. Some have no legs, some no arms, each soldier is unique. The complete work itself, dominates the room. "Babel" reminded me of the Chinese Terracotta Army that I saw in Seattle when I was little. Those soldiers impressed me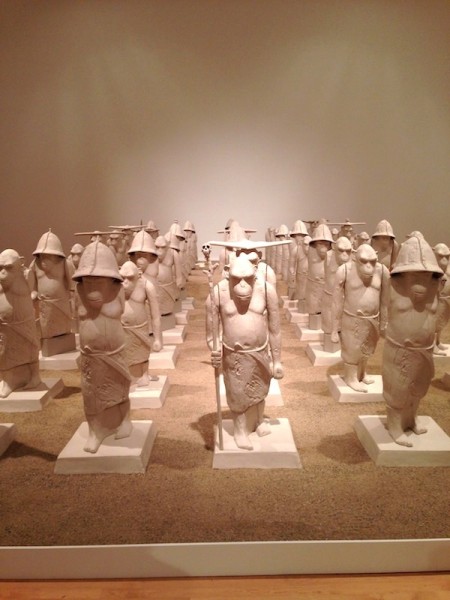 then, and it was an interesting experience seeing Neel's work in person. 50 sculptures is difficult. It's too many to engage with individually, yet the grouping is still small enough to view from a fixed position.
Arts/Industry: Collaboration and Revelation is an interesting exhibition because it highlights how individual artists from different periods, approach the same materials while working in the same environment. The Kohler residency offers once-in-a-lifetime opportunities for artists to have access to the kind of industrial manufacturing that is closed to most artists. (You can read about and apply for the residency here.) This is a worthwhile exhibition. Certainly, if you find yourself in Wisconsin, you should stop by. There is another gallery space with a concurrent exhibition. Oh, and while you're there, don't forget to check out the bathrooms…all of them.
I received Polpo as a gift. When I first held it in my hands, I wasn't quite sure what it was. I thought it was an artbook about, I don't know, octopuses or something. The cover is a pale sand-colored hardboard with gold embossing. The spine is naked to reveal the smyth sewn pages. It appears to be a hybrid of manufactured and hand made. The overall result is an object lovely on its own. The surprising thing was it wasn't an artbook, it was a cookbook. But a cookbook this beautiful, well how good could it really be?
Before receiving this book, I had never heard of chef Russell Norman nor his restaurant called Polpo. And while this book is subtitled A Venetian Cook Book (of Sorts), the actual restaurant isn't in Venice at all, it's in London. The introduction takes the reader through Norman's process of deciding to open a Venetian restaurant. It becomes a little travel porn-y as we accompany Norman from one little restaurant to another tiny wine bar. Sometimes this kind of thing bothers me, but the general good-naturedness of the text makes it a pleasure. As you page through, the photographs of Venice are as enticing and illustrative as any travel book, but the subject is always ultimately the same, fine quality, regional food.
Venetian food is not something I am familiar with, but if Polpo is indeed accurate, I would describe it as simple, fresh Italian, with few ingredients, and often a seafood component. Despite its fancy exterior, the food within this book is quite simple. I've made many recipes from it. Every one turned out spectacular and definitely more than the sum of its parts. Much of the food is small plate, and if we are to believe the chef, what constitutes bar food in Venice. I made the "Bresaola, Rocket and Parmesan Wrap" for dinner one night. I served it with a salad and a bottle of wine. It was a huge hit and took about ten minutes. Seriously, it was impressive. Tonight I am making as a side dish, "Grilled Fennel and White Anchovy Skewers."
Polpo is successful on three fronts. First, it is an excellent introduction to Venetian cuisine. Honestly, I didn't know. Secondly, this is a well-written, well-tested cookbook. So far, everything I have made is just as tasty as the photo implies. And the photos are astounding. Check them out on Jenny Zarin's website. She changes the meaning of food photography. Lastly, while this clearly falls into the aspirational cookbook genre, it is successful in this, leading me to both make the recipes in book and to lie dreamily on the sofa dreaming about a trip to Venice.
Polpo: A Venetian Cook Book (of Sorts)
Russell Norman
Bloomsbury, 2012
$50
Oh Internet, I love you so much! You are so good to me, bringing the world's knowledge right into my living room. I've written previously about film archives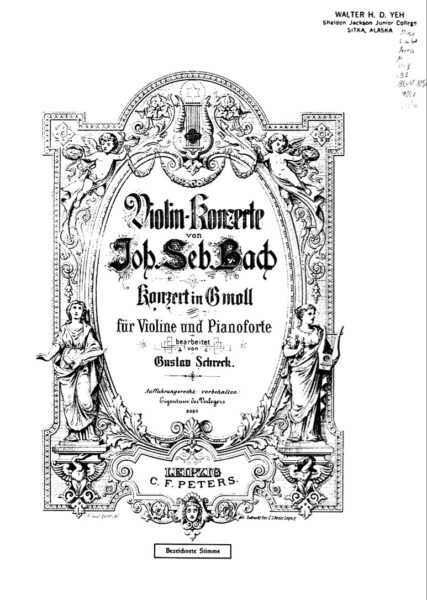 , Google Books, and online galleries. To me, this is the promise of the digital age. Today, I'd like to tell you of two new archives I've have recently discovered.
The Internet Music Score Library Project, also called the Petrucci Music Library, is an online archive of mostly sheet music. This library is based on the wiki model, so it is a collaborative project. All of the works are copyright free with the exception of contemporary works, which are uploaded with the express consent of the composer under the Creative Commons License. The library is vast and easily navigable. One of the things I find most interesting about this site is that the scores are of two types: newly typeset and also scanned. Of course, the new ones are easy to read, clear and dark. Probably, these are the best to play from. But the scanned ones are the most fun because they are complete with the cover art. Some of the scores are more than a hundred years old and the marking from their library of origin are equally as fascinating. The original illustrations on some of these compositions are art works in their own right. Sadly, you can't search "vintage cover art," but it literally seemed as if every third score had some amazing images. Even if you are not a musician, these illustrations are worth a look-see.
Musopen is similar to IMSLP, in that its aim to provide the world with copyright free music scores. But Musopen also has a considerable library of classical recordings available as well. Along the right hand side is a fun list of the most popular listens. I played the most popular of the day, the 1st movement of Winter from Vivaldi's The Four Seasons as performed by the US Air Force Band. Maybe this has something to do with the Polar Vortex, who knows. Over the last few years, Musopen has launched a few highly successful Kickstarters to fund even more copyright free recordings. According to Wikipedia, they have successfully recorded all 32 Beethoven piano sonatas and set them free in the world. Their last Kickstarter was to record the complete works of Chopin. Musopen is a non-profit and based in California and seems to have a more lofty goal than IMSLP.
Of course, there are plenty of places to listen to classical music and to download scores, but what sets these two sites apart is that they are so comprehensive and so easy to use. You can queue up a piece of music, then pop over and look at the score.