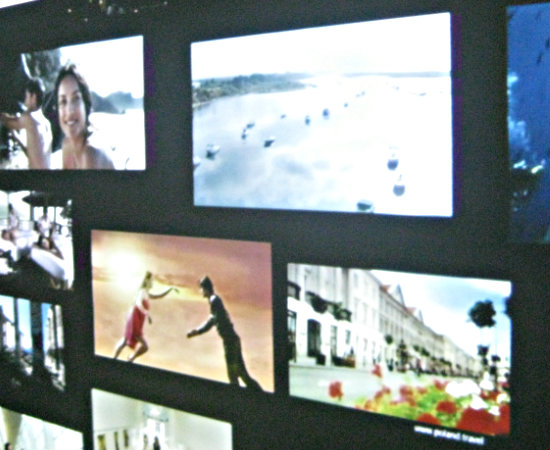 A biennale in a holiday destination can seem like icing on the cake, but a work at the 5th Biennale in Marrakech explores the baking recipe itself. Burak Arikan is a Turkish artist whose home country, like Morocco, numbers its visitors in the tens of millions. One question, which his Monovacation (2013) poses, is this: what do we expect from our annual getaways?
The answer varies, but not by much. Rowboats, mountains, bikinis and beaches are all high on our agendas, at least that's what the national offices of tourism believe to be the case. Arikan collates television commercials from around the world and uses bespoke software to analyse the patterns which emerge.
The result is a grid projection running every film the artist could get his hands on, (found footage and clips from YouTube) a nodular map of advertising motifs, and a six minute montage in which the ideas morph into one another. "You have concept morph," explains Arikan, "not image morph", pointing out the shifting occupants and surroundings of a lake.
"So the movie starts with a rowboat. You will see people doing rowboats from Italy through to China basically. All of which are very quick 1,2,3 seconds, and then it goes slowly into nature and then into the mountains and it works like that."
Biennale venue Bank Al Maghrib is full of surprises, but this presents you with some familiar scenarios: travel clichés, held at arm's length. The result is alienation, an effect of the computer code written by the artist in order to configure a detailed map of the most frequently advertised holiday activities.
"This is all for a vacation which you can have anywhere in the world," says the artist, most of whose projects benefit from his programming knowhow. In the past he has analysed data patterns in the art market, the higher education sector and the urban landscape of Istanbul.
The uber-commercial now concept-morphs into a passage featuring horses. "If you look at this you find a horse that crops up all the time: in Egypt, Turkey, Portugal and Spain; they've all got horses." It was this motif which inspired the current piece.
"A horse, what does that mean, you know?" he asks, finding a range of meanings in a host of countries, including the most interesting reading of the situation in his homeland: "In Turkey they show it, like, jumping on a bridge. I guess, Europe to Asia."
And while the overall effect of this installation may be one of monotony, there are differing nuances. "European countries usually advertise themselves as, 'You can rest here'. So say I'm a European from the UK, it has to be somewhere close: South Europe, Spain; I rest and then I go back to work." But a far-flung destination like Taiwan will advertise its potential for magical experiences.
Marrakech is magical too, the North African city lending plenty of relevance to Arikan's work. "Morocco has a big tourism issue," says the artist. "It's an economical engine but at the same time it's an issue for locals. Obviously you can see that everywhere." It's a fragile ecosystem. The vibrant square beyond the venue, Jamaa El Fna, is a UNESCO designated Masterpiece of the Oral and Intangible Heritage of Humanity.
Arikan laughs when I ask him if his research has put him off holidays for life. "I don't really do travel for tourism any more," he says. "Although I will travel a lot, I go for work mainly. I live in New York right now, but I'm based in Istanbul and New York." Hence the global outlook.
In a world where you can be a tourist just about anywhere, this data-crunching holiday of holidays could put you off as well. The perfect beach, bikini body, or sunlit lake are just so many simulacra, and thanks to our ubiquitous cameras, we are all filming and shooting our own commercials and ads wherever we go. It gets to be hard work.
Monovacation can be seen in Bank Al Maghrib at Marrakech Biennale 5 until March 31 2014.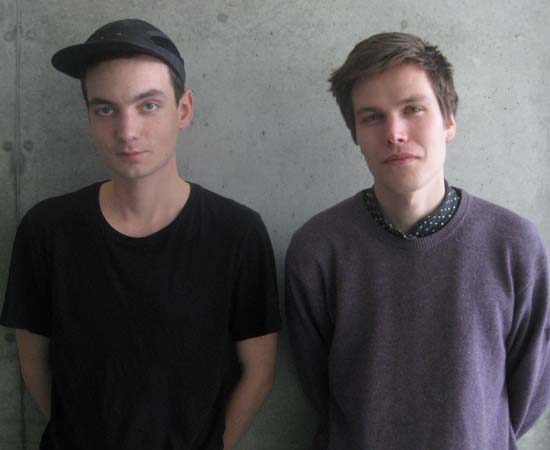 Eastbourne is a quiet town, perhaps too quiet. The fading resort on the South coast of England is a popular destination with old age pensioners, who come to fade out in their turn, amidst tea shops, guest houses and an appealing promenade.
But something sinister is afoot, thanks to a pair of artists from the new home of Noir, Scandinavia. Indeed John Skoog and Bjarke Hvass Kure come from Sweden, where you get the impression that criminal corruption can happily co-exist with outward calm.
So, this overseas team have come to Eastbourne's fantastic Towner Gallery with a sceptical eye. Having been invited to curate a show based on the permanent collection, they have called it Near Dark and now liken the four rooms it occupies to a crime scene.
"We were just clicking through the database and then we started talking about . . . Agatha Christie, this small town British detective story," says Skoog who, together with Kure, has rifled through the permanent collection for evidence of misbehaviour.
Kure picks up the thread: "It is a mystery and it can be solved, or maybe it can't. Sometimes what's interesting about a crime is not necessarily finding out who did it, but more about actually the interpretation or deducing a meaning from images".
Some of those images will be familiar to visitors, some less so.  Both artists report a sense of near déjà vu as local landmarks appeared and reappeared in the vaults of the gallery. And Towner has a monopoly on images from the adjacent South Downs National Park.
But less familiar will be the unfinished works by Eric Ravilious. Eastbourne's famous son is perhaps best known for his charming watercolours of the rolling hills which form the backdrop to the town. Now visitors have a chance to see him stripped bare, as it were.
Skoog and Kure are exhibiting a previously unseen colour test. The loamy shades of green and brown could only belong to him. Nearby is his incomplete view of Beachy Head, a nearby cliff with the sad distinction of being the country's most infamous suicide spot.
And no one is above suspicion. Though both artists insist this show is not a whodunnit, they lay a bold accusation at the Gallery's door. "In some strange way, it's Ravilious – but it's also Sherlock Holmes," says Skoog. "He's the one, who's maybe like Sherlock Holmes turned bad or something. "
Well, if Holmes had his violin, surely the world is ready for a painting detective, even a rogue one if it comes to that. "It's really super exciting to see what people think, especially as Ravilious is The Man here," adds the artist.
Rest assured, as the show was shaping up Monday, there's was nothing too sacrilegious in the offing. Kure specialises in hanging arty shows like this: "We're trying to use the museum exhibition format," he tells me. "We we're really trying to be very sensitive to a lot of the details, a lot of the traditions, of how you make a museum exhibition."
"The exhibition is a narrative," he continues, explaining that variable lighting will give the visitor a sense this story is a cyclical one, from light to dark and back again: "You're an interpreter or a reader going through what's happened".
Skoog meanwhile brings a filmmaker's talents to the display: "There's all these filmic terms, like zooming, a pan, a tracking shot. We wanted to use all these terms, to use them as tools for making an exhibition instead of a film."
But while those techniques have made the final cut, the artist admits that the visitor may not even notice. Flashback is another technique, and the same local street crops up by two different artists in two different rooms, Skoog describes the slow realisation of this as "silently spectacular."
"The crime scene can also be read on a more metaphorical level ," says the filmmaker who intends the show to have the atmosphere of a good thriller rather than the payoff of a classic crime novel. But in a town where the thrills might be limited to chips on the pier, Near Dark should still deliver.
Near Dark can be seen at Towner Gallery, Eastbourne, UK, from February 8 until May 4 2014. The Gallery are also showing new film by John Skoog entitled Redoubt.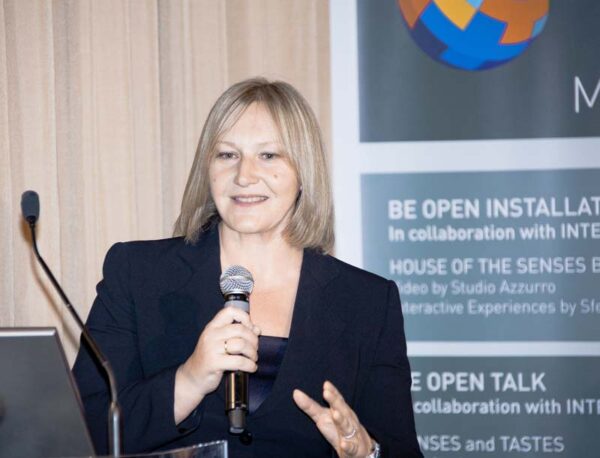 Capitalism and craft collide in a new initiative from philanthropic think tank BE OPEN. The Russian foundation is staging a major show for traditional makers in India, in a slick new space dressed with the help of local architect Anupama Kundoo and local designer Sunil Sethi.
It might be the shock of the new for the craftsmen who can trace their knowhow back to the time of the Mughals. Indeed, prices may well go up. But, it is argued, without new markets, some ancient techniques will be lost. So pumping up the craftworld, as if it was the artworld, can look like a good idea.
BE OPEN Founder Elena Baturina sits in a well-appointed office at an exclusive address in Mayfair. She fields questions in English and replies in Russian through a friendly interpreter. Both the woman and her surroundings are imposing.
Being aware I am sat with the richest businesswoman in Russia makes the encounter a little surreal. Now might be the time to disclose that I have previously subbed and provided copy for the foundation.
"We have to find markets for these products," says Baturina. "We can already see now that the next generation of craftsmen is not as skilful as the one before. So unless markets are found for their produce, the skill of the craft will die out."
The show is at the Indira Gandhi National Centre for the Arts, a venue provided by an enthusiastic Indian government. But BE OPEN will be taking their unique stage around the world, with Japan in the frame already, helping the programme to live up to its title (North/South – East/West).
"It wasn't an easy job," she says of the BE OPEN intervention in New Delhi. "We tried to identify unique craftsmen who used local materials to produce something extraordinary."
So visitors can expect objects of beauty made with inlaid marble, wood and metal. Designer brand Hermès has already started tapping up the very best Indian makers.
Since business has become synonymous with technology, the apparently altruistic BE OPEN program has thrown up a surprise or two for the Russian entrepreneur.
"We are very excited about the possibilities of craft and art produced by hand," she says. "It's always very interesting to show how the structure of business, which is very technological and logical, can benefit from craft produced individually by hand."
Baturina is clear that North/South –East/West is not framing handcrafts as a business opportunity. "It's not a business glance at it; it's a glance at art," she says. And indeed, on the evidence of past activities by BE OPEN, the founder seems driven by genuine interest rather than the bottom line.
Her "main work," as she calls it, focusses on educational institutions; "One of the new things which we are trying to do is to compile a ranking system of all universities around the world involved in design," she says, hoping this will be of use to would-be students and design schools alike.
This new project gets underway in South America, where schools and universities have been keen to get involved. "I think it's more important to do it in countries which are lesser known. Who knows about design schools in Brazil? Do you?" I shake my head. "That's why."
Another scheme with an eye on the future is the BE OPEN Young Talent Award, which is designed to help budding designers and enable them to live for a year and make a few proverbial mistakes. The cash Award takes the form of money which can be spent on school fees and living.
"I think it's a very good way to let a young creative feel that there's a way of expressing their ideas. It enables them to see that although sometimes the thing they produce isn't perfect, but they can feel that their work is valued," says Baturina who spent her early days learning design and engineering in a Moscow factory.
On the way out I notice a kinetic sculpture on the wall. An LED ticker in Cyrillic passes into a knot of steel and comes out the other side in numerical form. Baturina's aide tells me that the input is lyric poetry by Pushkin; the output is currency conversion rates.
As the Russian Roubles flow into these new artistic ventures it remains to be seen by how much BE OPEN improves the lives of Indian craftsmen and design students, but the foundation may yet reverse the flow of the piece on the wall: putting money in, getting creativity out.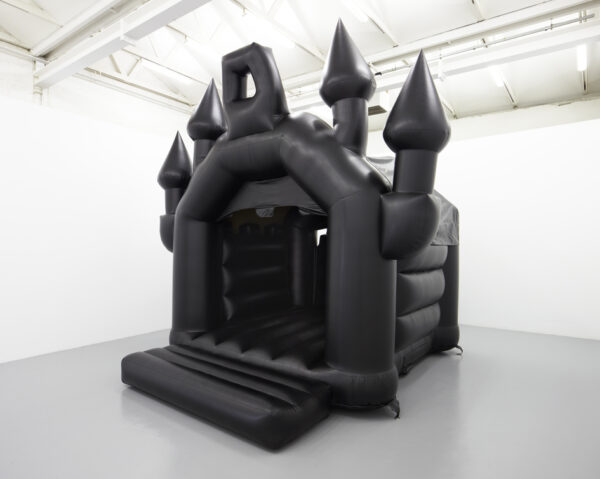 Photos will not prepare you for Department of the Interior by Tom Dale, nor will the description: a bouncy castle made from black leatherette. But stepping round a corner at Aid & Abet, Cambridge, UK, there it was, roaring with the sound of an air pump, trembling slightly, inviting allcomers.
"You can't access this piece," says Dale, "You have to imagine that you're bouncing on it, which is twitching the nerves between the brain and the fingertips." So black leather, as he acknowledges, has never promised so much fun.
This is troublesome. Dale describes the viewing experience as "algebra", in which you gauge your own reaction against those of other people. "What I'm interested in is an examination of yourself as well as what we see before us."
The London-based sculptor identifies two opposing pleasures at work here. Along with the idea of a kids' party, There are he points out "S&M overtones". One is a public activity, the other very private. "What I think is interesting about the work is it traps two opposing forces," he says.
In many ways it is this potential for the tasteless which led to the work's creation. Dale uses the word 'wrong' as if the castle is a moral error: "When something is wrong, we are drawn to engage with it. When things are wrong, we want to put them right," he says. "We want to put the house in order."
And yet bouncy castles are a fine metaphor for our current circumstances. They represent the soft power which governs most lives in the West. Bright colours and shrieking kids tend to obscure this, but in forbidden leather there's no mistaking the work of a hidden hand.
There was nearby another monumental piece in which power was hinted at rather than demonstrated. This was High Noon, a red carpet bearing the footprints of a missile launcher: a cruciform image from the crushed and oily outlines of a very heavy stand.
Research is critical for Dale, and he demonstrates as much with a knowledge of obsolete military hardware. He tells me the imprint of this launcher was for a Thunderbird, developed in the 1950s, the last surface-to-air missile that Britain produced.
The artist compares such technology to the convoluted mechanical fantasies of Victorian artist Heath Robinson. "You would fire it into space and press a button and the nose cap comes off and it throws a chain net over the airplane that it's nearby, which is kind of amazing."
"What working on this scale has taught me is that you need to do your research. You need to go to places. You need to visit people who supply the materials or the vehicles or the objects you need," he says. This lets Dale take resulting decisions on a level he calls, "Very microscopic."
As with Department of the Interior, High Noon invites and frustrates a desire to step on board. "It's kind of like a homeopathic pill," says Dale of his cold war trace. So perhaps what both pieces lead to, in their playful way, is an immunity to fear of power structures.
Armed with a recent PhD, Dale is ready with plenty of theories about the effects and the workings of his chosen art form. But according to this audacious sculptor, what he does relates less to philosophy than it does to knowledge.
"It's about how we organise, how we arrange things, how we fit into these things that we know," he says. "These works here are, if you like, knots or joints of culminations of a certain kind of knowledge, but then it becomes dissolved." So, again perhaps, an apparatus of knowledge cannot always stand up to critical engagement, certainly not to comical engagement.
In conversation with Dale, you find he moves nimbly from metaphor to metaphor, and never without a sense of humour. So he will also describe his works as, "being like a ventriloquist's dummy, but when I take my hand out they're still telling me things".
As for the contest between the monumental works he brings to the gallery, and the virtual realm in which we sometimes occupy, Dale states his intention to, "produce an object that releases ideas or discusses things in a different way at a different speed, with a different currency."
These are left field works from a left field talent. By way of an aside the artist puts forward his latest theory of mind: "I'm beginning to think that our brain exists outside of us as well, that it's almost like we have an invisible unicorn's horn type brain."
"I think there's a brain which only exists when we start to speak or when we start to act," he continues, "Maybe I need to work on the formal construction of that a bit". It does sound like the starting point for another push-me, pull-me sculpture, the visceral brain by Tom Dale.
To respond to the art world with a fish may be a surrealist gesture. But to respond with an entire fish counter, complete with fishmongers in white boots, ice and creative displays of the seafood itself, is surely pushing the 20th century genre to breaking point.
Such is the effect of the so-called Centre for Innovative and Radical Fishmongery, spotted in public at Sluice Art Fair, London, late October. Amidst the plentiful art for sale, the wares at CIRF included a scrambling pile of langoustine and a sinister-looking hake chewing on a lemon.
The artist behind the project is Sam Curtis who came to fishmongery by chance in 2006. A part time MFA at prestigious art school Goldsmiths necessitated finding work. By strange twist of fate, he found an opening on the fish counter at luxury department store Harrods.
"I decided to kill two birds with one stone," he tells me when we catch up via phone. "I was under a lot of pressure to make work and earn at the same time, so I turned the day job into a studio, into a springboard, a platform for creating new projects."
Curtis took his fishmongery skills back to successful crits at Goldsmiths. "I called it working in stealth mode, an undercover residency where my employer and my colleagues weren't aware of the things that I was doing, what I was taking from the job, until the end," he says.
After leaving this post, the artist blew his cover. "It was hard for them to grasp, in a way," he says of his erstwhile colleagues, and equally hard to get their heads round was the film Curtis went on to make about them, "about their creativity and how they potentially see themselves as artists".
"There's a performative aspect to it," says the artist of his former trade, and, "There is a lot of theatre there," he says of his former workplace. But he now sees his installation at Sluice as a conceptual piece, and one he hopes to be able to tour.
"Fish are different all round the country," he explains, adding that he hopes to collaborate with more fishmongers and artists alike. Pre CIRF, in 2011 he completed a residency in a fish shop in Penzance, Cornwall. There are clearly openings for artists working with fish.
But his new project is nothing if not inclusive. For the London art fair, Curtis invited half a dozen visiting artists to make their own displays. He can now add their ideas to the ever growing repertoire: "They created displays that I would never have done," he admits.
And with an art fair audience already primed for excitement, Curtis can claim reactions of genuine surprise towards his intervention at Sluice. With plenty of conversation about fish, there was also an interest in day jobs in general and ways in which they can be creative.
Curtis says that artists and creative types are highly prone to disappointment in the realities of working life: "Your expectations aren't really fulfilled quite often, because you might have more glamorous ideals about what being an artist is."
By contrast, the fish-loving artist also says: "I'm interested in treating life as an artwork. Hence the turning of day job into a residency. I think if you can inject creativity into the more banal parts of your life, you're more likely to become fulfilled."
"I've always played on the fact you can insert your practice into your day job, no matter how far detached away from art that job is." But even Curtis has his moments of doubt, having recently taken on a new full time job, he admits to being "slightly scared" about losing time for his art.
"As to what the best day jobs are, I don't know," he says, having tried working in a gallery and not liking the experience. "I prefer being quite far away from the art world."
The trick is surely to become Innovative and Radical in everything you do, be that showing fish alongside video or giving away seafood at an art fair. "In terms of fishmongery and the radicalization of fishmongery I don't think we've reached that point yet," says Curtis. CIRF is clearly going after the big, ocean-going game.
Sam Curtis and the Centre for Innovative and Radical Fishmongery are represented by Division of Labour and were seen at Sluice Art Fair.