Soberscove Press, the brainchild of sculptor Julia Klein (MFA Bard College, BFA University of Michigan), turns four years old this year. Since Klein founded the press, she has sought to publish "art-related material that is difficult to access and/or that fills a gap in the literature… material whose audience is primarily limited to specialists because it is in archives, not in translation, out-of-print, and/or whose readership is limited due to the demands of peer-review scholarly publishing." Subjects of Soberscove books have included work by and about the Russian group Collective Actions, Nancy Shaver, and Kristin Lucas; another area of focus is in the writings of artists, such as early writing by Scott Burton.
But it's the press' focus on rereading histories of art we think we know, based on archival transcripts of conversations between artists, that seems to interest Klein the most. She has published books on the 1965 Waldorf Panels on Sculpture and the 1950 Artists' Sessions at Studio 35, a closed three-day heated conversation about the contemporary art scene among artists who would later be called "Abstract Expressionists," organized and recorded by Robert Goodnough, a then-graduate student in NYU's MA Studio Program, which was located in the School of Education. The book is an impassioned, often surprising, time capsule– and one that often undermines our common understanding of the theoretical commitments of different camps of artists in the fifties and sixties.
This year Soberscove released another book of writings by Goodnough, who went on to be a fairly well-known abstract painter; Subject Matter of the Artist served as a thesis project for Goodnough and is comprised of interviews he undertook with many artists, from Rothko to Pollock, about abstraction. I talked with Klein about the book soon after its release at Alderman Exhibitions last month.
MW: I read Subject Matter of the Artist last night and was really surprised at Goodnough's project– he was quite literally interviewing NY school artists to ask them about the attitudes toward their subject matter that they have in the absence of recognizable objects. It seems like such an obvious or naive question to ask right now given the art history we've inherited about this period, but the answers from the various artists are nuanced and enlightening. He also uses strange theoretical vocabulary like "intrasubjective" (no mention of abstract expressionism). To me, the book does a few things: it radically contextualizes art from the time and corrects some of our anachronistic mythology; it shows especially how radical at the time it was to do abstraction at the time (which I still can't wrap my head around); and it gives a sense of the individualism of artists whom we lump together today. What do you think of this gloss? What seems most salient about Goodnough's writing here to you?
JK: Yeah, "abstract expressionism" isn't a term that came up until a little later and in Artists' Sessions at Studio 35 (1950), you "hear" the artists who became known as the Abstract Expressionists contesting not only their name, but whether they were/should be considered a group at all. The mythology around Abstract Expressionism is complicated and we've definitely received a flattened and manageable version of what was going on then, which was of course more complicated and not as neat. I'm glad you got this from the book. There's an art historian writing about this now and I'm really into her stuff– Valerie Hellstein. From her 2010 dissertation: "While Abstract Expressionism has come to signify heroic individuality and Cold War patriarchy, I want to suggest that it signifies the very obverse—radical community that recognized separate-togetherness."
Goodnough's project is appealing to me for its curiosity and humbleness- he was involved in the problem of non-representational subject matter and he wanted to talk about it with the leading artists of his time in order to understand it better himself, as well as to help art students and non-artists understand it better; it was weird and off-putting to a lot of people then (probably still). As Helen Harrison's introduction points out, it's odd that this document isn't wider known and that is especially interesting to me…. I am pleased to be able to make it available through the publication of the book. I'm also very pleased and proud to be able to publish Goodnough's writings (though this isn't all of them…there are others that weren't in the purview of this book, which is focused on exactly what the title describes).
MW: Can you talk a little bit about how you came to this book, particularly its relationship to previous books you've published at Soberscove? I'd also love to hear some history of the press (I may have been Judith's TA when you started it– if I remember correctly). It's rare to see an artist start a press rather than open a gallery….
JK: I first learned about Goodnough when I was working for the publisher George Braziller in NYC from 2002-2004. Helen Harrison was organizing a show at the Pollock-Krasner House and Study Center about Goodnough and around this time she sent out a proposal to publish Goodnough's writitings to a number of publishers, including Braziller. He declined, but through it I learned and got very excited about one of the texts in the proposal, Artists' Sessions at Studio 35 (1950), the 3-day series of meetings that Goodnough had suggested, organized and then edited. The transcript seemed liked essential reading to me — historically, as well as because of its accessible and clear discussion of art-making and related issues. I didn't really pay attention to the other writings though, and when I tracked down Goodnough several years later to inquire about rights, he showed me the other writings but I still didn't get it. I was lucky to meet him and his wife Miko (and recently their daughter Kathy) and to see his studio and interview him, and I'm sorry I didn't realize the value in publishing ALL of the writings in the proposal at the time. I feel sad that he didn't get to see his own writings published as a collection (instead of just the Studio 35 transcript, which he did see before he died), but this is the way it went…so now there are two books that came out of a proposal for a single book.
The press started because of Studio 35, as I described above. It felt important, and it was a good excuse to do  some research around a subject that interested me. It gave me a reason to go to archives. And it also allowed me to work on a project with a defined goal, which I needed at the time. In the process of looking for Studio 35 related material, I found the material for Waldorf Panels on Sculpture (1965). All of that points to some of the reasons why the press is important to me: it satisfies the part of me that likes scholarly work; learning about one thing leads to another; I like sharing material that excites me; I get to meet people that interest me through these projects. I like too the feeling of having a relationship with the past and having a role in pushing certain things into the future (often forgotten or difficult to share for whatever reason). Its a different position than that of an academic, with different responsibilities and also different pleasures. As an artist, publishing is also an area that allows me to share and trumpet material that is important to me, but it's less personal than my art.
As for doing this instead of a gallery, that was never a choice for me. I think there are parts of running a gallery that could be fun, but I have no patience for all the details involved in exhibition-making (as a job anyway). Book-making has details too, for sure (and hopefully I'm getting better at them), but I can work on my own timetable and… I don't know, it's just different process. Books are also cheaper than most art, and easy to give away (though I need to get better at selling rather than just giving away!). They also travel easier. My family's relationship with books is also important, now that I think about it, as is my respect for scholarly work. And also having watched and learned from Braziller and seen what it was for him (from my perspective anyway).
MW: Can you explain what Studio 35 is a little bit?
JK: In 1948, William Baziotes, Robert Motherwell, Mark Rothko, and David Hare, began a small cooperative school in New York City called "The Subjects of the Artist School"; it closed in less than a year, and three teachers from NYU (Robert Iglehart, Hale WÃ¥oodruff and Tony Smith), took over the space and continued the artist presentations that the school had been doing, but not as a formal school. This non-school was called "Studio 35" after the address, 35 East Eighth Street, and the Friday evening talks were continued until April of 1950. Robert Goodnough, who had been helping his instructors with the meetings of the second season, suggested that they try to sum up the meetings, and he organized, in discussion with his mentors, a closed, three-day series of meeting. Goodnough, who wrote his paper, "Subject Matter of the Artist," in the same year, then substantially edited the transcripts for publication in Modern Artists in America, a book published by Wittenborn Schultz in 1951, edited by Ad Reinhardt and Robert Motherwell. Modern Artists in America was initially supposed to be an annual yearbook of avant-garde art, then a bi-annual; ultimately, only one volume was published.
MW: I love the Hellstein quote from the beginning of our conversation that you offered about "radical community that recognized separate-togetherness." Do you see any of that impulse in other art scenes, especially contemporary ones? Or to put it another way, are there refractions of this atmosphere that you recognize?
I love that quote too and I'd be curious to hear what other people have to say about your question. I think that impulse is probably always around in some way, and I think the way communities are organized or cohere has a lot to do with timing and the fortuitous coming together of a lot of things. There are plenty of groups working together in different ways today, but I don't know if historically the impulse is stronger now than at other times. I'm curious. As far as I'm concerned, who doesn't want separate-togetherness? I have recently been thinking about this because I'm in France now (at the amazing Terra Foundation Summer Residency in Giverny), and the two French artists that I've gotten to know are both part of collectives. One of the collectives, W, shares a space just outside of Paris in which the artists' working areas are distinct from one another, but not separated by walls–pretty intimate. There is a big open workshop/exhibition space on the first floor, below the studio. The collective space began as a way for the members to show work (their own and others) without being tied to/relying on any kind of institutional or mercantile organization. Central to the group is a shared sense of importance in discussion around the process of making work–discussion about the purpose and the goals of the work and the events, shows, books, articles, etc that factor into the work's making—prior to finished or exhibited work. (http://w-atelier-w.fr/artistes/) The other group RADO, is made up of artists with distinct practices (sculpture, protography, video, etc) who are interested in the forms and conditions of a collective art practice. These artists came together during the seminar "Des Territoires" with art historian Jean-Francois Chevrier at the Ecole des Beaux-Arts in Paris, and they continue to work on projects around "specific territories" in a way that prioritizes working with non-artists in non-art spaces. (http://www.groupe-rado.org/) Come to think about it, the other American artist here is also involved in collective work as part of a group in LA, D3 (www.d-three.org), though this group is smaller and more focused in its approach. All of these groups were consciously organized and named (which is not true for the Ab Exers), but I'm struck by the fact that and the way in which each has created its own particular mode of separate-togetherness.
MW: Can you give a brief rundown of the Soberscove press books that have been published? What titles are in the future of the press? Do you have any hunches for future topics you'd like to explore?
JK: soberscove.com! I listed the three Ab Ex-related books already; the others are collections: Scott Burton: Collected Writings on Art and Performance, 1965-1975, edited by David J Getsy; Collective Actions: Audience Recollections from the First Five Years, 1976-1981, edited + translated by Yelena Kalinsky; and also two artists books: Henry at Home, Nancy Shaver; Refresh, Kristin Lucas. There are five artists (actually six, one of the "artists" is actually a collaborative pair) currently working on artists' books for a new Soberscove series of books for children (and grownups!) — these should be out by November, I hope. "The Place of Sculpture in Daily Life," by British writer Edmund Gosse, includes a 1895 series of essays from the British Magazine of Art. This will be edited by Martina Droth, with a foreword by David Getsy and is due in early 2014. Also due in early 2014 is "Learning by Doing at the Farm: Craft, Science and Counterculture in Modern California," which is being put together by Robert Kett and Anna Kryczka (from Chicago!), both of whom are currently at UC- Irvine.  Here's some early info about this last book:
Beginning in 1968, the University of California, Irvine was host to an experiment in intercultural exchange and artistic and social scientific learning through practice. The experiment brought indigenous people from Guatemala, Mexico, and Samoa to an undeveloped plot on campus known as the Social Sciences Farm, a space for these visitors to demonstrate their crafts and a laboratory for new methods in education and research as well as a gathering site for members of the countercultural movement. An unlikely and often bizarre history, UCI's "Farm" (literally, an out-of-use farm on university property) brought into intimate and unpredictable proximity key historical currents of the time – Cold War science and development, experimental social scientific research, youthful countercultural protest, and the silent centrality of various "others" to all of these projects.Through this collision, the Farm would become a site for interrogating the relation between living and learning more broadly. This volume offers an introductory essay that reflects upon the experiment at the Farm and offers rich documentation (photos, film stills, documents, etc) of the events that unfolded there.
The first impression Steve Juras' studio calls to mind is of self-constraint as aesthetic. His work spans any number of two and three dimensional, formal and conceptual practices, and it's the consistently tightening systems he builds and acts under that provide a through-line: repetitions and experiments in tightly restricted games that insist on looping back on themselves. Juras' background is in design– his MFA from SAIC is in visual communication– and it's easy to read some of that background into his somewhat detached approach, which often translates into the obsessive working of images into their most basic shapes (like a long series of skull drawings in notebooks, where a naturalistic sketch ultimately devolves into a study of curve and line) and explorations of shapes within grids. "I'm always looking back to abstraction, the investigation of the line," he muses as he flips through carefully labeled notebooks that offer endless repetitions on simple themes.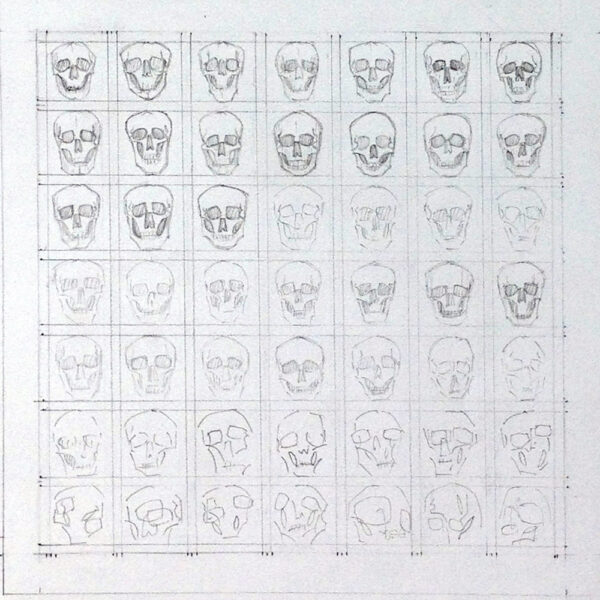 These "systems at work with random events," as Juras calls them, are intended to result in "a suspension of decision-making" while simultaneously "introducing more texture and materiality, disrupting uniformity, looping back to grids vs. organic forms that grow from them." Similar restrictions in his Achroma series of paintings, drawing, and sculpture had him quietly removing color from the series (and eventually removing almost all black hues), constantly "overloading and scraping back." The grids and the constant self-censorship offer some sense of control and a restriction that oddly seem to allow for his most heady explorations, particularly his current investigations into "the void, presence, and absence": the New Sacred as a concept in contemporary art practices.
Juras' carefully notes that he's not interested in sacredness in terms of religious or holy territory, but as a structure that we are rarely aware of until it is presented to us in a new register. His understanding of the sacred is that it is at least in part a "mode of perception," and he is interested in its "everyday manifestations," as in a recent study he made of a doorstop left in his studio by a previous artist that raised both the more tame question of how we distinguish an art object from an ordinary object, and the deeper question of what psychological schemata of sacred objects underlie that distinction.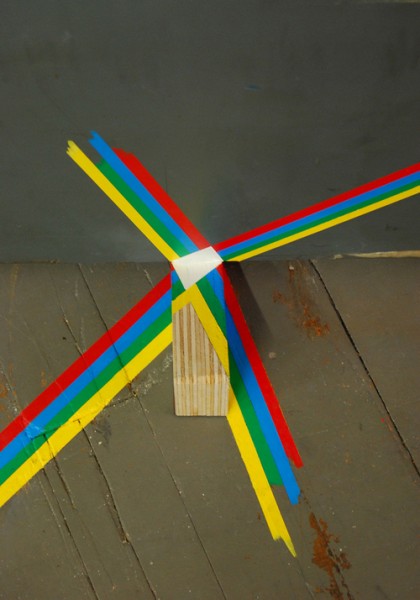 The resulting installation, Just so Richard chuckles conditionally, also draws on two of Juras' major influences, Richard Tuttle and Robert Irwin. Irwin directly informs Juras' interest in wonder and the numinous (a term coined by religious scholar Rudolf Otto, the numinous describes the struture of sacredness without content, a kind of rhetoric of the sacred rather than any particular message). "Looking back to Irwin's writing, whose emphasis on perception is how he defines art-the essence of the artwork is a sense of wonder," Juras notes, "and it takes daily practice to train to see that." From Tuttle also comes what I first partly attributed to Juras' background in design: "there's a removal of self without being nihilist in order to let the work manifest itself… getting out of the way in order to become a conduit." Juras admires how Tuttle manages to create out of "the humility of his materials… a sculpture with such a small scale could have so much presence." Humility is a privileged term for Juras: "I want to offer up that my studio practice is also a search for everyday Otherness… This practice demands a sense of humility stemming from an acceptance that there exists something wholly Other than yourself."
Juras' own attempt to work with the everyday, humble, even banal in a sacred register– the everyday manifestations of numinousness– was, in the case of the doorstop, "about access– a small gesture whose performance makes all the difference, that oscillates between the functional and the aesthetic." But the very smallness of this gesture can be both quietly stunning and often just at the edge between irony and grace. Hence an upcoming exhibition in mid-June at Strange Beauty Show, in collaboration with artist Kyle Fletcher, that takes the images and objects of the American beauty industry, is both site-specific and perfectly suited to Juras' attempts to to uncover the ordinary's, the functional's, potential for numinousness. New Looks combines altered images of beauty magazines, and the objects for beautification, like hair pieces, into objects that, in Juras' words, will continue his quest to "torque everyday banality" and help us see it for its endless potential as secular benediction.
New Looks opens at Strange Beauty Show, 1118 N. Ashland, on June 13th.
Mara Baker is a self-described student of deterioration and reside and their roles in different modes of aesthetic production. She's trained in both painting (SAIC) and fiber arts (Cranbrook), and the interplay between the two fields formally drives much of her work, particularly the paintings comprising her contribution to the the upcoming SideCar exhibition Just Like All Those Times Tomorrow (May 4-June 1). The group show, which combines new paintings from Baker with collaborative ceramic work by Nathan Tonning and Amanda Wong, is focused explicitly on artistic use of discarded materials and Romantic and modern conceptions of ruins.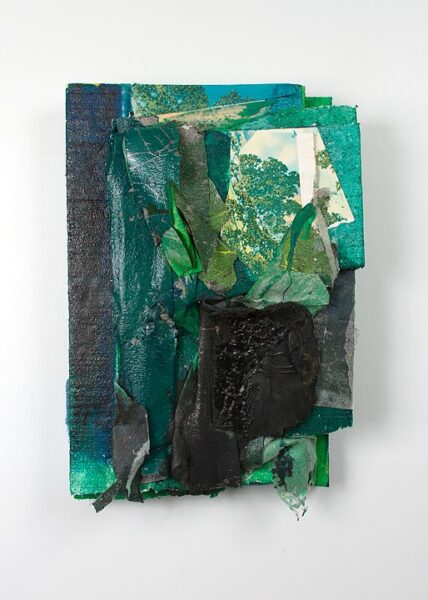 Real and Fake Things II, various foams, found residue, and acrylic, 2012
Baker has a deep and sustained interest in these thematics, but it's her obsession with systems– self-contained, breaking down, sustainable— and her interest in the history of her materials that consistently draws me to her work, rather than just her interest in debris as medium. For example, in a show this fall for which she and I wrote a collaborative zine-essay, Baker made tiny, exquisite collages composed of album cover remnants from a pile of records she found in a warehouse where she was installing another show created from another group of found objects. Baker is now experimenting  with creating sound files created from playing the broken records, combining them in auditory collages. The reiterations of her systems play with notions of ecological sustainability, creative destruction, and the role of the artist in keeping material animate past its intended lifespan.
But where her work has often been performative and installation-based, Baker has firmly moved this year into making paintings, and her current "residue" work, which will be the basis for the SideCar show, and which is composed entirely of past work–Baker is decidedly unromantic about breaking down and sacrificing previous projects for the sake of experimentation– is unquestionably taking up painting's problematics.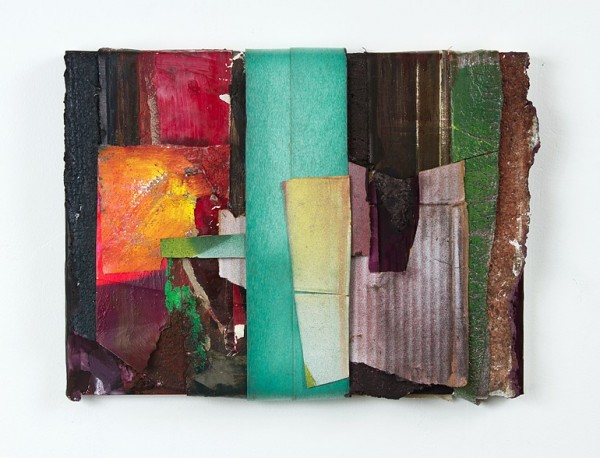 Still Life With Apples, foam, carboard, acrylic and other found residues on canvas, 2013
In the "residue" series, spray paint and glass create transparent layers that give recycled materials "a new history," Baker says, "creating a sense of space without building up." She's deeply interested in the interplay between the real and the representational in mixed-media work, and the paintings often employ representational images like blurred photographs that formally reference abstract elements. Where previous two dimensional work has been sculptural in its formal approach, she finds such materials can create space and depth without losing the surface of the picture plane. "Still, I'm most successful when piling, wrapping, and removing something." She points out a few paintings that have abstract white space, either scraped off or added to the top of her layered images—what Baker calls "the conceal, something underneath you can't see" that creates somewhat "quieter objects."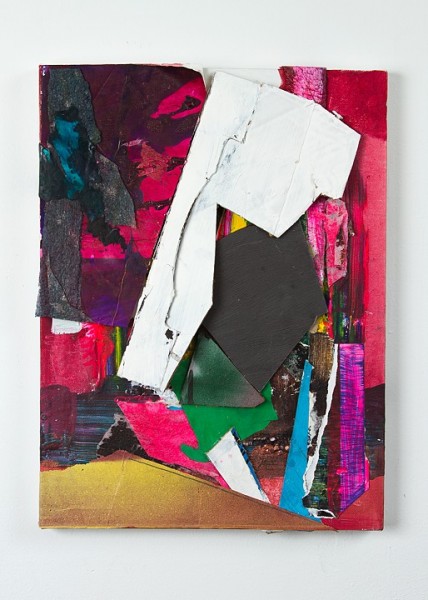 All Of The Above, cardboard, plexi, acrylic and other found residues on canvas, 2012
The removal of materials, particularly through scraping, also takes up Baker's long-term interest in information and entropy. Removing parts of the picture  is a canceling out of information, masking out particular places and forcing focus on others. It's also a terrifying part of the process. "Predictability isn't good for me," she explains, showing me photographs of earlier versions of paintings that felt to her overworked. Most of the failed paintings ended up as raw material, torn up in careful piles in her studio, to be utilized, along with spray-painted tarp from past projects, in new distillations. Being able to find something and being able to save everything border on obsessions, and Baker's own memory forms yet another archive. At one point she shows me a multicolor map of the approximate locations of oil spills that struck her years ago; many such images form a latent visual vocabulary in her head while she works. Baker's studio thus forms a kind of ecosystem in and of itself. "When I first started making work, my paintings were about expressing and working with family history as material," Baker muses, "but now I feel that way about the iterations of my work."
The paintings, too, often carry the memory of previous performative installations about risk and disintegration; the black straps holding three layers of glass and painted linen together keep one painting on the wall as precariously as Baker's 2008 installation "Internal Weather," which pumped tinctures of acrylic paint through plastic drinking straws until they exploded. Some of that four year old residue of painting and soap lives as colored stains in the new "little worlds" of her current work. But when I ask her about recreating the past, Baker draws a firm line: "You can't just recreate anything. You have to set up particular conditions for it to happen."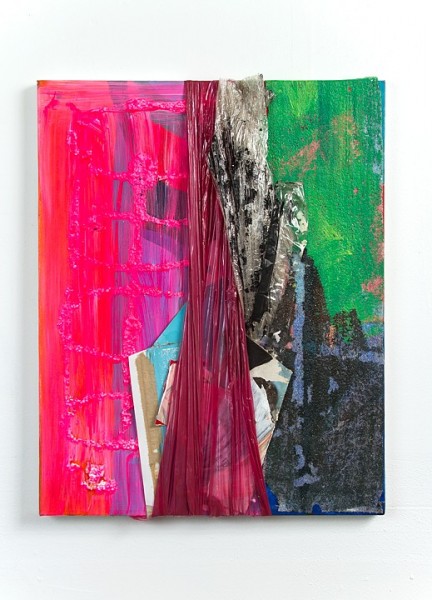 Fake and Real Things, III, plastic, foam, found residues and acrylic on canvas, 2013
Since the beginning of her tenure as the Curator of Exhibitions and Programs at the Center for Book and Paper Arts Gallery at Columbia College in 2010, Jessica Cochran has been quietly curating rigorous and substantial gallery exhibitions, steadily setting a new standard for book centers, which aren't always known for their gallery shows—and expanding my own understanding of the genre of artists' books and works on paper. This fall Cochran organized a standout retrospective of Johanna Drucker that showcased her depth and breadth as a curator; she has also organized shows both in and out of the CPBA gallery focused on the nature of text and art markets. Cochran a gifted writer, and the catalog essay for the CPBA Gallery's newest exhibition, "Structures for Reading: Text, (Infra)Structure, and the Reading Body in Contemporary Art," demonstrates her attunement to both theoretical questions and practical issues related to the evolution of the book, here considered through various engagements with the book-object and emerging concepts of reading in new media contexts as sites for contemporary art practices. I emailed back and forth with her after wandering around during the installation of the show, which opens tonight.
MW: For a show about text and reading the body, I expected a lot of artist books and pieces about the physical process of reading as a way of seeing in contemporary art. While there were a number of pieces along those lines, I was also struck by how many artists took up themes that I would consider questions of digital culture and new media/ the process of dematerializing the book, especially Freeman's Commercial Yard Goods and 56 Broken Kindle Screens. Do you find that all roads these days tend to lead to the question of dematerialization? Does the concept of "remediation" you used in the catalog help to broaden this issue?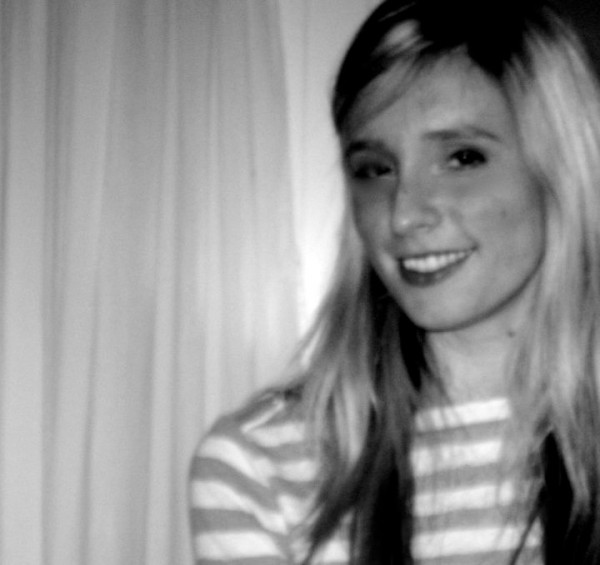 JC: In a correspondence last fall artist and scholar Johanna Drucker purposefully used the phrase "distributed materiality of the present" rather than "dematerialized" to describe book's existence today. To me this phrase "distributed materiality" articulates perfectly how artists in the exhibition are concerned with the multitude of ways we understand the book and interact with its many forms, from codex to pdf, through various technologies such as Internet cloud   based services, print on demand self publishing, and mobile computing. In the show, for example, Judith Leemann's project reading aloud: stories about a coyote began with over fifty different actual books and texts, which she read aloud in her studio. This activity was recorded, edited and published into podcasts, distributed through the Internet. And for the exhibition, 5 hours of this recursive text was commercially printed on fabric, which exhibition viewers can now purchase by the yard. Suddenly this patchwork of texts has a whole new kind of potential for circulation. I also love that the bolt of fabric is in itself a sort of artist's book, and so the texts have sort of come full circle, re-published several times over.
With regards to remediation, I love to think that the book object, when it is sited within a contemporary artwork such as a photograph, installation or sculpture performs meaning in a really incredible way. In his book on the subject, Bookwork, a fascinating read, Garrett Stewart seems to imply that books in the gallery are something of ruins or mementos because they are stripped of their original textual function. I tend to disagree. I think of the gallery as an active space. To me, really successful works of art, at least the ones that I want to show, illicit a strong sense of contemporanaeity. In this I mean that they deal with "world picturing, placemaking or connectivity" – art historian Terry Smith suggests all works that are "truly contemporary" address one or more of these concerns. So meaning is always in process, changing. So when I see a book, whether in codex or digital form, oriented within a broader art project in a gallery, I understand its currency as a cultural object that has helped to shape our "present," and I seek out its textual message, however muted, multiplied, amplified, stripped, modified—because its still there somewhere! This to me is very active and interesting.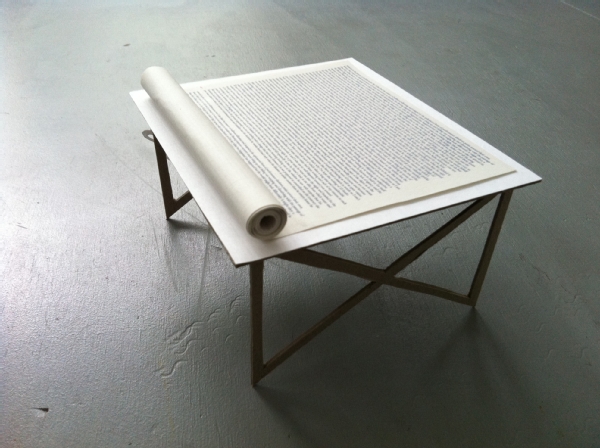 Judith Leeman, Reading Aloud, Installation Mockup, 2013
MW: In the catalog essay, you make reference to the work of Bob Stein in developing his social reading platform called Socialbook. More and more I hear about social reading as a solution to the problems of working with print culture in a post-print culture. You've called the idea of social reading exciting and exhausting—I'd love to hear more about your understandings of social reading, especially as a model for contemporary artists. When Stein talked at Columbia last year, he also put forth the idea that in the future, most books will be artist books—or "books as works of art," as he put it. What do you think about this hunch of his?
JC: There are so many ways to understand reading as a social activity, particularly as a model for contemporary artists. Triple Canopy recently asserted in copy for their seminar Automatic Reading that one way reading takes a social form in the context of art (within the legacy of conceptualism) is when the written word is publicly activated. To this end, in my essay I cite Vito Acconci as an example of an artist who not only publicly activates the written word through performance (his move from poet on the page to artist on the street is infamous and important) but utilizes the language of reading metaphorically when describing his practice: body as page, etc. Similarly, I chose to include many works in this show, including those by Tony Cruz, Gareth Long, Judith Leemann, Matthew Girson and Moyra Davey, because they made me think about the spatial dimension of reading both around, to and with others both as personal practice and as art practice. This is the social dimension of reading in a physical sense- corporal proximity to others. And it's no wonder that so many artists address the topic of reading in the studio and out in the world—I rarely find myself on a studio visit when the topic doesn't meander to what the artist is reading or when my eye doesn't repeatedly scan on the artist's bookshelves. Artists are prolific readers!
Relative to social reading as a solution to the problem of print's demise, I should also mention that many artists and cultural organizers are dealing with the so called "demise" of print culture in inventive, social ways meant to re-circulate books within new meaningful networks of participants by organizing libraries (Reanimation Library (New York), Read/Write Library (Chicago)), reading/pedagogical groups (The Public School, the Surplus Library) and other projects like Printers Ball draw thousands of bibliophiles and print enthusiasts. The Center for Book Arts in New York has a show up right now, Brother, Can You Spare a Stack, that imagines new models for the library as a force for social change.
The digitally-networked dimension of social reading (and writing) is an extension and acceleration of our relational impulse as readers. This is what is brilliant (and possibly exhausting) about SocialBook (where every other reader's marginalia is yours to read if you want to) and reading online in general: we can satisfy that desire to share ideas or commune over texts instantaneously. There is so much going on in this field that is fascinating. And it seems totally plausible, per Stein's assertion about the future of physical books as artists' books, that as innovation continues to make browser-based and tablet-based reading more viable, that physical books will circulate with less and less efficiency as commodities within the broad consumer market, so printed books will have to become become more rarified and "boutique" existing in something like an art market. There will be a justifiable reason for a book to be printed and sold, and this reason might be bound up in its paratextual artfulness- paperstock, typography etc. That said, there is of course already a market for artists' books (different markets for different types, from fine press books and rare books to zines and "democratic multiples"). These are not very efficient markets. It is hard for anyone to make money on their books, from dealers to publishers to artists!
MW:  Regarding the theme of reading and the body, I found that prostheses were a surprising theme of the show. Did you think about this when planning the show? Are there ways in which some substitutes for books can seem like prosthetic devices (I'm thinking about treating screens like codexes, say)? Or, to be more morbid, if books are like bodies, in that they're physical objects that eventually decay and crumble (I'm thinking of Liz Sales' photographs here), is part of the show about creating prosthetic devices for them?
JC: I've spent a lot of time thinking about the prosetheses that appear in the show, particularly those created by Eva Kotatkova and Johana Moscoso-those were actually the initial "structures for reading" I was thinking about early on in the curatorial process. Kotatkova's strange limb-like book holding devices don't make reading easier. In fact, they have such a disciplinary quality to them, they seem to be structures designed to make it harder. In one of my favorite poems in the world, The House was Quiet the World was Calm by Wallace Stevens there is a line where he talks about a reader, leaning over a book, wanting "much to be the scholar to whom his book is true." That passage has always resonated with me: I think that there is a psychic vulnerability inherent in reading: is reading always failure? I forget almost everything I read, and it drives me crazy. Or, what if I fail to successfully use what I learn; what if the author disappoints me? In learning environments these feelings might be attributed to Imposter Syndrome. Many of Kotatkova's prostheses, because they are sited within learning environments, seem to play off of the complexity of reading as a psychological process.
On the other hand, there are some prosthetic objects in the show designed to make reading easier- Moscoso's Multitask Walker addresses our incessant need to read, email, eat and walk all at the same time.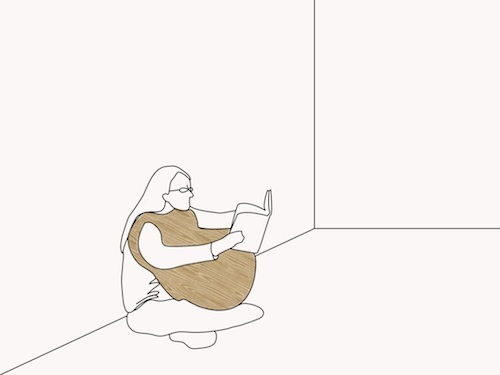 Johana Moscoso, Emotional Prosthetic (in progress), 2012
And you mention Liz Sales' work, steam, the book as a kind of decaying body. This piece is kind of sad: the steam coming off the cup on the book tells us a reader is nearby, but why is this book suddenly a prop or a tabletop landscape? Why is it hosting small trees? There is a long legacy in art and literary theory of the "book as corpus," object of our desire and fetish (Buzz Spector outlines many of these assertions from Mallarme's "virginal books" onward in The Book Maker's Desire). In psychology Theory of Mind explains how we empathize with others and try to understand their behavior; we literally try to theorize what is happening in their mind. We do this with inanimate objects too, especially the book. Now that the physical book's very existence is in flux once again, the discourse around their fate and role in our lives is, one might suggest, incongruent to their reality as inanimate objects. If you read or listen to discourse around disappearing bookshops, or talk to a reader who is defiantly holding out against that "inevitable" Kindle purchase, you'll find that these conversations are incredibly passionate—it's like we think of these books as living things! This helps explain the currency of the book itself as a visual signifier of our contemporaneity, or what Terry Smith calls, "our passing present" particularly when it is sited within contemporary art projects. My reaction to Sales' photograph steam is much more passionate than it would be if it was, say, an old box or shoe sitting on the table rather than a book.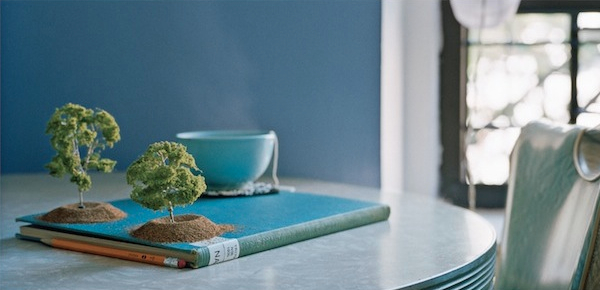 Liz Sales, Steam, 2010
MW:  I also found blueprints to be a major theme, often used very humorously—there are a few artists in the show who call ironic attention to the contrast between blueprint and realization in various projects. I found myself laughing at the contrast between the design and realization of Garth Long's Bouvard and Pechuchet's Invented Desk for Copying, an impossible invention in Flaubert's novel. Do you see blueprints as a metaphor or way of understanding books as a relationship between the conceptual and the physical?
JC: I see the blueprints or "plans" in the show, particularly those by Eva Kotatkova, Gareth Long and Sebura&Gartelmann, as really light and humorous commentaries on the relationship between idea and object. Some are blueprints for totally speculative things that are absurd in terms of their actual use-value—Kotatkova's darwings for wearable reading devices, for example, are rendered cartoonlike. The blueprints in the show also relate to the book in various ways (the idea of book as manual, book as starting point for an idea) and several also underscore a public/private theme that occurs throughout the show: the non-public place where an artist reads is the place where the artist writes, drafts, plans, makes, etc., which reaffirms reading as an active, not passive process for artists. For this reason, the desk form pops up in the show multiple times, and it wasn't something I was thinking about in the beginning of the show.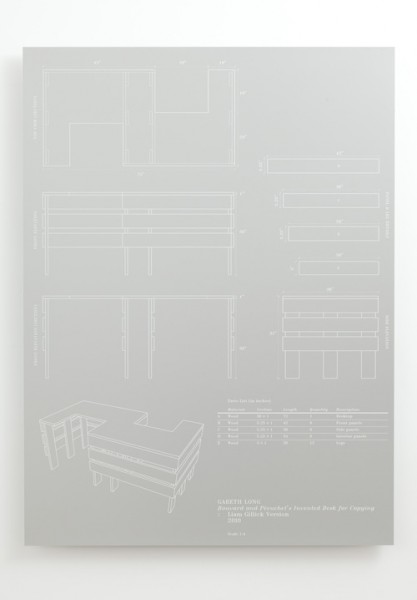 Gareth Long, Bouvard and Pecuchet's Invented Desk for Copying (construction diagram), Liam Gilllick Version, 2012
MW: Can you talk at all about your own hunches about the future of both Columbia's book center and others across the country and world?
JC: I think the future for the Center for Book and Paper Arts, and that of other art / book-related organizations is exciting; the pulse at fairs like the New York Art Book Fair or Chicago's own Printers' Ball is extraordinary and growing. We are energized as a center and academic department right now—our activities have never been more research-driven and pedagogical, and always interdisciplinary. The interest in our academic journal, The Journal of Artists' Books (JAB), is steadily growing, as is the subscriber base (the Centre Pompidou just subscribed a few days ago!) and we just received a major NEA grant to commission artists' books for the iPad as part of a broader electronic publishing initiative, in addition to a Clinton Hill Foundation exhibitions grant to explore hand papermaking as social practice. We have researchers from MIT coming to our studios to work with our MFA students on paper-based electronic books. We are busy, and it often surprises people how broad our approach to publishing and book and paper arts actually is!  And the best part is that our MFA students play a role in all of this, from printing JAB to planning exhibitions.
"Structures for Reading" opens February 22 and runs through April 6 at the Center for Book and Paper Arts, Columbia College.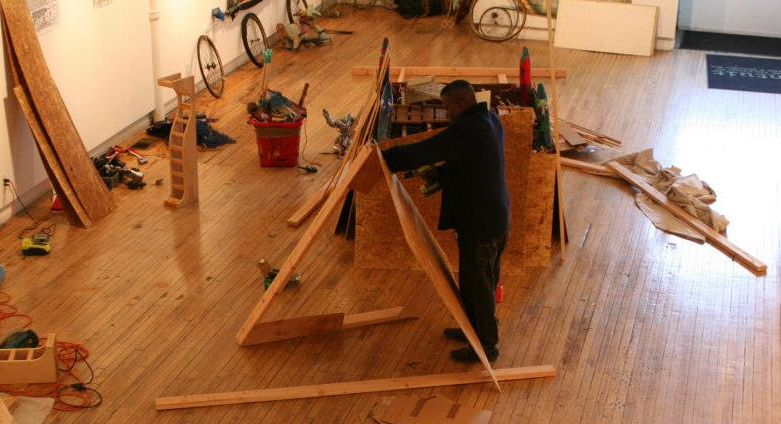 The boat was supposed to be five times this large. Kevin Blythe Sampson was slated to create an epic vessel for "Vision and Vernacular: Eight African American Artists in Venice," an exhibition of African-American self-taught artists and graffiti muralists organized by the American Folk Art Museum in New York for the 2011 Venice Biennial. But as the troubled museum faced collapse, sponsor funding was pulled and the show canceled. A year later, the former executive director of Intuit, Cleo Wilson, who knew of the artist's frustrated plans for the epic ship, began talking with Sampson about traveling from his hometown of Newark to Chicago to be the second artist in residence at the museum and create a site-specific sculpture related to his original plan in Venice. Sampson arrived on January 11th and has been putting together An Ill Wind Blowing for the two weeks since, using recycled material from previous work and found objects from the back rooms of Intuit. The result is a multimedia interactive installation with an aesthetic of contingency, vulnerability, and stratification that corresponds shrewdly to the thematic content of the show.
Now retired, Sampson worked for twenty years as a composite sketch artist while a police officer in New Jersey, after a superior in the department noticed the cartoons he doodled of everyone and sent him to sketch artist school. There, Sampson jokes, he discovered that he actually had to learn to draw, but when he enrolled at the Newark School of Fine and Industrial Art, he was immediately recruited to teach airbrushing there and stayed for decades. Now focused on teaching younger students, Sampson collaborates extensively with graffiti artists and muralists and dismisses the label of "outsider," dryly noting that the label tends to make contemporary African-American art more palatable to certain white collectors. Sampson has been focusing on sculpture, particularly movable memorials, since 2000 (he's been struck in Chicago by the white painted bicycles of cyclists killed by cars); and his first vessels and ships, now a common theme, began as responses to family tragedies. But it's Sampson's background as a self-identified "ex-cop with lots of Tea Party friends" as well as a "civil rights baby" that helps to explain the surprising complexity and ironic humor that coexists with An Ill Wind Blowing's deadpan directness about politics and history.
The conceit of the ship is a way of conceptualizing the brokenness of contemporary America. Divided into three sections, with space in between filled by rubber rats ("You think about rats jumping off a sinking ship, but I think of them as the waves floating the boat," Sampson mused during a Q&A yesterday at Intuit), the prow of the ship is filled with artifacts of the "liberal elite," including work by established artist friends, copies of The New Yorker, and other cultural superstructure signifiers. A fishing net repurposed as a basketball hoop stands as an homage to Obama, and visitors are encouraged to write their own political frustrations onto scraps of paper emblazoned with pictures of politicians, crumple them up, and try to make a shot. (Sampson, whom I spoke to during the installation process, originally wanted to create an analogous interactive "penny toss" for the poor at the back of the ship but couldn't fit it in to the space). This kind of provocative, deceptively simple trope marks the piece as a whole; the middle section of the ship, representing the "nasty" contingent of politics and the "24 hour news cycle of insanity," obstructs and separates the front of the ship from the stern, which is filled with debris and objects of the poor and working class, including a picnic basket of Cheetos and white bread, plastic coins, and chicken bones. Deeply textured and layered, even burdened, with physical symbols, the boat is the clear star of the exhibition; but related drawings that fill the gallery walls (including one of the best abstract portraits of Mitt Romney I've seen, depicting him as a tentacled alien driving a car with a shark-toothed grill) offer charged but more delicate, often humorous counterpoints. Earlier sculptures by Sampson, including an early ship, give a sense of the artist's larger sensibility. And lyrics to folk songs (Bob Dylan's "Blowing in the Wind" and the African-American ballad whose tune Dylan appropriated) face off from the walls on either side of the ship; Sampson is deeply interested in the history of folk music in America, and the opening of An Ill Wind Blowing at Intuit tonight will feature folk ballads by Mark Dvorak.
But the symbolism of each individual element in An Ill Wind Blowing matters less to Sampson than process, whether political protest or art-making. He collaborates as a rule, constantly recycles work, and considers most of the finished work disposable. "I never work alone, and I work listening to CNN instead of music," he laughs.
An Ill Wind Blowing opens tonight at Intuit, the Center for Intuitive and Outsider Art, and runs through April 20th.
[Monica Westin is a member of the collections and acquisitions committee at Intuit. She is not involved in the exhibitions committee, including any planning related to Sampson's residency, nor on the board of Intuit.]