Black Salt Collective is a multidisciplinary group of four women artists of color based in Oakland and Los Angeles: Sarah Biscarra-Dilley, Grace Rosario Perkins, Anna Luisa Petrisko, and Adee Roberson. The collective's first curatorial project, Visions into Infinite Archives, which opened at SOMArts in mid-January, first struck me for its wild ambitiousness: the exhibition includes over thirty artists of color intervening with themes of time, oppression, history, and narrative. I met with Black Salt Collective soon after the show opened to walk through the challenging, at times dizzyingly complex body of work. We then moved online to expand on the themes of presence, magic, hospitality, and the presence of the artist's hand that emerged in our conversation.
Visions into Infinite Archives runs through February 10th at SOMArts in San Francisco. The closing reception will take place on February 4th.
---
One of the starting concepts for this show was creating "overwhelming presence," which plays out in one way into the multiplicity of voices in the show (30+ artists) and formally in terms of the sheer maximalism of the exhibition. Can you say more about this initial impulse to create overwhelming presence and how you translated that impulse into your curatorial choices?
Anna Luisa "Jeepneys": Whether or not the Western world validates it, people of color have BEEN here and we will continue to BE here making art. This show reflects that, and it largely represents a diverse spectrum of not only race but of gender, sexuality, ability and class– many underrepresented groups. It's not that we're not making work; it's just that it's not being shown, documented, publicized or archived. This infinite archive is a way to honor the voluminous and multiplicitous past, present and future work by artists often left out of the contemporary art canon.
Adee Roberson: When I think of the overwhelming presence in the show. I think of the artists we chose and their authenticity. In a culture that is currently held back so much by "Not being real," it feels especially important to me, as an artist, to be real and vulnerable.  That energy is overwhelming when you walk into the gallery.  Not only do you feel the presence of the artists via their work, but you feel their ancestors. Multiple people who came to to opening, and ourselves, at times were in tears!
Another theme that emerged in conversation is the role of spells and the role of the object as a conduit for magic (for example, with Petitions to Saint Anthony). Grace said that this setting of intention in offering objects as prayer is another way of seeing the exhibition as a whole. Can you say more about the role of magic in Infinite Archives?
Grace Rosario Perkins: In the case of Jose's work, as well of a lot of the work in the show, I think magic is a coded way of describing the way we all transmute our experience, our pains, our traumas, and joys into objects. I think as a whole… Adee and I were talking about it just yesterday and getting really emotional about it– this exhibition exemplifies this because it is full of energy and intention. Just in the way one would set an altar with objects, each representative of a hope, this show itself feels similar to that. There are dynamics we are creating in the space itself where all of us come together with cohesion because in a lot of ways our experiences of oppression and existence are not dissimilar and here we are all in 2016 working through it.
Our collaborative installation, which is what you see as you immediately enter the gallery space, is a way in which we are conjuring a mass meaning through objects with personal weight. Nothing arbitrary. It's really funny to me how still, though, this idea of magic or work that has a spiritual basis is being criticized. One of our artists in the show whose work is all about magic, all about spirituality, and all about culture was pretty much dissuaded in grad school at CCA from making that work– being told that it wasn't necessary, that it was questionable, so I'm kind of at a place where I'm wanting to pull people up and have us all come together again and say, "Well, anyway, here it is" in the face of dominant art culture because to separate those aspects from us as people of color has happened too many times, through force and cultural breakdown.
Sarah Biscarra Dilley: A teacher once explained to me, "Intention is nine-tenths of the magic." This has stuck with me through times of duress and spiritual fatigue as well as moments of beautiful regeneration, expansion and change. Intention is our ability to shape the world(s) around us, within us, beyond us.
In some circumstances, intention is all we have had: a sheer faith in our prayers being heard. In others, intention becomes a political act, a testament to our belief and grounding in relationship to spirit, to land, to blood, to our people, to each other, to ourselves. This show was crafted with the same intention we each hold in our day to day lives, one that is founded in mutual care and respect, in prayers for intergenerational healing and cultural resurgence, in our fumblingly human attempts at honesty and transformative joy. The varied manifestations of magic or communion with spirit that present themselves in this exhibition are gifts to ourselves and each other, from artist to audience and beyond, impacting us in embodied and intangible ways. It reflects a worldview that deprives nothing of life and enlivens us to everything. It represents the responsibility we claim to collective change that is needed on all levels, physical, emotional and spiritual.
One powerful aspect of Infinite Archives is the effect of hospitality that radiates through the work. I'm thinking most immediately of Essence Harden and Jihaari Terry's quilt, but this impulse is everywhere in the work, from preparing for a social event in postcommodity's work, Eve's photographs about the gifting around the sun dance, and the bar furniture for some times. What does hospitality and being a host or guest mean in the context of visiting this exhibition? Does that have political resonances in terms of the show's criticality about (post)colonialism? And finally, how does this play out in the form of the exhibition itself?
Sarah Biscarra Dilley: I think what is being read as hospitality in the exhibition are actually topographies of our resilience as indigenous people, as descendants of survivors of the middle passage, as peoples displaced by colonial expansion and imperial warfare. These are examples of our abilities and emerging attempts to transmute generations of grief and anger and fracture. These are examples of how we remain dedicated to loving ourselves and our communities despite being told our entire lives by dominant culture that we aren't worthy of it. These are examples of our respective communities' abilities to sustain vibrant and changing cultural practices that serve our communities and their physical, emotional, and spiritual well-being. And because there is nothing post about colonialism, in the context of the exhibition and where it is situated, unless we are of this place, we are all guests (welcome or not) on unceded Ohlone land.
Anna Luisa "Jeepneys" Petrisko: For jeepneys and some times' piece, we talked a lot about hospitality and how we as Filipinos are proud of our hospitable nature, but at the same time, we are uncomfortable with the fact that Filipinos are labeled as "hospitable" by Westerners, which we believe stems from a 500 year Colonial history. It's like one of those things– we can call ourselves "hospitable" but when you call us this it's problematic! Like most of the ideas in the show, it's complicated. And it's further complicated by the fact that we (as children of Filipino immigrants born in the US) are settler colonialists ourselves (on stolen Ohlone and other indigenous Native American land). If you sit with our piece for awhile, we hope that you will understand the complexities of this. People of color navigate complex situations everyday and one of the things that this show does, in my opinion, is sit with complexity and contradiction.
So much of the work in Infinite Archives shows its own process. Grace talked about how the presence of the hand was important to this show– versus the usual impulse in contemporary art to perfect, smooth, and not show the seams. Can you talk about the role of hands-on creation or "heavy-handed" process in the show as it moves into the contemporary art space?
Grace Rosario Perkins: I think the role it plays is basically just a vehicle of visibility. Thinking of a recent trip to a folk art museum got me thinking about how art that has a basis of cultural significance, spirituality, and tradition imbedded into its creation always gets a title that is not seen as "contemporary," but "folk" or "craft" or something completely tied to its origins/time. This keeps the work itself pinned into categories used to continually "other" the work. The way a lot of the artists work in this show is through a process where the hand is visible, and I think that is directly tied to the cultural experience of many of us– using what we have, abstracting tradition, and not feeling the need to align with the tidiness of that particular seamless white box work we see time and time again in galleries and museums. In a way that white box work isn't meant for us, really, so with that we work with what we have. It's like what Lonnie Holley (one of our artists in the show) said at an art talk I attended when he was called an "Outsider Artist," he responded, "Outside of what!? I'm an American and I'm an artist." These titles are so limiting so I think just having a bunch of objects with seams, with cracks, with hand stitching is really important.
Adee Roberson: When I think of the presence of the hand in the work the first things that comes to mind for me are the working class and touch. Building, planting, sewing, and painting. All of these actions infuse the maker/workers energy into whatever they are interacting with. As someone who is also a bodyworker, I also view touch as taking care of something or someone. Tending to. I watched Jose install his work for hours. Each addition and object has so much intention and I feel that work, time and care when I see his piece. And most of the pieces in the show.
Sarah Biscarra Dilley: I think this also emphasizes the interdependence of our bodies with the work. It's what brings each work to life in this world, this collaboration between emotion and spirit and our physical form, what makes each work performative in its own way. It is our own expression of generations of experience that maps lessons passed down to us from blood family and messages from otherworldly realms, lessons learned in stubbornly and ones that are gleaned through the ways we are changing on cellular levels. It asserts our presence with every stitch on marred canvas and fingerprint in smudged paint. It asserts our commitment to embodiment in a world that has tried to erase our histories at every turn but still cannot. The presence of handwork, of the body, in this exhibition disallows the separation of our lived experiences from the visual work and our practice as artists.
These two previous questions point to one of the most successful elements of Infinite Archives, which is its critical approach to institutional spaces while also inhabiting them. How planned was this move?
Jeepneys: This is the way we have to navigate everyday life! So in a way, it is both planned and unplanned, pre-meditated and intuitive.
Adee Roberson: The show coming together the way it did, was a really intuitive leap of faith. We put a lot of trust in the process of connection. I've never really been one to inhabit or create in institutional spaces. So when I do, as a black, working class woman, naturally it's always going to be a creative subversion.
How does the film series on January 30th relate to the rest of the exhibition? What will you be showing?
Jeepneys: We will be showing a group of multi-generational filmmakers, most of whom are emerging. I like how these films are both contemporary and archival, shot on various formats including 8mm, 16mm and digital, reflecting the sense of non-linear time that is one of the exhibition's themes. The feature film is Bontoc Eulogy, and it is one of my favorite films of all time.
More information about the screenings can be found here.
I'd love to hear more about how this show intersected with your own practices individually and as a collaborative group. Would you ever curate a show together again? What's next for Black Salt Collective?
Jeepneys: I have been thinking a lot about artistic and curatorial processes lately and how they differ when you are a person of color or any systematically-oppressed person. I am so interested in how identity and ancestral memory inform the artistic and curatorial choices we make. Whether they are aesthetic, political, formal, or content-based choices, our identities, histories and futures play a role. I think this interest is something we all share in the Collective.
Black Salt is a family. We know each other so well that we can work intuitively and with an immense trust for each other. And we all make each other laugh which helps. And make fun of each other, just like family.
Adee Roberson: I would love to curate a show with Black Salt again! What I would really love, though, is to see this show travel to different spaces. The work that we curated for this is so powerful and big. I'd like to see what it would look like to install in various spaces over time, and possibly add more to this current archive.
Our next endeavor is a book; we are working with E.M. Wolfman Editions in Oakland. We are still working out the content and vision.  I'm excited to have this hand held tangible object filled with stories, interviews, and reflections on our  process and practice. This year we are also all doing our own individual residencies around the country. So I'm excited to see what we all make and how it will come together back in the the collective process.
Grace Rosario Perkins: I just want to echo the sentiment, "Yeah! I want this show to travel" and  we definitely are not done curating together. I think doing this show and walking through one day after install with a little space between the process and the result I was like, "WHOA. What did we do?" in the best way possible, so yeah, so excited to keep the momentum going.
Sarah Biscarra Dilley: Yes! This has been such an immensely growthful process, one that we are still fully in the throes of- something that is marked in the ever-changing ways that our individual work is continually linked to our collaborative work. This collaboration has always felt like a natural extension of my personal practice because these babes are my family and co-conspirators, such immensely inspiring influences in my life. Black Salt has so much more to do together as goofball loners, as loving friends, as chosen family, as curators, as healers, as artists, as conduits, as archivists in our own understandings of that word. So yeah, from the book to other incarnations of this show and our entwined individual and collaborative practices– bring it on, universe!
Only the second exhibition at the MCA organized by Senior Curator Dieter Roelstraete, The Way of the Shovel, opening tomorrow, takes as its basis Roelstraete's ongoing observations about the centrality of the language of archaeology, archive, and history to art discourse over recent years. Spanning a wide grouping of artists and mediums (though, not surprisingly, focused in particular on photography and video), the show is ambitious conceptually as well, attempting to cover work that challenges histories, creates its own alternate histories (with starting points ranging from Robert Smithson to histories of Chicago), and takes up the tools and practices of archaeology both metaphorically and literally. I spoke with Roelstraete the week before the show opened about the archaeological imaginary, artistic research, Freud, and 9/11.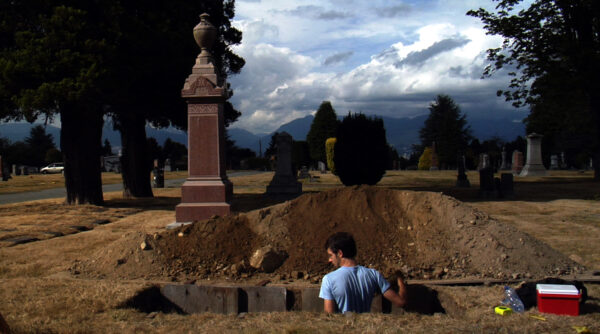 Derek Brunen, Plot (production still), 2007.
The Way of the Shovel brings together a few different academic disciplines and methodologies that the artists in this exhibition either participate in or explicitly challenge, particularly history and archaeology. How literally or metaphorically are you thinking about archaeology here in theory and practice? What is the "archaeological imaginary" that guides the show?  
DR: Well, first of all, I'm using archaeology in both senses, because it would be extremely dull to consider archaeology only in a literal way. The roots of the project lie in an essay I wrote in 2009 called "The Way of the Shovel" in e-flux, which is the basis for the catalog essay for the show. It was a piece I wrote when I was still living and working in Europe, so it is a little determined by the European context, but when I came here (not to my surprise) I discovered this was not just a European affliction, but a global phenomenon. My observation was that there is a quite persuasive interest in history – historiography, archival research, returning, recycling, and so forth– among a growing population of contemporary artists; and that many artists use the language of digging for explaining their work. Excavating, uncovering, discovering, digging, mining– these terms also mined geological vocabulary. My theories for why this metaphor was in intense use in a fairly substantial number of artists is in the essay. By "archaeological imaginary," I mean this phenomenon of the dig, which covers the whole gamut of uses of the language of archaeological in artistic practice, from the most metaphorical to the most literal and scientific. Mark Dion is an example of an artist in the show who collapses those two terms.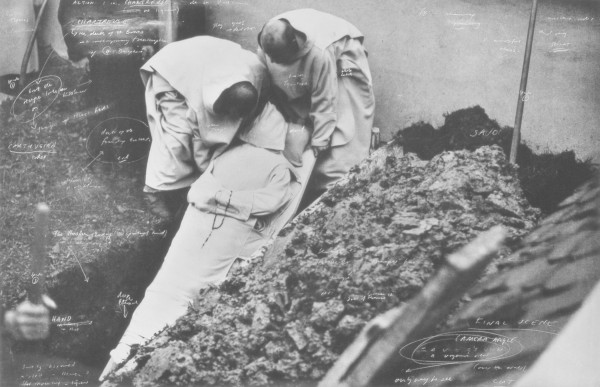 Tacita Dean, The Life and Death of St Bruno, from The Russian Ending, 2001.
I've observed increased attention being paid to the concept of "artistic research" recently in many different scenes: in arts writing/criticism, in the increased number and types of publications for artists presenting research, and in funding for artists who explicitly understand their practice to be research-based, particularly those artists who collaborate with different kinds of academics. What is your sense of the current place of "artistic research" as a concept? When does an artistic practice "count" as a research practice, particularly a historical research practice as in this exhibition? How can artists perform research in ways that other researchers (like archaeologists and historians) cannot? 
DR: It's relevant here that I am a philosopher by training, not an art historian, so I'm quite sympathetic to idea that art is some kind of an embodied form of theorizing. I'm interested in that access, and in tandem with this interest in history, I've also observed that in the last ten to fifteen years the rhetoric of art has been rephrased in broad terms using the language of research. And of course an awful lot of things are being done under the name of research. I really appreciate the ambition of artists to think of themselves as not just working with forms and ornaments, but also with information. I also have a strong attachment to the notion of the avant-garde and the idea that art is some kind of "other" research, an alternative knowledge, not in the spiritual sense of a fifth dimension or something like that, but really the knowledge of the marginalized, the overlooked, forgotten, and downtrodden. But while I'm interested in the critical charge of art's claim to be some kind of research, the whole discussion of artistic research is a huge one that is also based in the academization of art in recent years. There's increasing pressure on students to present what they do as some kind of intellectual enterprise, which has its own advantages and disadvantages.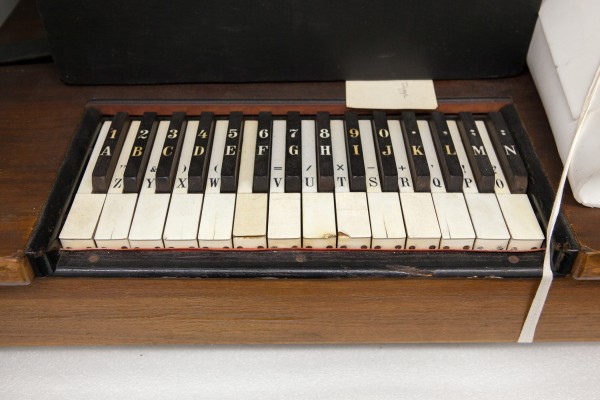 Steve Rowell, Points of Presence, 2010-ongoing.
Speaking of "other" research: the archive, as a collection of capillary, primary, everyday documents, is often understood to be a powerful institution for disrupting or destabilizing dominant narratives. How does the archive function in The Way of the Shovel?
DR: Well, the archive itself is a kind of excavation site, one of the many kinds of things that serve as an excavation site in this show. One of the smaller exhibitions within the exhibition is devoted to Freud, who collected antiquities and always thought of psychoanalysis in archaeological terms– for example, the excavation of trauma. Along these lines, we can think of the archive as site of mining… another site that in the last ten years has become hugely appealing to artists of all types and backgrounds. Again, the reasons for this phenomenon are manifold. One of the theories that underlies the show is the notion that the present has been so depressing that it's actually interesting to dwell in the past. In the last ten years there has been a huge upsurge of interest in the history of artistic modernism, not just modernist forms but also modernist ideals. That also figures deeply in the show.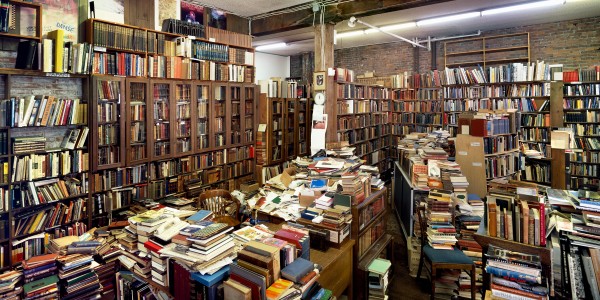 Stan Douglas, MacLeod's, 2006.
You've spoken a lot about the last decade of artistic production. 9/11 seems to be an important historical anchor for the show. Do you see 9/11 as the end of a particular era, as some theorists do? Is this date important because you think ideology has changed since then– or art, or both? The concept of the "end of history" seems relevant here.

DR: I don't want the dates to be too historically present here, but the milestones of the chronology of the show is first, the fall of Berlin Wall in 1989, and the events of 9/11 at the other end. The fall of the Wall and the subsequent collapse of the USSR created a mythology that we were living at the end of history, as in Fukuyama's essay celebrating the triumph of liberal democracy and putting forth the idea that we would all consequently live in some state of ahistorical bliss. This was the dominant mood of the 1990s in the West until 9/11, the day we woke up and realized that history has not come to an end, and that we are always going to be its subjects and subjected to it. The results of that particular moment continue to this day and created a dark period in world history. I'm thinking of the moment back in 2003 when around the world millions and millions of people took to the streets to protest impending invasion of Iraq, and the invasion happened within a few weeks nonetheless. Right then and there maybe a lot of artists thought to themselves, "I don't want to live in this present." They might rather look back, though not necessarily to any kind of golden age. This is completely hypothesis on my part, but it provides a bit core argument of the show in terms of explaining the return to history among artists. This wasn't an intense interest in the dominant artists of the 1990s; for Matthew Barney, the relational aesthetics artists, and so forth, history was not such a big deal. Today it is much more so, and this has to do in part with the realization that the past is not such a distant country.
Tercer Cuerpo,the claustrophobic experimental play by Argentinian company Timbre 4 opening at the MCA next weekend, takes place, according to director Claudio Tolcachir, in "an office that doesn't have any more reason for being, its services have no meaning."  While remaining in the office set, characters as obsolete as the space in which they labor appear to act in other settings, other places. Tercer Cuerpo is partly about labor and identity, particularly the disappearance of sustainable, meaningful jobs for people. What happens to these characters, and us, when we must find meaning in our lives apart from a career or calling? The always-already obsolescence of the form of theater makes the piece of interest to representing labor in contemporary performance and medium specificity in dealing with contemporary collapses of space and time. But the company Timbre 4 is also a landmark for contemporary Argentinan art practices; their home base in the working-class Boedo neighborhood of Buenos Aires has become a hotbed and model for independent, experimental theater and performance.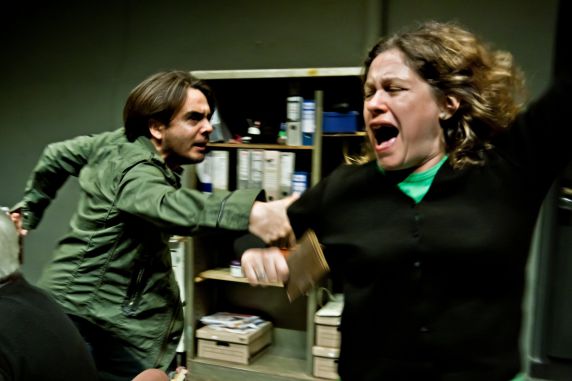 Tercer Cuerpo, courtesy of the MCAÂ 
This Spring MCA's Yolanda Cesta Cursach talked with Tolcachir about the approaching Chicago debut of Timbre 4. Her interview, translated by Cursach, appears below.
YC:  In Tercer Cuerpo, it seems the playing area is some undeniable womb for five very different biographies.
CT: Tercer Cuerpo is a fragmented telling of 5 simple stories crisscrossing the solitude of these individuals immensely incapable of dealing with what life deals them.
The decadence of the playing area reflects the characters' personal disorientation. They want something from their lives. Simple things. Things that in general can be had. But they don't, and this situation causes them enormous shame.
What I like in live theater is getting absorbed and at the same time taken by the story to an uncomfortable place. But this still depends on an intimate place, for my discomfort being the spectator can identify with the great and the small. With what is being known in my heart. In that divide between laughing at the same time that we could cry is where we identify with others.
YC: Timbre 4 has toured widely outside Latin America. What's the audience's response to your plays?
CT: It's fascinating, sometimes foreigners are even more demonstrative that Argentine people. I don't know if that's because they find the plays odd. When you write a play, you think of the audience of your country. Furthermore, these plays are shown with subtitles, so I don't know whether the translations are alright or not, I just trust the translators. I remember once, in Dublin, a man asked me, "Did you get inspiration from an Irish family?" In France, for instance, people asked, "Do all Argentine mothers sleep with their sons?" European people are amazed by the fact that we Argentine artists create plays with a very low budget. They can't believe some actors rehearse for free and, even so, the plays are still amazing.
YC:Â Â You seem to be interested in alternative family ties.
CT: I believe that everything revolves around the family—building a family is building a society too. Hamlet can be a political play or a family drama. I'd rather make the spectator feel involved with the story between the characters than anything else.
YC: Timbre 4 is an ensemble. What is your connection after 12 years since forming ?
CT: Our theater is about investigation, and we have modest beginnings keeping us aware of our city's social situation and the multitude of other storefront theaters' beginnings. From staying together all these years we manage to overcome the limitations of our neighborhood and of experimental theater, so that we can get the regenerating public which we so want to reach.
YC: What's the difference in Argentina between mainstream plays and storefront plays?
CT: I've performed a lot in mainstream theatre, as an actor. The production scheme is different. When you are directing a mainstream play, you ask for a couch and the next day you have it in the set. In off-theatre plays, you have to get in your car, start your engine, go to a market and buy the couch yourself. But then, the feeling between the actors is the same. I've never directed a play I didn't like. I couldn't direct a play if there was a bad working environment.
YC: Why make theater at all? What is so irrepressible about treating your writing this way?
CT: In my case it's completely selfish. Theater makes me happy, I feel alive, excited from it, and to be honest I'm not good for anything else. Investigation, risk, collaboration, unraveling and breaking routine each time never ceases to seduce me.
Two years after the first iteration of his epic USSA 2012 project opened at threewalls in 2011 in the form of the hyper-conceptual "orphanage project" (after a controversial Bad at Sports podcast about an orphanage the artist had allegedly proposed on the South Side drew confused ire), Zachary Cahill brings the third and final installment of his world to the Smart Museum. USSA has grown up and outward over the years, its hallmark institutions morphing from orphanage to gift shop (the People's Palace Gift Shop at the Cultural Center last summer) and now a riff on a mountain sanatorium. Each iteration has also gotten even more ephemeral, diffuse, and challenging: the Smart Museum show, entitled USSA 2012: Wellness Center: Idyllic—affair of the heart, consists of a banner declaring "A Sea of Wellness," a number of watercolor paintings scattered in offices around the museum, and both analog and digital postcards from the Wellness Center. (There's also some heart-wrenching confessional poetry and estranging emoji, among other digital objects, on the show's website.) For Smart Curator Sarah Mendelsohn, the challenging evasiveness of the show, and Cahill's world, is part of the pleasure: "The difficulty of locating the USSA is part of what makes the conversation around this work so enjoyable," she reasons.
This kind of logic is certainly in line with Cahill's larger themes. USSA 2012 has taken on vast aesthetic, political, and increasingly personal topics for the artist over the years, and this latest iteration is no exception, with references to different kinds of modernisms within the history of painting, Thomas Mann, and the relationship between wellness and art, within his ever-present wide-ranging institutional and cultural critiques. I spoke with Cahill over email after the show's soft opening last week. (nb all strikethrough text is intentional)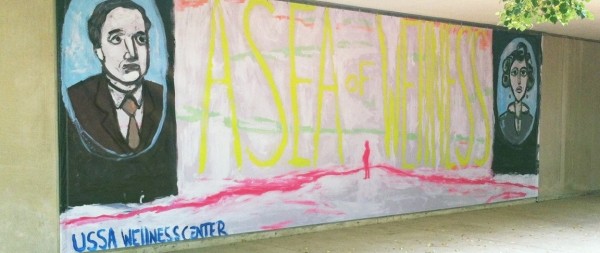 Idyllic—affair of the heart banner
MW: Can you write an introduction to an imaginary travel guide for USSA? The culture, the people, the flags, the scenery depicted in the postcards, the social institutions, the art, the vibe… Is it an Olympic village? Cosmopolitan (as I imagine sanatoriums to be, as the art world is?)
ZC: ok here goes:
Sochi 2014 Cultural Olympiad
2013 – The Year of the Museum
USSA 2012:Wellness Center
The fourth year of the Sochi 2014 Cultural Olympiad USSA 2012:Wellness Center is devoted to museums. As always, the organizers of the first Winter Games in the history of Russia USSA will present the public with hundreds of the best cultural events. They include dozens of exhibitions, shows, competitions, festivals, and special exhibitions, as well as forums, workshops and educational programs that will be held throughout the country.
The Sochi 2014 Cultural Olympiad Wellness Center is a unique project by the organizers of the USSA 2012, offering the best cultural events in the country. In 2014, visitors to the Olympic host city will not only be able to evaluate the sporting competitions, but also Russia's the USSA's cultural diversity at dozens of performance venues located in Sochi and Krasnaya Polyana. Therefore, since 2010, the Sochi 2014 Organizing Committee, along with dozens of regions throughout the country, has been carefully selecting the best of Russian USSA culture. Between 2010 and 2014, thousands of diverse cultural events have and will be taking place throughout the entire country. Each year, the Cultural Olympiad is dedicated to a different art form: 2010 was the Year of the Cinema, 2011 the Year of the Theater The Orphanage Project, 2012 the Year of Music The People's Palace's Gift Shop, and 2013 is the Year of the Museum/Wellness Center 2014.
The national scale of the project will make it possible to involve every resident of the country in this grand celebration of music wellness, maintaining and increasing the cultural riches of our country. All of the events of the Cultural Olympiad can be followed on www.culture.sochi2014.com ,
http://smartmuseum.uchicago.edu/exhibitions/zachary-cahill-ussa-2012-wellness-center/
That's kind of what I imagine it would sound like, but maybe written in the style of Thomas Mann (who is something of a spiritual grandfather to the wellness center-his book The Magic Mountain is especially important)…The artist Susan Hiller I think once said about her project From the Freud Museum…something like, "I think we all live inside the Freud Museum, metaphorically."..not meaning (obviously) that we live inside her installation but i think something along the lines that today we all are are living in and through the influence of Sigmund Freud and the life of the unconscious…possibly the Wellness Center is a bit like that…it's not something I made exactly…it's just something we all are living in…wellness as a perfume-y like presence that can't be nailed down to any one specific location…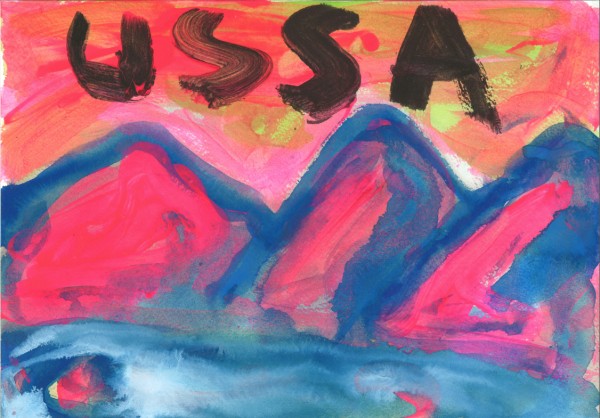 Wellness Center watercolor 13
MW: What do you think of USSA as a kind of "worlding"? What is its ontological status?
ZC: I am sure that is probably right but I feel like maybe the USSA isn't so much a form of "worlding" but rather marks the condition of being world-ed…moving in and by forces that are in many respects beyond our control…maybe the difference is negligible … I guess I'd say for me that the project…the totality of the USSA 2012 is really ontologically unstable and that's kind of the point…it's not that I am looking to create fiction….or create an alternate universe or what have you… it flickers…my understanding is that these alternate universes are what we all create and inhabit everyday…we can't stop doing it…even the most so-called unimaginative person is a hardcore world-builder and imagineer…they maybe even the best at it… seeing as it's their boring hum-drum world that we (for lack of a more credible option) seem to buy into and slog through most often….I guess everyone is worlding…so many worlds colliding…
MW: The project has reached the end of its lifespan–Â the orphanage story, childhood to adulthood, and now (after) the end. It's also getting arguably more conceptually challenging as well as seemingly more personal. Is it getting more permeable with the real world for you? Where do you leave the world?
ZC: I always hoped that the USSA 2012 project would have something like a life span that could be mapped onto the different iterations…youth (the orphanage project)…middle age (the gift shop) and old age (wellness center)…and maybe..who knows …an afterlife?
Yes, it is getting more overtly personal in a sense… and these different life phases are meant to reflect a kind of growth through time…
MW: Re: getting personal: is the painting genre as personal a genre for you here as the confessional poetry? What kinds of approaches do you take to both?
ZC: I think so…in each instance [painting and writing] for the Wellness Center Project I try to be as honest and forthcoming as I can…Still, the confessional poetry piece is difficult for me to talk about…I wrote it…It's out in the world and that's about all I can manage to comment on at this times….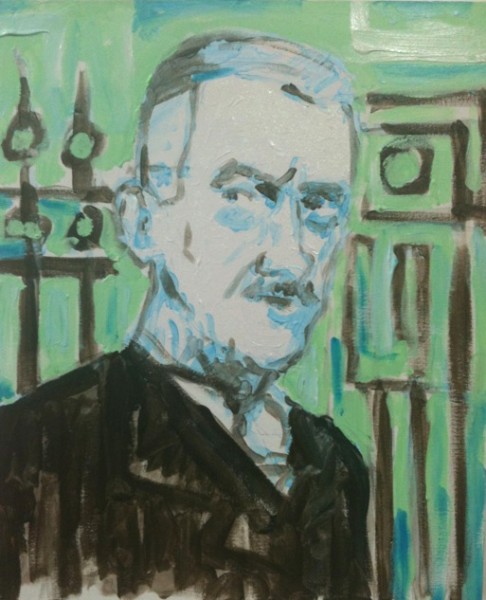 Iridescent Mann
Some of the paintings work this way too…but I suppose different modes of working are put to use for different parts of the project…so for example, with some paintings I try to imagine what the wellness center patients would make…what kind of paintings they would do as guests at an early 20th century European sanatorium…Of course, the imaginary is pretty close to the real in these efforts…I think the choice
of color gets at the personal for me…especially the use of fluorescent…I think if Munch were alive today…he'd probably use a lot of fluorescent paint…is that a way of answering the question?
MW: You have talked about the difference between internal and external experience, which also comes up in the curatorial writing for the show. Those experiences seem to map onto the painterly influences here: the small human figure in an overpowering landscape (Friedrich), the hugeness of subjectivity and interiority in expressionism. I guess this isn't really a question. Here's my question: is this hunch right? How is it more complicated than I suggested?
ZC: The blurring of the internal mind scape and the outside world is definitely an interest…In fact, I am teaching a class on the subject next year [Cahill is a Lecturer & Open Practice Committee Coordinator in the Department of Visual Arts at the University of Chicago]. I have been pretty influenced of late by a book a friend of mine recommended, Modern Painting and the Northern Romantic Tradition, by the art historian Robert Rosenblum, where he describes the psychic economy of painters like Van Gogh, Munch, and many others while tracing a Romantic lineage back to Caspar David Friedrich…It is a fantastic book of art history!…Illuminating sections abound. For instance,I had always wondered what is the opposite of the notorious commonplace "art for art sake"…Rosenblum points out that Van Gogh was interested in art for life's sake…I never heard it formulated so simply and that is something that interests me…
For the banner at the Smart Museum I was thinking about CDF…it is "after him" as they say, or some sort of perversion of his Monk by the Sea painting… which has always held a special place in my artistic heart because it so vividly merges an inscape with the landscape…I am sure you've experienced that feeling when…it's raining and somehow it just suits your mood perfectly and some kind of equilibrium is reached between your mood and your surroundings…that was what one of things I was going for in that painting…and how the psychic landscape might attach itself to the "real world" of human activity too.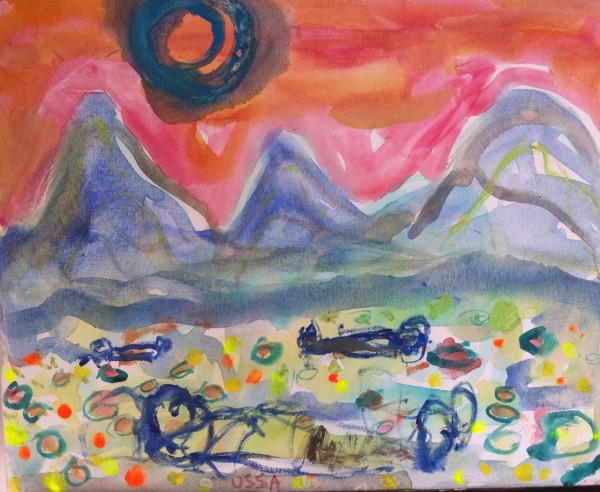 USSA Dreamers
MW: Past iterations of the USSA seemed more explicitly political than this one. How cynical or sincere are you politically in this show? Aesthetically?
ZC: Well I am sincere but I am not sure that matters much…my sense it is of little consequence to viewers whether I am sincere or not…they don't need me to be…that said the politics are there… in other projects of mine the political element has been pretty foregrounded and some might say strident…like nails on a chalk board (or so I hoped)… but this project for me has to do with psychology… a turning inward and trying to a concoct propaganda of the self…like what if your unconscious started to make banners and agitate… a revolution of the psyche…could that be political?
MW: What's with the flowers you've been posting on Facebook?
ZC: Slow to the party…I recently began to grasp the significance of flowers after talking about them with a couple of friends…and I started taking photos and looking closely at them over the summer around my neighborhood and discovered…shocker…flowers are amazing…they do all sorts of crazy things to light to get the colors they do…natural fluorescence…
I started thinking about bees and pollination…and how people use flowers in front of their homes, at weddings, funerals, …rituals…and I concluded that flowers must perform some apotropaic function….like a teddy bear or church gargoyle… they are meant to keep the bad vibes away…
and then I starting thinking of flowers in relation to propagation and propaganda..etymologically tied…and realized flowers are supremely political…so with all the NSA data collection going on I thought…well, if they want to know something about me…let them know that I love flowers..so the flowers on Facebook were a kind of protest but also a kind of advent calendar before the project at the Smart Museum opened.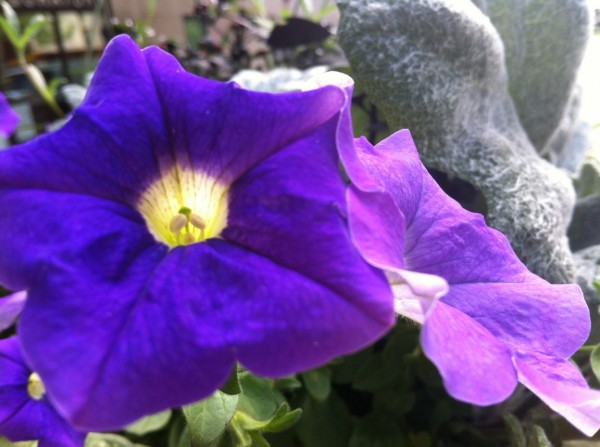 Flowers for Bad at Sports
MW: Art and mourning: these are the two huge driving themes for the show. What is art mourning? You've talked regarding previous USSA projects about economic depression, the way we're all "waiting for recovery," and healing from the trauma of the Bush era. Can art help us mourn? What is mourning?
ZC: I suppose I can only answer for myself here…But speaking in generalities (knowing I am going to say this all wrong and embarrass myself) …I think art is a very fundamental human thing… By that I mean art is a lot like one of the [5] senses…it's a way of apprehending the world around us…now Art clearly gets caught up in all other types of associations like the art market and folks tend to get hung up on that stuff but I think art is just something we do as people…market or not…
Therefore, I guess I'd say art can be an outlet for mourning …or that grief can pour out into your art …just
like it can pour out into any other aspect of your life…art might be a healthy outlet and also a way of sharing the experience…commiserating…when you suffer a major loss in your life you look for ways to cope …perhaps if you're an athlete your pour that energy into competition, or if you're a writer you write, but sometimes the grief can be so overwhelming that none of the things that once made you strong and "together" can fend off the sorrow…so if art fails it's a bit like having another part of your body cave in…but hopefully you find the resources to just hang in there…friends and family are important here and…well… so is therapy.
In terms of a larger geo-political situation that you mention…I do think art can have a similar function, it can help society recover, but it can no more make the world a better place than breathing…or sleeping… basic things humans do…true, when put to good practice things like breathing and sleeping and even art can make an enormous impact on the state of the body politic…that's encouraging and why I am big fan of political art and art that may or may not realize its political efficacy.
MW: People are going to be really confused about this show. At least I still find it ineffable and often difficult to parse symbolically, like a warren of rabbit holes. At lunch the other day you talked about an artist (I forget his name) who loved Apollinaire because his criticism was always wrong. You're interested in misinterpretation. Are you interested in critics getting this show wrong? Is this why so much of this project is oblique: to allow room for misinterpretation? What do you think about calling this show an inhibition instead of an exhibition?
ZC: The quote, if i remember right, was from Georges Braque, whose work I adore…and it's not so much that I am interested in people getting my work wrong or baffling the critics…it's just in some sense people will always get it right …even if I have no idea what they get out of it … my take on the project is simply one view among others…which is to say I am a tad mistrustful of artist's intentions (not that i unreservedly accept other interpretations)…It's just I think we often tell ourselves what the work is about for a whole host of reasons but there is (I think) always this weird secret cause behind the work…maybe it's not always secret exactly, but maybe some artists (myself included) have to look past that secret thing in order to create the work…it's a blind-spot that helps animate the work…this is a good thing…do people instinctually connect with that blind- spot…my guess is that they do…they don't know how or why they feel that blind-spot but when it gets to them if stuff is working right…maybe the rabbit hole analogy is a good one…I guess my work is made for the diggers…people who like to get down into things….and I hope that I create enough spaces for them to tunnel into….because I have that interest….I like being onto something too…
I mean I very much like the direct experience of being in front of an art work, but I enjoy being haunted by art works too…a visceral quality that occurs with the work of some of my favorite artists…they infect me and I can't stop thinking about it…Ideally, I'd like my work to do both: give off an affecting sensation for the viewer and to haunt them after they walk away from it… my work wants to have its cake and eat to….
To your last question…I am very much interested in what I think of as in-hibition, as a kind of balance to the idea of exhibition…perhaps stemming from a sense that we share a fatigue of living in public constantly…and wanting to create work for specific people that might not get seen by the "viewer"…this is why I made works to be displayed in the offices at the Smart…they are on view but just for the people that work there, not the generally audience…it's for the people that live and work at that institution everyday…or: the material posted to the Smart Museum's website, the post cards in the gift shop, the Smart phone performances… in each case I am looking for another type of connection to the viewer that play off one another….
So while i do think the traditional the exhibition setting of the gallery is great and the most efficient format for art— having potential to form something like a commons…which is how I hope the banner functions….I am interested in other ways people might encounter the wellness center too …live with it and in some sense make it their own… in-hibition and exhibition…perhaps it's a type of swinging door
Various exhibition and performance elements of the "USSA 2012: Wellness Center: Idyllic—affair of the heart"  show will take place between now and August of 2014 at the Smart Museum of Art. More information is available on the museum's website. 
Watching Melika Bass' semi-narrative films often feels like living in someone else's dreams: utterly inaccessible at many levels, but fueled by recognizable if nebulous desires, and structured by logics that make actions seem uncannily self-evident, no matter how strange.
Bass has been quietly making rigorous and rigorously strange films for a decade, and in 2011 she created an installation for MCA's 12X12 based on her film Shoals, comprised of relics from the shoot that extended Shoals's imaginary pastoral-gothic world in the ambiguous space of a contemporary white cube gallery. She recently was commissioned to make a film for Sigur Rós, Varðeldur, conceived as a character study of "an unstable entity in a haunted vessel," a gloss that can describe many of her half-created characters, both absolutely unknowable and archetypically suggestive of the heroes of fables and the antiheroes of fairy tales.
I first saw Bass' film at The Presence of Absence show at Hairpin this spring, and then several weeks ago at Doc Films' presentation of her work. We emailed back and forth about scavengers, the fantasy of regionalism, and making epic films as a constellation of scrappy moments.
MW: Are your characters living in a real world– are they real, or are they dreaming?
MB: They are real to themselves, but many of them are also indoctrinated in some way — into some kind of belief system, self-perception, and power dynamic. The quasi-hypnosis of these characters is a bit of Stockhausen Syndrome, but also something that mirrors the movie watching experience, or any kind of assembly-based experience (religious or otherwise). There is something fascinating about the adaptability of humans to any kind of situation, and our ability to find a logic in the most half-baked schemes, and perform all kinds of ritualistic behavior everyday because of those values.
MW: There's lots of dream logic at play, almost a psychoanalytic feel.
MB: Interesting…what do you mean by psychoanalytic?
MW: I think by "psychoanalytic" in an earlier question I meant that a both films I've seen have a sort non-rational logic that I'd associate with surrealism, the unconscious, those weird Freudian parables about his clients and their symbolic recurring dreams… I guess the idea of psychoanalytic aesthetics in my head is that involves abstracted, illogical, but psychologically understandable narratives. David Lynch or Tarkovsky both do this in different ways in feature-length films. There's this feeling I get in your films that I am inside the head of a character who is working something out in a deeply symbolic way that I can't interpret. I don't know if that makes any sense, though… do you think about this kind of thing when you're making films?

MB: I like this question. I am fascinated by how we cognitively create our own logic, justification, explanation, rationalization for the phenomena we experience. Perhaps these characters you are describing are an extreme example of this, in that these normal, and at their root survivalist behaviors, they have turned into an overt system of value or belief or labor, and are living their lives ritualistically because of it, ensnaring others alongside them. The surrealistic flavor is not something that I plan, but juxtaposition and absurdity are for me, a kind of normal.
Always an observer in my own family, I've always had the experience of not understanding causal relationships between observed events or behaviors in others, and wanting to. Even though there is an impenetrableness to understanding and knowing why people behave as they do, there is also the freeing, openness of multiple possible meanings. I hope these characters are both absurd and unnerving in their sincerity, and their authority. Perhaps ideally, just by experiencing the films and being lulled by them, viewers can sit in an surprising place of empathy for these characters, and the embrace the questions and ambiguity of their situations.
MW: How do you think about the relationship between characters in your different films? Are they part of a kind of extended strange family?
MB: I don't think of the characters in my separate films as sharing territories, or that they know each other. But they do all occupy a kind of archetypal fantasy realm where I feel they might live in bubbles adjacent to each other, perhaps one lives up the river from another, but in another country, or 100 years after. There is the fact that I cherish the fact that the objects in my films cross over to the worlds of the other films. For me this is a practical production decision (I keep all my props and costumes, have a small, Chicago apartment basement storage and so recycle), but it's also an extension of all this speculative fiction…the idea that many of thecharacters in my films (especially Songs from the Shed, Shoals, and Waking Things), are all scavengers of sorts, creating their own meaning (which asks to be deciphered or observed) from rituals based on the materials they have, and also via their bodies, and in moments, language or song. The objects are worn and carry as much history and potential narrative as these gestural bodies; materials and characters may have equal 'value' in that way, though I'd have to think more about that…
MW: But then when I write that I wonder, are these characters in your films even full character studies? In both Nanty and Shoals, the characters are left undeveloped and mysterious, almost archetypal on purpose. What kinds of figures are they to you? What is revealed and hidden about them in your films?
MB: Even though I come out of a literature and theatre background, in my filmmaking I'm pretty committed to utilizing what to me are uniquely cinematic aesthetic tools that are centered around observation. So for me that's movement, light, sound, texture, scale, duration, etc. I am very interested framing a character in terms of behavior that suggests but does not explain inner life of motivation, desire, etc. Perhaps on a way it is something like portraiture, or creating a kind of attention in the viewer to physical details, energies, and action in figures. . .language of course interests me too, but primarily in the way that its performative and coded also. I want to play with narrative expectations and actual cognitive narrativizing that we do all the time, in movies, and in life, as a way of ordering or making sense of things. This is one of the reasons I also rarely move the camera, and embrace the fragmentation of montage, a static frame, and a detailed soundtrack; I am hoping to slow folks down a bit, and in a way introduce a way of seeing, hearing, experiencing, and gathering of information that is a kind of adding up of parts, that also includes sitting with ambiguity and becoming an 'active viewer' while also being absorbed into the world/window of the film. This tension is a kind of experiential realism for me.
MW: One quote I loved from Shoals was when Chris [Sullivan]/the cult leader/doctor/teacher asks one of the girls to place a group of random objects into intuitive groupings. He asks her to find the "binder"– "an associative connection that brings them form and work, maybe." It strikes me that this could be a way of thinking about your films. What do you see as the binders that connect the scenes and movements of individual films together?
MB: That's interesting. Yes, for the films I think binders could be the these surrogate families or self-made communities and their culture-making which borders on religion, and then the situations in the films themselves, which play on our cognitive need for causal order and meaning-making. In some ways this is something that Chris's cult leader character is providing, although obliquely and absurdly. In this scene, for this lesson or indoctrination to occur, he's asking Kelly's (Emily's character) to create her own meaning, a kind of teaching on the one hand and a sort of illusion of her using her own choice freely. This intersection of Catholicism, grammar school, psychological testing, and Eastern philosophies were all the elements I wanted his character to be combining. An attempt at utopia buoyed up by language that suggests knowledge or expertise, but has a lot of holes in it.
MW: I want to ask about atmosphere and place. In other interviews, you've talked about growing up in a sort of gothic southern atmosphere– are you recreating particular geographical or temporal atmospheres?
MB: I grew up in Richmond, Virginia (a place obsessed with its history) and Asheville, North Carolina, where the mountains and rain are lush in the Summer and chilling and blue-grey in the Winter. That part of Appalachia is shadowy and flinty and earthy and grubby and full of life and perseverance. I love it but it can be quite scary.
This gets back to your earlier question. In the realm of fully-developed characters or archetypes, I may lean toward the latter because I am pretty fascinated with stories of self-identity based on history. Many times in America, in a family, that's a history of immigration, or someone being defined by their job, where they lived, or a particular personality trait. People get mythologized so quickly and easily and stories about family are stories we tell ourselves about who we are, who we want to be, should be, or don't want to be. It seems particularly complicated in the US because while we are so fixated on making our own way, and re-making ourselves all the time, we still define our selves in relation to these stories of our own history in one way or another. There are stories in my own family that I have always loved hearing or finding out about that I entertain as defining me in one way or another. You can call it cultural heritage, or think of it psychologically, or based on gender roles, class, but there's an anthropology to a family and the culture that gets created in it by ritual behavior and the stories it authors about itself. I think all the films I've been making lately are exploring these ideas.
MW: Regarding the relationships between these films, you said something really intriguing to me at the Hairpin center about Nanty that I wanted to ask more about in starting. If I remember correctly, you were saying that you pictured it being part of an epic modular project pieced together with grants you get here and there. I was impressed by this for a few reasons: first, that you are so scrappy about using the ad hoc way that artists are funded (and, though I don't know as much as I should about it, probably video artists in particular) to your advantage, and, second, that you can work this way and think this far out in terms of discrete but interlocking projects. How far off am I on this idea of yours? Can you talk more about your plans for future work and the kind of different pieces you would imagine making/how they might relate?
MB: I am currently working on a project called Summerstock, which I imagine as a long-form, film work that will evolve and branch out with each iteration over the next few years. Initially, I had conceived of the project simply as a feature film (typically 70-90minutes), but my experiences in making installations in the last several years, and the current transitional state of independent feature filmmaking, have lead me to embrace what ultimately is a more exciting structure — a constellation, a web of interconnected nodal sections. My hope is that the overall long form will change as I continue each stand-alone piece, which is also connected to the others in terms of character, place, materials, or any other points of relationship I'll be exploring. The dream here is that I can find funding or shoe-string methods to work as I keep making each piece, and that the venues and environments for exhibition or screening will also add an ephemeral and experiential quality to those pieces as well. The first part I made and exhibited in May as part of the Presence of Absence show, and think of like an Introit. It's a 10minute film installation Nanty, which introduces a key figure in the project, and hints at her situation. The next part of this project will premiere in Chicago in a solo exhibition at Iceberg Projects on Nov. 3, and run through December.
Thematically, the next part of SUMMERSTOCK will be both a film and an installation… It will offer a tension of inner and outer landscapes, the use of the voice to reveal and conceal, and it'll be set in a familiar but unknown place — a hybrid of specificities of place and people. Regionalism is a fantasy, and I think travels well. I am excited to stage this piece site-specifically at Iceberg, it's such an elegant and intimate space.