The Incredible San Fancisco Artists' Soapbox Derby, 1975. from Mike Haeg on Vimeo. (via Swissmiss)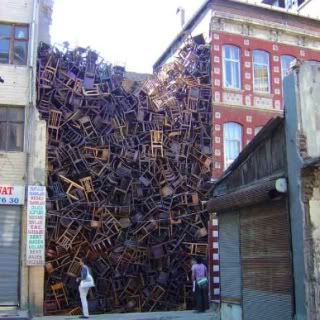 Tonight the Visiting Artist Program at the School of the Art Institute of Chicago will be hosting a lecture by Colombia-based artist Doris Salcedo. I know where I am going to be tonight!
via VAP:
Monday, March 15, 6:00 p.m.
SAIC Columbus Auditorium, 280 S. Columbus Dr.

Colombia-based artist Doris Salcedo explores the significance of everyday objects and their power to implicate history. Her sculptures and installations infuse domestic materials with gestures of political and psychological archeology, and their sense of absence hovers in the space between the empowered and voiceless. Salcedo's work has appeared in major exhibitions at Tate Modern, London; Castello de Rivoli, Turin; and Museum Boijmans Van Beuningen, Rotterdam, among others. She has participated in the T1 Triennial of Contemporary Art, Turin; Documenta; 8th International Istanbul Biennial; and the Liverpool Biennial of Contemporary Art. This lecture is co-presented by the William Bronson and Grayce Slovet Mitchell Lectureship in Fiber and Material Studies at SAIC and is part of the Common Languages lecture series.
$5 per person for the general public; $3 per person for SAIC alumni, non-SAIC students, and seniors; and FREE for students, faculty, and staff of the Art Institute of Chicago.
For more information on this event and other lectures from the VAP please check out their website
Michael Czerepak who sent me the French Star Wars video a couple of months ago just sent me this Stefania Rotolo classic. Italian disco, Star Wars, and sparklers that never run out?! I know where my morning will be wasted. Check out more videos after the jump [Read more]
For this week's pick we bring you Stanley Kubrick's 1951 documentary "Day Of The Fight".
Not Coming to a Theater Near You has a great article about Kubrick's early docs including today's pick.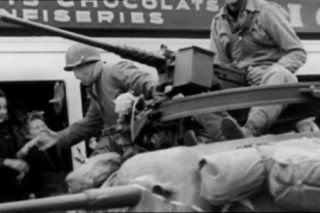 For the month of March the Gene Siskel Film Center is hosting the13th Annual European Union Film Festival. There are a lot of Oscar contenders that are being shown and I would highly recommend perusing their listings, which offers close to 60 films. Recently, I was able to catch the 2008 Belgian documentary "Modus Operandi". Directed by Hugues Lanneau, the film chronicles Belgium's direct relations with Auschwitz.
Lanneau mixes interviews with grainy footage from the era, some of which had never been shown before. Although the film feels a little long (clocking in at 98 minutes) it is beautifully arranged. I found myself lost in the grain of the film but was often brought back by the numerous amounts of photographs that were filmed while being layered on strings. My description does not do it justice but the confrontation of individual portraits helps aid the statistics of the number of victims from the camps. According the film, 24,916 Jewish people were deported to Auchwitz between the years of 1942 and 1944 from Belgium. An overwhelming 95% of which never returned. As we hear personal statements from people that fled Belgium, we begin to see how the Nazi regime gradually infiltrated the Belgian government (which proved to be rather easy) and used it's very own authorities to implement their agenda. Their methods are chronologically broken down which helps with the linear flow of the movie.
Throughout the film there are several shots of facades and interiors that have images of documents and footage of soldiers marching projected on them. Immediately I thought of Jenny Holzer's projections and appreciated Lanneau's attempt of activating these historical spaces. His careful consideration with framing these shots made them significantly more powerful when in reality they could have easily been gimmicky. Although this film is somewhat on the dry side (I would mainly recommend it to history fans) it separates itself from historical documentaries that are made for television. The combination of well-organized images, captivating subjects, and skillfully framed shots elevates "Modus Operandi" beyond the cold hard facts and allows the viewer to feel a small personal connection to the people that lost their lives in concentration camps. [Read more]