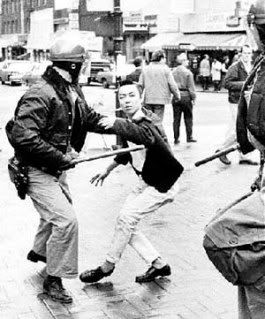 "Japanese American Black Panther Party founding member" reads at first like a mislabel in the description of the 2009 documentary AOKI. Mike Cheng and Ben Wang chronicle  the life of Richard Aoki (1938-2009) from his early years in a WWII internment camp through his days as an activist in Oakland. Shot over the last five years of Aoki's life, we follow him as he continues his career as a social activist in Oakland. Clocking in at ninety-four minutes the film is pretty much what you would expect. Straightforward framing and first person narration steers us through Aoki's life as an early activist. Aoki is a very charismatic, opinionated, and often blunt character who's peers speak of him with the utmost respect.  Although the film lacks much of an artistic direction (the film poster would have you think differently) I really enjoyed revisiting famous photographs of Huey Newton and Bobby Seale but locating Aoki as a background character. The documentation of  his search for social justice involves him in not only the BPP but also the Asian American Political Alliance and the Third World Liberation Front.
In 2006 Wayie Ly taped an interview with Aoki about his life. It is pretty in depth and worth checking out. Below is an excerpt about his thoughts on Richard Nixon and John F. Kennedy:
People Change, History Moves On

Politically, I would be labeled a conservative at the time, because of the fact that I voted for Richard Nixon in the 1960 presidential election, when he ran against John F Kennedy. Now I will explain the logic of my political position to you as weird as it may sound today. First and foremost, Richard Nixon was from California. Kennedy was from Massachusetts. Richard Nixon was a homeboy. Kennedy spoke with a foreign Boston accent. Richard Nixon married a good housewife. Kennedy married some arrant socialite later to be known as Jackie O. Richard Nixon grew up poor and humble. Kennedy grew up rich. I think his father's or his family's fortune was based on the rum running trade during the prohibition days when alcohol was outlawed here in the United States. I think rumor has it that his family built their fortune up smuggling (laughs) hard liquor across the border.

Richard Nixon was a Quaker. The Quakers were the only religious group that, or were one of the few that opposed the internment of the Japanese Americans during World War II. Kennedy was a Roosevelt man, and Roosevelt signed Executive Order 9066 that put us Japs in the camps. So, it's payback time… Meanwhile, one of the other reasons why I voted Republican was the fact that Abraham Lincoln, who was the first presidential candidate of the Republican Party, freed the slaves. And to me and my sensitivity to African Americans, indicated that I should be in favor of somebody that emancipated the slaves.

For the entire article please check out the Richard Masato Aoki Memorial page.
Aoki will be playing at the Gene Siskel Film Center
April 8th—8:15pm
164 North State Street
Chicago, IL 60601-3505
Recently I have begun to read  a journal based out of the University of Texas called Velvet Light Trap. In issue #60, entitled Documentary Now, Jaimie Baron has an essay, Contemporary Documentary Film and "Archive Fever": History, the Fragment, the Joke that has inspired this week's pick. In the essay Baron uses both the archive and notions of humor/jokes to delve into several documentaries. One of which being Andre Silva's spam letter + google image search = video entertainment. In spam letter we have an experimental film that looks to document, well, spam. Combined with images pulled from Google Image Search we follow the often read, and hopefully seldom believed "dead relative" scam.
…Moreover, its use of the archive is so disturbing to conventional notions of history that, I contend, the film is forced to change genres, ousted from the realm of documentary to be classified and contained in the category of the experimental. Looking at it as a documentary, however, challenges the distinction between "proper" and "improper" uses of the archive as well as refined notions of the historical.
Threat Level and the Nightingale will be presenting CHANNELING: an invocation of spectral bodies and queer spirits curated by Latham Zearfoss and Ethan White.
Doors 7:00, Screening 7:30
$5-10 sliding scale
1084 N. Milwaukee
via CHANNELING
CHANNELING is an entryway into the spirit realm and the queer body politic: a program of experimental moving image work that calls up the ghosts of the past and the specters of the future. The intent of the program is to re-imagine film and video as occult technologies that allow us to connect with the bodies, experiences, and emotions that are often invisible– ghostly, even–in everyday life.
RUNNING ORDER:
Vanessa Renwick – 9 is a Secret (2002, 6:00, video)
Elliot Montague – Well Dressed (2006, 10:00, Super 8mm on video)
Shana Moulton – Whispering Pines #7 (2006, 5:00, video)
Michael Robinson – Carol Anne is Dead (2008, 7:30, video)
EMR (Math Bass & Dylan Mira) – Somethings Gonna Soon (2008, 4:00, video)
Aay Preston-Myint – Some Ghosts (2007, 2:00, video)
Jillian Pena – Compromise (2005, 10:00, video)
John Di Stefano – (tell me why): The Epistemology of Disco (1990, 24:00, video)
Total Running Time: ~68 min.
CHANNELING is now available for screening rental and institutional purchase from the Video Data Bank! To book a show for your town or buy a copy for your library, visit
www.vdb.org.
facebook.com/threat.level
myspace.com/threatlevelqueershorts
For this week's pick we bring you some silent footage of Mark Twain at his home in Stormfield, CT, in the early 1900's. This film was shot by Thomas Edison and shows Twain walking around his estate and playing cards with his daughter.
Back in November I posted James Blagden's awesome animation "Dock Ellis & the LSD No No". The video had been produced by the New York based company No Mas. Recently, No Mas has  teamed up with David Rathman to produce not only a set of prints based on the historic "Rumble in the Jungle" fight but this short animation entitled "Zaire".
via No Mas:
"David Rathmans Zaire translates iconic moments from the Rumble in the Jungle—the press conference, the rope-a-dope, Alis stunning knockout, delirious crowds—into a stirring black-and-blue toned watercolor time capsule.
Rumblevision: No Mas and Muhammad Ali Enterprises celebrate the 35th anniversary of The Rumble in the Jungle and Muhammad Ali's stunning victory in Zaire. Original animated shorts by David Rathman, Jerome Lagarrigue and James Blagden debut 10/30/09. "
For more info please visit No Mas.