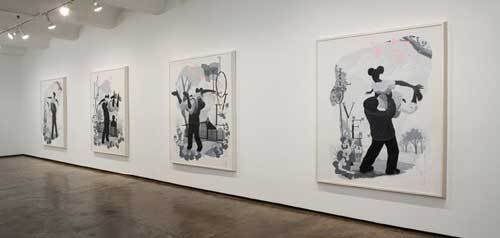 Art21's blog has posted an interview with former BAS guest Kerry James Marshall. They sat down with Marshall while he was installing his show "Black Romantic" at Jack Shainman Gallery. The video on their website is worth checking out.

Below is an excerpt from the interview.
ART21: What's the relationship between your series of Vignettes (2003-07) and what's commonly referred to as post-black art.
MARSHALL: The work of African-American artists has for a long time been seen more as a kind of social phenomena instead of aesthetic phenomena. The social implications of the work – be it identity politics and things like that – seem to be privileged in terms of the way the work is received, as opposed to any kind of aesthetic project or intervention the work might be organized around. And so if you read any of the critique that was made around the Freestyle (2001) show at The Studio Museum in Harlem, you'll find an undertone that seems to suggest that the mainstream critical world and art aficionados were tired of this whole identity politics and multiculturalism moment.
If you examine the subjectivity that a lot of African-American artists address, it often has a kind of cultural, social, political, or historical angle to it. So for the mainstream to suggest that it was sort of tired of having to address those kinds of issues, then, what's really left for these artists to do if that's something that's meaningful to them? On some level, I thought maybe the only thing that was left to do was to make paintings about love. And to take a cynical approach to the concept of love, to the concept of the Vignettes (2003-07), so that they don't seem to directly address the social and political issues that had been relevant to me and maybe to a lot of other artists who want to make work.
I began by looking at a lot of 18th Century French painting – Rococo work – like Boucher, Fragonard, Bouguereau, and other artists who themselves are also critiqued but critiqued for a lack of political depth in their work, for the frivolity of the work and for the work being kind of saccharine and sentimental and overly puffy and flowery. I started to take those two things and see if I could put them together – to preserve a certain element of the social, political, and historical narratives that are still important to me, but also to deal with the sentimentality, frivolity, and excesses that are embedded in Rococo painting.
ART21: Why are they painted predominantly in black-and-white?
MARSHALL: One of the reasons I use the grisaille technique in those paintings was to deny a bit of the Rococo. If you take a genre of painting that's recognized for being pretty or flowery, but you want to start to do some other things, then you have to strip away some of those characteristics. One of the first characteristics is the over-investment in color that those pictures would have. So I stripped away the color, which reduces a certain amount of sweetness in the pictures. Black and white always tends towards a level of seriousness, and you can use it to avoid sentimentality when you're dealing with highly keyed chromatic kind of relationships. The only color note in there is the cartoony pink in the hearts. The pink is a way of refusing to deliver on all of the points of which grisaille is supposed to deliver. And I chose to paint the hearts pink specifically to emphasize the disconnection between the overtly romantic imagery in the foreground and the historical or political imagery in the background.
ART21: What advice would you give to younger artists?
MARSHALL: The drive to be relevant – not just for yourself and the people who like your work – has moved a lot of artists throughout time to do the kinds of things they do. If you look how artists became artists in the past, there were smaller numbers of people vying for positions in the royal courts and churches and atelier system. They didn't have five thousand people coming through the system back then. But now we have these graduate programs at universities that are putting out thousands of credentialed artists every year. And so what are these artists trying to do? They are all trying to get a gallery show. They're trying to get the grants. They're trying to get written about in the newspaper. They're trying to get their work collected. They're trying to do all of those things so they can keep on making their work.
Now the only way you can do that really is to distinguish yourself from what everybody else in the field is doing. And so if you were taught while you were in school that being a part of the club – being one of many amongst other artists – that that's somehow worthwhile, then how do you sustain your development and your productivity? What do you aim for?
Whatever it is you're aiming for has to be judged by somebody outside yourself as having a kind of value. But if you just leave that to people who are out there, who somehow supposed to know more about what you're doing than you do, then I think you are in a world of trouble. If you don't have any mechanism to determine to some degree what your chances might be of achieving the kind of success as an artist you want to achieve, then you're in deep trouble. And I think there is a lot that can be done. I think you can decide. And the way you decide is to know what it is artists are trying to do and what is meaningful to the discipline above and beyond what you think is meaningful to you as a person trying to express yourself.
This is why I say it's not about self-expression. If it were really just about self-expression, then that would require a receiver who is so sensitively attuned to your sensibility that they are capable of recognizing an intrinsic value – not in what it is you're doing, but who it is you are.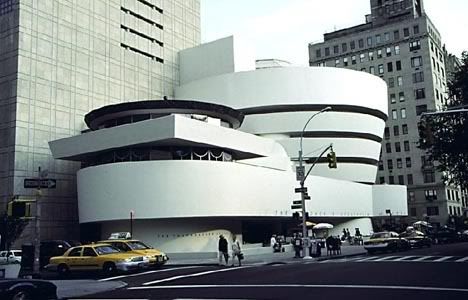 via the New York Times:
After a seven-month search, the Solomon R. Guggenheim Foundation on Tuesday named Richard Armstrong of the Carnegie Museum of Art in Pittsburgh as its next director.
Mr. Armstrong, 59, who has been director of the Carnegie for 12 years, succeeds Thomas Krens, who announced in February that he was stepping down after nearly 20 years.
In a decision that was widely reported in the art world, Guggenheim trustees settled on Mr. Armstrong in late August but did not vote formally until its board meeting on Tuesday afternoon. Their choice appears to signal a distinct change in style for the Guggenheim, whose international ambitions under Mr. Krens have stirred some conflict within the institution in recent years.
"We were looking for someone with a passion for art who understood that the New York museum is at the center of our universe," said Jennifer Blei Stockman, president of the Guggenheim's board.
Under the long tenure of the provocative Mr. Krens, the Guggenheim transformed itself into a global brand with branches in Berlin, Venice and Bilbao, Spain, as well as a planned museum in Abu Dhabi that is expected to open in 2013. Now the Guggenheim seems eager for a more centered presence.
"We interviewed a lot of young avant-garde European and American museum directors and thought, do we want another maverick who puts their stamp on the museum or a seasoned expert who is a wise adult and who would put the needs of the institution and the staff first?" Ms. Stockman said in a telephone interview.
Mr. Armstrong, who assumes the post on Nov. 4, will nonetheless be responsible for the foundation's global network of museums as well as its New York headquarters.
Just as the Metropolitan Museum selected a highly respected curator this month to be its next director, naming Thomas P. Campbell, a noted scholar, to succeed Philippe de Montebello, the Guggenheim's search committee opted for a leader with a long curatorial history rather than a professional administrator or a fund-raising wizard.
Before he was named director of the Carnegie in 1996, Mr. Armstrong served there for four years, initially as a curator for contemporary art and then as the chief contemporary-art curator. In 1995 he organized the centennial version of the Carnegie International, a sprawling contemporary survey show.
Mr. Armstrong is also deeply familiar with New York's museum culture. He worked at the Whitney Museum of American Art from 1981 to 1992 in curatorial posts and as senior instructor of its Independent Study Program. He helped organize three of the Whitney's Biennials – in 1987, 1989 and 1991 – along with a 1991 exhibition devoted to the sculptor Alexis Smith and other shows.
Sipping tea during an interview in the Carlyle Hotel, Mr. Armstrong who like Mr. Krens is tall and strapping at 6 feet 5 inches tall, said he saw his role as one of "empowering curators."
Mr. Krens was often criticized for organizing exhibitions that were so sweeping in theme that they sometimes lacked sharp scholarly focus, like "Africa: The Art of a Continent" in 1996, "China: 5,000 Years" in 1998 and "Brazil: Body & Soul" in 2001. Some faulted him for unconventional shows like "The Art of the Motorcycle" in 1998 and "Giorgio Armani" in 2000.
Mr. Armstrong said it was "unlikely" that he would pursue that type of programming. He said he did not know Mr. Krens and had not yet consulted with him about the Guggenheim.
As director, he said, one of his aims will be to draw on the Guggenheim's rich permanent collection as well as to present shows exploring what young artists are doing today.
"I remember when I was growing up the Guggenheim was frequently the source for enlightenment about European art, and then it had an edge for accommodating new, younger artists," he said.
Today, Mr. Armstrong said, he finds the Guggenheim's interest in Asia "and I hope Latin America" exciting. He said he was attracted by the museum's "ability to bring information to the public that might otherwise be overlooked."
Born in Kansas City, Mo., Mr. Armstrong studied art history at Lake Forest College in Illinois and said he was deeply influenced there by Franz Schulze, a historian of Modern architecture who he said helped him appreciate art as well.
Mr. Armstrong studied in France at the University of Dijon and then the Sorbonne in Paris."It was in France that I started looking at art more seriously," he said. "By the time I left I was pretty well hooked."
But his first memory of looking at art dates from when he was living in Washington in his early teens. "I would go to museums because they were air-conditioned," he said. "I particularly remember a painting by Arthur Dove at the Phillips Collection."
The Guggenheim has just completed a sweeping renovation of the facade of its 1959 Frank Lloyd Wright building. (To mark the occasion, a light projection by the artist Jenny Holzer made its debut on the facade Monday night and will appear each Friday night through December.)
Mr. Armstrong is no stranger to renovations. At the Carnegie he oversaw the refurbishing of several of the museum's exhibition spaces, including the Scaife Galleries and the Heinz Galleries and an expansion of the Heinz Architectural Center. He was also responsible for acquisitions like "Untitled (Domestic)," a monumental 2002 sculptural installation by the British artist Rachel Whiteread that the Carnegie bought jointly with the Albright-Knox Art Gallery in Buffalo.
In June Mr. Armstrong announced that he would resign as the Carnegie's director. "I slowly had come to the conclusion that I should wrap things up," he said, adding that he wanted to give his successor a long lead time to organize the next Carnegie International.
Although had not lined up a job, he said, he had had one "casual conversation" with the Guggenheim before he resigned.
Mr. Armstrong said he hoped to bolster the Guggenheim's online presence to help lure younger audiences to the museum. "It's their portal to knowledge," he said. "We've got a generation that knows all about Paris Hilton but nothing about Paris. That needs to be enriched and brought back into alignment."
He said that while he dislikes using the term "permanent collection" because it "turns everyone off," he hopes to find ways of re-interpreting the Guggenheim's holdings in eye-opening ways.
"That's one of the things you want to reassert especially to young people, who think everything is disposable," he said. "One of the charms of the museum is being able to go back time and again and see the same works in the same place month after month, year after year."
"Those talismans," Mr. Armstrong said, "are extremely useful to people's development."
On Sunday September 7th Japanese artist/designer Nagi Noda passes away. She was 35. There is no word on the exact cause of her death; but people have speculated that it was related to a car accident she was in last year that had left the artist with Chronic pain and other ailments.
"Beyond being a brilliant artist and wonderful talent, Nagi was one of the most incredibly unique spirits that I have known," says Sheila Stepanek, CEO/EP Partizan US, which represented Noda. "Our thoughts and prayers are with her family and friends." Stepanek says that Noda passed "in her Mark Ryden dress, Chanel boots, perfect make-up with Viktor & Rolf lace black eye lashes."
She is most famous for the commercials she directed for Nike, Coca-Cola, and most recently for LG. She had collaborated with artist Mark Rydan on a fashion line Broken Label. The first time I experienced Noda's work was her poodle video she had made for the Olympics (above). She will be missed.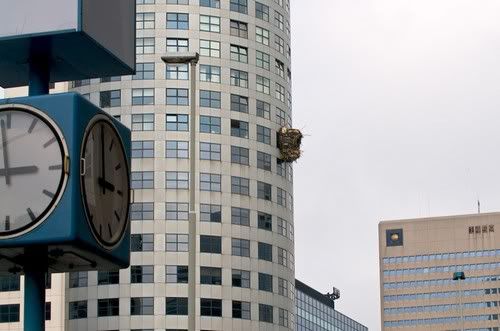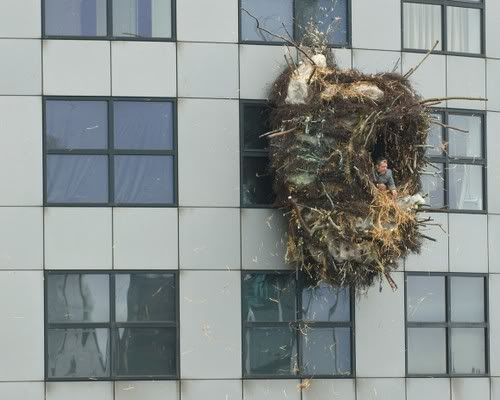 Artist Benjamin Verdonck is currently nesting on the Rotterdam Weena Tower. His performance "The Great Swallow" involves a nest, man, and a gaint egg.
Here's the YouTube video clip: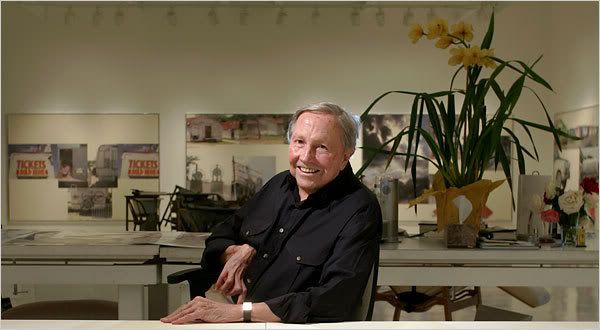 via MICHAEL KIMMELMAN for the New York Times:
Robert Rauschenberg, the irrepressibly prolific American artist who time and again reshaped art in the 20th century, died on Monday night at his home on Captiva Island, Fla. He was 82.
The cause was heart failure, said Arne Glimcher, chairman of PaceWildenstein, the Manhattan gallery that represents Mr. Rauschenberg.
Mr. Rauschenberg's work gave new meaning to sculpture. "Canyon," for instance, consisted of a stuffed bald eagle attached to a canvas. "Monogram" was a stuffed goat girdled by a tire atop a painted panel. "Bed" entailed a quilt, sheet and pillow, slathered with paint, as if soaked in blood, framed on the wall. All became icons of postwar modernism.
A painter, photographer, printmaker, choreographer, onstage performer, set designer and, in later years, even a composer, Mr. Rauschenberg defied the traditional idea that an artist stick to one medium or style. He pushed, prodded and sometimes reconceived all the mediums in which he worked.
Building on the legacies of Marcel Duchamp, Kurt Schwitters, Joseph Cornell and others, he helped obscure the lines between painting and sculpture, painting and photography, photography and printmaking, sculpture and photography, sculpture and dance, sculpture and technology, technology and performance art – not to mention between art and life.
Mr. Rauschenberg was also instrumental in pushing American art onward from Abstract Expressionism, the dominant movement when he emerged, during the early 1950s. He became a transformative link between artists like Jackson Pollock and Willem de Kooning and those who came next, artists identified with Pop, Conceptualism, Happenings, Process Art and other new kinds of art in which he played a signal rol
No American artist, Jasper Johns once said, invented more than Mr. Rauschenberg. Mr. Johns, John Cage, Merce Cunningham and Mr. Rauschenberg, without sharing exactly the same point of view, collectively defined this new era of experimentation in American culture.
Apropos of Mr. Rauschenberg, Cage once said, "Beauty is now underfoot wherever we take the trouble to look." Cage meant that people had come to see, through Mr. Rauschenberg's efforts, not just that anything, including junk on the street, could be the stuff of art (this wasn't itself new), but that it could be the stuff of an art aspiring to be beautiful – that there was a potential poetics even in consumer glut, which Mr. Rauschenberg celebrated.
"I really feel sorry for people who think things like soap dishes or mirrors or Coke bottles are ugly," he once said, "because they're surrounded by things like that all day long, and it must make them miserable."
Read the full article мебелиhere