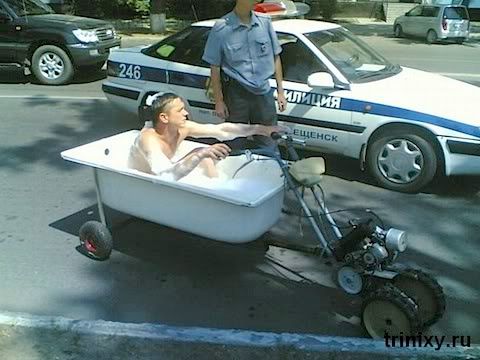 via Boing Boing:
Russian biker busted for driving a non street legal bathtub.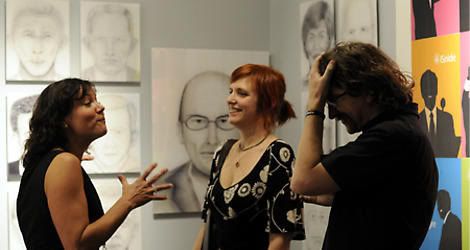 via Art Fag City:
GEISAI Miami, an art fair hosted by PULSE in which artists represent themselves was pretty weak last year, but if visibility and perhaps a few sales is all you seek it may not be such a bad opportunity. Hopefully the fair can continue to coast on the laurels of PULSE. The application deadline is October 15th, so that's not a lot of time to put together material. Additional details from the press release below.
Kaikai Kiki is calling for entries for GEISAI Miami, the second U.S. edition of the art fair conceived by Takashi Murakami. GEISAI is an art fair model that allows artists to represent themselves in a professional art fair setting and present their work directly to an audience of collectors, art professionals and art enthusiasts. Artists of all nationalities without gallery representation are invited to apply, with no restrictions on the medium, at www.geisai.us. A jury of art professionals will review all applications and select a limited number of artists to receive free booths. Applicants must be able to present original artworks on-site in Miami during all five days of the fair. GEISAI Miami will be held Wednesday, December 3 through Sunday, December 7, 2008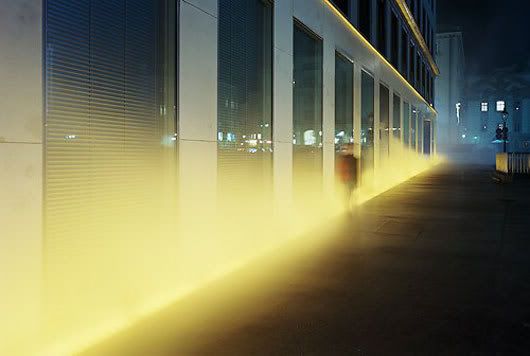 via Life Without Buildings:
Olafur Eliasson's Yellowfog debuts today in Vienna on the facade of its new home, Verbund's Am Hof building. Yellowfog was originally installed at the Jewish Museum in New York way back in 1999, where it was meant to evoke the Icelandic artist's homeland, but I prefer to think that the building is slowly-and beautifully-dissolving in some sort of fantastical toxic haze. No stranger to architectural collaboration and intervention, Eliasson has previously worked with architects such as David Adjaye and Snohetta.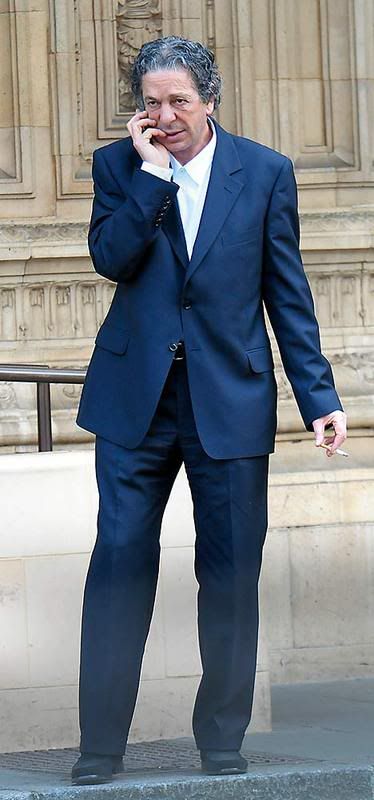 via Mark Brown for the Guardian
It is fair to say the 205-year-old military barracks in Chelsea, the Duke of York's headquarters, have never housed anything quite like it.
Behind the tall doric columns of the building's grand entrance yesterday were large skeletons of imaginary mutant monsters and models of naked migrant workers hanging from the ceiling. The installations were at Charles Saatchi's much delayed, but undeniably ambitious, gallery which will open to the public on Thursday.
It is the art collector's third London venue: the first Saatchi gallery in a disused paint factory in St John's Wood opened in 1985 and often showcased Young British Artists. The second, in County Hall on the South Bank, ended in rancourous eviction after two years in 2005.
The third gallery has taken three years to get right, about a year longer than planned, and opens with an exhibition devoted to contemporary Chinese art – all of it new to the UK.
Saatchi has clearly spent a small fortune – one which he refuses to put a figure on publicly – and has been involved in all aspects of the building and the art in it.
He was there yesterday despite the presence of so many of the types he normally tries to avoid: journalists. But exactly where, was another question.
"He's around yes, but no Charles won't be talking to the press," said Rebecca Wilson, the gallery's director. "That's what I'm here for."
Wilson accepted the gallery had taken longer than planned. "There have been quite a few delays, she said.
"Because it's a Georgian building there were all sorts of things we had to respect and couldn't do but actually the great thing about Georgian architecture is that its perfect for displaying art.
"There are very clean lines, it's very unfussy, so we've maintained the proportions."
It certainly is a big space, about 70,000sq ft, with 15 gallery spaces.
"It's absolutely massive, it really is, you feel like you're walking into a museum," said Wilson. "It's like walking in to the Guggenheim and if you think of what Boundary Road [Saatchi's St John's Wood space] and County Hall were like, it is has gone up several layers in terms of the scale of it and what we can actually do here."
Saatchi has supervised all the hanging. In a Q&A for the Sunday Times, earlier this week, he revealed how he does it. "I just go by what shapes and colours work together in a room," he said. "The poncey way some curators try to demonstrate their 'vision' by highlighting connections gives me the collywobbles."
Wilson was slightly more diplomatic. "The rooms have been curated by Charles. He really hangs everything, it's all his eye," she said. "There is a feeling now that curators almost see themselves as on a par with artists don't they? It's the curator's vision which is meant to lend some great kind of light and often it's a really spurious illumination of the work. It's much more about the work. There's no message except these are 24 really interesting artists from China."
All the work comes from Saatchi's collection of about 2,500 pieces and the next 10 or so exhibitions are already being organised. The next show will be an exhibition of Middle Eastern art and in the pipeline are a big sculpture show next year and others featuring new American and British artists.
Wilson admitted it was a relief to be open and the final hurdle is in sight. There is a party for London's great and good tonight. Saatchi is not expected but his wife Nigella Lawson is – and the public will enter for free from Thursday.
While many have fond memories of Saatchi's Boundary Road gallery (he hosted exhibitions by the likes of Cy Twombly, Richard Serra and Jeff Koons as well as the YBAs), not many have good memories of County Hall. It was not a good exhibition space and the tenancy ended when a judge ruled that Saatchi's company had shown a "deliberate disregard" to the rights of the landlord.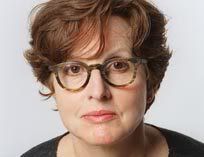 via The New York Times:
Q. I was wondering if you could talk about what kinds of things art reporters think about when they look at an art piece (painting, ceramics, sculptures and so on – but particularly paintings) and have to decide whether it's a worthwhile piece to write about. I know part of the job is done for you if the pieces are sitting in the Met or other well-established museums, but what is often elusive is the criteria reporters might use to judge and talk about the quality of an art piece. What elements should a painting satisfy at the very basic level? Before you even see a piece, what things might you anticipate looking for before you can get to the part where you say, "O.K., now let me look at how this painting is speaking to me."
– Chandra Tiwari
A. For this meaty question I offer the floor to one of our fabulous art critics, Roberta Smith, who spends her days (and nights) not just in the great museums but in the nooks and crannies of the art world, not just in New York but in thriving scenes elsewhere in the United States and abroad:
My main activity is looking, looking and more looking, and trying to listen to my subjective reactions as objectively or neutrally as possible. I learn from everything I look at, good, bad or indifferent. I follow my eye reflexively; if it is drawn toward something, I pay attention and try to find out why. You train your eye, build up a mental image bank, and constantly try to pinpoint why some things are convincing and others aren't.
When I look at new work, my image bank goes into action. I pay careful attention to the names of other artists that flash in my brain as I look at the work. How many other artists exactly come to mind? There's nothing wrong with this up to a point. I always loved Frank Stella's observation that when you start out as a painter, you make other painters' paintings, then you gradually begin to make your own paintings. I try to figure out what's left in a younger artist's work once I've subtracted the other artists' influences. Does what remains seem original or at least promising? Is the younger artist aware of the debt and trying to get free of it? Or is that artist just unconsciously accepting received ideas and therefore making work that is generic or derivative? Obviously, the fewer names that come to mind, the greater the odds that you are looking at something fresh that you haven't quite seen before.
And I do feel that there is a basic human drive to see something new. We don't want to listen to endless cover bands playing Beatles' songs, why should we look at the same abstraction or still life, the same photograph or Conceptual performance piece being done again and again by different artists with only slight variations?
At the same time, "newness" or originality are often matters of subtle degree. The new doesn't have to be an epoch-shifting breakthrough. Just as we all have different fingerprints and handwriting, we all have a potential for some increment of originality. I am always on the lookout for a spark of necessity – a feeling that this particular artist had no choice but to make this particular artwork this particular way. That is the only way authenticity or even originality can start to emerge."