Alright, I'll come clean, I love Glee. Maybe not love but I really liked the first season (I still have my doubts about the second season). This week's pick was sent to me by Greyson Hong a long time ago but I forgot to post it. On this segment of  Sue's Corner, Sue reminisces about the days when she could spot a gay a mile away.
Typically I would not post something like this but I just could not help myself. If you personally know me or read the blog regularly you probably know that I not only grew up in the Southern California but also posses a lot of SoCal pride. I was not a huge skateboarder  but my sister and I could be found on a board often enough. Our garage housed discarded boards from my familie's childhood. Some with clay wheels and my mom's G&S was still being ridden by my sister until a few years ago when it broke. Anyways, for the past couple of years my sister and I have been sending each other our picks for what board we would like to cruise around on in the summer time and I think I just found the ultimate pick. This morning A Time To Get posted some boards designed by Kevin Skibba. Just look at how fucking awesome these are!  I love that the designs reference Big Daddy Roth and sport Cadillac Wheels. Thalia Surf Shop is selling the boards and has an interview with Kevin.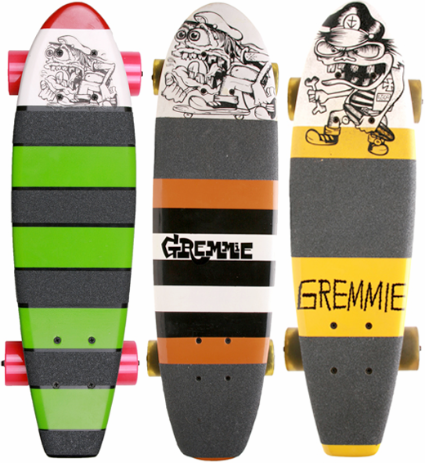 via Thalia Surf Shop:
Can you describe the process that goes into making a board?
The boards have to ride as good as they look. That being said, it usually starts with a shape that I think might work. I'll make a template, then a prototype and see how it rides. If it lags I'll scrap it, if it works then it goes in the lineup. The actual procedure is pretty standard to any other skateboard manufacturer except it's just me making them. I do get a little creative with the paint and finish. The Gremmie image is made of rice paper and some of the grip on the deck is actually sugar I add in the clear coat, so there's still a lot of surf influence to the overall finished product.
What inspires you to go about it that way? In fact, what inspired you in the first place to make Gremmie a real thing?
I think the inspiration comes from years of loving and being around the Southern California surf scene and a strong skateboarding background. I think the actual inspiration to build the boards came a couple of years ago. I spent a couple months working on a boat in Hawaii. Nobody that worked on the boat had cars, everyone got around on a bike or a skate. The kids always gravitated to the longer cruiser boards. To me, they just didn't work well in crowded sidewalk situations. I wanted to turn hard and quick, just go around people like slalom cones and I couldn't do that on the cruiser boards. The response was slow and the boards to me were cumbersome. Don't get me wrong, they have their place, they just didn't work for the style of skating I was after. In the end, the inspiration came from being around a lot more shapers than skateboard builders, so when I first started constructing them they were critiqued pretty hard by some pretty heavy shapers.
After our show at apexart opened and Jeffery Deitch and Carlo McCormick's talk were all over, my girlfriend, Gracen, and I had Friday to try and catch as many museums, galleries, and bookstores (mainly Printed Matter) as possible. Gracen works for the Field Museum in Chicago in the Insect Division, where she spends most of her days dis-articulating beetles. When she found out we were going to be in New York, she contacted the American Museum of Natural History to see if we could get a behind the scenes tour of their collections. Dr. Lee Herman was kind enough to show us around his office and pull a couple of specimens out for us. Since Gracen and I could not settle on what images to use or who was best suited to discuss this (she's shy) we will be tag teaming this post. All of Gracen's comments will appear in purple.
Although curatorial practices are generally  standardized, there can still be some variations in how an individual curator organizes their collection. The American Museum of Natural History (AMNH) is well known for many of their collections, which I was looking forward to checking out. The museum houses the most important research collection of insects fossilized in amber, containing the oldest known amber dating back to the Cretaceous period (circa 145.5 to 65.5million years ago) and the largest spider (Araneae) collection in the world. The museum houses Alfred Kinsey's (that's right – the sex dude) entire gall wasp collection, which he studied for his doctoral thesis. With so many renowned specimens, we asked Lee to show us some of his favorites.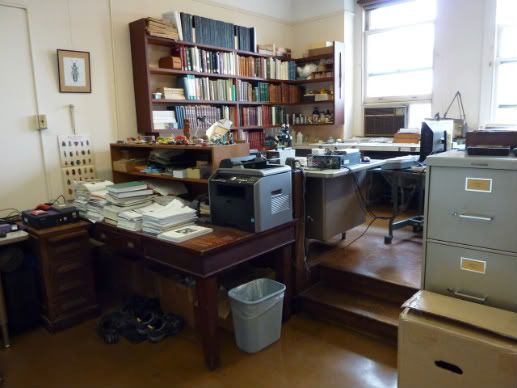 Overlooking Central Park West, Lee's office was a well sized work and reading space. When asked if the museum had a private library Lee replied, "this is it" as he gestured towards his bookshelves. Unfortunately I did not get a chance to take photographs of some drawings he had completed on female genital that felt like an older generation of draftsmanship that he still maintained.  As Gracen and him talked shop I glanced around the room; old maps, toys and stack of papers were small mounds in neat stacks around his desk. [Read more]
This week's pick is a Liam Stevens' stop motion animation for My Robot Friend's single "Waiting".  (via KK*)
This is the second and final apexart recap. Next week I will be posting about some of the things I saw while not installing the show. Â For this photo series we bring you a slew of opening night photos and some post party action at the Nancy Whisky. We had a stellar turn out. Really, I was shocked! And got a chance to see old friends, make some new ones, and meet some NYC bloggers.
A final note: A huge thank you to apexart ( Julian Gilbert-Davis, Cybele Maylone, and Steven Rand) for inviting us to partake in this experience and helping us put this thing together. We really had no idea what we were going to exhibit but it came together and we are all very pleased. Also, thank you to all the artists that contributed, obviously we could not have done it without you! Let's see where else this takes us.
Don't Piss on Me and Tell Me it's Raining
Curated by Bad at Sports
April 7 – May 22, 2010
291 Church Street
New York, NY 10013 USA
tel. +212 431 5270
fax. +646 827 2487
info@apexart.org
hours: tue – sat 11 – 6 pm
free admission to all programs and events