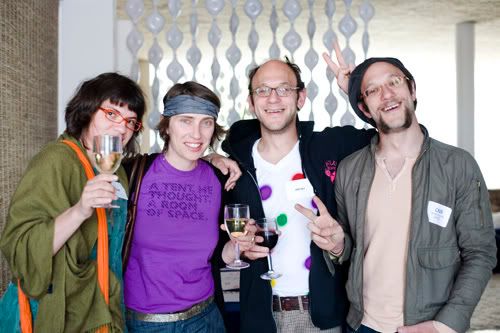 I've been a little too busy today to update . So instead of reblogging the current art news I am going to redirect you to C Monster's list of the most "stoneriffic pieces" in The 2008 California Biennial at the Orange County Museum of Art
Check it here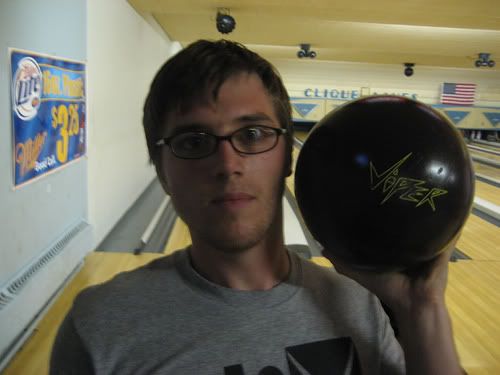 via New City:
Ben Schaafsma, an independent curator and art activist, passed away on Saturday, October 25. He was 26 years old.
Schaafsma was an exceptionally ambitious and motivated organizer of the arts community, establishing non-profit art institutions at almost every turn. Perhaps his best-known and longest-running effort was the Institute for Community Understanding Between Art and The Everyday (InCUBATE), founded with Abigail Satinsky and Roman Petruniak. The Logan Square storefront houses an artist residency and a grant program, among many other activities, that, at their core, serve to support artistic endeavors.
Schaafsma often sought to solve funding issues using creative and non-traditional means. InCUBATE's Sunday Soup program awarded a monthly grant to an artist from monies earned through a soup subscription. A local artist or activist cooked soup to be sold, and diners voted on who would win the grant. This type of self-supporting endeavor exemplifies Schaafsma's efforts to build and sustain community.
In 2007, Schaafsma was the Public Art Curator for Around the Coyote's Fall Festival. He interpreted "public art" as a way to bring the public together in social spaces, such as spontaneous film screenings in the Polish Triangle, and interactive sculptures in Wicker Park.
Schaafsma earned a bachelor's degree in Art History and Urban Planning from Calvin College in Grand Rapids, Michigan, where he was born and raised. There, he co-founded G-RAD and the Division Ave. Arts Cooperative, alternative community outreach centers.
At age 9, Schaafsma cataloged his personal collection of books, magazines and VHS tapes, and built a library in his basement for neighborhood kids to use. "Not until recently did I identify this experience as such a formative one in relation to my current personal interests and practice," wrote Schaafsma in an essay on founding InCUBATE in "Phonebook," a directory of alternative artistic spaces. The self-made library "gave us access to a pool of new ideas and things that weren't available to us individually." In sum, "we were able to…create our own collective knowledge."
In 2008 he earned a master's degree form the School of the Art Institute of Chicago in Arts Administration and Policy.
Schaafsma co-curated "Other Options" in 2007, a touring exhibition that explored connections among activism, economics, and art making, and self-referentially questioned the nature of the "Nonprofit Industrial Complex." The exhibition, recently hosted by New York City's Eyebeam, intended to better understand the relationships between artists and funding sources. Schaafsma was well-versed in both theoretical and concrete issues of budgeting for the arts-both financially and as a life practice-and he could express his concerns in cogent and thoughtful ways. These issues were clearly his passion.
Schaafsma helped artists realize their creative projects without having to rely on traditional means-the mysteriously bureaucratic systems of museums and granting agencies. Instead, Schaafsma envisioned realistic ways to assist artists and connect their practices to everyday existence. Schaafsma was especially interested in promoting artists who likewise used the public and social spaces as their medium.
Schaafsma recently moved to New York to work as the Program Director at the Elizabeth Foundation. He was injured in a car accident on October 22, and passed three days later. Schaafsma will be buried in his hometown in Ada, Michigan. (Jason Foumberg)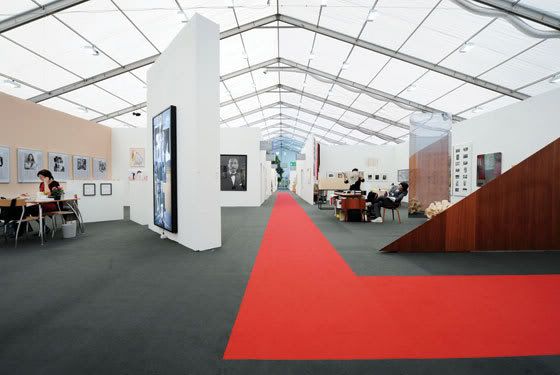 via New York Magazine:
Two weeks ago, the Death Star that has hovered over the art world for the last two years finally fired its lasers. It was October 15, the day the stock market fell more than 700 points-again-and a month after Lehman Brothers and Merrill Lynch collapsed and Damien Hirst pawned off $200 million worth of crapola on clueless rubes at Sotheby's. Against this backdrop, at 11 a.m., the gates of London's Frieze Art Fair opened, and in streamed the international traveling circus of bigwigs, collectors, curators, advisers, museum directors, trustees, models, movie stars, and critics like moi.
Talk of financial doom filled the air. Karl Schweizer, UBS's head of art banking, told one reporter, "We are in a liquidity crisis." Money manager Randy Slifka added, "There is blood on the streets on Wall Street." Collectors talked about "sewing up our pockets." Yet much of the art world was playing on as if nothing had happened. A German dealer told Artforum.com, "This economic mess will all be over by January." Christie's Amy Cappellazzo spun her house's recent sales: "If you bought something, you bought something real." In truth, most of the speculators are buying something real bad or badly overpriced.
In fact, though, things were different. Those of us who have frequented Frieze could see that something was off. Dealers and assistants who in recent years were always busy with clients now stood or sat quietly. Sales were happening, but slowly, one at a time. The claim of "It's sold" was replaced by "I have it on several holds." Although the megagalleries like Gagosian and White Cube teemed with moneyed types and very tall women in very high heels, many younger dealers looked perplexed. A gallerist who entered the field in the go-go aughts and who had sold only two pieces by 5 p.m. that first day asked, "What's going on?"
As I made my way through the 152 booths, I thought about the moment in Titanic when the designer of the doomed luxury liner warns Kate Winslet to find a lifeboat because "all this will be at the bottom of the Atlantic." When I tried this idea out on attendees, several said I was "a buzzkill." I asked, "Isn't the buzz already beginning to disappear?"
If the art economy is as bad as it looks "if worse comes to worst" 40 to 50 New York galleries will close. Around the same number of European galleries will, too. An art magazine will cease publishing. A major fair will call it quits-possibly the Armory Show, because so many dealers hate the conditions on the piers, or maybe Art Basel Miami Beach, because although it's fun, it's also ridiculous. Museums will cancel shows because they can't raise funds. Art advisers will be out of work. Alternative spaces will become more important for shaping the discourse, although they'll have a hard time making ends meet.
As for artists, too many have been getting away with murder, making questionable or derivative work and selling it for inflated prices. They will either lower their prices or stop selling. Many younger artists who made a killing will be forgotten quickly. Others will be seen mainly as relics of a time when marketability equaled likability. Many of the hot Chinese artists, most of whom are only nth-generation photo-realists, will fall by the wayside, having stuck collectors with a lot of junk.
Much good art got made while money ruled; I like a lot of it, and hardship and poverty aren't virtues. The good news is that, since almost no one will be selling art, artists-especially emerging ones-won't have to think about turning out a consistent style or creating a brand. They'll be able to experiment as much as they want.
But my Schadenfreude side wishes a pox on the auction houses, those shrines to the disconnect between the inner life of art and the outer life of commerce. If they don't go belly up or return to dealing mainly with dead artists, they need to stop pretending that they have any interest in art beyond the financial. Additionally, I hope many of the speculators who never really cared about art will go away. Either way, money will no longer be the measure of success. It hasn't made art better. It made some artists-notably Hirst, Murakami, Prince, and maybe Piotr Uklañski-shallower.
Recessions are hard on people, but they are not hard on art. The forties, seventies, and the nineties, when money was scarce, were great periods, when the art world retracted but it was also reborn. New generations took the stage; new communities spawned energy; things opened up; deadwood washed away. With luck, New Museum curator Laura Hoptman's wish will come true: "Art will flower and triumph not as a hobby, an investment, or a career, but as what it is and was – a life."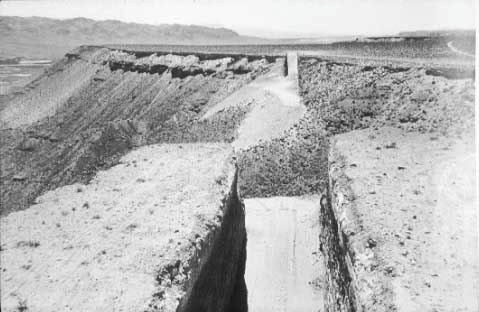 Michael Heizer, Double Negative, 1969
via The Art Newspaper:
Green issues are now high up the political agenda, from worries about global warming to research into sustainable fuels. One related topic that is galvanising conservationists is the fate of a number of iconic works of Land Art which are under threat from energy and real estate development.
The use of nature as a medium to create monumental works of art emerged in the late 1960s and early 1970s as a protest against the materialism of the art world. Artists such as Robert Smithson, Michael Heizer and Walter De Maria sought to create works that could not be contained by a museum or placed in a collector's home.
Arguably the most iconic intervention in the US landscape is Robert Smithson's Spiral Jetty, 1970, a spiral constructed from basalt rock and earth which juts into the Great Salt Lake in Utah from its northeastern shore.
This summer, conservationists won a reprieve from the Canadian oil company Pearl Montana Exploration, which wants to conduct exploratory drilling into the lake bed. In co-operation with Smithson's widow Nancy Holt, also a land artist, and the public policy group Friends of the Great Salt Lake, the Dia Art Foundation, which owns and has maintained Spiral Jetty since 1999, started a petition against the drilling. The state of Utah received thousands of complaints. "What we particularly object to is the potential visual impact that drilling might have on the work, as well as the equally important environmental impact it could have on the lake itself and its delicate ecosystem," says Laura Raicovich, deputy director of Dia. "An oil spill could be disastrous for the lake, and therefore, the jetty."
On 13 August, Utah's Division of Oil, Gas and Mining returned Pearl Montana's application for a permit to drill on the land near Spiral Jetty, stating that the company's responses to questions on the project were "inadequate". Although the company is allowed to refile its application, the state has said it must first "make the necessary investment and professional effort necessary to match the challenges presented ahead by this project". Ms Raicovich says Dia is working with the state to negotiate the long-term preservation of the work and that the state is conducting an analysis to establish what the visual impact of drilling would be, among other considerations.
Still at risk
Other works remain at risk. On the opposite side of the Great Salt Lake from Spiral Jetty is Nancy Holt's Sun Tunnels, 1976, four massive concrete cylinders which the artist aligned to frame the rising and setting sun during solstices. In May 2007, the oil and gas rights on a parcel of land directly adjacent to the work were offered for sale by the state of Utah, which said in a press release that it had researched the site, in consultation with the Utah State Historic Preservation Office, and found "no historic properties affected". As we went to press, no bids had yet been made on the land.
Meanwhile in Nevada, Michael Heizer's City, a massive complex of sculptures and earthen forms built by the artist next to his ranch in Lincoln County, is not yet finished but already threatened by development. Stretching one and a quarter miles across the desert, City is one of the largest works of art ever undertaken, and has occupied the artist for over 30 years. Recently, the US Department of Energy (DOE) revealed plans to build a railway running across Garden Valley, next to the work and the artist's home. This would transport nuclear waste to a storage facility at Yucca Mountain in southern Nevada. First proposed in the 1980s, the Yucca Mountain project has been repeatedly stalled by legal challenges. Last month, the DOE's application was processed by the Nuclear Regulatory Commission and it now has up to four years to complete safety studies and hold public hearings before the site can open. Around $9 billion has already been spent on the project. The DOE estimates that the railway will cost over $2 billion to build.
In-built destruction
Despite the developers, the most consistent threat to Land Art is nature itself. Many early examples are eroding as exposure to the elements slowly takes its toll. For most artists, this is part of the works' natural evolution.
One of the first monumental sculptures is Michael Heizer's Double Negative, 1969, two perfectly aligned trenches cut into the Mormon Mesa in Nevada. Around 240,000 tons of sandstone was displaced to create the ravines which span 1,500 feet and are each 50 feet deep.
The work was donated to the Museum of Contemporary Art (MoCA) in Los Angeles by dealer Virginia Dwan. According to the artist's wishes, MoCA does not perform any conservation on the piece. Meanwhile, the walls of the man-made canyon are slowly crumbling.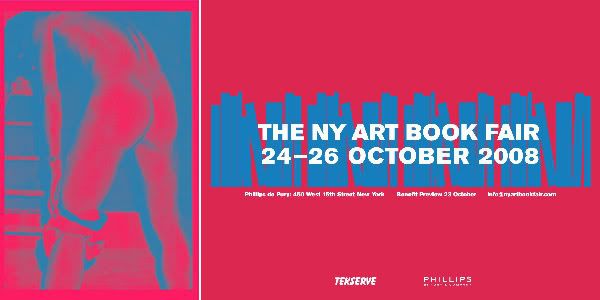 Left: Cover of Queer Zines catalogue. Right: Flyer for the NY Art Book Fair.
via Artforum
Artist, curator, healer, and writer AA Bronson is the executive director of New York's Printed Matter and the NY Art Book Fair. This year, the third annual fair, at Phillips de Pury, runs October 24-26, coinciding with the ARLIS/NY Contemporary Artists' Books Conference, which takes place October 23-26. Here Bronson talks about artists' books and the purview of the fair and conference.
BECAUSE THE NY ART BOOK FAIR is a nonprofit fair, our idea from the beginning was to be as inclusive as possible: We wanted to include everything from Taschen to the independent, poverty-stricken artist. We gave out a lot of free stands to people who couldn't afford them, and charged as little as possible. This year, there are quite a number of antiquarian or vintage book sellers; there are DAP and RAM, both major art distributors; there are a number of small publishers from all over the world; there are quite a few alternative institutions that have publishing programs; smaller nonprofit spaces; and also independent artists and artist groups-people like Red 76 from Portland, for example. If we could find another category that wasn't being represented, we'd make every effort to jam it in.
This year, there are 143 exhibitors; it was 123 last year and 70 the year before, which means it's now double the first year. A number of things have happened simultaneously to make the field more salient. One is that book and art-book designers have been influenced a great deal by artists' books, so we're getting used to seeing mainstream catalogues that are quite unusual. The format of the book has become much looser over the past five to ten years. But more than that, I think there's been a generational shift. For example, here at Printed Matter, two-thirds of the people who shop are under thirty-five. The norm at book fairs is that everyone's over fifty-when you go to a book fair and look around, it's all old people. When you come to the NY Art Book Fair, you see a huge population of young people. I think that bodes very well for the publishing and art worlds in general. But it also says something about young people themselves-they have a level of interest in books that nobody was quite aware of before.
New York used to be a center for art books, but over the years we've lost a number of great bookstores: Wittenborn, which used to be across from the Whitney; Jaap Reitman, which was a great bookstore in SoHo in its day; Hacker Art Books on Fifty-seventh Street-we don't have any of the great bookstores of the world now. We have the shop at MoMA, where the number of titles has decreased; the shop at the Whitney, which is pretty sad; and the shop at the New Museum, which is very pretty, but it has nowhere near as many titles as it used to. We felt we needed to resituate New York on the map as a center for art books.
In Los Angeles in 2005, there was an ARLIS conference on artists' books. We sent a person from Printed Matter, and she came back and said it's ridiculous-you have to drive everywhere, and it's totally inconvenient, and yet the conference was a huge success. LA isn't exactly a center for art librarians, so we thought we should be doing that here in New York. She pulled together a group of librarians from MoMA, the Brooklyn Museum, and the New York Public Library, and we chatted about this possibility. At a certain point, we forgot about it, but in the meantime those librarians kept talking, and suddenly it reemerged, and they came back to us again and said, "OK, now we're ready. Will you join us?" We agreed, and off it went.
The initial group of four began inviting other librarians-one from the Metropolitan, one from the CICP, etc.-to join a steering group. Each one then devised a session. It's put together in a funny patchwork sort of way. Printed Matter's proposal was for the keynote, which is Hans Ulrich Obrist talking with Rirkrit Tiravanija and Joseph Grigley. Somehow it's become a coherent program; librarians are a pretty collaborative group, so it cooked well.
The explosion of the visual zine in recent years has been amazing. It's possible to produce them cheaply, in smallish quantities, without it costing an arm and a leg-and people buy them. This year at the fair we're doing an exhibition of queer zines. It's the biggest exhibition component we've taken on in the three years of the fair, and we've produced a 270-page catalog to accompany it. There are over one hundred titles in the show, and the catalog is very inclusive. There's also a special section of queer-zine exhibitors-it's sort of the theme of this year's fair. I think the popularity of queer zines may have something to do with Butt magazine; Butt proved it was possible to do something that situated itself midway between being obscure and being mainstream; it also proved that there was an audience that would buy something like that. It's interesting how many there are: Kaiserin from Paris, Dik Fagazine from Warsaw, Piss Zine from Milan, Kink from Madrid, Handbook from San Francisco (one of my favorites), and then of course all the New York ones-Pinups and Pin-Up, Straight to Hell-and then individual artists' zines, like Paul Mpagi Sepuya's Shoot. It's become a big field.
What artists are doing today is prompting us to revise our thoughts on what's been done in the past. For example, the output of Ed Sanders's Fuck You press on the Lower East Side, which involved quite a number of artists (Andy Warhol did one of the covers; Fuck You: A Magazine of the Arts is its most famous edition), has been totally overlooked as an artists' publication. Because we're used to looking at the Ed Ruschas and Bruce Naumans, there's a lot of material that hasn't received historical attention. Today, we're revising the history of artist publications; what is happening right now is extremely diverse, it's no longer a single field.