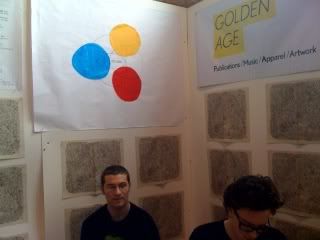 Saturday Lauren and I went to the Co Prosperity Sphere to check out the NFO XPO. In all honesty I hadn't been to a Version festival in three years. Three years ago both myself and several friends were stranded in Bridgeport at 2am in the rain and miles from the train (no taxis would come pick us up and the bus had stopped running). So, with that incident behind me, I returned to Version Fest in a car and with a fresh amount of optimism.
The layout of the fair looked liked most art fairs in the sense that each artist/organization/gallery had an individual booth and objects were either being sold/bartered/given away.
Golden Age, manned by the always rad Marco Kane Braunschweiler (pictured right), was one of my favorite booths. They carried work by Robin Camron.  I was really into Camron's "Mind Maps" and picked up her most recent book also titled "Mind Maps" which maps the artist's thoughts through extended Venn diagrams.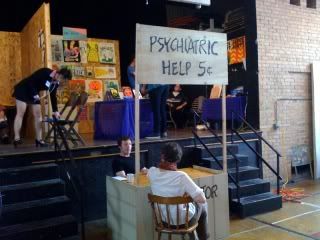 Green Lantern and Three Walls held it down in usual fashion. Aaron Delehanty had a psychiatric help booth set up which resembled "Peanuts".  I did not get a chance get Aaron's advice but I did hear him tell a woman that she needed to "go get a job".  I was also sort of taken with Daniel Mellis'  Institute for Socioaesthetic Research. According to a pamphlet, "the institute is dedicated to discovering the aesthetic possibilities inherent in the research and observation of social structures." To be honest I was initially attracted to the stock of paper that their pamphlet and business cards were printed on (I spend all day at work talking about paper) but also became interested in some of the services they offered. "The Fourth Amendment on Paper (Bags) Learn about your constitutional rights while enjoying a refreshing beverage at Maria's (Kaplan's Liquors),960 w. 31st street. Every purchase comes with the Fourth Amendment and instructions for use on a paper bag. Remember, bags at a liquor store are no substitute for legal advice."
My overall feeling when I left was that I liked some portions of Version but wished there were more participants. And being the optimist that I surprisingly am, I think that more participation will come over time.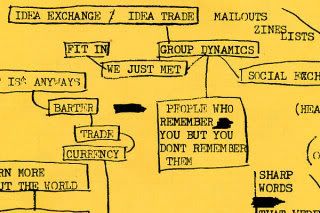 I picked up a copy of Robin Cameron's Mind Maps from Golden Age while I was checking out the NFO XPO.
The fifth person to email me (megonli@badatsports.com) will receive a copy.
via Golden Age
"Mind Maps is a foray into the mind of the artist. A brilliant exposé showing the polarities that keep the artist working; happiness vs. sadness, aesthetic vs. the anti aesthetic, life vs. death and everything in between. With thoughts being the material for everyday life, Cameron's Mind Maps allows the reader a vivid and cathartic introspection.
Robin Cameron is a Canadian artist living in New York whose work has been widely shown in galleries, magazines and books. With a five year bookmaking career yielding over 10 titles her work elegantly and humanly blends drawing, graphic design, and visual poetry. "
If you have never been to Golden Age you definitely should check it out.
Golden Age
1744 W. 18th Street
Chicago, IL 60608
Thurs-Sun 12-6pm

View Bad at Sports Guide to Version 09 in a larger map
Version Fest 09 begins today Thursday April, 23rd. There are a bunch of events that are going on for the next ten days. Here is a guide to what I will be checking out this weekend and next. This is not a list of all of the events, just a selected few. Be sure to check out Version's website for a full list of events. Sunday I will be posting a recap of Saturday's events.
For more information please visit Version's site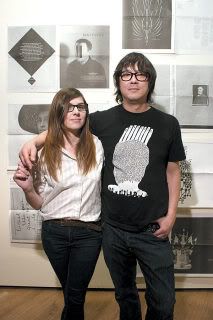 Version 09 begins this Thursday April 23rd. Ed Marszewski took some time out of his busy schedule to answer some questions and let us know what's going on over in Bridgeport.
So, Version was originally at the MCA and Buddy gallery?  Now that you have been based in the Co-Prosperity Sphere how has Version grown?
It started in 2002 at the MCA and was three days long. Over just a few years it spread throughout the entire city and was held everywhere from the Cultural Center, SAIC, MCA UIC, to contemporary art spaces alternative and trashy. It didn't get to buddy until the third Version where we started hosting events all over. It once lasted 17 days and we used to boast that this is how we would like to live every day.
Version is really five or six festivals combined into one ten day freak out. We have internationally curated video programs, our own version of an art fair featuring artist run spaces and groups, a great performance art program, incredible music, and works by over 350 artists displayed in our venues. This year we have artists hailing from Turkey, Germany, The Netherlands and of course many from our own back yard.
We like to concentrate our programming to reveal the diversity of tactics strategies and platforms used by cultural workers to expand our networks, distribute ideas, and show how incredible it is to live in this city. The festival is a completely open platform and each year it is created by a different cast of characters. Our role is to facilitate an realize what we think are some of the most exciting projects in the country. This make the festival very flexible and ensures that it will be a fresh (to us) experience each year. We are not stuck doing the same programming year after year and are able to initiate new platforms or initiatives at any time.
This year Version is going local and the festival is mostly taking place on the southside in Bridgeport and Hyde Park. We are hosting shows and exhibitions, live art, music, and some incredible projects at the ZHou B Center, Co-Prosperity Sphere, neighborhood galleries and a 100 year old community center and gymnasium called the Benton House.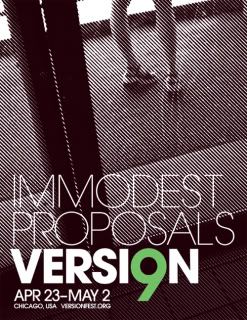 Could you talk a little bit about this years theme "Immodest Proposals"?
Each year we have an open ended theme to see what happens with the submissions.
This year we were into the idea of artists suggesting outlandish ideas that would probably not be realized. Fortunately for us many of them will be realized and initiated at this year's festival.
What is the Bridgeport WPA?
During the depths of the Great Depression of the 1930s and into the early years of World War II, the Federal government supported the arts in unprecedented ways. For 11 years, between 1933 and 1943, federal tax dollars employed artists, musicians, actors, writers, photographers, and dancers. Never before or since has our government so extensively sponsored the arts. – The National Archive
UNTIL NOW>>
We decided one immodest proposal we would like to see is the Obama Administration kick starting a 21st century Work Projects Administration that puts artists to work. The Bridgeport WPA is that pilot program
What are some of the highlights/ should not miss events for this years
festival?
OOO what a horrible question. For sure we are kicking ass all weekend
starting Thursday.
NOT TO MISS:
Thursday April 23 The Bridgeport WPA and Paul Sargents installation 5-
10pm
Friday April 24 : Our Audacity of Art group show and happening. *its our big
party) 7 – ?
Saturday April 26 All the programming arond the NFO XPO Our version of what
a dIY art fair should be.
1pm to 8pm
You should also attend: King Ludd's Analog Arcade at the Experimental
Station 2-8pm
Sunday April 27 if you didn't come Saturday to the NFO XPO you better come
Sunday.
May 2 : The first annual Chicago Art Parade. Bring your bunny costume.
For more information on Version 09 please check out their site.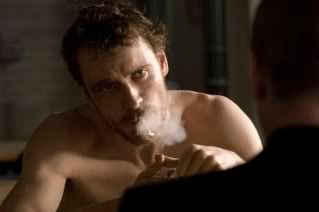 Last weekend I was able to check out Steven McQeen's highly acclaimed film Hunger. This is the first feature length film by the Turner prize winner, and it won the Caméra d'Or at Cannes this year. Although a re-examination of a deeply political history and event, I would say that the film itself is not overtly political. McQueen said about the film, "Hero or villain, that's for other people to decide. For me, it's one of those situations where I'm a filmmaker, and this is actually what happened in history, this is a true event. For me, this is what happened. I'm not here to judge the situation; I'm here to examine and document it." I really enjoyed how you were shown the consequences of the inmate's actions not just on the political level, but on a personal level. It wasn't purely about the political protest of smearing shit on the walls of the cell, but also about the man who was made to clean the shit off of the walls. Although the content of the film somewhat agonizing to watch on a human level, it was hard to miss how beautifully composed each frame was. At one point we see Sand's cellmate playing with a fly for several minutes. In other films the attention given to this could be jarring or to slow but it kept with the sense of slowness in the film that focused on the small gestures made by its characters. The film shifts perspective from Sand's cellmate to Sand's himself while he endures an excruciating 66-day hunger strike which ends his life. In a 17-minute long single take we see Sand's discuss his plan for a hunger strike with a minister.
Via Jeff Reichert for indieWIRE
"That 'Hunger' forces us to so openly speak about the rigor of its specific filmmaking choices is perhaps the thrust of its value as a work of art, especially in a sea of films and filmmakers that either claim to approach creaky realism via the unplanned moment or efface their creation entirely. 'Hunger' is coolly artificial, and openly betrays its creator's background in the art world-one could almost pull apart specific images (urine flooding from underneath the cell doors of Maze prison steadily joining into a single stream, the repeated superimpositions of birds flying through a grey sky, the constantly exposed flesh of the inmates) and array them on monitors around the walls of a gallery to near similar effect. Yet by narrativizing this collection, McQueen forces a discussion of his own stratagems (as would splitting it into pieces), a discussion that can't help but mirror the lengthy conversation around methods and message which anchors the film. McQueen's radical aesthetic and structuring decisions subtly re-politicizes 'Hunger' as a work intimately concerned with choices and consequences, the personal and political."
Check for screening and dvd release here
View the trailer here