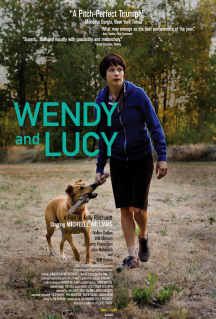 On Sunday I went to Doc Films to check out Kelly Reichardt's ("Old Joy", "River of Grass") latest film "Wendy and Lucy". The film is only 120 minutes. In that time we wander through a Pacific Northwest town as Wendy (Michelle Williams) attempts to find her dog, fix her car, and continue her way to Alaska. I went into the film thinking of it as a classic road trip movie. When I left I felt like the film was much more about the struggles that people face when interacting with strangers.
Both the film and Williams have received a lot of critical acclaim. I found it easy to believe the situations that Wendy faced and the amount of strength the character had to gather in order to make it through the 3 days that we see. I also liked the ambiguity of the previous circumstances that led her to where she is. As a character Wendy is rather solemn, for obvious reasons, while Lucy, her golden dog with floppy ears, appears to be one of the few things that actually holds her together.
The plot is a little sparse which I think gives Williams the opportunity to shine. One of the more pivotal scenes in the film is when a friendly security guard hands Wendy a wad of money and insists that she takes it. Once he leaves, its hard not to feel the devastating blow that what had looked like a lot of money was actually only $7.
A. O. Scott summed up the poignancy of the film, "But underneath this plain narrative surface – or rather, resting on it the way a smooth stone rests in your palm – is a lucid and melancholy inquiry into the current state of American society. Much as "Old Joy" turned a simple encounter between two longtime friends into a meditation on manhood and responsibility at a time of war and political confusion, so does "Wendy and Lucy" find, in one woman's partly self-created hard luck, an intimation of more widespread hard times ahead."
Wendy and Lucy is available today, May 5th on dvd.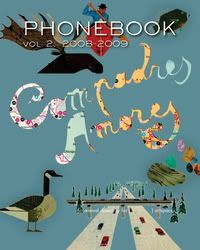 Up for grabs this week is PHONEBOOK vol.2 published by threewalls and Green Lantern Press. Third person to email me (megonli@badatsports.com) gets the copy. Thanks Caroline for hooking us up!
via threewalls:
"Back by popular demand, PHONEBOOK is the essential travel guide to artist-run centers, small not-for-profit, fringe galleries and other exhibition and presentation projects.
This new edition adds over 50 news spaces in the United States and over 40 Canadian centers alongside updated entries, periodical listings, a series of essays from across the country and some road-trip tips from the editors.
PHONEBOOK is a valuable resource for artist and audience alike, connecting a web of makers and projects while acting as an archive of work by smaller organizations and groups throughout the visual arts community. Use PHONEBOOK as a research tool, as a travel guide to the visual arts, for networking, for exhibition proposals or to facilitate artistic exchanges."
Get your copy here.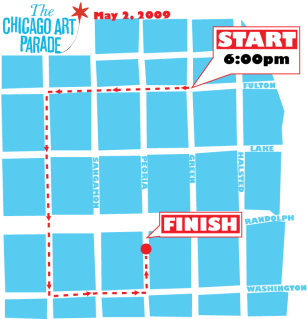 I first met Kevin Stanton several years ago at the old Western Exhibition's space. He was wearing a pair of gold Adidas Forest Hills. This detail probably doesn't matter but I was impressed with someone that could pull off a pair of gold shoes. Kevin has consistently organized awesome projects in both New York and Chicago so I was really excited to see what he had in store for the Chicago Art Parade.
Could you tell me a little bit about what one might see from the Art Parade on Saturday? Are there going to be floats? Can the audience participate?
The Chicago Art Parade will feature a huge array of art and performances created by over 170 local and regional artists. Don't be surprised to see two radical marching bands, Mucca Pazza and Environmental Encroachment, a small army of freak bikes, mermaids and pirates, fluxus performances, and some amazing sculptures. Not to mention the art cars in attendance, including a double-decker moster bus with a kitchen on the first floor and party on the roof, a U.F.O. drawn covered wagon, and a car that can be best described as a "magic laser." More than a few of the presentations will have audience participation.
How did the Art Parade come about? I saw that it was inspired by Deitch Project's Art Parade.
After collaborating with Dread Scott on a float for the Deitch Art Parade in New York, Ed Marszewski and I met to discuss this year's Version Festival. It was at those initial meetings in December of 2008 that the plan of producing an art parade in Chicago were worked out. The Chicago Art Parade differs from the Deitch Art Parade quite a bit. While the Deitch Projects hosts superstar New York artists, Chicago's parade is more interested in bringing local art communities together.
Is it at all connected with 2007's Carnival of Art on the River?
In the wake of The Carnival of Art of the River (also known as Art War), everything is influenced by the months of planning and community building that brought that project together. The Chicago Art Parade is the well mannered sibling of the Art War. However, we have some surprises planned!
The Chicago Art Parade
Saturday May 2, 2009 6pm
Begins at Fulton and Green
For more information please visit the Chicago Art Parade's site.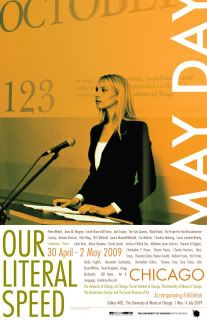 Our Literal Speed began last night. Finding a solid schedule has been semi difficult but below is a description of the series and some of the events I am hoping to attend. I think anything that is going to have Hal Foster with a drill team is probably worth checking out
"Our Literal Speed manifests the imperatives that materialize the theoretical and the pedagogical. No longer can we interpret forms of academic and artistic professionalism as neutral, abstract backgrounds to the aesthetic and performative. These activities have produced their own distinctive surfaces and procedures: the "aesthetic" has become discursive and "discourse" has become aesthetic.
Rather than a series of academic lectures, the conference/event is imagined as a kind of 'media pop opera' or 'administrative gesamtkunstwerk' that includes fluid and/or jagged transitions among scholarly presentations, panel discussions, artist's talks, performances, and an art exhibition within an academic conference. These emerging, hybrid forms demand a synthesis of collective activity (OUR), a self-reflexive examination of art history and its constitutive technologies (LITERAL), and an intense concern for the pace and texture of our movement through institutional mediation (SPEED). The project offers a temporary laboratory in which a concerned public can investigate non-formulaic, experientially vibrant and theoretically precise responses to the modes of distribution, consumption, and circulation that drive contemporary art."
Friday, May 1st
1:30pm – 4pm
Panel featuring Gregg Bordowitz, Julia Bryan-Wilson, Hannah B.
Higgins, Alison Knowles, and Joel Snyder
107 Kent Hall, University of Chicago
Exhibition opens at 8pm/Performances begin at 8:30pm
Works by: Academy Records, Gregg Bordowitz, Rainer Ganahl, Sharon Hayes, Jackson Pollock Bar, Hila Peleg, The Project for the New American Century, and The Size Queens
Gallery 400, University of Illinois at Chicago
400 South Peoria
Saturday, May 2nd
1:30pm – 4:30pm
Panel featuring Thomas Crow, Andrea Fraser, Boris Groys, Christine Mehring, and WJT Mitchell
Fullerton Hall, The Art Institute of Chicago
7pm – 9pm
Event featuring the South Shore Drill Team, Theaster Gates, Hal Foster, and Anne M. Wagner
107 Kent Hall, University of Chicago
9:30pm
Sharon Hayes will present "micro" "small" "phone" "voice" and other works in the lobby of the Smart Museum
For more information please check out Our Literal Speed's website.
If you are on Twitter makes sure to check out our page for updates of all the events we are attending this weekend. Hope to see you guys out at the fairs.