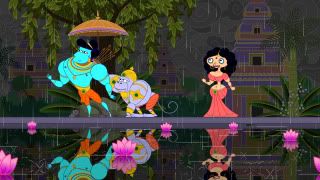 This morning I found an email from Richard Holland that simply stated "utterly awesome" with a link. I clicked on the link and found myself at the home page for the film Sita Sings the Blues. I had seen the movie poster while I was at the Gene Siskle Film Center and had thought about seeing it based on the animation. But as usual I was too lazy and forgot about it. On the front page you are greeted with a letter to the audience: "I hereby give Sita Sings the Blues to you. Like all culture, it belongs to you already, but I am making it explicit with a Creative Commons Attribution-Share Alike License. Please distribute, copy, share, archive, and show Sita Sings the Blues. From the shared culture it came, and back into the shared culture it goes." The film came about when Nina Paley was dumped by her husband after he had moved to India via e-mail. The film is a recreation of the Indian story The Ramayana.
Wired has a great interview with Nina Paley:
Wired: What is your movie about?
Nina Paley: Sita Sings the Blues is a musical, animated personal interpretation of the Indian epic the Ramayana. The aspect of the story that I focus on is the relationship between Sita and Rama, who are gods incarnated as human beings, and even they can't make their marriage work [laughs].
Wired: And that ties in with the film's second narrative.
Paley: Right, and then there's my story. I'm just an ordinary human, who also can't make her marriage work. And the way that it fails is uncannily similar to the way Rama and Sita's [relationship fails]. Inexplicable yet so familiar. And the question that I asked and the question people still ask is, "Why"? Why did Rama reject Sita? Why did my husband reject me? We don't know why, and we didn't know 3,000 years ago. I like that there's really no way to answer the question, that you have to accept that this is something that happens to a lot of humans.
Wired: And this whole movie was rendered on a laptop?
Paley: I started on a G4 titanium laptop in 2002. I moved to a dual 1.8-GHz tower in 2005, moved again to a 2-by-3-GHz Intel tower December 2007, with which I did the final 1920 x 1080 rendering.
view the entire interview here.
I just downloaded it and am looking forward to watching it after the Blackhawks play the Red Wings tonight. Yeah, I like sports.
I found this really cheesy commercial from the Art Institute while I was searching for a video of Sol Lewitt on Youtube. It was made in 1988 to commemorate the Daniel F. and Ada L. Rice Building. I sort of wish that this music would play in the lobby as you bought your tickets.
Watch the full commercial here.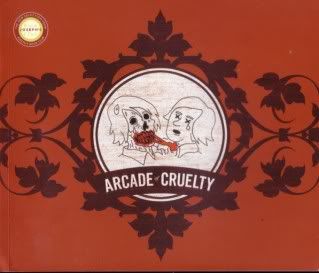 Up for grabs this week is a copy of Joseph Larkin's "Arcade of Cruelty. You know the drill email me (megonli@badatsports.com) and lucky number 11 will get the book.
via William Jones for Graphic Novel Reporter
"Crass-for-the-sake-of-crass comics usually go one way or the other; there isn't much middle ground. Either the author has a special touch that somehow makes the work funny despite the reader's better judgment or he doesn't, leaving a book filled with racist, homophobic, and/or simply offensive material, not only to the subject matter but good taste.
Joseph Patrick Larkin knows this, if the comic on page 237 of his Arcade of Cruelty is an indication. The comic is titled "Johnny Ryan's Response to 9/11," and it takes the aforementioned cartoonist of Angry Youth Comix to task for missing the point, this time without the apologies Larkin often offers with his style-imitation strips. It features a disgusting character pointlessly spewing the dirtiest possible language and really has nothing to do with 9/11, or anything else for that matter.
That's not to say Larkin is an upstanding member of the comics world himself. The strip in question appears in a section devoted to 9/11 comics, and not in the artsy Art Spiegelman sense, but in the making-jokes-about-it-and-people's-opinions-of-it sort of way. The rest of the book is littered with his deranged sexual ponderings (including a slew of jokes about rape), defacement of childhood yearbooks, and plenty of self-loathing. But Larkin seems to have the touch, using a tongue-in-cheek approach to give many of his strips a heavy helping of irony, with many of them truly at the expense of their author."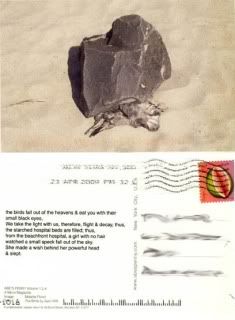 Today I came across a subscription service called Abe's Penny through Cool Hunting. Described as a "micro-magazine" the project consists of postcards that combine one artist with one writer. Over the course of a month a story unfolds.
via Cool Hunting:
Where did this idea come from?
Tess and I wanted to make something that would resonate without requiring a huge time commitment, or even much effort to enjoy. The postcard comes right to your mailbox so all that's left for you to do is read it. When the next one comes, people go back to the previous ones, so engaging with the work becomes a process, but still doesn't require much time.
What does Abe's Penny signify?
We were thinking of Dickens and serials and the Penny Press. We also talked about how, if you pared down a magazine to its core, you're left with images and text, so using the word penny made sense, as money's smallest form. We decided to call it Abe's Penny because it's self-contained and referential, like postcards.
Check out the entire set here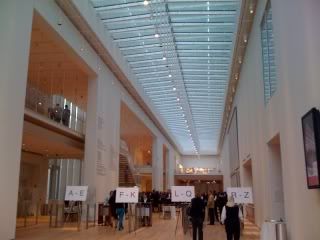 Last night I attended the staff preview for the Art Institute of Chicago's Modern Wing. The first floor has a Cy Twombly show and a photo show. I don't think that either of the rooms that these shows were hung in do much justice for the new wing. The ceilings are rather low and there is a lot of work to be seen in such a small space, which makes the museum feel narrow. I didn't have a chance to see the film video new media section which will be showing a Steve McQueen piece. I was really into Gaylen Gerber's piece "Backdrop" which consists of large sheets of photo paper pinned to the wall. The photographs are then hung on top of the piece.
The third floor houses the Contemporary collection from 1960 to present. This is where you get the picturesque views of Millennium Park. Yes, there is a lot of light and architecturally it really is a beautiful space to see work. My only gripe is that some of the rooms are filled with too much work. I like to have space to see each piece by itself or see a couple of pieces and how they play off each other. Viewing four pieces in all four walls plus a Calder mobile above you can feel claustrophobic, and causes all of the pieces to meld into one. This made me consider, however, the $18 admission fee to the museum and the average visitor. I would prefer more thoughtfully installed work, but it may be a more bang for your buck situation for the museum.
The Art Institute of Chicago's Modern Wing opens May 16th