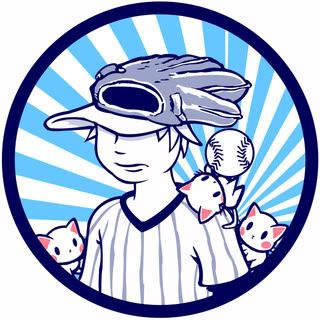 Our bi-weekly column, Center Field | Art in the Middle with Bad at Sports on Art21's blog has its latest post with Claudin'e interview with Chicago based artist Alison Ruttan .  Check the teaser below and go read the entire article over on Art21's site.
via art21
I've been reading with great interest some of the posts and friendly debates that have taken place recently on this site concerning the relationship between art and science. As I read, I thought about the many artists I know who enthusiastically draw upon research conducted in the "non-art" fields of science and the humanities. Indeed, a lot of artists today are assuming the role of researcher, not with the idea of superceding scientific modes of inquiry, but in order to supplement or embellish upon them in ways that only art can.
One artist who is particularly adept at bringing multiple fields of inquiry together is Alison Ruttan, a Chicago-based interdisciplinary artist and Adjunct Associate Professor  at the School of the Art Institute. Ruttan's body of work revolves around the very basic — and yet infinitely complex — question of what makes us human. For the past several years, she has made a number of multi-disciplinary artworks that compare human and animal behavior. The types of questions Ruttan poses through her art are similar to those that are asked by an evolutionary biologist, for example, but Ruttan's questions are open-ended and  intended, as she puts it, as "a conversation between the maker and the viewer." As an artist, Ruttan seeks "a better understanding of the way biology guides our own actions." At the same time, she asks us to consider the degree to which human beings are themselves held captive by the idea of the "primal impulse," whether that impulse is for food, sex, or violent conflict.
Ruttan's most recent project is titled The Four Year War at Gombe. In it, she uses human actors to restage the civil war that took place within a troop of chimpanzees living in the Gombe Stream Chimpanzee Reserve in western Tanzania.  This group of chimpanzees lived peacefully together for many years before violently separating into two distinct communities. Relying on Jane Goodall's extensive research and documentation of this particular group of chimps, Ruttan asked her participants to loosely act out scenes that were depicted or otherwise described in Goodall's book, Through a Window: My Thirty Years with the Chimpanzees of Gombe. Goodall's observations led not only to the discovery that chimpanzees wage war on one another, but that they are also capable of long range-planning and strategic thinking. In turn, Ruttan's investigations lead her to surmise that for chimpanzees, like us, "the bloodiest feuds and civil wars are always waged against those whom we have the closest ties to."
I asked Alison Ruttan to tell us a bit more about her Four Year War project, and the role that research plays in her art-making practice.
Claudine Ise: The tribe of chimpanzees that inspired your project The Four Year War at Gombe was extensively documented by Jane Goodall. Can you tell us about Goodall's work with this particular tribe? What happened to the chimpanzees over the course of Goodall's research?
Alison Ruttan: Goodall began researching this particular chimpanzee troop in 1960. Her first ten years at Gombe in Tanzania were spent gaining the group's trust and understanding the individual relationships within the group. During that time, Goodall wrote about familiar relationships — sex, affection and cooperation, social hierarchies and death in the community. Initially she had seen the chimps as almost pure, maybe nicer than human beings. By 1971, this perception began to change when the troop split into two communities and she and her staff witnessed chimps conducting outright warfare. The original group strategically hunted down and killed all the former members of their group. Goodall sadly recognized that like us, chimps also had a dark side.
Read the entire article here.
I first saw artist Artist Kota Ezawa's work at SFMOMA three years ago. The light boxes he was exhibiting, which portrayed scenes from pop culture, were also accompanied by an animated version of the Pamela Anderson Tommy Lee sex tape. This week's Video Pick is  Ezawa's latest animation where he asks, "What if The Beatles were The Dead Kennedys?"
(via nerdcore)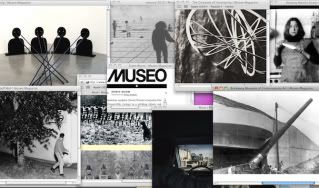 Tom and and Amanda have rounded up another great panel discussion for the final night of our show at apexart. If you are in New York please check it out.
Saturday, May 22: 4-6 pm
Apex Art
291 Church Street, NYC, 10013
www.apexart.org
Thom Donovan and Sreshta Rit Premnath, at the invitation of Museo magazine, will interview Svetlana Boym and Matthew Buckingham about the potential of unrealized futures.
Svetlana Boym's theorizing of "Nostalgia" and the "Off Modern" and Matthew Buckingham's re-engagement of forgotten histories are apt points of departure for what they are calling an Archive of the Future Anterior.
With these interviews Donovan and Premnath introduce their video project in which artists, writers, scientists, and colleagues from various disciplines discuss unrealized social and/or personal projects. By producing an archive of futures which have yet to come to pass perhaps it is possible to alter the course of the future, as well as change the way we narrate and remember the past.
"The tense of the future anterior (French: Future auxiliary verb + past participle) is one of potentiality. Within any given present, it images what will have been before an event actually comes to pass. To return to the moments of bifurcation is an objective of our Archive of the Future Anterior. An archive which wishes to serve less as a time-capsule than a provisional index of loss or misplaced futures; where future has not yet become past and multiple futures remain compossible within a single present."
–from Proposal for An Archive of the Future Anterior
Thom Donovan lives in New York City where he edits Wild Horses of Fire weblog and coedits ON Contemporary Practice. He is a participant in the Nonsite Collective and a curator for the SEGUE reading series. His criticism and poetry have been published widely in BOMB, PAJ: performance + art, Modern Painters, and at the Poetry Foundation where he currently blogs. He holds a Ph.D. in English literature from SUNY-Bflo and is an adjunct professor at Bard College and School of Visual Arts.
Sreshta Rit Premnath lives and works in New York City. He is an artist, curator and founder and editor of the magazine Shifter. He received his MFA from The Milton Avery Graduate School of Fine Art at Bard College and was a 2008 studio fellow at The Whitney Independent Study Program.
Svetlana Boym is a writer, theorist, and media artist who leads parallel lives. She has participated in numerous media exhibits and is the author of several books, also contributing to journals such as Artforum, ArtMargins, Cabinet, Punto de Vista, Critical Inquiry, Representations, Poetics Today, and Harpers's Magazine. Boym teaches in Comparative Literature at Harvard University and is an Associate of the Graduate School of Design. Native of St. Petersburg, Russia, she now lives and works in Cambridge, MA.
Matthew Buckingham is a New York-based artist who utilizes photography, film, video, audio, writing, and drawing to question the role social memory plays in contemporary life. Buckingham's work has been shown at numerous institutions around the world, including The Museum of Modern Art, New York; the Moderna Museet, Stockholm; and the Corcoran Gallery of Art, Washington, DC, among several others. Buckingham received his B.A. in film production and film studies from the University of Iowa in 1988, and in 1996 he completed an M.F.A. at Bard College. In 2003 he was awarded a Deutscher Akademischer Austausch Dienst (German Academic Exchange Service), and in 2004 he was awarded a Henry and Natalie Freund Teaching Fellowship at the Washington University School of Art, St. Louis. Buckingham also serves as an external tutor at the Art Academy in Malmö, Sweden.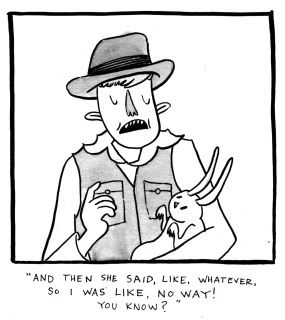 I received a copy of Arty Party in the mail a few weeks ago. Created by Sara Drake and James Payne the comic came about while taking both an art history and comic class at the same time. As their website notes; "Arty Part started when Sara was having trouble writing one panel gags for her comics class. The easiest answer to this was, of course, to make fun of artists. I posted the initial three we made together here. We were tonally and visually inspired by The New Yorker cartoons but also by the over-the-top stupidity of Johnny Ryan's Angry Youth Comix and Ivan Brunetti's Haw!. The material came directly from the History of Art 541 course taught by Kris Paulsen that I took last fall. The class was based on David Joselit's book American Art Since 1945." I have seen some of Sara's other work and enjoyed the quick read. Banalization has a pretty sweet viewer set up for the comic itself, but if you are interested in purchasing a copy either check out the following locations:
Quimby's
Boxcar Books
The Curiodrome
Mahan Gallery
Used Kids Records
Wexner Center for the Arts Store
Wholly Craft
This week's pick I found while looking through Artforum's video archive. If you haven't checked it out I would recommend it. Gil Scott-Heron's The Revolution will Not Be Televised (1971) was a promotional video for his collection of poems, Now and Then.