For this week's video pick I am sidestepping the usual videos I post for two short documentaries. The first is Sean Dunne's highly acclaimed short The Archive. This beautifully shot film checks out the overwhelming record collection of Paul Mawhinney as he prepares to potentially sell his collection due to financial issues. The shear volume of the archive is unbelievable but hearing Paul speak about his love for vinyl and his lifelong devotion to amassing the collection makes the film worth watching.
The Archive from Sean Dunne on Vimeo.
The second film is a bit longer and is definitely weirder. In Opal For Mayor we follow Opal Covey as she runs for Mayor of Toledo. The website, although it does not have much for the director, has a bit more info on the eccentric candidate.
"At the age of 13, Opal Covey first heard the voice of God. Her unconditional faith led her down a path of prophetic ministry, a path that brought her to Toledo, Ohio. After having her businesses destroyed and being thrown out on the street, Opal heard the voice of God again – "You're going to be Mayor". This short documentary takes a sincere look at a woman on a mission from God, persecuted and forsaken, yet unfettered as she makes her third bid for the mayoral seat."
Opal For Mayor from sasgkng on Vimeo.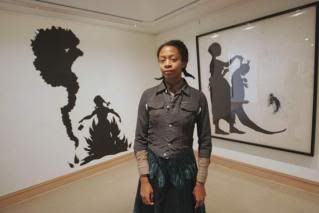 In this week's roundup Jerry Saltz threw down with Glenn Beck, Ikea changed their font, and a show flake out from Kara Walker turns into a (revenge) piece. Have a good weekend.
Jerry Saltz challenges Glenn Beck to a curatorial challenge.
Ikea switching over to Verdana.
"Who Wants to Be the Future of Arts Journalism?" Uhh, we do!
RT artnetdotcom A flake-out by Kara Walker becomes an example of email-correspondence-as-art
This slide is just so wrong. via @boingboing
Boot Print Volume 3 Issue 1 is now available online. http://www.bootsart.com/htm…
Columbia (A Journal for Literature and Art) has a call out to design a sign to inform people of nuclear dumps. @pruned
Ed Ruscha is a recipient of a 2009 National Arts Award.
Plural Blog has a teaser for the 16th Annual Chicago Underground Film Festival at the Gene Siskel Film Center.
RT @ThirdCoastFest Save the Date! 2009 TC Awards Ceremony coming up October 23. Radio gets glamorous…
Betsy Sussler has an interview with Cindy Sherman on @art21.
I must admit that I have not been a very big fan of the viral ukulele videos that have been going around but these two videos from Japan's U900 have captured my attention for the past hour. Other than the bunny's resemblance to black face the animation would look great on a show like Yo Gabba Gabba!
For more info check out Uke Hunt
In this week's pick we check out Kara Walker discussing her piece Fibbergibbet and Mumbo Jumbo: Kara E. Walker in Two Acts created at Fabric Workshop in 2004. The installation consists of one of Walker's first videos. In this video she discusses the move from flat works to installations and incorporating a moving image.
"The installation consists of a theatrical stage set made of a cloth backdrop on which a landscape has been painted in washes of coffee and pigment. Before the backdrop stands the painted wooden silhouettes of willow trees and a signpost, which bears a series of aphorisms which are either misleading, or dead ends in their own right. From behind the backdrop, a fiery light casts the shadows of Walker's characters against the painted landscape as her narrative unfolds beneath a spirited moon."
For more on this video please check out Fabric Workshop's site.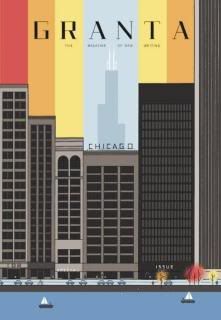 British publication Granta will be featuring the city of Chicago for its upcoming issue. Chicago based Chris Ware designed the very sweet cover. It sounds like a good issue to pick up if you are interested in what's going on in Chicago.
" In this video, Granta acting editor John Freeman introduces the issue, celebrating the city of Chicago, a cultural and artistic hub and home to some of the world's greatest writers and thinkers."
Introducing "Chicago" from Granta magazine on Vimeo.