This past weekend the Dance Center of Columbia College Chicago hosted a three night performance with the Merce Cunningham Dance Company. For this week's pick we check out Cunningham's collaboration with John Cage, Stan VanDerBeek, and Nam June Paik entitled Variations V.
Via Media Art Net:
"John Cage made «Variations V» in 1965 for the Merce Cunningham Dance Company. He and David Tudor settled on two systems for the sound to be affected by movement. For the first, Billy Klüver and his colleagues set up a system of directional photocells aimed at the stage lights, so that the dancers triggered sounds as they cut the light beams with their movements. A second system used a series of antennas. When a dancer came within four feet of an antenna a sound would result. Ten photocells were wired to activate tape-recorders and short-wave radios. Cecil Coker designed a control circuit, which was built by my assistant Witt Wittnebert. Film footage by Stan VanDerBeek and Nam June Paik's manipulated television images were projected on screens behind the dancers."
For more information on Variations V check out Media Art Net.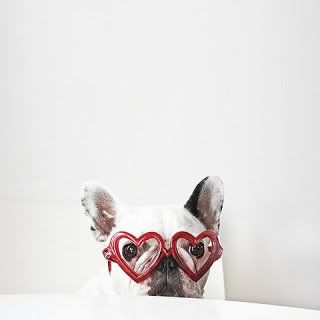 Let me just say that the photo to the left has absolutely nothing to do with the roundup. Can you blame me? Ugh, that dog is just so cute. Okay, back to the roundup… On this week's roundup I checked out the iPhone app "Museum of the Phantom City", read some of Claudine's reviews on Artforum.com, and found Miranda July slightly arousing in a cop uniform (TMI).
@bldgblog on Museum of the Phantom City.
Just reading a review for Lourdes on NCTATNY and it struck me, doesn't Sylvie Testud look a lot like Cindy Sherman?
@artfagcity has an interview with The New York Art Book Fair Executive Director AA Bronson.
RT @gawker Chicago Hipsters Take to the Streets in Anti-Olympics Mayhem.
The Trib has an article about that "American Gothic" knockoff on Michigan ave.
The Yes Men are the recipients of The Leonore Annenberg Prize for Art and Social Change. (via @iteeth)
Bryce Dwyer of InCUBATE is guest blogging on @art21
RT @claudineise has a review of PVZ's show @threewalls on artforum.com http://tinyurl.com/yajt8r2 (via @kingstitt & @r_holland)
The Tribune reviews the Trump Tower.
28 days later in 1 minute + 1 take.
I don't know what it is but Miranda July makes a sort of sexy cop.
L.A.'s Museum of Neon Art has found a new home in Glendale.
@art21 has a video of Arturo Herrera discussing failure.
@boingboing has an interview with alumni from a Dungeons and Dragon's camp from 1982.
This month the Gene Siskel Film Center hosted the 16th Annual Chicago Underground Film Festival hosted. Not too much of a surprise that both of the films I did catch this year were both documentaries.
American Radical: the trials of Norman Finkelstein
American Radical: the trials of Norman Finkelstein directed by David Ridgen (Mississippi Cold Case) and Nicolas Rossier (Astride and the Endless Revolution), follows the American born academic and activist as he lectures across the country and fights for tenure positions in both New York City and Chicago. Often referred to as a "self-hating Jew", Norman is most well known for his views on America's and Israel's relations with Palestine. He is also the author of six books including his most controversial book to date, "The Holocaust Factory." Throughout the film we retrace Norman's life beginning with his upbringing in New York City by two Holocaust survivors. He studied with Norm Chomsky and soon became an outspoken activist and scholar about the Israel and Palestinian conflict. The film itself attempts to convey the complexities of Finkelstein's character. Providing interviews with his supporters and his opposition the directors demonstrate Norman's devotion to his work while showing his greatest downfall is his persistence in expressing his opinion.
Beetle Queen Conquers Tokyo
Let me start off by saying that I was expecting something very different from this film. When I first read the title Beetle Queen Conquers Tokyo (BQCT), I had imagined a contemporary low budget Godzilla film, not a nature documentary. After my expectations were dashed I decided to press on in hopes of finding an enlightening film on Japan's obsession with insects. I had just watched David Attenborough's documentary Life in the Undergrowth and expected Jessica Oreck, an employee at the American Museum of Natural History in New York City, to follow in the same vein. According to BQCT's Facebook page, the film "delves into the ineffable mystery of Japan's age-old love affair with insects. A labyrinthine meditation on nature, beauty, philosophy and Japanese culture that might just make you question if your 'instinctive' repulsion to bugs is merely a trick of western conditioning." On paper that sounds great, but in reality I found the film poorly edited and suffered from clichéd insect-like camera perspectives. Attenborough uses the same shots with much greater success. He let the shots linger for much longer, creating a more languid motion that appeared much more subtle. I could get over these shots when learning that this was Oreck's first film. But, what I found unforgivable was the limited amount of subtitles. If I am going to watch a foreign film, I expect to be able to read all of the dialogue and not selections. I happened to watch the film with an entomologist who helped explain some of the scenes that had no subtitles or explanations on what was happening. But in the end, I asked countless questions and felt more frustrated than informed.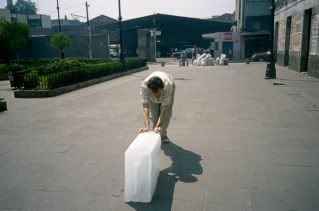 On this week's twitter roundup I checked out The Walker's show, "The Quick and the Dead", Vito Acconci modeled for J Crew, and it looks like blackface is in fashion again. If your looking for something to do tonight stop by the Co-Prosperity Sphere for the release party for Proximity's latest issue.
Proximity Issue 005 Release Party
Co-Prosperity Sphere, 3219 S Morgan
Friday, September 25, 9pm – 1am
For more info check out their website.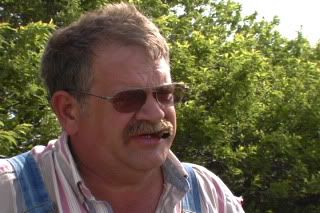 What's the Matter with Kansas? directed by Joe Winston is based on Thomas Frank's best selling novel which shares the same name. This film does, however, differ in it's setting from the book. It acts a bit more like a squeal than as an adaptation. The film begins with the 2006 attorney general elections instead of the books 2004 presidential elections. Throughout the documentary we uncover the surprising liberal history of the state of Kansas.
Lacking a narrator, the film presents itself as a collection of portraits from various members of the Kansas community, both liberal and conservative. Within the first 20 minutes of the film we meet Angel Dillard and Brittany Barden who are both Republican activists, farmer Donn Teske, and my personal favorite, artist M.T. Liggett. Most of the beginning of the film touches on some of the hot topics, such as abortion and gay marriage that have swayed voters over to the Republican Party. It really is unfair to compare this film's documentation of people's thoughts on abortion with Tony Kaye's stunning film Lake of Fire but I am going to have to draw a line to that film. If you haven't seen it go out and get it. It really is one of the best documentaries I've seen in the past five years. FYI it's not for the faint of heart. At times I found the film a little long even with it being only an hour and a half. Aesthetically it felt actually rather well composed. There were plenty of meandering shots that gave you an idea of some of the economic hardships that the citizens on Kansas were facing. I also enjoyed the voyeuristic look onto the other political spectrum while still staying in my liberal bubble. Truth be told, I might have been more invested if I had read the book or had been from Kansas.
Gene Siskel Film Center
164 North State Street
Chicago Il 60601
Tuesday, September 22nd, 6:15pm and 8:15 pm
Wednesday, September 23rd, 6:15pm and 8:15 pm
Thursday, September 24th, 6:15pm and 8:15 pm