For this week's pick we bring you Dara Birnbaum's Technology/Transformation: Wonder Woman, 1978-79. Birnbaum will be screening and speaking about her work at the Gene Siskel's Conversations at the Edge on February 11th.
via Art Torents:
"In her video Technology/Transformation: Wonder Woman, Dara Birnbaum created one of the first examples of appropriation imagery from mainstream television, something that is now quite common. Technology/Transformation: Wonder Woman, features, as one might expect, Wonder Woman, the main character of the prime-time television program of the same name which was based on an action-adventure comic book. Using actual sceans from the series, Birnbaum 'plung[es] the viewer headlong into the ver experience of TV- unveiling TV's stereotypical gestures of power and submission, of male and female egos."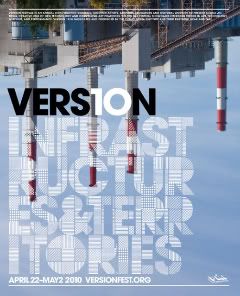 It is that time of year again. Version is now looking for submissions for their 10th festival entitled Infrastructures and Territories. It will be taking place from April 22nd to May 2nd. Deadline for all submissions is March 1st, 2010.
via Lumpen:
"Version 2010: now seeking proposals and presentations about tactics and strategies that help sustain our communities, find better uses of our resources, and maintain and expand our networks. For eleven days and nights, we will explore the best practices and boldest failures in interventionist, participatory, and collective social, political, and cultural practices. This year's theme is presented in order to bring together groups and individuals seeking additional methods for connecting our networks and creating solid foundations for the practice of art, education and social activism well into the next decade. We want to use this opening during the current economic and political crisis to expand and amplify our shared ideals, values and strategies for survival and expansion.
Join us to amplify micro-movements and nowtopian ideas!
The festival will include: community gardens, historical re-enactments, antiwar organizing, an art parade, an artist-run art expo, a catalog of interventionist strategies, networking between independent groups and spaces, inflatable art, one-night exhibition formats, anti-oligarchy planning sessions, DIY and DIT media, the Terminator Bar, a mobile silkscreen printing cart, a national WPA-inspired public poster project, a free school, impressive musical performances, boring theoretical nonsense, mapping projects, pop-up galleries, Korean/Polish BBQ and your proposals.
If you would like to participate in this year's festival please view our Program Platforms.
When you are ready you will be able to submit your proposal online via this website.
All submissions are public."
Last night was the season premier of RuPaul's "Drag Race". While I do not have cable, I did find myself sifting through videos from the 90s and was a little surprised when I watched his 1993 video for Supermodel (You Better Work). Maybe I was too young to remember the campy greatness that is this week's pick but this video is so amazing. Especially if you think of what was popular at the time, typically grunge and gangster rap.
If you saw the header, yes that is RuPaul as both Michelle and Barack Obama
"You can call me he. You can call me she. You can call me Regis and Kathie Lee; I don't care! Just as long as you call me."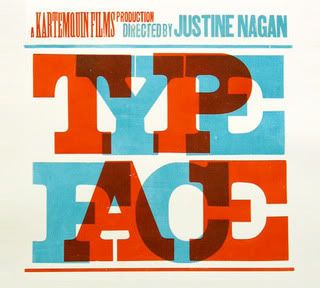 Directed by Justine Nagan, Typeface takes a look at the obsolete techniques used to create and print wooden type. The film centers itself on The Hamilton Wood Type and Printing Museum located in Twin Rivers Wisconsin. Housed in Hamilton's factory the understaffed museum gives tours, hosts workshops, and attempt to archive the boxes upon boxes of wooden type that are piled about. In the opening scenes we get an overview of the museum while on tour with former Bad at Sports guests the Post Family. Throughout the film we weave in and out of mostly Chicago studios as, printmakers/graphic designers discuss their love for wooden type. The Walker Art Center recently caught up with Nagan and spoke with her about making the film:
W: Why make a film about an obsolete technology?

JN: I became fascinated with exploring the changing importance of analog technologies in our digital age. There is this theory that as we as a society sit at our computers all day, in the off hours, tactile and sensual experiences become all the more important. People are craving things with texture that they can hold in their hands-whether it's knitting or playing guitar… Then there's the whole nostalgia factor: LPs vs. iPod, film vs. video, letterpress vs. inkjet.

W: Some obsolete technologies manage to take on a second life by addressing a different need or being adopted by a new (sub)culture in a different context. Do you think a revival or re-interpretation is inherent to any successful preservation movement?

N: I think evolution is key to preservation. Re-imagining and adapting technology, while maintaining the elements that made it interesting in the first place, ensures longevity of the medium. I think the new interest in letterpress and craft is sustainable. The current styles of letterpress may fade, only to be re-invented again by some future generation. [Read more]
This week's pick is not for everyone. Clocking in at about 20 minutes we bring you Sharon Hayes' keynote address for the Creative Time Summit: Revolutions in Public Practice.
via Creative Time
"Sharon Hayes discusses how moving to New York City in the early 1990s and witnessing the AIDS crises and artistic community has forever affected both her life and artistic practice during her keynote address at the 2009 Creative Time."