By Kevin Blake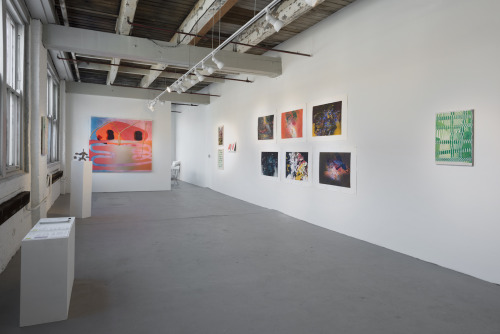 Tiger Strikes Asteroid
is a conglomeration of artist run exhibition spaces with independently operated locations in Philadelphia, New York, Los Angeles, and Chicago.
[Old/New] Psychedelic Providence,
curated by
Jamilee Lacy
 and sponsored by
Providence College Galleries (PC-G)
 of Rhode Island, is the inaugural exhibition for the Chicago space. The idea behind TSA is to showcase emerging and mid-career artists from other cities as to expand the dialogue in local communities. In this exhibition curator Jamilee Lacy and PC-G have exported to Chicago an eclectic mix of artists from Providence whose work reflects and propagates psychedelic discourses and tangential ideas that have been part of the historical bedrock for artistic production in their community.
Kevin Blake: Just as a way of kicking things off, I was wondering if you could say something about Tiger Strikes Asteroid and how you came to be curating the inaugural show in its Chicago space.
Jamilee Lacy: Well, as you know, I previously lived in Chicago off and on for more than a decade. So, naturally, I'm committed to that city and the amazing artists who live there, even though I now live and work in New England running Providence College Galleries (PC-G). So, while I was in town over the summer, I did studio visits with both Anna Kunz and Michelle Wasson, who are all at once incredibly exciting painters, former professors of mine, and artists I'm planning on working with in the near future. They gave me a peek of their new project as co-founders and co-directors of TSA Chicago, and explained there ambitions: to make a space for high-quality exhibitions and international creative exchange among artists, especially those who are under-represented by exhibition institutions and/or art market forces. I realized that their mission to program the space in diverse ways (cultural, ethnic/racial, age, gender, geographic and more) corresponded quite well with a program that we're getting off the ground at PC-G called Many Cities, One Providence. Basically, it's an exhibition series in which we import to Providence thematic glimpses showing the diversity of the art and ideas of artists practicing in cities around the world, while exporting those of Providence-based artists to cities elsewhere. We've imported shows from Helsinki, Mexico City, Western Massachusetts and Central Spain, but we have just begun exporting shows… and Chicago is the first stop. (Next year we'll ship out a show to San Francisco.) So, you could say it was a perfect symmetry to have PC-G's inaugural exhibition export as the inaugural show at space with the central goal of serving the many needs of many different artist communities.
KB: One aspect of the field of Psychedelics that interests me is the great resistance to it from the scientific establishment and the art institution which manifests as a social stigma. It is considered passé to make paintings with the acid toned aesthetic of the counter culture era of the 1960's and until only recently, it has been equally condemned to pursue any line of inquiry that suggested psychedelics as having any positive influence on the human mind. Resistance and/or aversion to ideas generally draws interest on the fringes, but this field seems to be picking up steam again. Why do you think there has been a recent resurgence in psychedelic research and tangentially, the inner gaze?
JL: Has there been resurgence in psychedelic research lately? To be perfectly honest, I don't know too much about psychedelics. Really, I'm just an armchair expert, and my interests are very specific to psychedelia's impact on visual art and aesthetics in Providence. A lot of curators don't like to analyze artistic production based on place, especially now that the art world has become so fluidly global on many levels. Obviously, I'm not one of those curators! Over the past fifteen years of living with and visiting artists around the world, I've always found that place, especially the city, is profoundly impactful on artists and their work. I think this makes sense because artists, generally, are empaths; they're vessels for the world around them. Providence is a small city which has historically embraced the outsider, the fringes, and thus artist culture, perhaps because it was founded in 17th century by the likes of Roger Williams, who was forced to flee Massachusetts because of religious and ideological persecution. With the [Old/New] Psychedelic Providenceexhibition, I wanted to show that Providence-based artists, of all backgrounds and ages and working today, are connected to that history, especially as it relates to the high and low aspects of subculture. Psychedelia, though we know it to have come out of 1960s drug culture, was a longtime coming in terms of its visual reflection of the experiences of altered consciousness. If you look back at the pre-1960s art history of Providence, you see highly distorted and surreal visuals, repetition and pattern, bright colors and full spectrums of kaleidoscopic imagery in Colonial and Victorian architecture, the development of botany and landscape design, fashion and jewelry, chemistry, photography and printing, meditation and new religions… And in poetry and fiction of the area, especially that by the infamous H.P. Lovecraft and his followers, you see experimental writers doing their best to evoke mind-bending scenarios and mystical states of being. Many of the creative people working in this vain were indeed outsiders who came to post-puritanical Providence to try out new things. Founded by a group of (mostly) women, Rhode Island School of Design is part of that history, too, and in many ways nurtures the community's aesthetic sensibility by infusing a graphic, pop sensibility into a mixed tradition of outsider art and conceptual craft.
KB:  It's interesting to consider the rich history you mention in the context of geography and altered consciousness. It seems to me that place–obviously and not so obviously–play an important role in shaping our state of mind. It then follows that travel, emigration, and displacement act as a psychedelic experience in a way-forcing the mind to strategize ways of understanding the other. Humans are such chameleons too-we will pick up new languages, new customs, and adapt to localisms efficiently, and this all happens in the mind. As new geographies work to calcify one's perspective considering the external, psychedelics (generally speaking), have been a pharmacological tool for forcing this issue internally; a way to have a confrontation with the other within the confines of the mind. How do the artists in this show confront the idea of the other?

JL: I don't think that they necessarily confront the other. But to generalize, I would say all of these artists' "otherness" resides in their choice not to live in NYC or Boston. Instead, they chose the other city, Providence. They chose it as a place where you can live and work on the fringes of the urban. The city has a care-free ease about it. Perhaps that's because it's a small city that's kind of lawless, especially in terms of the public being okay with letting the academic and the creative and the weirdo types things out. I think that this is a longstanding quality of the city, which is why the occult, drug cultures and intellectual subcultures have long flourished in Providence. And because they can afford it and still have some proximity to the NYC art pulse and the New England ivory towers, artists continue to conduct real experiments with their ideas and work here. Most importantly, they can get as weird as possible and fail big time in Providence without worrying about it too much. In the case of these artists, they collectively embrace the aesthetics of psychedelia, which has never been art world trendy, while maintaining a commitment to pushing the boundaries of conceptual craft and design.
KB: As a generalization, the psychedelic aesthetic lingers today as a visual fallout of the counter culture movement and the early American psychedelic renaissance of the late 1950's and 1960's. I think a lot of work in this show diverges from this aesthetic platform while maintaining an essence of the ideas inherent in those tenants. Can you talk about how you see specific works in this exhibit as they relate to the psychedelic aesthetic? 
JL: The preface to your question is totally accurate, hence the [Old/New] adjectives in the exhibition title. The artworks' primary aesthetic ties to psychedelia are of course color and pattern, especially to kaleidoscopic abstraction and landscapes, which I previously mentioned were tied to American creative culture's notion of 'expanded consciousness' long before the term psychedelia was coined in the 1950s. Artists in the show like Theresa Ganz, James Janecek and Nadia Haji Omar demonstrate that pendulous swing between Providence's Victorian-era past—such as the infatuation with 19th century techniques of coloring landscapes 'to make visible, and to reveal' auras and other mystical properties of the natural environment—to the psychedelic landscape art inspired by visions due to mind-altering psychedelic substances of counter-culture movements of the last 50 or 60 years, some of which is more evident in the maybe abstracted portraiture, maybe abstracted landscapes of Heather Leigh McPherson.? Elizabeth Corkery, Graham McDougal and Bayne Peterson focus on those pop-art-esque kaleidoscopic elements we're accustomed to seeing in psychedelic-driven work, emphasizing the longevity of psychedelic aesthetics' influence on artists working across a spectrum of media.
KB: It seems to me that any given day in the life of a human being is filled with mind-altering substances and circumstances. From coffee and sugar to living in a place like Providence-our minds are constantly adapting to our chemical inputs, ever evolving conceptual rumination, and physical situational demands. I'm interested in how this show approached the idea of "mind-altering" as something that engages a scope of possibility that seems to have much more range than psychedelic substances alone. How do you consider the term "mind-altering" outside the domain of typical psychedelic discourse? 
JL: With this group of artworks, I've exemplified "mind-altering" as a series of visual alterations, amplifications, and, even better, enhancements. The enhancements range from updating the antique to retro-fitting the now. Additionally, I'd go so far as say each artist's entire practice embodies the kind of mood changes undergone by Providence's evolving creative and counter-cultural traditions.
KB: "Counter culture" is another colloquialism that has been retrofitted to flow seamlessly into existing paradigms, but below the surface definition and history, was a moment of political, social, and environmental unrest. I then project this idea to the present moment, a time when information is suddenly at all of our fingertips. A time when huge festivals that encourage psychedelic exploration like Burning Man, are drawing its participants from the upper echelons of the social pyramid. A time when psychedelic research has exploded into the realm of mainstream medicine. However, simultaneously, our roots seem to also be calling us back to a more conservative, more close-minded, and more polarized past. How do you see psychedelics, and the psychedelic paradigm as an integral part of our social evolution and do you think we are experiencing a moment of counter cultural production in the art world and beyond?
JL: In Subculture: The Meaning of Style Dick Hebdige says (paraphrasing) counterculture is a subculture whose values and norms of behavior differ substantially from those of mainstream society, often in opposition to mainstream cultural mores. Though it's not quite as tidy as Hebdige would have it, the creative community in Providence, as I understand its history, has always leaned toward so-called drop-out culture or the alternative (there's a nice poetic symmetry to the origin story of Rhode Island's founder Roger Williams). Artists thusly have come here to get away from one thing–cramped quarters, market forces, rigid thinking, etc.–and find another of their own making. As we see cities push more and more artists how by way of cramped quarters, market forces, rigid thinking, I think we'll see more and more development of de-centralized subcultures. The "psychedelic paradigm" was and is part of that evolution. But do I think "we are experiencing a moment of counter cultural production in the art world and beyond"? I think that's too big of a question for me, but I'll briefly say yes and no. In many cases the alternative has become the mainstream. Sometimes that's great, sometimes it's annoying. Regardless, I enjoy wading through it.
KB:I can understand where that question may seem too big to tackle in this format. Or in any format for that matter. Do you believe that Providence, as an example of a place germinating decentralized subcultures, can be a model of sustainability in lieu of the equally powerful force of an ever-homogenizing mainstream? Tiger Strikes Asteroid seems like it could be representative of this very idea. Could you weigh in on how these ideas might be connected? 
JL: Yes, I think Providence could be a perfect model of this kind of sustainability. "Could," however, being the operative word. Like in so many small cities, the eccentricity of Providence ebbs and flows. Sometimes the city is incredibly forward thinking about letting artists have a go at things, and at other (infrequent) times they try to mainstream and capitalize on quirkiness. For example, the state rebranded itself as the "Creative Capital" to emphasize its arts community. As part of this rebranding, they made all purchases of arts and crafts in the state tax free. Whatever, that's great I guess, even there's all of 30 people buying and selling art here. Regardless, what this kind of yucky marketing gloss-over does is to redirect resources (space, money, attention) away from the truly weird, experimentality of subculture and towards things like the development of a market and gentrification efforts. Basically, if some city officials had their way, the artists and their underground activities here would contribute to the city convincing the world that Providence is a whole city of the mall-like urbanisms of Wicker Park in Chicago or Williamsburg in Bushwick. Fortunately, these folks get distracted and this kind of muck is cultivated only intermittently because it really does matter. Artists thrive here and that model of sustainability could and would hold if market forces and tourism don't usurp real alternative culture. Fingers crossed, right?
And yes, I think Tiger Strikes Asteroid is a fantastic example of against-the-grain organizing. Artists creating a platform and market model that actually meets their criteria and needs seems vitally important. It allows artists to develop a culture  around the artwork that isn't then consistently groomed by the gallerist or overpowered by the likes of art fair or biennial standards. But don't get me wrong, I think traditional galleries are an equally important platform, especially mid-sized galleries, ultimately because "ever-homogenizing mainstream" comes out of replication… the endless replication of the the alternative space loft is as bad as the constant re-creation the Chelsea gallery outside of NYC. I think everyone agrees that many voices are required. And Providence, though it's continually on the cutting edge in terms of art-making and the really excellent cultural experimentation that comes with, lacks variation of voice on the non-artist level. There are too few opportunities for artists to reflect on their innovation. So much so that I think the really interesting histories of said subcultures dissipate from memory all too easily. By formalizing a small group of like-mind artists who straddle the art world's many zones, Tiger Strikes Asteroid helps artists and cities avoid that which is truly a travesty. All this is to say, TSA Chicago was the perfect place for this little show. I'm so thrilled to have worked with co-directors Anna Kunz and Michelle Wasson, and members Meg Duguid, Holly Cahill, Esau McGhee and Justin Witte, among others, to join together the alterna-forces of Providence and Chicago.
By Kevin Blake
There is a natural reaction to becoming something when one realizes their own metamorphosis. As adolescence is whisked away by time, the memory of how one arrives in the present is often blurred, fragmented, and skewed toward whatever end the individual has made for themselves. Though actions make memories, so too, does the memory create actions. In his current exhibition, "La Paz" at the Hyde Park Art Center, Rodrigo Lara Zendejas, investigates his memories to locate the beginnings of his practice–a practice rooted in a garden.
Kevin Blake: I have followed the evolution of your work for the last two years and what continues to astound me, is your ability and willingness to traverse material disciplines with a sort of unflinching loyalty to your ideas. This show really runs the gamut–from installations that consider four-dimensional space, to works that hint at traditional observational painting. Can you talk about your relationship to your materials, and why you have chosen to have such interplay between them?
Rodrigo Lara Zendejas: I have been working mostly in three-dimensional work for the last 17 years, and exploring installation work for the last 6 years; in many cases I am interested in the connection between 2-D and 3-D practices. When I had the opportunity to schedule the exhibition at HPAC I immediately thought about pushing my boundaries and exploring different approaches in my practice, but it was also important to me to examine a deeper balance and conversation between different media.
My training is for a classical sculptor. In addition to that, I am a musician: I play drums, cornet and clarinet. In my studio practice, I feel a similarity between playing an instrument and the execution of the artwork.  I find the rhythm and cadence of the materials when I am working, when I am shaping or implementing. The body actions are sometimes sudden and rapid, sometimes subtle and slow. In both scenarios I sit on a chair, and execute specific body actions utilizing my two hands and wooden sticks. Therefore, technique, preparation and the execution of the work are essential aspects in my practice.
This exhibition relates to my grandparent's garden, which I consider my first studio at age 10. I spent a month developing forms out of adobe and soil mixing them with found objects and plants. My grandfather, a miner at the time, as a serious hobby painted numerous catholic motifs. Inside their house, I was exposed to examine several paintings and charcoal drawings he made. I asked him to teach me how to paint during that summer; he refused, however. "You are too young to understand color theory," he said.  In the absence of receiving painting lessons, I continued modeling and developing an interest in forming sculpture out of whatever materials I found in their backyard: soil, wood, found objects and plants. Therefore, I wanted to combine media treating the materials, including painting and sound in a similar methodology.
KB: I'm interested in how you consider the garden your first studio. The historical narrative points to the obvious connection to the first garden of Abrahamic yore (the religious motifs abound in this exhibition), but the metaphorical relationship of the garden to an artist's studio practice seems equally relevant. Can you expound on the idea of the garden as a metaphor for a studio practice?
RLZ: It is very important to me to approach this metaphor of the garden as a studio practice. As a child, I was aware that my grandfather was a painter, but I did not know that painting could be a way of life–I thought it was just a hobby. I wanted to go back to that space where there was complete freedom to create what I wanted, but now with formal training in combination with  conscious and unconscious technical approaches to the materials, concepts and processes.
It is true that there is a similarity on the idea of that garden is connected to my studio practice but also it was very similar to being part of a residency program. In which an artist explores and improvises with materials and tools available in situ; therefore, the maker is able to develop ideas and concepts.
It is also true, that there are several religious motifs in this installations and pieces, referencing the theatricality of the characters poses and facial expressions, as well as the installation arrangements being similar to altars, memorials and sacred praying precincts. In addition to that, According to Catholicism, God created the human race from a piece of clay, which later came to live. On the other hand, my grandmother would tell us stories about children in "La Paz" who obsessively played with their toys at all times. As a result, they would disobey their parents, then the toys would be possessed by the devil and come to live and start talking to those kids. I was scared and also fascinated by both stories.
KB: I've heard of the bedeviled toys and I do get the sense of this narrative not only in the scale of your figurative sculptures, but in the anthropomorphized nature of their features. The predominately human bodies have animal parts and the animal bodies have human extremities (i.e. the duck's beak on the altar boy or the human hands on the dog). To bring back to the garden, however, I wonder what parallels exist between the human's relationship to the foods we grow or the plants we feel we dominate, and the objects we project our consciousness onto. It seems obvious that both endeavors, gardening and making objects, begin with the assumption that you, the individual, is in control of the outcomes. Yet, a simple thought experiment would bring you quickly to the conclusion, that this is far from the reality of the matter.  In the ordinary course of events an acorn becomes a tree, but it often becomes squirrel food. So, do you see this phenomena of becoming, whatever it is you are evolving into(in and out of the studio), something within the realm of your control? How much do impulse and intuition dictate outcomes in your studio?
RLZ: In previous series of work I would make conscious decisions beforehand. Controlled results and concepts would be analyzed previously. In this particular series however, I was interested in creating memorials of specific moments or situations in my childhood as a starting point, and combine that with the present. Therefore, I would start with precise ideas; from there I would investigate and create particular scenarios. According to the materials I knew I would utilize, I allowed ambiguous compositions to evolve during the making process; as a result, unexpected outcomes will manifest, sometimes more controlled results would take place. I would see that connection to the way a plants grow and the way people would take care of them, as you mention, we might think we are in control of the result but in La Paz I wanted intuition to take place.
KB: As the garden acts as a metaphor for your first studio, the works within this garden act as a self-portrait of its grower. Often times, a portrait of you is embedded into these individual pieces, but like your other figures, you've bastardized the form. For example, in the largest painting in the exhibition, you have painted yourself sitting into the portrait of another man and becoming part of the space. This form actually seems to reappear in at least one other painting. Obviously the narrative of this show is very personal to your experience, but can you speak to the fragmented nature of the self-portraiture occurring throughout this exhibition?
RLZ: In order to remember important public figures, monuments have been erected around the world. However, each of us has our own firsthand figures to memorialize. The fragmented figures and narratives within the installations and paintings are conscious decisions during the process. However the references and memories are very personal, the way of leaving fragments, the viewer is encouraged to complete gaps and create their own narratives. The juxtaposed and bastardized figures, questions the idea of temporality, connecting reminiscences to the present. I am interested in the work by Jaume Plensa and Mark Manders, the idea of memories about particular objects in particular moments and specific scenarios.
KB: I've always had a particular interest in memory and how it functions in creating personal narratives in the present. Most discourse surrounding memory focuses on the earliest stages of development as if there is an incubation period in which the individual experiences the downloading of his/her default settings–settings that they will be working with/against for the rest of their lives. Do you get the sense that the more you recall, or rehearse, or put to work, a particular memory, the more prolific those memories become in your work and your life? How has this process of recall and transformation within the limits of this exhibition changed your approach to your work?
RLZ: The more I have been thinking about that idea for the last few years, the more I agree with this notion of the incubation period you mention. Recalling that period reminds me of the freedom of expression and execution in the work, there is not particular rehearse, neither being afraid of failure. Particularly in the process, that is the reason why in many pieces there is an intimate connection to the viewer. Pieces are unfinished or in progress, in a few cases you can see the evident finger marks and body motions on the materials, instead of traditionally expected final textures. The viewer is able to observe the material as it comes from the factory. As an example, there are two pieces in which you can clearly see the squared shape of the clay as it comes in the bag, even the wrinkles that it produces. I wanted to continue this exploration in 'La Paz' series; however, I started that notion in the previous installation I made called 'Chapel' currently on display at 6018North. The experiences of the viewer are like coming into the studio space, becoming a witness of the process.  In a way, this is a similar approach that Manders uses in his work. In his case he mimics clay with bronze, instead, a few of my pieces in 'La Paz' I mimic bronze with clay.
KB: Your approach to calling attention to the materials by means of exposing their commercial production is a methodology deeply entrenched in the collective discourse of painting. I had the sense that this was an idea you were wrestling with in your painted surfaces. There are places in the largest painting, for instance, where the under painting is left in its infancy. As you traverse material boundaries, do you feel the necessity to dig into painting tropes or do you see the way you are using materials solely outside of that discourse? Also, the two paintings on pedestals at the ground level seemed out of place to me, but they also seemed to possibly indicate a direction for future work. How do those two more traditional perceptual paintings fit and is painting something you are moving toward?
RLZ: In a way, some of the pieces are a response to comments from my grandfather, who was a painter. The portrait in the largest painting is a reproduction of a graphite self-portrait he maid when he was 18 years old. I remember spending time admiring the quality of the lines and shades. I decided I would memorialize that drawing by making a painting juxtaposing the garden plants with the unfinished layers and process of my own self-portrait, leaving traces of metaphorical and technical temporality.
On the other hand, the two paintings placed on the floor were made after photographs of a visit I made to my grandparents house a few months ago (now abandoned for about 10 years) in which I am also memorializing their personal effects such as the telephone and the wooden furniture. Most important, I am treating sections of the oil paint as if I was working with clay, utilizing the same methods and tools. Particularly, that technique was executed for the architectural surfaces. I remember my grandfather telling me stories about his father and him building the house with their own hands, utilizing adobe blocks. This is the same way the whole town of 'La Paz' was built. At that time I was amazed by the fact that the houses in town were made out of basically soil and plats, being those the same elemental materials I was playing with in the backyard. In a way, thru those paintings I am also making a portrait of the house, displaying them as self-standing memorial architectural objects. I have been exploring the connection between two to three dimensions in the work, idea in which I will continue exploring.
KB: What is on the horizon for you in the studio and beyond?
RLZ:  I am currently focusing on the three following projects: A two-person exhibition opening on May 20th at Fernway Gallery in Chicago, as part of my ACRE residency in 2015. The exhibition will continue the exploration of the "Chapel" series. On the other hand, I am working on a Solo Exhibition "Cachirules" at Kruger Gallery in Marfa, Texas for the Chinati weekend Oct. 7-9 2016. In early 2017 I am working on an exhibition curated by Julie Rodrigues Widholm at the DePaul Art Museum, also related to the "Chapel" series.
By Kevin Blake
Tom Torluemke is an enigmatic figure in the Chicago art community. By enigmatic, I do not mean difficult to understand. Or outsider. I mean individual. I mean, unmistakably himself. His work has incredible range–physically as well as conceptually. He chases ideas. He works in symbols. In metaphor. His work is powered by his investigations into himself, and that journey, is clearly part of the narrative he delivers. He reminds me of a fisherman. A patient one. One that understands that its called fishing and not catching for a reason. Here, we have a chat that attempts to unravel his process through a discussion about his latest contribution "American Eye Pull-Up Bar" at The Ukrainian Institute of Modern Art.
Kevin Blake: When we talked about your installation, "American Eye Pull-Up Bar,"  it was glaringly apparent that you had thoroughly vetted this idea in all its possible manifestations. You had considered every angle–you had seen this piece as the artist and as an audience member. I was frantically trying to catch up with each idea as you plowed through a mountain of symbology, metaphor, and purpose. Luckily, I recorded the conversation. As you were talking, I wrote down two statements that I think are critical to understanding how you process your experience of the world. This is what I wrote: "Nothing makes sense, and everything means everything." To me, this is a profound synthesis of experience(not just your's) and your installation is a perfect messenger for this sentiment. Can you elaborate on how you make visual language "work" for you while maintaining enough ambiguity to allow for infinite interpretations?
Tom Torluemke: Thanks for having me, and paying such close attention.  The idea has to make me either want to laugh or cry.  I think that deep down it's the intention or motivation that starts a piece of artwork out on the right course, also a large category of guidelines help; for example, Mirth, Delight, Awe, Originality, Imagination and Mystery.  The above would be a strong foundation–give the artwork a better chance of working, communicating, evoking or eliciting a memorable and moving experience. Synthesizing those ideas or categories into one's work while avoiding contrivance or losing spontaneity and urgency, is a whole different world of struggles (piles of failures).
So if my intentions are worthy, working with the formal art making process; you know, shapes, colors, forms and whatever technique best suits the idea–I generally draw around a theme; let's say betrayal or maybe embarrassment. A couple of days, possibly a week or two usually leads to writing ideas down that have spawned off of the drawings.  I do this so I don't forget all the thinking that took place while I was drawing.  Because drawing for me, is slower than jotting down ideas.
Once I have many drawings, I start to convert them into bold, broad, communicative color and design ideas, you know, this color speaks louder than that color.  That shape is more mysterious than that shape.  In order for the whole damn thing to work, I have to be really jazzed up in the theme, the world I've chosen.  That's where the idea of originality comes in.
That word for me is the nucleus of the formal creation. Each piece starts it's own world. The first thought, mark, movement starts it, the origin.  You have to be submersed, consumed by it, that's how it may have a chance at survival.
As for ambiguity, I pick the surprises, forms that come from the grey, dark, uncertain areas of one's mind.  If I've known about it or I've seen it before, I've probably come to terms with it, or resolved it already. I don't need to show that. So if it's foreign, unusual or uncomfortable it will most likely be ambiguous and filled with unknown potential (symbolic energy).
KB: If I understand you correctly, you begin with an idea and those ideas are in a constant state of metamorphosis until you deem a piece of art finished. So, as you seek the surprise in the visual manifestation of an idea, or as you gravitate toward the unknown potential that you identify as symbolic energy, how do your ideas adapt to the object in the process of making?
TT: Through trial and error, many attempts, many mistakes. Coercing the images, shapes and colors in a work of art to potentially mean multiple things, requires a lot of attempts.  Sometimes I'll keep trying with one set or group of related design ideas. Other times, I'll make something completely new or different, but it will still be related in theme.  So let's say the theme is violence, I may try many different designs with a gun over and over searching for something new with that theme.  Then for whatever reason, I'll do a drawing of two youths shooting each other on a street, behind them is a car and it "triggers" a memory from my teenage years when an old "beater" car of mine dropped it's muffler.  I had to "tie it up" with a "hanger".  While I was doing this, the hanger sprung loose and poked me deeply right in the eyeball.  I almost lost my sight. This was one of the many moments of discovery for the American Eye Pull-Up Bar. 
During the making, everything has to be very fluid.  It all has to spill out during the drawing, painting, carving, arranging.  That's what brings forth the hidden, mysterious special images.  So it was necessary for me to make that contrived, melodramatic drawing of the youths shooting at each other, to spark the broader, fuller idea.
KB:I am drawn to your work specifically for your unflinching loyalty to your intuition–to your past and the value of memory. Your impulses are always present in your work regardless of medium, but in such a large politicized installation such as American Eye Pull-Up Bar, this notion of intuition leads one away from the idea of the singular artist making work by himself and for himself, into more of a response from a witness of political and social injustice. Because installation is a medium by which the viewer becomes physically immersed, your project implicates the onlooker as part of the problem and potential solution to whatever it is we conger in contemplation of this piece. Can you talk about the roll of installation as a medium for dialogue? Does it "work" better than a painting?
TT: Silent communication from the piece of art to the viewer, and then back and forth continued dialogue between the viewer and the piece happens with each medium or format. However the cause and effect can be quite different.  An installation is usually seen once or twice, if you're not a well-known artist, after the show, it's packed up and stored away.  Even a museum rarely dedicates space for a permanent installation.  So if I'm going to create an installation, it has to be a bit like modern advertising, strong, provocative with subliminal content that seeps into the audience's mind and soul.  I pretend it just has once chance!  Once the viewer has left the building, you want them to be haunted forever. 
I experienced a piece years ago, in the mid eighties by Jannis Kounellis, where a line of gas jets were sticking out of a long wall, and the jets may have been about six or seven feet apart.  I still think about it. It doesn't mean you have to hit someone over the head with it, subtle or sublime works. After life is a must.
As for a painting, it also has to grab you and leave you with an image burned into your mind. However with some luck you may sell the painting, it's hung in someone's home and stays there for 40 or 50 years.  It has to be the gift that keeps giving, a slow reveal, profound mystery, magnetism you can't put into words.  Every time the owner gazes upon it the sensation should be a bit different; ageless and mysterious like the Mona Lisa's smile, Pope Innocent's expression, Goya's giant, Bocklin's Isle of the Dead, Van Gogh's bedroom, Winslow Homer's Surf, Hopper's town, DeKooning's figures, Lucian Freud's flesh.
For both painting and installation, I try to be influenced by the outside world and drag something up from inside myself like a memory, happening, feeling or emotion; unite the two, outside and inside.  That's where the magic is.
Painting may be more difficult because it has the potential to be forever seen. That's a long time to entertain; everyone gets tired of talking eventually. It just sits there like a Buddha. I suppose if installations had that visibility it would be held to the same standards and they would be equal.
KB: In an exhibition that showcases the work of several artists whose work is brimming with visual information, your installation appears as the most minimal of the lot. Can you talk about how the "less is more" approach to this installation maintains your multi-layered conceptual bent that is so typical of all your work?
TT: I was striving for a simple, iconic,logo-like design composed of a several common elements.  The eyes, the blood, the stairs and the bar plus the not so common, bomb, land mine, football or whatever you call it in the foreground.  The elements were arranged in such a way as to create a visual puzzle with few enough pieces to be memorized–stuck in the viewer's mind and figured out later if necessary.  At base level, to get stuck with an object in the eyes until they start bleeding is not good! And if you connect to the red, white and blue, that may be all you need to know. Of course, there's much more but that's a start.  After listening to the viewer's interpretations, each different but excellent, (here are a couple examples; Viewer 1: "I think the pull up bar represents Americans trying to pull themselves up out of the mess we're in." Viewer 2: "I think the eye represents us, the public, watching the media broadcasting evil to build up fear.") I don't think I need to explain everything through words to the viewer because it limits their search, the viewers really do get right at the heart of the matter, even better than I could explain.
KB: So, how do you see this work in relation to the rest of the artists in this exhibition?
TT: I'm very proud to be showing with such strong artists, we lift each other up.  It's what we all should be doing; expect the best from each other (humankind). It was cool that there were totally unplanned similarities and likenesses throughout.  The short stairs or riser to an altar or area of ritual in mine, Stacia's and Marcos'. Kathy Weaver used long cones as knee spikes and I used long cones as blood tipped weapons. We each depicted blood as though we learned from the same how-to book.
In content, Marcos and I are often very close, we tell socio-political, sexual narratives from our podium.  His piece with Mary & Child in front of the mushroom cloud is in my opinion the strongest in the show, so relevant now with the rise of evangelical religion in the US as well as the most recent end of the disarmament movement, because of the proposed one trillion dollar nuclear modernization budget.
Kathy Weaver also inspires me, tackling the so frightening blend of technology, electronics and biology.  Robots and nature, burned and sewn paper, what's not to like? 
Stacia, what playful seriousness.  It made me smile, but also a bit afraid.  It's the growing organism of color and happiness taking over.  Formally, Stacia's piece and mine are very related; they each spilled onto the floor.
David Criner's was like the Matisse of the bunch, like an early spring morning, formal evocation of space and light.  It's as if you put Rothko, Diebenkorn and Bonington in a blender and out poured David.
KB: What is on the horizon for you? Where can we see some more Tom Torluemke?
TT: I have a hard-hitting political show coming to Firecat Projects in August just before election time, along with a book release of satirical comics and political writings.
By Kevin Blake 
The front tire wobbles as the weight of the planking jerks the fork of the bicycle from side to side. It will take rhythm to get anywhere. It will require a centering–a perfect distribution of the unbalanced load. The salvaged wood scrap stretches across the handlebars, bending under its own heft as it distances from the bicycle on both ends. There are bricks in the back basket–a milk crate strapped with rope to the frame. It rubs the back tire like an out-of-place brake pad…the every-other-rotation kind of rub. The tires have the pancaked look of low air where the rubber meets the road. Conditions are ripe for an array of potentials.
This is a moment in a story. It is not necessarily the beginning, the climax, or the end. It is a picture of a picture–the recollection of an unclear memory, that morphs into clairvoyance only as it is repeated and deployed situationally. It is the word made flesh, and the flesh made word. It is the construction of one's identity from available material–material that is both tangible and ethereal.
As I walked through Kati Heck's inaugural exhibition, "Ins Büro!" at Corbett vs Dempsey, I found myself thinking about my own life as a scavenger–hoarding all the potential I could carry. I was seeing similar moments described in Heck's images–potentials picked out of the mundane, or the recently discarded, and harvested to distribute into complex riddles with seemingly endless possibility. On the canvases, I could see the dialogue between the painter and the thinker. Between the subject and the object. Between the story and the fragmented reality in which it exists.
These concurrent and perpetual dialogues in Heck's work are best understood through their relationships with the paint itself. For example, in the faces of central figures, there appears to be a deeply personal connection–not just to the sitter–but also to the technical precision by which she chooses to treat the face. Where there are sections of amplified care–smaller brushwork, attention to detail, and range in palette–there also seems to be amplified metaphor, or keys to following the artist's inner dialogue.
"Alles-Mehr," which google translated for me as "everything-more," exemplifies this notion. In "Alles-Mehr," one can follow the hierarchy of paint distribution–from the face, down to the jar of pickles, to the fabric, to the wood of the chair, to the skin, and to the wall. To me, the smaller marks represent larger roles in the image's story. The larger marks are painting maneuvers. Small is big. Big is small. All are equally important to its existence as a painting–or as an aesthetically considered object of contemplation.
Here, a man appears to be in a pickle–as they say–four fingers deep. This idiom becomes the bedrock of the painting and it places the character in an air of mischief with an assuming look of low-cunning. The disappearing arm holds the glowing decoy–the legerdemain of the common wizard.  Admittedly, this is merely one possible thread in a heap of narrative grist, but my guess is as good as the next viewer, and it doesn't matter much if anyone gets it "right."
In the painting, "Der süssliche Erinnerungsmehrwert," Heck introduces a sculptural element to the painting by sewing canvas to the bottom of the frame where it becomes an extension of the painted fabric–it literally flows off of the rectangle and spills onto the floor. This move is indicative of Heck's unflinching intuition–uninterrupted by any hesitation from exterior pressures. She doesn't make decisions based on how it will be received, (see the velvet frame around the bad girl, "Petit Pity," in the corner of the show)she responds directly to the impulse. Directly to the vision. Anything that is susceptible to transformation, is transformed. There is no shelter for this nomad–and although her work pulsates with influences from the establishment, she cannot be pinned down. She emerges with a triumph, or at least the execution and invention of something that could not be made by anyone else.
In an interview for the exhibition catalog, Heck tells gallerists John Corbett and Jim Dempsey, that the title of the show, "Ins Büro," means "go to the office" and for her, the office is the bed she keeps in her studio. It is a factory of dreams from which she extracts and deploys content, stamping them with her industrious logo before they leave the warehouse.  In a fractal universe fragmented further by processes of the human mind, it is no wonder that  Heck turns to her dreams as a means of deciphering any truth from the ether. The result may be a world without language. A visual world. A world seen and understood simultaneously.
The compulsion to realize this utopia is undeniable. It wants to be seen. It wants to be described. It is on the tip of your tongue too–the cusp of your visual field as you lay in the darkness and attempt to solve the world's puzzles in the most quiet of spaces–the safest of landscapes–your dreams. However, it never quite satisfies. It never quite gives you the tools to see that place and how it works. It appears partial. As disconnected. As unimportant. It appears as meaningless potential–a moment frozen until it is thawed and put to work. Kati Heck in her Antwerp studio, attempts to bring that flight of fancy out of the castle in the sky and into her own reality. Whatever is constructed there–out of whatever material is available to revolutionize–may not be true, but for the maker, it is true enough.
If I were you, I'd go have a peak at her temporary office.
Corbett vs. Dempsey
1120 N. Ashland Avenue 3rd Floor
Chicago, IL 60622
Kati Heck
December 11-January 26, 2016
Tuesday-Saturday 10am-5pm
      and by appointment
By Kevin Blake 
"Ahoy down there" I yelled,  acting out a drama I had seen before and would see forever–over and over. Again and again.
I thought I was calling down to her from the top of a gigantic sand dune. From the peak of the tallest mountain. From the apex of the world. Only she could hear me. She would call up to me in response, "ahoy up there." The image of her I create now, for that memory, is one from a picture I have of another time. It is the only picture of her in my possession–one I have carried with me. From home to home. Place to place. Year after year. She was undoubtedly younger on the beach–as was I.  In the picture she is wearing a matching pink. Pale. Soft. Sheer. Pants, of course, I don't think I ever saw my grandmother's legs. Her top fit like a sweatshirt, though it was short-sleeved. It was puffy like, with some sort of white pattern embroidered in the middle–likely flowers. She has a full head of curly hair–hints of a dirty blonde tinting a grey field. Her hands are folded atop a stack of importance. At the bottom of the pile is her purse–a black leather clutch with a gold clasp. Then a little pouch that housed her Pal Mal cigarettes and lighter. The lighter facing up for easy access and to avoid an uneven surface had it been facing down. Her hands complete the stack. Smoking hand on top. A burning Pal Mal protruding from her fingers. In the photo she is still. She is stoic. No smile. She didn't know how to smile for a photograph. In the memory she is alive. She is present. She smiles. I'm satisfied with this being all I have, because it is somehow everything she was.
The way we see is historical. Cultural. Social. The way we see is created by our experiences and over time. It is perpetually evolving. The way we recall our memory of these experiences is also a product of this same evolution–we associate memories with images. Images that are not necessarily adept at defining the memory, but rather serve as a stand in for the lost pictures of experience. When a memory is continually visited, the images become unusually vivid, as if actually visible. They become our understanding of our world and our time in it.
In Claire Sherman's most recent exhibition at Kavi Gupta Gallery in Chicago, I saw this kaleidoscopic vision of the way one sees conflated with the imaginative experience of being present in one's memory. On these canvases, Sherman seems to be at once a native of the places depicted–an observation of the self within the physical act of making a painting–and a stranger trying to find the natural world at work in her own psyche.
The main gallery is draped in predominately white canvases that wrap the room like stone monoliths–their energy–creating a circular movement in a rectangular room. For a paint enthusiast, this room is almost overwhelming. One painting would be plenty to satisfy the most robust appetites–the rest are a gratuitous banquet for the glutton. These paintings are top notch–a fine example of an artist hitting their stride–finding herself in her work.
Funeral Mountain is a real place. A real mountain. It has histories–some of which, we cannot know from any written words or photographs. The name of this range, that makes the eastern border of Death Valley at the California/Nevada boundary, is born in myth. Lumberjack folklore. Casket-headed beasts with wobbly legs that travel in herds and walk in procession is to credit for the Funeral portion of its title. In myth, there is often truth. The climate is challenging here, and no doubt, crossing death valley may have ended with many funerals in the mountains beyond. It is arid. It is hot. It is unforgiving.
This climate is felt in the main gallery. From afar, the paintings appear to be dry flat grays with the jagged edges of rocks. Powdery whites and chalky pastels. The room feels bare and stark. Naturally lit by a hot sun bearing down through a cloudless afternoon sky. It is this picture and this feeling of place, that I carry with me through the exhibition.
As I approach the first painting that is beaconing me, Rock Wall 2015, I realize how important this action is to understanding this exhibition. The in and out. The perspectival changes. The idea of making paintings versus making images. The threshold between representation and abstraction is somewhere in the middle of this room. The closer you are to these works, the closer you are to entering a smaller world of direct experience, indirectly known through the symbolic language of  painting.
Rock Wall appears, from a distance, to be exactly what the title suggests, but it has a vortical flow insisting the viewer nearer. There is a lot of impact in this painting–both small and large– generously buttered onto the canvas to depict the striations and gradients of stone. Working wet paint into wet paint, Sherman achieves the deep cracks and fissures that penetrate the stone of the mountains by penetrating the wall of paint she has amassed on the surface.  I get the idea that Sherman is using her photographs of these spaces she visits as a way of situating her memory of her own experience, but uses the paint to feel the place again. And again. And again. These paintings in the main room place the artist outside looking in-an alien's approach to an unknown landscape.
In the adjacent smaller gallery, two large paintings act as the antithesis to its counterparts in the main room. These works place the artist inside looking out–emerging from womblike darknesses into a world of painted light. In, Cave and Sky 2015, an electric blue commands the space of the physical room and flattens the surface of the painting at a distance. Again, a movement toward the painting reveals more. Manic brushwork in the dark, mixed purples, and reds make the black of the cave walls. The blue covers you. The painting unfolds by enveloping you–you feel the darkness on your sides as you stand at center covered in sky. It is sublime.
The history of landscape painting is vast. The sublime in nature is an abyss of discourse concerning abstract ideas, easily congruent with most attachments. To read a bare list of names, theories, and ideas of lore is to become aware of a widely distributed and loosely tied family resemblance of contingent traits that would merely undercut this body of work. We can always find the history of constructed things, if thats where we look to define something new. To me, this work is about encountering oneself in an eidetic place–a place that exists between one's ears, and made real by the act of painting. It is about the power of memory to fill in the holes that inevitably crater our reality. Sherman finds just enough memory to reproduce a feeling remembered. That dialogue continues over and over–from paint to place and back again.